SEMrush is an online marketing research tool that helps everyone working in online marketing or with businesses that want to improve their internet presence(which is pretty much everyone). The SEMrush Pricing is pretty great & definitely value for the money for the features you get.
Click The Button below and sign up for 7 days of SEMrush for FREE!
Click Here To Get SEMrush for FREE!
SEMrush Pricing
The SEMrush pricing isn't really cheap, however, if you are good at what you do, you should be able to generate a multiple of the amount of money you invest in a tool like SEMrush.
Pro
10k Results per report
3k Reports per day
5 Projects
500 Keywords
500 SEO ideas
Price: $99.95 / Month
Guru
30k Results per report
5k Reports per day
Historical Data
50 Projects
1500 Keywords
800 SEO ideas
Price: $199.95 / Month
Business
50k Results per report
10k Reports per day
Historical Data
200 Projects
5000 Keywords
2000 SEO ideas
Price: $399.95 / Month
Note: All plans come with a 7-day money-back guarantee and click here to get a SEMrush free Trial
SEMrush Discount Code
SEMrush doesn't offer any discount or coupon codes in 2021. However, there's still a way you can save a ton on the SEMrush pricing plans!
You can get a discount on SEMrush if you decide to pay Annually instead of Monthly! If you decide to pay yearly instead of monthly you will save over 15%

SEMrush Discount Price:
Pro $1199 $999
Guru $2399 $1999
Business $4799 $3999
Get the Discount on SEMrush by following these steps:
Click "Billed Annually"
Click "Subscribe" on your plan
Click Here To Get A Discount SEMrush!
SEMrush Pro vs Guru vs Business
SEMrush Pro: The SEMrush Pro plan is best suited for a beginner with a single website or running a very few sites.
SEMrush Guru: The SEMrush guru plan is best suited for a SEO freelancer or a business that needed more than one people to use SEMrush.
SEMrush Business: If you are big business running campaigns at scale and need multiple people using SEMrush than the Business plan is the best plan.
The most important difference between SEMrush Pro and Guru is the Historical data feature. The historical data feature of SEMrush Guru allows you to check the past data for any of your queries and urls. This is especially useful if you do any SEO audits for businesses and want to see their rankings from the past.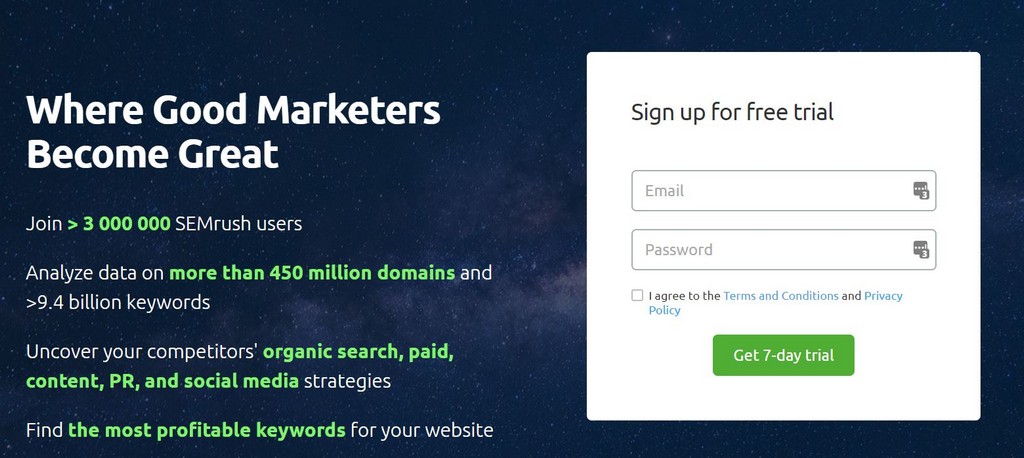 SEMrush Pricing FAQs
How much does SEMrush cost?
You can get SEMrush in 3 different pricing plans: Pro @ $99, Guru @ $199 and Business @ $399 per month. The main difference between the pricing plans is the number of keyword/queries you can do per day as well as how many people can use SEMrush account at a single time.
Does SEMrush have a free plan?
SEMrush does have a free account version that's basically worthless, all you get is:
10 Searches Per Day
10 Results Per Search
100 Pages Crawlable
10 Keyword Tracking
That's basically worthless for anyone unless you are running a super tiny cafe in a mountain town.
Is SEMrush Good?
SEMrush has one of the largest databases of organic keywords and domains. With SEMrush you can do keyword research, backlink analysis, automated SEO audits and so much more.
SEMrush was the tool that helped me grow my first travel blog to 100k monthly visitors and also helped me 4x the Organic Traffic to Foundr Magazine when I was their Head of SEO.
Is SEMrush Better Than Ahrefs?
I still prefer Ahrefs over SEMrush when it comes to anything related to backlinks. SEMrush has an ass of a backlink database when compared with Ahrefs. However, when it comes to Keyword Research SEMrush is boss!
What Does SEMrush do?
SEMrush is a combination of a ton of different tools that all work well together to improve your presence and get more eyes. It's a great tool for any SEO, PPC and even social media campaigns.
All SEMrush plans include:
Site Audit
On-Page SEO Checker
Social Media Tracker
Backlink Audit
Brand Monitoring
Content Audit
Keyword Research
SEO Content Template
Gap Analysis
Topic Research
Log File Analyzer
…and so much more!
Read Next: