Backlinks are the backbone for gaining high search engine results for websites on the internet. Getting backlinks isn't as simple as things seem, and you need to carefully plan and reach out to others to get them and enhance your organic reach.
Some people are tempted to take a shortcut to buy backlinks, but it is not that recommended at all. Instead, it is advisable to earn them for your website or blog. But that is a difficult task for any webmaster, and at certain times, if you crack the code, it is quite easy.
In this article, we are not going to teach you how to buy cheap backlinks but will offer a list of websites that can help you start your link-building process. This may not be the best, but later, I've also explained how to get quality backlinks for your business.
Advantages of Backlinks
Backlinks are the heartbeat in the age of the internet. Primarily, the backlinks are great for gaining high search engine ranks and boosting a website's presence on the internet.
However, they have more benefits beyond just ranking on search engines. They help increase the authority of your website. The backlinks let you create a brand of yourself and help gain branding authority. Just like Google, your audience will show interest in the products or content if they see links from the authority site to your site.
Backlinks help you to get fast indexing on Google with major benefits that help you get the right referral traffic. You not only get traffic from search engines like Google, Bing, or Yahoo but also from popular sites. If a link is well-placed, it helps drive targeted traffic to your site.
Backlinks help create new relationships with other users. If people come across a good piece of content and see a backlink to your site, they will surely come to check out your site. Here, they may take a measurable action like joining a newsletter or any other offering. This will help you to connect with them and build a relationship with your business.
If you are a professional, you can hire an organic growth agency like Aroview.com that will help you build successful backlinks for your websites. More on that later.
Before I go ahead, let us look into the pros and cons of buying backlinks.
A Look at the Pros and Cons of Buying Backlinks
Pros
1. Time-saving
Building organic backlinks takes a lot of time and requires a lot of patience. It involves reaching out to website owners, writing guest posts, or writing enticing content that will earn backlinks naturally.
If you buy links from vendors, it will save you a lot of time that you can invest in other important tasks. This may not always be the best course of action, though, for long-term website success.
2. Improved Rankings
Backlinks that are of the highest quality help improve your website's SEO rankings. The backlinks act as a vote of confidence by Google, and if a site has higher authority backlinks, then it will help rank your search results higher.
3. Increased Traffic
If a site has a backlink from a popular website, then it will increase your traffic easily. It will not only help you with search engine ratings but bring potential customers to your website.
4. Competitive Edge
Buying backlinks can give you an edge over your customers. This is true if your competitors have a good backlink profile. All this will help level the playing field or allow you to outrank in the search results.
Cons
1. Huge risk of penalties
Search engines, like Google, don't like the practice of buying backlinks from vendors. If you are not careful about buying in bulk from non-reputed vendors, then you might be at risk of being penalized.
This will result in your website being downgraded and heavily punished in search results or, in extreme cases, being removed entirely.
2. Quality control
When you purchase paid links, you may not get complete control of the quality of links for your site. Lower quality or spammy links will harm your SEO instead of helping rank it higher.
3. High cost
Quality backlinks don't come cheap. They will offer good ROI, but the upfront cost is considerably higher, especially for startups or small businesses. In comparison, if you hire an organic growth agency, you can get a better ranking at a lower cost without any risk of penalty.
Here are some common mistakes to avoid before we look at some websites to buy backlinks.
Common Mistakes to Avoid When Buying Backlinks
Buying backlinks is a game-changer for your SEO strategy in case you do it correctly. Here are common mistakes to negatively impact your website's performance. Below I'll discuss things to avoid while buying backlinks for your business.
1. Focus on Quantity over Quality
Buying plenty of low-quality links may look like a quick win, but it will hurt your website's search engine score in the long run. Google prioritizes quality and relevant backlinks.
2. Ignoring the Relevance of the Linking Site
Secure websites from irrelevant websites will do little good for your SEO performance. Ensure that the linking website is relevant to your business niche.
3. Over-Optimizing Anchor Text
Over-optimizing your anchor text can make your backlinks appear unnatural, which will lead to undue penalties. You have to utilize a variety of natural and relevant anchor texts to get the desired results.
4. Not Monitoring Your Backlinks
After you have bought backlinks, it is important to monitor their performance regularly. Efficiently use SEO tools to help track metrics and adjust your strategy as per requirements.
5. Purchasing Backlinks from Penalized Sites
Buying backlinks from websites that have been penalized by search engines will harm your rankings. You need to check the status of your website before you purchase backlinks from them.
6. Buying low-quality Backlinks
High-quality backlinks require a lot of effort and time and require top-notch content with a careful outreach technique. If you go to websites with quick-fix deals, then it will affect your site. The truth is buying quality backlinks is expensive and costs a lot. So, you can say that quality backlinks are not cheap, and for long-term benefits, you'd have to invest a lot.
Later in this article, I'll explain to you how you can get quality backlinks at a cheap. But first, let us look at some of the websites you can purchase backlinks for your website.
Top Websites For Buying Backlinks
There are a few websites from which you can buy backlinks for your website. I've divided the websites into different categories to help you better understand what is best for your business.
Backlinks for Serious SEOs
The backlinks provided by these websites in this category offer backlinks for serious SEOs. These websites maintain a transparent work process and ensure that you know what you are getting. These sites are:
1. Links Management
Link Management is a great website to acquire backlinks; if you are looking to go for paid backlinks at a low budget but get good quality. You can easily buy cheap backlinks from the site with PR 1 to PR 8 specifications. It provides static as well as permanent backlinks for content for as low as $1. Here, you get access to over 8,000,000 websites to help you with your backlink management.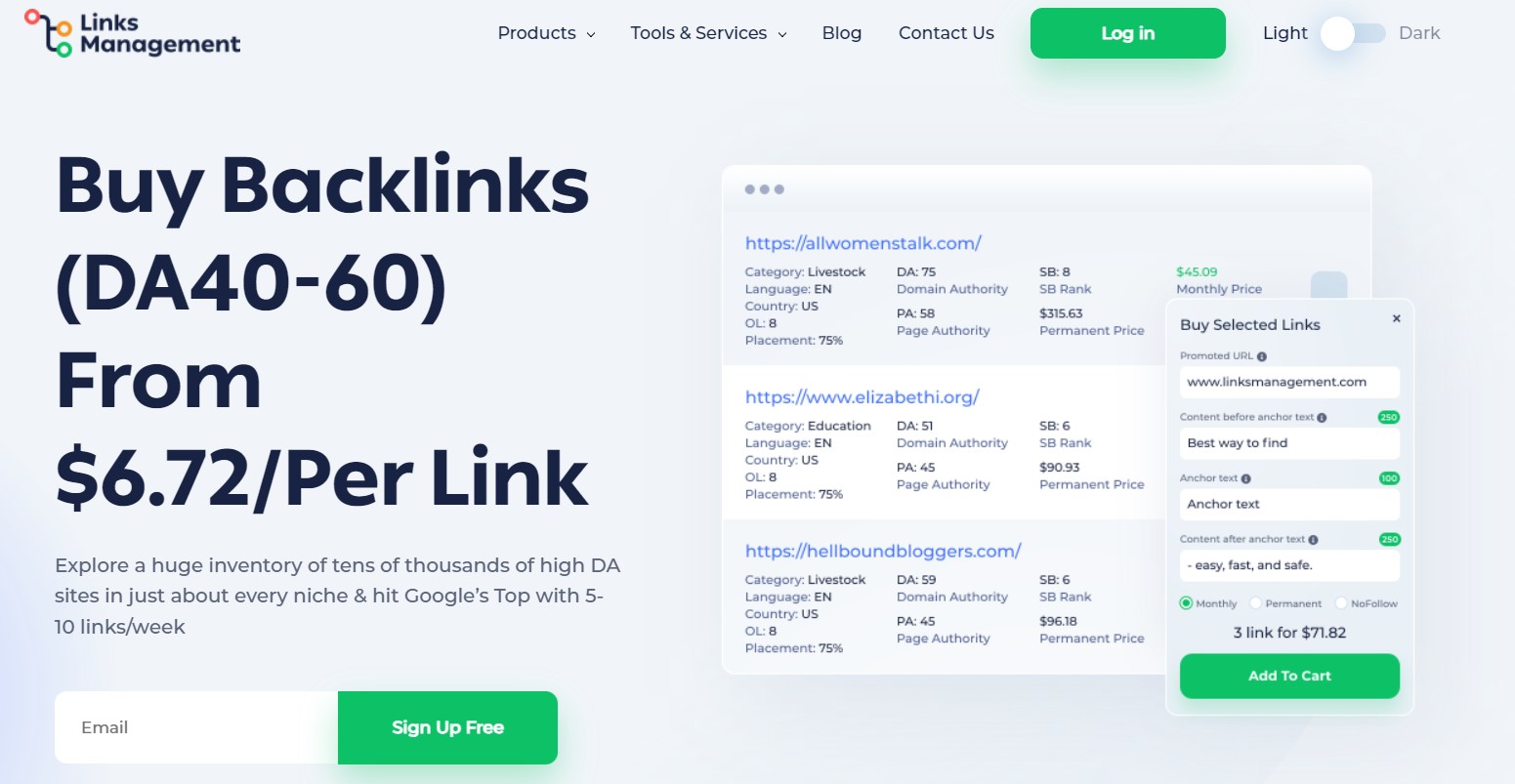 The website helps you to increase your site ranking and MOZ domain authority. All the links are placed manually and are surrounded by your content. This helps you increase the authority and popularity of your site. If you are in doubt about their services, you can read their case studies, which show that they can boost your traffic by 10,000 to 30,000 per month. They also have a 100% money-back guarantee. This is not something that many SEO companies do today.
In addition to this, you get an SEO expert tool, an SEO calculator that helps you resolve your SEO mistakes. This is important from an SEO point of view so you can easily get greater reach on search engines.
2. Collaborator
Collaborator is a content marketplace that is designed with the primary goal of connecting advertisers and website owners in a single place. This helps speed up your PR link-building process, making it convenient, safe, and effective.
The platform has over 20k hand-moderated websites across different niches and countries. The number of sites that are available is based on its catalog's geography, and it grows daily.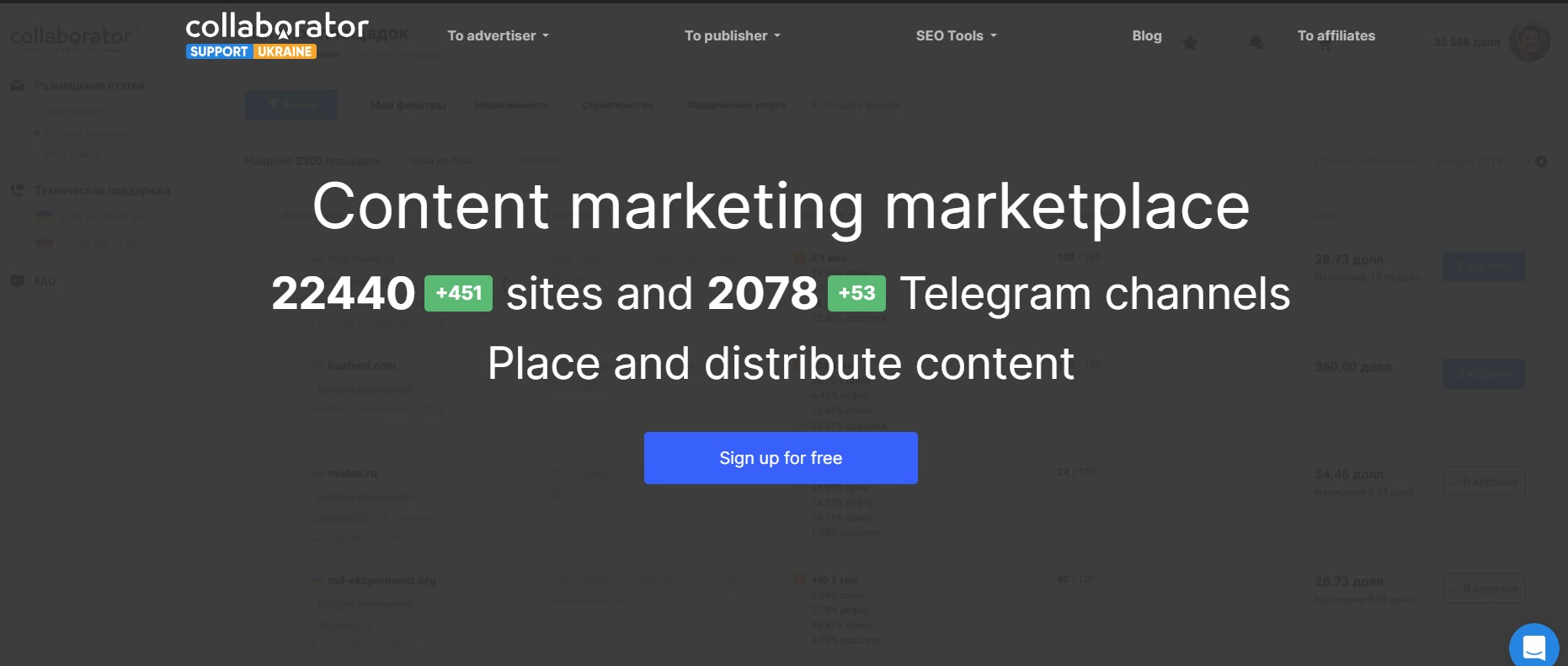 To make it easy for its users to select the right websites for their business, Collaborator offers a user-friendly filter having over 40 parameters, which includes metrics provided using Ahrefs and Serspat. This will mean that users will see all the metrics they need to select the right donor site.
Every donor has a 3-month free insurance from deletion as well as non-indexation. You also have optional paid insurance, which will last for a year, and it can be prolonged further if needed. No wonder why there are so many customer testimonials of the platform.
3. Authority Builders
Authority Builder is a link-building company that is famous for providing SEO-based links. If you are in the SEO space, then you'll know about the owner of the website, Matt Diggity, who is a tycoon in this space.
The website has a user-friendly interface and focuses on a wide list of sites. Once you sign up to the website, you can select the niche, and you'll get access to a list of suggested domains with details of DA, TF, RD, and estimated monthly traffic.
If you are in a hurry, you can ask someone to get you a list of links for your business. However, if you looking for high-authority plans or niche-relevant sites, it'll be difficult to get the desired results.
The reason is that most of the domains that you see as suggestions write content in multiple niches. You will not expect to be rewarded as Google looks at backlinks from high-authority niche sites. Though you can get some discounts while surfing the list, the actual price will not do justice, considering that you have to launch an outreach campaign for your order.
SEO Forums To Buy Backlinks
SEO Forums are great for acquiring good-quality backlinks for your website. The reason is that all the members of the forum are held responsible for their actions, and you can always find them if you follow their threads. Here are a few SEO forums used to get backlinks.
1. WickedFire Forum
WickedFire is an all-in-one company that offers all the solutions for your online marketing industry. It has every niche expert, from content writers, link builders, domain flippers, and other experts who will make the tasks easier with their expertise for your website.
It is one of the oldest forums and has been in the market since 2011. Buying backlinks from here can help rank your site on Google. Their link quality is good, and there is high potential for them to rank on search engines.
2. BlackHatWorld
BlackHatWorld is the ultimate destination if you want to buy Private Blog Network (PBN) backlinks. The forum is a community that is founded by underground marketers who offer very high-quality and cheap backlinks. They offer many backlinks for sale, which you can earn on your own website/blog or your client's website.
The backlinks can be filtered as blackhat or white hat backlinks. You can see both these options in the left sidebar of the forum. Apart from this, you have the ability to purchase the links as comment links, article submissions, directory submissions, etc.
It is great for building good backlinks for your pages, so if you are planning to improve your website SEO, then it is a great place to start.
3. Warrior Forum
Warrior Forum is an advertising company that works for online forums for marketers and entrepreneurs. The forum comprises the largest community of internet marketers with experts who know what they are doing.
The forum also provides backlink services for users here. You get access to some highly valuable backlink services, such as backlinks from websites like Forbes, Mashable, TechCrunch, and many more. The price of these services is higher when compared to other link-building services due to the reputation of such sites.
DIY Freelance Marketplace To Buy Backlinks
Hiring freelancers is another great way to secure link placement on other sites. The marketplace for freelancers is very big, but you have to be careful to choose the correct person to rank well in search engines. If you know what you are doing, then this will be a great option. Some good options for freelance marketplaces include:
1. Fiverr
Fiverr claims to be one of the largest marketplaces for freelance services. You can get backlinks on this site for as little as $5. This makes it one of the best platforms for buying cheap backlinks due to the high competition for gigs and the availability of plenty of users.
This might sound very cool to you, right?
However, you need to be aware that many sellers on this platform use automated tools to build backlinks, which may be harmful to your rankings. Selection of the right gig is therefore important before you employ someone. It is advisable to check the reviews and ratings of the said seller to get the desired results.
Try and check it twice before you buy it, as disavowing unwanted links later will be a tedious process.
2. Freelancer
Freelancer, as the name suggests, is a marketplace for freelancers where employers and employees are able to find and connect with each other. On the platform, you can post work for site members who will place bids in a competitive tender process. It also lets you host contests for which prize money is offered as a reward.
Purchasing backlinks on Freelancer can be worth your time as you simply have to hire a good freelancer, and they will help you get started immediately. These freelancers will give you some quality backlinks across various sites.
3. Upwork
Upwork is not your standard marketplace for backlinks, but there are freelancers on the platform that you can hire to do the tasks that you need. When you compare it to other sites, buying backlinks is quite expensive since you have to hire some exquisite freelancers from the platform.
Like Fiverr and Freelancer, you need to check the reviews and the number of hours they have worked before hiring the right person for the gig. The price per hour is usually increased based on the quality. You have to efficiently view their portfolio before you order it.
Sites To Buy Cheap Backlinks (Not Recommended)
I would not recommend these websites, but I am including them because a lot of SEOs today look for cheap options to buy backlinks. I've listed some of the options that you can try, but they don't promise good results.
1. Backlinks.com
It is one of the most popular sites for buying cheap backlinks for your business. The cloud-based platform works on link-building and management processes. It is very effortless to purchase and sell backlinks from this website.
The website has some excellent features, and anyone can join the website to get backlinks. You can make use of a PayPal account to make the purchase of these backlinks.
The platform is old and known for selling backlinks for over 10 years and it has a good history of satisfying its customers. It is one of the best choices if you are looking for a cheap backlinks provider to improve your rankings.
2. Black Hat Links
Black Hat Links is another great platform to make purchases of backlinks at cheap prices. They accept orders in bulk, and you cannot buy one or two backlinks from them, which can be slightly risky.
The schedule of the backlinks for your website is for a week, and the boost that you will get from it will be to the maximum. However, the sites from which they buy backlinks have low outbound links and OBL.
The best thing about purchasing from them is they assure that the work will be delivered within an hour. You simply have to wait for a few days to get the desired results.
3. BacklinksRocket
BacklinksRocket is a good website that offers SEO packages with a combination of backlinks, social media signals, and much more. All this goes a long way to increase your search engine visibility and presence. So, you don't have to worry about spending a single penny for your SEO as it knows exactly what they are doing and follows the Google algorithm to rank higher.
The website also offers a few backlinks to government sites, which are excellent for boosting your ranking on search engines. You will get a detailed report about what you are getting to ensure that you receive nothing but the best.
4. AuthorityBacklinks
AuthorityBacklinks is considered to be a premier platform for purchasing cheap website backlinks in the industry. The platform helps you with the sale of text links alongside purchases from a control panel. All this is simple and easy to operate for even beginners.
A fun fact about the software is that you can garner revenue from your website by selling the text links advertisement as a publisher. This allows you to enhance the performance of your website as a whole.
Another surprise is that AuthortiyBacklinks will monetize each and every page of your website. The only thing you require is a minimum page score. In case your website is indexed by Google, then it will give you a head start, and the page score will help secure the monetization facility.
5. LinkWheel.Pro
If you are in the market to purchase EDU backlinks, then the website is something you should look at. The internet marketing company, which is based in California, has employed some SEO experts from all around the world and is providing quality services to its international client base.
The link-building strategy employed by them is very effective, and that is why it was blocked by some search engines in the past. However, they have today managed to mimic natural organic links building techniques for your websites.
For optimum efficiency, you have to select the package carefully to start off. Once you start seeing your keywords moving in the Google SERP, you can buy more backlinks from them and expect good rankings for your keywords.
Google's Viewpoint of Buying Backlinks
Google doesn't like that users are buying backlinks. They believe that it should be earned as they show the quality of your content.
The Link Schemes of Google state that if any link is intended to manipulate the page's rank or their site's ranking in Google search, then it may be considered part of a link scheme. This is considered a violation of Google's Webmaster guidelines.
Google knows that some business owners buy backlinks from vendors to boost their rankings. However, if these companies make use of good techniques, like connecting to bloggers to share their content or guest post writing, then it is okay. This is seen by Google as a good way to earn backlinks. These companies work hard to build a natural backlink profile and have to do a lot of research, create relationships with others, and always share useful content. Google likes the approach as it helps make the internet a better place.
So, you can say that Google is against buying or selling backlinks but supports earning by sharing high-quality content. By following this, you can follow Google's rules and still improve your backlink profile.
If you are still confused about how to get backlinks for your business, then I'll explain some of the best ways to get quality backlinks without being penalized by Google's guidelines below.
Alternatives to Buying Backlinks
While buying backlinks can help quickly improve your SEO, organic methods of link building will give you long-term benefits and boost your site's reputation.
Organic link-building value- Earning backlinks organically from other websites signals that your content value and trustworthiness to search engines will yield sustainable SEO benefits.
Earning backlinks naturally- If you are looking to earn natural backlinks, you need to generate the highest quality of content that others will want to link to. This can be achieved by building relationships or guest blogging with other websites within the same niche.
This process will not deliver immediate results, but it is a long game that will deliver better performance without being at risk of running into any penalties or issues.
The decision to buy paid backlinks or rely on organic link-building methods is not to be taken lightly. It is largely dependent on your goals, available resources, or risk tolerance.
However, if you want organic link building and don't have the know-how or resources, then I have a solution for that as well. I'll explain more about this in the section below.
Best Way to Get Backlinks for Your Business in 2023
In this article so far, I've told you the ways to buy backlinks from the internet today. This is not the best way to grow your website rankings, as it may result in penalties or being pulled from search engines. However, if you are looking for a reliable backlink-building method, then I have you sorted.
It is advisable that you hire an organic backlink growth agency that can help you grow your presence on the internet without any hassle. Aroview.com is one of the top organic link-building agencies that focuses on acquiring high-value backlinks and creating win-win marketing strategy. The company will acquire relevant industry sources and websites which will matter to you and your customers. Their link-building system is designed specifically to make it easier for businesses to get on the right track without worrying about their current growth stage.
The company is made up of a team of people who have a decade of experience in the SEO space. The team has worked with some of the largest companies in the SaaS industry with the founder Jeremy Noronha, who was the former head of Foundr.com and today runs one of the fastest-growing blogs in the internet marketing space.
The team acquires quality backlinks for your business while staying clear of content mills that sell links in bulk. They focus on building relationships with high-quality sources that will add value and credibility to your brand. If you are looking to get quality backlinks for your business, then what are you waiting for?
In-house vs. Outsourced Link Building
You might be wondering, after reading the article so far, what is the point of buying or hiring agencies to build backlinks. Let me tell you why in-house backlink building will not let you get to new heights in the competitive market space.
In-house backlinks
If you are adding or handling backlinks by yourself, you get complete control of your strategy, and you can tailor it to suit all your needs. If you manage it in-house, you can understand SEO and the performance of your website better. However, it is time-consuming and has a steep learning curve if you are a beginner. Further, the cost of managing an in-house team is a lot, and you may not always have the necessary tools, connections, or expertise that a specialized backlink agency might have.
Outsource link-building
Companies that offer organic backlinks know how to run successful backlink campaigns. These companies have a wider range of tools, contacts, and strategies that will run effective campaigns. It is important to choose the best company, like Aroview, who will do organic research to get high-quality links and stay clear of any risks or bad tactics. Finally, they allow you more time to focus on important aspects of your business. However, the only drawback is that you don't get direct control over the backlink strategy and implementation. But the best agencies will acquire the right backlinks from relevant industries to fit your brand requirements.
How to Measure the Effectiveness of Your Backlinks Campaign
Measuring the effectiveness of your backlink's strategy is key to knowing how the acquired backlinks have impacted your SEO campaign. This practice allows you to see if there is a return on your investment and see that it has a positive impact on your SEO.
1. Track the number of backlinks
The simplest metric to track is the number of backlinks that you have secured for your website. There are tools like Semrush or Ahrefs that can help you in this department.
2. Check the quality of backlinks
Not all the backlinks are equal, so you need to appraise the quality of the backlinks you have added or purchased. High-quality backlinks will come from reputable sites that have relevance to your own site.
3. Monitor the website's domain rating
Domain rating is the measure of the power of your domain name and is a pivotal part of the search engine ranking factors. The higher the rating, the higher your site will rank. A successful backlinks campaign can help boost your domain rating easily.
4. Analyze the no-follow or do-follow status
It is important to understand and examine the type of backlinks you are securing. A do-follow link will pass on the ranking power and impact your SEO campaign more potently. In contrast, no-follow links don't pass on this power.
5. Analyze the traffic data
If your backlinks campaign is successful, you should get more traffic on your website. Google Analytics is a handy tool to check website traffic.
6. Keywords rankings
The position of SERPs of your targeted keywords will improve following a successful backlink campaign. This is another important metric to check the progress of your campaign. Ps. Don't forget to track your rankings with a rank tracking tool.
A quality backlink-building company can handle all these metrics and keep you posted on your progress. With Aroview, you can be assured that all the information is available to you at any time, and you get complete intel about the things happening in your backlink campaign.
Should You Buy Backlinks in 2023?
Backlinks are great to build an effective strategy to garner more visitors to your website. If you want to build quality backlinks for your business, then you have two options to create your own or buy backlinks from other sites.
Buying backlinks may seem like a good option at face value, but this is not the actual case. There are some good websites where you can buy quality backlinks in this list, but they also come with a risk of getting your website penalized on search engines.
It is, therefore, advisable to hire an organic research backlink company that will procure backlinks for you from reputable sources. These agencies are not very expensive but offer a great return on your investment.
Aroview.com is one such agency that has some of the best people to help you rank on Google instantly. If you want more information about what they are offering, then get in touch with them and skyrocket your ranking.
How To Buy Backlinks FAQs
1. Does buying backlinks affect your SEO score?
Buying backlinks from vendors or websites can have a negative impact if you don't purchase from a trusted source. It is, therefore, advisable to select organic backlink growth agencies like Aroview.com that will help get you reliable backlinks that matter to your customers.
2. How many backlinks do I need to rank my website?
The quantity of backlinks that you need for your website is based on several factors, including website age, industry competitiveness, and the quality of backlinks. There is no set number, and it is advisable to prioritize quality. With a few backlinks from reputable and relevant websites, you can yield good backlinks compared to low-quality sources.
3. Why Should you avoid purchasing cheap backlinks from Fiverr?
Purchasing cheap backlinks on Fiverr is the worst idea you can do for your business. People selling on Fiverr usually sell backlinks from prices between $5 to $50, which are mostly spammy links. The backlinks harm you in two simple ways:
It violates Google's terms of purchasing links. Google makes use of complex algorithms that help detect link trading and penalize you severely.
You are also increasing your spam score to the maximum. It will not only harm your ranking but also have it ultimately removed.
4. What are toxic backlinks?
Toxic backlinks are those that hurt the SEO of your blog. Some of these toxic links are foreign comments links, hidden CSS backlinks, and backlinks that come from casino, porn, or gambling sites.