Search engine optimization is an important element that can make or break any business. A key part of performing SEO well involves the utilization of the right SEO tools. Optimizing your site for search engines requires various analyses which will help bring a steady stream of organic traffic to your website.
Without the right tool, you won't get the right data, insights, and intelligence for your strategy, and your action plan won't be full-proof. Even if you manage to work hard on your website or create amazing content, you may not get the desired results.
Click Here To Try Semrush For FREE
Semrush is the gold standard in the online marketing space and is the industry standard with the SEO community, and a lot of site owners naturally want to reach it. The tool is the best SEO recommendation for marketing teams, professionals, large businesses, or anyone that wants a complete SEO toolkit in the market. In this review, we will take a closer look at the core features of this platform and discuss its metrics and answer all your burning questions.
What is Semrush?
Semrush is a comprehensive all-in-one digital marketing tool that comprises of over 50 different SEO tools. Users can combine these tools to cover the complete spectrum of your online marketing channels.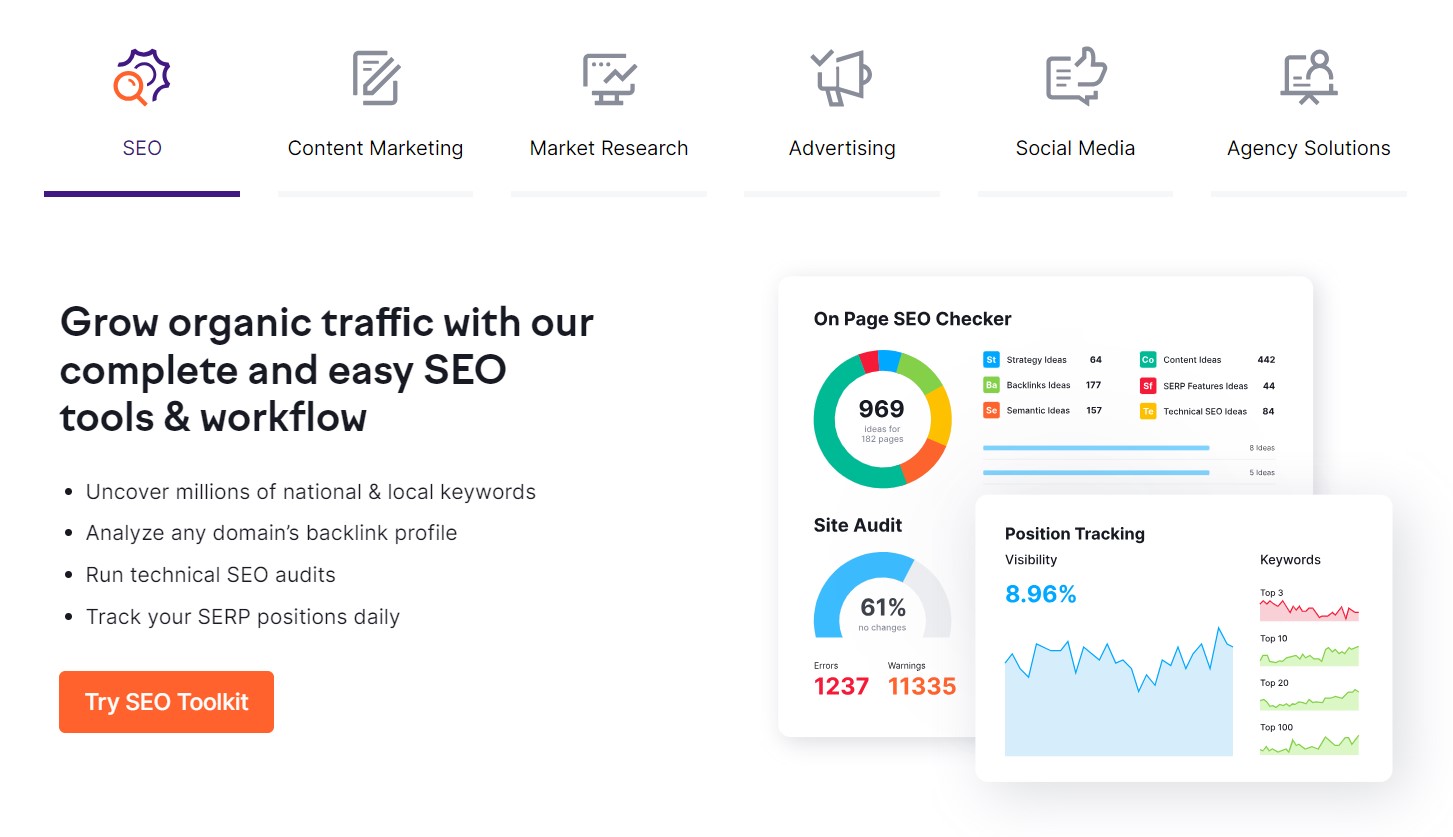 Semrush was launched by Oleg Shchegolev and Dmitry Melnikov in 2008. It has today has gone to become one of the most popular toolkits around the globe.The tool allows you to create, measure and manage your SEO content, keyword research, PPC, content marketing, and various other social media marketing campaigns. Today it has been used by over 10 million marketing professionals and is considered one of the most complete toolkits in the market.
Semrush Review Reddit
U/Fast_Bath- "I use SEMRush daily, and once you've set up your dashboard/project and got your reporting bang on, its absolute time saver! Honestly, spend a few days/weeks setting it up to absolute perfection how you want it, and it will make your work and client management so much easier. Consider automating some drip feed reports to your client too; it's an easy way to stay in contact with them between your face to face/full updates".
U/SEOPub- "I think Semrush is worth the price. It's one of the only tools I use every single day. The best features are in the second and third pricing tier, but even the first tier is pretty useful".
U/symphoriadigital- "SEMrush is good if you want to integrate SEO with content marketing. For instance, you can look for topics, then keywords for your ads or blog, and then create a content brief from the keywords you researched".
U/ClickedMarketing- "SEMrush is probably the only tool I use on a daily basis. For keyword, market, and competitor research, it is hard to beat. Probably the best suite of tools available right now for content marketing. I will tell you the same thing I tell everyone else who asks this question. They have a free trial. Try it for yourself and see how useful you think it is".
Click Here To Try Semrush For FREE
Semrush Review
1. User Interface
The dashboard of Semrush can be intimidating, just like other tools in the SEO space. However, mastering the tool doesn't take long to play around with and understand where everything is located. It has plenty of features, and you don't need all of them, but it is good as your business grows.
The menu options are grouped as one into useful categories- Keyword research, link building, competitive research, rank tracking, on-page SEO, and reporting. These modules are great for analyzing your domains and checking traffic.
There is a lot of data that you will get on it, but you will need to get used to it. The data visualization that Semrush will provide helps you get over the sense of overload. Here, most of the metrics that are provided are graphed in ways that make the information simple and easier to understand.
Its mobile interface is slightly not up to the mark, and you will have to pinch and zoom to see the content. However, the big plus is that they give users access to position-tracking data on mobile devices.
Overall, the interface of Semrush is laid in a solid and intuitive fashion and is simple to use. However, to get the most out of it, you should prefer using a desktop computer to get the full extent of its features.
2. Domain Overview
SEO projects generally start with some basic domain analysis. In this way, you get a simple overview of the quality of a domain from the SEO point of view. You can perform domain analysis of your own website or competitors to see where SEO improvements can be made or what your competitors are doing to outrank them in the search results.
To get started, simply type the domain, subdomain, or page URL and hit the search button. You will get a detailed report with a wealth of competitive insights at your fingerprint.

At the top of the report, you will see the domain's Authority Score, which is calculated based on its backlink profile. The score helps grade the overall strength and quality of the website, which is useful for several reasons.
If you are analyzing your competitor's domain, then it will give you an immediate indication of whether or not you will stand a chance of competing in the SERPs.
In case you are analyzing your own domain, it will allow you to know how you're performing.
If you are analyzing a link-building opportunity, then you'll know whether the domain is authoritative enough to be worth your efforts.
There are also some other useful metrics that are displayed in the Domain Overview report, which include
Total monthly search traffic stats
Backlinks and referring domains
SERP features data
Top organic keywords
Main organic competitors
The data can be later broken down based on the country if you want to analyze local SEO performance. Now it is important to remember that the statistics that are provided by Semrush are based on hard figures, and the traffic figures are estimates and cannot be considered 100% accurate, especially for small websites.
Getting access to historical data is straightforward in the domain overview section. A simple dropdown menu will let you access snapshots of the domain's performance in search of specific months or years.
The Keywords by Intent section of the report is another powerful feature of Semrush's Domain Overview. This will tell you what percentage of the domain ranking keywords are informational, commercial, transactional, or navigational.
The Competitive Positioning Map is one of its other neat features. This will let you know who are your main competitors in terms of search visibility by visualizing them on the bubble graph.
At the bottom of the report, you will get a ton of backlink data, where you will get a brief list of some of the domain's important referring pages. We'll talk more about this later.
Next to this feature, you will get to see an overview of the domains follow to nofollow link ratio that can help you evaluate the backlink profile strength. It is important to note that a healthy backlink profile has to have a mix of follow and nofollow links.
Finally, you are able to break down the different backlink types into text, image, form, top anchors, and more.
Overall, the domain overview section of Semrush is very useful, and the aspect of the product on its own will give you details into how your website is performing from an SEO point of view.
Click Here To Try Semrush For FREE
3. Keyword Research
The keyword research feature in Semrush looks a bit confusing, but it is an advanced version of the Google Keyword Planner. In simple terms, keyword research generally helps to
Establish how many people are searching a keyword
Establish how difficult it is to rank for that particular keyword
Find who is already ranking for that keyword
Get suggestions for other keywords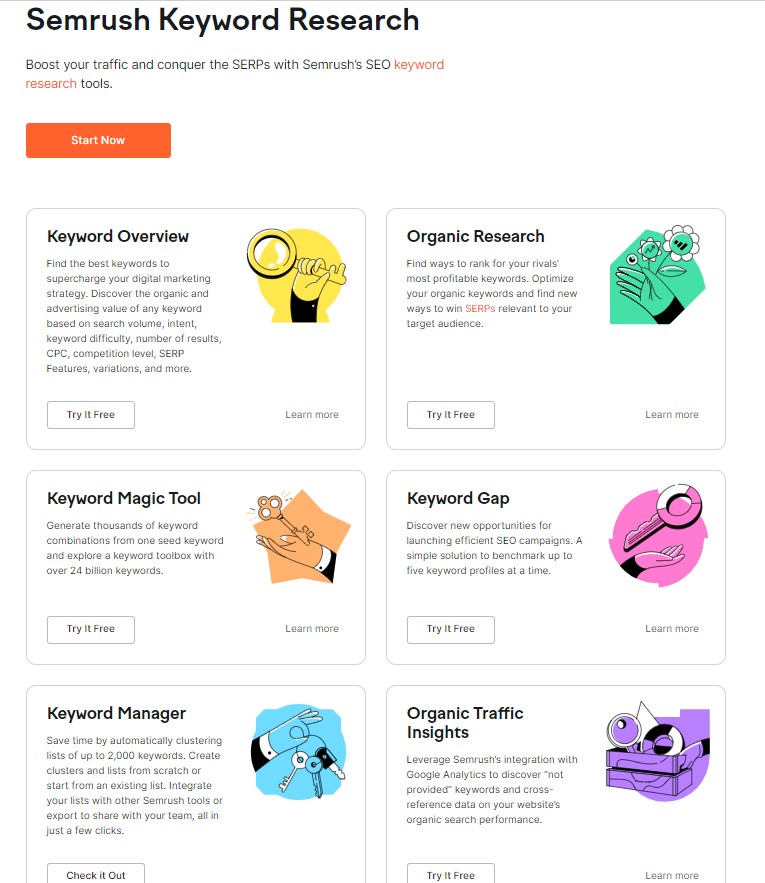 The keyword research tool is made of a collection of 6 tools that you can utilize to discover new keyword ideas, analyze its core parameters, organize in lists, and set up keyword and position tracking.
Let us start with the Keyword Overview tool, which you can use to validate your keywords by analyzing and checking its most important metrics.
1. Keyword Overview tool
The Keyword Overview tool is designed in such a way that if you enter a phrase into the tool, it will generate different analytics of the keyword. In the report, you will get access to several useful metrics based on the volume of the average monthly searches that the analyzed keyword has received over a certain time frame. You can easily perform both global search volume and search volume in any country.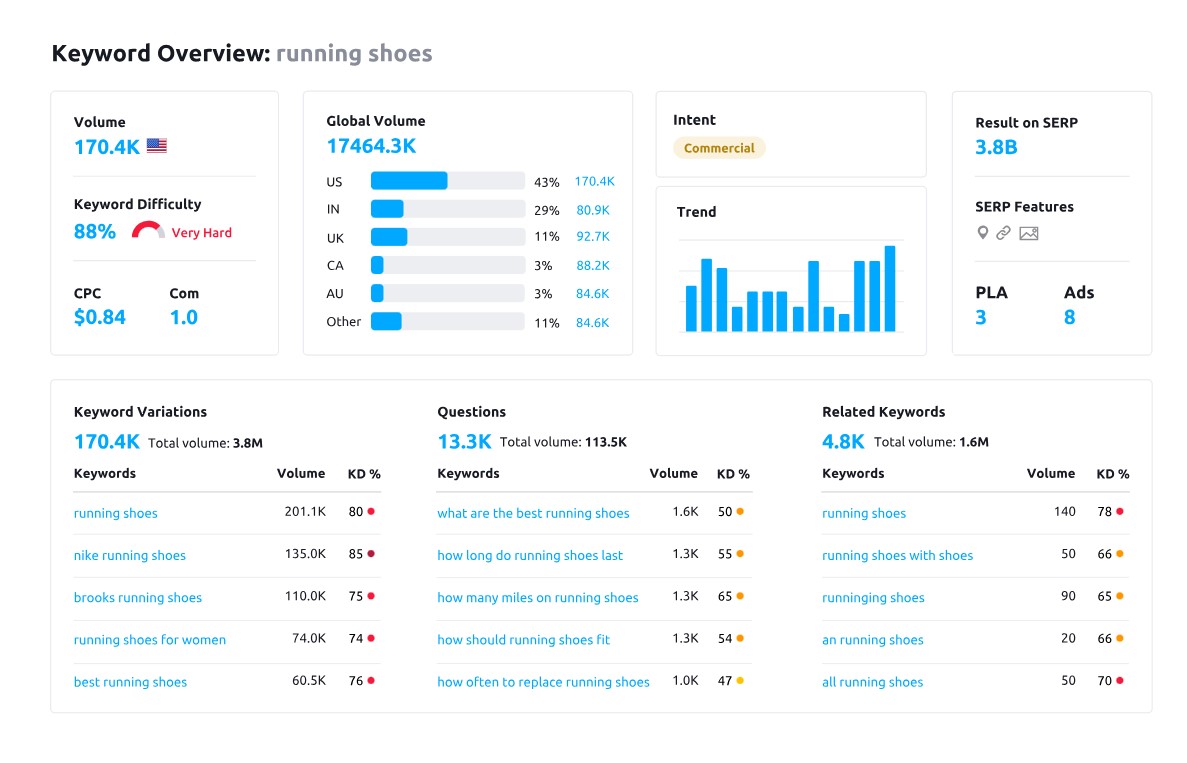 The Intent section of the metrics allows users to search for a keyword that they are looking for. This is great as it can validate your ideas to easily plan your content. The Trend graph will tell how the search volumes have changed over time to easily identify long-term trends. The SF section lets you know about its SERP features that will appear for the target keyword. The Results metric allows users to identify how many pages are currently ranking for the set search term.
The most important section in this section is the Keyword Difficulty Score. It is one of the proprietary Semrush metrics, which is difficult to rank for. In case you are planning to compete for keywords that have a high rating, then you will need to spend a lot of time on link building and on-page SEO.
2. Organic Research
The Organic Research section lets you find the best ways to rank for your rival's most profitable keywords. Efficiently optimize the organic keywords and find new ways to win SERPS relevant to your target audience.
3. Keyword Magic Tool
If you want to generate new keyword ideas, then you can make use of the Keyword Magic tool. You simply have to enter a seed keyword and hit Search, and it will pull several related and similar keywords alongside the most important metrics based on volume, trend, keyword difficulty, etc.
The results can be efficiently filtered based on each of the metrics to make it easier to sort through various options utilizing its filtering options. If you see a keyword that you want to target in your campaigns, then you can save it to your keyword list in a single click. The keyword lists can be viewed directly through your keyword manager that can be accessed from the sidebar.
4. Keyword Gap
The keyword Gap feature is an important feature that gives you the opportunity to launch SEO campaigns with utmost efficiency. Find the keywords of your rivals that users are missing in a few clicks. This is a simple solution that lets you benchmark up to 5 keyword profiles at a single time to discover new opportunities for users to grow.
5. Keyword Manager
The keyword Manager saves you a lot of time by automatically clustering lists up to 2,000 keywords. You can easily create clusters from scratch or start from an existing list. This is great, and you can integrate your lists with other tools on Semrush or export them and share them with your team, all in a few clicks.
6. Organic Traffic Insights
One final tool is the organic traffic insights that let you track how your website is ranking for a given keyword over time. Here, you can set up custom email notifications so that users will be notified if any position change occurs.
Click Here To Try Semrush For FREE
4. Rank Tracking
Rank tracking tool of Semrush combines reports and SEO checking tools that will reveal how your website is doing in search engines.
Setting up this tool is easy on Semrush- go to its position tracker section, enter a domain name, and enter the target keywords you want to track, and you will get a report showing how your site is currently ranking for those keywords. The phrases can also be tracked based on a per-country basis.
You can also enter the competitor websites into Semrush's position tracker tool and compare how your competitors are performing. Finally, you can avail regular rank tracking email notifications for weekly summaries or create triggers that you can receive.
All in all, the rank tracking features are great, and I have no real complaints. It is intuitive and powerful enough to keep track of how well you are ranking in the search engines. Plus, you also get a bonus for social media tracking. The only thing you had to watch out for is the limit on the number of keywords you can track, and these vary by plan.
5. Backlink Analysis
Prospecting for links can be one of the hardest parts of a job as a marketer. With the tool, you no longer have to reach us to prospects to lead nowhere and start building an authoritative backlink profile. How a site performs in the search results is very much dependent on the number of backlinks that exist on your site.
To use this feature, you have to enter the domain name and view the list of backlinks it can find. You can utilize this section to view
Anchor text used for each backlink
Top-level domain distribution
Information on the IP addresses of backlinks
The information is laid out clearly, and users can see how a domain has gained or lost backlinks, with the value of the links in question. Further, you can utilize the data to improve your own SEO efforts or gain valuable insights about your customer
There are 5 major tools that help you go about if you are looking at backlinks in Semrush.
1. Backlink Analytics
In the Link Building tab, you will find a handful of tools that will help you analyze your backlinks, manage your outreach campaigns and find new link-building opportunities.
The Backlink Analytics tool allows you to evaluate and compare the link profiles of any domain in a few clicks. Just type the URL and hit the Analyze button to get started.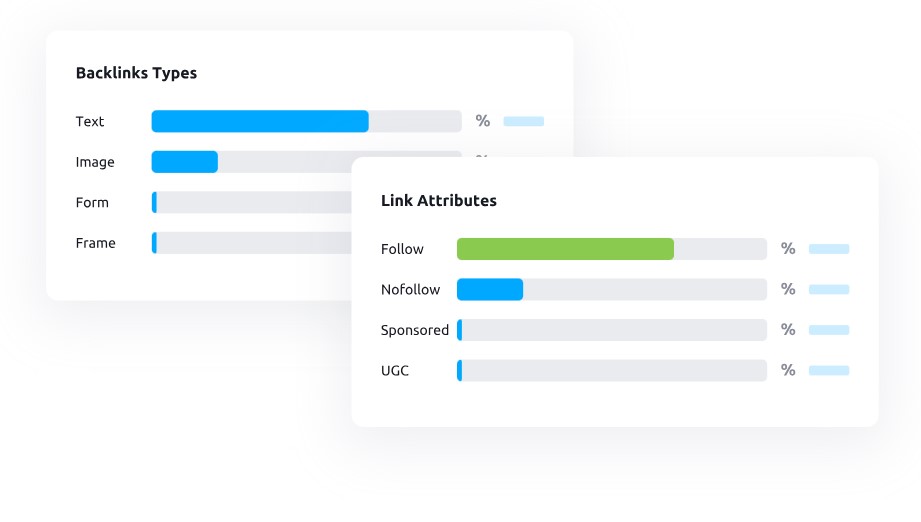 In the Backlink Analytics report, you'll be able to:
View its total backlinks and referring domains over time.
Check the analyzed domain's authority score.
See its overall toxicity score- an indication of the quality of links pointing to it.
Analyze the link profile and see what kind of sites are linking to it and check its link attributes.
The overview page will help you give a bunch of useful graphs and visualizations. The categories of referring domains chart show you what the main industries and niches that link to the analyzed domain are.
Next to that is the Top Anchors word cloud that will show you the text that most link point to when the domain appears. The larger the text that will appear, the more common will be the anchor. Other charts will show things like TLD distribution, new and lost backlinks, and much more. Further, you can use the tabs at the top of the page to open a complete list of backlinks, anchors, referring domains, etc. It will sort through the results using its rich filtering options.
2. Backlink Audit tool
Backlink audit tool helps keep the backlink profile healthy with a complete audit. You can collect personalized insights to take the right decisions to avoid any unnecessary penalties. There are 50+ parameters on any link where you can get custom insights and the ability to remove or disavow any harmful links.
As you analyze these links, you can organize your links into specific lists for keeping or removal. If the removal using outreach doesn't work, then you can collect backlinks into a .txt file and send it directly over to the Google Disavow tool with a single click.
Auditing your backlink profile is just the beginning. However, you need to recrawl your backlink profile regularly to keep an eye out for any new links, lost links, or broken links that may appear.
3. Backlink Gap
A Backlink Gap tool allows users to find several link building prospects needed for your business. There are 3 simple steps to discover you're your prospects for link building.
Compare up to 5 domains- Enter up to 5 competitor domains and see what referring domains are in common with them.
Analyze your reports- Check what referring domain you are missing and review the Authority Score Column to build a great list of opportunities with the highest SEO impact.
Export the data- Review your reports by selecting a preferred time frame. You can later export the data in an Excel or CSV file.
4. Bulk Backlink Analysis
To sharpen your backlink profile, the best feature is its bulk analysis tool. With this tool, you can analyze prospects in bulk with up to 200 websites at a single time without any hassle. After entering the URLs or sites- click on compare to see the results.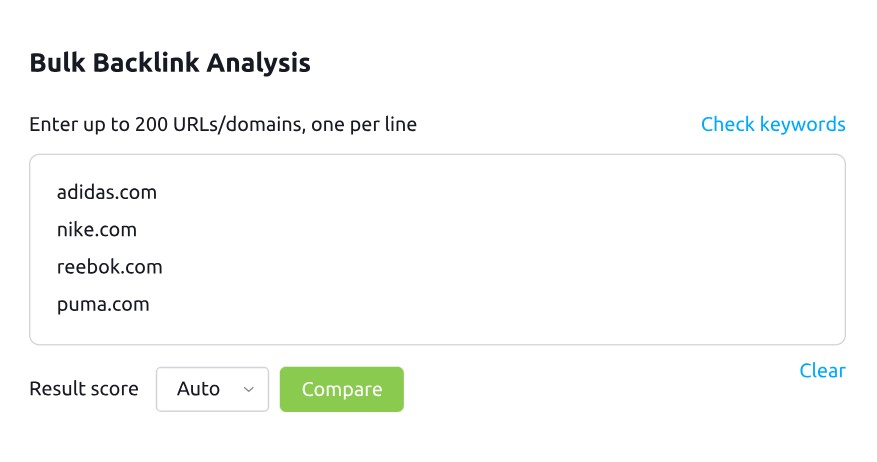 The tool allows you to uncover all the best opportunities to create your outreach strategy. Using the tool, you can get a transparent picture of the market and benchmark your competitor's backlink profiles utilizing various metrics. Easily sort backlinks by text, image, form, frame, and other metrics.
5. Link Building Tool
Discover your website's best link building prospects and conduct outreach campaigns. This will help you keep track of new links all within Semrush. You can check for new prospects based on its target keywords, competitors, brand mentions, and more.
You can review all these domains that are suitable for your link building campaigns, sort by their overall rating, and check which backlinks are similar to your rivals' websites. Efficiently track your work in progress and monitor the results with different graphs and other metrics.
6. Organic Research
Organic research is where you will get a detailed breakdown of your organic search ranking data. You can get access to it by clicking on the Competitive Research section in the left-hand sidebar and searching for any domain to see which keywords they are getting traffic for, what SERP feature they will rank for, and more.
The organic keywords trend graph at the top will show you the number of keywords that the site has ranked for in any given position. This will give users a good idea of your performance and check your organic visibility, whether it has increased or decreased over the past months, years, etc. The Position tab allows you to easily analyze and get a complete list of the domain's organic keyword rankings. All your results can be sorted by traffic to keep track of ranking keywords that are ranking in more clicks or any other metric.
In the Position Changes section, you will get a complete list of the analyzed domain's organic ranking position changes. At the top of this section, you can see an overview of the analyzed domain position changes. This will show you the total number of new, improved, declined, and lost positions within a select time period. So you can see whether you have made progress or lost any ground during the time frame.
The Competitors tab will give users a larger version of the competitive positioning map, which is seen in the Domain Overview section. Below this, you will get a complete list of all the analyzed domains' organic competitors.
There are useful metrics that are listed alongside each competitor, that includes competition level, SE keywords, common keywords, traffic, cost, etc. You can easily sort the organic competitor's lists based on certain filters. Further, from the Pages section, you can see a complete list of the domains ranked website pages. Each page will be listed based on its estimated traffic, ranked keyword data, and more.
Click Here To Try Semrush For FREE
7. Site Audit
The Site Audit feature is one of the most useful tools of Semrush. The feature allows users to find and fix website's unique issues and improve their Google ranking using its free SEO audit tool such as:
Duplicate content
Crawl errors
Slow loading times
SSL issues
Keyword stuffing
Missing headers
Once the audit has been finished, you will get a report outlining all the issues that need fixing to get the best performance. The issues are categorized into errors, warnings, or notices based on how important those issues are. This is a great feature to prioritize your SEO efforts. Semrush will also give you a detailed explanation of each issue and explain exactly how it will fix them. The Site Health bar is graded with a percentage, so you can keep track of the improvements over time.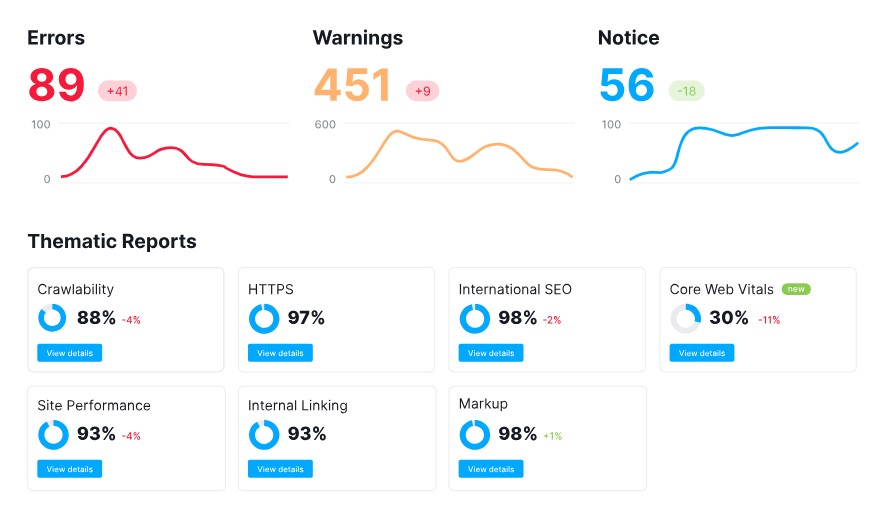 Overall, the Site Audit feature is extremely good and is one of the top recommendations in the SEO site audit tools section.
8. On-Page SEO
The On-Page SEO tool of Semrush is a more focused auditing tool that is designed with the idea of improving the ranking potential of each individual page of your site.
To access this feature, you will have to click the On Page SEO Checker that is seen in the left-hand sidebar, which is underneath the On Page Tech and SEO heading. Follow this by clicking on Create Project to set up a new project. You can import the pages you would like to optimize with their target keywords before you are able to run the report.
In the Overview page, you'll get access to different categories to help improve your rank
Strategy ideas- Find out which pages of your website perform the best, and optimize their on-page SEO for target keywords. The checker analyzes your website's landing pages and suggests already high-ranking pages you can optimize for particular keywords.
Backlink ideas-Discover new sources for link building and strengthening your search rankings. These ideas will help you build an outreach list and build backlinks from highly-trusted websites.
Technical SEO ideas- You should be aware of technical issues affecting your website's search positions. These ideas from On Page SEO Checker integrate data from Semrush's Site Audit tool and show you the technical site issues your website may have.
Semantic ideas- The SEO checker's semantic ideas will help you enrich the content of your website with more keywords and topics which are related to its main target keyword. By covering more related topics, your content will be more helpful to more people, which could lead to higher Google rankings.
Content ideas- The tool analyzes the content of your top competitors on Google and provide you with guidance on what you need to do with your content to beat them. Understand when your content is overstuffed with keywords, how readable it is, and when it's not as informative as it should be.
User experience ideas-See how your webpage is perceived by your audience. This page checker tool analyzes data taken from Google Analytics and gives you a picture of your web page's UX state to help you find out what you need to fix in order to bring it to higher search positions.
SERP features ideas-Learn how to get your website showcased in one of Google's SERP Features. The tool looks through data based on your top 10 rivals in Google, analyzes the keywords triggering SERP features, and makes recommendations for you so you can implement the advice straight away.
The ideas are simply suggestions for things that you can do further to efficiently optimize your pages. Semrush will help generate these ideas by performing an in-depth analysis. It will further compare your pages to the top 10 organic results for the targeted keyword on Google.
In the Optimization Ideas tab, you can select a page to open a complete list of suggestions. For each suggestion, there is a why do I do this? Dropdown button, which will allow you to find out why it will help your rank. Further, in the Top 10 Benchmarking tab, you can see how each of your website's pages is working with other pages ranking on Google for the target keyword in areas like content length, readability, referring domains, etc.
The Log File Analyzer helps you understand how search engines interact with your website. The feature offers accurate information to help understand all the crawling nuances of your website. You can achieve this by checking its status codes, analyzing file types, and getting detailed reports.
9. Local SEO Tools
The Local SEO tool is perfect to sculpt SEO for local strategy. These tools are great to know about your services, boost website traffic, get more customers, or track your growth with the utmost efficiency.
The listing management tool is the ultimate choice for managing and distributing your business information. The feature helps you save time and effort in uploading your business information to the dedicated directories. You can input your contact information once, and the tools will do the rest. The business information can be transmitted across maps, applications, aggregators, and search engines. All the information can be traced in the directories, and you can handle multiple locations. You can edit the listing at any time to make it more consistent. Further, you can update logos, photos, and videos to make your business appealing to your customers.
The position tracking of the Local SEO tools will help discover new ways to get into Google's top results with the keyword position monitoring tool. Further, it's On Page SEO checker will efficiently help increase your rank. You can utilize its free social media toolkit to improve your social media strategy for cross-network publishing, scheduling, analytics, and competitor research.
10. Competitor Analysis
The Competitor analysis feature helps uncover every aspect of your competitor's online presence with the website competitor analysis tools from Semrush.
The tool is a powerful spying tool where you are able to type in keywords, and the tool will compare several competitor websites with your site. It will display the top-ranking keywords from all those sites with specific information on whether or not you can compete by targeting those specific keywords. Any backlink analytics reports, backlink gaps, and reports can be easily viewed using powerful competitor analysis tools.
The Market Explorer feature of Semrush will allow you and reveal similar websites. You can see how the other sites get their traffic and establish a plan that will help you focus on specific things like referrals, search, or social marketing.
The Topic Research feature is another powerful feature in that you can search a keyword and see a large mind map and a list of headlines that come from your competition on the topic. If you want to generate blog post topics, then this feature is a great option as it gives you a direct look into your competition.
Traffic Analytics
There is another powerful tool- the Traffic Analytics section, where you can get great competitor analytics by checking their prospects and potential partners' website traffic. The traffic analytics tool will open up a detailed traffic report for your domain. This is the answer to Semrush's Similarweb.
The Domain Overview tool will only show monthly search traffic estimates, but the Traffic Analytics section will provide a deeper level of insights. You will find things like:
An average of the number of pages viewed by a visitor in each session
The number of visits the analyzed domain gets per month on different devices
Average bounce rate
Average visit duration
The analyzed domains' top-performing pages, and their traffic share
Where is the domains website traffic coming from
Where do the website visitors go once, they leave the site
Geological distribution of the analyzed domain's traffic
Based on the plan you have signed up for, users can access historical traffic data going back to January 2017. The traffic analytics feature is basically an estimate and is not fully accurate. However, the estimations are accurate and give you a rough idea of the traffic numbers, but it is not an exact science. So you will not base any critical decisions like website purchases on this data.
Advertising Research
The Advertising Research feature of the tool will help you uncover the competitor's search ads and delve deeply into their paid search strategies to efficiently plan your PPC campaign. The powerful Google Ads search tool will help you collect all the insightful tips to get the most out of your marketing efforts.
The tool lets you see how different advertisers from your niche are spending. Check multiple websites across each niche to get a complete picture to see the amount of traffic brought through your competitor's websites using PPC.
Free Social Media Toolkit
The Free Social Media toolkit is designed to improve your social media strategy using its cross-network publishing, scheduling, analytics, and competitor research.
Elevate your social media strategy with
Post cross-platform- Post and schedule to multiple accounts that include Twitter, Instagram, LinkedIn, Pinterest, Facebook, and Google My Business.
Track competition- Check how often your competitors and publishing and see whether or not the follower count is growing, and check what posts and hashtags are to see what is driving the most engagement.
Automated reports- Combine the power of amazing data visualization with automation. Receive in your inbox the main social media KPIs and never miss an opportunity to make your brand shine on social channels.
With this, you can improve your efficiency with the free tools and curate content to give you the best results.
11. Content Marketing Toolkit
Semrush makes content creation and distribution as easy as it comes. The toolkit allows users to create and execute a powerful data-informed content strategy based on their audience's needs. Now you can combine your creativity and analytics on each step of your workflow from the time of ideation to creation, optimization, and measurement. Some of its useful features are
1. Topic research
The Topic research allows you to find what resonated with your audience. With this tool, you can design a winning content plan and structure your articles with the versatile research tool. With the powerful blog ideas generator, you can create a competitive content plan that is focused on your audience's needs and interests. Now you can write blog headlines that will bring the desired results. Further, find topics that your competitors rank to create a plan that will fill all the gaps.
2. SEO content template
The SEO content template allows users to generate a brief template for your content that is optimized for your target keywords. You can get custom SEO recommendations based on your top 10 rivals ranking for your keyword in Google search in a specific area. Finally, you can quickly check your text for SEO friendliness using the real-time content check.
3. SEO writing assistant
The powerful writing assistant allows you to optimize your website content on the go. You can run SEO content analysis, adjust its readability, check its originality, and maintain a consistent tone of voice before and after content publication. This will help you optimize for user intent and search engines with the utmost efficiency.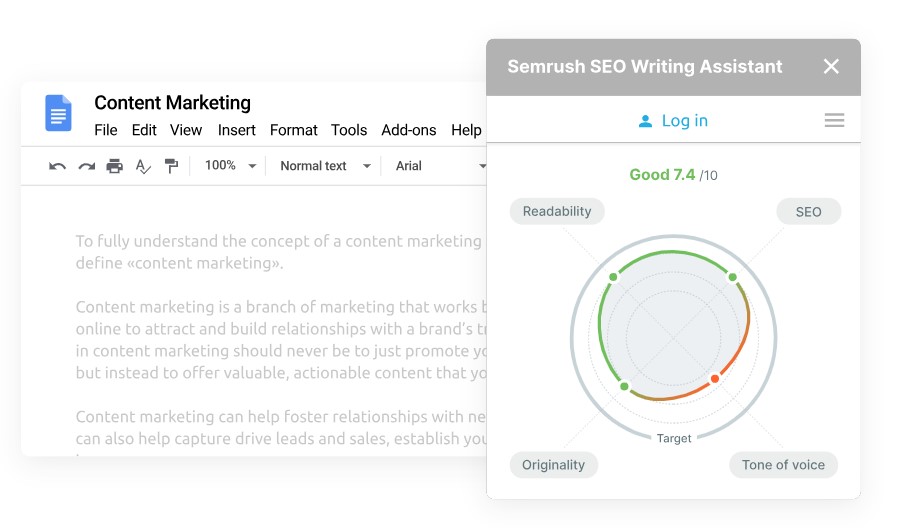 4. Marketing calendar
Semrush allows you to manage your content calendar and marketing campaigns in a single place. The calendar lets users easily collaborate and track their campaign performance. Easily plan and align your marketing and editorial activities and manage your tasks with utmost efficiency.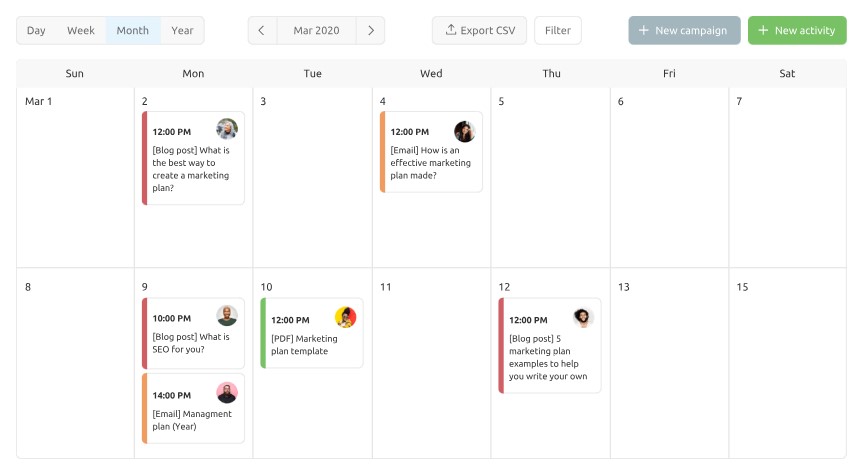 If you are able to manage all your projects in a single location, your team will get easy access, and you can keep a constant record of all your tasks, communication and prevent details from being forgotten or missed.
12. Social Media Management Tools
Social media management tools are great to boost your social media apps with their apps. You can easily publish, analyze and monitor your content, track competitors, and fully manage your influencer campaigns. Some powerful tools include
Social Media Poster- You no longer have to manually schedule tasks or posts on multiple platforms and invest more time to create the best performing content using this tool.
Social Tracker- The social tracker helps you keep track of your rival's social media activity across different apps.
Social Analytics- The tool allows you to make the most out of your social media strategies with the powerful analytics tool in the market.
Social Inbox- The Social Inbox helps you efficiently improve your brand reputation and community engagement giving users an easy approach to social media management tasks.
Influencer Analytics- The BuzzGuru feature has a perfect combination of tools that helps in preparing, running, and evaluating a creator campaign.
13. Advertising Toolkit
The advertisement toolkit is designed to help users monetize their offerings using competitive intelligence to make all their efforts pay off. Its powerful toolkit is great for affiliate managers, AdSense publishers, and bloggers that want to go big in the industry.
The advertising research feature allows users to analyze the ad strategies of their competitors and see keywords that they are banking on. Easily view all add copy examples from industry leaders and see different metrics and get the best data and information.
Finally, the PLA advertising tool allows you to analyze the performance of other Google Shopping advertisers. Using the tool, you can discover search queries that will trigger these PLAs to appear and get their positions.
14. Integrations
Semrush integrations are a great way to enhance the overall functionality of your website and stay organized. You can connect your account with the tool to use its functionality on the platforms that you love and enjoy. In case you have an account with Google products, social networks, WordPress, Trello, Majestic, Zapier, and a few other tools, then you can efficiently connect it to Semrush to keep everything under one roof.
15. Customer Support
SEO tools like Semrush can be quite complex in nature, so it is important to have great customer support for prospective users. The tools come with excellent customer support, and you can easily contact the team via phone, email, or chat. This is great with competing products, as not all offer phone support as other platforms in this niche.
Semrush makes the contact details as easy as it goes and makes its contact details very easy to spot. Here, a help chatbox is visible at the corner of each page, and it displays the wait time you are likely to experience before you have to contact an agent.
The tool has a comprehensive blog, insights, and an academy that is vital to use these toolkits to get official certificates for your proficiency in SEO and Semrush. It also has a GoodContent Hub where you can learn everything you need to create effective content marketing in a single place. Apart from this, it has webinars, information from top websites, and local SEO hubs to get all the information you need.
Further, the phone numbers are listed prominently in the contact section of the Semrush section. There is nothing annoying and the phone number is prominently shown, and the help is immediate and efficient as things go.
Semrush Pricing
Semrush has some features that you can't find anywhere else, and each of these features is designed specifically to get a return on your investment. The platform has 3 plans that users can choose from.
Each of the plans has a 14-day trial period where users can check its features and performance. If you sign up for it and find that doesn't fit your needs, then you can avail their 7-day money-back guarantee. We'll learn more about their plans below.
Click Here To Try Semrush For FREE
1. Pro Plan
The Pro plan is the basic plan offered by the platform. It is a great choice for newbies or small teams that want access to its features. The features of the plan include
5 projects
500 keywords to track
10,000 results per report
5 scheduled PDF downloads
Keyword, domain, and backlink analytics
Competitor analysis
Keyword research
Website audit
Advertising and social media tools
2. Guru Plan
The Guru plan is an ideal choice for agencies and mid-size businesses. The plan has all the features of the Pro plan plus
15 projects
1,500 keywords to tracks
30,000 results per report
800 SEO content templates
5 plagiarism checks per month
20 scheduled PDF downloads
Content marketing toolkit
Historical data analysis
Keyword cannibalization report
Multi-location and device tracking
Looker Studio integration
PDF template sharing
3. Business Plan
The Business plan is a premium offering offered by the platform. It is a plan designed for large agencies and enterprises requiring advanced functionality. The plan has all the features of the Guru plan plus
40 projects
5,000 keywords to tracks
50,000 results per report
2000 SEO content templates
10 plagiarism checks per month
50 scheduled PDF downloads
Share of voice
Extended limits
API Access
PLA analytics
Free migration from third-party tools
Pros and Cons
Pros
Learning curve is gentle
Comprehensive keyword research tool with domain analytics
Huge database with a broad set of features
Extensive backlink and keyword metrics
Powerful link-building features
Wide range of SEO tools
Generous usage allowances
Desktop and mobile search breakdowns
Great value for money
Cons
Data only covers Google
Lacks keyword list management
Traffic analytics data is not always accurate
Is Semrush Worth the Hype?
Semrush is a stellar tool that is designed with excellent SEO applications. This will allow users to have all the key data they need for a successful SEO project. Its interface is well laid, even though there are several metrics and features, which can be overwhelming for beginners. However, it is better than other similar tools in the market.
Click Here To Try Semrush For FREE
The standout features of the tool are its link building and site auditing tools. This gives users an excellent CRM-style tool for efficiently building backlinks and offers a super easy checklist to improve your technical and on-page SEO features. Another great feature is its search intent which helps users identify target keywords that help them generate sales and conversions to focus on creating content for them.
Semrush only provides data for the Google search engine, and all its accounts only have a single user account, and some features are only used as part of a project. However, its pricing point is very good compared to the features it offers to users.
Overall, Semrush is a great SEO solution that gives you all the key information that can help improve your Google rankings. It offers a 7-day free trial which you can try if you are interested in the tool.
Semrush Review FAQs
1. Can I use Semrush for free?
Semrush has limited access to some of its features, but it is overall not free. They have a 14-day trial where you can access its features if you want to check its overall functionality and performance before investing in it.
2. Can Semrush be trusted?
Semrush is a reliable and trustworthy tool that is great for SEO and the digital marketing industry. Over the years, it has gained a solid reputation and is used by professionals across various SEO and digital marketing tasks. If you simply put it in a few words, it is well trusted in the industry.
3. Do I need to install anything to use Semrush?
Semrush is a browser-based application that doesn't need any plugin to install any software to use it. It doesn't matter what type of computer you want to use, as it will run well on MAC, Windows PC, or Chromebook, as long as you have a stable internet connection and web browser available.
4. Are there any discounts available with Semrush?
Semrush offers discounts on its yearly plans. So, pay annually, and you can end up saving up to 17% of the cost.
Read Next: