Podia and Teachable converge at online courses. These are both tools that you can use to create and sell online courses.
Although they have that in common, there's also plenty that sets them apart. Today, we take a look at Podia and Teachable individually and then compare them to see which one is the right fit for whom.
TLDR; If you want to launch courses Teachable is the Better Course Platform.
But, Podia has created an entire ecosystem around selling digital content. That includes selling digital downloads, creating membership websites, and features dedicated to running webinars. It's better as an overall Platform
Podia vs Teachable
Podia puts the needs of creators front and center. Their goal has always been to make it possible for creators to put out the stuff they make and get paid for it so they can turn their passion into a business.
Podia is perhaps most well-known for its course creation capabilities. However, there's a lot more to the software than that. Let's take a look at everything that Podia has to offer to creators.
Podia Online Course Builder
Podia makes it possible to create many different kinds of courses online. Here are some examples:
Single courses: Before you can have a full-fledged online school, you'll need to start with the standalone course. The courses you create with Podia can contain video, audio, PDFs, Photoshop documents, and more.
Course bundles: Once you have a few courses up, you can combine them to create a course bundle. Offering courses in a bundle can be a way to reduce the overall price for students and give them a clear learning path.
Drip courses: Sometimes you don't want your students to bite off more than they can chew. Drip courses let you release course contents to students on a set schedule. This is a great way to keep your subscribers coming back to your online school.
Pre-launch course: You don't want to invest time and money in a course before you know whether your audience is invested in it. To avoid wasted effort, you can pre-launch Podia courses to your email subscribers and see how much interest there is for it.
Podia Discount Code Auto Applied
Podia Online Course Builder – Design Options
When you put together an online course, design is an important aspect to pay attention to. A well-designed course is more engaging and helps you retain students. Here are the design and customization options that the Podia course builder gives you:
Live Viewer: The best thing about Podia's course builder is that you track all the changes you're making live. Let's say you decide to change the font in a particular part of the page. You can instantly see what that looks like. The live feedback makes the design process quicker and more decisive.
Flexible Layout: Everything that you build on Podia can be inserted into a flexible layout. You can have a full-width page or one that's constrained. Within that you can have column-based layouts. You're free to structure all the pages as you want.
Custom Branding: Podia lets you put your branding on your online school. You can do things like customizing the colors to match your brand guidelines and add your logo in different places. This means your students see your business' footprint as they navigate the courses.
Multimedia support: You aren't limited to using text in Podia's courses and sales pages. It lets you throw in video, images, rich text and more to keep things engaging for visitors.
Responsive: Your audience will likely access your courses from all kinds of devices. So you don't want to use a platform that supports access only on a desktop. With Podia, your courses are automatically packaged into responsive web pages that look great on any device.
Podia Marketing Features
Creating your online course will feel like an accomplishment, but that's only the first step. Then comes the hard part: selling it. Thankfully, Podia has an arsenal of tools dedicated to marketing courses.
Lead magnet: A lead magnet is something that you release to your audience as a way to collect leads. Podia allows you to put out course content for free and then collect email addresses. This is a great way to build an email list even before you launch your course.
Pre-launch courses: This is another tactic that you can use to drum up interest for your course before it's officially released. A pre-launch is when you put out information about a course and collect emails promising to let people know when it launches. Podia has in-built features to pre-launch courses.
Pre-sell courses: With a pre-launch you test the waters before putting your course out. But sometimes, you may want to make the hard sell to people while you're still developing your course. That's what pre-selling is. It's a strategy that works if you have an existing audience with which you've built trust and loyalty.
Email marketing: There are few tactics to market online courses that work as well as good old email marketing. Podia makes it possible to create entire email marketing campaigns right on the platform. Further, you can segment your audience for targeted messaging and track the efficacy of your campaigns.
Affiliate marketing: Word of mouth is one way that your audience can help you sell courses. If you want to incentivize them selling your course for you, you can make use of Podia's affiliate program features. It lets you easily create affiliate programs, set commission rates, and pay out your affiliates.
Podia Sales & Payment Features
Let's take a look at what features Podia offers to make the hard sale and collect payments when that happens.
Checkout pages: Podia has built-in checkout pages that have been tested extensively. These are designed to convert at a high rate. The checkout process is quick and easy so you have fewer customers abandoning their cart.
"Buy" buttons: Podia lets you embed buttons that lead to checkout in different places. You can insert these buttons in different places on your website. So you can easily go from describing your courses on your website to giving visitors a simple way to purchase them.
Upsell: When you have a customer willing to pay for one product, you want to maximize your revenue from them. Podia lets you capitalize on paying customers with the 1-click upsell. This means that they can easily add other courses or products to their cart when purchasing a course.
Payment gateways: You can collect payments for your online courses on Podia via PayPal and Stripe. The platform lets you store customer details in a secure manner so that they can make future purchases quickly.
Payment plans: Some potential customers may not be able to pay for your online courses all in one go. You don't want to turn them away because of this. With Podia you can create monthly payment plans and collect your payments in regular installments.
As you can see, Podia offers a comprehensive feature-set to create and sell online courses. But that's not all it does. Podia goes beyond online courses and has a few other tools to help creators build thriving businesses. Here's what they are.
Podia Digital Downloads
For some people, creating an entire online course right off the bat may seem overwhelming. Lucky for you, you don't have to have an online course up and running to sell something on Podia. You can offer anything as a digital download through the platform.
Podia supports many different formats in which you can sell your digital downloads. That includes eBooks, PSDs, MP3 files, images, quizzes, PDFs, etc. Basically, you can sell anything that you can find a way to package into a digital format.
Podia makes it surprisingly simple to offer these digital downloads to your audience once they're ready. The platform handles file hosting, payments, and file delivery. And it does all of that without collecting any transaction fees on the sales that you do make.
The same marketing and sales tools available to course creators are also available to those who want to sell digital downloads using Podia. So you can market your courses using pre-launch offers, coupons, email marketing, and lead magnets. When it comes time to make the sale, you can take advantage of high-converting checkout pages, embedded "Buy" buttons, and bundled products among other things.
Podia Memberships
A digital download is a good idea for when you want to sell a one-time product. But certain creators put out content regularly. So you may want your audience to have access to the things you make on a regular basis. That's when you should consider having a membership website.
Podia has native features that make it possible to build an end-to-end membership program on your website. For creators, this is a great way to earn a predictable revenue on a recurring basis. You can also offer memberships for free and turn it into a lead generation tool.
Below are some of the key features of Podia's membership offering:
Multiple membership types: You can have as many types of memberships as you want on Podia. Your customers will automatically be put into categories based on their membership type and be given access to content based on that.
Public & private posts: You can put out public posts that are visible to all your members. These are also indexed by search engines so they have SEO benefits. Private posts can be restricted to certain members. This keeps your premium members happy and can also be used to entice other members to upgrade.
Scheduled content: When you have a membership website, you'll need to put out content on a regular basis. But that doesn't mean you need to be busy constantly uploading content to the platform. Podia lets you upload content all at once and release it to your members on a schedule.
Community engagement: You can have your community respond to the content you post on your membership website. This is a great way to create a sense of community and gather feedback from your customers.
Email notifications: Worried that your members may miss out on certain content because they don't check your website? You can let them know about new releases with Podia's email notification feature.
Podia Webinars
Livestreams are a newfangled source of income for creators. These streams could take the form of a live gaming stream, concert, or a webinar information product. Podia combines with YouTube Live to help creators make money off these streams.
You can create and give access to your Webinars from within Podia. The platform's page builder lets you create sales pages customized for each webinar. You can share these sales pages with your audience to get the word out and start collecting sign-ups.
You can offer your webinars for free or make them a paid product. If they are paid, Podia users can schedule the stream in advance and start collecting payments right away. Paid webinars can become a source of passive income since you get paid in perpetuity every time someone buys it.
The Podia webinar product is great for many different kinds of creators. Professional speakers, coaches, educators, and consultants especially can benefit from using it.
Click Here To Try Podia Free For 14-days
So that was an overview of everything that Podia does. Now let's turn our attention to Teachable.
About Teachable
Teachable is a learning management system that tens of thousands of educators online trust. The courses on the platform play host to millions of students, generating significant revenues for its customers.
As we saw earlier, Podia aims its products at creators in general. Teachable is a lot more focused on those who want to build online schools and information products. That focus is evident in the software's feature set.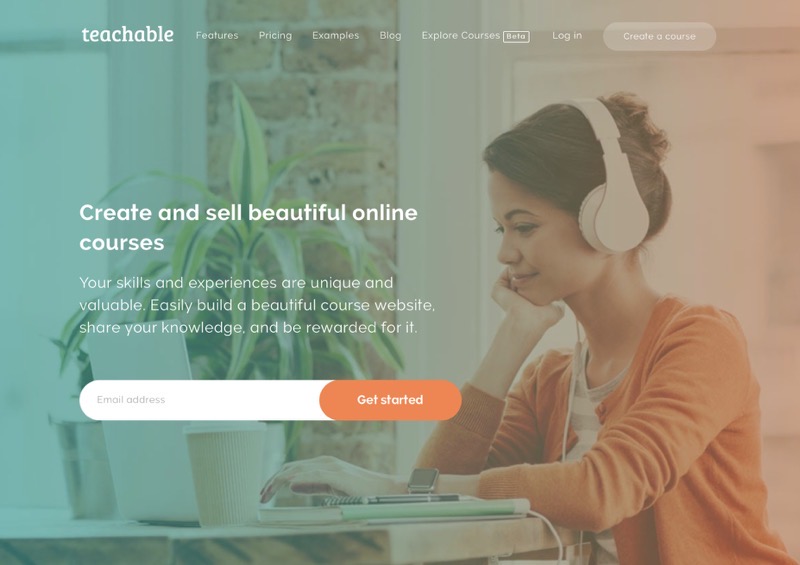 Let's find out more about Teachable and its features.
Teachable Online Course Builder
Teachable gives you the ability to create both courses and a website. This is helpful for those starting from scratch. You don't need to research multiple tools to build your courses and to set up your website.
The Teachable course builder uses a drag-and-drop methodology. So you can create your content and build pages simply by dragging elements onto the page. You get live feedback about the changes you're making.
The platform supports the use of multimedia in course contents. Course creators can include video, audio, PDFs, and images in their lessons. If you've already created course contents somewhere else, you can import them to Teachable via Google Drive, Dropbox, and OneDrive.
If you're not ready to invest in hosting yet, you don't need to. Teachable lets you host your courses on its own subdomain. When you're ready to make the shift, you can point the courses to your own website.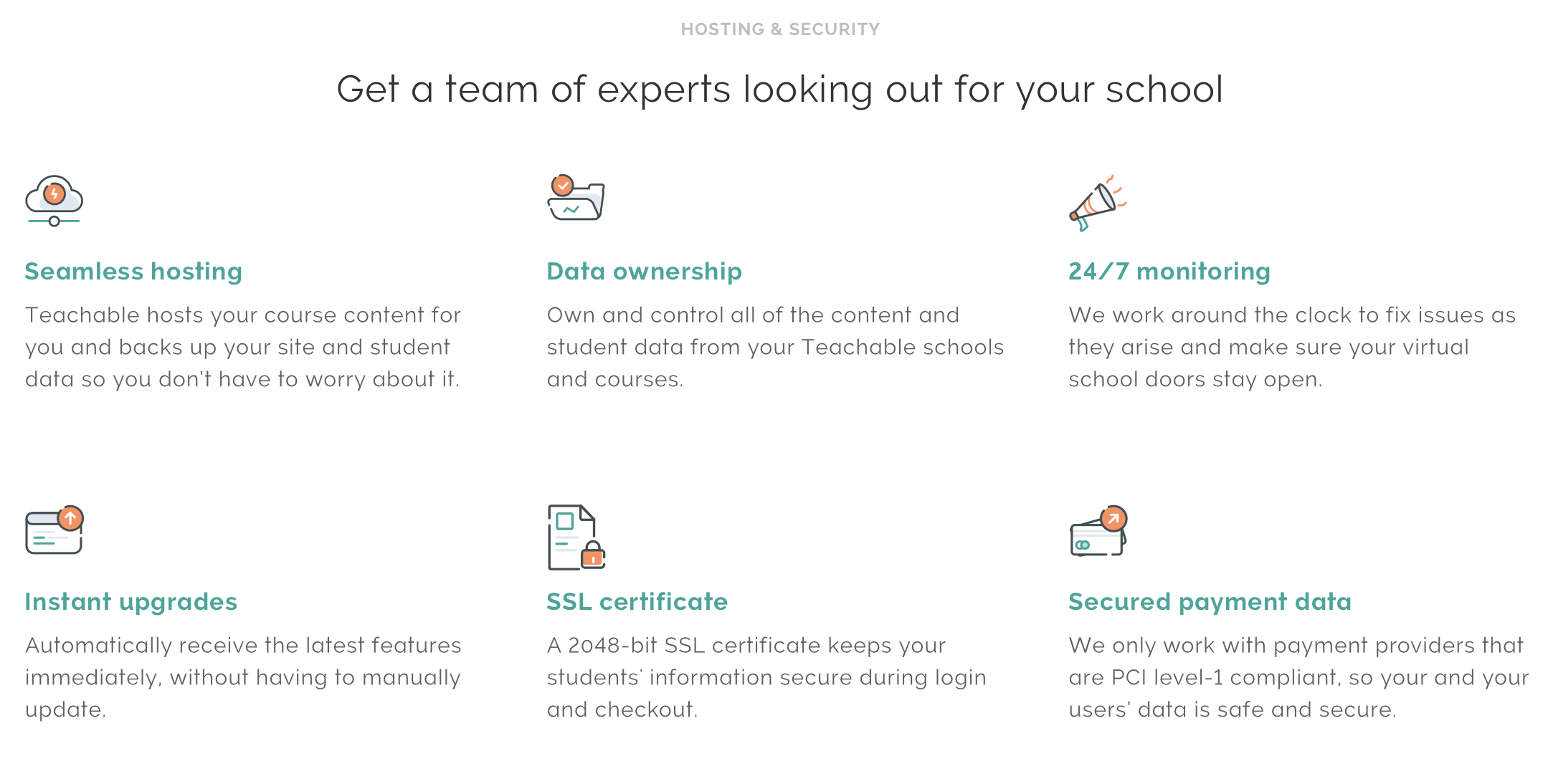 Teachable Marketing Features
Sales pages are a great way to get the word out about your online courses. There are many sales page builders out there, but integrating them with the rest of your marketing stack may prove messy. Teachable solves that problem by offering customers its own sales page builder.
If you want to build a sales page on Teachable, you can start by choosing one of the preexisting templates. Each of these templates have been tested for their conversion rate, so you can trust that you're in good hands. Teachable users are also free to build their sales pages from scratch.
The sales page is only one aspect of your marketing efforts. You will need to use several other tactics to really get your online school to pop. How do you know if these tactics are working? One way is by using Teachable's native conversion pixel.
A conversion pixel is a small piece of code that you can put on different parts of your website. The pixel tracks user behaviors on that part of the website. It's a great way to find out how your ads are performing and tweak them for higher conversion rates.
Teachable Sales & Payment Features
Teachable offers users the ability to charge customers in a few different ways. It's common for courses to be sold all at once. So you can charge a one-time fee for a Teachable course. But that's not the only way in which you can collect payments.
Teachable gives you the ability to drip-feed content to users. That means that they can get access to lessons on a weekly basis, monthly basis, or some other schedule of your choosing. To support that kind of schedule, Teachable offers subscription pricing with regular renewals.
Some of your customers may not be able to pay the fee for a course all at once. You can cater to that part of your audience by offering payment plans. The Teachable platform will automatically link customers to their payment plans and track installments.
Teachable collects payments through the Stripe Connect or PayPal payment gateways. This lets you accept payment in over 130 currencies, thus making your course accessible to a huge global audience. Teachable makes it possible to collect payments in different currencies for the same course.
Affiliate programs are an effective sales tool for online courses. Teachable has its own affiliate program software. You can reward people monetarily for marketing your course and pay them out through the platform.
Podia vs Teachable: Course Builder
When it comes to actually putting together courses online, both these products are pretty neck and neck. Podia and Teachable both use a drag-and-drop builder with front-end editing capabilities. Educators can easily add textual content and multimedia to make courses more engaging.
Both of these softwares also come with their own website builder. Anyone can get a website up and running using them without writing a line of code.
Podia's website builder may have a slight edge. Podia Editor, as it's called, does slightly better because of its marketing features. It comes with multiple theme options and the ability to add a lead magnet along with free courses.
Podia vs Teachable: Marketing Features
When it comes to marketing features, Podia appears to inch ahead by some margin.
That's not to say that Teachable doesn't have anything to offer in terms of marketing features. It has some powerful in-built marketing capabilities, such as its sales page builder and conversion pixel support. Thanks to its Zapier integration, you can combine Teachable with a wide range of third-party tools.
But when it comes to native marketing features, Podia takes the cake. The software has its own robust email marketing tool. You can use it to send out email newsletters, trigger automated emails, and create drip campaigns.
Podia also has its very own live chat tool. This piece of software can serve many different purposes based on your needs. You could use it as a marketing tool with messages about new products. It can also function as a means to gather customer feedback and receive feature requests.
Podia vs Teachable: Pricing
Teachable's Basic plan is priced $39 per month. Along with the basic features, you also get unlimited students, two admin users, course creator training, and instant payouts with this plan. "Basic" plan users are charged a 5% transaction fee on the sales they make.
If you want to get rid of the transaction fees, you'll have to pay $119 per month for Teachable's Professional plan. Along with no transaction fees, you also get five admin users, priority support, an unbranded website, graded quizzes, integrated affiliate marketing, and course compliance features.
Teachable's Business plan is aimed at established online schools. Some of the additional features you get with the plan are 20 admin users, bulk student enrollment, advanced theme customization, and custom user rolls.
Now let's turn our attention to Podia's pricing plans. The product is available through just two simple packages.
Podia, too, starts at $39 per month. For that price you get your own storefront, online course features, digital downloads, webinars, email marketing, and live chat features. If you go up to $79 per month, you also add memberships, blog, affiliate marketing, and off-site buy button features.
The one pro of using Teachable when it comes to pricing is that it does have a free version. With that, you can create an unlimited number of courses and host unlimited content on a Teachable subdomain. However, there is a $1 + 10% cut that the platform takes on every sale that you make.
Podia vs Teachable – Final Thoughts
If all you're looking to do is create online courses, then Teachable and Podia are very similar products. Their course builders use an intuitive front-end editor to support course creation. You can use either product to create informative, beautiful online courses.
The differences start to appear more when you look beyond just creating courses. Podia has created an entire ecosystem around selling digital content. That includes selling digital downloads, creating membership websites, and features dedicated to running webinars. These are all capabilities that you don't get with Teachable.
Podia also seems to be the more affordable option. Yes, both products start at $39 per month. However, Teachable has a 5% transaction fee tacked on to that amount. Podia does not.
The one advantage that Teachable does have is its free plan. This gives users the ability to create online courses and test the market without spending money on the platform itself. However, some may consider the $1 + 10% commission a little too high.
If you're focused exclusively on selling online courses, then you may consider Teachable. However, Podia offers a more comprehensive feature-set to create and sell digital content.