Bluehost is one of the biggest hosting providers in the world. The platform is known as an official WordPress-recommended hosting provider in the market. The reputable web hosting platform powers over two million websites with the best tools, excellent packages, and customer support. Bluehost is a popular platform as it allows you to set up your website and get started within a few minutes.
Its ease of use makes it a great option for beginners who want to start out as well as experienced personnel trying to make their mark in the industry.
Click to Get 67% OFF Bluehost Now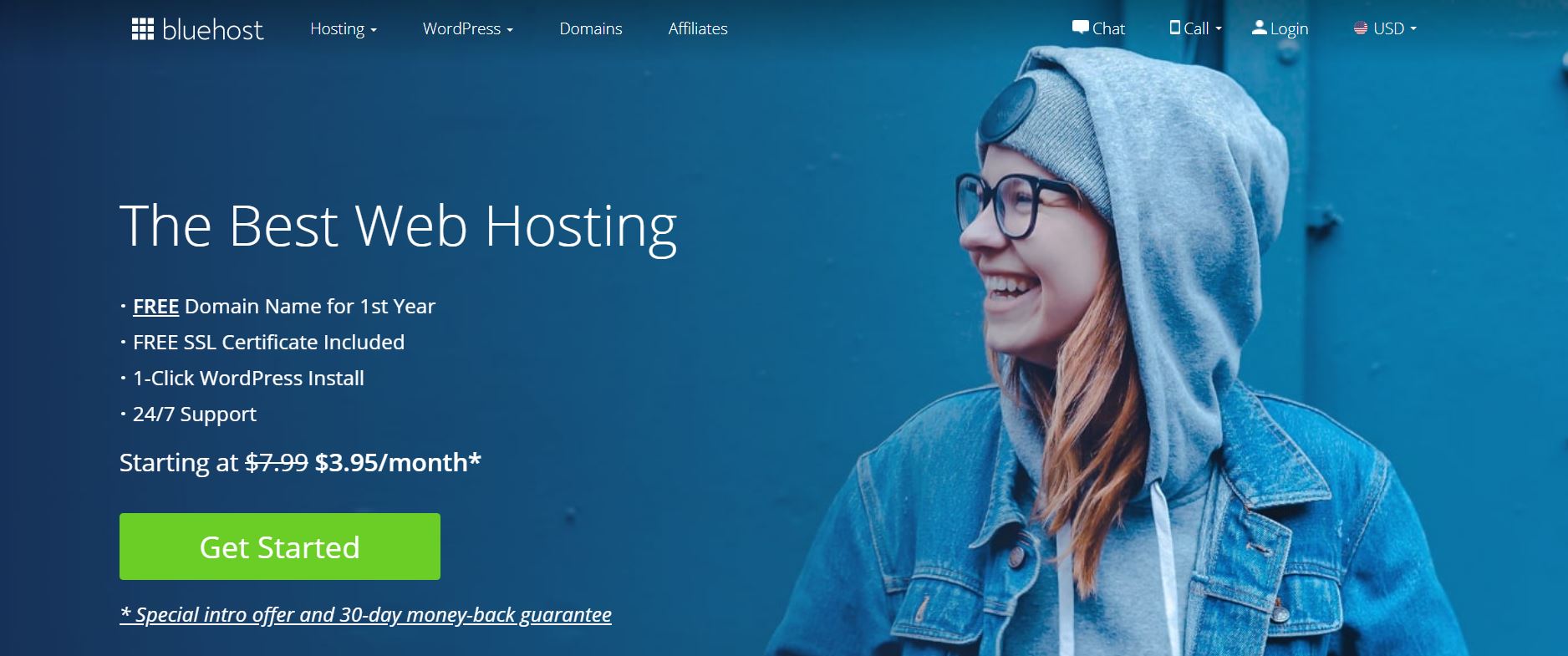 Bluehost has seamless integration with WordPress and allows users to easily customize the website to add their brand identity. This allows you to efficiently scale your business and add required themes and plugins for your website. In case you don't want to build your website by making use of WordPress, then you can integrate efficiently with Ghost, Magneto, Joomla, and other platforms.
The open-source technology enables you to add resources and upgrade as and when the business grows. Finally, the platform offers excellent flexibility over long periods. Not yet convinced if Bluehost is the platform to build your website. Let us take a deep dive into the various features and advantages offered by Bluehost in this article.
Who is Bluehost Best for?
Bluehost is ideal for beginners, individuals getting moderately high volumes of traffic, as well as individuals having specific site requirements. Bluehost offers the cheapest way to build a website and get started building websites and setting up online stores. All this can be achieved without requiring any technical expertise.
It is commonly a preferred choice for
Local small businesses- Bluehost is very reliable, making small businesses confident that their website will be always up and available when potential customers visit.
Personal website builders- It offers a great balance between affordability and quality for personal websites. Personal websites usually don't get high volumes of traffic, and Bluehost has a range of plans that suit individuals in this niche.
Entrepreneurs- Entrepreneurs generally start small and slowly evolve to take their businesses to great heights. Bluehost is a unicorn that will help them launch their dream website in a short time frame without any expertise. Once they outgrow their initial plan, they can easily upgrade to higher packs for optimum performance.
E-commerce- E-commerce sites require top-notch reliability, and Bluehost has excellent performance, uptime, and speed that would help anybody run a good store.
All in all, it is a great hosting solution to build a versatile platform using WordPress. It also offers excellent flexibility and allows users to customize their website, giving it an edge over its competitors in the industry.
Bluehost vs other Web Hosting Services
Bluehost is a strong contender when you compare it with the features offered by budget-friendly as well as premium hosting providers in the market. It is a great choice if you are planning to create a website for the first time. The platform is very reliable, safe, and affordable plus, you get a free domain name when you sign up. This is a great perk that sets it apart from other budget-friendly options, and it offers excellent support options alongside its affordable hosting tiers.
Bluehost is a great hosting platform with its unique offerings and fits well with people who have specific needs for web hosting services, eCommerce, website building, and others. In this article, we break down some of the strengths of the excellent offered on this platform.
Bluehost Review Reddit
u/shalevrais12- "Bluehost's customer support, strong uptime, and affordable beginner plans make the hosting provider very dependable. Bluehost is a great choice if you are looking for old-fashioned reliability. This is why it is rated as one of the best overall hosting providers within the market".
u/HS4Living- "I have never had any issues using Bluehost. They have always been very helpful".
u/throwyoworkaway- "Bluehost is pretty good these days… They have improved their quality over the recent years".
Click to Get 75% OFF Bluehost Now
Bluehost Coupon Code: Auto Applied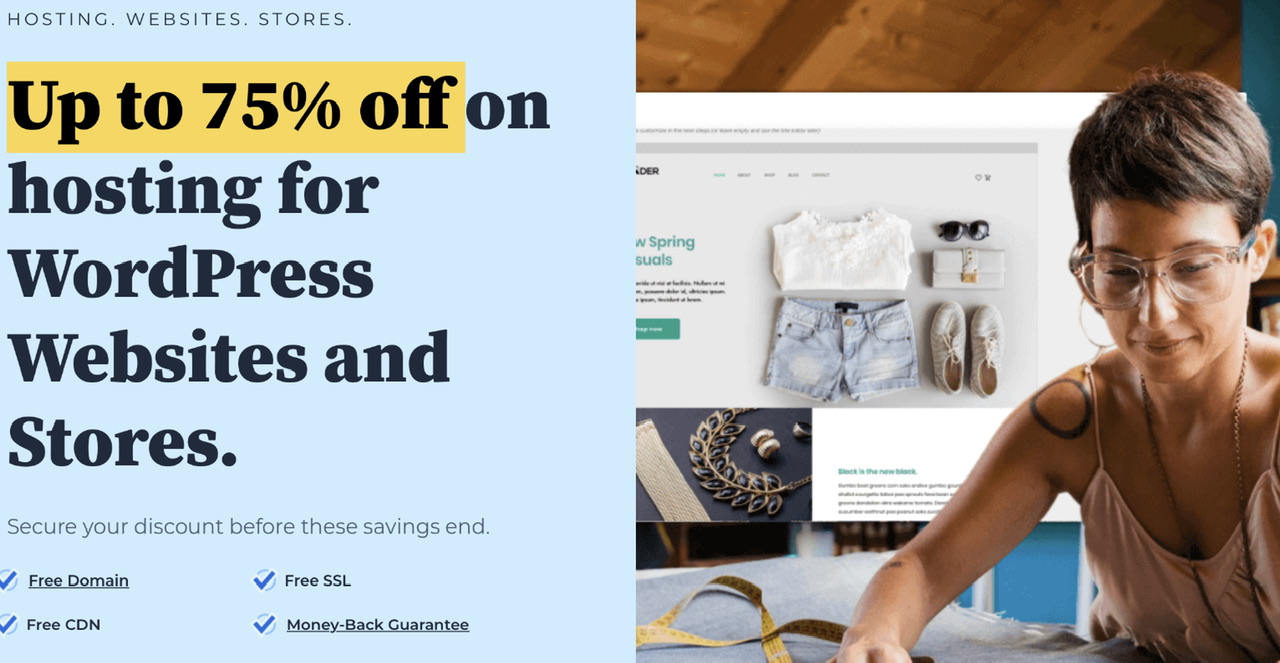 Bluehost Review
1. Ease of Use
Bluehost is not only a popular web hosting service in the market, but it is also incredibly easy to use. The platform has outstanding features and products that can be efficiently utilized. Ease of use is an important feature to have, as some find web hosting very confusing. So, there is no need for the onboarding process to be difficult too.
Fear not, as Bluehost has a simple and easy onboarding process, and it will take you a few minutes to get your website up and running. The platform has an intuitive interface, and its simplified builder ensures that you have full versatility and flexibility with your website. Bluehost offers an efficient way to build your website without requiring any coding or management knowledge. The robust drag and drop builder allows you to customize different aspects of your website to suit your brand identity. To sweeten the deal, Bluehost has partnered with WordPress. The popular CMS platform is automatically installed with every hosting plan. WordPress may look to be difficult for beginners, but in reality, is easy to use. Over time you will be able to use all its features to enhance the functionality of your website further. Further, it has several themes and plugins that can be installed directly from your panel.
The custom control panel that Bluehost offers to its users makes it beginner-friendly. So, if you are new and want to build a website, this is an excellent tool. The platform makes use of a customized version of the cPanel dashboard, so you will have access to standard as well as advanced solutions. The control panel helps you manage everything related to your website hosting and accounts, which includes domain management, hosting, email address, billing, etc. All you have to do is to select one of the icons, and it will instantly open up the pages for you.
2. Bluehost Website Builder
The website builder of Bluehost lets you build an efficient website with WordPress and other platforms. With the builder, you can customize all the aspects of your website with its intuitive drag and drop builder. You can create websites of different types due to the excellent flexibility offered by the platform without requiring any knowledge of coding or HTML. With the help of this builder, even a rookie or beginner can create beautiful websites on Bluehost.
Bluehost has thousands of templates that can be used to create the base of your operation on the platform. These templates can be customized like other aspects of your website with the builder. Any changes made to the website can be viewed via the preview section. This will allow you to check how the site looks in real time before you decide to publish it for everyone to view.
3. Speed and Uptime
In today's day and age, people are expecting websites to load instantly when they land on them. While a good web host offers an uptime of 99.4%, which translates to 26 minutes of downtime in a month or 5 hours during a year. Bluehost is aware of customer expectations, so they offer 99.99% uptime. They have data servers in Orem and Utah so that your websites load within seconds. If something goes wrong, then you can always take the 30-day money-back refund policy. This feature eliminates any risks and problems which you would encounter on other platforms.
Bluehost also offers a variety of technologies that boost the speed at which your website will load efficiently. Its hosting packages are equipped with a solid-state drive with a faster response time than traditional spinning disk drives. The platform also has a CDN service that helps speed up the loading time of images, videos, and other larger files.
Click to Get 67% OFF Bluehost Now
4. Free Cloudflare Integration
Cloudflare's CDN is a content delivery network that has enterprise-grade reliability and speed. The feature on Bluehost offers unique performance with excellent optimization capabilities. It also caches static content, accelerates dynamic media, and makes it easy to optimize for outbound content. Whenever someone tries to load your site, the integration will pull the latest files from geographically close servers, and your site will load more quickly. The Cloudflare CDN protects your website from DDoS attacks, ensuring that it remains free from attacks from cyber criminals and hackers that would otherwise disrupt your website and make it unavailable for intended users on the internet. This feature makes it safe for your audience and helps users to improve your search rankings.
Bluehost offers high-performance servers to all users who subscribe to the premium plans. This is not a viable solution for every user and is well-suited only for businesses with higher volumes of traffic. On these servers, Bluehost ensures there are fewer users per server on individual files, so there is no slowdown for anybody involved. However, normal servers across its other plans also work fine.
5. Security
Bluehost implements excellent security measures that ensure that your data and important information are always protected. Just like a computer, Bluehost helps users to scan any malware and other malicious programs. It utilizes the latest technology and software needed to identify and remove malicious programs. Some of the security measures taken by Bluehost for ultimate customer satisfaction are listed below:
6. Free SSL Certificate
A good indication of a safe website is the SSL certificate that ensures that your information, as well as the information of the people visiting your site, is safe. If you see a "https" at the beginning of the web address, you can be assured the site is safe.
Each Bluehost plan comes with a free SSL certificate, so now you don't have to worry about your visitors getting a warning that your site is insecure. If you want advanced protection, then the platform offers premium SSL that is priced at $49.99 per year. This is a worthy investment if you are running an eCommerce site and users have to enter their credentials or credit card details.
7. Anti-Spam Protection
The anti-spam protection system is used to inspect and classify messages as spam, bulk, or phishing. Bluehost allows users to filter any spam or bulk messages, so by default, when they reach the email, it is efficiently redirected into junk. Here, you also have access to Spam Experts, Spam Hammer, and Apache Spam so that you are able to protect your contacts and information from malware.
Click to Get 67% OFF Bluehost Now
8. Two-Factor Authentication
Bluehost allows users to protect their website with a two-factor authentication (2FA) that makes sure that nobody can access their account even if they find their password without clearing the security step. The security step will require you to use your phone to give the platform login access. This feature will prevent any unauthorized person from accessing your site or Bluehost account without your permission.
9. Advanced Security Options
Bluehost also offers some advanced security options for its users. This includes things like powerful firewalls that help it prevent unauthorized traffic to your site as well as monitor internet connectivity, and more. Some other advanced security measures offered by the platform include:
IP address blacklists
Management of private keys and digital certificates
Password-protected directories
Excellent filters for email accounts and users
Bluehost, however, doesn't perform backups on its own, so you need to do daily backups for full security. However, you can pay for one of its premium backup services like CodeGuard or JetPack Premium.
These are some of the popular security features that Bluehost offers to its users to keep their data and information secure from malware and hackers. The platform always takes the security of the utmost importance and constantly adds new features to improve its security programs.
10. Free Domain
Bluehost's most appealing feature is the free domain that the platform offers for the entire year for new users signing up. This is a great feature that eliminates the extra step of going through a third-party domain seller and spending more capital to launch your website.
11. Digital Marketing Tools
Bluehost has a package of professional marketing services that include SEO, advertising, social media marketing, and content creation for your website. These tools allow users to create, test, and measure the performance of their digital campaigns or tools quickly. Bluehost provides a variety of WordPress site-building tools, so customers can be confident that their sites are properly designed and configured. This allows the websites to be stable and load quickly at all times. The platform also gives you access to monthly consultations from marketing professionals. This feature will measure your progress and tell you about your return on investment.
Click to Get 67% OFF Bluehost Now
12. Blogging
Bluehost installs WordPress within a few clicks of signing up. WordPress is a unicorn in the blogging space and has all that you need to get your blog page going. There is a plethora of themes to get you started, and the interface is also straightforward. If there are not enough resources, then you can easily install different plugins to make your website more captivating. The Yoast SEO plugin offered by WordPress is very influential in helping you get SEO-optimized blogs on the internet, while the Easy Social Share feature lets you share content easily with your audiences.
13. Free Domain-Specific Email Address
The integration of Microsoft 365 with Bluehost gives users a professional email address that links to your domain name and offers a seamless way to collaborate with your team. Key features of email integrations include:
Microsoft Outlook web access- manage your email from anywhere with a device using the cloud.
Automatic Microsoft updates- You no longer have to worry about software or application updates as it is done automatically.
Intuitive management dashboard- Users can manage their dashboard in a single place. The user-friendly dashboard also doesn't require any multiple logins.
Click to Get 67% OFF Bluehost Now
Bluehost Customer Support
We all need help every now and then to solve any issues in our life. If you are having problems with your hosting plan, then Bluehost will get you all the help and support you need. They have a huge library of articles, guides, and video tutorials with an extensive knowledge base which is good for beginners, and issues can be easily resolved. However, sometimes you will need to talk to a real person to get help. This is where the platform offers a 24/7 support service that covers all support avenues. You can connect with them via live chat, email, telephone, and support tickets. The drawbacks that you have with Bluehost will be covered with the beneficial support portal.
Bluehost Pricing Plans
Bluehost offers loads of hosting-related products, from dedicated servers to domain names. Domains at Bluehost cost $1.99 to $14.99 per year. The platform offers Shared hosting, Dedicated hosting, VPS hosting, Managed WordPress, and WooCommerce hosting subscription plans.
1. Bluehost Shared Hosting
The Shared hosting solution offered by Bluehost is one of the best plans to start, as it allows multiple users to share a single server. The server space is maintained by the platform, so you don't have to worry. This is perfect for small businesses, bloggers, hobbyists, etc. It has 4 standard pricing plans for WordPress hosting services. This includes Basic, Plus, Choice Plus, and Pro plans.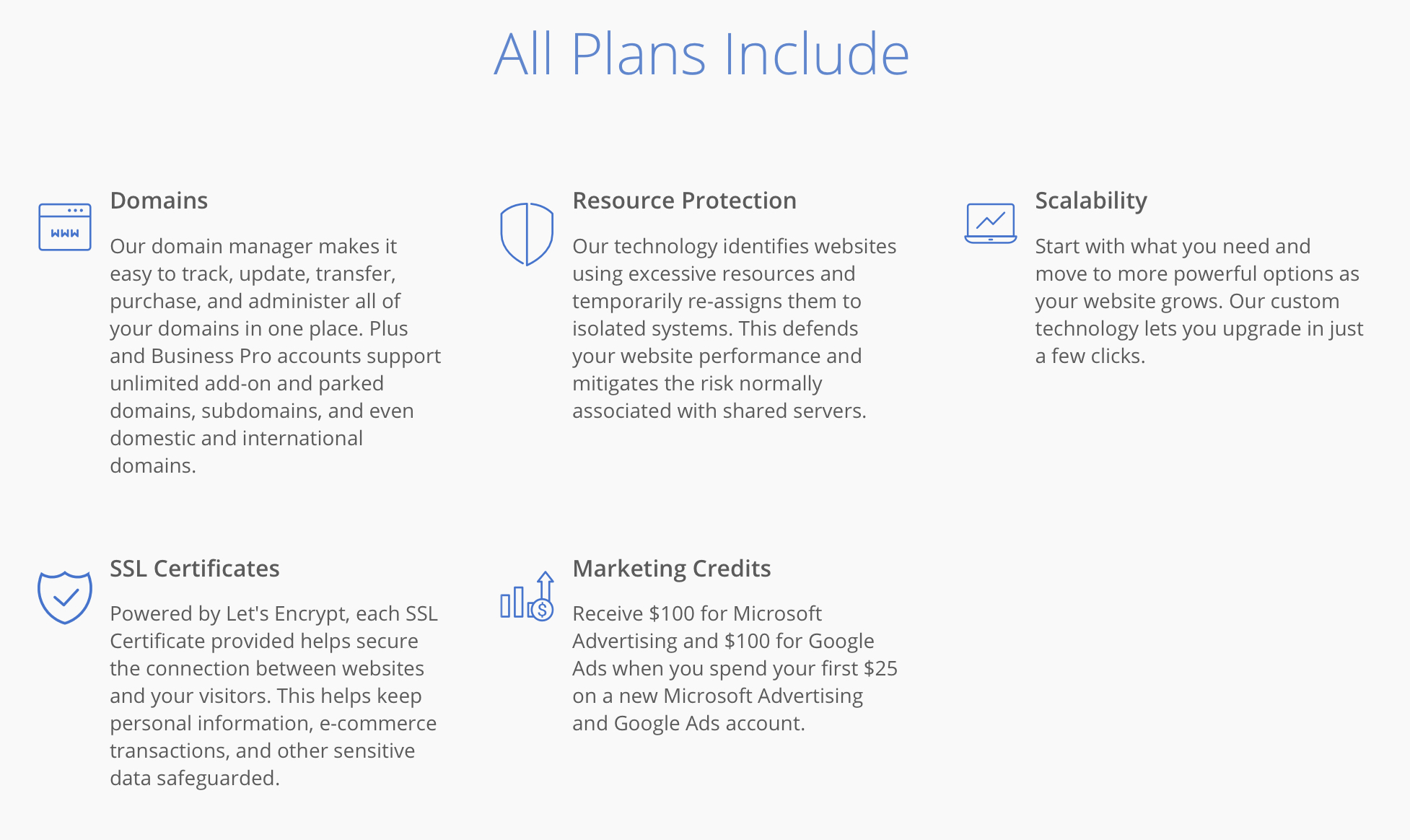 Basic Plan
The Basic plan is the starting level plan that is priced at $2.75 per month, and its features include:
1 website
50 GB SSD storage
1 domain with 25 subdomains
5 email accounts with 100 MB disk space
Free SSL certificate and unmetered bandwidth
Plus Plan
The Plus plan is a higher-end plan which is available at reasonable prices compared to its competitors. It is priced at $5.95, and it has features, including:
Ability to create multiple websites
Unlimited storage
No restrictions on domains and subdomains
Unlimited email accounts
Free SSL certificate and unmetered bandwidth
1 spam expert
Choice Plan
The Choice plan is recommended by Bluehost for its users as it offers excellent features at affordable prices. The plan is priced at $5.45 per month, and it has all the features offered by the plus plan plus:
Domain Privacy
Automated daily backups powered by CodeGuards as extras
Pro Plan
The Pro plan gives you more speed and processing power compared to the above plans. It is priced at $13.95 per month and offers all the features of the choice plan plus other features listed below:
Dedicated IP
2 spam experts
High-performance servers
Domain privacy plus protection
2. Bluehost Dedicated Hosting
Dedicated hosting is a web hosting environment that gives users the highest privacy, resource allocation, and control. The hosting solution has servers that are isolated from other servers, which gives users full access to configure the server they want without being affected by anyone or getting affected by other users, as seen in Bluehost's Shared hosting plans. These plans are only suitable if you have a high-traffic website. There are 3 plans offered in this category, which include Standard, Enhanced, and Premium plans.
Standard Plan
The Standard plan helps create a whole, beautiful server all for yourself. The plan is priced at $99.99 per month, and its features include:
1 free domain
5 TB bandwidth
8 cores and 8 GB ram
Free SSL and domain
500 GB SSD storage
3 dedicated IP addresses
Root access and free backup
cPanel/WHM management software
2.3 GHz CPU clock speed
Enhanced plan
The Enhanced plan gives you more storage and power to handle higher volumes of traffic. The plan is priced at $119.99 per month, and it has all features of the Standard plan plus:
10 TB bandwidth
8 cores and 16 GB ram
1 TB SSD storage
4 dedicated IP addresses
2.5 GHz CPU clock speed
Premium Plan
A Premium plan is designed to offer your website the best performance. This plan can handle higher volumes of traffic without hindering its performance. It is recommended by Bluehost, and it is priced at $136.99 per month and has all the features of the Enhanced plan plus:
15 TB bandwidth
8 cores and 30 GB ram
1.5 TB SSD storage
5 dedicated IP addresses
3.3 GHz CPU clock speed
3. Bluehost VPS Hosting
VPS (Virtual Private Server) hosting is something between dedicated and shared hosting. The plan allows you to share a server with other users, but there is a virtual wall between different projects. Your account will be allocated a set number of CPU, RAM, and Disk Space, regardless of what others on the servers are using. This gives you better stability and performance for your website. Further, you have a better security as you don't have to share your operating system with others. These plans are suitable for those requiring special server configuration. There are 3 plans offered under this category which include Standard, Enhanced, and Ultimate plan.
Standard Plan
A Standard Plan helps you get started with your virtual server. The plan is priced at $19.99 per month, and its features include:
30 GB SSD storage
2 GB Ram with 2 CPU cores
Free SSL and backup
Enhanced control panel
Free backup
1 TB bandwidth
1 IP address
cPanel/WHM management software
Enhanced Plan
The Enhanced plan offers you more storage and customization compared to the Standard plan. The plan is priced at $29.99 per month, and it includes all the features of the first plan plus:
60 GB SSD storage
4 GB ram with 2 CPU cores
2 TB bandwidth
2 IP address
Ultimate Plan
The Ultimate plan is perfect for pairing power with other resources to give you an edge over other plans in this category. This plan is recommended by Bluehost and is priced at $59.99 per month, and has all the features of the Enhanced plan plus:
120 GB SSD storage
8 GB ram with 4 CPU cores
3 TB bandwidth
4. Bluehost Managed WordPress Hosting
Bluehost Managed WordPress hosting is a fully-managed environment that allows you to focus on building a website having unique content. This handles the daily maintenance of your servers and other apps that keep your website running smoothly. The idea behind this is to give WordPress users the best experience when you are planning to grow and build your site. This helps remove any technical frustrations and boosts performance with enhanced features. The platform offers everything you need to build and grow a professional WordPress website. The plans include Build, Grow and Scale plans.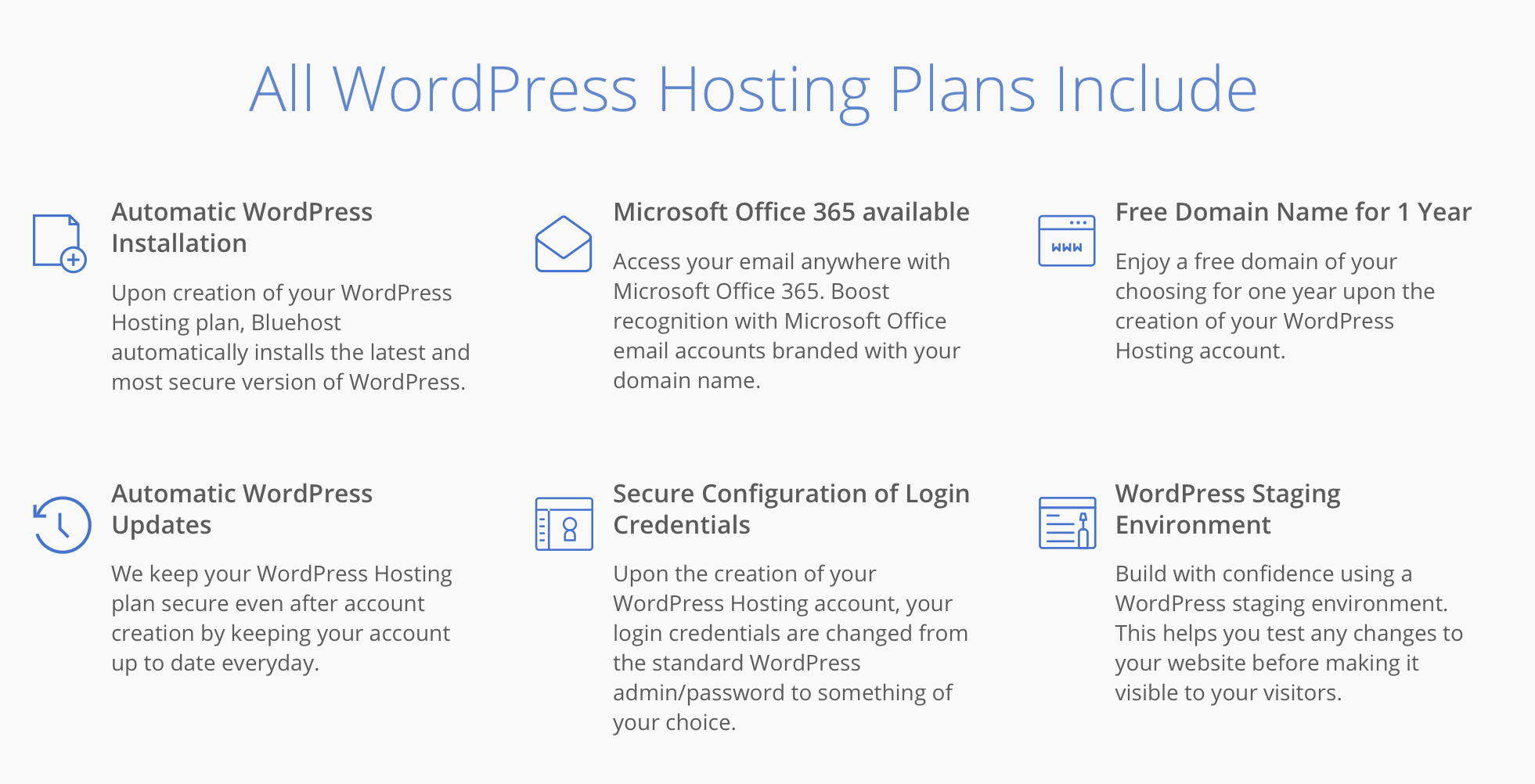 Build Plan
The Build plan covers all the basics required to run a professional website. The plan is priced at $24.95 per month, and its features include:
Unlimited SSD storage and bandwidth
Access to unlimited domains
100+ free WordPress Themes
Free domain privacy
Malware detection and removal
Daily scheduled backups
Domain Privacy
Marketing center
Office 365 mailbox
Automatic WordPress installs and updates
Jetpack site analytics
Grow Plan
A Grow plan allows you to build everything you need for an audience on your WordPress website. It is a plan recommended by Bluehost in this category and is priced at $34.95, and it has features of the Build plan plus:
Daily scheduled backups
Jetpack Premium included
Business review tools
Jetpacks Ads integration
10 GB video compression
SEO tools
Scale Plan
A Scale plan has advanced features for running your eCommerce store on your WordPress website. It is priced at $51.95 per month and has features of the Grow plan plus:
Jetpack Pro included
PayPal integrations
Unlimited video compression
Elastic search
5. Bluehost WooCommerce Hosting
If you want to sell products on your website, then you can use WooCommerce, a WordPress plugin. The plugin will allow you to sell both physical and digital products. The plans start at $9.95 for the starter plan, with the premium plan starting at $12.95. Each has its own set of features and advantages.
Bluehost doesn't offer a free trial; however, it comes with a 30-day money-back policy across all its plans. During this time, you can explore all its features and see whether you want to continue with the platform. The renewal cost of plans on Bluehost is slightly expensive when they are initially purchased.
Which Bluehost Plan is Right for you?
It is important to know that it is you who knows what is best for your website and its specific needs and how much traffic that comes on it. Selecting the right plan is important to determine what you require for your website. If you are starting out, you can go for the initial plans, but if you have an established business, you should go ahead with the premium plans offering top-notch performance.
Bluehost Pros & Cons
Pros
The pricing plans offered by Bluehost are affordable, especially for beginners
Quick website setup and unmetered bandwidth
The user interface is impressive, and maintenance is simple
Minimum downtime
Automatic installation of self-hosted software like WordPress
Good customization features
No hidden charges
A free domain for a year
A free CDN and SSL certification to block malware and improve security
Generous storage allowance
Excellent flexibility
Reliable security
30-day money-back guarantee
24/7 support
Cons
High renewal rates
Upselling addons
No daily backups
Recent Improvements to Bluehost
Bluehost is continuously working to update and improve the services they offer. This starts with the constant effort to keep the servers up to date and enhance performance.
Listed below are some of the recent improvements that are rolled out by Bluehost:
Partnering with Yoast- Newfold Digital, which is Bluehost's parent company, has acquired Yoast, which is a leading SEO WordPress plugin. This new feature will allow you to produce SEO-optimized content without requiring intervention from any other plugins.
New WordPress migration plugin- Previously, website migration used to cost more for users on Bluehost. The new plugin allows you to migrate your site quickly and free of any charge.
Maestro to manage multiple websites- Managing multiple sites and updating them constantly is a major hurdle. Bluehost has recently added the Maestro tool that has allowed you to easily manage multiple WordPress websites in one place.
New website design tools- Bluehost has launched its own website builder suite that will help customers build their unique pages. This tool can be used to make any type of website very easily.
Premium theme marketplace- Bluehost has improved its existing library of themes with over hundreds of WordPress themes to give your site a premium look at affordable rates.
Is Bluehost the Right Choice for You?
Bluehost is a great solution if you are looking for an affordable hosting solution. It allows users to launch a new website within a few clicks efficiently. It is recommended by WordPress and is the #1 hosting provider by several websites. The platform has all the basic hosting features that you require to get the best performance. If you are starting out, then its beginner-friendly plans will get you started, and you can upgrade the plans as you go. If you have any problems, then you are assured that the support team has got you covered 24/7. After reading this article, I hope you understand the fundamental features of Bluehost that make it a top web hosting solution in the market today.
Bluehost Review Reddit FAQs
1. Is Bluehost good for beginners?
Bluehost is the best beginner-friendly WordPress hosting company in the industry. It automatically installs WordPress after you sign-up with it. They also have an intuitive control panel that allows you to handle and manage your hosting account by yourself. The platform has a good customer support and other tutorials and guides to help you get past any problems you encounter during your venture.
2. Is Bluehost able to handle high traffic?
Bluehost is run on shared hosting plans and is well-suited for moderate to high traffic turnaround. However, if there is a sudden traffic spike, it may affect the server resources. So, if you are expecting higher traffic, then you should select the Dedicated or VPS hosting offered by Bluehost. These plans will allow you to handle larger traffic volumes without being affected by the number of users on your website.
3. Do I need a Credit card to sign up with Bluehost?
Bluehost can accept payment using a credit card. However, you can also choose some more payment options during the checkout, like PayPal or other methods if you wish.
4. Which Bluehost plan should I select?
If you are a beginner who is planning to launch a new website to run your blog or online store, then you should try the initial plans offered by Bluehost. This plan is good to start and explore the various plans of subscription plans. Once you start growing, you can easily upgrade to a premium plan for better performance.
Read Next:
Best Blogging Platform 2023 Reddit