Squarespace and Bluehost are two of the best tools that can be employed to build websites. Both these tools help users build their unique websites; however, they excel in different areas.
Bluehost is a website hosting company that allows you to install software that will assist you to build a website. Squarespace, on the contrary, is a website builder that lets you create a website by just registering an account.
Which tool is the most viable to build a website? What factors should affect your choice? Don't worry; I'll explain all the details in the article below.
TLDR: If you're in a hurry, we recommend using Bluehost for launching a new website. Squarespace is easy to use; however, Bluehost with WordPress is very flexible and has better customizability and functionality over the long run.
Click to Get 67% OFF Bluehost Now
BlueHost Coupon Code: Auto Applied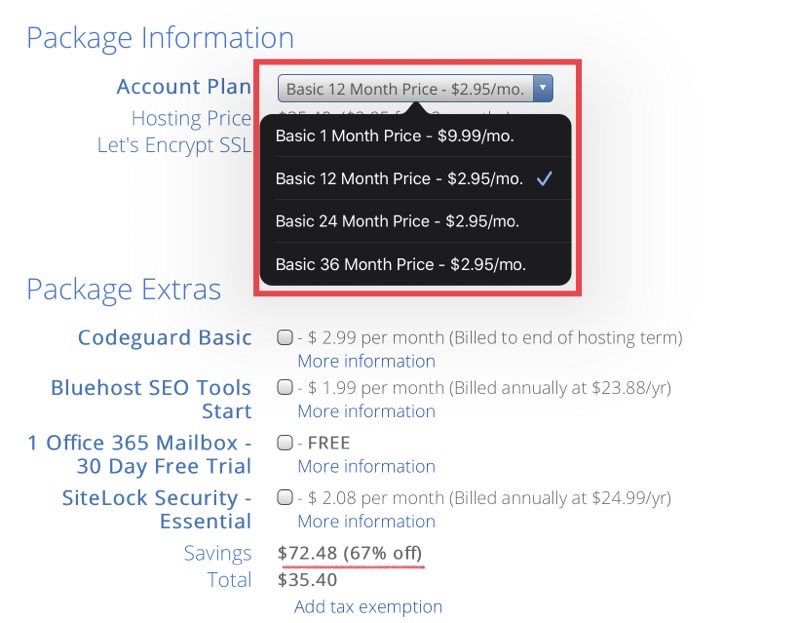 About Bluehost
Bluehost is one of the well-known WordPress hosting providers in the market. When you sign up to Bluehost, you get all the hardware you require to create a website. The company was founded in 2003 and has to date, served millions of customers with the best tools, hosting packages, and customer support. It is the best hosting option if you are confident working with WordPress. Bluehost is one of the top hosting providers that is recommended by WordPress due to its affordability and high-quality hosting plans.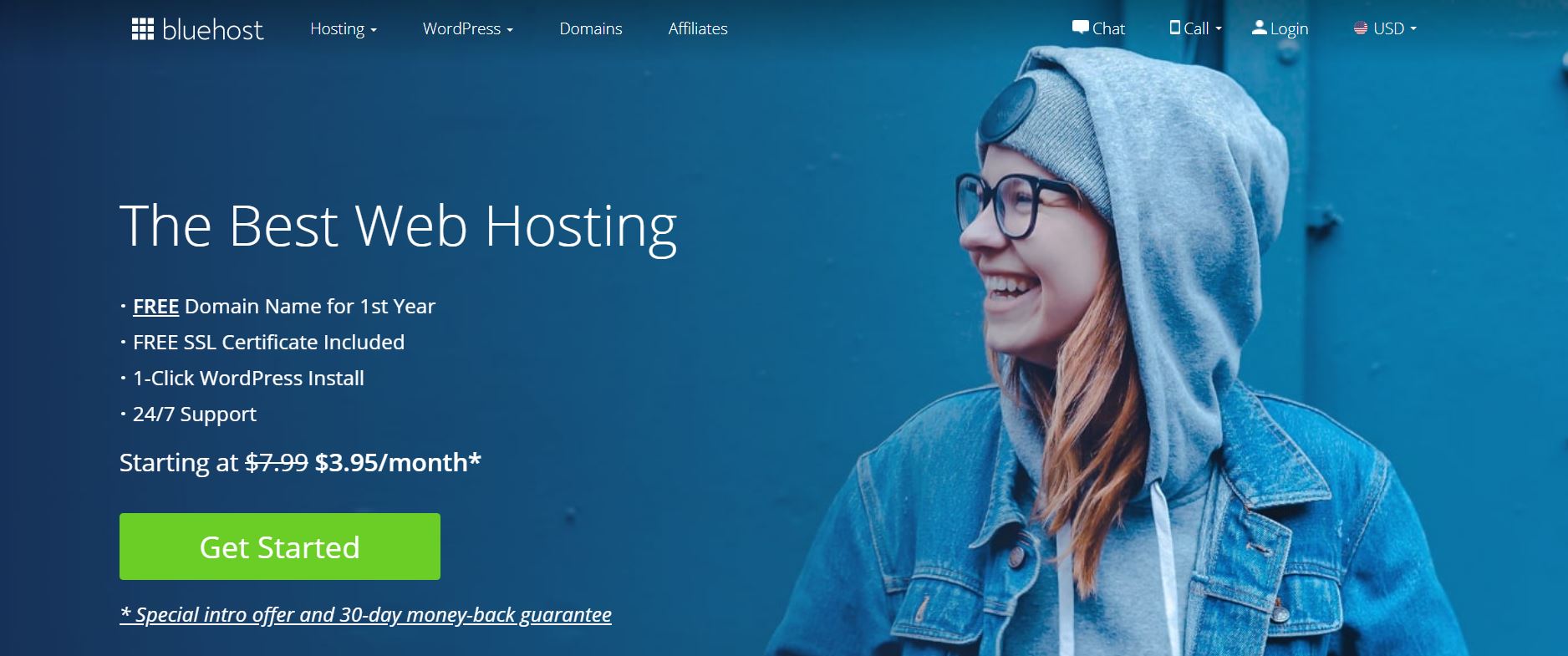 The CMS WordPress service offered by Bluehost makes it easy to use and customize without the need for code. This makes it a good choice to scale your business and customize the website as per your requirements. The presence of themes and plugins allows users to change the entire landscape of your website.
In case you don't want to build your website using WordPress, then you can select Joomla, Magneto, Ghost, etc, depending on your website requirements. Bluehost makes use of open-source technology that allows users to add resources and upgrade them as and when their business grows. This gives you excellent flexibility over the long run.
Main Features offered by Bluehost
Fast and reliable hosting
Automatic WordPress installation and updates
Excellent speed
One year free domain name
Microsoft Office 365 available
Free SSL certificate from LetsEncrypt.org
24/7 support via different channels
A range of WordPress themes to select from.
Unlimited disk storage
99% uptime guarantee
30-day money-back guarantee
1. Ease of Use
You can start building your website on Bluehost after you've signed up or completed your domain registration. That is how easy it is to work with Bluehost. The platform offers a simplified building experience; however, the website builder ensures that the full versatility of WordPress is also available to use.
It is very simple and efficient to build a website by making use of WordPress. WordPress, which is a popular CMS platform in the market, can be automatically installed with their hosting plan. You can have the Basic plan or the Choice Plus plan offered by Bluehost and have your site set up and running within a few minutes.
Bluehost makes use of a custom control panel that allows it to be easily utilized by beginners. The platform also utilizes the customized version of the cPanel hosting dashboard that allows it to have better-advanced options.
For beginners using WordPress may seem a bit difficult and scary, but in reality, it is very easy to use. As your expertise using WordPress increases, you'll be able to use all of the features available on the CMS platform and enhance your website.
With WordPress, you can customize all the elements of your websites to meet your requirements. WordPress has thousands of themes and plugins that can be installed directly on your panel with the click of a button. Once you've installed it, you can enhance your website by adding logos, images, changing colors, etc.
Bluehost has its own marketplace wherein you can browse and purchase premium themes and plugins. This will help your site to be unique in this market and not similar to existing website designs and themes.
Bluehost also offers a free domain name for the first year for its users. However, you can also purchase additional domains to suit your needs. If you purchase a domain, it can be connected to your primary domain name or saved for future use.
2. Bluehost Editor
The Bluehost website builder is a robust website-building tool that doesn't require any coding or technical expertise to efficiently build a website. Users can visually click while using the drag-and-drop tool to design different aspects of the website while having all the versatility and power of WordPress.
The editor is a very handy tool if you are planning to build a professional website. The tool is easy to grasp once you get accustomed to its working. A rookie or even a WordPress master can create unique websites using the editor offered by Bluehost.
3. Template
Bluehost has a versatile website builder that allows users to design professional websites without having any knowledge of coding or technical know-how. There are thousands of templates available to users on Bluehost. Users have to just drag, drop, copy or paste them to create a beautiful foundation for your website.
The templates can be easily customized to create a website with an appearance of your choosing. Bluehost's website builder allows users the chance to feel and visualize changes with the preview pages in real-time before you re-publish them to the world.
4. Ecommerce Store
Bluehost has a WooCommerce plugin that is pre-installed with the eCommerce hosting of this platform. This allows users to set up an online store within minutes. The plugin is customizable and allows critical eCommerce processes like selling, payment, order processing, and other features.
Some features of the WooCommerce store on Bluehost
Online store with a website and blog
Email marketing
Unlimited product sale
Customer product reviews
Domain privacy and protection
Multiple caching layers
The eCommerce starter plan offered by Bluehost starts at $3.95 for the basic plan. The plan allows the sale of unlimited products, CDN, Cloudflare, and a lot more.
5. Blogging
The CMS platform WordPress was launched as a blogging platform, and it has abundant features that allow you to run a smooth blog. The various plugins and themes offered on this platform make the blog look very captivating. The Easy Social Share and Yoast SEO are some of the best plugins that are used to run this versatile platform.
6. Bluehost Security
Bluehost takes the security of your website seriously and follows several measures that ensure that your information and content are safe and secure. Bluehost makes use of Spam Hammer, Apache Spam Assasin, and Spam Experts to protect your website against malware and hackers. You can also purchase or add paid or free security features to enhance the security of your website.
The login credentials of your website are secure, and you can efficiently change your username and password once you've set it up. This flexibility allows the platform to be very reliable in the long haul.
Bluehost provides an SSL certificate to users across all its hosting plans. This certificate helps keep your data and that of your customers safe. The SSL certificate adds HTTPS to your website, which is an important feature that helps you with the SEO of your website.
7. Traffic and Uptime
Bluehost has a dedicated hosting service plan that comes at a rate of $139.99 per month for a 12-month contract. The plan is designed to assist your site handle large amounts of traffic at a time. Bluehost's hosting plans are very versatile making them one of the best in the business. The websites built with Bluehost have a 99% uptime which ensures that your website is online.
8. Customer Support
Bluehost has a range of help and support services that it offers to its users across a variety of channels. The response from the support team is quick, friendly, and helpful to all their users. The 24/7 service offered by them allows users to solve issues within a matter of time. If you like to speak to them, you can contact them via direct call, and for smaller issues, you can use the chat feature available on their website.
The customer support offered by Bluehost is limited. If you want to know about any technical hosting questions or website downtime, you will get a swift reply and solution. However, if you want help customizing themes or managing any plugins, then their support services are limited.
This is simply because this doesn't fall in the realm of a Bluehost support team. Since WordPress also doesn't have a support team, you may have to rely directly on forums or take help from professionals. However, there are millions of WordPress users around the world. Forums and various channels have answers to various issues users might be facing. This allows you to troubleshoot and fix any issue by going through the solutions shared by caring and reliable WordPress users.
Bluehost Pricing
Bluehost has 4 plans of different pricing for WordPress hosting. This includes Basic, Plus, Choice Plus, and Go Pro plan. All these plans come with a free domain and a free SSL certificate that saves users the huge hassle and cost of buying these features from other providers.
1. Basic Plan
If you need hosting for a single website, then the Basic plan is for you. The $3.95 per month is viable to fulfill all your base-level needs. The rate of this plan goes up to $7.99 per month after renewal.
Features of the Basic plan
1 Website
50 GB storage
Unmetered bandwidth
Free SSL certificate
1 free domain for a year
5 parked domains and 25 subdomains
5 email accounts and email storage
You can also purchase additional features like the Bluehost SEO Tools Start, Codeguard basic, and other features from the store.
You can upgrade your web hosting plans as and when your website begins to grow. The right plan for WordPress hosting depends on:
How much traffic growth are you expecting on your website from the day of its launch?
Technical skills you have to manage your website and server needs.
What are the bandwidth and storage requirements for your website
What additional features do you require from your hosting plan?
After you've figured out the requirements then switching over and upgrading to a new plan will be quite swift and easy.
2. Plus Plan
The Plus plan is an affordable but highly futuristic hosting plan. This plan is priced at $5.95 per month and goes up to $10.99 per month after renewal. This plan is well suited for all kinds of WordPress users, especially those who are looking for affordable hosting to install unlimited websites using a single hosting account.
The plan has all the features offered by the basic plan plus
Install unlimited websites
Get unmetered website space and bandwidth
Unlimited parked domains and subdomains
1 Spam expert
Unlimited email accounts and email storage
Unlimited parked domains and subdomains
$200 worth of marketing offers
3. Choice Plan
The choice plan is a highly recommended plan offered by Bluehost because of its affordable pricing as well as the ton of features offered to the user. The Choice plan is priced at $5.95 per month but goes up to $14.99 after renewal. This plan is well-suited for all types of WordPress users and bloggers. It is ideal for users who are looking for a provider who can deliver a site backup option.
It has all the features offered by the Plus plan plus
Domain Privacy
Codeguard site backup
4. Go Pro Plan
The Go Pro plan is an expensive plan offered by Bluehost to its users. It has unique features that allow it to give high performance to users. The plan is priced at $13.95 per month and goes up to $26.99 after renewal. If you are a professional blogger or WordPress user, then this plan is made for you. This plan has outstanding performance that can meet the demands of high-end services.
The plan has all the features offered by the above 3 plans plus:
Dedicated IP
Domain privacy plus protection
2 spam experts
1 premium positive SSL certificate
1 office 365 mailbox, which is free for 30 days
High-performance servers
Bluehost is a website builder that is well-known for offering affordable and reliable hosting features for its customers. This is why there are millions of websites hosted on the platform today.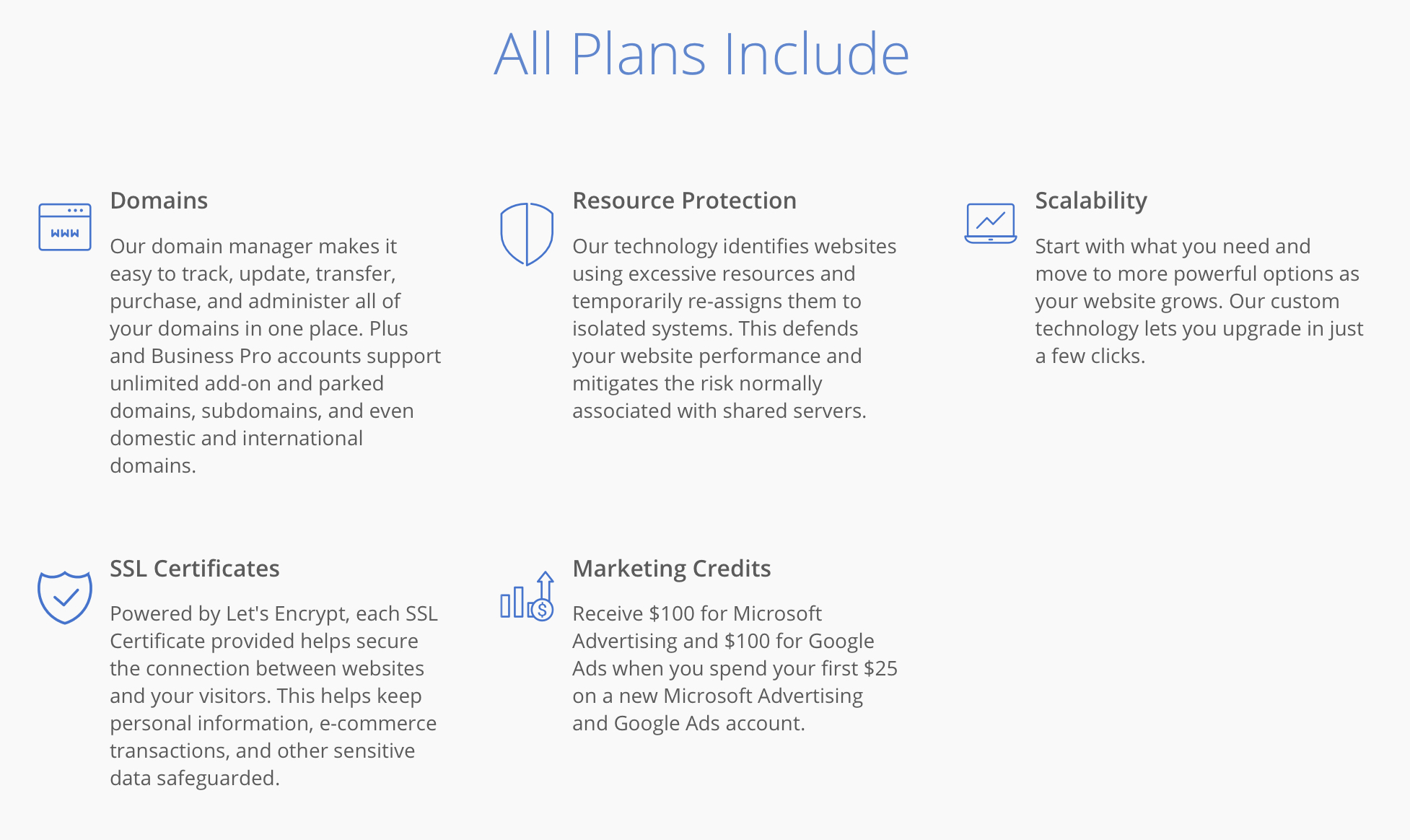 Choosing the right plan depends on the needs of your website and your budget. I would suggest the Choice plan as it has some advanced features at just $5.45 per month, giving you an edge as your website grows. However, you can go for the Basic plan if you are new and exploring the market. Similarly, if you are a seasoned WordPress blogger or user you should go for the Go Pro plan to enjoy its high-performance service.
Bluehost doesn't have a free trial period, but it offers a 30-day money-back policy across all its plans if you cancel your plan within this period. You can explore all the features and various characteristics of Bluehost within this period. If you don't like what you see, then you always have the chance to cancel the plan and get all your money back.
Pros and Cons of Bluehost
Pros
Cons

An affordable hosting solution is perfect for anyone looking to start a website or blog on a budget.
Automatic installation of self-hosted website-building software like WordPress.
Full access to web hosting services to customize or enhance the website.
Free SSL certificates with all hosting plans.
Excellent uptimes with unmetered bandwidth.
Generous storage allowances
1-year domain name free of charge
Outstanding flexibility
Superb performance and security

Poor customer support
Higher renewal rates
No free migration
Doesn't have automatic or daily backups.
Who Should Use Bluehost?
Users looking to find the cheapest way to build a website
Anyone who has specific site requirements in mind.
If you are planning to sell a large inventory of products
If you are planning to start a blog or publication that has hundreds of pages and posts.
All in all, Bluehost offers an affordable hosting solution for users to build a website using WordPress. The complete control and flexibility it offers to build and customize your website give it an edge in the industry.
Click to Get 67% OFF Bluehost Now
BlueHost Coupon Code: Auto Applied
About Squarespace
Squarespace is a website builder service platform. The platform packs both hardware and software in a single integrated package. You can just sign up to create your account and start building your website using Squarespace's tools.
You can run your own blog, store, or website within no time, making it a good option for website building. The no-code setup allows you to start building your website without requiring the installation of CMS services like WordPress. The tools it provides are simple and straightforward, making them a viable choice if you're starting out.
Squarespace was launched in 2003, like Bluehost, and has millions of websites that have been created and run on this platform. The all-in-one software is a pure website builder and is simpler to use when compared to Bluehost.
Main Features offered by Squarespace
Website builder with modern templates
Templates switching
Drag and drop page builder
Wide range of extension
Custom CSS
Pre-built layouts
Multiple contributors and access levels
Email campaigns
Commenting system
Custom site search engine
24/7 email support
G suite integration
Logo Builder
Analytics
Free domain for the first year with annual accounts
Developer platform with full control of the code
1. Ease of Use
If you are a beginner that wants to build a website, then Squarespace is a good platform for you. All the necessary tools required to launch a website are present in one place. You can select from a wide range of templates to create a unique design.
Squarespace also offers customers pre-build layouts that already have names and hosting. This helps eradicate the need to maintain or purchase items independently on the platform.
One of the downsides of this platform is that once you select a template and you've edited it to your liking, then it is not easy to change it to another template. This infers that you will have to start over again from scratch.
Squarespace is not the easiest website builder in the market; however, it makes the process of building and designing a website simple and straightforward.
With Squarespace, you can build a fully functional website without even paying for a plan. This comes in super handy if you're planning to test or migrate your existing website to a new platform.
Squarespace has powerful built-in email marketing software that allows you to build marketing campaigns and forward them to your subscribers or regular customers. There are plenty of email templates you can choose and customize to blend seamlessly with your brand.
2. Squarespace Editor
Squarespace has sections and content blocks that are used in building different components of its pages. The editor has a drag and drop feature that allows you to stack these sections on the website. Generally, the sections are placed vertically and include chunks of content that are linked with it.
You can easily build the pages from scratch; however, the platform has a library of pre-designed sections, such as background pictures which may be customized, but you cannot divert much from the basic structure.
Squarespace also has a logo maker feature that can be utilized to create your own logo designs. This feature comes free with all the plans offered by Squarespace. All you have to do is enter your name tagline and select the most appropriate icon and follow it up by downloading it to use wherever you deem fit.
3. Template
Squarespace has amazing template options whose aesthetics are superior to most other website builders. The drag-and-drop page builder can be used to easily change colors, fonts and add multiple images to the site. These templates are responsive on different devices.
Some distinctive features of the templates its bold text with white space and ample website area to display photos. Each template is part of the same family and has similar customization possibilities and features. These designs are intended to display photography, so even the most basic photos help improve the overall aesthetics and appearance of the website.
4. Ecommerce Store
Squarespace is not the greatest platform to launch your online store. However, if you're a budding and growing business, then it is a great option to start your store.
The platform has everything you need to start your online store. You can list your products and take payments using its simple-to-use interface. You can add product videos and images and categorize them. There are no restrictions on the number of products you can sell on your online store.
Squarespace is a great option for users who are planning to sell any services or subscriptions. The in-built booking and scheduling feature gives it an edge over its competitors, while its flexible payment and checkout features make it a versatile platform.
5. Blogging
Squarespace has excellent features in terms of blogging. It can be termed as the only website builder that can compete with WordPress. If you're looking for blogging options other than WordPress, then you should give Squarespace a try.
Squarespace has powerful blogging tools that allow you to share posts, articles, and any latest news you want to
your audiences. The blogging section has various features that allow the posts to be categorized or scheduled to be published in the future at a select date and time.
6. Squarespace Security
Squarespace has a dedicated hosting security team that is tasked with developing, implementing, and maintaining the security of Squarespace with its information security program. The platform has a formal and extensively documented disaster recovery plan that is tested at least once a year. The results of these tests are well documented and maintained to resolve any issues in the future.
For application-level security, Squarespace follows hashing passwords for user accounts, provides SSL certificates, and makes use of Web application firewall technology. Apart from this, regular pen testing is also performed on the Squarespace platform. With Squarespace, you don't have to worry about updating your servers regularly, as the platform updates them for you.
7. Traffic and Uptime
Squarespace has an enterprise solution to handle larger sites- Squarespace Enterprise. It proudly claims that it can handle its own website copies with high traffic on its servers. However, it is not a match when compared to the variety of hosting plans offered by Bluehost to its users.
8. Customer Support
Squarespace offers 24/7 support to its users across its different channels. There is a dedicated help area on the website where you can type any query and get a quick answer to your problem. This allows users to solve complex issues within a short period that would otherwise take a long time. There are in-depth guides for everything you need to know about the platform and its features. You also have access to video workshops that can be used to walk you through various elements required to build a website on Squarespace.
The platform has a community forum where you can ask questions about any advanced customizations. Here you can sign up to take webinars from experts on Squarespace. These experts will walk you through everything required to know while you're building a website on this platform.
If you are not satisfied with the answers on the community forum, you can always contact the support team via email, where they are available 24/7. The live chat feature is available for users from Monday to Friday from 4 am to 8 am Eastern time.
Squarespace Pricing
Squarespace has four pricing plans, namely Personal, Business, Basic Commerce, and Advanced Commerce plans. All these plans can be paid either on monthly or annual subscriptions. However, if you pay an annual subscription, then you save 30% on your plan.
1. Personal Plan
The personal plan is designed primarily for personal websites. The plan is priced at $16 per month and has all the features offered by Squarespace except its eCommerce solutions. The plan is not suited for business but rather geared towards individuals who want to build a simple website with minimal costs.
Key features of the Personal Plan
Free custom domain
SSL security
Unlimited bandwidth and storage
SEO features for website visibility
24/7 customer support
Basic website metrics
2 contributors
Blogging features
If you're planning to scale and monetize your website, then the Personal plan is not the right option for you. You'll have to use one of the other plans that give you better access to Squarespace's business and eCommerce features.
2. Business Plan
The Business plan comes with more advanced features than the Personal plan and is the cheapest plan on Squarespace, where you can sell products online. The plan is priced at $23 per month and has all the features of the Personal plan plus:
Unlimited contributors
$500 Google Ads credit
Ability to sell unlimited products
Gift card functionality
Integration to Squarespace's premium integrations like Zapier, Opentable, etc
Website analytics
Accept donations
3% transaction fees
Complete customization options with access to CSS and JavaScript
Premium blocks and integrations
The Business plan is not a full-blown online store plan; however, you can make some basic sales with this plan. The plan comes with a 3% transaction fee on all sales, so it is no surprise that it is catered to small businesses. It doesn't have professional eCommerce features that are available with the higher priced plans.
3. Basic Commerce Plan
The Basic Commerce plan has all the eCommerce tools that you require to set up a simple and successful website. The plan is priced at $27 per month and has all the features of the Business plan plus:
Sell unlimited products
No transaction fees
Customer account
Point of sale features
Checkout on your domain
Advanced website analytics for your eCommerce store
Sell on Instagram and other social media platforms
Product reviews
The plan is ideal for merchants who want to sell goods in abundance. However, the plan is priced extremely high compared to other competitors in the market.
4. Advanced Commerce Plan
The Advanced Commerce Plan is designed to handle several features that are important for professional merchants. The plan is priced at $49 per month and has all the features of the Advance Commerce plan plus:
Abandoned cart recovery
Seller subscriptions
Advanced shipping and discounts
Commerce APIs
Limited availability labels
Real-time carrier shipping quotes
These features are designed to empower proper growth in business to cater to larger merchants. The gift cards and advanced shipping features, coupled with a lovely approach to content management, make it the most attractive plan on offer.
Squarespace has a 14-day free trial period that is available across all its plans with no credit card required. This feature allows users to avail all the details and specifications of the platform and purchase a plan only if it satisfies the requirements you need in a website.
Pros and Cons of Squarespace
Pros
Cons

Easy to use for a beginner allowing anybody to build a website
Wide range of templates (pre-build templates also available)
Squarespace maintains and secures your website for you.
Input background videos without affecting the speed of your page
Simple interface with the drag-and-drop builder requiring no coding or technical skills.
24/7 customer support
Good blogging and eCommerce tools in-built into the website that have a chance to compete with WordPress
Easily add SSL certificates for your websites

Expensive pricing
No autosave function
Extra costs to add integrations
Limited customization and flexibility
Who Should Use Squarespace?
Users looking to create a professional website efficiently
People who are not confident with technology and have no coding or technical expertise.
Anyone looking to sell just a few products?
Squarespace is an all-in-one website builder that allows users to build a website easily. It is ideal for beginners who are looking to start their endeavors in the vast market.
Bluehost vs Squarespace
The major difference between Squarespace and Bluehost has to be the services they offer. Bluehost is a pure hosting provider that offers website builders, while Squarespace is a website-building tool.
The other differences are.
Squarespace is designed for everyone and is easy to use. Bluehost has a slight learning curve with WordPress, but it offers better flexibility in the long haul.
Bluehost is an affordable option compared to the slightly expensive Squarespace tool.
Websites built with Bluehost are completely customizable; however, Squarespace has some limitations when you are designing and customizing a website.
Bluehost has a wide range of hosting types to choose from and is one of the best dedicated hosting provider. Its hosting plans can handle large volumes of traffic and stress that are induced on your website. Squarespace offers Squarespace Enterprise to manage larger sites, but its performance and security are not as optimum as Bluehost.
Squarespace allows users to opt for either monthly or yearly plans. Bluehost, in comparison, doesn't offer monthly payment plans. Users only have annual payment options.
Bluehost requires a third-party email provider, while the email marketing software in Squarespace is in-built.
Squarespace vs Bluehost FAQs
Is Bluehost more reliable than Squarespace?
When you consider reliability, there are several factors you must consider. The first important factor is uptime. Both platforms have literally no downtime. If you compare them based on their speed, then Bluehost has a far better performance compared to Squarespace. This makes Bluehost more reliable than Squarespace.
Can you use Squarespace with Bluehost?
You can connect your Bluehost domain to the Squarespace site. To facilitate that, you have to go to the Squarespace domain panel, enter the name of the domain you want to connect to, and select Bluehost from the drop-down menu. Further click on Connect From Provider. After this, you will have to log into your Bluehost account and point to the domain of the Squarespace website.
Key difference between Bluehost and Squarespace?
Bluehost is a hosting provider that connects you to a CMS service to create a website. Squarespace on the other hand, is a website builder that comes with a hosting service. Bluehost offers a range of hosting types to its users, while Squarespace is only limited to shared hosting.
Who is better between Squarespace and Bluehost for blogging?
Overall, there is no clear winner between these tools as both have different approaches. However, Bluehost is a better choice of the two as it allows you to build your website on WordPress. The open-source CMS platform has a range of themes and options that allow users to have endless customization capabilities. With Bluehost, you can build any type of website using WordPress.
Click to Get 67% OFF Bluehost Now
BlueHost Coupon Code: Auto Applied
Furthermore, the hosting packages offered by Bluehost are cheaper when compared to Squarespace. The lower costs allow users who are on a budget to start a blog or online business efficiently.
Squarespace is not such a bad website builder and offers a quick and easy solution. The platform has some great in-built features that make it ideal for small businesses or restaurants. However, if you want reliable blogging and customization features, then you should host your site on WordPress, offered by Bluehost. This is a more scalable option that will help you in the long run.