Webflow is a website-building platform that empowers professionals, entrepreneurs, designers, and beginners to create their own websites or online stores. The cloud-based software design tool enables users to build a customized webpage without sacrificing any flexibility by forcing users to select pre-designed molds.
Try Webflow For Free & Get 30% OFF
Webflow Coupon Code: Auto Applied
Webflow can be used by users in two ways
Designing and hosting a website on Webflow and using its editor to update it.
Designing a site with this platform and exporting the site code to host it on a different server space.
A majority of the users use the first method to build and host their websites on the reliable server offered by Webflow. The servers are easy to manage and update due to their unique features. Users who utilize the second option are professional developers and web designing agencies who can manage their websites using codes and don't require a content management system.
Webflow offers a wide selection of customizable templates that can be edited to create your brand image and services. The unique features it offers allows you to create a website with outstanding visuals and graphics.
Who are Webflows Customers?
Webflow aims to provide its services to solopreneurs, web designers, small businesses, and large brands or tech giants. Before selecting a platform to build your website, it is essential to see whether it's going to be in the market for the long haul. In 2021, Webflow secured $140 million in funding to continue its growth and development.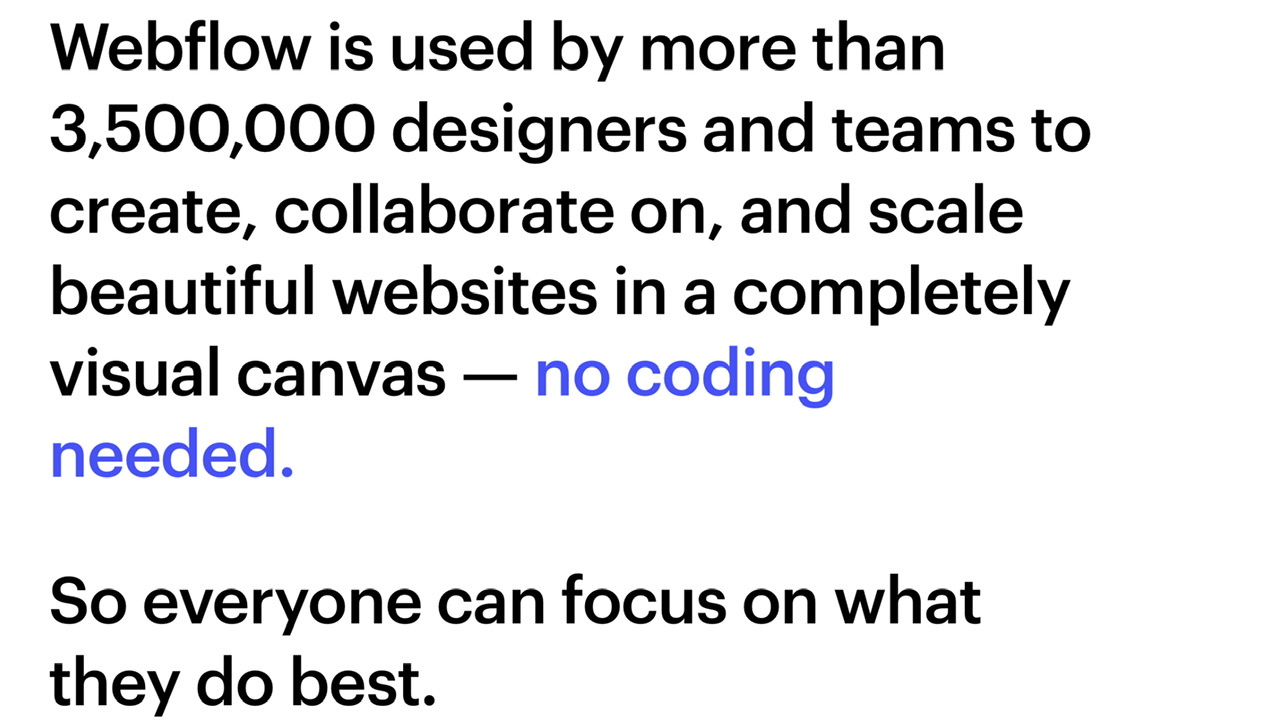 According to internet statistics compiled by Builtwith.com, there are around 334,787 live websites that are using Webflow, with an additional 225,844 sites that have used it historically. So, all in all, building and managing your website on Webflow is safe and reliable in the long run.
Webflow Review 2023
1. Webflow Site Builder Features
The basic foundation of the Weflow site is its templates. There are over 1,000 professionally designed templates, out of which 46 are free for users to select from. The premium templates tend to range between $49 to $79, the price may be steep, but it is more of an investment over the long run.
You can search and select these templates based on language, industry, style, and other features. This makes finding the right template for your website simple and straightforward. Furthermore, the templates are presented in various categories like blogs, medical, e-commerce, etc.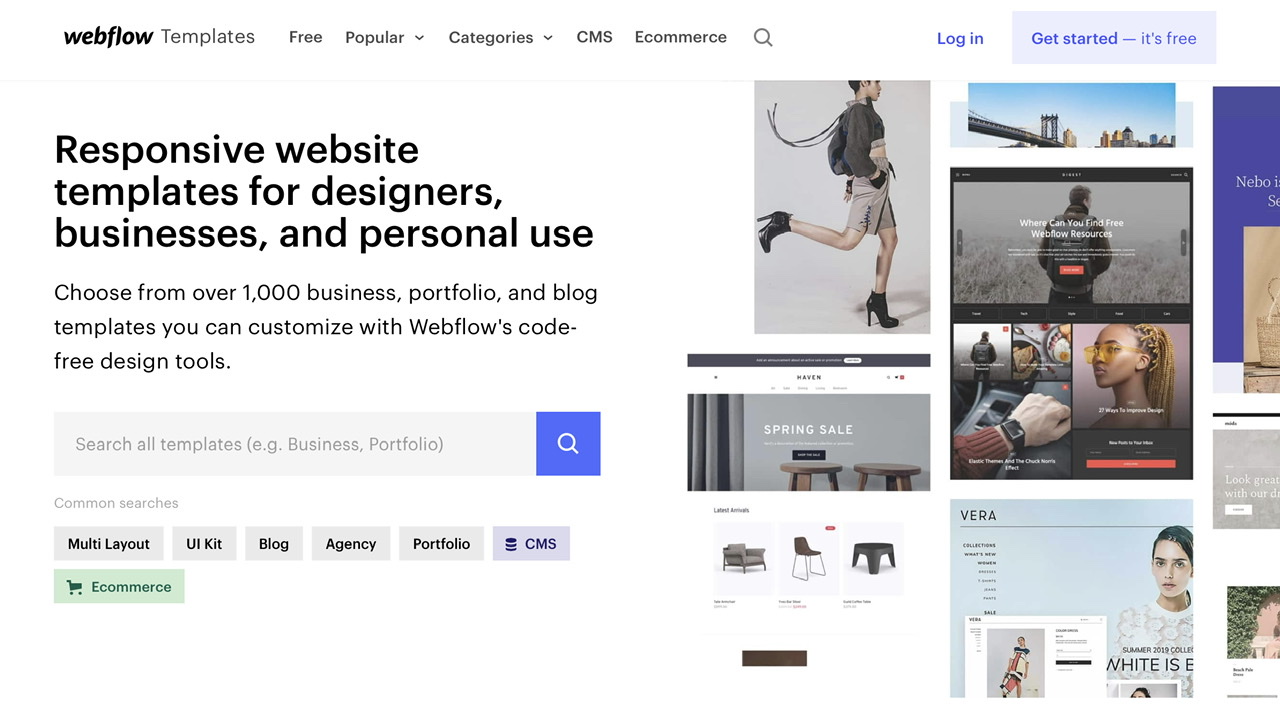 The templates are of the highest quality, with a modern touch and an aesthetical outlook. They are very responsive to mobile interfaces. This means that they automatically resize when it is viewed on a desktop tablet or a mobile device.
Many popular website builders allow users to switch a template with another. However, this is not the case with Webflow. It is thereby important that you evaluate the design and features of the template in the designer before committing to one.
Webflow offers you an evaluation process, wherein you can preview the live version of every template. You can open these templates in the designer and get a feel of what editing them will be like. If you're trying a paid template, then no changes will be made to it in the designer unless you purchase it.
Webflow divides its website building and template editing features into four categories: Designer, CMS, Hosting, and Editor.
2. Designer
The designer of Webflow is based on a responsive design that ensures it is appropriately sized on every device. The designer has a similar design as Adobe illustrator Photoshop and gives you full access to JavaScript, CSS, and HTML. However, the visual designer can generate the code without requiring you to write it from scratch.
You can make customizations on various features offered while designers behind the scenes create an optimized semantic code for an efficient website. If you want to tweak the code, you have all the features in the CSS3 and HTML5 files that enable you to make the necessary changes.
Webflow is an easy-to-use site builder for those without any technical knowledge. At the start, the interface may look a little complicated, but once you start, it will become easy to use and manage.
The templates on the designer can be customized with different animations and font styles. The custom animation feature allows designers to offer unique scroll, zoom, and hover effects as the page transitions as visitors interact with the web pages.
Everything that you create on the designer is compatible and responsive by default with all major browsers and devices.
Click Here To Try Webflow For Free
3. Content Management System (CMS) of Webflow
Webflow is a powerful site builder and designer which has a full content management system. The CMS of Webflow offers excellent flexibility and adaptability. The service helps you to create, manage and modify content on your website without the requirement of specialized knowledge or coding skill. CMS handles the entire system, from creating web pages, storing images, and handling other basic infrastructure stuff. Webflow offers schemas that allow you to build and bind the specific design you want for your website.
With the CMS system of Webflow, you can dynamically change the customer-centric data on your website and customize it based on the visitors.

4. Hosting Options Offered by Webflow
Webflow offers a range of hosting plans with different packages. However, unlike other website builders that offer shared hosting plans, Webflow hosts its sites on a versatile scalable server fleet.
When your website is ready to go live, Webflow is ready to handle the traffic that your site will generate. Webflow has over 100 data centers distributed around the world, allowing them to efficiently load the site instantly across the globe. Its content delivery networksare powered by Amazon CloudFront and Fastly.
What Webflow Promises with its Hosting Services
Enterprise-grade reliability and performance.
99.99% uptime ensuring that your website is always online.
Webpages load within a few milliseconds.
Outstanding support for even large volumes of traffic due to its AWS-based foundation.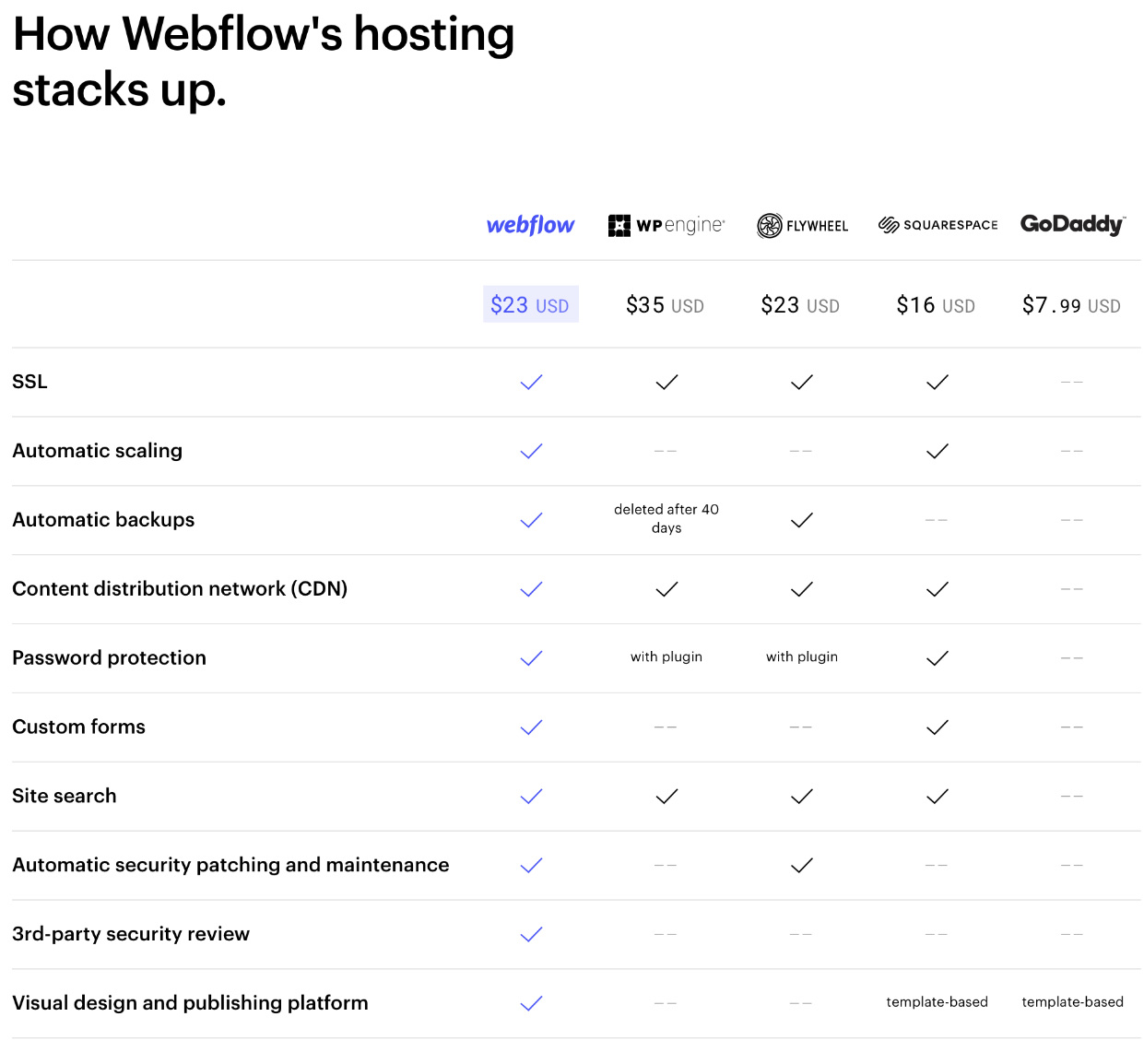 You will also get an SSL certificate that keeps the confidential information of your visitors and the site safe from malware and cyber-attacks. Apart from this, you'll receive infrastructure that is HTTP/2 compliant and collaboration tools. These tools allow you to have your team members working alongside you on the site.
Click Here To Try Webflow For Free
5. Webflow Editor
Adding content on Webflow is simple as easy as filling out a form. Whenever you are ready to publish any changes, you can do it with a simple click. The live preview option ensures that you won't be surprised by any changes to the content after it is published.
Webflow efficiently separates content from other support features. This empowers you to edit and make changes without having to worry or tinker with something that will break your website.
The version history features allow you to know who made certain changes on the website when you are collaborating with colleagues. This makes collaborative work simpler and hassle-free.
6. Search Engine Optimization
Optimizing content for SEO is essential to rank well on google. SEO optimization with Workflow can be done without any additional plugins. The editor has inbuilt options to include meta titles and descriptions for your content. You can get an instant preview of how your website will look live on the internet.
7. WireFrame Features
Webflow also has three wireframe options in addition to numerous templates. The wireframes options include– Startup, Portfolio, and Business designs. Wireframes offer a general outline and more customization options compared to templates. The design-savvy options don't require any coding and are easy to implement.
8. Importing and Exporting Media and Files
To import content into Webflow, users have to use CSV files. However, it can be used to import only 50 items. You can also import different image types, including PNGs, GIFs, JPEGs, and SVGs. Pdf, Doc, Docx PPT, TXT, XLS, XLSX, ODT, ODS, and ODP files to the site. Apart from this, live image URLs can also be inserted, but references to local locations on your computer can't be added.
Content from Webflow can be exported using CSV files to other applications or documents. The website code can also be exported from your website. However, exporting code requires you to have an expensive plan.
Click Here To Try Webflow For Free
9. Images and gallery
Images that are uploaded on Webflow can't be edited as the platform doesn't offer any filters, cropping, or other editing tools. The images have to be imported as you want them to look. Once the images are uploaded, they can be easily added to respective sections by just dragging them into a relevant section.
Webflow has only a few options for displaying your images in the gallery. A lightbox, slider, and a few grid-based image galleries are offered by the platform. These components can be easily customized and are compatible with every device. However, most users come to Webflow to create an original layout and are not attracted by already existing templates that are available across different website builders.
10. Visual Interaction in Webflow
Webflow allows users to create advanced animations across various aspects of the website. This unique selling point helps in creating complex JavaScript animations without you having to write or understand the script.
Webflow has around 20 present animation types that are available on the right side of the designer. The platform offers a range of triggers that you can be selected to create a visual thrill when they interact with your website in different ways.
11. Blogging on Webflow
Webflow offers adequate features for most blogging enthusiasts. It has 47 blogging templates having supreme style and design capabilities. The blog posts can be edited on the page at the front end of your website. The platform enables you to use categories and tags on posts. The RSS feed in Webflow automatically helps you in sharing the blog with your subscribers.
But if you're a professional blogger and you publish a lot of articles, then you should consider another platform as it has page limit restrictions. Also, there is no integration of Yoast SEO to enhance your search engine rankings.
Click Here To Try Webflow For Free
12. History and backup Version
Webflow has excellent backup options that kick in after you've started customizing the template. The platform automatically backs it up within a few minutes. All the plans offered by Webflow come with an unlimited backup storage.
The platform has a solid version history feature that allows it to go back to prior versions with a single click. This gives it a distinct edge over other competing tools.
13. Ecommerce Store
Webflow has excellent e-commerce options alongside its incredible content features. The e-commerce site began in 2018 and offers three e-commerce site plans. The site has a robust set of features that help you build a versatile online store.
The e-commerce site is not yet to the standards of different competitors like Shopify, Wix,and other websites. Webflow is trying its level best to cover the ground with its competitors, but it is still lacking certain important features.
14. Ecommerce Limits
Webflow has a distinct product and annual sales limit. Here you can sell 500, 1000, and 3000 products across its three plans. Furthermore, the most basic plan limits you to make up to 50k on annual sales, while the Plus plan has a 200k limit. Only the most expensive plan doesn't have any limits. Apart from this, the basic e-commerce plan also charges a transaction fee on every sale. Most of its competitors don't levy these limits on the products sold on their websites and have considerably cheaper plans.
The e-commerce function at Webflow has been active only for a few years now, so the quality and functionality are expected to improve over time. But as of now, various other websites offer better e-commerce options to their users.
Click Here To Try Webflow For Free
15. Page Loading Speed
Websites that load quickly are given preference in the search results. Webflows sites load quickly and efficiently. However, a website with a lot of animations has slower loading times.
Incorrectly sized images also increase the load on the page. The image load setting offered by Webflow offers three loading options for these images. Furthermore, Webflow creates images in different sizes and displays the best image suited to the visitor's interface which helps improve its loading time.
16. Integration Library
Webflow can integrate your website with other apps to enhance the site's performance and experience. The integrations library has over 250 applications that can be integrated with your website. The integrations help connect your site with different email marketing servicesand other features.
Several custom plugins are available with Webflow sites that are designed by enthusiasts and Webflow developers. They add advanced features like chatboxes, image sliders, etc.
Webflow also has integrations with the syncing tool Zapier, which allows you to connect with different third-party tools. Zapier lets you create integrations with popular cloud service providers, including Google sheets, Gmail, Slack, etc.
17. Webflow Forms
Webflow has different data capture forms and files upload options. There are two prebuilt layouts for contact forms and newsletter signup boxes. Both forms can be fully customizable.
The forms can also be built from scratch, giving users good flexibility. You can add various elements like custom fields, ReCaptcha elements, etc. The forms can be reused across your website.
Data from the forms in Webflow can only be sent to a single email address by default. If you need the data to go somewhere else, you'll need to use the Zapier extension to facilitate it. Finally, you have limits to how many submissions you have as per the plan.
18. File Uploads using Forms
Some online businesses require files from customers to complete an order. This might be done to check the identity of the buyer or get important tax details, etc. Webflow has an in-built feature that is available in the Business, Ecommerce Plus, or the e-commerce Advanced plans. Not all competing website builders can offer this feature, so Webflow has a big advantage over its competitors.
Click Here To Try Webflow For Free
Webflow Pricing
You can use Webflow's free version for as long as you like, but your account will be in a trail status. The website design control will be in your control; however, the site will be published as Webflow.io as its subdomain, and you will be limited to working only on two projects.
Once you are ready to get a paid subscription, you can select from the three plans and pay amonthly or yearly subscription. The site, E-commerce, and Workspace are the plans offered by Webflow to its customers.
Site Plans
The Site plan is the first and basic plan that is easy to understand and work with. The plan has 4 subcategories which are listed below.
Starter plan– $0 per month
Basic– $18 per month
CMS– $29 per month
Business– $49 per month
Click Here To Try Webflow For Free
The price of the plan is dictated based on various parameters. A website having access to a content management system will cost higher. Similarly, the storage space and no of people that can come to your site will also determine its pricing. Furthermore, the no of editable CMS items and the number of people who can edit your website will also dictate the price of the plan.
Ecommerce Plans
An Ecommerce plan offered by Webflow allows you to create custom product grids, custom pages, checkouts, and other features. The Ecommerce plan is subdivided into 3 types.
Standard– A standard plan starts at $42 per month. Here you can sell 500 products while paying a 2% transaction fee on each sale to the platform. The plan has a sale limit of $50 on the sales revenue.
Plus– A Plus plan starts at $84 per month, with a user able to sell 1,000 pieces of product with no requirement to pay a transaction fee to the platform. The plan has a sale limit of $200k on the sales revenue.
Advanced– The Advanced plan is priced at $235 per month. Here, users can sell 3,000 products without having to pay any sales limits or transaction fees to the platform.
Workspace Plan
Ecommerce and Site plans are geared toward individuals who want to build a website and run a blog or small business. A Workspace plan is primarily designed for professional web designers and web design agencies.
The plan lets them manage multiple sites and allows them to build them in collaboration with several individuals. In this plan, you will need to have a site code exported onto your website. The major downside of exporting a code is that you won't be able to use the content management system to edit the site once it is live. You can only export a static design and make changes externally. There are 6 Workspace plans offered by Webflow.
Starter– The start plan costs $0 per month. In the starter plan, only 1 person can work while managing 2 sites. The publishing permissions are determined by Webflow and you cannot add a custom code
Freelancer– The Freelancer plan starts at $24 per month. Here 3 users can work on 10 websites and define their publishing permissions or requirements. The plan allows users to add and export the site code. It offers good security and customer support.
Core– The core plan starts at $28 per month and allows 9 users to work on 10 websites. The publishing permissions are defined by the user, and they can import and export the site code. The plan has good security and excellent customer support.
Agency– Agency plan starts at $42 per month and allows multiple people to work on unlimited websites. It allows the site code to be imported and designed and also supports exporting the code to other websites. The security and customer service are of the highest quality.
Growth– The Growth plan starts at $60 per month and offers nearly the same services as the Agency plan. This plan, however, has better security and customer support during setup or any issues in the future.
Enterprise– The Enterprise plan is custom designed as per customer requirements. The pricing is also custom as per the features opted by a user. It has top-level security and plus access to the customer support team.
The Freelancer and Agency plans are well suited for design agencies that are tasked with building Webflow sites for their clients. The Starter, Agency, Core, Growth, and Enterprise plans are focused on individuals and companies who build their own sites.
Cancel a Plan Anytime
You can cancel your account or its hosting plan anytime. Webflow will not offer a refund, but your plan will be active till the end of the billing period.
In a case where you've canceled your full plan with one or more existing websites, your sites will not be deleted. Your account will be downgraded to a free plan.
Click Here To Try Webflow For Free
Webflow Coupon Code
They're many blogs making false claims of:
Webflow Discount Code 2023
Webflow Discount Code
Webflow Discount
Webflow Discount Coupon
Webflow Coupon Code 2023
Webflow Coupon
Webflow Promo Code 2023
Webflow Promo Code
Webflow Promo
However, the truth is that Webflow does not offer any coupons! But you can get a 22-30% discount on all plans by signing up yearly instead of monthly
Try Webflow For Free & Get 30% OFF
WebFlow offers two different discounts to its users with the annual plans.
Site Plans: If you choose the Webflow Site plans, you can get a 22% discount on its annual plan.
Ecommerce Plans: If you choose Ecoomrece plans, you will get a 30% discount on its annual plan.
Webflow Customer Service and Technical Support
Webflow has one of the most efficient self-help sections for website builders. Webflow University has curated several videos based on designing, web elements, and SEO fundamentals required to run your website.
There are also individual courses offered where users can deep dive into a specific topic. Currently, Webflow offers an Ultimate Web Design Course and a 101 Webflow Crash Course. Several eBooks are also available on the portal.
The Webflow Community has several FAQ sections, where you can find answers to any issues or questions that you may have.
How to contact a Member of the Webflow Support Team?
A Webflow customer support member is available from Monday through Friday between 6 am to 6 pm Pacific time. Generally, Webflow tries to solve any issue between 24 to 48 hours, which is a quite quick turnaround for a big company.
Webflow doesn't usually offer any consulting services; however, they have a few experts that can get you started and solve any issues. You can search for agencies or freelancers based on different criteria and locations.
Except for Enterprise plan users, Webflow only provides Email as the only mode of customer support channel. It is disappointing that it doesn't offer live chat and phone chats on its regular plans, whereas its key competitors do.
Webflow Pros and Cons
As we've discussed above, Webflow is an efficient web builder powered by different features. Here are some of the pros and cons of using Webflow for hosting your website.
Click Here To Try Webflow For Free
Pros
Great levels of designs that are highly customizable.
Over 1000 free templates with 46 free for use.
Good flexibility on account plans.
Fully responsive on a desktop computer, mobile, or tablets
A good set of SEO options
Good security with SSL certification and is HTTP/2 compliant.
In build backup, autosave and version history on the platform
Cons
The learning curve is steep and will take beginners some time to adapt.
Despite its no-code promise, some knowledge of CSS and HTML is essential to get the most out of the designer.
The structure and pricing of the plans are confusing.
Templates cannot be changed once it's selected
Ecommerce features are limited.
Customer support only with Email, except if you own an Enterprise plan.
Webflow Review Reddit
u/SpicyAbsence "The clients love the interface, so do the devs, and so do the designers. That's why it's winning so much ground and you hear the Webflow name so often. Give Webflow a go on the free trial and test the experience out with one of their templates"
u/insynco "I love Webflow. For me, it beats any other CMS platform I've used. It's flexible, stable, and intuitive. Lots of excellent tutorials available online and fantastic support. The only downside is the high price, but I suppose you get what you pay for."
u/Insane_Tobi "I sometimes find myself comparing Webflow to photoshop. You can customize every detail of every aspect of your site. All this comes at a very reasonable price. The site builder itself is free. Webflow has a lot (and I mean a lot) of very detailed and quite entertaining videos to learn the program/workflow step by step which helped me a lot in the beginning."
Webflow A Versatile No Code WebSite Builder: Final Thoughts
Webflow is a well-featured site builder that helps small businesses and individuals to create unique websites. It has an abundance of templates that can be customized to suit different requirements. The powerful tool has a steep learning curve compared to its competitors, but it is possible for a beginner to learn these advanced features and adapt with time. Webflow focuses to improve customer experience and satisfaction by providing various resources for users to access.
The platform has strong visuals and intriguing design features. It has innovative animations and layouts, whether you are building a portfolio, blog, or online store. The fully responsive cookie cutter facilitates the creation of fully responsive sites.
Webflow provides in-depth video tutorials and written documentation to solve any issues. The versatile plans offered by Workflow make it a good choice for people of different industries. Webflow offers a free version to try out its platform before committing to one of its paid plans. The free version requires no code, or web design, making it a good testing ground.
Webflow's e-commerce features are not as developed as other online store builders. They have significant limitations on the products you can sell and the annual sales of your store. This makes it a poor choice for merchants that are looking for higher sale volumes and have a large product catalog. Unless you are looking for a full e-commerce builder, Webflow is a solid choice for those looking out for an accessible but powerful site builder.
Click Here To Try Webflow For Free
I hope the Webflow review has helped you get a better understanding of the platform and its features.
Read Next:
Best Domain Registrar Reddit 2023