Modern software has features that we would have never imagined some decades ago, all thanks to the recent advances in artificial intelligence. However, for every AI tool in the market, there is one that works while the other fails to deliver the good. So, how does the AI paraphrasing and writing tool QuillBot perform in the AI-writing space, and does it live up to the hype?
QuillBot claims that it is a powerful paraphrasing tool that will help millions improve their writing using its AI capability. In this article, I will explore how QuillBot works, what is it capable of, and other important features of the tool.
What is QuillBot?
QuillBot is a state-of-the-art AI paraphrasing tool that helps users rewrite and enhance sentences, articles, and paragraphs. The tool uses advanced AI algorithms that can help improve your writing skills by offering natural and polished language.
In addition to the paraphrasing tool, QuillBot has an in-built thesaurus, grammar checker, and summarization tool that helps improve your writing. It can be used for several types of writing, like academic writing, posting on social media, creating content for work, and others.
How Does QuillBot Work?
Before I get ready to explain all the features of QuillBot, let me tell you how it works, and you can explain how easy is it use. To use the tool, all you need is to copy your content and paste it directly into the interface of QuillBot. The software will analyze the text and suggest ways to rewrite the content. It is trained on a huge set of written content. It will suggest rephrased sentences or paragraphs that will keep the meaning of the text the same but change the words and sentence structure.
QuillBot allows you to rewrite something based on its modes and it is easy for everybody to read and understand. The plagiarism checker tool of the platform allows you to see if the content is unique and free from plagiarism. This will allow you to find whether the content is original or copied and find the source of the original content with how many words match.
The QuillBot software has a large team of authors when compared to other software tools in the market.
Who Should Use QuillBot?
QuillBot is a versatile choice and can be used by anyone, from students, bloggers, or users who want to create high-quality content for their operations. You can say that anyone who wants to improve their writing while saving time and avoiding plagiarism can find the tool very useful.
The best fit for the software is for students as it has a ton of student-friendly tools, from a summarizer to a plagiarism checker and co-writer feature. I have seen students use the summarizer feature to help create annotated bibliographies and use the citation generator to pair those summaries. We'll look at the features it has to offer below.
QuillBot Review
1. Ease of Use
QuillBot is simple to use and is easily accessible to several people. You don't have to sign up; just enter the text, paraphrase the content, and generate the relevant information. The interface is modern with minimal features and is very intuitive and sleek.
The left panel of QuillBot gives you access to several features that are available with the platform. The main screen allows you to enter the desired perquisites, which can be edited using the software. Overall, the interface is sleek with minimalistic graphics. This helps make the entire process friendly and simple for students as well as beginners.
2. Paraphrasing Tool
The most appealing feature of QuillBot is the paraphrase tool of the software. The feature does precisely what the name implies it rewrites the sentences and paragraphs. It basically helps you restructure, reorganize, or completely alter sentences without compromising the original text. This is particularly good to avoid plagiarism checkers if you think that is the issue. To use the paraphrasing tool, you simply have to paste the content and rephrase it in the left textbox.
In my experience of testing the tool, it performs a decent job of paraphrasing short paragraphs or texts, especially if you want to give it a brief edit. There might be a few sentences that may sound confusing.
It also comes with multiple speech styles that you can select from and adapt your writing modes. Based on the QuillBot mode, you can choose the AI mode that will adjust the material, and you'll get the desired outcome that will appear on the right. We'll talk more about the styles below.
a. Standard Mode
As soon as you open the QuillBot software, the standard mode is selected by default. This is a handy mode as you can restate your phrase in a neutral manner. In this mode, the AI sounds as natural as possible as it changes the text but keeps the meaning original. However, you can fix this by expanding the Synonyms bar, which will give the software more area to make the necessary adjustments.
Below is an example of QuillBot's standard mode, including some synonyms points. You can compare the outputs depending on how accurate you want them to be.

The words in orange are changed by you and help keep the underlying meaning and notions, while the original words are replaced with synonyms.
The words in blue are the longest unchanged words. This is the longest group of words that have not been changed between their original and paraphrased version of the text.
You can change it several times; however, the first output maintains the comparative anatomy, while others remove that part. The more synonyms you include, the more changes will be made and, therefore, the less accurate the final result will be.
b. Fluency Mode
The Fluency mode is a great mode that ensures that there are no grammatical errors in the text, and the material has to be authentic. The mode makes the fewest modifications, but it helps keep the meaning the same. The tool helps remain completely unchanged throughout. Here, the synonyms are put on a low setting; however, you can adjust them if you want.
c. Formal Mode
The Formal mode helps change the text to make it look and sound formal and better. In the academic or corporate setting, it is a fantastic alternative for writers who want to consider using the tool. Once you switch over to the Formal mode of QuillBot, it will reword your sentences to help make them more polished and educated for your users.
d. Simple Mode
The Simple mode is a versatile feature that makes your text easier to read and understand by making it more accessible and reliable. This mode is great for bloggers and writers who are looking to write material for the general public. May it be for a blog piece, landing pages, or advertisement text, among other things. In this mode, the synonyms bars in disabled, so you cannot get the synonyms of words you'll want to change.
e. Creative Mode
The Creative mode helps make the greatest number of alterations in the text that will result in a complete change of appearance and tone. It is also possible that the meaning can be altered as a result of employing the method of expression.
This mode of QuillBot helps give a greater latitude in terms of the wording and word choices of your phrases. It is very effective if you use it to explain the concept with a different meaning.
In case you select the option, it is essential to double-check the content for its correctness and its typographical mistakes.
f. Expand Mode
The Expand mode, as the name suggests, helps maximize the length of the text by adding additional words as much as it seems feasible. In several situations where you need a greater total word count, it is highly beneficial.
g. Shorten Mode
The Shorten mode helps writers eliminate unnecessary words in the text and condense a statement without needing to alter the context in which it is written.
Only the first two modes are available with the free plan. To have access to all the modes, you'll need to get their premium version. Some of the modes have a synonyms bar that tells QuillBot how much you need to change the text. It will tell you whether you are making fewer changes or more changes. Each of the modes has a distinct focus on the text in which it will operate.
However, you have the ability to modify the degree of the change seen in all the modes except the Simple mode. This is a useful feature that limits the number of modifications the AI wants to make in the text.
3. Grammar Checker
The Grammar Checker tool of QuillBot is powerful and allows you to correct any inaccuracies that might have occurred throughout the Paraphraser process. Powered by AI, the tool is very useful for finding the common ways of using that style of grammar.
The utility functions of the checker are the same as other grammar-checking tools in the market. It basically helps correct grammatical errors, punctuation, and typographical mistakes.
Spellings may seem simple, but the English language has so many rules that may be hard to remember. Even spelling correction tools don't catch all these issues. QuillBot will correct misspelled and misused words, so you don't have to worry about any pesky rules.
You can create a smooth, sleek, and simple workflow in the user-friendly interface of the tool. This lets you save time, energy, and unnecessary heading with your arsenal of helpful products.
The tool doesn't have any effect on the outcome that is obtained using the paraphraser mode. The Grammar Checker will also be used as a word editing environment, complete with multiple headings and other styling options. What is more, is that there is a button which allows you to correct all your mistakes simultaneously. This is great as it helps save a significant amount of time.
QuillBot ensures that your workflow is streamlined, so it has rolled several tools in its Grammar Checker. It will check the grammar of sentences from the beginning to the end of any project that you are working on in a simple click, ensuring your work is free from errors.
The background of every writer is different; some learn through writing courses, while others focus on the trial-and-error method. The Grammar Checker of QuillBot will flag mistakes in your writing and will bring them visually to your attention. This helps you learn and grow into a better writer.
Select the download button, and you can save your work on the MS Word document. You don't need a premium subscription to use the function, and it is entirely free of cost. The Grammar Checker supports American, Canadian, Australian, British, and English styles. It is available to fix grammatical mistakes everywhere online through browser plugins or web apps.
However, the Grammar Checker of QuillBot is not as intuitive to use as Grammarly. Here, you can't review any suggestions, rewrite, or fix multiple sentences at a single time. It doesn't provide the same context to the grammar errors as Grammarly. Read my detailed Grammarly review to learn more.
This being said QuillBot is accurate, and if you are already paying for the other tools of the platform, then it is a useful addition and helps academics fix any errors before submitting it for publication.
4. Plagiarism Checker
QuillBot has a Plagiarism Checker that helps academics and essayists who want to check the uniqueness of the content. Users have to simply paste in or upload the text, and the checker will scan through it in a few minutes. It will then present a report indicating whether the text is directly or indirectly plagiarized.
The feature is available only to premium users and they can scan up to 20 pages per month for over 100 languages. However, you can pay more to get access to more pages to check its plagiarism. The uploaded file can be in a textual or non-textual format that includes HTML, TXT, CSV, PDF, DOCX, PPT, ODP, XLS, and other file types.
If the content contains any piece of plagiarised information that is published in books, research papers, news sources, academic papers, or the web, then the tool will determine if you failed to give proper authorship to that content. You can quickly and accurately get a review of all the instances with a plagiarism score and report. Here, you get clear and actionable feedback on your document or if they are missing proper citations.
QuillBot is committed to promoting and protecting academic integrity. The Plagiarism Checker, Citation Generator, and guides are built to help educate students about the best practices to avoid any unintentional plagiarism.
You need to understand that even paraphrased writing requires citations. Even your ideas can be plagiarized just as words, so if you take someone's idea or reword it, then you need to cite all the same. Everything that you write needs to be accurately cited.
QuillBot reassures its users that if they use the tool correctly, then there are no worries of plagiarism. However, you need to understand that this feature is more suited for essayists or academics rather than content publishers.
5. Citation Generator
The QuillBot Citation Generator is another popular tool designed for essayists and academics. The tool makes it simple for users to construct citation that includes a link or a book title.
After you enter the URL or title, the program will automatically collect the necessary information on the page. This includes the title, authors' names, date the page was published. If the information requested is not available, then the system will prompt you to manually enter the information.
Once you finish, click on Save Citation, where the QuillBot tool will generate a complete citation in the format that you have specified. This function is compatible with APA, MLA, and Chicago formatting styles. Further, it lets you make several citations and copies of the results that are generated. It is also possible to export it all at the same time by downloading it as an MS Word document.
Some of the Citation Generator Attributes you'll love include:
1. Start for Free
Ok, this one speaks for itself. The best part of this feature is it is free of cost, and you don't require a premium account to access it.
2. Be Accurate
The Citation Generator of QuillBot is verified by experts and PhDs alike to be accurate, so you can focus on sharing your unique ideas—instead of googling what part of a citation gets italicized. If you must search online, be warned that most of that information isn't correct because it's outdated.
3. Avoid Ads
You'll never have to deal with distractions like frustrating pop-ups, annoying tabs, or ads with QuillBot.
4. Quickly Find & Review Source Material
Use the Citation List as a convenient way to navigate back to review reference materials. Find the "Open Citation Source" in the three-dot menu in the top-right corner of each citation entry.
5. Autosave in Your Web Browser
Once you create a citation, it is automatically saved to your web browser so that you can always come back and access or edit it later; no double work is necessary.
6. Save Time & Energy
Once you understand how to cite, you are free to lean into the "automation is the future" idea. Let the tool do the heavy lifting: punctuation, italicizing, and all the other nit-picky citation stuff. Save your time and energy to focus on your ideas and arguments.
7. Stay Up to Date
Working in APA format? That manual is in its 7th edition. MLA format is in its 9th edition, and Chicago style is all the way to its 17th edition! QuillBot will track each citation style's changes for you, so you can always be sure you're up to date without having to buy those pricey manuals.
8. Create In-Text & Full Citations
Other free citation machines only create the full citation and leave off the in-text version. Or, even worse, they say it's free but then tell you that you have to pay for the in-text citation information after you've spent your time adding all of your sources into their system.
9. Get Results Fast
Do everything from finding to citing to editing a source's citation in just a click or two. Save yourself from other citation makers that need to load page after page to create one citation or worse. Those that crash and make you start over.
10. Search & Cite
Don't have the source on hand? Use our convenient search feature to look up the book or website sources you're using.
11. Change Style with One Click
Working in MLA format but actually need to use APA? That change is just one drop-down click away. Simply choose the new style you want using the drop-down list under Citation Style within your Citation List, and all of your citations will automatically be reformatted.
12. Get More Support
QuillBot has many other tools to help you smash all of your writing and research goals by maximizing your efficiency and upgrading the quality of your work. It is no one-trick pony.
6. Co-Writer
The Co-Writer feature of QuillBot provides a seamless writing and research experience. It combines AI-assisted autocomplete, online research capabilities, and note-taking to provide users with complete research and writing experience without requiring them to leave the current page.
The tool helps you generate sentences based on what you have written and entered, which allows you to collaborate on the writing process. You can also utilize the online search material from the convenience of your own computer. The tool helps you to check grammar with its advanced AI review of your text and suggested grammar corrections. You can access the analytics to keep the text in its word count and be aware of how it will sound all the time.
Besides that, you can make use of the research function to help find and cite the sources using the QuillBot tool. You can utilize the AI write assist feature to help construct the sentences.
7. Summarizer
The Summarizer tool is a great feature that helps compress your articles, documents, and papers into small components in a few minutes. The AI of the platform makes use of natural language processing to help locate crucial information while ensuring you keep the context original.

There are two options that help you summarize your content.
Key sentences- Using the key sentences, users can create a bullet-point list of the important sentences in their document. By altering the summary length slider, you can easily change the number of bullets that will appear in your summary.
Paragraph- This mode gives you a unique paragraph that will summarize the content that you have entered. The summary length sliders allow you to choose how long the findings will be.
The Paraphraser and Summarizer tools are similar in their use cases. If you are looking to use QuillBot, experiment with both of them to see what works best.
8. Compare Mode
The premium version of QuillBot allows you to easily compare the different versions of your text in the paraphraser tool. You get several examples and you can pick one of them.
In the Compare Modes section, you can see the original sentence (what the sentence was before it was paraphrased) and the results from all of the modes at once. The result from the mode you paraphrased in will be selected by default among the options on this screen.
To choose a sentence, simply click the "Select" button next to the text you like. This will automatically replace the paraphrased sentence in your results with the one you prefer. You can also rephrase the individual sentence results by clicking on the circular arrow icons or copy the sentence by clicking on the copy icon.
9. Translator
No matter who you are or what you're writing, if you need to use another language, QuillBot has you covered. For students and researchers in the global community, reading or writing in another language is a valuable skill. With QuillBot, you can easily understand studies written in an array of languages or conduct your own research in a language you don't speak.
The translator of QuillBot supports 45 languages, which provides writers a way to utilize non-native languages. It has a 5000-character allowance per translation and offers an ad-free experience. You can edit the text and cite the sources with the integrated writing tools.
10. Freeze Words
Freeze Words is a premium feature that allows you to prevent certain words or phrases from being paraphrased by the QuillBot AI. Although it is a premium feature, but a free account can freeze one word in the text.
To use Freeze Words, first click on the snow icon to open it. This will open up a new section on the right side of your screen that looks like this: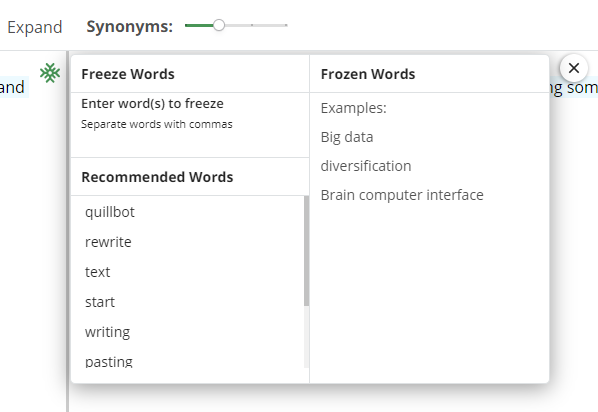 To use it, simply enter the words or phrases you want the paraphraser to leave unchanged. Be sure to separate each word or phrase by a comma. Be aware you must enter the words and phrases you want to leave unchanged before you paraphrase your text. Alternatively, you can also highlight a word or phrase inside the text and select the Freeze button that will appear above the text.
Then, you can paraphrase your text, and the stuff you didn't want changed will remain the same! However, symbols, special characters, and dashes are not supported in Freeze Words.
11. Hotkeys
QuillBot has several keyword shortcuts for those who prefer them on the interface to make their lives easier. To know what are the hotkeys, you simply have to click on the Hotkeys button on the dashboard, and it will give you a list of all the shortcuts to enhance your efficiency without any hassle.
The modifications are color-coded in the output field. This lets users easily identify the shortcuts. So, now you don't have to worry much about typographical errors in your text. If you don't want this feature, you can disable it by heading over to the settings window.
12. SEO-Friendly Tools
QuillBot has SEO optimization tools that are breaking stereotypes in the grammar software tools industry. These tools help you to take your content to the next level and rank on top of Google search results to get a wider reach.
If you are a small business owner or a new blogger, then SEO-friendly tools of the platform can be highly beneficial. The tool will optimize the content, which will result in better engagement and impressions.
13. Extensions
In addition to a web-based tool, you can get an extension of QuillBot for a variety of software.
QuillBot offers extensions to the following products
Google Chrome
Microsoft Word
Google Docs
MacOS
The extension of QuillBot is easy to use and covers most of the areas that users usually write online, for example, WordPress. With this, you get complete access to the functionality of whichever tool that you usually work with.
14. Customer Support
QuillBot has good customer support that can help you with any issues you might be having. The software has a powerful help center where there are answers for nearly all your problems. These articles are divided into sections that help you pick on the type of problem you have. You can also contact them through their customer support channel. Here, you have to type in your email address, name and send the message you want to deliver to the end user. However, the tool doesn't support live chat and phone support, which is a big drawback of the software compared to others in the space.
QuillBot Pricing
QuillBot has 2 plans that users can choose from to try its features and functionality. The paid plan can be availed on the monthly, semi-annual, and annual subscription plans. You can pause the subscription whenever you don't need it. Try it for 3 days and get a 100% money-back guarantee, and you'll get a full refund. The plans in detail are
1. Free Plan
The free plan offered by QuillBot gives you access to basic paraphrasing and summarizing capabilities, having a character limit. The plan is great if you are starting out or a student. The features of the plan include:
125 words in paraphraser
Standard and Fluency modes
Limited use of Synonym Slider
1 Freeze Word
1,200 words in Summarizer
2. Premium Plan
The Premium plan is a paid version of QuillBot that is designed for advanced users with sophisticated and complex needs. The plan is priced at $9.95 per month, and it can also be purchased on semi-annual and annual subscriptions. The features of the plan include.
Unlimited words in paraphraser
Unlimited custom and 8 predefined modes
Full use of Synonym Slider
Unlimited Freeze Words
6,000 words in Summarizer
Faster processing speed
Recommended Rewrites
Compare Modes
Plagiarism Checker (20 pages per month)
Tone insights
Paraphraser History
Pros and Cons
Pros
Easy to use with a friendly interface
Excels at paraphrasing and summarizing
Excellent writing and editing tools for a single subscription
Create citations from sources with ease
Useful plagiarism checker for academics
Option to try the free plan before investing
Extensions with MS Word, Google Docs, and Chrome
Cons
Character limitations for the free as well as paid plans
Availability of 2 writing modes for free
Only works online
Supports only Chrome extension
Is QuillBot Really Worth the Hype?
QuillBot is a powerful paraphrasing tool that is designed to increase your productivity without requiring you to compromise the original meaning of the content you are writing. If you are looking for an all-in-one toolset, then QuillBot has features that make the quality of your content very high.
Whether you are planning to handle small texts, paragraphs, or thousand words, you can be assured that QuillBot will ensure that every bit of information is perfect to publish to your audience. It has a generous free plan, with its premium plan coming at a cheap price.
The QuillBot tool is definitely worth the investment and can help you save time and effort if you are planning to create unique and engaging content.
QuillBot Review Reddit
What Redditors say about it:
U/rainey8507- "Through its word choice, Quillbot makes materials simple for me to understand. Although I'm not sure if the premium version is worthwhile, I've found the free version to be quite helpful. I like Quillbot better than Grammarly".
U/Corrie_W- "Quillbot is great when you are stuck on how to phrase something. It doesn't always rephrase it in a better way, you definitely still need to make sound judgments, but it is a useful tool".
QuillBot Review FAQs
1. Is QuillBot worth the hype?
QuillBot is a great choice for students or academics who want access to grammar-checking tools. However, digital marketers may need more robust AI writers.
2. What is the word limitation on the free plan of QuillBot?
The free plan of the QuillBot editor tab allows you to upload up to 125 words at a time. If you need more words, you can access its paid plans.
3. Does QuillBot keep your history?
QuillBot stores the copy of the original document that you have uploaded. It also stores the paraphrased version of the original document with any information that is contained within when you upload the document in service.
4. Is QuillBot considered cheating?
QuillBot is designed to help users write and strengthen original ideas or text. In case a user makes use of someone else's writing or tries to pass it off as their own, it will be considered cheating, whether you are using QuillBot or not. It is important to cite all the sources to avoid plagiarism.