A writer will agree that a piece of content is incomplete without properly editing it. A very popular tool that comes to mind when you think about grammar, writing, and editing is Grammarly.
Click Here To Get 20% Discount On Grammarly
Grammarly is a writing tool that has become a household name today. The platform suggests corrections across numerous aspects of your writing, like spelling, grammar, and punctuation. Launched in 2009 by Brad Hoover, it has a real-time proofing and editing tool, which means you will be given writing suggestions as you write. It works well on a range of platforms like Gmail, Google Docs, LinkedIn, Facebook, Twitter, and others.
Grammarly currently has over 30 million users and is constantly evolving. I use it for proofreading my articles and blog posts. In this article, I'll cover what are the important features of Grammarly to see what makes it stand out.
What is Grammarly Used For?
Grammarly is a personal writing assistant that helps you write content and stay away from errors to create spotless and error-free writing. The platform allows you to check your grammar, punctuation, tone, spelling, plagiarism, and much more. This will help improve your content and stand out from the crowd.
Grammarly is not only useful for native English speakers but also for students or novices. It is a great choice for bloggers, writers, freelancers, content marketers, journalists, authors, copywriters, content publishers, small business owners, etc who are creating content for different platforms or niches.
The platform doesn't only offer English Grammar checking tools, but it also supports Canadian English, American English, British English, and Australian English writing style.
How to Use Grammarly?
The process of using Grammarly is very easy and simple. I will walk through a step-by-step process of getting started using Grammarly efficiently.
1. Sign up
The first step is to sign up on the Grammarly platform. The signing-up process can be done using email, Google, Facebook, or Apple. Once you complete this process, you can just use the free plan to get an insight into its features.
2. Create a Document
After you have created an account, you can log in and access your account to get desired grammar check and other features. You can create a new document from the main screen, which will take you to the editing screen. If you want to create a new document, then you can access the settings from the left panel.
3. Download apps and extensions
You can also download the Grammarly extensions and apps using a range of tools and applications. This is available for your browser, desktop, or mobile devices.
4. Edit the document
To edit content, you can directly upload the document or copy-paste the text directly into the document. The platform supports docx, odf, rtf, and txt formats. There is no option to import a document using a link. However, you can use its Chrome extension to get real-time suggestions on apps like Gmail, Google Docs, WordPress, LinkedIn, Facebook, Twitter, and much more. All this is a great way to improve overall writing skills, offering a positive impact on the minds of your readers and having an effective communication line.
Grammarly Review Reddit
U/HumanSuspect4445- "I've used Grammarly for several years to help critique several writing mistakes that I've been making without realizing what is occurring. I'm still using it right now. It carried me through a Master's degree where a literature-heavy program. And it helps me with work to sum up what I need to say accurately to pinpoint solutions. As a writer, I still need a significant amount of effort to break away from previous thresholds".

U/MRJWriter- "I use Grammarly often, mainly as a fast way to check if my text has some obvious grammar mistakes or misspellings. Grammarly also has a readability score that can help you fine-tune your text for a specific audience. For example, it says a 7th-grader can understand this text. I would not buy the premium. It is too expensive".

U/woodcutters- "Grammarly is my favorite software. For a person like me whose third language is English, Grammarly Premium helps a lot. I know it's not a perfect tool. It has its own limitations, but it is the best in this game. You will not find any other better software than Grammarly for Grammar, Spelling, and Plagiarism checking".

U/UReadthatWrong- "I make use of Grammarly daily. The free and not the paid version. It is my starting point for making manual proofing quicker. I'm satisfied with the performance offered by it, allowing me to concentrate on creating written work instead of being distracted by basic errors that would interrupt the flow".
Click Here To Get 20% Discount On Grammarly
Grammarly Review
1. Ease of Use
Grammarly is very easy to use and helps reduce friction which makes it accessible to several people. You just take a minute or two to sign up or install the browser extension, and you are good to go. The user interface of Grammarly has a modern touch with minimal features on the main screen, making it very intuitive.
The left panel of Grammarly gives you access to options from accessing your account, contacting support, downloading apps, and upgrading to premium plans. The main screen will display a grid of documents, which are edited with Grammarly. Overall, the interface is minimalistic and has basic features. All this makes it friendly and easy to use for beginners.
2. Grammar Checker
The core feature that is offered by Grammarly is its grammar checker. The grammar checker allows you to fix standard mistakes and punctuation errors with the free plan. However, its Premium plans allow you to get advanced grammar checks to offer content to premium users. Here, you are provided with an explanation of the flagged grammatical errors and are provided with an explanation of the rule in question, and offered additional examples. This is very useful for improving your writing skills.
Grammarly will provide real-time suggestions and guidelines on how you can correct these mistakes. The simplest example can be a missing comma or misplaced apostrophes, and other common punctuation mistakes.
The correctness tab display shows the basic grammatical mistakes, spelling mistakes, and punctuation errors that are seen in the document or text. You can go through it and make changes in detail. However, you can do it by following and believing the machine without having to cross-check it.
An example of the correctness tab is seen below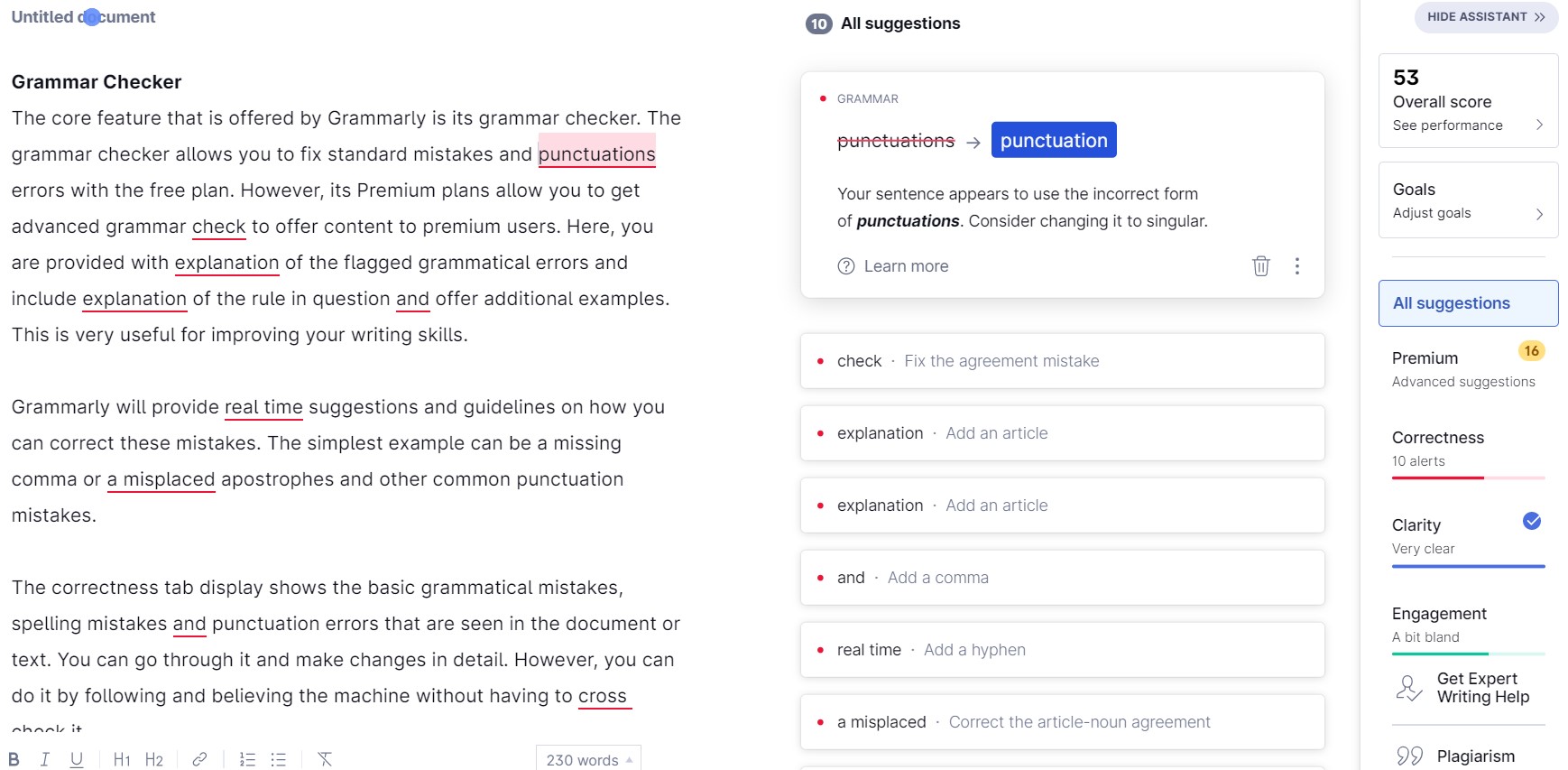 If you want to accept any suggestion, you simply have to click on the suggested edit, and the document will be automatically updated. In case you are not sure and understand the logic behind a suggestion, you can click on the Learn More button. This will allow you to understand its meaning, significance, and example to get its correct usage parameter.
3. Fast and Accurate
The Grammarly tool can easily process large amounts of text quickly and accurately. On the platform, you can add text of over 7,000 words, and it will deliver the input within a few seconds. This helps catch the highest level of errors in a short time compared to its competitors in the market.
4. Set Document Goals
If you are getting started editing your document, Grammarly will allow you to set your goals for the document. The document goals allow you to
Select the level of audience you want- general, knowledgeable, and expert.
Select the type of formality you want to convey through it. You can select from formal, neutral, and informal goals.
Finally, specify the intent of your writing to see whether you want to describe, convince or tell a story.
The premium plans help specify a domain for your writing. You can also switch between business, academic, email, creative, and casual domains. If you set the proper goals for your documents, you can easily convey the right message to the audience by utilizing the right tone, intent, and voice. This is a great tool to offer impactful communication with your audience.
5. Check Clarity
The clarity tab on Grammarly allows you to make the content easier so it is understandable to the readers. You will get suggestions to improve the readability by removing wordy sentences, repetitive phrases, passive voice, etc. In some instances, the platform will tell you to rewrite the entire sentence or paragraph to make it easier to read. It suggested simplification output is really short and crisp, allowing you to produce excellent clarity.
If you want to improve the clarity of your text, then the clarity tool with Grammarly Premium is a perfect solution. It will flag both the wordy and complex sentences to automatically rewrite them in an easy-to-understand manner. If you switch over from the free plan, then the clarity solution will give you a dramatic improvement in the clarity suggestions. The Premium plan gives you 57 suggestions to offer clarity to users. The great thing about the Clarity Checker is that it will not only rewrite your sentences but also explain the reason behind those suggestions. This is one of the premium tools that will help improve your writing skills. If you are an experienced writer, then you'll love the detailed suggestions that are offered by Clarity Checker.
6. Check Correctness
The correctness tab of Grammarly helps display a list of the basic grammatic mistakes, punctuation, and spelling mistakes that you have encountered in your document. You can easily go through them one by one and see whether you want those revisions. If you want to accept any suggestions, you will have to click on the suggested edit, and the document will be automatically updated.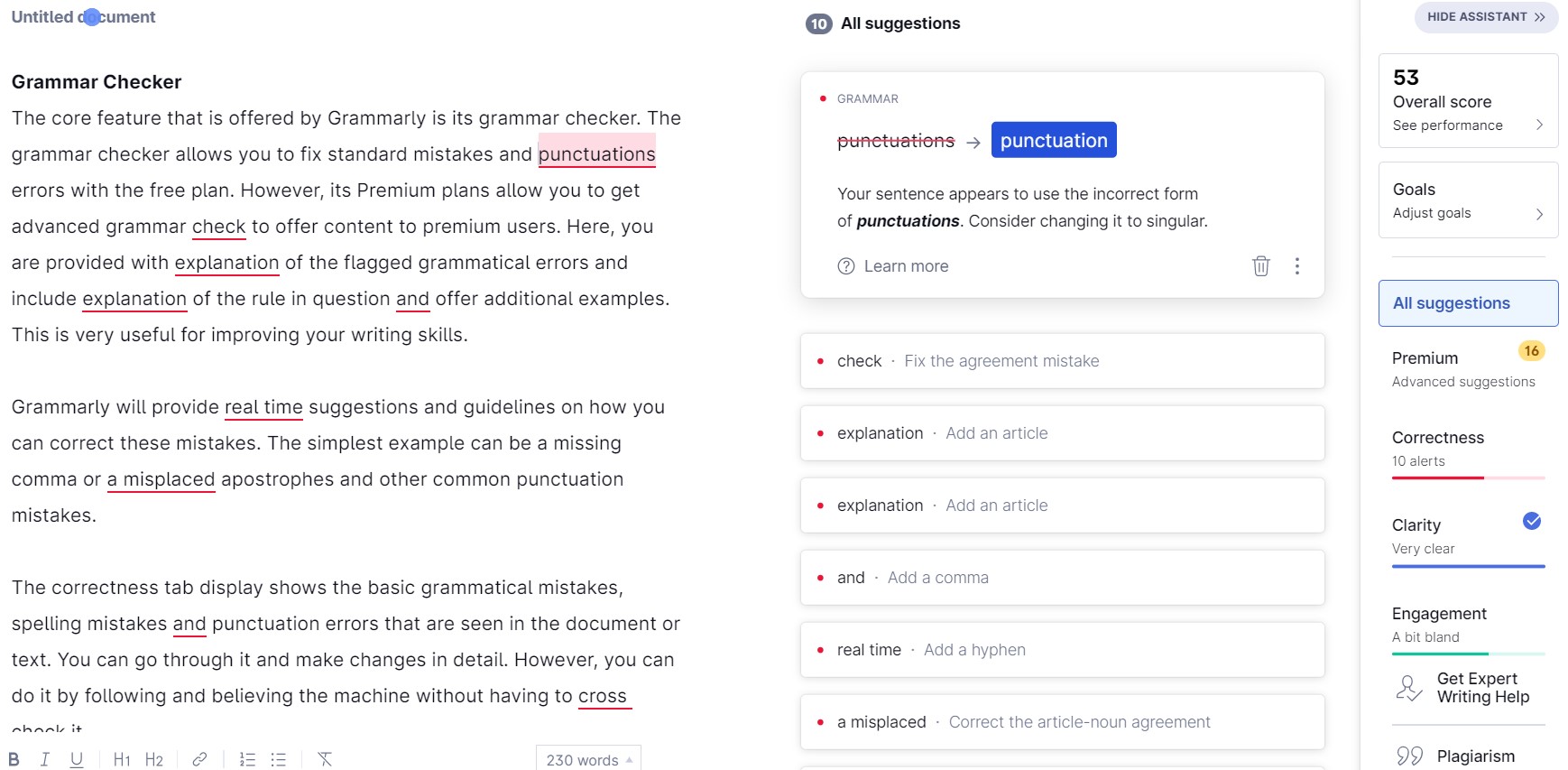 7. Check Engagement
The Engagement tab is available with the premium plans offered by Grammarly. The tab will give you tips to make your entire writing more interesting for your readers. This may include replacing overused words and imputing fresh choices in their place to stand out in the content space. The tool is great as it helps you to update your vocabulary making use of fresh words to easily convey the message to the reader.
8. Detect the Tone
Grammarly has a Tone Detector, which analyses your content data and shows how it is sounding to your readers, making use of an emoji. The platform has over 20 tones that will help you identify how it will come off to anyone that is reading your content. This feature is very cool and allows you to understand the tone while sending out emails to your clients. If the tone is not right, you can experiment with it to invoke the right effect. This feature is available with the free plan making it very cool and appreciable.
9. Check Delivery
Grammarly has a delivery tab where you can see suggestions that will help you make the right impression on your reader. It basically suggests removing or rephrasing a word or sentence that does not go with the purpose or the domain of your content. This is a great way to replace it to get the right effect on the end user and increase your conversion and retention rates.
10. Set the English Language Version
Grammarly allows you to choose the type of English that you will want to write. If you work for a British company, you will want to use British English; similarly, for American companies, you'll have to use American English. The feature helps you set the robust spell-check tool to get a dedicated style guide.
Grammarly allows you to select four types of English- American, British, Australian, and Canadian English types.
For example, if you writing content in American English, the spelling and grammar recommendations will focus on American English rules. This is great to stay in line using your language preference.
The Grammarly tool allows you to choose from 200+ languages. But it only allows editing in the English language, so this purpose doesn't really make sense with it.
11. Customizable Personal Dictionary
Grammarly allows you to add and maintain a personal dictionary. You can add words that it doesn't recognize and flags them as incorrect. The platform lets you add digital tools and apps to the dictionary. Some words may be integral to your work, and seeing errors every time will be irritating. Once you add the words to the dictionary, they are automatically accepted the next time when they are encountered in the document.
12. Check the Overall Score
Grammarly's top most button at the right corner of the Editor shows the overall document score. You are scored on a scale up to 100, and it represents the quality seen in your writing. The more suggestions that you want to implement, the more your score will increase. The feature allows you to include a report on word count, vocabulary, and readability. You can easily export this report as a PDF file. This is great if you want to send it out to your writers or clients.
13. Citations
The best writers will struggle to catch mistakes in their own work, especially when it is easy to overlook details. It is common to proofread citations and confidently submit your research. The citation tool is very versatile and is available across its paid and free plans. It has an auto-citation feature that is available with the Grammarly browser extension. This helps you to copy and auto-generate citations for your research paper, bibliography, and cited page on your research site.
The free auto-citation feature can be installed on the browser extension. If you read a compatible source website, then you'll see a Get Citation button that will appear on the bottom-left corner of the screen. Click on this button, and it will present a full citation and offer an in-text citation for the source you are viewing, ready and formatted for you to utilize. In case you need a format citation for a new paper having a different style guide, then you can switch from APA, MLA, and Chicago citation methods using its versatile suggestions dropdown menu.
The Premium plan users can easily provide suggestions utilizing its in-text citations. The Grammarly platform will flag the citation errors that will not watch your style guide, so you can comply and avoid any accidental plagiarism. Here, you will get access to its plagiarism checker to ensure that you haven't accidentally copied anything from the source of the content.
14. Security
Grammarly is safe and easy to use, and nobody can steal your data. Anything that is sensitive, like credit card forms, passwords, URLs, or other fields of private information, is safe. Your data with the platform is secure, and its transit is protected using industry-standard TLS 1.2 protocol, and all your data is encrypted and safeguarded in AWS using AES-256 servers. This is the case whether you receive suggestions through its browser extension or the documents you are saving on its editor.
In addition to data encryption, Grammarly uses AWS, which is a subsidiary of Amazon and is a very flexible, secure, and broadly adopted cloud platform in the market. The data centers are located in the US, and ensure your data will be available at all times using native backup tools. Further, the platform supports more security standards and enterprise-grade compliance certificates, which is more than any other writing assistant.
15. Plagiarism Checker
Grammarly has a great plagiarism checker that allows you to see whether the content is unique and reliable. The checker is available on the free version, but it doesn't tell you which section is plagiarised. However, with the Premium plan, there are unlimited plagiarism checks, and you can check the text as obsessively as you like without any extra charge. Here, you will be provided a URL and details to show exactly which sentence or paragraph is plagiarised.
If you read a lot and have a good memory, then you are in grave danger of accidental plagiarism. This is why requiring and using a plagiarism checker is vital. If you are copy-pasting a quote or research, it is important to label it so you don't end up editing it due to plagiarism.
The instances of plagiarism in your text are mentioned on the ride of Grammarly. You can click on it to analyze it separately. You can also check the percentage of text that is matched to be plagiarised alongside the URL of the source. The link can be copied with a single click, making it very convenient. However, the plagiarism checker is quite average compared to other platforms available. It is still important to note that the plagiarism checker is not its basic function, and eventually, the plagiarism checker will be improved to give better performance.
16. Expert Writing Service
If you think the suggestions made using Grammarly editor don't make you feel confident, then you can use Grammarly's Expert Writing Service. Though it is an optional service and you can opt for it at any time if you are using its Premium subscription.
If you feel that your text is not perfect and you require extra confidence that your text doesn't have any mistakes, then you can send it over to Grammarly's team of writing experts.
When you submit a document to the experts, they will review it and correct any mistakes in punctuation, readability, sentence structure, and other options based on your needs. Further, the writers will also revise the text for fluency to ensure the writing will sound natural to the primary English speaker's ear. However, the original meaning of the text will remain fully intact. It is important to note that the writers won't check whether the submission is plagiarized or fact-check the document. The writing experts on the platform are carefully selected to meet the high standards of the users to deliver optimum efficiency and quality.
If you want to submit an order, the expert writing service will offer two options:
Correctness and clarity- The expert will only fix mistakes and make the text fluent to ensure that the writing is concise, precise, and easy to read. The turnaround is between 3 to 24 hours.
Correctness only- Experts will fix all the spelling, grammar, punctuation, and sentence structure errors. The text will be revised to get better fluency. The turnaround can be instant or a maximum of 24 hours.
17. Grammarly Apps
Grammarly is supported across several devices and apps to give the end-user easy access. More on that below.
1. Web App
If you want to access Grammarly on your computer or the web, then you have to simply log into the website. It has an editor where you can easily paste your content and get suggestions or error highlights of the content that is pasted.
The editor of the platform offers basic formatting options alongside the ability to increase its font size, automatically jump to the next suggestion, select the colorblind mode, and much more. This helps make the entire process simple and efficient.
The bottom corner of the editor will display the word count of the content. However, you can easily switch it over to display the number of characters, speaking time, and reading time or find out its readability score. The suggestions that you get with Grammarly can be exported using a PDF file.
Another great feature that comes with it is that it not only shows grammar mistakes but also detailed explanations to find why certain content usage is incorrect and offer solutions. You can access this feature through the Learn More button.
2. Desktop App
The desktop app of Grammarly isn't a full-blown app, like the web app, and doesn't have an editor interface. It simply works like an extension that pairs with any app, and you can utilize this device to show writing suggestions.
Installing the Grammarly app on a desktop is very easy and convenient. It will take less than a minute to install and launch the Grammarly app. To install the app, follow the simple steps.
Download Grammarly from their website
Click on the download file and follow the necessary prompts required to complete the installation
Once it is installed, you will have to open your preferred application, like Pages or Microsoft Word, and type on it. Here, you can see the floating Grammarly widget clearly.
The desktop app is very decent; however, if you are interested in using it with MS Word, it'll be better to utilize the MS Office add-on to get optimum performance and efficiency.
3. Grammarly Keyboard for Mobile Devices
Grammarly also has applications on Keyboard for Android and iOS devices. This allows you to be confident while communicating with others. After you have completed the initial setup, you can use Grammarly with apps like WhatsApp, Instagram, Notes, Telegram, etc.
When you use the keyboard on Grammarly, it will assist you in the grammar and correction process directly on your phone. It goes beyond autocorrect and allows you to improve your tone and eliminate any mistakes seen in an email, text, or post that you want to write.
If the length of the text is over 90 characters on the keyboard, it'll offer a tone detection feature. This is very helpful when you want to draft longer messages across different channels. It works for grammatical suggestions but lacks when finding correct punctuation errors. This version is basically the smaller or beta version of the platform, and it should only be used for emergencies.
4. Grammarly Browser Extension
If you want to use Grammarly on your browser? Don't be worried, as it offers a well-designed browser extension for Google Chrome, Mozilla Firefox, Microsoft Edge, and Apple Safari browsers.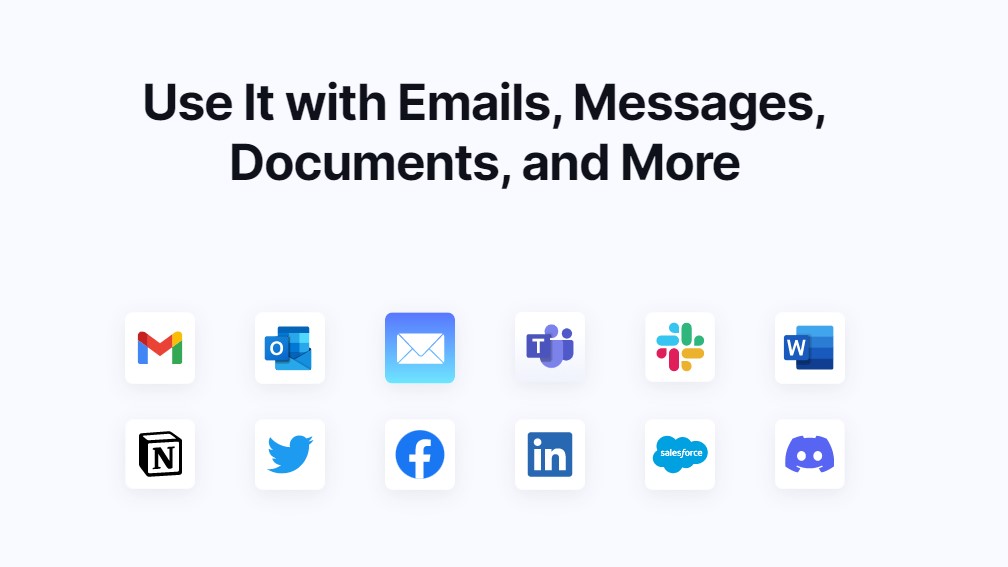 It also works with an array of online apps that include:
Emails, and messaging apps like Gmail, Slack, and Apple Mail.
Documents and projects apps like Salesforce, Google Docs, Notion, and Word
Social media apps like Facebook, LinkedIn, Discord, and Twitter
These browser extensions work well across an array of online applications. You can easily toggle through the basic settings from the extension and get grammatical suggestions for your content. The experience that a user with these extensions is smooth and elegant.
18. Team Features
The Grammarly Business plan gives users the ability to make a few additional features that don't come with the free and the Premium service. The admin on the plan will allow you to manage account roles and permissions. This will allow you to use Grammarly using a single sign-on provider.
The teams on this plan give you the ability to build an efficient custom style guide and set the brand tones. This will allow customer-facing employees to represent their company better. The snippets will allow teams to easily insert common text that will be helpful for sales and customer service scripts. Here, the admins will get access to an analytics dashboard where they can see different metrics to see an overall improvement in the writing skills of their team.
19. Grammarly API
If you are a developer, then Grammarly has an API that will integrate with your applications. This allows you to implement best-in-class writing assistance using AI. The text editor SDK of Grammarly allows you to bring real-time writing support to your app by adding a few lines of code.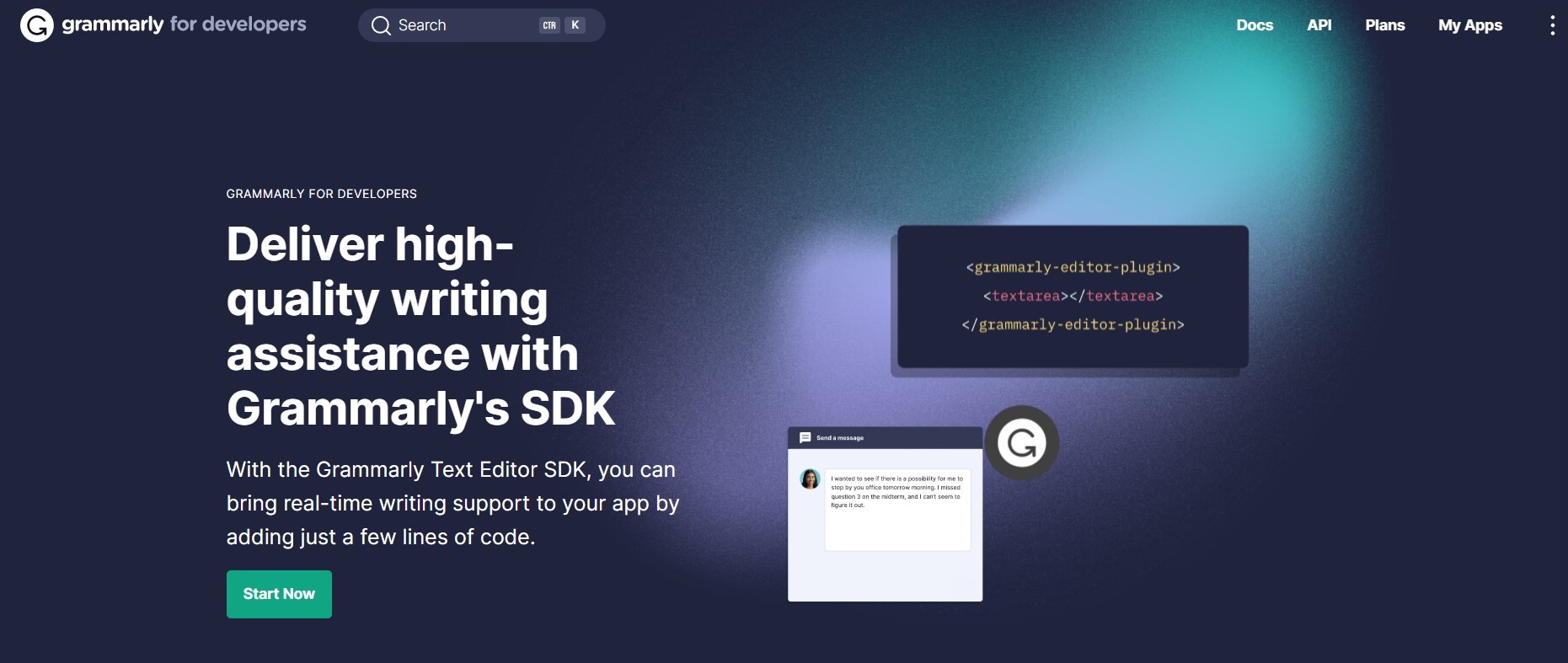 The API can be used to create a complete writing assistance experience for any web-based text editor. Efficiently deliver comprehensive writing suggestions for both web and desktop applications with ease. The API works well with an online text editor, so users can create better and more effective content. You can feel confident using it as it has tens of millions of daily users with validated security practices.
20. GrammarlyGO
GrammarlyGo is a powerful writing assistant that is yet to come on Grammarly. However, you can access it for teams after signing up for it. It will work alongside Grammarly as a type of conversational chatbot. You can ask the feature to make your writing persuasive, confident, long, short, and so on. It will work like ChatGPT, but it is more suitable for writers or editors. With this feature, you will be provided with information, rewrite parts of your writing, and offer editing suggestions or additional information.
With the new tool, you can
Compose- You can compose valuable information by just writing a prompt, providing a short description, and receiving a draft in a few seconds.
Rewrite- The tool allows you to efficiently generate new versions of your writing and customize it as per different tones, clarity, or length.
Reply- Now, you can quickly reply to emails utilizing its context-specific prompts for optimum efficiency.
Ideate- If you want to get a new perspective on your content, then the platform will offer a structure and help you with brainstorming and outlines.
Personalize- You can set personalized style controls so the text that is generated is in the correct voice and tone.
21. Customer Support
Grammarly has good customer support to resolve any issues that users might be having. They don't offer live chat or phone support on its free plan, but you get access to its chatbot and email support, which is quite good for the generous offering. Their customer team is very knowledgeable and polite. The team replies to queries within 24 hours, giving a good user experience.
The platform also has a rich knowledge base containing informative articles. These articles will cover several aspects of the Grammarly platform ranging from account basics, tutorials, subscriptions, billings, and much more. You can easily troubleshoot these errors directly from the Help Center.
Grammarly Pricing
Grammarly comes with 3 plans that allow users to check their writing to make it grammatically correct and versatile. They don't have a money-back policy; however, it should be described in the terms of service. Generally, the subscriptions are non-refundable and will not prorate any fees for the subscription if terminated before the end of its term. The 3 plans includes:
Click Here To Get 20% Discount On Grammarly
1. Free Plan
Grammarly has a generous free plan that gives you access to a Grammar checker and some basic features. The free version includes access to Chrome extension and web editor, but you will get only three of their reports. However, it is not a great option for professional writers or people that require support to improve their writing. Its features include
Grammar, spelling, and punctuation
Tone detection
Auto citations
Enterprise-grade privacy and security
2. Premium Plan
The Premium plan is Grammarly's paid plan that is available on a monthly, quarterly, or yearly subscription. It is priced starting at $30 per month; however, its quarterly and annual plans are cheaper if you select them. Grammarly has a 7-day free trial on this plan, so you can try what is offered. To avail of the free trial, you will need to add your credit card or PayPal details. If you have not canceled at the end of the trial period, the amount will be charged to your account. In this plan, you get access to all the features of the Free plan plus
Consistency in spelling and punctuation
English fluency
Tone suggestions
Full-sentence rewrites and formatting
Plagiarism detection
Word choice and sentence variety
Engagement tools
Citations
3. Business Plan
The Business plan is the highest tier offered by Grammarly. It is designed for teams to ensure that written communication is professional and clear. The plan offers monthly and annual subscriptions for teams of three and up. You can assign roles to individual users to give them access to the plan. The monthly plan subscription costs $25 per seat each month. It has all the features of the Premium plan plus
Style guide and brand tone
Expert writing help
Analytics dashboard with account roles
SAML single sign-on
4. Grammarly for Education
Grammarly comes with some useful features for students requiring citation formatting and a plagiarism checker. To get a quote on this, contact the team at Grammarly.
Grammarly supports major credit cards, including Visa, American Express, Discover Cards, and Mastercard. Apart from this, it also supports PayPal as a payment method.
Pros and Cons
Pros
Easy to use
Fast and accurate grammar and spelling check
Multi-platform support with excellent interfaces across platforms
Premium writing style tools
Impressive UI
Good tone detection
Supports multiple English versions
Great free plan
Advanced suggestions
API support
Good mobile keyboard
Cons
Slightly expensive
No offline editing mode
Unexpected bugs
Only supports the English language
Is Grammarly Premium Worth It?
Grammarly is a powerful AI-powered writing tool and grammatical checker having an array of proofreading tools. The free plan offers generous Grammar checking options and features. The real value is with the Premium and Business plan. It offers tools like sentence rewriting, Plagiarism checker, and clarity tools to give it optimum performance and efficiency.
The tool is great to hone your writing and allows you to elevate the content to the next level. If you are someone who is writing online, like me, then the Premium version of Grammarly is a great tool. It may be very good, but it can never replace professional proofreaders. A human proofreader will catch more and offer a human touch to the content compared to Grammarly. However, it is one of the best grammatical checker tools in the market today.
Click Here To Get 20% Discount On Grammarly
Grammarly Review FAQs
1. Is Grammarly accurate?
Yes, Grammarly is a pretty accurate tool that helps correct your Grammar, spelling, punctuation, and writing style. It will offer helpful and logical suggestions to improve your written content.
2. How to use Grammarly with other tools and software?
If you are using Grammarly with online apps like Gmail or Google Docs, you'll need to download its browser extension. However, if you are using it with offline tools, then MS Word and Office 365 will require you to use a desktop app.
3. What is the cancellation refund policy of Grammarly?
If you don't like the paid version of Grammarly, you can visit Grammarly.com. Contact the support team, and you'll get back your money back within 10 days if it is for a legitimate reason.
4. Is Grammarly safe and secure?
Grammarly has 2FA security for your account, and it will also show logged-in devices. You can easily sign out on any device with a single click.
Grammarly Alternatives
Grammarly is a top grammar-checking and writing tool; however, it is not the best in the business. If you want to try some alternatives, I've listed some below.
1. ProWritingAid
ProWritingAid is a popular grammar and style checker, which is a great alternative to Grammarly. The platform offers suggestions in 20+ reports and covers your grammar, style, cliches, readability, thesaurus, and more.
It has a feature-rich plan has powerful integrations for popular browsers and apps. The tool works well with a range of technical documents without any work of friction.
ProWritingAid is a great choice for those writers who want budget assistance. It offers a plan priced starting at $10 per month on yearly subscriptions.
2. Hemingway App
Hemingway is another great alternative to Grammarly. It is not a direct replacement for Grammarly, but it is useful to complement it. Its online version is free to use, and the desktop app is $19.95 if you need to work offline or support its developers.
The app aims to help you write well and provides feedback to the user to keep it simple and easy to read. This is done by flagging the sentences either as hard to read or very hard to read. However, the edits that you make are up to you, the same as Grammarly. But the platform doesn't provide suggestions to fix complex sentence structures for your content.
Further, the platform flags the use of passive voice and more than three adverbs in a piece. It will also alert you to complex phrases and provide recommendations and alternatives to errors or mistakes. The way you want to use the judgment is up to you. You have to stay true to your own writing style, as it is easy and clear to read.
3. Ginger
Ginger is an online grammar checker that is a great choice if you want to write in English or other languages. The platform allows you to translate text between 60 different languages. It has a built-in dictionary alongside a thesaurus with a personal trainer feature, making it very customizable.
The interface of Ginger is slightly trickier than Grammarly, but it has a few features. The price of the subscription is $89.88 for a yearly subscription; however, it is not designed for budget-minded writers.
Read Next: