While a backpack may sound like a school item, it is far from it. Modern-day backpacks are anything but childish. They are both cool and highly functional. They have built-in organization and can fit anything you need without straining your back and shoulders. Backpacks can be used for various requirements like a commuter bag or a travel bag perfect for hiking or a bag to carry your camera gear around.
If you are looking for a great alternative to the Nomatic backpack that fits your needs, you'll find it here. The Nomatic backpack is a relatively new product and is a great organizational tool. Made with extremely durable material and water-resistant coating, the Nomatic backpack is an excellent carry-on with sufficient space for all your gear. Now that we know how incredible and popular the Nomatic backpack is, let's have a look at the Best Nomatic Backpack Alternatives.
However, there are a lot of different factors to consider when you are looking for a new backpack. So here are a few things to keep in mind that will help you narrow down your choices to one particular model that you can depend on.
How to Choose the Best Nomatic Backpack Alternative
Backpack Size: You need to know which backpack size you need to fit in all your gear. Buy a small one and you will have no space to fit all your essentials, buy a big backpack and you will have to carry around the extra weight. It is ideal to buy the smallest backpack to fit all your needs but leave enough space for seasonal items. The size you need depends entirely on what gear you carry. If you carry only the essentials every day then a smaller backpack will suffice.
Quality and Construction: Depending on how often you use the backpack you can decide what material you can settle for. If you need an EDC backpack, choosing backpacks that are made from highly durable material with good quality construction is essential to ensure it survives the little abuses of everyday life and doesn't wear or tear within a short duration. Similarly, if you travel a lot or are an adventurer opt for backpacks that can withstand the harshness of the wilderness and are suited for traveling. It is worth looking into the materials used to construct the backpack before buying it. This article covers the various materials used to construct the bags in depth.
Waterproof Backpacks: If you stay in a place that has harsh weather conditions and you are more than often caught in a downpour, a waterproof and weather-resistant backpack is the way to go. GORUCK GR2 and some other backpacks on this list are waterproof and prevent water from leaking into the backpack to protect your gear and electronics. Some brands go as far as using waterproof zippers to make the backpack completely water-resistant. This feature comes with an additional price tag but is worth considering if you carry your laptop or tablet most days.
Backpack Organization: You don't want to stuff all your items in one single compartment and rummage through the chaos to find an item when you need it the most. This can be very frustrating and time-consuming. Having a backpack with a smart organization where every item has a place for storage makes things easier as you know where to look to find something. Backpacks with multiple pockets and compartments for different categories of items are a huge time-saving feature.
Backpack Comfort: You could be carrying around your backpack all day long. It becomes important to ensure that the bag is comfortable enough to carry around for longer durations and that it doesn't strain your shoulder or cause any back aches as it could be quite unpleasant. Most backpacks have features such as a ventilated back panel to stop you from sweating through your shirt, padded shoulder straps, and adjustable sternum straps for carrying heavy loads.
Now that we know what to look for in a good backpack let's move on to the best Nomatic Backpack Alternatives.
Best Nomatic Backpack Alternative 2023
1. GORUCK GR2 – Best Overall Nomatic Backpack Alternative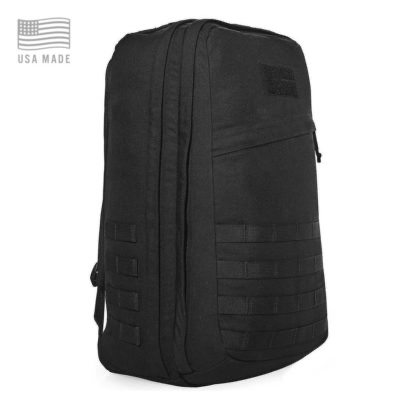 What Redditors had to say about it
u/Outcome005– "I used the GR1 21 liters backpack for all my college time, and it is awesome. And now I use it as a work and travel backpack. You cannot mess with a GORUCK".
u/SilkyChineseFood- "I have a GR2 and use it every day. I hike and travel all the time and get the GORUCK as hand luggage on the place. Had it for a year or more, and it still looks brand new".
u/hackatac- "If you're looking for the toughest bag in the market and ready to compromise to carry the extra weight, then you should buy a GORUCK backpack. I have owned the backpack for nearly 2 years and have performed 2 GORUCK challenges using it and it still stands out and is fantastic. I would say out of the 10 bags I have it carries weight on the shoulders, unlike others. I've put 100 pounds in the bag, and it is still comfortable".
The GORUCK GR2 is a great travel and EDC backpack. While the GR1 is great for EDC, the GR2 is fantastic for both EDC and travel. If you want to stick with just one backpack for all your needs then this is it. This carry-on-compliant bag has all the pockets and organization you need. You can travel hands-free with this bag which makes it the "one backpack to rule them all". It is durable enough to last a lifetime and is perfect for a week-long trip. With the GR2, you get what you pay for.
Highlights
Specifications: The GR2 comes in two sizes 35L and 40L. There is no difference between the two backpacks except for their capacity and size. There is a 1.5" height difference between them. While both the rucksacks look boxy and huge, I recommend you buy the 35L unless you have a very specific need for the 40L.
Material: This backpack is made from highly durable 1000D Cordura Nylon material. This makes it tear, abrasion, and water-resistant. You could be out in the rain and not worry about your electronics getting soaked in water. This makes the GR2 perfect for off-road adventures. The bag works well in cities and hiking or camping as well.
YKK Zippers: Made from parachute 550 cord, the YKK Zippers are the best premium zippers in the market. They self-lubricate the more you use them and don't become sticky or gritty over time. They will feel more smooth, the more you use them and are very durable and virtually impossible to break or tear apart.
Comfort: The GR2 has thick padding everywhere so you don't feel anything from inside the bag. The extra thick padding on the shoulder straps ensures that the straps don't cut into your skin if you carry the bag around for longer durations. The spaced-out ridges and breathable mesh on the back panel give it good breathability and ventilation.
Organization: There are two large compartments, the inner compartment having three pockets and the outer compartment having three pockets and a built-in field pocket. The spacious main compartment opens up completely flat, making it easier to pack and organize. The separate bombproof laptop compartment features a false bottom to keep it secure when the ruck is put down. The GR2 has a lot of MOLLE panels that you can use to customize the backpack.
Compartments: The outer compartment has four internal pockets: two large mesh zippered pockets, one small go-to zippered pocket, and one built-in field pocket. The inner compartment has three internal pockets: one large elastic pocket, one large mesh zippered pocket, and one small go-to zippered pocket. The external slant pocket at the front is great for things you need to grab on the go. The laptop compartment is behind the heavily padded back panel and can fit a 17" device.
Great EDC Backpack: Although the opening of the main compartment is not ideal for an EDC you can open the zippers partially to make it work like a regular EDC. Its laptop compartment, ample space, and various pockets and compartments make it excellent for everyday use.
Pros
Excellent for "one baggers"
Best travel backpack in the market
Lifetime guarantee
Can also be used as an EDC backpack
Cons
Boxy and huge for some people
Lacks sternum or hip straps
Expensive
2. Tortuga Travel Backpack – Best Carry On Backpack For Travel
Check The Guaranteed Best Price
What Redditors had to say about it
u/jaymeetee- "I've been living on a Tortuga backpack since May 2nd, 2015. I can assure you that I am pretty happy with the Tortuga materials and quality".
u/AdventureInAbsurdity- "Tortuga makes great backpacks, made for long-term one bagging. If you are looking for unboxing, customer service, and daily use, you can't purchase a better product".
u/BenThereNotYet- "I've owned the 45L Tortuga backpack for almost 2 years and have made dozen trans-oceanic trips around the world from last year to the beginning of this year. It is usually considered a carry-on but was once forced to gate-check it. I make sure I hide the straps on most occasions. Two years later, the bag looks brand new and has been a great investment for me".
The Tortuga Travel Backpack is an incredible backpack explicitly made for travel. It's perfect for short and long trips and is designed to fit all your belongings in a carry-on size. This Backpack has impressive features that make it a top choice among travelers.
Highlights
Smartly Designed Storage: The Backpack features a balanced design and many options for storage, so everything has a place to call home.
Luxurious Comfort: The suspension and straps redefine comfort, making those lengthy journeys seem effortless.
Hip Belt Haven: The hip belt provides outstanding support for a journey without tiredness, going above and beyond.
Week-Long Warrior: This rugged Backpack is a reliable ally for week-long hiking trips.
Built to Brave: Made of durable, water-resistant materials, the bag scoffs at deterioration.
Eco-Friendly Chic: An environmentally conscious touch, the main fabric proudly displays the label of recycled materials.
Harness that is like a cloud: The padded, height-adjustable harness provides a secure fit without sacrificing comfort.
Suitcase-Like Opening: The Backpack's innovative suitcase-like opening style deserves special mention. This design feature simplifies packing and accessing your belongings and lets you see all your packed items simultaneously.
Tech-Savvy Companion: The Backpack features a dedicated and well-padded laptop compartment that can comfortably accommodate a 16-inch MacBook Pro or similar-sized laptops.
Traveller's Pleasure: The Backpack complies with carry-on requirements, reducing stress at the airport.
Globetrotter's Assurance: No matter where your travels take you, a global warranty attests to its quality.
Pros
Stylish & Great looking
Front Loading backpack
Long Lasting Backpacks
Great internal organization
30-day return policy
Designed for long term travel
3. Peak Design V2 – Best EDC Backpack For Camera Gear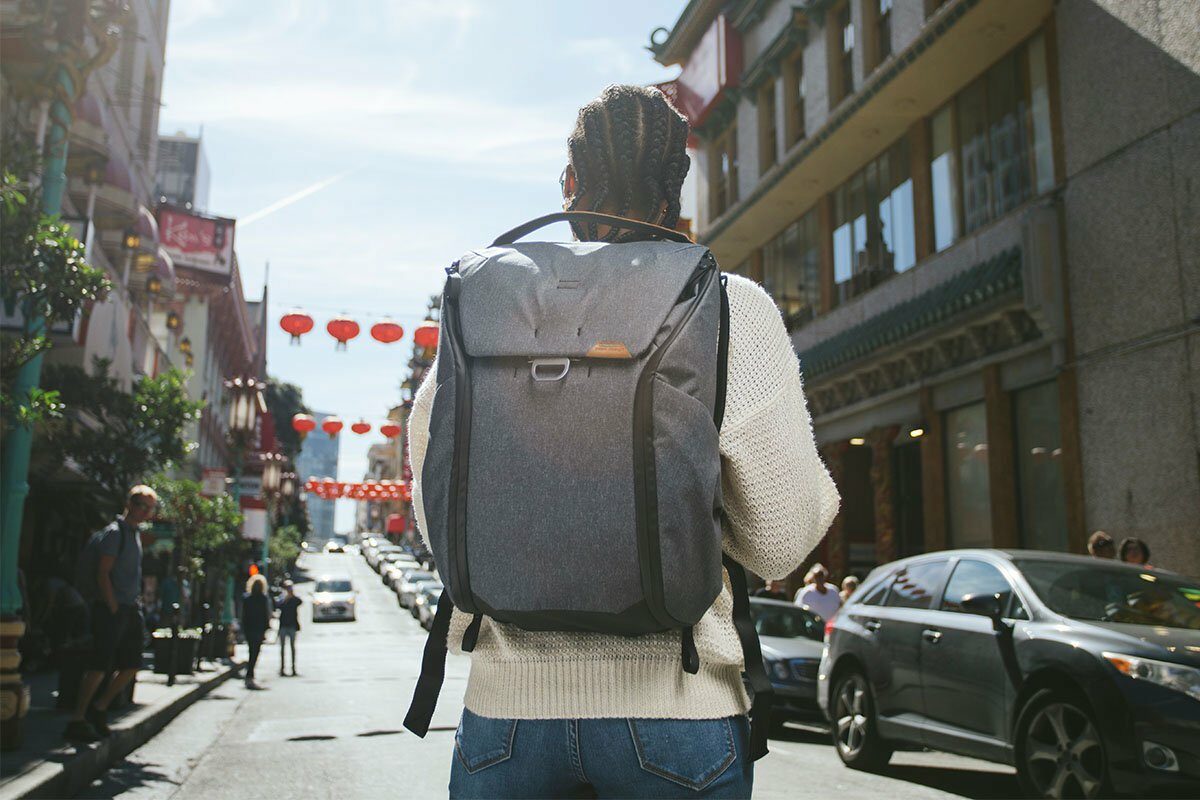 What Redditors had to say about it
u/JonkeyFresh "This bag is very well put together! I spend some time with the bag to thoroughly inspect where future points of failure could be. The stitching on the EDBP was not an afterthought. The durability therein rivals, if not exceeds, that of military-grade and tactical equipment, and I can imagine the shear and tensile tear tests far exceed industry standards. Overall, I am extremely pleased with my purchase and highly likely to make future purchases from PD."
u/plaid-knight I used the Everyday Backpack 20L as EDC for work for a while, as well as on some short trips. I don't have any photography gear, so it was just EDC. It was a fantastic bag, with thoughtful features. But the weight was above average. The weight comes from the extra padding all around the bag since it's designed to protect photography gear. Honestly, it's a great bag, so if you like the organization and the weight is okay with you, go for it.
u/lordkire "I have the 20L and the 30L of the Everyday Backpack and I think they work great. I take 30L to work every day. I like the extra room of the 30L for commuting because I'm free to stuff an extra jacket or sweatshirt in the main compartment or pick up some groceries during the day and I'm able to put them in my backpack for the bus ride home.
This award-winning backpack is right up there with the best backpacks around. With its ultra-clean aesthetic and multiple features, it demonstrates great versatility and functionality. It has a very clean silhouette with minimal dangling straps. The V2 is the newly revamped Everyday Backpack model which is built around access, organization, expansion, and protection. It is ideal for discreet urban everyday or photo carry. This bag is a solid knockout if you are all for customizing the interior of the compartments based on your needs.
Highlights
Specifications: This backpack is available in two sizes: 30L and the smaller and more compact 20L. Most professionals prefer the 30L but you can opt for the smaller size depending on your requirements. This iconic backpack comes in four colors which are midnight blue, black, ash gray, and charcoal gray. The only difference between the two sizes is the capacity and dimensions, other features remain the same.
Material: The V2 is designed from 400D double poly-coated DWR-impregnated nylon canvas shells and 100% recycled post-consumer material. The charcoal gray backpack is solution-dyed to save energy & water. The backpack has a 900D waterproof bottom liner and a high-visibility gray nylon interior. The hardware is anodized aluminum and glass-reinforced nylon. This makes the backpack weatherproof and capable of keeping everything safe.
Comfort: The back panel is well padded and covered with quick-drying mesh for breathable comfort. The shoulder straps pivot at axial points for greater comfort with all body types. The sternum straps can be stowed away when not in use and are a great addition to carry heavier loads. The V2 is very travel-friendly with its luggage pass-through for easy and secure roller-top carry and padded grab handles for upright or briefcase-style hand carry.
Organization: The internal organization is quite simple and the best you can come across. It is highly customizable and has protective internal organization via 3 easy-to-configure FlexFold dividers. With an extra-durable UltraZip design and dual side access, the zips are weatherproof. The V2 is expandable via MagLatch hardware that provides internal expansion. Various loops help secure the straps on the backpack making them disappear and giving the backpack a minimalist look. The back straps magnetically stick to the rear which is great for storing the bag under the seat while traveling.
Compartments: The front compartment opens downward and the top flap encloses the main compartment via a 'Maglatch' magnetic clasp. The FlexFold dividers divide the single large compartment into smaller units. The rear panel features a pocket on the interior great for storing smaller items. It contains multiple pockets: Stretchy internal side and top pockets for cards and cords, internal slip pockets for wallet, passport, and other important items, and dual external side pockets that are stretchable and excellent for carrying a water bottle. They contain magnetic strips that flatten out the pocket when not in use. The protective laptop sleeve with pockets for tablets and documents is adjustable for easy access to smaller laptops.
Pros
Great to carry heavy loads
Highly customizable and versatile
Durable camera bag
Environment-friendly with 100% recycled materials.
Cons
Expensive
Waist belt not included
Lack of extra internal pockets
4. Bellroy Classic Backpack Plus (Second Edition) – Best EDC For Work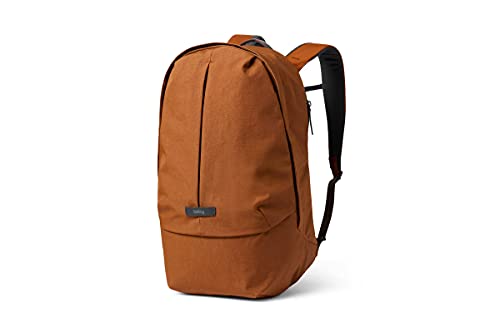 What Redditors had to say about it
u/eterbrownboy "It's worth the price. I've had mine for over two years and recently passed it on to my wife and it still feels like a new bag. Looks great and is still in great condition."
u/PNW247 "I just bought the Bellroy classic plus backpack. It was on sale and honestly, I can't believe how nice this bag is for the price. I wish they had a longer warranty but I am super happy with it."
u/Aesthetigeek "I bought the classic for uni and love it. It's comfy, high quality, and still looks brand new after the 6 months I've now had it. I carry particularly a lot every day, such as a small selection of tools, a tool belt, and headphones, (live sound and lighting) alongside my laptop, lunch, and water bottle; sometimes a thermos as well. For anyone that carries a laptop, a couple of books, and maybe some lunch or snacks, this would be a perfect bag. "
This streamlined backpack has a very classic look with plenty of features. It has an excellent build and smart organization. Bellroy is rated highly for limiting its impact on the environment and campaigning for the welfare of animals. So this backpack is a great option if you want to go green. It adapts well to your gear and environment and looks very sophisticated. It has a very premium feel and minimalist look so you can carry it while wearing your professional attire without looking weird. This backpack is well suited for everyday carry to work.
Highlights
Specifications: This backpack is available in 24L only which is a great size for everyday use. There are other Classic models available in smaller sizes of 16L and 20L. You can choose from six colors: black, bronze, navy, ranger green, saltbush, and slate.
Materials: It is made with durable, water-resistant recycled fabric, and premium, eco-tanned leather. These materials are known for their ability to age gracefully. The leather used is premium quality and feels incredible. The other fabrics used are 100% recycled polyester and nylon which have very less impact on the environment. They are durable, tear-resistance, and lightweight.
Comfort: The zippers have easy-to-grab leather pulls and the harness system is well-built. The shoulder straps are made from smooth material and have sufficient padding which is pretty comfortable. The contoured, rolled-edge shoulder straps are fantastic for all-day comfort. The metal hardware and plastic keepers help manage any excess straps. The sternum strap is removable and secured via a magnetic buckle. The back panel has a natural contour, is well-padded, and has lumbar support.
Organization and compartments: The backpack has multiple pockets: a quick-access front zip pocket, with a built-in key clip and an internal mesh zip pocket for valuables. Separate storage for your laptop and tech lets you access your work essentials without having to rummage around. It has separate zip access to the laptop and tech section. It also has an iPad / A5 document sleeve inside. The quick-grab pocket at the top is hidden by a fabric welt for security. The main compartment opens horseshoe-style and unzips almost the full length of the pack which is great for organizing.
Pros
Backed by a 3-year Warranty
Premium materials used for construction
Very chic and sophisticated design
Great organization with lots of space inside
Cons
Very slight false bottom in the laptop compartment
No pocket outside the bag to hold a water bottle
5. Osprey Daylite Plus Backpack – Budget-friendly EDC Backpack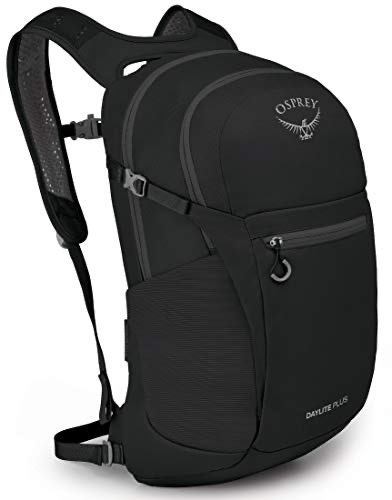 The Osprey Daylite Plus is a more affordable alternative to the Nomatic backpack without any compromise on the quality and features. It is super lightweight and great for everyday use or hiking. The Plus version comes with additional storage space and organization options. Its versatility and high functionality are what make it a top contender when compared to the other expensive options. This budget-friendly option lives up to the brand name.
Highlights
Specifications: This backpack is available in a single 20L size which is compact and lightweight and easy to carry around for longer durations. It comes in various colors: black, wave blue, dream purple, deep peyto green tunnel vision, axo green enchantment purple, palm foliage print, and nightingale yellow green tunnel.
Material: The backpack is made with high-quality bluesign-approved recycled fabrics, GRS-certified recycled polyester, and a PFC-free DWR coating. The main fabric is made from 300D recycled polyester that is PFC-free DWR. The accent and bottom are made from 600D recycled polyester. This material is very durable and lasts for a long time.
Comfort: It has dual-side compression straps. The shoulder straps are thin but contoured which makes it more comfortable. They are not very well suited for carrying heavy loads but work for most activities. They are fixed but the sternum strap is adjustable. The harness grab handle doubles as a luggage pass-thru. The back panel is made from foam and is covered by a mesh for breathability. It has a simple webbed hip belt and no internal structure making it lightweight.
Organization and compartments: The organization is impressive keeping in mind the price tag. There is a multifunctional interior sleeve for a hydration reservoir or 15" laptop. There are two zippered pockets on the front: a slash pocket and a shove-it pocket and the side mesh pocket is great for keeping your water bottle or small items. The large panel-loading main compartment is quite generous and has increased storage capacity compared to the previous version. The outside pocket has a key clip for additional organization. The backpack attaches to a variety of compatible Osprey packs.
Pros
Incorporates sustainability measures
Super lightweight perfect for daily use
Budget-friendly option
Cons
Few features found in high-end backpacks are lacking
Limited organization and pockets
These are some of the best alternatives to the Nomatic Backpack in the market and are worth considering if you are looking for that one backpack that you could use for almost anything.