If you're looking for a backpack for long term travel then you've probably land on either on a Nomatic Backpack review or a Review of one of the Tortuga Backpack reviews! But how do you pick between Nomatic and Tortuga? Well, in this article, I will put to the test in Nomatic vs Tortuga!
TLDR; If you're in the hurry here's the pros and cons of both Nomatic & Tortuga!
Tortuga
Been around for longer
Bag are compressible
Stylish & Great looking
Front Loading backpack
Long Lasting Backpacks
Great internal organization
30-day return policy
Designed for long term travel
USA shipping only
Backpacks don't have as many Features as Nomatic
Nomatic
Makes Backpacks + Luggage
Long Lasting Backpacks
Designed for EDC and digital nomads
Great internal organization
30-day return policy
WorldWide Shipping
Not everyone likes the looks
Nomatic travel bag opens from the back
Μight be too many features
Nomatic vs Tortuga
Before I dive into the nitty ditty details of which is a better backpack maker, lets about a bit about both Nomatic and Tortuga and what their backpack line up looks like in 2023.
About Tortuga
Tortuga co-founders Fred Perro and Jeremy Cohen were travelers themselves and realized there wasn't a good backpack for the gear they were traveling with so they built Tortuga a backpack company that makes gear for those that travel and pack a lot in their backs (think tech).
In fact that's how Tortuga started.
On a backpacking trip to Eastern Europe in 2009, Fred and Jeremy learned how hard it is to travel with the wrong gear. The shoulder strap ripped off of Jeremy's bag on the first day. Fred had to check his giant backpack. The bag arrived on time but was a disorganized mess.
So ever since 2010, Tortuga have been making some of the best travel backpacks!
Their current line up in 2023, include
Tortuga Travel Carry On Backpack: 40L
Tortuga Weekender Backpack: 30L
Tortuga Laptop Backpack: 24L
About Nomatic
Nomatic started out by making a record breaking kickstarted. With the the NOMATIC Travel bag becoming the most funded travel bag in Kickstarter history. They now makes some of the most epic backpacks on the market which are all very different from one another. They also expanded into roller luggage now.
Here's the Nomatic Backpack line in 2023.
Nomatic 40l Travel Bag – This is the largest of all the Nomatic backpacks is available at 40L capacity & 30l. Nomatic recommends the 40l travel bag for 3-7 day trips, and the Nomatic 30l Travel Bag for everyday use & short term travel.
Nomatic Backpack – This is the smallest backpack from Nomatic. It's a 20L (expandable to 24L) and is recommended for everyday use.
Nomatic Travel Pack – This is the mid-sized backpack in the Nomatic product line. The Travel Pack is a smaller 20L, but has a cool expansion feature that can increase its size to a good 24L!
The Camera Pack: Peter McKinnon X NOMATIC – The ultimate camera backpack in the world. Nomatic team up with Peter McKinnon to make this (Fully funded on kickstarted but not available for sale yet)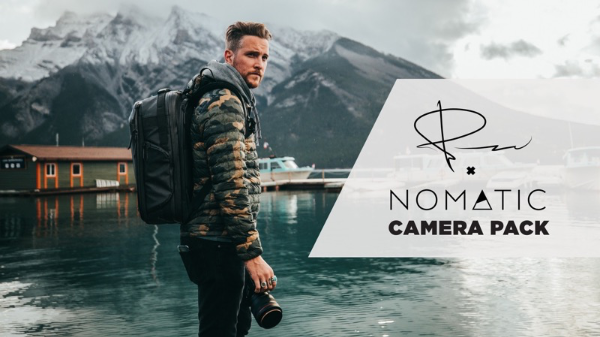 Nomatic vs Tortuga General
Before compare the Tortuga Travel Backpack vs Nomatic Travel Bag, I think it makes sense to take a few moments to compare the companies by themselves and their shipping, return and other policy.
Company: Tortuga has been around since 2010 so is more established as a travel backpack maker, however Nomatic started out making wallets and later expanded to backpacks and now luggage. Winner: Tortuga
Future: Nomatic is working with influencers and people actually in the field like Peter McKinnon when it comes to making products as they did with their Camera Backpack so I only see Nomatic getting more popular and expanding. Winner: Nomatic
Shipping: Tortuga stopped accepting international (non-US) orders on December 31, 2018. They said that they would resume but its 2023 and they've been no updates. While Nomatic ships internationally. Winner: Nomatic
Refunds: Both Nomatic and Tortuga have 30 day return policies (You have to play for shipping with both of them). However, based people in forums its not easy to get your refunds with Nomatic. Winner: Tortuga
Well, I guess thats a very balanced competition, anyways now lets get into the Tortuga Travel Backpack vs the Nomatic travel bag
Tortuga Travel Backpack vs Nomatic Travel Bag
Tortuga
Bag is compressible
Max Carry On Size
Long Lasting
Great internal organization
30-day return policy
Backpacks don't have as many Features as Nomatic
USA Shipping only
Nomatic
Backpack + Duffel system
Waterproof
Carry on size
Most features in 1 bag
Worldwide shipping
Non – Compressibility
Heavy
Not everyone likes the looks
Opens from the back
Μight be too many features
The Tortuga Travel Backpack is an often touted as the best Nomatic backpack alternative. It's often preferred by people who don't like the fact that they would have to remove the bag if they want to get to their main compartment. If you spend a lot of time in nature or hiking you're more likely to prefer the Tortuga backpack.
Nomatic vs Tortuga Reddit
Here's what Reddit thinks about Tortuga:
u/Same-Landscape-8007 – I love my Tortuga 40L, I'm 5.11 and carry the MBP of the office and my my Mac Book Air 15 Inch, fully loaded the comfort it's top notch, the weight is very well distributed with all the straps.
Yes I carry half the weight in electronics, but I also carry an Osprey Daylight Plus 2023 as my daypack, which also can carry 1 of the laptops in the internal container.
I just don't see why people complain about weight when in reality this type of bags helps you with the heavy load also I have never been stop at counter to weight my bag and if I would been stop, I'd just take out my Daylight and put inside my 2 laptops and move on with my life.
u/jaymeetee- "I've been living on a Tortuga backpack since May 2nd, 2015. I can assure you that I am pretty happy with the Tortuga materials and quality".
u/AdventureInAbsurdity- "Tortuga makes great backpacks, made for long-term one bagging. If you are looking for unboxing, customer service, and daily use, you can't purchase a better product".
u/BenThereNotYet- "I've owned the 45L Tortuga backpack for almost 2 years and have made dozen trans-oceanic trips around the world from last year to the beginning of this year. It is usually considered a carry-on but was once forced to gate-check it. I make sure I hide the straps on most occasions. Two years later, the bag looks brand new and has been a great investment for me".
Check The Guaranteed Best Price
What Redditors had to say about Nomatic backpacks:
u/TheNASAUnicorn- "I use a Nomatic backpack, and it's amazing. I love its intuitive pockets and efficient main compartment with extra zippers and highly recommend it".
u/TinKnightRisesAgain- "Absolutely, I like the backpack as it does everything. I can use it to carry my laptop, document, tech, water bottle, etc. The build quality is exceptional, and it looks really slick and doesn't look like a kid's backpack".
u/realgeeeoff- "I have 3 different Nomatic bags, several notebooks, a wallet, and a watch. They're entirely legit and are my favorite brand right now. They are all of high quality, durable, and very useful.
The Tortuga Backpack can be your ideal wingman if…
If your backpack cravings tingle for a touch of innovation draped in sleek minimalism, the Tortuga Travel Backpack is your golden ticket to style and innovation galore. For those whose wanderlust leads them through diverse landscapes, this robust Backpack effortlessly transforms to match your urban escapades, ensuring you've got a sidekick that's always in sync with the scene.
If your packing philosophy revolves around 'less is more' and frosty weather isn't on your agenda, behold the Tortuga Travel Backpack, tailored to your minimalist tendencies. It's a match made in packing heaven. Whether you're a weekend wanderer or a week-long voyageur, this Backpack does a two-step variation (30 and 40 litres) to accommodate your escapade duration. Flexibility, thy name is Tortuga.
If gadgets are your ultimate travel companions, and harsh conditions are your playground, the Tortuga Travel Backpack plays guardian angel for your electronic entourage, ensuring they're snug and secure. Organization enthusiasts, rejoice! This Backpack is the haven where everything has a home. Customization isn't just a bonus; it's the name of the game. If you're that person who's perpetually chasing the perfect blend of efficiency and style, the Tortuga Travel Backpack sits on the throne of minimalist glory in the kingdom of backpacks.
Here's the magic trick – it's spacious without being bulky. It has a perfect balance of ample storage with the ease of portability. No compromise, just that sweet spot you've been hunting. Whether you're a serial weekender or a full-blown nomad, this 30 to 40-litre wizard has an uncanny knack for adapting to your whims. It's like it has a sixth sense for your travel moods.
Check The Guaranteed Best Price
However, you can only get the Tortuga Backpack if you are in the US, sooo if you're anyways else in the world you best bet is going with Nomatic.