In this Goruck GR2 Review I'll dive into after testing the GORUCK GR2 I'm certain it is a perfect fit for anyone looking for a travel backpack with a capacity to carry all your baggage that's also nearly indestructible and bombproof.
TLDR; If you're in the hurry here's the pros and cons of the Goruck GR2 Backpack!
Pros
TSA Carry On Compliant
Great Material
Toughest Backpack ever
YKK Zippers
Lifetime Guarantee
Check The Guaranteed Best Price
(Made in USA Version)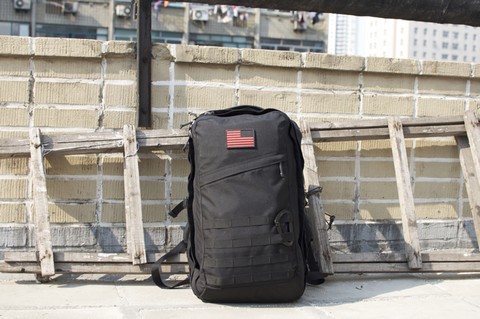 It is important to know what this backpack can do as it has so many features and is quite expensive too hence to help you want to get the best out of this purchase I will tell you exactly how and what the GORUCK GR2 can be used for. In this comprehensive Goruck GR2 review, I will be covering every nook and corner of the bag to make sure by the end of it you will be in the best position of knowing if this bag is for you or not.
GORUCK GR2 Review
What's Goruck and the GORUCK GR2?
GORUCK stands is a symbol of American excellence and thus everything they make is manufactured in America. So you can rest assured you are getting a quality product made by highly-skilled American workers.
The term :GORUCK: is actually a combination of the verb "GO" and "RUCK" which is short for "rucksack". It is intended to move with a rucksack and implies action, energy, and purpose you know what soldiers in special forces training do.
Also, the founder of GORUCK Jason McCarthy became a green beret (army special forces) right after 9/11. So GORUCK is Jason's way to take some of the lessons he has learned in the army and apply it to the community of the civilian world and we can respect that!
So you can already bet that the products are going to be made of extremely strong materials. Moreover Goruck is a company created by an ex-green beret founder so obviously, the products have got to be badass!
I love GORUCK for it's strong and durable products but more importantly for its extremely functional product. Their backpacks os as they prefer calling them, "rucks" — are made and built to the highest quality standards just using highly durable military-grade materials.  They have even gone further to offer their Scars Lifetime Guarantee.
However, although this bag was made with durability and functionality in mind it doesn't look too tactical. The bag can look a little boxy from the back but overall it doesn't look bulky for a giant 40L backpack.
Check The Guaranteed Best Price
(Made in USA Version)
GORUCK GR2 Backpack Features
The backpack although really good is not for all this I thought it important to cover the most important elements about the bag so that you know what you are getting. My goal is to ensure you make the most informed purchase. Moreover, the backpack will set you back a whopping $495 so you better be sure you want it before you spend all that money.
The GORUCK GR2 is a bag that is built to survive the most hardcore and harsh environment and I think it is among the best looking travel backpacks out there. Its design is Simple, quite minimal but on the inside, it is made of bulletproof durable and excellent materials with the military-grade build quality, and enough space to carry all your baggage and more. In short, this is a bag that will last you all your life!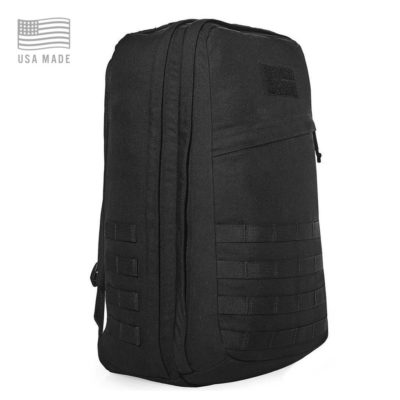 Check The Guaranteed Best Price
(Made in USA Version)
Reason to buy the GoRuck GR2 Backpack
Design: 

Super Tough and versatile

Material: Real military-grade tested materials to survive the best
Compartments:

Pockets, Mesh, Compartments and A LOT MORE.

Weatherproof:

Not waterproof but water-resistant

Extra features:

Comfortable shoulder straps with extra padding.
GORUCK GR2 Design
GR2 is an excellent bag and part of the reason why I love it is because it is remarkably comfortable to carry over long distances and periods of time. All the GORUCK GR2 are designed to be worn up high on the wearer's back with the straps pulled tight.
This ensures a well-balanced distribution of weight over shoulders, the upper back and overall stability and comfort even whilst moving around. Every nook and corner of the bag is carefully designed to ensure extreme comfort and functionality.
GORUCK GR2 Dimensions
The GORUCK GR2 is available in 2 different sizes 34l and 40l. In terms of features, the GORUCK GR2 34L is exactly like the GORUCK GR2 40L backpack, and the only difference is the size and the weight and the capacity of course.
Compared to its predecessor the GR1 the GR2 doubles as a very large giant rucksack.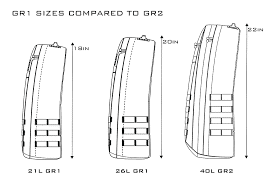 GORUCK GR2 34L Review
The GORUCK GR2 34L is a mid-sized ruck and is best suited for long weekends. Or for shorter people. I recommend getting the GoRuck Gr2 34L if you're under 5'8" (like me :P ) however if you're a brave and strong homo sapien you can probably handle the 40L.
The GORUCK GR2 34L backpack weighs 4.35 Lbs and the dimensions are 12.5″W x 20.05″H x 9″D
GORUCK GR2 40L Review
The GORUCK GR2 40L is a much larger Ruck and is best suited for extended stays and even traveling long term.
The GORUCK GR2 40L backpack weighs 4.75 Lbs and the dimensions are 12.5″W x 22″H x 9″D
However, although the backpacks are big both are TSA carry-on compliant meaning they will be allowed as carry-on without any issues. Both big bags that can also equip laptops with a 17"+ screen so I recommend going for them if you need something to carry a lot of luggage.
Cross-sectional review
As you can probably already tell the GR2 is a huge backpack that going to last you a long time. Bottom line if you need something extremely strong to protect your belongings and carry a lot of them more than any other then the GR2 is what you should get.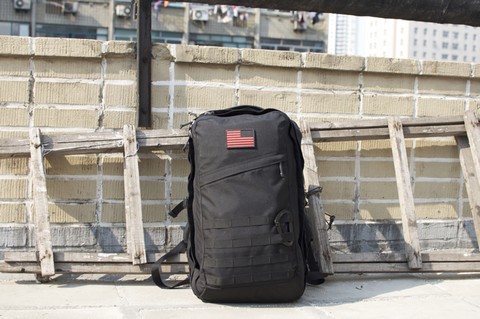 Materials and Make:  The rucksack is made of 1000D CORDURA which is a strong a slash-proof material basically ain't nobody cutting through that backpack unless you got a saw or something and if you got someone chasing you with a chainsaw then even a military-grade backpack cannot protect you. The materials and components are extremely durable to last you a while without scratches and tear even if heavily used. Remember this was made by a former Army Special Forces it's going to be strong.
YKK Zippers: For some zippers aren't something to talk about but not for the GR2. In Fact, these zippers are so strong they are proven to thrive in war. These are the same zippers used by the army in middle east sandstorms
1000 denier Cordura: The name already sounds so cool but you will be surprised to know this is the same material used by marines in the army.  In fact, it is the most preferred material for special forces rucks due to its strength to weight ratio and also for its extremely durable nature.
Other highlights regarding material:  
Extra padding straps to ensure the external components are extremely strong to handle heavy payloads of baggage.

Bombproof laptop compartment
Should I go for the GORUCK 34L or the GORUCK 40L?
This is easy if you know for what you will need the backpack for. Based on the duration of the bag you can choose what would be the best suitable option for you. Obviously, if you are going to be traveling for long then you need something to carry a lot of your baggage with. If you are only going on short trips then you need an overnight backpack in this case I recommend the 34L even over the GR1 which I talk about further in the article.
Check The Guaranteed Best Price
(Made in USA Version)
Drawbacks of The Goruck GR2 Backpack
Although I have a lot to say that is good about the GORUCK GR2 there is nothing that is perfect in this world. The GORUCK GR2 although one of the best travel backpacks on the market currently does have some flaw. These are some things I feel are overkill and may not really be used.
These are by no means dealbreakers because these may actually be something you are looking for. It's purely subjective I just want to give you my perspective on what I think about the travel backpack.
1. Military-grade is a bit of overkill
The product description is a bit of an overkill. If you go to the product description you will see words like
Ammunition

Bullet-proof

Bombproof compartment
It is made by a former Army Special Forces who wanted to bring something from his time to the civilian community but I feel unlike those in the army these situations rarely would occur in the usual everyday life of a traveler. Unless you're traveling through war struck countries like Syria you will barely need something like this.
However, this isn't necessarily a bad thing to have and it will in no means affect the functionality of the bag. I definitely see former army brats getting something but not for the functionality but because that's what they're used to using. I just find it overkill not necessarily and not necessarily drawback.
2. Expensive
The USD $375 price tag is definitely on the expensive side. However, if you look closely at the cost to make the bag and what goes into it you will quickly realize it is justified.
Firstly it is made in America by fine manufacturing practices and by only American skilled labor so definitely, the cost will be higher than the average backpack made in China.

Secondly, the work that is gone into it the military-grade materials it is made of the testing done to ensure it is actually something that can survive the worst add tremendous tangible value to its customer.
If you can afford it and are wondering whether the GORUCK GR2 is actually worth the price tag than the answer is YES! It is made with fine materials, following the best practices and only after a series of durability tests.
3. Non-USA Made Bag Aren't Worth it
In the past year Goruck moved a lot of their production overseas to Vietnam. Lots of folks are unhappy with this as there has been noticeable quality degradations across their entire product line, with only a very minimal price decreases.
The USA made GR2 is $375 while the Vietnam made GR2 is $325. The difference is only 50 dollars when you're getting a far more inferior product. It's best to spend the extra bucks and get the USA made version
Check The Guaranteed Best Price
(Made in USA Version)
GORUCK GR2 vs GR1
If you've previously used the GR1 the first obvious difference is the size between the GR2 and GR1 the former being 40L while the latter being only 26L. So if you're looking for something you can take with you around the world then you definitely need the GR2.
However for those of you that find a 40L bag too big there is also a 34L option available! Although this version is the same as the GR1 the internal compartment capacity is actually bigger than the GR1. You will find that there is more room for stuff because of the increased capacity.
What most people don't realize is the organization in the interior is more important than the capacity of the backpack.
It is all about how well the interiors are designed to ensure space is used efficiently. And the GR2 34L is designed exactly for that. It is much more organized than the GR1 26L.
Although I like the GR2 I have mixed feelings about the GR2 34L version. You could say it straddles in the gray area as to whether it is too big or whether it is of the perfect size.  To be honest most people do not know or aren't sure what do do about the size. It is wholly too large as a day back and likely too small for travelers that live out of their backpack.
Physically it is a half-inch wider and taller than the GR1 in size and due to this, there is an extra space because of the depth that is created. This also keeps it from looking like an overly large bag. Most people are hesitant about getting the 34L because it is quite similar to the GR1 but with an extra section bolted on it and this alone isn't worth the extra money to get it. However what most people do not know is the organization is quite different and the add-on built-in field pocket and mesh zipper areas really make quite a difference over the GR1.
Verdict: I recommend the GR2 40L for most people unless they want to travel light for short trips which is where I recommend the GR2 34L.  If you are looking for an overnight bag then go for the 34L which is perfectly sized to be a normal-sized bag but with extra capacity than most of its competitors.
Check The Guaranteed Best Price
(Made in USA Version)
GORUCK GR2 VS TORTUGA OUTBREAKER 45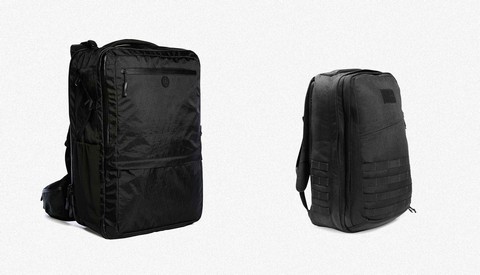 Although the GoRuck GR2 is a great backpack it is not designed specifically for travel it is more a general-purpose large backpack. If you see the product description you'll see words like bombproof, special forces, and ammunition so it's made for situations you'll rarely encounter.
Based on durability it easily beats the Tortuga Outbreaker 45 which isn't made remotely as strong as the GR2. Moreover, the 45L capacity is quite a lot for the average traveler you'd be better of with the smaller 34L Goruck which will be much more durable and functional than the Outbreaker.
Overall if you want a bag that will last you a long time and is made of hardcore military-grade materials that can survive anything then I suggest you go for the Goruck GR2. I agree you may never encounter a situation to test its bombproof compartments or the bulletproof materials but hey bragging rights, right?
Check The Guaranteed Best Price
(Made in USA Version)
MAIN COMPARTMENTS OF THE BACKPACK:
Main Clamshell Compartment:  The term clamshell because it actually opens up like one. This is to make it easy to see and access everything. This opening style is very different than the top loading backpack it may take some time getting used to.
Inside the main compartment you have:
A hole on the top for your laptop/water bladder

Molle Webbing to clip items and add other MOLLE accessories

Flexible pocket to place documents

Two mesh pockets (one ⅔ of the compartment and another ⅓ of the height)
Inside the Secondary Compartment you have:
This as well opens up clamshell style for ease of access and also contain a couple of key pockets to help with an organized packing system.
Large zip pouch with not one but two mesh dividers inside.

Another 2/3 mesh pocket right at the base.

Also at the top flap of the second compartment, we also have a ⅔ mesh zip compartment on the bottom, and lastly one more 1/3 fully concealed pocket at the top. That's a lot of mesh compartment.
Check The Guaranteed Best Price
(Made in USA Version)
Is the GORUCK GR2 worth it?
If you've read this far then you are probably quite interested in the GORUCK GR2 which is why I'll cut to the chase in this section and get to exactly why you should buy the GORUCK GR2 and why you shouldn't.
Reason to get it:

You need an extraordinary travel backpack that is made of the best to survive the worst. In this case, there is no doubt this is the right pick of you the military grade materials, zippers are only used by those in the army so you can bet your ass they're the best and the company behind is built over something genuine so you can expect an extraordinary experience with this product. However, it comes at a price.

Reason to ditch it:

You aren't looking for anything over the top and need something that is generally a decent travel backpack. In this case, most of the features are just an overkill and you'll be better off getting a normal travel backpack for cheaper.
Overall if you want the best and extraordinary something you will have to give out is money. If you can afford the $375 then go for it or else you should reconsider your options.
I hope you liked this comprehensive review of the GORUCK GR2 I tried to cover everything with a goal to help you choose the best travel backpack for your journey. Do leave a comment if you have any question to ask!
Check The Guaranteed Best Price
(Made in USA Version)
Read Next: