WordPress is a way to go if you are looking to start a website or take your existing website to a different level. However, if you are planning to host a high-performance and secure WordPress website, you'll require a reliable web hosting service on WordPress.
WP Engine is amongst the first companies that began offering tailor-made hosting for WordPress websites. It is one of the most popular services in the online world today. In this article, I'll cover in detail the features offered by WP Engine that make it one of the best in the industry.
What is WP Engine?
WP Engine is a leading WordPress-managed web hosting service that allows you to manage your site hassle-free so you can focus your energy on keeping your business running. The hosting platform is made especially for WordPress, and you can use it to create your WordPress websites with utmost efficiency.
The platform has first-class development tools, great page loading speed, and performance. The software allows you to host feature-rich and functional websites so you can easily scale and bring your business to greater heights.
WP Engine was founded in 2010 when WordPress started growing in popularity as the top CMS for business websites. Jason Cohen is a serial entrepreneur who started WP Engine after he saw an opportunity for specialized WordPress hosting as there was a surge in the popularity of WordPress. Today, it has nearly 200K worldwide customers with over 1.5 million active websites.
WP Engine has its headquarters in Austin, with offices in Texas, London, Limerick, Brisbane, and Krakow. The company has multiple awards as the Best Place to Work in Austin and is consistently contributing to the WordPress core and its community.
Who Should Choose WP Engine?
WP Engine is a versatile Managed WordPress hosting platform that is an excellent tool for beginners or experts with good technical expertise to run their business at full flow.
Small businesses- WP Engine's hosting service powers small or growing businesses using the expert WordPress tool. Small business owners can launch their businesses without requiring much technical expertise. It has excellent hosting service with reliable support, so you can easily set up a website to boost your sales and keep your customers happy.
Developers- WP Engine is a reliable solution for developers planning to develop WordPress websites and other functionality. Its tools and plans are exceptional for rapidly building, designing, and launching new or headless sites.
Marketers- WP Engine provides marketers with the right tools and automated solutions to market and sell their items. The platform powers you to quickly publish new content to help boost your site traffic and sales.
Get 4 Months Free Of WP Engine WordPress Hosting
WP Engine Review
1. Ease of Use
WP Engine is an advanced hosting solution compared to your regular shared hosting options in the market. This is why some tasks cannot be done automatically, but there are explanations everywhere you go on the tool. However, the tool delivers in terms of ease of use, and its control panel is very appealing and good.
Once you sign up for the software, you'll see an Add Site button in the right corner. When you click on it, the tool will trigger a pop-up form. This allows you to install a new WordPress item in a simplified manner, and you don't have to worry about any database settings or technical things.
From the start, it is very clear that WP Engine is a professional tool when it comes to WordPress hosting. You are encouraged to set up three environments, which include Production, Staging, and Development, instead of the standard single option that is offered by standard hosting platforms.
This is a great choice if there a multiple people working on your website and are rolling out changes or updates gradually. The basic idea is that you can work on building new elements in your site in the Development, then roll it out to the Staging and move it directly to the Production stage where the world can see it. WP Engine allows you to create new environments easily with a click of a button and provide parameters in the environments.
When you make the choice and have provided the necessary details, you are ready to go. At this stage, you can log in to the admin section, and you can start working on the site normally.
The WP Engine dashboard will look something like this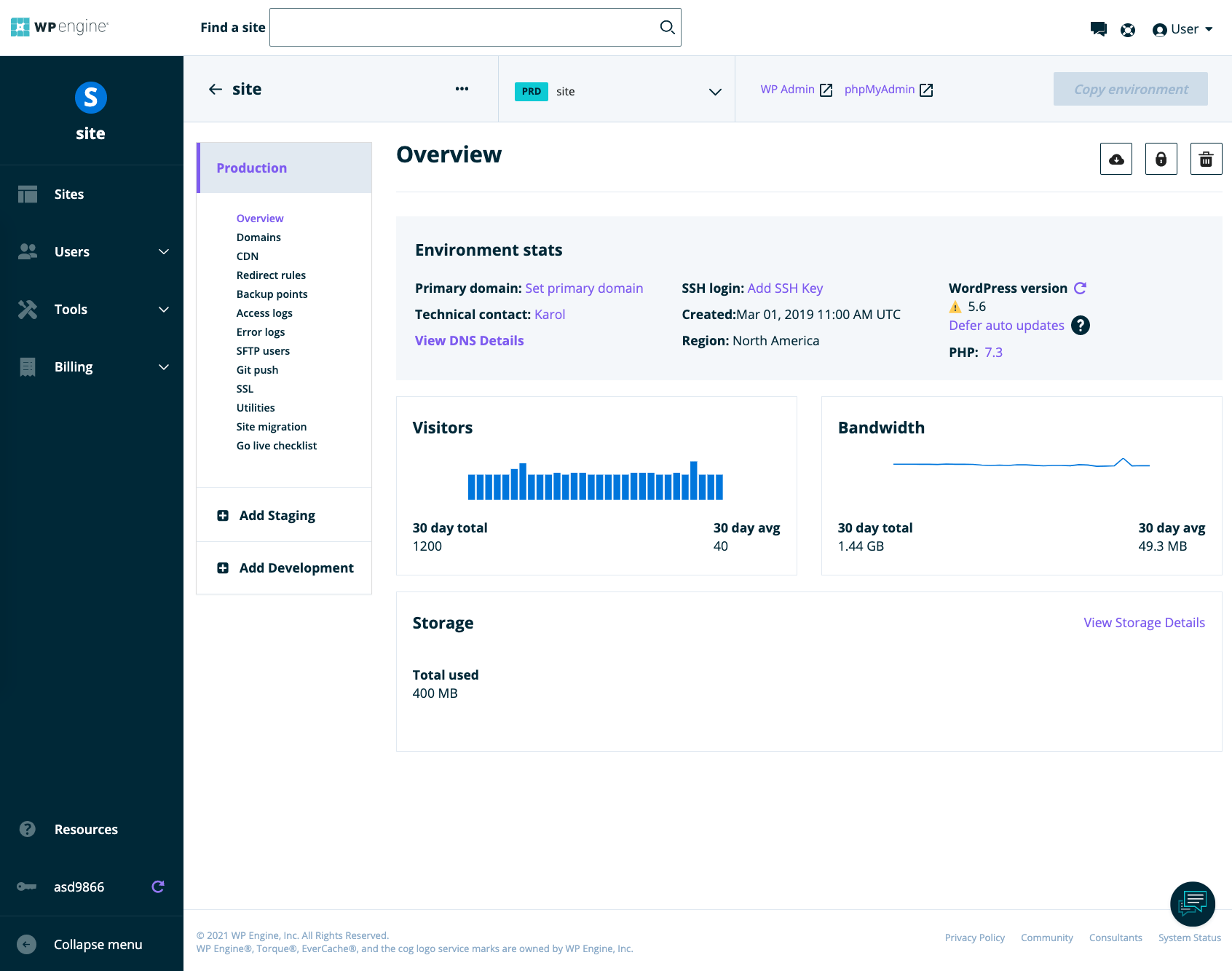 The far-left side of the dashboard is the main sidebar, where you can get access to your individual sites and get information about your profile.
The close-left side allows you to switch between environments and gives you access to individual options in a given environment.
In the center, you can get important statistics about your site and find any notifications that WP Engine may have for you.
The one thing that requires improvement is the WP Engine control panel with the addition of new domains. The procedure for adding a new domain is standard, but you'll have to set everything yourself.
WP Engine's sidebar is a clear indication that the tool is for professionals. Things like CDN, access logs, backup options, and redirect rules are not something that a beginner will know the purpose of or want to check out. However, if you are an expert, then you have options that give you a granular level of control and are invaluable.
The great thing here is that all the sections are mandatory for you to go through. In simple terms, if you want to get your WordPress site up and running, you'll need to add a new site to the panel and install a production environment.
Also, if you are planning to move the WP Engine to another host, then you can migrate your website in a semi-automated way. The tool has its very own migration plugin that allows you to handle heavy lifting. However, you will have to set it up and provide the required access information. In case you are having trouble using any of this, then the support team of WP Engine can help you out.
Overall, the interface of WP Engine is intuitive and designed keeping professionals in mind. The tool is easily understandable and is great for beginners as well, but it can be a bit intimidating when you head over to the WP Engine dashboard for the first time. However, after using the site every day, you won't have issues interacting with the WP Engine panel.
2. Website Management
WP Engine is a versatile managed WordPress web hosting service that will help you with all the technical and back-end management tasks. The tool has an army of WordPress and server management experts who specialize in optimizing your website experience to ensure top-class performance.
You can say WP Engine is a full-time resource that looks after everything related to the health of your website and technical back-end support. For example, the WP Engine team will handle all your website's WordPress installation and version updates. This will help closely monitor the plugin of your site for any issues to ensure they are up to date.
WP Engine gives users managed automatic updates that mean a technical expert will review WordPress, PHP, and plugins before they are executed. This is very important as a new update may modify the design of your site or affect user experience. It may also carry bugs or issues that may affect your website's performance. However, with manual reviews before updates, WP Engine will help protect you against such issues.
The Managed WordPress hosting solution also comes with complete management of your site's performance, speed, security, and other technical aspects, which we'll explore in this article below.
3. Performance and Load Times
The speed and performance of your website is critical for efficient user experience and SEO. Websites that have faster loading times have a lower bounce rate when compared to websites with higher loading times.
Let us look into some of the important features that will dictate its performance in the long run.
a. Uptime and Response Time
Nothing can damage your website and brand image more if prospects visit your site and its servers are down. To navigate through this issue, WP Engine guarantees an uptime of 99.99% throughout the year. This means that your website will always be online 365 days a year.
There are downtimes that are still possible due to technical glitches, server malfunctioning, or even other issues. However, to ensure that you don't get to face these issues, WP Engine has a server monitoring mechanism that will help keep your site under surveillance 24/7.
The website monitoring tool helps gain visibility into your site outages and downtime events to stay ahead of any major site issues.
The features of the tool allow you to
Monitor sites your way- The feature allows users to add, pause, or delete site monitors as required. You can select an email or Slack notification so your team gets a notification immediately if there is an issue.
Take action immediately- Get access to site status and get an idea about the average response time across selected date ranges. You can efficiently start taking action before it becomes an issue.
Quickly resolve website issues- After you have understood the site problems, you can resolve them within minutes. You can get access to detailed logs so you can troubleshoot issues immediately.
How can you monitor the uptime?
Add site monitoring to your plan
Customize website monitoring
Report with ease
Apart from server uptime, the WP Engine tool site servers are reliable and offer consistent performance. This is possible as it monitors your server response time and addresses performance, keeping you in the loop.
b. Speed and Performance
The speed of your website is essential for a good user experience and the overall SEO of your website. If there are two websites that are equally optimized, then the one that loads faster will rank higher as it is more convenient for users.
The one place that WP Engine stands out is its excellent server speed, which helps load your websites with utmost efficiency. It is a dedicated WordPress hosting service, so it is faster than your standard shared hosting services. Its proprietary tool, EverCache caching technology, ensures that all its servers provide lighting speeds and that all the hosted websites are fully optimized for Core Web Vitals.
In addition to it, WP Engine has premium CDN support that improves your website's performance. It also optimized its Time to First Byte, which is the major factor behind the speed of your website.
If you want to improve your page speed score, then the platform has a WordPress Page Speed Boost feature. The feature is a collection of 30+ front-end optimization tools to better optimize your website speed.
WP Engine's Page Speed Boost helps unlock peak website performance by
Optimizing your images
Images are the heaviest part of a site, and the Page Speed Boost helps optimize those that have lazy loading, lossy image compression, WebP conversion, etc. The feature allows you to load images more efficiently for better SEO and user experience.

WP Engine has a WP Offload Media feature that will automatically copy images, videos, documents, or other media. This is added through the WordPress media uploader to Google Cloud Storage, DigitalOcean Spaces, and Amazon S3. It automatically replaces the URL of each media file with the respective URL of the WordPress uploader or if you have used another CDN or Amazon CloudFront. Here, image thumbnails are also copied to the bucket and are delivered using the correct remote URL.
Cleanup code
The website code may be cluttered or bloated, and going to clean it up will take developers weeks or months. The Page Speed boost will clean your code through
Minification- unnecessary bloat from your code files.
Compression- Rewriting and encoding files into smaller bits.
Smaller code files mean faster delivery for all of your users and better site performance.
Prioritize loading
Most web browsers will try to load everything at once—even images that are below the fold.
Page Speed Boost automatically sequences your site load in the best way possible, ensuring the most important components are loaded first through:
Lazy load images, videos, and iFrames: Only load the images you're viewing
Deferred Javascript loading: Delay the non-essential Javascript code (e.g. social media widgets) until after the most critical content has loaded
Prioritized critical CSS: Load the design elements first to increase real and perceived loading for your users
Global CDN
WP Engine allows users to leverage Cloudflare's Content Delivery Network (CDN) with 250+ points that are present across 300 cities in over 100 countries. It has a versatile caching algorithm that allows you to make WordPress lightning-fast.
To unlock faster website speed, simply follow the steps.
Activate Page Speed Boost- In your User Portal, find the site you'd like to optimize with Page Speed Boost. Click to activate.
Preview your site with the optimizations- Review your site to see how quickly the experience will load for your users.
Measure the page speed of your website- Instantly see the improvement in your PageSpeed Insights scores.
4. Security
There are an estimated 30,000 websites that are hacked or compromised each day. If you don't want your site to have the same faith, then you'll need to host it on secure servers, as poor server protection is one of the biggest reasons for lapses in website security.
This is where WP Engine comes in and stands out in the web hosting industry. It is already a dedicated managed web hosting company and is already secure in comparison to other shared services. However, it also comes with abundant security features that make your website secure and impenetrable. Let us understand some of the features below.
a. Daily automatic backups
WP Engine has daily automated backups that help maintain the security of your website. This means you can easily go back and restore the previous versions of your website if you wish to get your data.
The WP Engine backups exist for all the environments (Production, Staging, and Development) by default on the tool. It helps create checkpoints to automatically backup data before an activity. They have stored their data offsite on Amazon S3, and it is encrypted in transit and at rest.
You can also trigger on-demand backups before you plan a major website update or maintenance to ensure that there is no loss of data when something goes wrong. The tool allows you to create and access up to 40 backup points using its user portal. You can also access up to 60 recent backup points by getting in touch with the support team. You can restore a backup version, by simply clicking on the restore button in the Backup Points section from the list of backups.
b. Free SSL certificates
All the plans of WP Engine allow you to encrypt SSL certificates on your website. SSL is a cryptographic encryption security protocol that has a series of communications to send over a computer network. These certificates can be installed on web servers that allow users to use HTTPS protocol to create a secure connection.
The SSL certificates help bind together an identifier and the identity of an organization. This helps secure content for the majority of websites. However, if you have multiple subdomains with advanced security, then there are other options as well.
WP Engine also offers RapidSSL wildcard certificates that will cover both domains as well as subdomains. If there is a leak, then the tool has a $10,000 warranty in place. In addition to this, you have the ability to directly import your own SSL easily.
c. Server monitoring
WP Engine monitors your server performance and traffic, which allows you to efficiently spot and prevent any threats before they reach your website.
The tool has a proprietary firewall in place that is designed to automatically direct bad, good, and any malicious traffic. The feature works on the least-privileged base, and only approved apps and protocols can go through. Apart from this, the provider doesn't offer any more information about the firewall, as it can compromise the integrity of the tool.
The security team also has an in-house team for auditing and troubleshooting on the spot.
d. Global Edge Security
Global Edge Security is an enterprise-grade paid add-on that is tailored for WordPress. WP Engine has a partnership with Cloudflare GES that offers managed Web Application Firewall (WAF), DDOS mitigation, Global CDN, Smart traffic routing, protection from OWASP top-10 vulnerabilities, and much more.
WP Engine has excellent security features in this aspect; however, if you want comprehensive top-notch features, then you have to pay handsomely.
The good news is that GES comes included in all the Secure Managed Hosting packages. The plans may be expensive; however, it is cheaper than adding GES separately.
If you are out to unlock next-level protection, you simply have to follow these steps.
Simply point your DNS to Global Edge Security using CNAME flattening or A records.
Check DNS status to ensure activation. You can view its status at any time on the domains page in the user portal.
Enjoy peace of mind and stop stressing about hackers when it comes to having a full team of WordPress security experts who regularly manage, update, or harden your security.
e. Plugin management
WP Engine has a specific list of disallowed plugins that may be a cause of conflict in their system or security. This may seem like a big disadvantage to start off; however, wait before you jump to conclusions.
WP Engine will take care of your website backups and caching, so in general, the plugins that you would use with other WP builders may interfere and cause unwanted issues while running your website. The tool carefully vets the issues and ensures smooth workflow.
WP Engine simply saves you plenty of time, and you can select from allowed plugins that are known to be highly secure and of the highest quality.
f. Reinforced account security
WP Engine ensures that not only your server but also your account is safe from malware or security lapses.
Multi-factor authentication ensures that a password is not only the way to log in to new devices. It offers users the ability to get a code that can give you access to your account.
Activity logs- All the account actions are actively tracked and logged on for your website. This allows you to know which section requires permissions or has any security issues.
Account permissions- If you are working with a big team of users, then you need to assign each member roles, giving them set permissions. In this way, all users can easily access only those parts they are authorized to.
WP Engine's security measures cover all the needs of the websites as needed. There are also advanced options that are available for those websites which require the highest level of security.
5. Data Centers
WP Engine helps power over 70,000 customers across 130+ countries across the globe due to the strategic placements of its data centers. The platform has built strategic partnerships with trusted brands like Amazon Web Services (AWS) and Google Cloud Platform (GCP) to help deliver great performance, agility, intelligence, and integrations at scale.
The three primary data centers which offer services to customers are
The tool has introduced some new data centers in Sydney and Frankfurt that have expanded WP Engines coverage around the world. WP Engine suggests users choose the data center that is near their clients. This will give you better services and performance. The platform offers to choose your data center location on their website.
The expanded data center availability via the 2 leading cloud infrastructure brands- GCP and AWS, allows WP Engine customers to run their WordPress sites and applications across the globe more efficiently. This gives customers more options, reducing the latency of domestic visitors and better control over the location where the data is stored or processed. The PHP 7 support that comes with these data centers allows customers to have greater potential to optimize their site performance.
With great support and data protection control, there is a need to deliver agility, performance, and incredible experience online. WP Engine is continuously working to expand its data centers and offers solutions for worldwide customers in the coming years.
6. Convenient Workflow Tools
All the plans of WP Engine come with workflow tools that help make your website-building process convenient. The tools that come with it include a free automated migration plugin, encrypted SSH access, one-click staging sites, page performance monitoring, and secure file transfer protocol connections.
a. Staging Sites
Site staging is a process that lets you create a duplicate version of your website. Here, users have the ability to make changes to their layout, identify errors, or try new themes before your site goes live on the internet.
The website transplantation process is simple, using the right tools. There are several hosting companies that offer site staging with higher-end expensive plans; however, WP Engine gives you this feature across all its plans.
You may already utilize a local development environment, and it has some similarities. To start off, they give copies of your live site, and from there, you can diverge. A staging site of WP Engine is very flexible based on what you can pull or push. It also allows you to work with interactive elements that work their magic.
Apart from checking how your site will appear before going live, it also lets user
Test new functionality away from the public eye, which is vital for bounce rates, traffic figures, and general analytics. On a fundamental level, you can easily update the core themes and plugins of WordPress while fixing any issues that arise from you.
There is no downtime for your live website when you use the staging environment. Keeping your uptime high helps not only your server but also your metrics.
WP Engine doesn't let you upload a non-WordPress website from Windows or Linux, as it is strictly a WordPress hosting service. The platform has WordPress pre-installed, and you don't have to worry about adding any other plugins.
b. Free Automated Migration
WP Engine makes migrating to a new host easy with minimal technical know-how within a few clicks. To make the migration painless, the tool has partnered with BlogVault to create an automated WordPress migration plugin for any host. This plugin offers a quick solution to easily migrate your WordPress sites directly to WP Engine, allowing you to work with other projects as the plugin does the heavy lifting. Now, you don't have to worry about importing your database or replacing your domain values, as the plugin does it all for you.
If you are a developer, then
The tool will offer a quick solution to migrate your site and allow you to work on other projects.
No requirement to search or replace values in the database; the plugin will do it for you.
Efficiently migrate multiple sites to it.
If you are a marketer, then
The tool will help you with your SEO as it will link your data without having many problems.
Minimal technical knowledge to migrate your site to WP Engine.
If you are a Site Owner, then
You can focus on your business rather than migrating your site.
No need to hire a third-party team.
However, the plugin only migrates your website to WP Engine, and it doesn't migrate to any other host.
c. Unlimited Development Sites
WP Engine has a group of three environments that comprise of
Development- The environment has all the latest iterations of the code that you are working on. It is the best place for initial testing of the new features. You need to perform a quality assessment to check issues that you may have missed during coding.
Staging- A staging website is a bridge between development and live versions of your site. This is the time any issues or errors have to be addressed, and changes should be made to roll out.
Production- It is the live version of your website that customers will see. If you have been careful through the development process, then the WordPress site will be free from bugs and offer a flawless user experience.
The three environments of WP Engine offer full customizability to make the entire developmental workflow easier. You can easily push or pull the staging sites from or to your live site safely and separately. WP Engine allows you to set up unlimited development websites, but it requires a lot of planning.
d. Independent Environments
WP Engine allows you to create sites and set multiple environments. These environments let you make different iterations to your site that you truly need.
We have covered staging sites that help resolve any errors or make changes to your site in this article above. Another option that is offered by WP Engine is the independent development environment that creates and tests your new sites.
After you have made the desired changes, you simply have to copy your changes directly to your live site. Since the changes you make work independently, the edits or changes you perform in one environment won't have any effect on the others in the space.
e. Local Development
Local is one of the powerful WordPress development tools that allows you to set up staging sites on local devices. The tool is available for free on all the hosting plans of WP Engine.
The tools let you test your site via local staging environments, either through online or offline means. The best thing about the feature is that it allows you to easily upload your new changes in a single click, so you don't need to go through manual WordPress installation setups.
The Local feature lets you get all the necessary features to develop WordPress locally through
Speed and simplicity- Local is easy to use and runs fast for local WordPress development applications.
Simple demo URLs- You can show your latest work by creating shareable URLs to demo your local WordPress sites to clients, collaborators, friends, or adoring fans.
Access to SSH + WP-CLI- Local offers simple root SSH access for individual sites, so users can easily tinker around when required.
One-click WordPress installation- Local helps create a local WordPress site. You don't have to bother about setting it by yourself.
Hassle-free local SSL support- All the sites that are created using Local automatically have a self-assigned certificate created directly to it.
Flexible environment options- Local gives you access to the latest version of MySQL, PHP 5.6, and PHP 7.3. You can stay up and running in flexible environments.
7. Premium Themes and Block Tools
WP Engine helps build beautiful websites with faster WordPress themes and tools. All the themes are optimized for performance and SEO, which makes your design and editing process efficient.
WP Engine has a partnership with StudioPress, so users get access to the Genesis framework, which has 35 premium themes. These themes would usually cost over $60 and up to $129 per theme, respectively. However, they are free for the users of the tool. The theme framework forms a foundation that allows you to build your WordPress site. The framework integrates efficiently with advanced security, SEO standards, and performance features to boost your website.
The all-in-one solution helps build your websites and landing pages with confidence and ease. Here is a quick look through of its features
Simplify website design- WP Engine plan has premium themes that are Gutenberg-ready. This helps simplify the design and editing process of your websites.
Build unique functionality- The admin interface of WordPress allows you to create a simple templating system to build customizable Gutenberg blocks for efficient performance.
Improve website performance- The enterprise-grade infrastructure of the powerful WordPress hosting platform is designed to keep speed, security, stability, and scalability in mind.
Free development environment- WP Engine has a free development environment that allows you to join over 150,000 developers who are already using the tool. They will help build, test, and deploy WordPress sites without much hassle or issues.
WP Engine allows users to easily customize their website using its growing library of beautiful block-based designs and easily build custom blocks to bring your brand to life. The platform has a local WordPress development environment that lets you deploy your sites faster with its powerful local development tool. It is available with the WP Engine plan; locals can efficiently supercharge the WordPress workflows that allow you to make changes to your local environment and test them either live or offline on the internet.
WP Engine is one of the fastest and most secure tools in WordPress that has all the necessary tools and technology to make your WordPress site safe and poised to grow. Easily manage your site with daily maintenance, reliable page performance, advanced security solutions, and expert customer support whenever you need it.
The themes are clean and minimalistic in design, which lets you customize or remove any unneeded design elements, colors, and more. They also let you efficiently translate to the mobile version easily. The only major issue is that most themes are similar, and it will be based on your needs to make your website unique.
You can check the full list of themes available on WP Engine here. The platform automatically updates your list, so you can check regularly to see if there are any new themes available.
8. Headless WordPress
WP Engine has a headless WordPress feature- Atlas, that uses WordPress content management with the help of other technology to build front-end content and display it to your visitors.
Atlas helps reduce the time that you would normally spend integrating multiple vendors, which will save you and your clients money. This will provide you with more time for innovative and creative client experience. With the open-source MarTech integrations, you can get good versatility. All this will help empower your developers and content managers to deliver consistent brand experience while improving your management process.
The tool offers blueprints that allow you to jump-start your project with its pre-configured templates, environments, and demo content that will help get started quickly and with better efficiency. However, developers have complete freedom due to its flexible frameworks. You can use Node.js frontend to unlock new opportunities for higher-budget WordPress projects. There is an optional Faust.js framework, which is an optional, super-fast Next. js-based framework that allows you to bring the basic WordPress features like page templates and preview hierarchy for your headless project. Its suite of features allows you to bridge the gap between headless and WordPress technology.
Its content modeling tool lets you model your data structure and editing experience in WordPress. This helps you empower both content creators and developers. Their WP Engine Smart Search feature allows you to deliver smarter and faster ways to enable headless WordPress search, having minimal configuration and an intuitive UI.
All this helps you create faster and more secure digital experiences that help you achieve higher conversions and performance with its smart scaling frontend and backend hosting. You can get peace of mind due to its enterprise-grade security by decoupling the front end based on an edge network with a higher resilient backend. This will delight your stakeholders as you get one price from one vendor and a place to get headless WordPress support.
9. Genesis WordPress
The Genesis WordPress framework helps empower you to quickly build incredible websites using WordPress. Whether you are a beginner or an advanced developer, the Genesis tool has a secure and SEO-optimized foundation that will take WordPress to places you never imagined you could go.
Genesis offers users a premium collection of page-building blocks, sections, full-page layouts, and advanced user permission while being AMP optimized.
Genesis Blocks is a powerful library of page-building blocks, sections, or full-page layouts in the WordPress block editor. All the blocks are ready to go, and you can utilize them directly to create beautiful websites without requiring any development help. They have a powerful library of premium blocks that helps take the best out of the block editor and make it better. Editing them has never been so easy with the tool, and it can be customized to fit your brand needs.
The custom blocks of Genesis allow developers on WordPress to take control of their new block-first reality of modern WordPress. You can implement beautiful design with complete front-end templating control. So, your blocks can be unique and behave exactly as you need. You can easily extend your custom blocks and integrate them with third-party apps or plugins.
The framework of Genesis allows users to secure an SEO-optimized foundation for their websites. The feature has multiple layouts and a custom body for each post.
Genesis has premium themes that let you quickly design beautiful websites. We've covered more of this feature in the above section. All the framework comes with 24/7 live support with the help of WordPress experts.
10. Agency Partner Program
WP Engine allows users to generate sales, level up their team, and leverage a reliable hosting platform to efficiently grow their business.
You can sign up for this feature and receive industry-leading benefits.
Priority access to technical support from the top WordPress experts.
Get more clients and receive brand lead referrals from WP Engine. You can get help in co-selling better to your prospects.
Earn top commissions and get access to industry-leading commissions for your referrals.
Get discounts for your agency's clients and volume discounts for yourself if you resell hosting.
Get a listing in the agency directory.
A dedicated partner success manager.
To work with the Agency Partner Program, you simply have to
Submit an application- If your agency works in WordPress, from design to development and everywhere in between, then this program is built for you.
Get Approved- The review process is measured in hours, not days. Keep an eye on the inbox and get ready to accelerate growth.
Get Started with WP Engine- Get access to your Partner Portal, set up your free dev account, and claim your personalized referral link.
11. Plugins
WP Engine has endless possibilities to leverage the WordPress open framework and integrated platform to create new opportunities for your website. The plugins available with the tool allow you to enhance its functionality and performance.
A few featured plugins available with it include
Yoast SEO Premium
Beaver Builder
Metorik
Cloudflare Stream video plugin
Web Stories by Google
WP Rocket
Lingotek Translation
WPForms
HubSpot
And more
As the number of marketing solution available start growing, two things are very clear: the future remains unpredictable, and keeping pace with new innovation is difficult. However, the open framework of WordPress allows you to integrate your CMS with the latest technologies in your stack.
WP Engine is a platform that readily integrates with the best world-class tech partners and integrations with their proprietary software and WordPress expertise. Now, all you have to do is simply build innovative digital experiences instead of systems that power them.
12. Customer Support
WP Engine has a range of customer support options to allow users to get the right help when required. The tool gives you 24/7 live chat support to resolve your queries within a matter of seconds. Support is also available to people via email and phone support.
The platform has an excellent resource center where you get access to several articles, webinars, ebooks, and other digital copy for your business. The tool has articles that provide support with the help of WordPress experts. It comes with an array of FAQs that will resolve nearly all your queries without much hassle. If you want a source of WordPress news, then the blog of WP Engine will give you the right content for your business.
WP Engine has versatile builder resources that let you learn how you can build modern and headless WordPress websites. There are several headless builders you can choose and learn from the best. It has a headless developer community where you can experience optimal site performance once you migrate to the platform.
WP Engine has Torque- which is a news source that covers the world of open-source web development. Finally, it has a velocitize tool that gives you insights into the latest trends and innovative technologies that define digital marketing.
All these things considered, the customer support of WP Engine is quite exemplary, and its agents are very efficient and professional. Apart from this, the well-supplied support center also proves to be extremely useful as well.
Recent Improvement to WP Engine
WP Engine publishes a review report every year to show its customers to continually strive to make improvements to their platform and reaffirm its core values.
Here are some recent improvements made by WP Engine to its web hosting service.
Optimized eCommerce hosting- The company has launched its highly optimized eCommerce hosting plan that features ElasticPress and Gutenberg blocks. This feature has helped boost the loading speed by 40% and has increased sales by 360% on its eCommerce sites.
DevRel team- The platform has recently recruited StudioPress founder Brian Gardner to help head their new Developer Relations team. Gardner is amongst the pioneers of the modern theme ecosystem on the WordPress platform.
Complete headless WordPress- WP Engine has launched a complete Headless WordPress platform, Atlas. It offers companies requiring large-scale digital headless architecture to bring you more site visitors, help increase your engagement rates, and boost revenue.
Improvements to Smart Plugin Manager- The latest feature helps check your plugins for updates to ensure that your site doesn't crash when you require to make the updates. The platform has given the Smart Plugin Manager a facelift with its new UI and visibility enhancements. Most importantly, the feature allows you to easily automate theme updates.
UX upgrades- WP Engine has upgraded its user portal by including brand new quick actions, caching features, and an Effortless Add Site feature to its armory. The caching feature has effectively reduced the support tickets by 30%. Its Effortless Add site feature allows you to include them in your new sites in your eCommerce plan within a few clicks.
Free features- WP Engine has made the Local Pro's premium features. It also offers users the Genesis Framework and the Genesis sample theme free of any charge.
The continual optimization and strong partnership have helped users improve their performance by up to 40% for their WordPress websites. Now, you can capture more audience and drive your business forward faster with new infrastructure available across its premium plans.
WP Engine Pricing
WP Engine is not the cheapest hosting out there, as I'm sure that you already know and are here to see whether the price tag is worth it. All the plans have a 60-day money-back guarantee if you don't like what they are offering. Here are the highlights of elements of the WP Engine model that are easy to overlook. Let us look at the WordPress Hosting plans that you can choose from.
Get 4 Months Free Of WP Engine WordPress Hosting
1. Startup Plan
The Startup plan is a good starting spot for beginners who want to host their websites on WordPress. The plan is priced starting at $20 per month, paid annually. Its features include
1 site
25,000 visits per month
10 GB storage
50 GB bandwidth
Maximize speed, performance, and SEO
Proactive threat blocking & security
Automated WordPress & PHP updates
Customizable themes & workflow tools
Effortless 1-click staging & backup
2. Professional Plan
The Professional plan is the best value-for-money plan for users on WordPress. The plan is priced starting at $40 per month, paid annually. It has all the features of the Startup Plan Plus.
3 sites
75,000 visits per month
15 GB storage
125 GB bandwidth
3. Growth Plan
The Growth plan allows you to grow your business for effortless performance, site management, security, and support. The plan is priced starting at $77 per month, paid annually. It has all the features of the Professional Plan Plus.
10 sites
100,000 visits per month
20 GB storage
200 GB bandwidth
4. Scale Plan
The Scale plan is best suited for users that require more features and functionality. The plan is priced starting at $144 per month, paid annually. It has all the features of the Growth Plan Plus.
30+ sites
400,000 visits per month
50 GB storage
500 GB bandwidth
5. Custom Plan
The Custom plan comes packed with custom features and perks designed for users with advanced needs and performance. The price of this plan can also be customized as per your brand requirements. The plan has all the features of the Scale Plan Plus.
30+ sites
400,000+ visits per month
50+ GB storage
500+ GB bandwidth
Apart from the Custom plan, all the other plans allow you to purchase additional sites for $17, but you can also purchase additional features as per your needs.
If you are planning to start an eCommerce business, then you can choose the eCommerce solution for WooCommerce offered by WP Engine. The plan allows you to make your very own WooCommerce store up to 40% faster and 18% better to drive your online sales. It is priced starting at $24 per month, paid annually, and offers 5 types of plans. All the plans offer
Managed WordPress Hosting
2x faster page speed with EverCache
Eliminate Cart Fragments with Live Cart
Auto-plugin updates for site safety
Stripe Connect integration
WP Engine has a custom solution plan that allows users to unlock premium performance with enterprise-grade security and priority support. It is priced starting at $600 per month and offers great features that include
Scalable for dynamic traffic
99.99% uptime SLA
Isolated resources
White glove migration & launch support
Priority support
High availability options
Advanced DDoS mitigation
Dedicated technical success manager
Application Performance Monitoring
Pros and Cons
Pros
Optimized for WordPress- WP Engine is designed and optimized specifically to host traffic on WordPress websites. The team has a complete idea of the strengths and weaknesses offered by WordPress, allowing users to create a well-optimized hosting experience for their clients.
Easy to use control panel- The user admin area of WP Engine is very simple, and you can fully utilize your hosting account. Its features are listed neatly in an intuitive dashboard where you can easily switch between sections and configure your account details without any technical assistance.
Good security- WP Engine follows good security measures to keep your site safe from malware or data leaks.
Fast loading times- The servers of WP Engine are optimized for WordPress using the Evercache technology, which makes your website load faster. You can also get access to CDN, which helps boost your performance.
Reliability- WP Engine has excellent reliability with a superior front-end layer system that helps handle traffic spikes without slowing down your site.
Expert support- WP Engine has a support team that comprises trained WordPress experts to resolve any issues or queries.
Cons
Doesn't offer email hosting- Despite so many advantages, WP Engine doesn't offer dedicated email hosting. So, you'll be required to use third-party tools to receive or manage your emails.
Disallowed plugins- WP Engine doesn't allow users to install certain WordPress plugins on your site. This is usually due to conflict or duplicate WP Engine's features that can cause server load.
Higher costs- WP Engine is expensive when you compare it to shared hosting, but the services it offers are worth the investment.
Is WP Engine the Best Managed WordPress Hosting Service?
WP Engine is an exceptional Managed WordPress hosting service that ensures that your website delivers peak performance and precision. It offers nearly perfect uptime with exceptional speed and top-class security. And it offers a lot more to leverage the best scalability and performance for your website.
With all that said, you can say it is slightly on the expensive side; however, the features it offers make up for every dime you pay. To conclude, I'd say that if you are looking for a good WordPress host offering great website performance and security with a good budget, then WP Engine is something you should consider.
Get 4 Months Free Of WP Engine WordPress Hosting
WP Engine Review FAQs
1. What is WP Engine?
WP Engine is a dedicated fully managed WordPress hosting solution that gives users access to powerful hosting, server security, and website management tools.
2. What does WP Engine do?
WP Engine is a versatile software that helps users host their websites sites. It will also take care of the speed and security operation of your hosted websites.
3. Does WP Engine support shared hosting?
WP Engine doesn't support shared hosting but has similar services to shared hosting plans. The tool is a managed WordPress hosting company that has WordPress-specific hosting solutions.
4. Can I cancel WP Engine hosting and get a refund?
Users can cancel their WP Engine hosting service at any time directly from your account dashboard or user portal. The platform offers a full refund during their first 60 days of hosting for users who have already paid the annual pricing.
5. Do you get an SSL certificate with your WP Engine plan?
Yes, WP Engine gives you a free SSL certificate across all its hosting plans. There is also the chance to add third-party SSL certificates to your WordPress websites.
Alternatives to WP Engine
1. Bluehost
Bluehost, a global hosting giant, stands as an official WordPress-recommended hosting provider. This reputable platform fuels over two million websites with top-notch tools, stellar packages, and dedicated customer support.
Whether you're a newbie venturing into the web or a pro making your mark, Bluehost's user-friendly setup makes it the perfect choice, helping you get started swiftly.
The hosting solution is great for beginners on a budget, and its hosting plans start from $2.95 per month. It has exceptional staging features with excellent performance and functionality.
2. Hostinger
Hostinger is amongst the cheapest WordPress options out there. It has an excellent loading time that makes life easier for budding developers who are planning to host websites for their clients. Hostinger's shared hosting plans start at $2.49 per month. However, beyond its cheap pricing, it has outstanding performance with user-friendly customer support.
3. Cloudways
Cloudways, as the name suggests, is a fully managed cloud hosting solution for different applications as well as WordPress. The tool is an outlier in the space with a unique approach. It is a provider of all the cloud hosting infrastructure, so you don't have to install WordPress, and you are good to go. In case you are planning to run a website on the go, then Cloudways is an affordable cloud-based service out there. The platform has 5 providers, with the initial plan starting at $10 per month.