Did you know that the global e-learning market is estimated to be worth $325 billion by 2025? Online learning is not only big business but also one of the most effective ways of both teaching and learning in today's world.
Creating online courses these days doesn't require you to hire a web developer to build an entire e-learning website from scratch for you. Instead, you have readymade solutions that can get you up and running such as LifterLMS and LearnDash.
In this in-depth review of LifterLMS, you'll find everything you need to know about LifterLMS such as its features, pricing, pros and cons, and much more!
Learning Management System (LMS) Plugins for WordPress
A Learning Management System (LMS) is a software that makes it really easy to create and deliver online courses. There are a number of LMS WordPress plugins that integrate with the platform and allow you to create and deliver online courses on your WordPress installation itself.
Some of the most common features of LMS plugins allow you to create and manage online courses, track the progress of your students, offer certificates and badges that help in gamification of the course and act as incentives, and other features like content dripping and payment gateway support, etc.
Basically an LMS WordPress plugin is an "all-in-one" system that handles everything related to your online course or courses. These plugins also integrate seamlessly into the WordPress platform which is one of the most widely used platforms for websites today and which most likely powers your website too.
LifterLMS is one of the best LMS WordPress plugins out there for a number of reasons but one of the major reasons is that the core plugin comes completely free of cost! You might have to buy some add-ons that provide more functionality but they're definitely worth the price. With that being said, here's a brief overview of the plugin before we dive more in-depth with its features.
LifterLMS Review
LifterLMS is a versatile LMS WordPress plugin that can be used by marketing professionals, business leaders, coders, health and nutrition experts, musicians, basically anyone to create complete online courses that provide a ton of value to their students while ensuring that the online learning experience is fun for the student as well!
As mentioned above in this review, the core plugin is free for use but LifterLMS also offers a number of premium add-ons and plans that can be used to take your online course to the next level! Some important features of the plugin include the course builder and the seamless integration with WordPress and WooCommerce.
Due to the fact that the integration works so well, one of the key benefits of LifterLMS is its ease of use. Setting it up in your WordPress installation is as easy as it can get and once it is installed, it only takes a few minutes to configure and set up and you're all ready to start building amazing online courses for your students.
In terms of value, LifterLMS shines as it essentially follows a freemium model, and the add-ons, while optional, do bring a ton of extra features that you'll most probably need. Overall, the plugin is a really powerful online course builder and covers all steps of the online learning process. Do note that even though the core plugin is free, you'll probably need to buy some add-ons if you're planning to create a professional online course.
In some cases, buying one of the bundles offered by LifterLMS can be the best choice if you want to make the best use of the plugin and get additional support. If you want to just test it out before buying it and making an investment, you can try out the $1 30-day trial to see how it works for you too.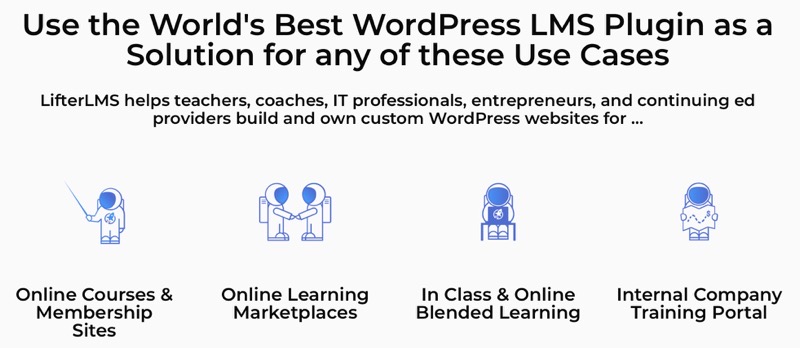 LifterLMS Features
Now that we have a basic idea of what LifterLMS is, let's take a look at what it is capable of by taking a look at some of its most important features.
1. Course Creation
Being a learning management system, it is natural that one of the core features of LifterLMS is the ability to create online courses. The plugin comes with a drag-and-drop course builder that makes it super easy to organize and create your courses.
You can also upload lessons of any type (text, image-based, video, audio) with LifterLMS which allows you to accommodate multiple learning styles when it comes to your online course. You can also easily create quizzes to track the progression of your students and set a quiz timer to ensure students complete it within a fixed amount of time. You can also set prerequisites and course tracks that make it easier to create the journey that a student will have to take to complete your online course.
Other features include the ability to import and export your courses, multi-instructor support, discussion areas, a full-fledged student dashboard, and drip content. Additionally, you can also make use of a graphics package that allows you to make your online course look visually impressive.
2. Course Management
LifterLMS also comes with a number of features and tools that help you in managing your online courses. The course management tools are particularly useful if you're planning on creating an online school with multiple courses.
Some of the course management features that are particularly useful to online schools include the branding and typography tools and web design management. In addition, LifterLMS also comes with features such as LMS roles, bulk enrollments, access management, student management, and the ability to provide a terms and conditions agreement to all students.
You also get all the standard LMS course management features such as detailed reports for sales and enrollment, a gradebook to quickly view the progress of students, and email notifications that can be customized.
3. Payments
Handling payments is a breeze with LifterLMS. You can accept credit card payments and set up payments as you want, whether it be one-time payments or recurring payments. You can also provide payment plans, unlimited pricing models, and subscription payment models with LifterLMS.
LifterLMS also comes with an in-built checkout that is designed to convert. Some other notable payment features include the ability to provide free courses, bundle your courses together, up-selling, bulk sales, coupons, and the ability to create an affiliate sales network. Additionally, you can also set LifterLMS to collect custom details from students when they enroll and the ability to accept payments from any country in the world.

4. Student Engagement
One of the most important aspects of creating an online course is ensuring that the student stays engaged with the course. LifterLMS addresses this by providing a number of tools and features that increase student engagement.
For example, it is possible to give achievement badges and certificates as the student goes through the course and completes it. You can also set up personalized emails that are sent based on student behavior. One of the major student engagement features of LifterLMS is social learning which allows the students of your courses to interact with each other which creates a more social learning experience.
Lastly, you can also provide private coaching and have the ability to send text messages to your students through the plugin itself.
5. Memberships
LifterLMS also comes with a number of features that make it easy to create a "traditional" membership site where the members of the site have access to specific content. There are a number of interesting things you can do with the membership features offered such as set members-only pricing for your courses that are different from the pricing for non-members.
Among other things, you can also create a members-only forum that adds more value to your site-wide memberships plans!
6. Integrations
While LifterLMS comes with a lot of in-built tools and features, it also supports integration with a number of third-party apps that you might want to use. LifterLMS can work well with almost any WordPress theme which means you don't have to buy a specific theme that is LifterLMS friendly. In addition, LifterLMS also provides a number of integrations to third-party payment gateways, email marketing tools, and CRMs.

7. Content Protection
Lastly, content protection is a serious issue in the world of online learning. LifterLMS allows you to lock your content down with tools such as specific user accounts for every student, setting access restrictions, password management for students, and more!
LifterLMS Course Builder Tutorial
LifterLMS Add-ons
With LifterLMS, the core plugin comes completely free of cost but you have to pay for the add-ons. You can buy add-ons individually or you can buy them as a part of a bundle. While bundles provide more value for money, it can be a good idea to buy add-ons individually too if you're planning on using just one or two of them.
Other than the add-ons that allow you to integrate with third-party tools such as Stripe, Paypal, WooCommerce, etc, here is a quick rundown of a few add-ons that actually increase the functionality of the plugin as opposed to just providing an integration.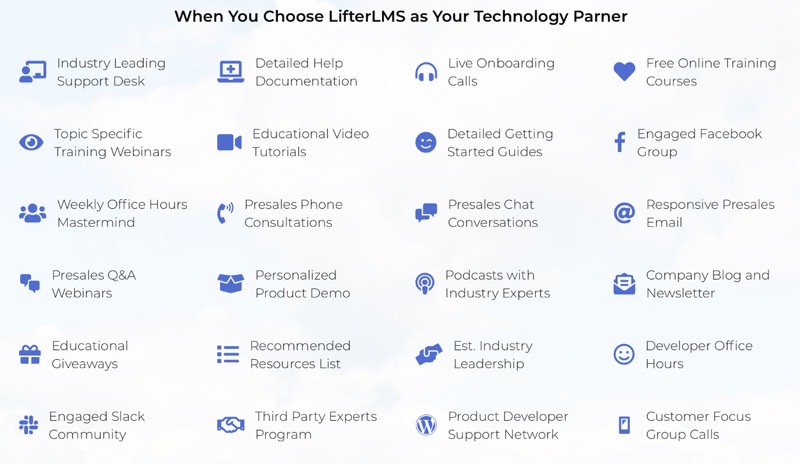 1. Social Learning
The Social Learning add-on takes the online learning experience for your students a step further by providing a "Facebook-like" learning experience for your students with timelines, learning milestones, and deep user profiles that are shareable with all the other students.
With social learning, you can provide a lot of value beyond just offering an online course for your students!
2. Private Areas
Private Areas is an add-on that allows you to publish content that is only visible to specific students or members of your site. It allows you to have private discussions with your students and it is best used if you want to follow a coaching style approach as it lets you practically provide a personalized experience to your students that is 1-on-1.
You can also set up your private areas to be automated where you can send a series of private posts to students on enrollment and create a private post automation sequence.
3. LaunchPad
LaunchPad is a theme that is specifically built for LifterLMS and is the perfect theme for creating eLearning websites with this particular LMS. While any well-coded WordPress theme is compatible with LifterLMS, LaunchPad is particularly designed for the plugin and has a number of theme options that make it completely customizable so you can modify it to match your requirements or your client's requirements perfectly.
4. Assignments
Assignments is the add-on that allows you to create assignments for your students and some people might argue that it should be a part of the free core plugin but it isn't. This add-on handles all the assignment related activities for your online course.
5. Office Hours MasterMind
The Office Hours MasterMind is not really an add-on that increases the functionality of the plugin but does offer a lot of value. It provides access to a weekly "Ask Us Anything" session with the CEO of LifterLMS, Chris Badgett, and other guests. The Office Hours MasterMind can be a good idea if you want to improve your digital marketing skills and use the plugin to its full potential.
6. PowerPack
Lastly, the PowerPack is another add-on that is not meant to enhance the functionality of the plugin but provide additional value. With the PowerPack add-on, you get priority support, special promotions and offers, and special graphics and assets that you can use for badges, icons, certificate designs, etc. You also get free access to LifterLMS' online course, "Beginners Guide to Building Successful Online Courses".
LifterLMS Pricing
LifterLMS has a freemium approach and the core plugin is free to download. The cost of add-ons start from $99 per year if you want to buy them individually but you can also buy bundles that include the core plugin, a combination of add-ons, and extra features.
Currently, LifterLMS offers two bundles – the Universe Bundle and the Infinity Bundle. Here's a breakdown of the two:
Universe Bundle: $299 per year, 5 sites, Priority Support, 2 Tech Support Accounts, Design Add-Ons, Ecommerce Add-Ons, Marketing and CRM Add-Ons, Form Add-Ons
Infinity Bundle: $999 per year, unlimited sites, Priority Support and Live Office Hours, 3 Tech Support Accounts, Design Add-Ons, Ecommerce Add-Ons, Marketing and CRM Add-Ons, Form Add-Ons, Advanced Quizzes and Assignments, Private Coaching, Social Learning, Advanced Video, Custom Fields, Groups.
LifterLMS Pros and Cons
Now that we've covered LifterLMS in detail, here are some key pros and cons of LifterLMS:
Pros
You get priority support and get to interact directly with the team behind the software.
It comes with a powerful drag-and-drop builder that can help you in organizing and creating online courses really fast.
Seamless integration with WordPress and WooCommerce.
Cons
Some add-ons like assignments are absolutely crucial and should be a part of the core plugin itself.
The email marketing integrations are limited and only support MailChimp and ConvertKit.
The design can be a bit unimpressive and dated.
LifterLMS vs LearnDash
LifterLMS and LearnDash are two of the best LMS plugins available for WordPress and you might want to compare the two and how they stack up against each other.
The most important difference between the two is that LearnDash is a premium plugin while LifterLMS is a freemium plugin with paid add-ons and bundles but how do the two compare when it comes to functional aspects?
In terms of ease of use, while both of them are pretty easy to use, LearnDash is still a better option due to its ProPanel.
When it comes to building courses, both of them are pretty much equally strong.
As for payment options, LearnDash is better as it comes with an inbuilt payment gateway whereas you'll have to purchase add-ons to integrate LifterLMS with payment gateways like Paypal and Stripe.
Lastly, in terms of pricing, while LifterLMS is cheaper but the costs can start stacking up if you're planning on scaling up and LearnDash might be a better option for you in that case.
Is LifterLMS right for you?
LifterLMS is one of the best LMS WordPress plugins available today and comes with a ton of features that can help you create amazing online courses. While the pricing model might be a sticking point for some people, it can be hard to argue when it comes to the value it offers.
Overall, if you don't mind paying extra for the add-ons and don't plan on scaling up your online school, LifterLMS is the perfect option for you.

LifterLMS Alternatives
1. Teachable – Best Online Course Platform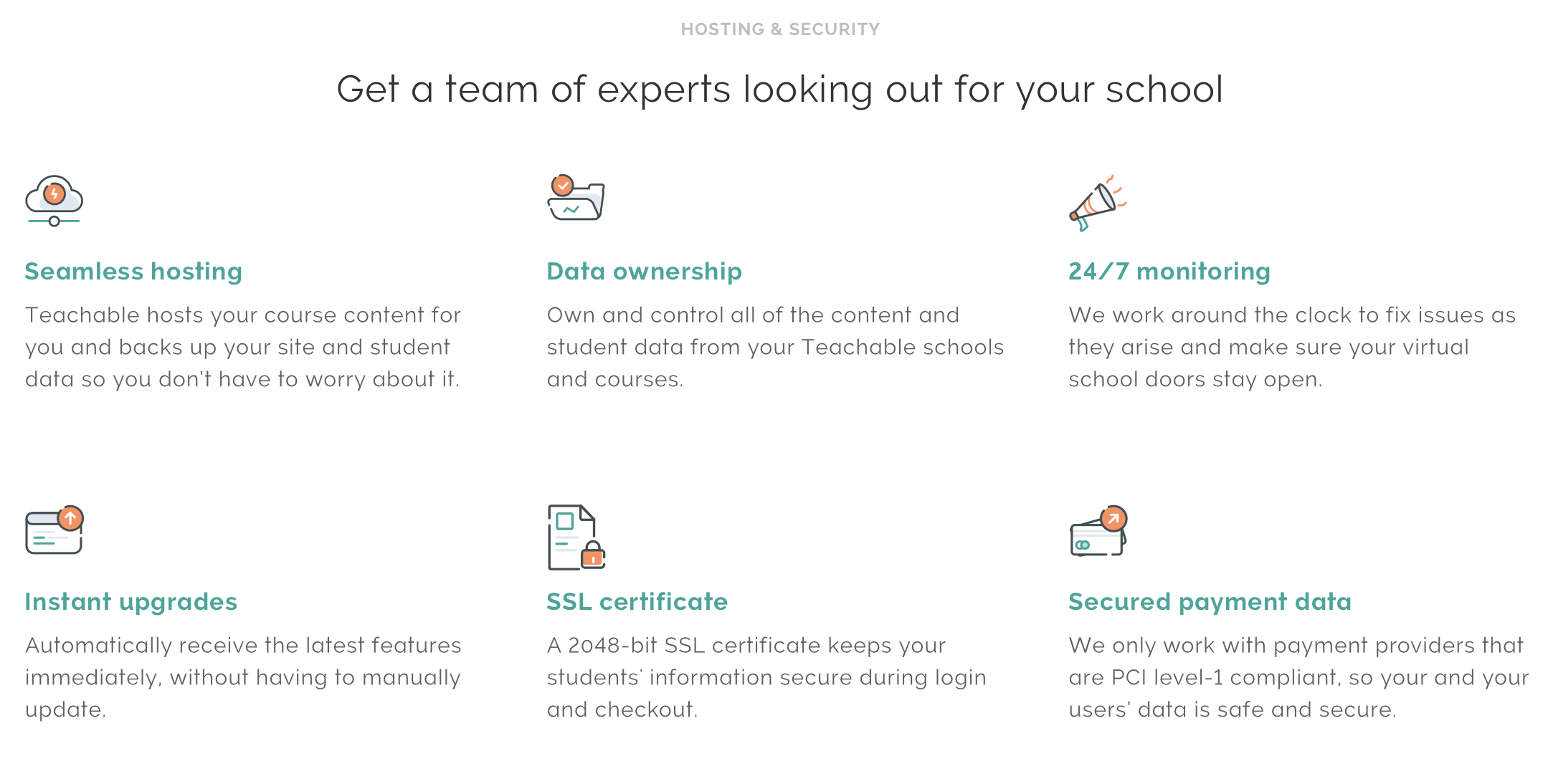 Click Here To Get Teachable
What Reddit has to say about Teachable:
u/drewches: I have a client who hosts all of their courses on Teachable. I think that Teachable is a great platform since it handles a lot of the back end of things for you so you can focus on creating content.
While Teachable is not exactly a WordPress LMS plugin, it is still extremely easy to integrate Teachable to your WordPress website. Teachable is hands-down the best online course platform in my opinion. It is beginner friendly, even has a free plan that packs some great features. The most popular plan is only $79, making it one of the decently affordable. Currently, it boasts over 83,000 instructors.
Pros
Unlimited video
Unlimited courses
Unlimited hosting
Integrated payment processing
Student management
Lecture comments
Basic quizzes
No fees for free courses
Cons
Transaction fees on free and basic plans
1. Reasonable plans
Teachable's free plan, while having a high transaction fee, still blows the others out of the water. It has a lot of features that would otherwise cost a premium on other platforms and is great for beginners as you can get used to the platform with it.
The paid plans are likewise great as well. The recommended plan for beginners is usually the professional plan, costing $79 per month. It has zero transaction fees and is basically feature complete.

There are four plans in total.
Free
This plan offers you all these features for free:
Unlimited everything except for unlimited students, Integrated payment processing, Student management, Lecture comments, Basic quizzes and no fees for free courses.
In this plan you will be charged $1+10% for every product you sell.
Basic
Cost of this plan is $29 per month and it offers you everything the free plan does plus all these features:
Unlimited students, 5% transaction fee, Instant payouts, admin-level users, Product support, Course creator training, Custom domain support, Coupon codes, Drip course content, Integrated affiliate marketing, Integrated email marketing and Third-party integrations.
You will be charged 5% for every product you sell.
Professional
This plan goes for $79 per month and it offers you everything the basic plan does plus all these features:
3 more admin-level users (5 in total), Priority product support, Graded quizzes, Advanced theme customization, Advanced reports, Unbranded website, Course completion certificates and Course compliance.
There is no transaction fee in this plan.
Business
This one will cost you $399 per month. It includes everything professional does as well as the following features:
Total 100 admin-level users, Manual student imports, Bulk student enrollments and Custom user roles.
Which Teachable plan is the right one for you?
If you are a beginner just starting out and hesitant to spend money, then the free plan is for you. It is nice for trying Teachable out but only that: trying out. it isn't suited for long-term business so you will need to consider getting the paid plans at some point.
The Basic plan is quite cheap and has some nice features so on a small budget you can go for this one. However, it has a transaction fee attached to it so for seeing some real profit you would have to move to the professional plan.
The Professional plan is the best plan for beginners and small teams as it is virtually feature complete and offers zero transaction fee. That's why it also happens to be the most popular plan Teachable has to offer.
The Business plan is best for large groups and businesses. It offers 100 admin level users which is quite useful in managing multiple teams and courses at once.
2. Unlimited video hosting
This is such a boon with teachable, as hosting large video files on your own website is sure to cause some slowdown but with teachable, that isn't a problem!
Not to mention, it allows you to host unlimited of them with even the free plan!
3. Excellent support
Good support is something every business would want to have, bad support can be a deal-breaker for many.
Teachable offers some of the best customer support out of all the platforms. There is a course creator community as well which is very cool.
There is also another great thing about it, teachable isn't just made up of developers like it usually is the case with these platforms, there are a lot of marketers as well!
4. Ease of use
Teachable is easy to set-up and modify. You don't have to spend days just getting up your courses, making it so much better than platforms like Clickfunnels.
This is especially true if you already have an online business as you then don't need to worry about different plugins and different integrations and can just get the thing up right away.
5. Secure content
With teachable, all of your content will be protected. You won't need to ever worry about one of your courses being hacked.
The Verdict: If you are just starting out, teachable is very much recommended due to how easy it is to use and the free plan should get you familiar enough with  Teachable that you can confidently move up to the more feature packed plans and be able to create great courses. The recommended plan, Professional, is reasonable in price and packs some nice features.