Webflow and WordPress are two popular platforms for building websites. Both feature an array of designs and management solutions for users without requiring any special technical knowledge. However, they have two different approaches, and each comes with its integrated features.
Which platform has better performance than the other? Which one should you invest in to save time and money? What should be the major factors that affect your choice? The differences go very deep, and we've tried to answer all these points in the article below.
TLDR: If you're in a hurry, we recommend using Webflow if you're starting a new website today. WordPress is more customizable but requires a lot more effort and the customizable features are being added to Webflow as time goes on.
Try Webflow For Free & Get 30% OFF
Webflow vs WordPress
About Webflow
Webflow is a SaaS platform that builds visually appealing websites. Webflow allows editors and designers to build professional websites which have good performance, hosting, and security.
The cloud-based website builder allows users to custom design a website. The platform has advanced customization options that can be complicated for some beginners. However, a big advantage of Webflow is that you don't have to have proper training in HTML or php to launch your website.
Try Webflow For Free & Get 30% OFFTry Webflow For Free & Get 30% OFF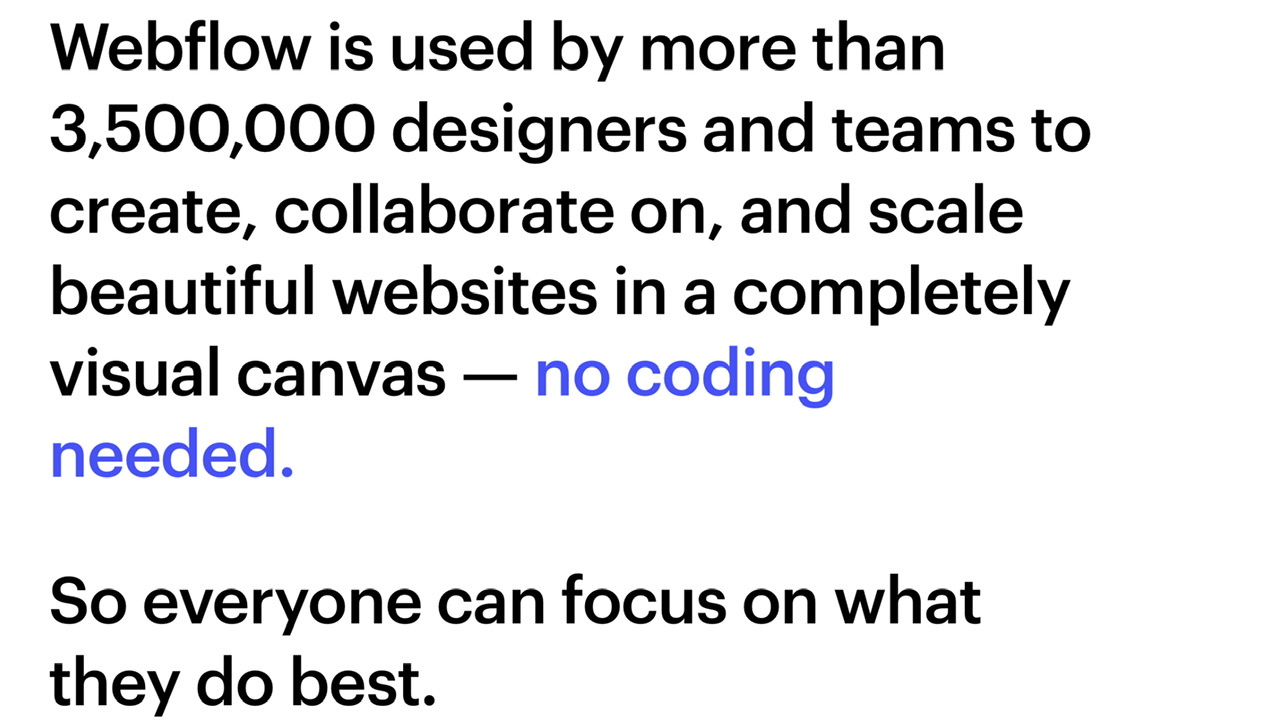 For dynamic websites, Webflow includes a content management system that allows you to create a blog, directory, e-commerce store, etc. Webflow gives users complete access to the website's code.
A visual builder is a visual tool of this platform that helps in generating HTML, CSS, and JavaScript. The application is self-contained, and you add features as per your choice by just embedding the code.
Once you've finished building your site on Webflow, you can
Export the code to a finished site or host it with another hosting provider
Get a plan with Webflow to host the site for you. This is the requirement if you want access to Webflows CMS service for dynamic content.
Key Features of Webflow
Drag and Drop page builder
Great levels of customizable designs
SSL certifications
Work with CMS Webflow data
Ecommerce site
Import and export code
Zapier integrations
Customize everything from the font to the design of the site
Integrate marketing tools, forms, and backup all under one platform
Intuitive scroll-based animations
About WordPress
WordPress is amongst the most popular platform that is used to build a website on the internet. The platform powers 64.3% of websites all over the internet. The platform is an open-source content management service that allows anybody to download and use it to create a website for different uses.
The platform offers a range of plugins and integrations that enhance the websites created using WordPress. The CMS service is not difficult to master, but inexperienced users may have to spend some time before getting familiar with it.
WordPress was launched as a blogging platform at the start, but since then has been turned into a full CMS service. Currently, WordPress is amongst the top choices for building versatile personal and professional websites on the Internet.
WordPress has two strong extensions that help you in adapting to core WordPress software needs. This includes themes that control the design and plugins that add features to your website. Every WordPress website makes use of these extensions that will add key features.
Key features of WordPress
WordPress offers over 54,000 plugins that enable you to customize your website
Excellent performance
The huge community means that solutions to most issues and learning material are widely available on the web.
Integrates with third-party tools at a deeper level.
Ease of use with no coding requirement
WordPress allows users to create mobile-friendly and SEO-optimized websites.
Verdict
WordPress and Webflow are both web designing platforms that are viable options for several users. The choice is dependent on the type of project that you are planning to run and your proficiency in using codes. Webflow works well for web designers who are planning to launch a customized website for their clients. WordPress is simpler to use and offers a range of designs and categories.
1. Ease of Use
Webflow and WordPress offer solutions that make it easy to build a website, even if you don't know any coding. Webflow has a steeper learning curve compared to WordPress, but both can be used by non-developers efficiently.
Webflow is designed mostly for professional developers, and you must have some understanding of code. It will, however, not take you long to be familiar with the platform.
To start, you just need to register for a Webflow account. During this process, Webflow will conduct a short survey and tailor the website as per your needs. It will later launch a guide that will help you understand key concepts like containers, styling, etc.
Once you've accustomed yourself to the basics, you can start creating your website project. You can either select a blank template or choose a present one. The interface is the same as Adobe Muse or Photoshop, and you will get used to the elements and buttons within no time.
Webflows visual drag and drop builder is one of its highlights. It gives users full control of the elements from design to the style of your website. The platform bolsters a dynamic content management system with its site editor. Here you have a choice to select the type of content, whether it's a blog post or a custom feed. Once you create a blog post, you'll have access to the stripped-down editor, where you add content for your blog. With the editor, you can add images and videos; however, it is not very flexible.
Once you've created your website, you can either export the static code to host it elsewhere or get a subscription to host it on Webflow.
The platform has a huge knowledge base that is provided by its digital university. There are over hundreds of tutorial videos where you will find the necessary information to get started with design, hosting, and integrations for your website. You can also get customer support via mail and the inbuilt marketplace where you can find tech experts.
Webflow doesn't provide phone or live chat support to its users. However, if you have a subscription to an Enterprise plan, then you have access to professional assistance from tech support managers.
If you want to create a website on WordPress, you will have to purchase web hosting and install the WordPress software. It might sound difficult, but due to its popularity, most web hosts offer simple installer tools. These tools allow for quick installation and configuration with just a few clicks.
Once the installation process is complete, you can micro-manage WordPress from the dashboard. The open-source nature of the provider makes it a good choice to customize templates and write codes using different plugins and HTML features. You can install the page builder plugin to give you more design control. Your old website can also be exported on WordPress efficiently.
To create content like blogs or articles, you can use the Gutenberg editor on WordPress. The block-based system used by this editor allows the setup of multi-column designs while incorporating different buttons or elements.
WordPress doesn't have a customer support team, but you can rely on numerous articles and forums posted by veteran developers and web designers who have faced similar problems in the past.
Verdict
Both platforms have deferring philosophies from building a website to managing it. WordPress has thousands of themes that require code to be customized. To create a website on the Webflow platform users require to have some basic understanding of code. Further, Webflow offers users a range of support services, which is not offered by WordPress.
Try Webflow For Free & Get 30% OFF
2. Design Set Up and Customization 
If you are looking to create amazing websites without needing to start from scratch, than WordPress and Webflow have pre-made designs for your websites. In WordPress, they are called themes, while Workflow calls them templates.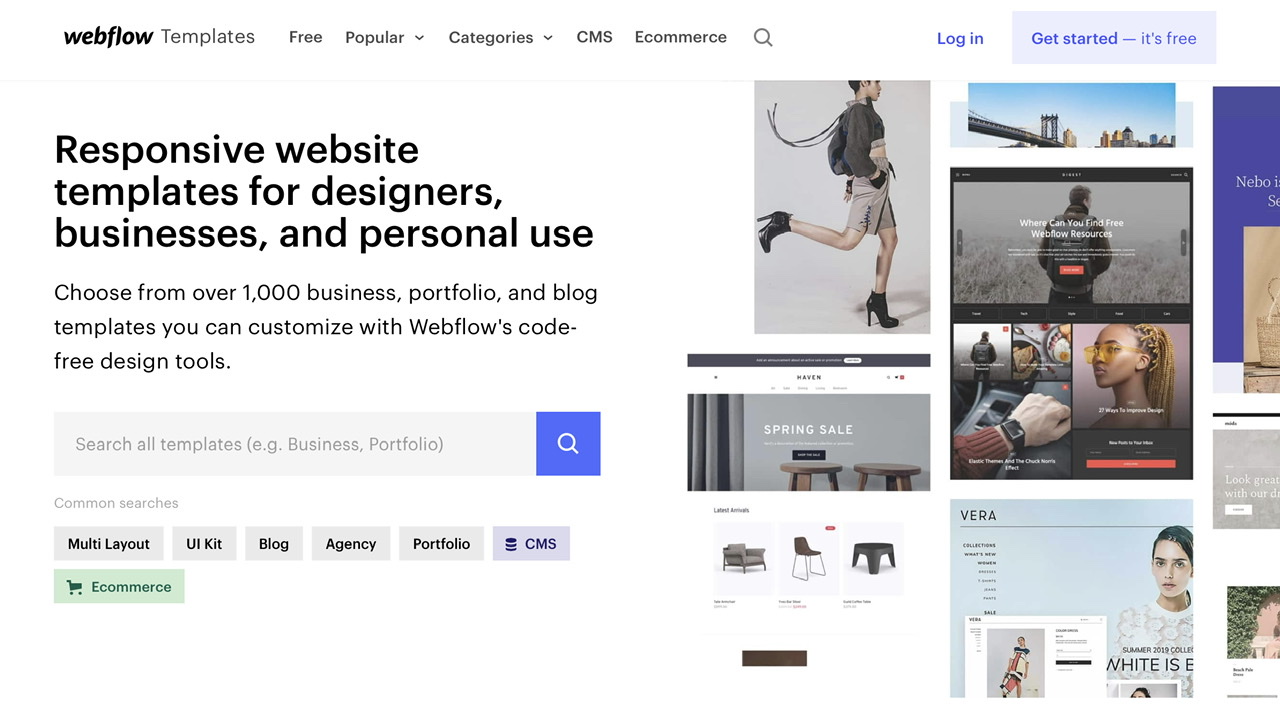 WordPress has a large pool of themes in the marketplace. These themes can be altered and changed, giving you more flexibility. WordPress has over 4200+ free themes with over 10000 premium themes.
The design customization offered by WordPress is very versatile and impressive at the same time. The vast number of themes offered by the platform look nearly the same, with even the premium themes limited to their visual effects.
Users can add parallax and various animations, which are available in the theme options. Professional web designers and developers will not find it difficult to create a unique website. The open-source WordPress platform allows full access to CSS files, which enables users to make changes to the website by changing its code in the visual editor.
WordPress enables users to work on the font, color, and overall working of the website due to its advanced theme setting. Furthermore, users also have the opportunity to customize some parts of the page, including the header, sidebar, and footer.
Webflow has around 45+ free templates, with 500+ premium templates for users to use. The premium templates are developed by the Webflow community, so there is no third-party involvement. One of the major disadvantages of Webflow is that the templates cannot be changed and altered once selected.
In Webflow, the Site Designer acts as the coding automation tool. Here you can use HTML, CSS, and JavaScript without requiring any coding. The code visualizes it with the system and adjusts it to a selected layout.
The Website layout can be filtered by different criteria like language, style, design, functionality, etc. With Webflow, it is also possible to work with a pre-designed thematic website instead of having to start from scratch.
Several third-party authors can be cloned in corresponding in sections to your web builder. In certain cases, the system allows users to buy templates from the popular ThemeForest platform, but you have to be very efficient in coding. You can also get in touch with freelance developers who can help you build your website in the freelance marketplace on the platform.
The animations feature offered by Webflow allows users to add animations through various parts of the website. Available in the Interaction section on the panel, the animations can light up all the elements on the website pages. You can add animations to menus, blocks, images, and so on. The brandable platform has enough options to animate nearly 90% of the website.
The software has several built-in capabilities that allow users to run several projects at the same time. Webflow allows users to switch between these projects and copy and paste them on different layouts. The SSL certificate, along with distributed infrastructure and content management system helps enhance the performance of the website.
Verdict
Webflow offers users complete control of the customization on the website. The Site Designer and Interactions feature make creating anything quite simple. WordPress has a range of themes, but most of them are similar. Even if you are an expert in HTML and PHP editing, you will not have the same design freedom as that offered by Webflow.
3. Plugins and Extensions
WordPress and Webflow offer different tools that are required to build a website. Extensions or plugins are tools that play a pivotal role in adding different additional features to your website.
WordPress platforms have a wide range of plugins that can add several features to your website. The official WordPress directory has nearly 59,000 free plugins with thousands of premium plugins that can be purchased via the marketplace or independent developers. The plugins allow users to enhance the functionality of their website and make it mobile-friendly or improve its SEO.
Webflow doesn't have any official plugins like that offered by WordPress. This means that you can't add extensions to work directly with the interface of Webflow. However, you can extend it with Webflow by integrating code snippets from various other services.
Verdict
Implementing an integration code can be slightly more complicated for users using Webflow, especially for beginners. WordPress on the other hand, offers plugins offer fully native solutions through its range of plugins that are used by users to connect their website with different tools.
Try Webflow For Free & Get 30% OFF
4. Third-Party Integrations
To get the best features for your website, you have to integrate with other tools. Tools like customer relationship manager or email marketing solutions, etc, help enhance the performance of your website.
Webflow is not a very strong option if you are planning to integrate third-party applications. You can integrate several tools with the platform, but it doesn't ensure a smooth integration. Here you will need codes and separate interfaces to embed it into your website.
The Lottie and AfterEffects integrations are some of the powerful integrations offered to users. The Lightbox Gallery integration is another powerful integration that creates stunning image galleries and grids using uploaded media. The versatile integration doesn't require any additional coding.
A range of animations can be integrated into your website to light up the experience for visitors and customers. The Website builder also has several features that allow objects to be moved in different directions on the planes and axes of the page.
The platform also has integrations with images in WebP and SVG formats. It allows the creation of crops for various website versions, which are in the automated mode. However, it doesn't have any free or paid photo stocks that are available to the user.
Webflow comes with a range of SEO and marketing tools with excellent domain management and export features. The automated backup and the built-in audit tool make it possible to control and promote your website over time.
WordPress has an endless number of integrations that can be found in plugins offered by the platform. The platform has integrations for nearly all applications imaginable. You can also add codes to integrate other tools into your website.
The number of plugins you install, the more time it will take to update on their website. Also, some plugins may have some malicious code that may impact the overall performance of the site. It may also hamper the SEO and traffic that is directed to your website. This is why users have to be careful while selecting plugins, as they need to comply with both safety and business requirements.
The extra flexibility offered by WordPress due to multiple website hosting options makes it highly appreciated among developers. They can even select their own servers to host the site without incurring additional costs or requiring special skills.
The ease of integrating WordPress with other tools is one of the key advantages that the platform offers to users.
Verdict
WordPress has more third-party integration tools, which Webflow doesn't bolster. However, the few tools available on Webflow are of the highest quality.
5. Blogging
Several websites have content in the form of blogs that describes certain components of their business. Both Webflow and WordPress have good blogging capabilities with different features that make them stand out from each other.
Webflow offers an extensive range of blogging options. The Website builder offers an array of blog templates that can be customized and managed to your liking.

The platform allows users to write, edit, manage posts and upload images with proper SEO settings while integrating different social media files. The blogging platform is suited for a range of blogging projects irrespective of the niches, you specialize in.
Blog projects in Webflow can be created either from static pages or by using its CMS functionality. The Content Management System is preferable as it allows you to post more content. You can make use of the CMS collection set to create your blog and add different texts, videos, dates, images, links, etc.
If you have a blog that is powered by another service you can easily export its files using the CSV files feature. This feature offers a flexible solution for creating and managing a website.
WordPress was designed as a blogging platform in its initial days. This makes its blog development and functionality of the top level. The platform has a versatile CMS system that has a range of ready-made templates that are designed specifically for blogging. It also users the opportunity to customize quality designs and tailor them, as per your requirements.
The platform offers a range of plugins and integrations, such as Easy Social share, NextGen Gallery, and various other plugins. This makes it a very versatile and robust option for running your blog.
Verdict
If you are a professional blogger, then WordPress delivers more performance and quality. The extensive plugin integration features allows it to incorporate various features into your website. Webflow doesn't lag behind in terms of its CMS services, but if you are constantly writing then you should look at WordPress to get better services.
Try Webflow For Free & Get 30% OFF
6. SEO Services
SEO is a key feature that enhances the visibility of your site on search engines. A good SEO engine helps in improving your presence and getting more visitors to your website.
WordPress has excellent SEO services. The platform allows users to adjust the SEO parameters of a website by integrating it with various plugins. The SEO functionality on WordPress can be handled even by beginners.
The best SEO plugin offered by WordPress is the Yoast SEO plugin. However, you can also select other plugins that work best for your project.
Webflow has an extensive range of SEO optimization options, where users can manually fill parameters for search engine optimization. This includes titles, descriptions, keywords, etc. The website builder helps in automatically generating site stamps along with meta tags on the blog feed.
The API access offered to web developers makes it possible to connect with Facebook and other Google services. You can adjust the parameters of getting user information utilizing HTML or CSS code that can be generated using user IP anonymization or other techniques.
Verdict
Both platforms have excellent SEO systems that offer outstanding features. WordPress has perfect SEO optimization using plugins, while Webflow has integrated SEO settings
7. Ecommerce Functionality
Webflow and WordPress both allow users to create an e-commerce store on their websites.
Webflow has a fully integrated e-commerce engine that allows users to build and grow their shops efficiently. The excellent design and performance attract users and turns them into customers. However, not all its plans have the ability to set up a web store as this feature is only available for e-commerce site subscribers.
The system in Webflow allows users to take complete control of the setup process from the beginning to the final publication without the need for any coding.
You can add and manage product collection, customize it and add integrated carts. Assigning titles, descriptions, and price specifications for each product in sale is also possible on the platform.
Webflow has integrations with external services like Zapier, MailChimp, QuickBooks, etc. This allows them to track the performance of the website and customize all the transaction emails while integrating special effects and animations.
The platform has certain limitations that don't let you get the most out of your web store development and its promotion. You can create nested categories and add similar products or product cards. The SSL certificate helps safeguard all your data from malicious software or hackers.
A major disadvantage of the e-commerce platform is the absence of a mobile app. This makes it difficult to track your balance, manage orders or receive notifications for e-commerce-related actions.
WordPress offers users top-notch e-commerce functionality. The CMS service doesn't have an integrated e-commerce engine. Special niche-specific plugins have to be used to make a web store.
If you want to launch a web store on WordPress, then WooCommerce is the best solution out there. This plugin has multiple tools and e-commerce features. The extension also offers special offers and geolocation support alongside other key features. To enhance the potential of the e-commerce store, you can also download and install additional free and paid plugins to suit your requirements.
There are also several plugins available to meet your web design needs. Most of the plugins are paid, which gives them better security and reliability.
Verdict
Users can create and manage e-commerce stores on the web using both these platforms. Webflow has a simple integration tool that has several features. In WordPress, users have to install external plugins to boost and enhance the performance of their online store.
Try Webflow For Free & Get 30% OFF
8. Small Business Website
Small businesses require websites to help increase their flexibility and promote products to sell on the internet. Webflow and WordPress both offer several features that help small budding businesses grow on their platform.
Webflow is an excellent choice for small businesses for website development. The platform offers several designs that can be customized as per customer requirements.
Primarily geared towards the needs of web designers, Webflow can be used to create blog pages, websites, and e-commerce stores. They can be integrated with some third-party extensions and tools to adjust project promotion using HTML and CSS editing parameters.
WordPress is catered to the demands of building small business projects due to the advanced features and tools offered by the platform. The CMS system comes with several integrated business templates for optimum functionality.
The advanced functionality of the plugins allows users to enhance the functionality of the website and add features to make it stand out from others.
Verdict
Webflow and WordPress make the development of small business websites simple. Webflow has versatile business tools that can help grow your business. In comparison, WordPress uses integrated plugins for better performance and quality.
9. Pricing
Let's talk about the cost that will you have to dish out to access the features mentioned above. Both platforms have varying price points for different features that they offer.
Webflow allows you to build a website free of any cost without requiring a credit card. A user can create 2 pages using the platform's official subdomain. For a bigger project, you will have to get one of the paid plans on the platform.
Webflow offers three plans, namely Site plans, e-commerce plans, and workspace plans.
Site plans
Starter plan – This is the most basic plan, which is free of cost and displays software copyright on the website. It cannot be used to create 2 static web pages and has a bandwidth of 1 GB per month with no more than 1000 visitors. Also, you cannot use more than 50 elements in charts and over 20 collections.
Basic plan – The basic plan starts at $18 and with no CMS functionality. It allows users to create over 500 form submissions with 50 GB bandwidth. It also allows users to connect their website with a unique domain name.
CMS plan – The plan starts at $29 per month and offers 2000 CMS items with 3 guest editors. It allows for 1000 monthly form submissions and has 200 GB of monthly traffic.
Business plan – The Business plan starts at $49 per month and gives users a custom domain. The plan has 1000 CMS items with 2500 monthly form submissions and 10 guest editors.
Ecommerce Plans
Standard plan – The plan is priced at $42 per month and allows users to catalog 500 products with an annual sale revenue of up to $50. Users have to pay a 2% commission on each sale.
Plus plan – Users can catalog 1000 products and have a sales limit of $200 on the overall sales revenue. The Plus plan starts at $84 per month.
Advanced plan – The advanced plan starts at $235 per month, and users can catalog and sell 3000 products without having any sales limit.
Workspace Plans
Starter plan – The started plan is for those starting out in Workflow. The plan is free and has a maximum of 1 workspace with 2 hosted sites.
Core plan – The core plan starts at $28 per month and is well suited for small teams. It has a maximum of 3 workplaces with up to 10 websites.
Growth plan – The Growth plan starts at $60 per month and offers up to 9 workplaces with unlimited hosted sites with advanced permissions.
Enterprise plan– The Enterprise plan is tailor-made as per customer requirements. The cost of these plans can be discussed individually with Webflow. The plan offers excellent security and overall performance.
Click Here To Try Webflow For Free
WordPress is a 100% free open source software. However, you will have to handle additional costs for hosting the service. The rate of hosting a low-traffic site ranges from $5-$10 per month. To host unrealistic high-traffic sites that have good performance you'll need to spend $20+ per month.
Getting a hosting subscription is one of the only major requirements of WordPress. However, if you want to build a unique website with different features, you may have to pay for premium themes and plugins.
Generally, premium WordPress themes cost anywhere between $50-$60. Premium plugins may vary in price between $10-$100. All in all, running a simple website may cost as little as $45- $75. However, the most realistic cost is between $150-$350
Verdict
WordPress looks like a cost-effective solution for hosting and designing your website. However, the costs associated with adding premium plugins and a reliable hosting provider so that your website has the best performance will increase the total website cost. Webflow, on the other hand, offers a range of plans which has all the necessary tools and features to get your website going.
Webflow VS WordPress Reddit
u/nostalgicglucose74 " For several websites, I find Webflow a better option compared to WordPress in different ways. I've worked with WordPress for the past ten years, but now I find Webflow to be a worthy competitor".
u/abowofwawdah "Webflow is a great tool for me as a designer. I know how to code, but Webflow makes the entire process more fun and efficient. It is expensive, but it offers a better starting point instead of beginning from scratch".
u/socialmichu "I've worked with WordPress for years now, but now I only take up Webflow projects. Webflows CMS is outstanding though it has some limitations that a good web designer can easily understand and maneuver around to create amazing things".
u/HotJumbo "Being a designer and founder, Webflow has been a much easier tool to work with over WordPress. It is easy to pick up and play as it has different help and learning videos".
Click Here To Try Webflow For Free
Pros and Cons of Webflow vs WordPress
Let us do an in-depth analysis of the pros and cons of using Webflow and WordPress platforms.
Pros of Webflow
Cons of Webflow

A wide array of designs which can be customized using the visual editor.
Excellent customer support
Better out-of-the-box optimization
SSL certified security
A complete package that allows users to build a basic site.
A range of plans to choose from

The editor can be difficult to handle if you're not familiar with some principles of HTML and CSS.
A small library of plugins when compared to WordPress.
Limited integration to third-party plans.
It can be slightly expensive
Pros of WordPress
Cons of WordPress

WordPress is easy to use and operate.
Free open source
WordPress powers nearly half the websites on the Internet, so finding learning material is easy.
Huge library of plugins and integrations with various third-party tools.
Cheaper to build and host a website

No support, maintenance, or security as it is self-hosted.
Plugins on WordPress can be complicated to add features.
No direct customer support.
Click Here To Try Webflow For Free
Main Differences Between Webflow and WordPress
The major differences between both these services are:
Webflow gives users complete design freedom. WordPress has a limited no of themes and any customization requires it to be coded from scratch.
Webflow has a drag-and-drop page builder feature. In WordPress, you'll need to use plugins to enable this.
In WordPress, a dashboard and page editors can be used to make changes to the content or a page. Webflow lets you make changes on the page itself.
The code quality in Webflow is clean, while WordPress code is cluttered due to the extensive need for plugins.
Webflow is a SaaS application that can handle all your requirements. WordPress is a content management system that you must install on your hosting server.
As per your choice of plans, Webflow is more expensive; however, WordPress is free, and you only need to pay for the hosting. However, if you want premium plugins you will have to pay more.
Click Here To Try Webflow For Free
Webflow vs WordPress Reddit
u/SpicyAbsence "The clients love the interface, so do the devs, and so do the designers. That's why it's winning so much ground and you hear the Webflow name so often. Give Webflow a go on the free trial and test the experience out with one of their templates"
u/insynco "I love Webflow. For me, it beats any other CMS platform I've used. It's flexible, stable, and intuitive. Lots of excellent tutorials available online and fantastic support. The only downside is the high price, but I suppose you get what you pay for."
u/Insane_Tobi "I sometimes find myself comparing Webflow to photoshop. You can customize every detail of every aspect of your site. All this comes at a very reasonable price. The site builder itself is free. Webflow has a lot (and I mean a lot) of very detailed and quite entertaining videos to learn the program/workflow step by step which helped me a lot in the beginning."
Which Platform Should I choose between Webflow and WordPress? 
Choosing a platform to build your website is a difficult proposition because making the right choice the first time will not only save time but precious resources.
Both
WordPress and Webflow are reliable choices if you are planning to build a website. WordPress is catered to individuals or businesses who want to build a website without requiring knowledge of HTML and CSS.
If you're a designer that is building websites regularly then Webflow is a website for you. Webflow has several features that help designers build websites faster and more efficiently. The service is very flexible with different pricing policies and its integrated SSL security. Apart from this, the drag-and-drop feature gives users the best of both worlds.
Click Here To Try Webflow For Free
Read Next: