Are you planning to run a dropshipping business? Then it is important to find a quality provider, as it can either make or break your business. There are several dropshipping tools available in the market; however, picking one for your online store can be a bit challenging.
Click Here To Try Spocket For Free
Spocket is the largest dropshipping marketplace for sellers that want to expand their business without having to worry about stocking or shipping the items. The tool is renowned for its pre-vetted quality dropshipping in the US and EU. Therefore, if you are on the hunt for good suppliers to fill your online store, this app can be the right choice.
In this review, I will cover everything you need to learn about Spocket and its features. This will allow you to find out whether or not the solution is a perfect fit for your business.
What is Spocket?
Spocket is a popular dropshipping app that helps you connect with the most reliable suppliers and lets you choose from their best products, test them, and get them to your customers fast with utmost efficiency.
Spocket was launched in 2017 and has everything that a dropshipping brand owner wants. The founders of the tool are a group of entrepreneurs that were in your shoes and know the struggles of dropshipping. They created Sprocket with the main aim to resolve the major issues faced with long shipping times and high product prices. Today it is being used by more than 60,000 entrepreneurs around the globe, and it is nowhere near its full potential, and it still keeps growing each day.
Spocket can help you open a dropshipping business to sell goods from suppliers based in US and UK. This separates it from all other dropshipping apps in the market, and most other apps concentrate on goods only from Aliexpress.
Spocket has a huge marketplace having thousands of products that are spread across the work with several physical locations and industry categories. Apart from that, you can enjoy easily connecting with other drop shippers from four corners of the globe.
The platform will automatically handle the inventory and fulfillment for you. Unlike other tools, Spocket focuses on quality over quantity. They feature most in the premium categories of EU and North American companies rather than the cheaper ones in Asia. All the suppliers are thoroughly screened, so you have access to the best products in the eCommerce world.
Instead of looking for products randomly, Spocket allows you to choose from products based on their location. You can also select products based on where you are planning to ship from, as well as their corresponding target shipment locations.
The biggest selling points of Spocket are
Fast EU & US delivery times
Simplified returns & refunds
Personalized branding tools
Fully vetted suppliers
Print-On-Demand products
Who is Spocket For?
Spocket is designed for dropshipping merchants that want to sell quality items in their stores. Anyone that can spare $40 per month can use it to get a major competitive advantage over other drop shippers in the market. If you want a store to get the best quality products, fast shipping, with excellent customer service, then Spocket is made for you.
The target customers on Spocket often belong to the middle class, who are happy to pay a premium to get higher quality products. In case dropshipping products are of low quality, then the reputation of the online store will be affected. However, with Spocket, you can be assured that your consumers get the highest quality of items. This will increase the chance that your consumers return and make repeat purchases.
If you want to run a long-term dropshipping business, then it is an ideal choice to checkout to source the products. You can efficiently get the best items from reliable suppliers and don't have to worry about the quality of the dropship. Instead, you will have to invest more time and effort to sell these items to your customers.
Click Here To Try Spocket For Free
I don't want to oversell the product, as it has some flaws, like no offering of customized packaging and hiding products behind a paywall. However, it is better than any app out there.
If you ask a good drop shipper how to succeed, they will all say the same 3 things:
Sell great products
Deliver products fast
Create a real connection with your customers
These are the three things with Spocket that give them an edge over its competitors. This is why they get away by charging a higher price.
If it was up to me, I would recommend Spocket to
New dropshippers that are working on their first store
Seasoned dropshippers planning to build an irreplicable brand
US and EU dropshippers who are looking for better returns, manufacturer communication, and customer service.
Anyone that is tired of using AliExpress
How Does Spocket Work?
Spocket is a great dropshipping tool that allows you to instantly connect your online store to a curated, large list of US and international wholesale suppliers to easily dropship a wide range of products online.
Here is a guide on how to make use of Spocket.
1. Link Spocket to your online store
Spocket offers seamless integration with a range of eCommerce platforms which include
Squarespace
Shopify
Wix
WooCommerce
eBay
BigCommerce
Ecwid
Felex
Square
Click Here To Try Spocket For Free
To link your Spocket account to the eCommerce place, you have to go to the app store and download the Spocket app. Once all the permissions are agreed, you'll be redirected to the dashboard of the tool. Your Spocket account will be automatically created after you manage to install the app.
2. Import Products to Your Store
Spocket has several search filters that will make finding and importing products straightforward. You can import and filter your product search using an array of parameters. All the products can be customized before uploading them to your online store by editing different sections.
3. Configure Global Pricing Rules
The pricing rules will let you establish a set margin on each product that you sell. Spocket lets you set global pricing in three simple ways
Fixed markup
Multiplier markup
Percent markup
You can select one of these markups and add value to them. To add different values for custom ranges, you can utilize its Advanced Pricing Rules.
4. Set Shipping Rates
If you import products from Spocket to your online store, the shipping costs are not included in the product pricing. This is why you'll need to set shipping rates separately in the platform's eCommerce dashboard. For Spocket, the suppliers will sell the shipping fees, but they are not higher than the retail shipping rate.
5. Enable Brand Invoicing
The unique feature of Spocket is that you can customize invoices having your own logo and brand.
6. Process Orders
Spocket will automatically sync with the online store, which will allow you to keep track of the orders on the platform directly from the dashboard. Once the order is placed by a customer, you can manually process the order. The supplier will upload the tracking details after the order is shipped.
Spocket Review Reddit
U/nycbdriffin- "Thanks…that stuff is pretty much all dropshipping sites are from China. What I do like about Spocket is the variety of inventory and that most of it (though not all) is from elsewhere".
U/Karthickk4- "We have signed up as a supplier products in their portal. Support is good so far. Wondering how many clients are there with them".
U/TyeMonkey- "I am currently using spocket to find suppliers for products which I will dropship on my shopify store".
U/Far-Veterinarian-327- "Overall, the website of Spocket was nice. More staging photos would be a great idea for the products. The prices were a little expensive. Try some promotions etc, if possible. Also, there were no reviews on products I clicked. Consumer love reviews".
Click Here To Try Spocket For Free
Spocket Review
1. Ease of Use
The first thing that you will notice about Spocket is how user-friendly it is. The tool applies the same old system for connecting sales apps, and the entire process is quite straightforward.
The interface has a clean layout with a well-organized set of functions with a clear navigation framework. Even beginners can easily have their way through it and get an idea of how everything works.
You can create a Sprocket account free of cost without needing any credit card information, and the sign-up process is quick and easy. However, if you want access to their premium features, then you can upgrade to their paid plans. During the sign-up process, you can integrate easily with different stores.
Once the store is connected, you have the ability to start efficiently browsing through the products and add them to your import list.
2. Fast Shipping Time
A big advantage of using the Spocket tool is that businesses will be able to offer fast shipping to their customers. Above 80% of suppliers on the platform are located in the EU and US. This means that products on the app are shipped quickly to customers in the regions. Most other platforms have their shipping done from China, which is not ideal as it will take days and months at a time.
With AliExpress, you are forced to wait for at least 14 days, in case you are lucky. While most Spocket items will arrive within 2 to 5 days of order. So, users can wait for as little as 48 hours and see what a competitive advantage it offers.
If you want international shipping, then Spocket suppliers offer worldwide shipping. Each product available on the platform has a description page that includes information on whether worldwide shipping is available. If you scroll through most suppliers, you will find most of them offer worldwide shipping on the tool.
3. Best Products and Suppliers
Spocket understands that dropshipping merchants are often frustrated due to a lack of quality experience in so many dropshipping products within the market. This is why they focus on cultivating a high-quality product environment.
To ensure quality products, suppliers are carefully vetted for quality assurance and reliability by the platform. The screening process of Spocket is the pride of the company, and becoming a supplier on the platform is way harder than other competitors in the market. Below I'll list how Spocket will verify suppliers.
Application- Suppliers have to apply to be a part of the Spocket marketplace. The platform will only allow them to join if the supplier's product suit the needs of the app- if the products are in demand and if suppliers are willing to ship products in neutral packaging or offer a discount on the item.
Investigative interview- Spocket interviews each supplier before they let them on their marketplace to learn more about the supplier's business in depth. This allows the Spocket team to get a better grasp of what the supplier does, and this lets them know that they are a good fit for the Spocket marketplace.
Product testing- Finally, the team will order the product from the supplier's store to check its quality and packaging. This is important to identify factors that may be undesirable for merchants, like long shipping times or poor quality, that can cause issues.
After a supplier passes these tests, then Spocket will complete the other details and ensure that they adhere to the return policy and shipping guidelines like other suppliers on the platform. These suppliers are continuously vetted, and their performance is checked so that they continue meeting all the platform's requirements.
4. Product Catalog
Spocket uses shortcuts for the store creation process by showcasing the best products and suppliers. In this way, you don't have to spend your time searching or losing money by making bad decisions.
The tool allows for a selection of over 10,000 different products that can range anywhere from electronics to clothing.
Spocket classifies products into these categories
Bath & Beauty
Trending
Women's Clothing
Bath & Beauty
Kids & Babies
Jewelry & Watches
Tech Accessories
Home & Garden
Pets
Footwear Accessories
Automotive
Men's Clothing
Bags & Wallets
Festivals & Parties
Sports & Outdoors
Each of these categories has its subcategories that allow you to filter out the products better.
The best part about these products is that, as per Spocket, the items are priced at a 25-40% discount compared to their retail price. The tool generally recommends a 40% discount; however, the minimum amount is 25%, that suppliers have to offer. This is an impressive discount that you get with any dropshipping platform.
Spocket has different filters for product research, so you can filter items based on country of shipment, shipping options, seller rating, shipping price, and premium products. That is, you have to click search, and Spocket will show the best options instantly.
5. Product Importing
Once you search for a product, you will need to label it out and put it directly on your shelves. With Spocket, you can do it with 3 clicks.
Find the product, click on the Add to Import List, select the Import List on the left, and click Push to Store. That is all, and your product will now be added to your digital shelf.
However, you need to customize the product title and change the descriptions for SEO and make it more appealing to your customers. In the import list, you can see the name of the products and descriptions. Simply give them a unique name and compelling description which is very unique. You no longer have to put corporate jargon or copy someone else's listing.
Fortunately, you will not have to wait until you add an item to customize it. Spocket has an editing tool that allows users to reset various elements easily from the import list page.
6. High Dropshipping Margins
Spocket aims to offer merchants a larger profit margin when compared to typical dropshipping companies. With Spocket, merchants can have a profit margin between 30 to 60 percent, while your standard apps offer a profit margin that is usually between 15 to 45 percent. This will allow merchants to make more money with every sale that you are making that your business is moving in a positive cash flow. You will notice that each product will recommend the ideal retail price, helping merchants earn more.
7. Branded Invoices
The branded invoice of Spocket gives it a competitive edge as it creates a deeper connection with you and your customers. As a dropshipping business, you will need the shopping experience to be authentic as possible.
The customizability depends on the plan that you have signed up for. Whenever a customer receives a package, you can send a logo, business detail, or a personal note to create a sense of uniqueness amongst your customers. This is a major advantage over your competitors, and it helps you look more like a legit business compared to a typical dropshipping store.
8. Order Samples
It is important to check a product before you sell it on your online store, so it is essential to first order a sample. To make things simple, you can easily order product samples from the Spocket dashboard in a few clicks. This will help you with your due diligence to give you peace of mind that you are adding the right products to your online store.
9. Better Return Policies
The shipping costs and return policies of carriers are the two major disadvantages that are associated with dropshipping. This is due to the fact that a merchant doesn't have control over these factors, and they are often non-negotiable, so they don't work out in their best interest. Handling returns can be confusing for the supplier and merchant, and shipping is usually what it is.
Spocket understands these problems and is able to maintain strict return policies and shipping guidelines that its suppliers must meet in order to be listed in the marketplace so everyone is on the same page. This is amongst one of the Spocket features that merchants love.
Spocket return policy- All suppliers on Spocket have to offer three return policies- no returns, 15 and 30-day return policies. The tool also holds the supplier's funds for the period of return policy, so you will get the money you paid to the supplier for shipping the product. In case you get damaged or wrong products, then you will get a refund immediately or get a replacement based on what you will choose.
This is amongst the best return policies in the market as it favors the merchant and not the supplier. Even the shipping guidelines make it possible for merchants to implement their own stores. The suppliers usually make use of DHL, USPS, FedEx, and ePacket to ship their products to ensure items are quickly delivered.
10. Automated Selling
The best part of running a dropshipping business with Spocket is that you can automate the entire process with utmost efficiency. The goal of the tool is to connect suppliers and merchants together and automate all the processes between them so you can easily run your store on a daily basis. You will no longer have to be bogged down by manually sending orders to your supplier. Automation makes the entire process straightforward, which means that there are fewer possibilities to make mistakes which gives users a better experience overall. Now you simply have to manage supplier sourcing, marketing, and customer support.
11. Delivery Tracking
Spocket suppliers are located predominately in US and EU, so delivery is very fast and efficient. The process of tracking delivery is very straightforward; once you place your order, you'll receive a tracking ID. You are also informed when it leaves the supplier's warehouse. From there on, you will get updates on its status, and with its super short shipping times, this will not be a problem.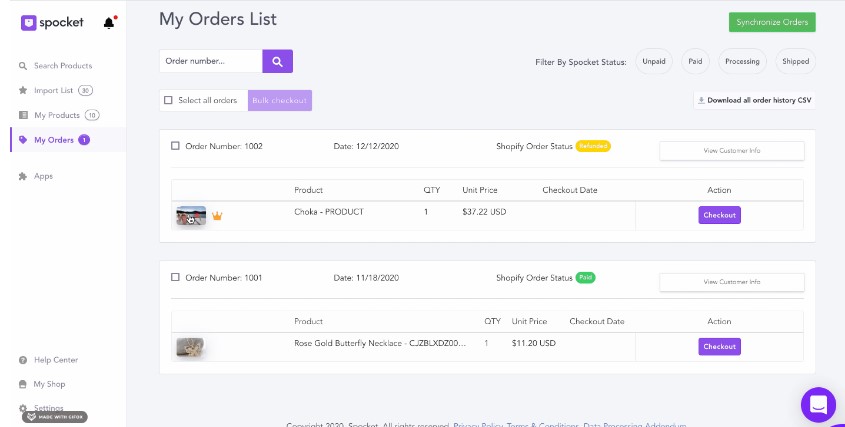 12. Inventory and Global Pricing Updates
Spocket allows users to automatically update their inventory in real time. In this way, you will never have to run out of stock unexpectedly. If you see it getting low, then you have the option to switch over to another supplier, raise the price point, or make it temporarily unavailable so customers don't buy it.
Back in the day, users had to manually manage this, and if a customer bought something that was unavailable, then you'd have to send an email conveying the message that the item is not available at that time.
As for Global Pricing, they automatically set your prices based on the percentage, multiplier, or fixed amount set by the manufacturer.
13. Premium Products
The suppliers on Spocket can range from local vendors to small manufacturers or mass suppliers, so the price of the products is well-rounded. The premium products of Spocket are curated products that are added to the category as they are the best that the platform has to offer. These products are only available to merchants on the paid plans of Spocket, which makes them extra special and exclusive. Premium products are best sellers, and they have the fastest shipping and processing times.

14. Customer Support
The customer support of Spocket is available 24/7, either via live chat or email. Their help center also has detailed and full explanations with screenshots that make your life easier. They also have a helpful community on Facebook where you can discuss with other members and find answers to your questions.
15. Additional Tools
In addition to the above features that we have gone through, there are a few additional features of Spocket that are worth noting. These are not substantial to have a separate section of their own, so we will show them below.
1. Spocket Image Search
Spocket allows you to search images from their catalog. This is a unique feature, and you can get access to certain images using their image search tool.
2. Supplier Notifications and Messages
To work with suppliers in a separate place, you will need to have a separate place. This is where the feature comes in and allows you to check if there are any changes in cost, updates, or anything else.
Spocket Pricing
Spocket has 5 pricing plans that can help you deliver products across the globe. It can be availed on monthly or yearly plans. You can get up to 8 months off if you pay yearly. You can check its paid plans for a 14-day trial, where you can find out about its features and performance. The plans in detail are
Click Here To Try Spocket For Free
1. Free Plan
The Free plan is designed for entrepreneurs that want to browse through the catalog of products. It includes
24×7 chat support
AliExpress Dropshipping
2. Starter Plan
The plan is great to kickstart and boost your sales. It is priced at $39.99 per month. It has all the features of the Free plan plus
25 unique products
Email support
3. Pro Plan
The Pro plan is a popular plan purchased by most users. It is priced at $59.99 per month. It has all the features of the starter plan plus
250 unique products
25 premium products
Branded invoicing
Supplier communication
Image search
4. Empire Plan
The Empire plan is designed for users that want to manage sales at scale. It has all the features of the Pro plan plus
10000 unique products
10000 premium products
5. Unicorn Plan
The Unicorn plan is the premium plan available on the platform. It is priced at $299 per month, and it covers all the features of the Empire plan plus
25000 unique products
Bulk checkout
Product requests
25000 premium products
Pros and Cons
Pros
Fast delivery times
User-friendly interface and is really easy to use
Great support and return policies
Access to a large number of trusted suppliers with worldwide reach.
Reduces product delivery time within North America and Europe.
The entire order fulfillment process can be automated
Offers integrations with Shopify and WooCommerce-based stores
Personalized invoicing for building a real brand
You can request product samples directly from the suppliers before you decide to import the products
Excellent 24/7 customer support
Cons
It supports selling third-party websites and social media; however, doesn't facilitate major dropshipping marketplaces like Amazon, eBay, and Etsy.
No free plan
Best products are behind a paywall
Is Spocket the Best App For Dropshipping Business?
Spocket is definitely one of the best product sourcing and best supplier app for your dropshipping business. You can't go wrong selecting the intuitive app for your business. It gives your business a competitive advantage and acts as a cheat code in dropshipping.
Click Here To Try Spocket For Free
The platform has dedicated merchants that help build high-quality dropshipping businesses by working with reliable dropshippers to create an environment in their marketplace where the merchants and suppliers will thrive together. Whichever business model you choose to sell your products, customer experience is the first thing that comes to Spocket's marketplace. Further, if you want to skyrocket your revenue with WooCommerce and Shopify stores, then Spocket is an ideal app to achieve it.
To sum it all off, Spocket is worth every consideration, especially if you are planning to sell high-quality products from the US and EU suppliers.
Spocket FAQs
1. What is dropshipping?
Dropshipping is a business model that will sell a third-party supplier's products to customers. If a customer buys from you, then you can order it from the supplier, and the supplier will send it over to the customer. In simple terms, you are the middleman, and you don't have to keep the product in stock.
2. Is Spocket a good dropshipping company?
Spocket is one of the top dropshipping platforms that easily connects you to reliable suppliers around the world with the best products. It is very popular as they rely on US and European suppliers to deliver their items. Further, it has several reviews on different app stores due to its features and helpful customer support.
3. How does Spocket make money?
Spocket will charge a subscription fee for using its eCommerce platform. Anyone that wants to search for products in the marketplace can get access to their premium products. If users are running their online business on the platform's app, users have to pay a monthly fee for their site.
4. How does Spocket pay?
All the suppliers on the platform are paid for an order either through PayPal or Stripe based on the payment method for the order.
Read Next: