Optimizing business processes and increasing their efficiency in a workspace must be the priority of every team or company. That is why project management tools are important to keep your entire business organized. In my search for a great tool for project management, I came across ClickUp, and you can say it is very impressive.
ClickUp is a powerful project management solution, but I will say that it is much more than that. The cloud-based software has a suite of productivity tools that helps project teams to get the work done. It efficiently blends in the traditional functionality of a project management tool with good collaboration features so you can customize every aspect for your team.
Click Here To Try ClickUp For Free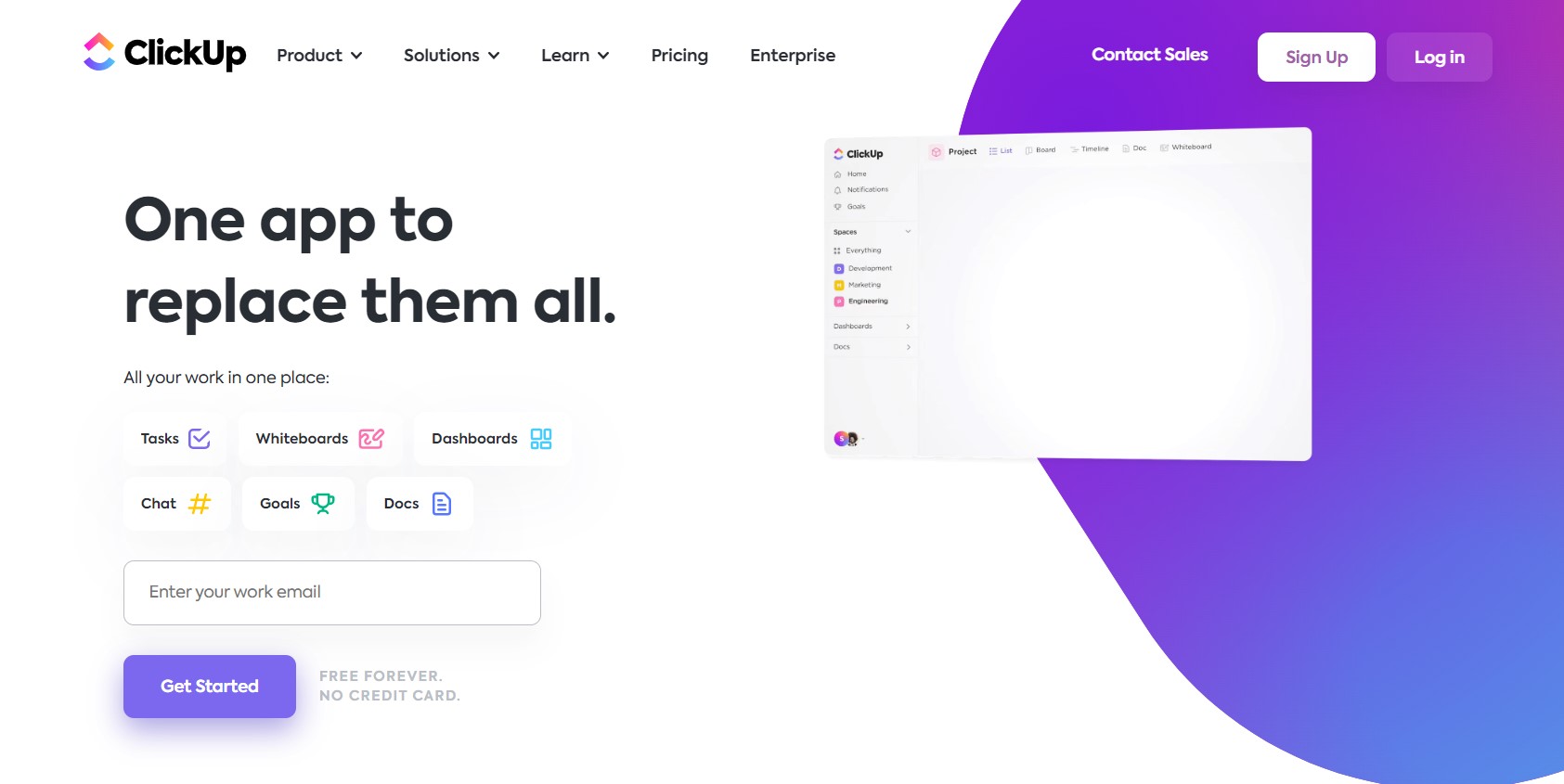 The software was founded in 2016 by Alex Yurkowski and Zeb Evans and is the new kid on the block. The founders believe that they created a software to allow businesses be more productive and be more done, claiming that other softwares in the market were broken. They understand that by bringing several tools and apps under a single roof, ClickUp makes teams up to 20% more productive. In this article, I have covered the important features and characteristics that make ClickUp stand out in the market.
Who is ClickUp Designed For?
ClickUp is a powerful project management solution that is designed for small and large enterprises. The best use cases offered by the platform are
Agile teams- ClickUp is a perfect tool for agile teams that want to create customized funnels and manage sprints, build scrum charts, or track any issues.
Human resources- The document storage and management of ClickUp, alongside its inbuild performance tracking, make it an ideal choice for HR teams.
Remote work- The cloud-based platform helps users to collaborate on documents and work on any tasks, no matter where they reside.
Finance departments- ClickUp will allow teams to manage their accounts, track budgets, and tie the financial goals directly into project progress.
Design teams- ClickUp has powerful collaboration features like comment sharing and file sharing that are essential for its design teams, especially in a remote environment.
Product development- The sprint and backlog templates of ClickUp are great for development teams to manage their product launches.
Marketing agencies- ClickUp makes things easier for creative agencies to efficiently collaborate with their clients to get approval for your assets.
Sales teams- The software gives sales teams the ability to track leads and potential prospects to collaborate on deals.
Healthcare- The HIPAA-compliant enterprise plan of ClickUp is a great choice for healthcare projects and team management.
ClickUp Onboarding Process
ClickUp is a versatile project management solution that is used for different tasks to manage your team and track personal goals. To set up the account, you can have to follow these steps
Sign up with your email
Select an Avatar
Choose the color of the theme
Add integrations, time tracking, calendar, and cloud storage
Select a workspace with a good team size
Set the name of the workspace
Send an invitation to your team
Further, select a workspace avatar
Set a name for the first space
Turn on click apps
Add more integrations
Import tasks and use ClickUp apps
After you have signed up with the app using your email address, you'll be provided with a series of articles and video tutorials that will explain everything you need about how the app works. If you watch the explainer videos, you will get a $10 credit that you can spend on the software. Apart from this, if you are switching from other project management tools like Monday.com, or Notion, then ClickUp will automatically import your data directly from those apps and set it correctly.
ClickUp Review Reddit
u/voltorbflippro- "I personally love ClickUp. It can be glitchy at times, but I haven't had too many problems with it, and I've been using it for 3 years".
u/OutrageousWelcome705- "Love ClickUp and all the things I can do in the platform!".
u/CleverlySavory41- "Hey there! As a real user of ClickUp, I can say it's a solid choice for project management. I've been using it for a while now, and it's been a game changer for me. With the ability to have a single page view for all your boards under multiple teams, it's perfect for small businesses. Plus, it's stable and well functioning. I highly recommend making the switch from Trello to ClickUp. The best thing to do is give their free version a try to see if it fits your needs".
u/rodbor- "I've been using ClickUp for a few weeks now, pretty happy with it, didn't find any bugs".
Click Here To Try ClickUp For Free
ClickUp Review
1. Ease of Use
ClickUp is easy to use and has several features and good customization. The software feels well organized with a modern touch and flair. So you can say it has an enjoyable experience. If you are new to project management tools, then the tool offers 24-hour free help and training to use the app; we'll get back to support later. Once you are used to the app, it is a simple and straightforward experience. One of the downsides of the tool is that it has a slight learning curve and can be clunky for beginners.
2. Task Management and Workflow Tools
ClickUp has agile project and product management features that make it different from its competitors. These features allow you to collaborate with your teams on roadmaps, backlogs, sprints, and more. Users can efficiently automate it and streamline bug and issue tracking.
From task to process and scheduling support, ClickUp is designed to have a laundry list of management features that allow users to streamline multiple projects and create all your tasks and sub-tasks to get their work done.
The software delivers agile dashboards to ensure teams are aware of their progress, making use of customizable dashboards with sprint widgets. Its views include Kanban Board, Gantt, and Box, which can be easily adapted to agile use cases. The platform has an agile project management template to sidestep the learning curve that beginners to this approach are often encountering. The comments contain an action item that can be marked complete and resolved in a single click. Further, they have Goals, Sprints with an agile Board view.
ClickUp allows users to create, schedule and assign tasks while also having the ability to add reminders. It has good task management features such as a multi-task toolbar and favorite views to enable users to organize tasks, and your team is able to make quick changes every time a team adjusts to new requirements. They also have good filters, sorting, hierarchy, and 4 other views.
3. Collaboration Tools
ClickUp is a collaboration powerhouse that allows users to collaborate on any other type of project. Teams of any size can collaborate with any kind of project with utmost efficiency. The tool has whiteboards that will provide a real-time visual canvas for your teams to collaborate on workflows and ideas and convert them into trackable tasks.
Team members can work in real-time on various documents. The chat tool allows users to collaborate with team members with real-time chat to easily assign action items. Here, they can share GIFs, emojis, send voice messages, or launch Zoom meetings with ClickUp. These collaboration features make the entire process of planning for multiple teams and projects a piece of cake.
There are also some advanced collaboration tools, like mind maps or whiteboards. Further, it has good proofing capability with integrated email and some other features that don't miss a single detail.
4. Docs
ClickUp has a Docs tool that is perfect to create Doc or wiki that is nested with pages and styling options. The interface is very easy to navigate and is very clean, alongside some essential extras.
In the docs, you have the ability to add headings, format your text, add quotes, code, checklists, links, etc. The best thing is that you can select a specific block of text and create a task out of it in your space.
The feature lets you edit in real time alongside your teams. Easily tag others with their comments, assign actions, and convert your text into trackable tasks that allow you to stay on top of their ideas. You can keep the docs protected with privacy and edit controls while creating shareable links and managing permissions for your teams, guests, or public access.
The docs allow users to access everything in a single place simply by linking your Docs and tasks together. Here, you can add widgets to update your workflows, assign tasks, change project statuses, and much more, all in the editor. All these docs can be categorized and organized so you get easy access and increase searchability.
5. Security
ClickUp has not skimmed anything when it comes to security. The tool has ensured that they provide a secure environment while being mindful of the application performance and its overall user experience. User data on the platform is stored on Amazon Web Services servers, and the data is encrypted via TLS 1.2 and AES-256 protocols.
It has multiple ISO certifications that will meet international standards and SOC2 compliance. All this is audited annually independently to ensure that quality and performance is maintained.
On the server side, users have two-factor authentication, Google, Microsoft, Okta, custom SMAL single sign-on tools, private spaces, and session management functions to ensure user's data is safe and secure.
The privacy policy of ClickUp is also excellent. ClickUp collects user data; however, the user data is never sold and is only used to improve and promote their services and offers. Further, they provide support for GDPR and CCPA policies. All these features make it secure and reliable.
6. Customization
ClickUp has great customizability making it a growing and fastest project management software. The tool lets you choose from tools to suit your workflow needs. You can customize every aspect of the software without requiring any code or add-ons, making its implementation intuitive for a variety of users.
The best feature of ClickUp is to offer endless customization, and you have complete control of all different features and tweak it as per the needs of your team. With this feature, you can truly create a personalized approach for your business.
ClickUp has hundreds of templates that allow users to customize and empowers users to customize their relationship between tasks, documents, and more while being easily integrable with over 1,000 tools.
7. Reporting and Time-Tracking Tools
ClickUp has good reporting features that help you keep track of your progress and increase the opportunities for your resource management. The advanced reporting features let you create dashboards that can display pie charts, lists, or bar graphs. The data is displayed in resizable widgets that will show users the number of open tasks, employee workloads, time worked and overall project progress, and more. If you want in-depth information, then you can export the data across multiple projects as a CSV file that can be opened in selective software.
The software allows users to track client meetings or simply work on tasks to provide numerous solutions across devices to efficiently track your time. This is a great way to track time and for managers to keep track of it. You can set a time for each task, or you can manually add work time to each task. The time data is displayed in various reports and charts. If you want advanced time-tracking tools, the tool integrates Harvest, Everhour, Toggl, and more. You can seamlessly track and edit it on the go across several devices.
8. Automation
The automation feature of ClickUp allows you to save time and increase your productivity. You can set up automation based on custom actions and triggers to automate a variety of works, like setting a new due date when there is a change in status. You can browse through the templates in the automation library and create your own custom automation. Here, you can set up integrations between ClickUp and other apps. You can set your assignees or watchers on all the tasks in a space, folder, or list using the automation shortcuts.
9. Admin Tools
ClickUp gives you complete control of your projects and teams, which keeps you covered with several admin tools. The best and most powerful admin features are unlocked in the Business Plus plan. In this plan, you can set custom permissions and roles that help manage large teams.
Other tools that are included in this admin dashboard are security options, notification settings, import or export options, custom roles for individual teams, and team management. Getting ClickUp to work for you is a no-fuss affair, which is great for you.
10. Desktop and Mobile Apps
ClickUp is a project management solution that supports desktop apps for Linux, Windows, macOS, and mobile apps, like iOS, Android, and Apple's watchOS. The desktop version is slick, intuitive and offers a fuss-free experience. The mobile apps give you access to its projects, dashboards, and you can leave your comments on tasks and view its documents. It has Kanban, list, and calendar views; however, its touch controls are poor. Further, its mobile apps allow you to keep your team and tasks at the touch of your fingers.
11. ClickUp AI
ClickUp has launched an AI tool that has helped improve the productivity and performance of your entire business. Learning a new technology is overwhelming, especially when it comes to AI, and you have to be an expert in speaking its language to unlock its true potential.
However, the research-based AI tool of ClickUp ensures that users can generate high-quality content by using prompts that are tailored for specific roles. Further, the AI tool can help users with their everyday tasks, like brainstorming ideas, instantly generating a draft, or improving it. You don't have to leave where you are working, context switch, or become an AI expert to get an immediate boost of productivity to leverage its powers in ways that you have never thought of before.
12. Integrations
ClickUp has seamless integrations with over 1,000 tools, and you can connect and use it for free. Nowadays, it is common for teams to make use of multiple tools that allow teams to schedule and do as efficiently as possible. Some of the powerful integrations available include Google Drive, Zoom, Slack, Calendar, Outlook, Jira, and others. The list continuously keeps on growing with new features and integrations that are added weekly. Further, if you are planning to adopt a new app to a project to streamline your process, then ClickUp is a great option. This is because it allows it to integrate using existing tools without troubling your team or causing any confusion.
13. Customer Service and Support
The ClickUp support team is very impressive, and users have access to it 24/7 to ClickUp's help center. It has a great client rating in the project management software and offers email support, live chat for its unlimited plan, and gives access to frequent webinars. Apart from this, they have a Facebook community where the users of the platform can ask questions and receive support.
ClickUp provides a University portal where customers can take courses and attend live training that will ensure you will get the most out of the software. This section has specific courses that are geared toward marketing teams, software teams, and guests that want to have temporary access. The software has ready-to-use templates that users can use to create versatile project management solutions for your business.
The onboarding deployment process of ClickUp is great for users, and there is an extensive knowledge base users can teach them how to use their product. This is a nice hammer home for new customers that are looking to create a reliable solution that you don't get with other project management software in the market.
ClickUp Pricing
The pricing structure of ClickUp is one thing that you will seek to love. It is an affordable project management solution that is designed to suit any budget. The software has 5 plans that allow you to select the best features to fit all your needs. They are available on a monthly or yearly subscription plan. The plans are listed in detail below.
Click Here To Try ClickUp For Free
1. Free Forever Plan
The Free plan is a generous plan that is best for personal use and is forever free. It is a great choice if you are on a budget. The features of the plan include
100MB storage
Unlimited tasks
Unlimited members for the Free plan
Two-factor authentication
Collaborative Docs
Whiteboards
Real-time chat
Everything View
Kanban boards
Sprint management
Native time tracking
Calendar view
In-App video recording
24/7 support
2. Unlimited Plan
The Unlimited plan is a great choice for small teams that require project management features. It is priced at $9 per member per month and has all the features of the Free Forever plan plus
Unlimited storage
Unlimited dashboards
Guests with permission
Unlimited integrations
Unlimited Gantt charts
Unlimited custom fields
Email in ClickUp
Column calculations
Teams (User Groups)
Goal and portfolios
Form View
Resource management
Agile reporting
AI compatible
3. Business Plan
The Business plan is the most popular plan preferred by users of the software. The plan is a great choice for mid-sized teams that want to efficiently manage project management. It is priced at $19 per member per month and has all the features of the Unlimited plan plus
Google SSO
Unlimited teams
Custom exporting
Advanced public sharing
Advanced automation
Advanced dashboard features
Advanced time tracking
Granular time estimates
Workload management
Timelines and mind maps
Goal Folders
4. Business Plus Plan
The Business plan is a premium offering that is offered by ClickUp. The plan is best for multiple teams that want more connectivity and performance. It is priced at $29 per member per month and has all the features of the Business plan plus
Team sharing
Subtasks in multiple lists
Custom role creation
Conditional logic in forms
Custom permissions
Custom capacity in workload
Increased automation and API
Admin training webinar
Priority support
5. Enterprise Plan
The Enterprise plan is a custom offering available on the platform that gives you everything you need for your business. Contact the sales team to get more information on its pricing. The features of the plan include everything from the Business Plus plan and
White labeling capabilities
Advanced permissions
Enterprise AI
Unlimited custom roles
Team sharing for spaces
Default personal views
MSA and HIPAA are available
Single Sign-On
Live onboarding training
Customer Success manager
Access to managed services
US and EU data residency
Pros and Cons
Pros
User-friendly interface
Well-suited for managing complex project management
Unlimited Gantt charts
Great customizability
Easily import from other tools
Powerful collaboration tools
Top-notch customization capabilities
Generous free plan
Advanced reporting and analytics
Easy time tracking with good support for mobile apps
Provides excellent support with 24/7 access
Cons
Slight learning curve for new users
Mobile apps can be better
Requires more external apps
Is ClickUp Right for Your Business?
ClickUp is a powerful project management tool designed to allow users to plan, organize, budget, and track the project of their business. It has a robust free plan with some affordable paid plans alongside a user-friendly design with top-of-the-line features. Everything about the platform is customizable and has some rich features that give it an edge in the market. If you are willing to put a little time to learn to navigate through ClickUp, then it is a handy tool at your disposal.
Click Here To Try ClickUp For Free
ClickUp Review FAQs
1. What does ClickUp, a project management software, do?
ClickUp is designed to cater to the requirements of businesses of different sizes. The tool allows users to organize, glance, collaborate, and track progress while ensuring their goals are aligned. All this makes the project management solution simpler and more efficient.
2. How secure is ClickUp?
ClickUp is secure and uses encrypted TLS 1.2, the same encryption used by banks or financial institutions. The data from the software is encrypted at rest, making use of AES-256 encryption, which the industry-leading VPNs use to encrypt their servers. The platform has never reported having a data breach or being at the end of a cyber-attacks. As a good company goes, it is squeaky clean.
3. Does ClickUp have a free plan?
ClickUp has a Forever free plan that has no strings attached. Even though it is free, it has some top-notch features such as unlimited tasks, collaborative documents, Kanban boards, and more. This makes it a great plan for those who are looking for a budget-friendly approach to a simple project management software.
4. Is there a desktop version of ClickUp?
ClickUp has a desktop app where you can access the platform on any device. You simply have to visit the app store or any operating system that your desktop uses. From there, you can download into for your device in a matter of sectors. Apart from this, there is also a mobile application for both Android and iOS.
Read Next: