Podcasting has grown tremendously over the last few years. It used to be that only a few publications and individuals had podcasts. But more recently, everyone seems to be making the jump to the audio platform. YouTubers, entrepreneurs, news publishers, and social media influencers all have podcasts to go along with their core business.
The meteoric rise of podcasting has led to a concurrent boom: the growth in SaaS products aimed at podcasters. Enterprising software companies have started creating tools aimed specifically at podcasters. These products cover a variety of purposes: podcast hosting, podcast audio editing, podcast marketing, podcast advertising, and so on.
Click Here To Get Fusebox Podcast Player
Fusebox Smart Podcast Player Review
Most software products in the niche initially focused on making it possible to create a great podcast. Although that's important, most developers forgot about one important aspect of growing a podcast: combining it with your existing website.
But not everyone overlooked that need. Fusebox is a plugin that helps podcasters make their podcast a part of their website. It's obvious why this is so important: it's a way to transform the visitors on your website into listeners on your podcast. As the number of visits on your website grows, so will your podcast.
It's evident that Fusebox serves an important need for many podcasters. Read on to learn more about the the tool and how you can use it to grow your podcast audience.
Click Here To Get Fusebox Podcast Player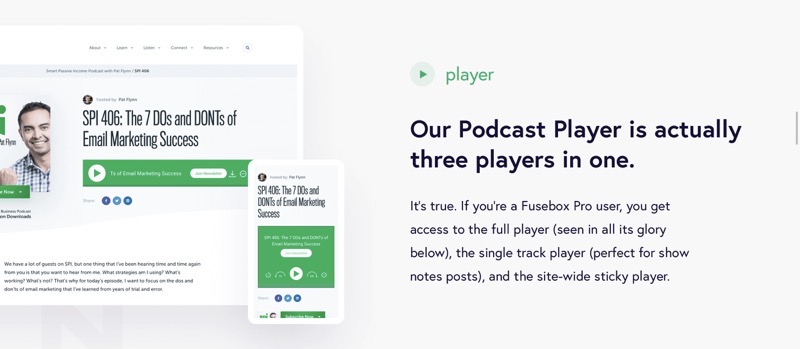 About Fusebox & Smart Podcast Player
The Fusebox podcast player was built with podcasters in mind. It was also built by a team consisting partly of podcasters.
The biggest name in that group is Pat Flynn. You probably know him as the creator of the Smart Passive Income blog and podcast. He also happens to be one of the co-founders of Fusebox.
It all started back in 2015 when Flynn was looking for a way to let the people who visited his website listen to his podcast. Back then, the market for podcast software wasn't as robust as it is now. He looked for software solutions to help with his goal but most of them were either inadequate or lacking aesthetically.
And so Pat Flynn decided to scratch his own itch. He rallied a team around him and came up with Smart Podcast Player. The aim of the product was simple: allow people to listen to your podcast right on your website. That's exactly what Smart Podcast Player did.
Smart Podcast Player used to be the Best Podcast Player for WordPress, and why even big publications like Foundr Magazine use the original player.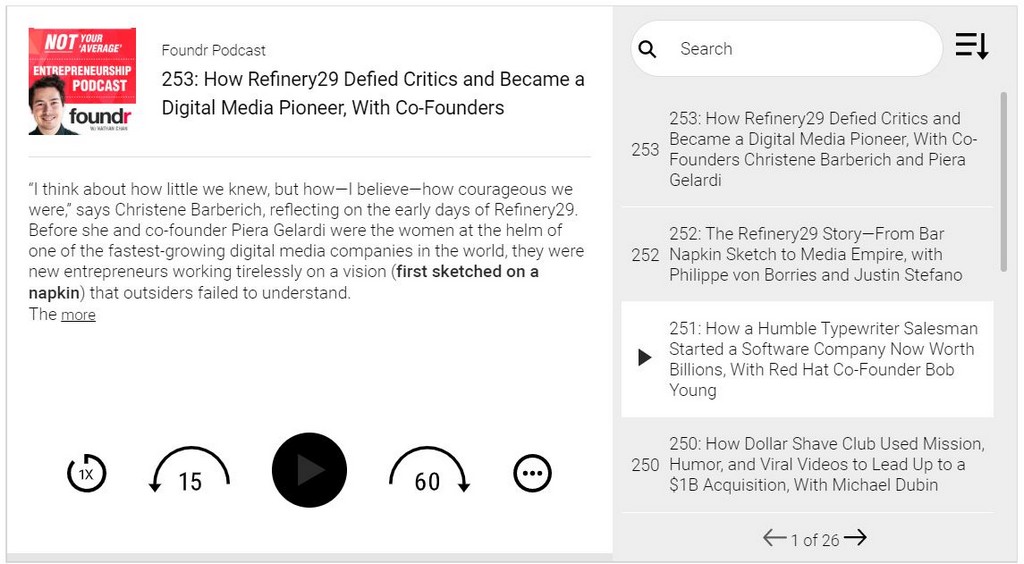 In the years that followed, the team continued to enhance Smart Podcast Player. The product needed to evolve to keep up with the changing landscape of web and podcasting technologies. As those changes continued to happen, the team continued to innovate to address new pain points.
Those transformations eventually led to a rebranding to what the product is called today: Fusebox. The core team behind the product is the same. The goal, also, is unchanged. The focus is still on equipping podcasters with the tools needed to grow and energize their audience.
The only thing that has changed is the product itself. In going from Smart Podcast Player to Fusebox, it has assumed new features and enhanced some of the existing ones. Let's take a look at what these features are one by one.
Click Here To Get Fusebox Podcast Player
Fusebox Podcast Player Review
At the core of Fusebox's offering is its podcast player. So it's only right that we find that we find out more about the player before we move on to some of the other features.
The Fusebox podcast player comes in three different forms. The first is the full podcast player, which features a lot more information than just the episode you're listening to.
There are three different sections in the full Fusebox podcast player: Episodes, Now Playing, and Details.
The Episodes section contains a list of all podcast episodes in a numbered format. Visitors can view the episode title along with its serial number here. They can sort the episodes in either ascending or descending order based on the date of release. There's also a search bar in this section to let people search for specific episodes by name.
The next tab in the full player is "Now playing." This is where your users can see the player for the episode they're currently listening to. There's a play/pause button, buttons to go 15 seconds back or 60 seconds forward, and one to mute play. There's also a button to increase the speed at which the audio is playing, which is handy for those looking to save some time while listening to a podcast.
The "Now playing" section also contains the branding of your podcast. The logo of your podcast shows up along with a button using which visitors can subscribe to your email newsletter. When they click the button, they're led to a form where they can enter their details. So Fusebox makes it possible to turn your podcast into a lead magnet on your website.
Finally, you have the Details section of the full podcast player. This is where listeners can see the shownotes for each episode. This section also has social share buttons built in so listeners can share the episode right from the player. There aren't a lot of dedicated podcast players that have this feature.
The other two forms of the Fusebox podcast player are the single track player, which is just for one specific episode, and the sticky player that remains at the bottom of the screen even if your website visitors switch between different pages on your website.
Here are some additional features of the Fusebox podcast player:
Edit the colors of the player to match your brand colors
Pick between a light or dark mode for the player depending on what goes better with your website.
Enable users to download your podcast episodes straight from the player
Get a mobile-friendly player that automatically adapts to a smaller screen size.
The Fusebox podcast player is chock-full of handy features for podcasters. It eliminates any impediments to your visitors taking the time to listen to your podcast while they're surfing your podcast. Below are some of the benefits of being able to do that.
More listens: This one's obvious. When people who visit your website also listen to your podcast, you get more listens and downloads.
Generate leads: The Fusebox podcast player has its own email newsletter subscription button. So while you have someone listening to your podcast, you can also have them sign up to your newsletter.
Episode discovery: As we saw earlier, the full Fusebox player has a list of past podcast episodes. Your visitors can easily go from listening to the latest podcast episode to discovering past ones.
Enable multitasking: People can listen to podcasts passively. With Fusebox's podcast player, your visitors can go through your website or read your blog as they're listening to your podcast.
Click Here To Get Fusebox Podcast Player
Fusebox Transcripts Plugin Review
Many podcasters overlook podcast transcripts. If people are going to listen to the podcast anyway, why type everything out in text? Right?
Wrong. Podcast transcripts serve a few important functions. Their benefits are emphasized even more when the transcripts live on your own website. We can see how useful they can be through the features of Fusebox's transcripts plugin.
There are three different sections in Fusebox's transcripts viewer. The first is the transcript itself. The name of each speaker is showing in bold text. Alongside each name is a textual reproduction of what they said on the podcast.
The second section in the transcript viewer is the "New Tab" option. This one is for those who want to view the text separately on a new tab. Finally, there's also a section where users can download the entire transcript for a particular episode. The download is provided in the form of a PDF file.
The contents in each transcript are live text. That means that it gets indexed by search engines and can provide your website a rankings boost. So along with giving your website visitors another way to consume your podcast, you also improve your SEO with the Fusebox transcripts plugin.
Here are some of the other benefits of using this plugin:
Accessibility: Not everyone in your audience may be able to listen to your podcast. By using the Fusebox transcripts plugin, you improve the accessibility features of your podcast and serve a wider audience.
Simplicity: It's clear that what the plugin offers users is simple. Along with that, it's also simple to install and integrate with your existing WordPress website.
Enable scanning: It's not easy to quickly scan a podcast because it's hard to know where everything is on an audio file. For visitors who are in a hurry, transcripts are a great way to quickly go through the main talking points of a podcast. That way you get your message out to certain members of your audience in a way that's more convenient for them.
Free: That's right. The Fusebox transcripts plugin is free to use. So you get all the aforementioned benefits without spending any money on the software itself.
Click Here To Get Fusebox Podcast Player

Installing & Using Fusebox Podcast Player Plugin
Fusebox is currently limited to WordPress. So if you want to use the software, you'll need a WordPress website. Make sure you have access to the admin panel so you can make the required changes.
If you do have a WordPress website, you can get started by creating a Fusebox account and logging into your podcast host (services like Libsyn or PodBean. Since Fusebox lets people subscribe to your podcast's RSS feed, you'll also need that URL.
Once you have all that covered, you'll need to install the Fusebox plugin on your site. Once that plugin is activated you will be able to see a settings page for it in your dashboard. Entering your license key on that page will connect your Fusebox account to the WordPress installation.
Now that you have your Fusebox installation set up, let's talk about how you can go about making modifications to it.
Once the plugin has been activated, you'll see a new entry under the Settings tab on your WordPress dashboard. Clicking on the "Fusebox Player" option there will take you to the settings page for the plugin.
You will see a few different options at the top of the Fusebox Player page. The options include General, Player Defaults, Sticky Player, Featured Button, Timestamps, and Advanced.
The Player Defaults page is the one you'll want to start with to configure the basic functions of Fusebox. You can do things like adding the URL to the RSS feed of your podcast and add your social media handles to be displayed on the player.
There's an optional entry for "Show Name" in the Player Defaults section. You can add the name of your podcast here if you want it displayed in the full player. By default the full player displays only the episode title.
Next, let's talk about how you can modify the aesthetic aspects of Fusebox's podcast player. You can do that under the Player Design Settings tab. There are several design-related settings that you can make here, including picking between a light or dark theme, choosing the color for the player's progress bar, and set the image that the player will display.
So by this point you have the Fusebox Player running and have it looking like you want it to. Now it's time to start including podcast episodes on your webpages. You can get that done using shortcodes.
First, visit the page or post on which you want to display the player through the WordPress editor. When you click on the "+" icon, you'll see two new options there: Fusebox Track Player and Fusebox Full Player. You can click on either of those options to insert the shortcode into the page.
At this point you will see the podcast player show up when you preview the page. You can also make customizations to the player here using the "Edit Shortcodes" option. Just as in the Player Defaults tab, you'll see options to edit the player style, highlight color, social sharing links, and so on.
Fusebox vs Smart Podcast Player
We saw earlier that Fusebox used to be Smart Podcast Player. You're probably curious what's really changed in going from one to the other.
The transition from Smart Podcast Player to Fusebox is primarily a branding move. As their announcement about the change says, the core team is the same and the new name is meant to reflect their goal of creating a toolbox for podcasters to engage their audiences.
The actual player itself almost didn't change at all in going from Smart Podcast Player to Fusebox. Most of the key features have carried over. Smart Podcast Player also had features for email capture, social sharing, custom colors, episode sorting, and download buttons. These are the same features we see with Fusebox.
The one big change that has happened is the creation of the Fusebox transcripts plugin, which was not around in the Smart Podcast Player days. Of course, the transcripts plugin is separate from the player and available for free. But it is part of the overall Fusebox offering. 
Now that we know what's new about Fusebox compared to its earlier avatar, let's talk about pricing.
Click Here To Get Fusebox Podcast Player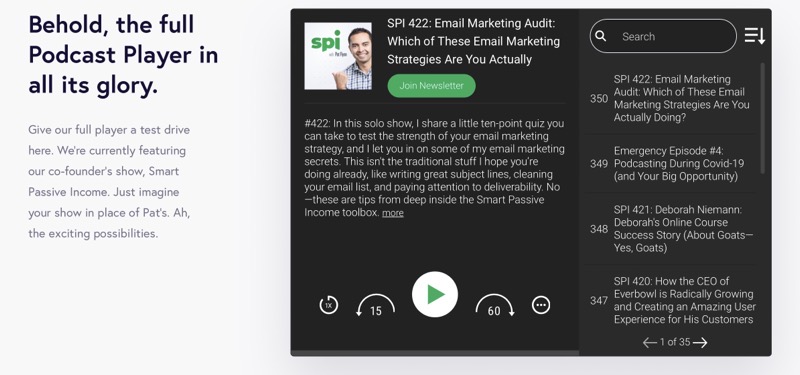 Fusebox Smart Podcast Player Pricing
There is a free version of Fusebox that you can try if you want to get a sense of what it's like. The free version comes with only the sticky player. You also get the full transcripts plugin for free.
If you want the full version of Fusebox, you'll have to pay for Fusebox Pro. In addition to what's already in the free version, customers get the full player and track player.
Fusebox Pro costs either $12 per month or $8 per month paid annually. So you can save $48 by paying for the yearly membership. The plugin won't stop functioning if you don't continue to pay for it, but you will stop receiving support and future updates.
Speaking of support, Fusebox offers it only via email. There is no live chat or phone support available to customers. However, they do have an FAQ center and documentation that you can use to figure your own way through the product.
Fusebox Smart Podcast Player Review – Final Thoughts
Fusebox, and before it Smart Podcast Player, was something of a game-changer in the niche. It doesn't look at podcasts as just audio content, but as a marketing and branding tool that can help grow your business.
This focus on branding and marketing is evident in the way the product works. Firstly, it blends right in with your website. That way your visitors see your podcast as being part of your brand identity. The social sharing buttons built into the player are a great way to increase the reach of your podcast.
The Fusebox Transcripts Plugin is also a tool that focuses on overall business growth. It isn't just a neat way to put out transcripts, but also one to improve the SEO of your website.
To add to all that, Fusebox is priced very reasonably. You can try it out for free or pay $12 per month for the full version and email support.
The one grouse you may have with the Fusebox podcast player is that it's available only on WordPress. So if you don't have a WordPress website, you can't use the player in its current form. But the good news is that the team is working on making the software available more widely.
Click Here To Get Fusebox Podcast Player
Other Plugin Reviews: