Email Lists. They may not seem like much, but they can be foundational to a successful marketing campaign. Email may be an old medium in a fast-moving world, but it's still a powerful one to reach out to most audiences. So building a sizeable email list can help you get the word out about your product and generate sales rapidly.
TLDR; OptinMonster is better than Thrive Leads. It's got an better UI and can be used on all webpages and not limited to WordPress unlike Thrive Leads. Thrive Leads is cheaper if you're on a tight budget!
JeremyNoronha.com readers can get a 50% Discount on OptinMonster. Simply click the link below.
Click Here To Try OptinMonster Now

Thrive Leads vs OptinMonster
OptinMonster and Thrive Leads are both tools that help you grow your email list. They both go beyond that and help with implementing various marketing tactics. Today we take a look at both these tools in depth so you can make a call about which one you should go with. Let's start by taking a look at what these tools do individually.
About OptinMonster
OptinMonster has been around since 2013. They started off with the stated goal of creating enterprise software that would help businesses gain more customers and generate revenues as a result. It has now reached a stage where more than a billion people view a website that uses its software on a monthly basis.
OptinMonster's core offering is its lead capture forms. The software offers a range of pre-built templates that you can choose from to create pages with lead capture forms. These templates themselves have been tested extensively to ensure that they can deliver high conversion rates. So even without any coding knowledge, you can create a page that rakes in leads.
OptinMonster has some impressive numbers to back up the claims that it makes about what the software can do. Millions of websites use this piece of technology and marketers have generated 217 million conversions using it so far. Let's take a look at OptinMonster's list of features to better understand how it's able to generate those monster numbers.
Click Here To Try OptinMonster Now
Optinmonster Features
1. OptinMonster Drag 'n' Drop Builder
As mentioned earlier, OptinMonster's main offering is its drag-and-drop builder technology. Anyone can use this builder to create opt-in forms that are both aesthetically appealing and have high conversion rates. You don't even need to be a design expert to create compelling forms. You can just use the templates and simply replace the existing content.
Once you've chosen a template, you can modify almost every aspect of the page. That includes the colors, fonts, images, and copy. You can also throw in additional elements that you want to see on the page, such as countdown timers, videos, buttons, and section dividers.
OptinMonster's drag-and-drop builder lets you start off with different campaign types. The kind of forms available will depend on the kind of campaign you choose. Here are your different options:
Lightbox Popups: The classic popup is still a great way to collect leads on your website. People who use OptinMonster have seen their conversions go up almost 6x just by using its lightbox popups.
The lightbox is a great way to get your visitors to focus on what you're offering them. It blocks out the rest of the content on the page and highlights just the contents of the form. Visitors are therefore forced to make a decision about whether or not they want to opt-in to a particular list.
Since popups can be disruptive to navigating a website, it's essential that you time them judiciously. OptinMonster helps with that by offering triggers based on which you can have the lightbox pop up. You can have the popup displayed based on the amount of time someone has spent on a page, how far down they've scrolled, and when someone is about to leave your website.
The software lets you go even further with its targeting features. You can target visitors with different kinds of popups based on things like their geographical location and the kind of device on which they're accessing your website. This granular level of detail is powerful and can help generate high conversion rates.
Fullscreen Welcome Mat: They say the first impression is the best impression. If you want to make a great first impression on your visitors, you can use OptinMosnter's fullscreen welcome mat form type. This creates a big splash screen when someone first visits a page. You can use it to do things like present an offer, direct people to your social media profile, and highlight a new product or serve that you're offering.
Usually, when websites have a fullscreen welcome gate, it redirects users to a new page. This is bad form both from a user experience and SEO perspective. OptinMonster keeps users on the same page and the welcome screen is just an overlay over a page on your website. So visitors can go back to scrolling through the site after they've dealt with the welcome screen.
Slide-in Scroll Box: Using too many popups can lead to alienating your visitors. If you've already used a popup, you will want to switch to something a little more subtle to keep generating leads. That's where you can use OptinMonster's slide-in scroll box. This is a box that slides into the bottom corner of a page on your website.
Just like the other form types, you can trigger the slide-in scroll box at different times. The main advantage of this is that it doesn't suddenly take visitors out of whatever they were doing on the website. It simply slots in on the right-hand corner and with effective copy, can generate leads in the same way that a pop-up does.
Floating Bar: The floating bar is one of the ways you can persist with a message to your visitors while still allowing them to scroll through your website smoothly. The bar itself remains stickied at either the top or bottom of your website. So someone scrolling your website is very likely to see what the bar says while continuing to navigate your website.
You can choose from several templates to alter the functionality of OptinMonster's floating bar. For example, e-commerce stores may use it to highlight an upcoming sale. But if you're trying to get leads for a webinar, you may just have a subscription box built into the floating bar.
Click Here To Try OptinMonster Now
2. Targeted Campaigns
We've already seen some of the different ways in which you can target specific groups of users with OptinMonster in the previous section. Here are some of the other targeting parameters that you can use.
Referrer Detection: When you run a marketing campaign you have visitors coming in from all kinds of sources. They could end up on your landing page from a search engine, Facebook, and email newsletter, etc. If you really want to boost your conversions, you can have each of these groups of people see different content based on where they're coming from.
OptinMonster has the ability to track where your visitors are coming from. That way you can create campaigns based on which source referred a visitor to you. Doing so is guaranteed to increase your subscriber numbers and consequently, your sales.
Let's say you're a publisher who is using content marketing as one of the strategies to grow your email list. OptinMonster's referrer detection technology can help you gauge which aspects of your strategy are working best. You'll know whether your visitors are coming in from your guest posts, social media posts, or external campaigns, for example.
OnSite Retargeting: Having someone come back to your website is a good sign that they're interested in what you're offering them. But showing them the same offer they saw on their first visit isn't the best way to convert them. OptinMonster's OnSite Retargeting helps you target people who have already been on your website with new and diverse forms of messaging.
The software itself tracks what kinds of content your website visitors have seen in previous visits. It then lets you display new offers and calls-to-action based on previous visits.
Let's say you run an e-commerce store. You can use this feature to show someone related products based on what they already purchased. This kind of granular targeting can be a great way to boose sales.
3. Cookie Retargeting
Cookie retargeting takes the power of onsite retargeting one step further. With this feature, you can target users based on what you already know about them. So you can craft offers based on things like visitors' age, location, gender, etc.
This feature is perfect for when you want to optimize your sales funnels. You don't waste any of your effort pushing offers to users to whom they're not relevant. Instead, you can cross-sell and upsell to people based on the information you have about them.
4. Adblock Detection
Adblocking software is becoming more and more common. According to OptinMonster's website, there are as many as 616 million devices on which people use adblockers to keep ads at bay. That number is growing every year and has now reached a point where more than 10% of people on the web use adblockers.
OptinMonster itself is not affected by adblocking software. So any messaging that you create using it will be seen by all your visitors. At the same time, the software can detect when someone is using adblockers. You can create a campaign to request visitors to whitelist your website when OptinMonster detected an adblocker.
5. Testing and Reports
OptinMonster comes with native tools that users can take advantage of to gain important insights into their campaigns. Below are some of the features that can provide you with actionable marketing insights.
A/B Testing: When it comes to creating great list-building forms and pages, guesswork won't do. That's where OptinMonster's A/B testing capabilities come into play. The software lets you easily create different versions of a page and get analytics on how both are performing.
There are a few different aspects of a page that you can test with A/B campaigns. That includes things like the headline, copy, layouts, triggers, etc. All you need to do is create the two different versions. OptinMonster will do the job of randomly displaying these to different users and determining which version works better.
Conversion Analytics: This is a feature that helps you get all the data you need on your marketing campaigns so you can make good decisions based on it. OptinMonster integrates with Google Analytics to create reports with key information on how your website's marketing campaigns are performing.
The conversion analytics themselves come with their own key features. The software tracks not just what happens on each page of your website, but where visitors came from. That means you get insights into which external campaigns are generating visits. It also generates user-agent insights, which means that you find out how your campaigns do on different browsers and devices.
Click Here To Try OptinMonster Now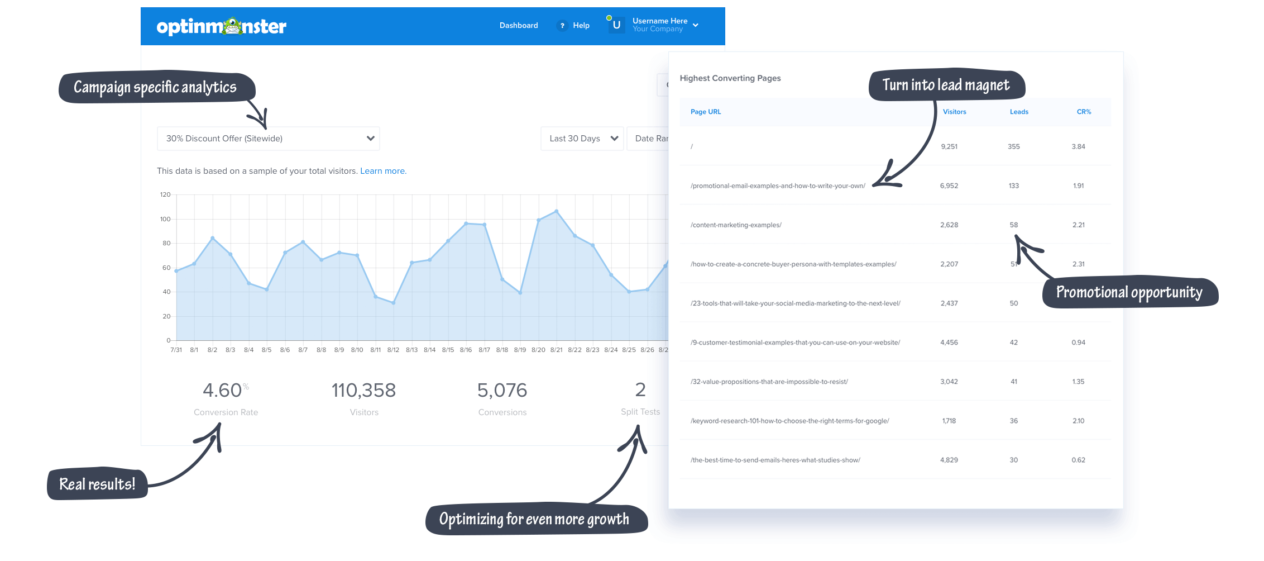 About Thrive Leads
Thrive Leads is a lead generation software that comes from the Thrive Themes stable. That should already tell you a couple of things. The first is that Thrive Leads is software for WordPress, since that what this development shop focuses on. Secondly, it's a quality product. Thrive Themes has a track record for building some great tools for WordPress websites.

Thrive Themes itself is fundamentally a tool for lead generation and list building. It goes above and beyond that basic description and we'll see how in the next section. It is delivered in the form of a plugin, so if you're a WordPress website owner, it's easy to install and get running.
Thrive Leads has taken some of the best growth hacking and conversion optimization techniques and packed them into a WordPress plugin. This makes these otherwise esoteric tactics available to small- and medium-sized businesses everywhere. Let's take a look at the list of features to find out more about Thrive Leads.
Thrive Leads Features
Much like OptinMonster, Thrive Leads has a set of templates that serve as a starting point for your forms. Each of these templates is professionally designed and optimized for conversion. The elements are easy to modify and move around the page once you've chosen a template to start with.
A large portion of website traffic portion has now moved to mobile. So it isn't enough to have pages built for desktops. Thrive Leads allows you to create mobile-optimized content easily. Users have complete control over what mobile visitors see and how the mobile experience is overall.
Here are some of the other features at your disposal as a Thrive Leads user.
1. Opt-in Form Types
There are a few different kinds of opt-in forms available on Thrive Leads. Each of these caters to different use cases for list building efforts. There are the standard forms that are served up in the form of pop-ups, sticky bars, slide-in widgets, and so on. These different kinds of forms are easy to create and trigger based on different user actions.

2. Mobile Options
Thrive Leads gives you a wide range of design and functional options to choose from for your mobile forms. You can determine whether you want certain kinds of forms to show up on your mobile site. For example, a sticky bar may not be the best kind of form for an already crowded mobile UI. You can have this kind of form on your desktop site and remove it from your mobile site.
You can edit every aspect of your forms specifically for the mobile version. That means being able to change the font size, button position, and show or hide certain elements for mobile. This helps ensure a great experience for your mobile users.
3. Reports
Thrive Leads come with a few limited reporting and analytics features. You can find out things like which of your forms are generating the most leads and which pages and posts lead to the most sign-ups.
Now that we know what features are available with each of these products, let's see how they compare.
Thrive Leads vs OptinMonster Compared
We've seen that both of these products go beyond being just form building tools. They give you the features that you need to use your forms to generate leads and grow your business.
It's clear from what we've seen that OptinMonster has the much more potent feature-set of these two products. Its long list of features covers everything from form creation to advanced audience retargeting to campaign analytics.
Thrive Leads also has additional features such as A/B testing and reports. However, they don't quite compare with OptinMonster in terms of versatility and sheer power.
Click Here To Try OptinMonster Now
Thrive Leads vs Optinmonster – Implementation
OptinMonster can be implemented easily on just about any kind of website on the Internet. All you need is the ability to paste a few lines of Javascript on your website. Once that's done, you have access to the full power of OptinMonster on your website.
Thrive Leads, as we saw earlier, is designed for WordPress. That means that you need to have a website that runs a self-hosted version of WordPress in order to use Thrive Leads. If you do, then you can easily download the plugin and activate it to start using the software.
OptinMonster has the edge over Thrive Leads in this department, too. And it's easy to understand why. OptinMonster can be used on any kind of website, no matter what the underlying code base or content management system. On the other hand, only WordPress users can use Thrive Leads.
Thrive Leads vs Optinmonster – Pricing
Thrive Leads gives you two ways to use its product. The first is by purchasing licenses just for Thrive Leads. These cost $67 for one license, $97 for five licenses, and $147 for 15 licenses. All features are available no matter what kind of license you purchase.
The other way to access Thrive Leads is by becoming a Thrive Themes member. That costs $19 per month when you pay annually and gives you access to all of Thrive Themes' themes and plugins.
OptinMonster starts at just $9 per month for its Basic plan. This gives you access to features like unlimited campaigns, page-level targeting, subscriber recognition, and basic reporting. It covers websites with up to 3,500 page views.
The list of features and number of page views that are supported go up with each plan. The Growth plan, which is the highest tier, lets you use OptinMonster on five different sites for as many as 250,000 page views. Follow-up campaigns, Adblock detection, behavior automation, and coupon wheel campaigns are some of the features exclusive to this package.
Click Here To Try OptinMonster Now

Thrive Leads vs Optinmonster – Final Thoughts
OptinMonster and Thrive Leads are both great software for those looking to pay special attention to their list building efforts. Either of these tools is an asset to a marketer's arsenal.
If you have pit these two products against each other in your research, it becomes clear that OptinMonster is overall the better product. It has an array of features that go well beyond just creating lists. You can use it to retarget visitors and trigger messaging based on granular behaviors.
Thrive Leads may be an easier choice for those who use WordPress. The plugin is nifty and may be especially appealing to those who are already in the Thrive Themes ecosystem.
But then again, OptinMonster also works with WordPress websites. Overall, it is the better tool for anyone looking to supercharge their list building efforts.
Click Here To Try OptinMonster Now
Read Next: