Have you been searching the internet for hours, trying to lay your hands on the perfect Learning Management System for creating your online course?
Especially if you are a first-time course creator, looking from a pool of options would leave you puzzled.
Two of the leading platforms that course creators adore are: Teachable and Kajabi.
Both of the platforms come with their own sets of unique offerings and pricing structures.
Kajabi and Teachable both do a great job at course creation, brand building, and marketing.
Despite that, there are many points that differentiate them also.
So how do you decide which one you should go with?
Fret not, we are going to discuss Teachable vs Kajabi in this article. We will go over various points, identify which one is perfect for your business type and give you a winner at the end.
Click Here To Try Teachable For Free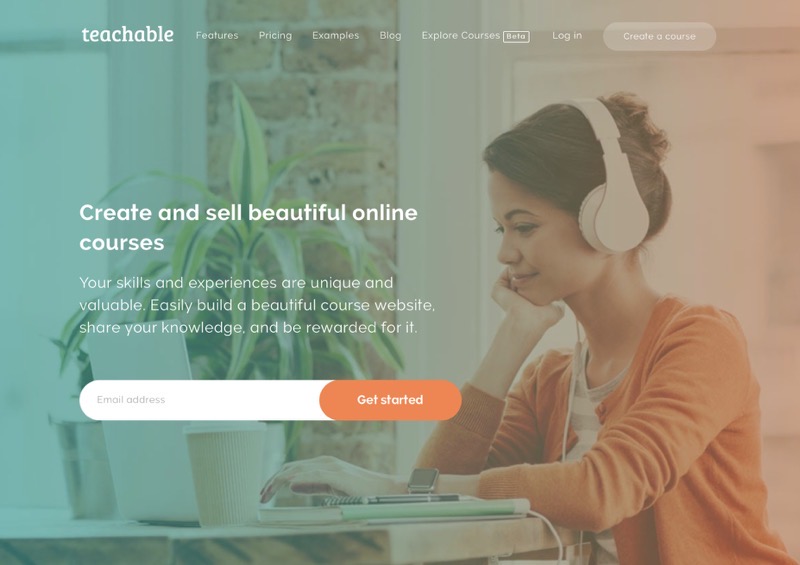 Kajabi vs Teachable
While Teachable is famously known as the standalone online course platform, Kajabi is a compact platform.
Teachable is for you if you're creating the course for the first time or have very little time on your hands.
Or, you don't want to dive into the hassle of dealing with numerous tools, yet, want the course to run smoothly, producing great results.
Kajabi, on the other hand, provides you with a bunch of marketing tools, integrations and features like website and blog building.
Furthermore, using Teachable vs Kajabi is more friendly, robust and intuitive.
It does not take much time for you to set up the course on Teachable and get going.
Click Here To Try Teachable For Free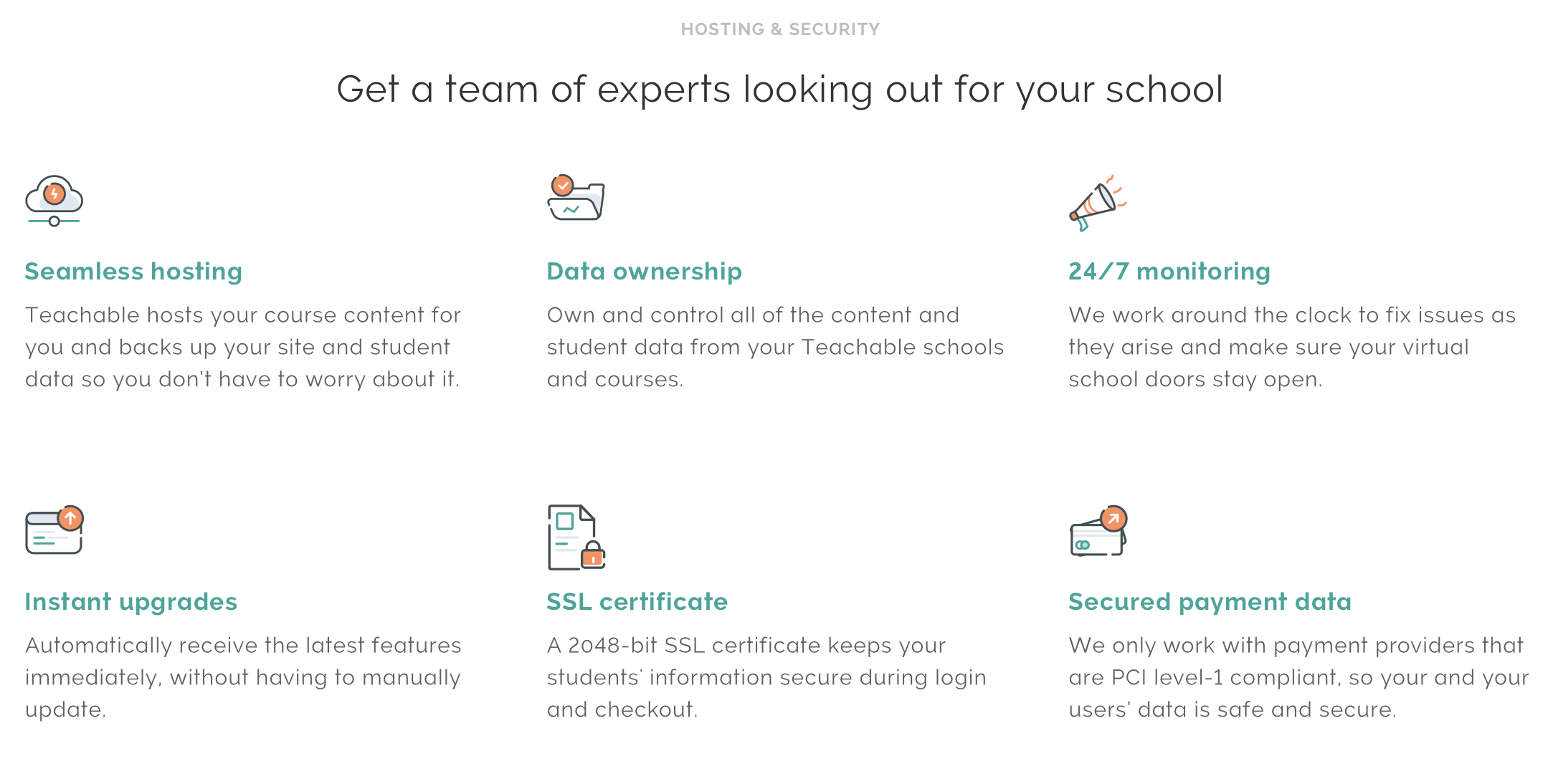 But, this information is not enough for you to make an informed choice, right?
So let's dive deeper into the discussion and look at factors that tell apart Teachable and Kajabi.
1. Course Creation and Setup
Kajabi offers you to build your website and blogs and portray your course in exactly the way you want to.
On Kajabi, you use the course builder to upload and structure your content, and create your product, i.e. your course.
You create a product in Kajabi – where Category means module.
Then, you can have multiple subcategories in these categories.
To further classify, you can have posts under each of these categories and sub-categories.
To keep things simple, this structure enables flexibility to give shape to your course and design it the way you wish. However, this one thing also gets complicated for someone who is new to creating online courses.
This could be a great addition but, in reality, this will take up more of your time and thought if you are starting out and do not have much experience to carry out the entire marketing provided by this platform.
Whereas Teachable allows you to set up your courses more effectively and speedily than Kajabi. Its course creation is quick, intuitive and convenient.

In Teachable, you'll start by filling in some basic information like school name, add content to your curriculum and more.
Sections can be created in Teachable and within each section, you will have lectures.
This platform shares the same feature as Kajabi – drag and drop feature through which you can comfortably add or edit lessons and modules to design and structure your course the way you want it.
What you will have at the end is a professional-looking product that is ready to launch.
Overall, Teachable takes way less time to create your course than Kajabi.
2. Types of Content
Both Kajabi and Teachable let you add various types of content like quiz, video, audio, text, PDF and more.
Variety in content makes your course more interactive and engaging for the students, letting them do more than just watch videos simply.
In Kajabi you can only add one type of content per lesson, i.e., you can either add a video or an audio file or any other type of content.
Unlike Kajabi, Teachable lets you add several content types into individual lessons.
This makes your course more engaging and gives you further flexibility in the course creation process.
Example: you can add a video and a quiz in the same lesson; or 2 videos in a single lesson. However, Kajabi does not allow this option.
You can import your course contents from Dropbox, OneDrive or Google Drive.
Now let's see what other factors are important to create an impeccable online course.
3. Student Experience
You can put all the time in this world to create a world-class course, but, if your audience/students are not able to have a seamless experience, it kind of goes down the drain.
Therefore, let us now see which platform favors the student experience and what you can expect from both in the next couple of points.
The best part of both platforms is that they are mobile responsive.
This means your audience is able to view it either on desktop or on their mobile phones, without the user-interface being disturbed.
Both Teachable and Kajabi offer mobile applications that make viewing courses across devices convenient.
4. Themes & languages
Kajabi offers over 10 customizable themes using which you can give your course the look and feel that you sense just right.
Kajabi is a single platform where the students can get access to your website and blogs.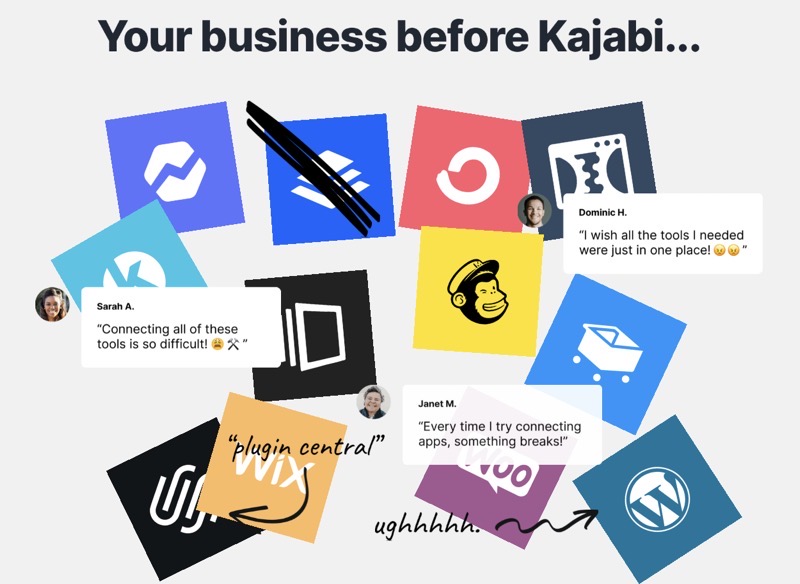 Additionally, depending on the plan you select, you can put up more engaging tools like assignments.
On Teachable, you get one classic theme that remains the same for all your courses.
Moreover, you can customize your theme by playing around with the logo, homepage background image, favicon and personalize font from 10 options.
In a way, it saves you from the hassle of choosing from multiple themes yet gives your students an impeccable experience.
Once someone is getting accustomed to the same theme over different courses, they get familiar with your brand.
One thing that's unique to Teachable is that it allows you to create courses in multiple languages.
This is a big advantage when you are looking to cater to a global audience.
It makes your course's reach wider, rather than restricting it to one language that only a particular set of people are familiar with.
5. Course Completion Certificate
Here's another big difference between the two platforms that we need to shed light on.
Everyone wants to showcase the skills that they have acquired and one great way to do so is by obtaining certificates.
You can provide your students with certificates once they complete your courses. This not only is a great way to boost their confidence but also rewards them.
On Teachable, you can select from a range of 3 templates that are ready to be deployed.
Additionally, if you feel like further modifying them or creating one of your own, you can use Liquid/HTML to do so.
However, this feature is lacking from Kajabi, you do not have the option to create certificates on that platform.
You can only use an external application to create certificates, automate the process to make it available on the platform.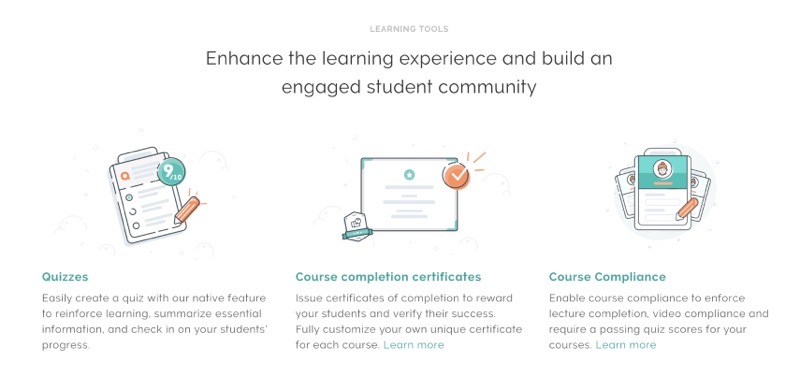 6. Metrics
While creating courses is one paramount task, monitoring its performance is another.
We have to keep an eye on the numbers that reveal how well your course is performing.
Although both platforms do a great job here, Teachable provides more extensive reporting tools than Kajabi.
On either of the platforms, you get metrics like play rate, video engagement, course completion rates and more.
There are 3 ways/levels you can look at the completion rates:
Course level
Lecture level; and
Student level
Teachable does extremely well here as you can track the progress on all three levels.
Moreover, you can also view the aggregated video statistics on Teachable, for the entire course. This is not an option in Kajabi.
On Kajabi, you can only track course progress on only student and lecture levels.
This is a very important point to note since monitoring your course's performance is crucial for any course creator.
This way, you get to understand what's working better and how and where you stand a chance to improve.
7. Analytics Dashboard
On Teachable, you get a pretty decent view of the progress – on a single dashboard. This gives you the entire information at a single glance.
Furthermore, you get reports for everything. From video engagement to lecture completion and quiz scores.
To take it a level up, you can go to the individual user profile page and see their progress.
On the other hand, in Kajabi you have to go to the individual video, i.e., navigate to different pages to check their statistics.
Well, it is quite evident that Teachable does a great job of letting you get course insights so you know what is performing best.
To take it a notch up, in Teachable you get reports for everything, from video engagement to lecture completion and quiz scores.
8. Upsell
Upselling is a great method to promote other high-priced courses to your students when they buy a basic one from you.
On Teachable, you can upsell on the Thank You page of your course.
When students purchase your course and are navigated to the Thank You page, that is when you can pitch and upsell your products.
You can select any product (course) you wish to upsell and set the pricing for it accordingly.
Upselling is pretty easy in Teachable since they use the previously used payment details of the user, making the payment and check out process faster.
You can plug in additional elements like bullet points – highlighting the benefits and features, testimonial, and the money-back guarantee badge.
Similarly, in Kajabi, to upsell, you have to create an offer under the product section, which you can then use to upsell.
Kajabi also allows you to add extra elements like logo, video, testimonial and more.
Click Here To Get Teachable

9. Email Marketing
Both Kajabi and Teachable come with a decent set of in-built marketing tools to let you promote your product and enhance the user experience as well.
Email marketing is a great way to send messages to your students in a well-structured manner, stay connected with them across various platforms and also track the performance of your email campaigns.
Teachable allows you basic email marketing features that let you connect with your audience. You can further segment these users based on a variety of filters available on the platform.
Moreover, you can integrate MailChimp and ConvertKit to build and manage your email list (more on this further in the article).
In Kajabi, you can create email sequences and broadcast. You can further customize the "Actions" in the emails sent.
This means automating a certain action when an email is:
Opened
Clicked; and/or
Sent
Additional features that Kajabi allows is the creation of forms and embed them on your website.
If you want to get started with the basics, Teachable is the ideal option for you since it does not complicate the process, instead, it has some basics in place that will get you going.
10. Automation
If you are someone who is just starting out and does not have much knowledge about marketing automation, or, do not want to get into the hassle of too many tools and integrations, Teachable is a go-to option for you.
Teachable has Zapier and more robust Webhooks in place.
On the other hand, Kajabi offers certain actions that can be taken when some particular activities are done, as we discussed above. This includes emails, forms, and other offers.
This could be an email to congratulate them on joining. Or, a follow-up email when they get inactive on any particular stage.
11. Affiliate Marketing
Both Kajabi and Teachable allows robust affiliate marketing options and/or features.
On these platforms, you can sign up for your course promoters and can gauge who is driving traffic for you.
Then, you can pay them the commission for the sales they are driving for you.
On Teachable: head over to the users section and click on affiliates.
You can view the affiliate dashboard which is pretty classic and lets you view the entire process in one glance.
With this, you also get additional features like setting commission rates,  management of affiliates, cookie duration, sending notifications and more.
Whereas in Kajabi, you have to click on the People sections and go to the affiliates to access the dashboard.
Under this section, you can provide your affiliates with the signup and/or registration links.
12. Integration
Both of the platforms do a pretty good job on the integration front.
Teachable allows integration through Zapier to almost any marketing tool including Mixpanel, MailChimp, AWeber, and Infusionsoft.
They also have robust Webhook support provided, as we discussed above.
This feature has a good amount of "scenarios" to trigger a webhook. This is where Kajabi lacks – you do not get enough options to set a trigger for a webhook.
Apart from that, Kajabi also supports integration with third-party applications and owns a feature that's inbound webhooks.
The best part about these two platforms is they both allow integration with Facebook Pixel, Segment, and Google Analytics which are amazing analytics and tracking tools and are very easy to integrate.
13. SSL Certificate
If you're wondering what SSL is: the acronym stands for Secure Socket Layer and is primarily a layer of security that makes the users feel comfortable in making a purchase on a site since it protects their confidential information.
It makes your brand more credible and ensures the users that they are investing their hard-earned money in the right place.
On Teachable, A 2048-bit SSL certificate retains your student's confidential information safe and secure on two important stages: login and the checkout process.
Similarly, on Kajabi, SSL protects the payment details and lets your users checkout without much hassle.
Bottom line: both platforms do a great job of protecting the privacy of their users and keeping their data confidential.
14. Hosting
Again, both platforms stand up to our expectations and make us happy by providing free hosting as a part of their plans.
Because regardless of what your product is about, you do need a great website to showcase that and build authority and credibility for your brand.
This further signifies that you do not need the complex technical knowledge as their teams are pro at it.
They handle your security, backup, updates, and maintenance with ease.
15. Payment Processor
The methods of payment a platform provides play an integral role in determining its success.
Especially if you are looking to attract a global audience, you are going to be needing more than one option for payment.
Teachable offers a great range of payment options like Stripe, Mastercard, PayPal, Visa, and American Express and accepts over 130 international currencies.
On the other hand, Kajabi only offers two options, i.e., Stripe and PayPal.
Honestly, this is quite a bummer since payment acceptance methods affect your course's success rate.
If your potential student cannot pay you via the available payment options, there is really no other way out.
So having multiple payment options and flexibility in the currency is a must for any platform.
16. EU VAT
Teachable has an in-built support system where they make handling EU VAT digital taxes a relief.
It makes your work easier by identifying the user's location and adding the percentage of VAT on top of the product price.
It also sends the users an invoice regarding the same.
Furthermore, you're allowed to showcase the VAT inclusive prices on the course's sales page which will help you become an EU VAT compliant.
Moreover, Teachable pays your collected EU VAT to the respective tax authorities if you use their gateway.
Kajabi, at this moment, does not have any such option to handle EU VAT; you will have to use third-party applications for that.
Teachable vs Kajabi Pricing
Now that we have touched upon all the points that differentiate the two platforms, you would be on the edge, curious to know what these two platforms cost.
Understandably so, if you're investing your time, efforts and money into any platform, it needs to suit your needs and be within your budget.
Both Teachable and Kajabi come with a 3 tier pricing module where you have 3 different prices with their respective features to choose from.
Kajabi: This platform comes with a steep pricing structure that looks really difficult for a first-time content creator or for someone who simply does not have that budget yet.

Although Kajabi comes with a decent set of marketing tools and various options you can customize, it looks expensive to many course creators.
Another thing to note here is: you'll still have to pay separately for a lot of features.
Kajabi comes with a lot of extras, but what is the use if you end up feeling like you've consumed an overdose and not actually utilize those extras?
Moreover, you can take the Kajabi trial but you have no option to opt for the free plan.
Another factor that makes us wary is Kajabi's basic plan because it really has some very limited offerings.
Here's how the pricing plan for Kajabi looks like:
When billed monthly:
Basic – $149/month
Growth – $199/month
Pro – $399/month
Teachable: Teachable is an extremely user-friendly and intuitive platform and you can literally set up your course faster than Kajabi.
Furthermore, it places great emphasis on enhancing the student's experience, comes with multiple language options and allows flexibility on the payment process and tax options.
The best part about Teachable is it lets you opt for a free plan, that too without handing out your credit card details.
So if you're new to course creation, want to test the waters or are tight on the budget, this is the perfect option for you.
Teachable steals the show here because it offers you a plan that's designed according to your growth. You can change, modify and/or move up the pricing ladder as you grow.
This is ideal for any beginner, but will work just fine for any other course creator as well. You can start with a free plan and move up the pricing tier as you grow.
Here's how the pricing plan for Teachable looks like:
When billed monthly:
Basic – $39/month
Professional – $199/month
Business – $299/month
Click Here To Try Teachable For Free
Moreover, while the free plan has a limited number of students, any of the other plans allow you to have unlimited courses and number of students. Kajabi has some limitations when it comes to hosting and student enrollment.
Kajabi vs Teachable Reddit
What Reddit has to say about Teachable:
u/drewches: I have a client who hosts all of their courses on Teachable. I think that Teachable is a great platform since it handles a lot of the back end of things for you so you can focus on creating content.
u/connectsnk – "A good membership option is to opt for a fully managed online platform like Teachable".
u/bigoldfeet – "Teachable is a platform for creating an online platform, but you can add in features to give your teachable site a community aspect, effectively making it a membership website.".
What Redditors say about Kajabi:
u/nineagencyxyz- "If you're doing online training sessions, I would recommend using Kajabi. The platform is better set up for content/digital services than Shopify".

u/Jealous-Wait2122- "Hey! I have a link to Kajabi, the online business platform which is amazing for creators. You can try it for 30 days instead of the usual 14."
Kajabi vs Teachable: Winner
So are you ready as I announce our Teachable vs Kajabi winner?
It's as clear as water: Teachable is a better option than Kajabi. In fact I recommend Teachable as my favorite Kajabi alternative for courses.
It allows you great flexibility on the course creation, setup, and student enrollment.
Click Here To Try Teachable For Free
You can start for free on Teachable and move your way up as you grow.
Kajabi could be ideal for you if you have a lot of budget, time and experience on your hands.
And, you have no problem with switching to a pro plan since the basic one really has some restrictions in place.
Overall, Teachable is an ideal platform for beginners or someone having less time, budget and experience, yet, wants an impeccable platform to grow their online course.