If you're looking for a backpack or a bag for traveling be it for everyday use or for long travel tips then you've come to the right place!
In this article, I will be reviewing the Nomatic 40l travel bag, the Nomatic travel pack, and the Nomatic backpack. I have personally used the Nomatic 40l travel bag since March 18′ which is why I'm writing this review in the first place.
As always I will be dividing this article into distinct sections to save time so feel free to skip through the sections you are most interested in.
About Me And My Lifestyle (for context)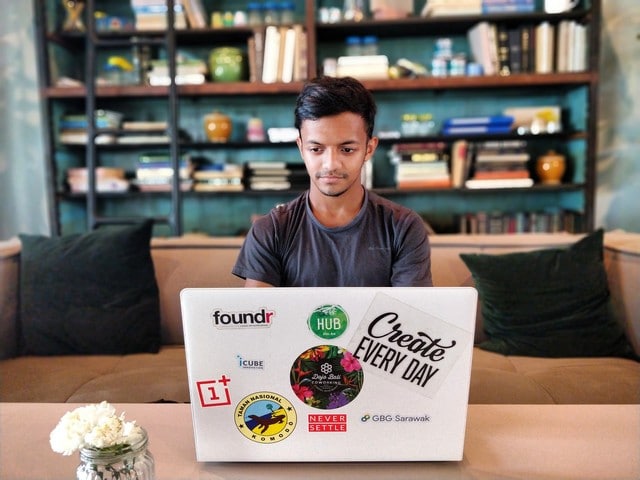 I've been living out a single backpack traveling the world since April 2016 as a "Digital Nomad". I run this blog which has a fairly big readership.
I have a very active lifestyle and do crazy shit from climbing the world's third highest mountain pass with everything I own to meeting the Dalai Lama. I don't spend much time in a single spot and usually move from spot to spot on a weekly basis and I sometimes bike across countries with my backpack so having the right gear is a huge deal for me.
At the start of 2018, I upgraded my full-time backpack to the Nomatic Travel Bag and in this pretty long article, I'm going to share my opinion about it.
Transparency: I WASN'T given the Nomatic Travel Bag for Free. I paid for it (along with the Vaccum pack) with my own money, however, the links to Nomatic.com on this site are affiliate links so if you click through and buy the bag, I earn a small percent at no extra cost to you! 

To put the bag to a test I have been living out of the Nomatic Travel bag full time and ever since I got it I have taken over a dozen flights, went hiking for hours through rice fields and also rode nearly a 1000 kms across the island of Flores (in rains) on a motorbike

Countries I Traveled with the Nomatic Travel Bag: Malaysia, Indonesia, Hong Kong, India, Bosnia, Serbia, Albania, Turkey, Georgia, Armenia, Azerbaijan, Tunisia (so far)
Nomatic 40L Travel Bag
The Nomatic 40L Travel bag was designed for longer 3-7 day trips. The travel bag is a combination of some of the best features from the backpack, duffel bag, and general luggage.
The travel bag is the one I personally own myself and have been using for almost a year.
The idea behind creating this is to create the ultimate travel bag to help you spend less time fussing around with your luggage and more time on the good stuff; your journey.
Nomatic Travel Bag Review
The Nomatic 40L Travel Bag has over 20 important features that make it the most functional travel bag ever made! On top of being packed with extreme functionality, the bag has a sleek minimalist design, is made of strong weather-proof materials and is built to last.
Nomatic Travel Bag Size
Weight: 4 lb. 8 oz.
Capacity: 40L
Outer Dimensions: 9″ H x 21″ W x 14″ D
Large Opening Dimensions: 19″ x 12″
Most distinctive features
Drawbacks but not dealbreakers

Minimalistic design
Extremely functional
Tuckable straps
Retractable key leash
Magnetic bottle holders
Anti-theft features

Slightly bulky
Multiple features can be overwhelming at first
Internal organization is tricky
Now this backpack has a ton of features, a little too many to be honest haha. I'm going to dive into the ones that I like/don't like/ got my attention.
1. Nomatic Travel Backpack + Duffle Strap System
You can use the Nomatic Travel Bag as a duffle bag as well as a Backpack! How amazing is that? and also it uses the same strap system so that when you are using it as a duffle bag the backpack straps are snug and vice versa. The only con is that the straps are on the back so you are holding the bag horizontally which for someone tiny like me might be a little weird as the bag can't be held touching the body.

Personally, I don't use the Nomatic 40l Travel bag as a duffle often, it's more of an additional feature for me. I tend to use it when I'm in more urban areas and giving talks at coworking spaces or conferences.
2. Nomatic 40l travel bag Waterproof & Durability
The Waterproof and durability of the Nomatic 40l Travel Bag were one of the major reasons I actually decided to buy it. I just did a 1500km long biking ride around the island of Flores in Indonesia and since it was the end of the rainy season I ended up getting a few days with rain.
When I was biking the island of Flores it began to pour, in the past I would have to stop to put a bag cover over my backpack, however with the Nomatic 40l travel bag I was able to carry on biking through the beautiful island.
I was able to bike around without having to worry about my electronic devices getting wet thanks to the great waterproof material and zippers.
3. Nomatic 40l Travel Bag Dimensions & Size
The dimensions of the backpack 21″x14″x9″ which is big for a daypack but perfect for a travel backpack, it fits the carry on requirements for the majority of airlines thus perfect for someone like me who hates checking in luggage when flying (trust issues).
If you are tall it might be good to use as a daily bag but for someone tiny like me, due to the lack of compressibility it's not necessarily the best backpack to use to go cafe hopping every single day, but as a full-time backpack it's amazing.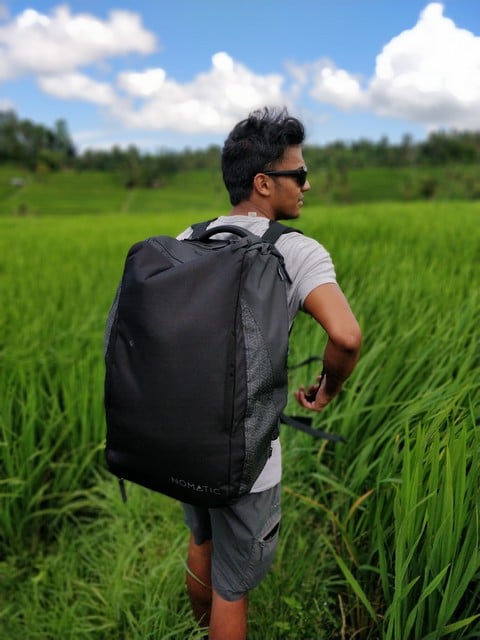 4. Nomatic 40l Travel Bag Volume
Due to the incredibly thin (yet strong) material on the Nomatic 40l Travel Bag, the volume on the inside of the bag is incredible, you can fit sooooo much stuff in it. The true volume is 45L but it's honestly more spacious than most 60L backpacks I've used.
5. Shoe Compartment
For most people, a compartment just for shoes may seem like a waste (Well you can use it for something else) but for someone who lives out of a backpack, the ability to have a spot especially for their shoes or flip flops is a life saver.
6. Nomatic Worldwide Shipping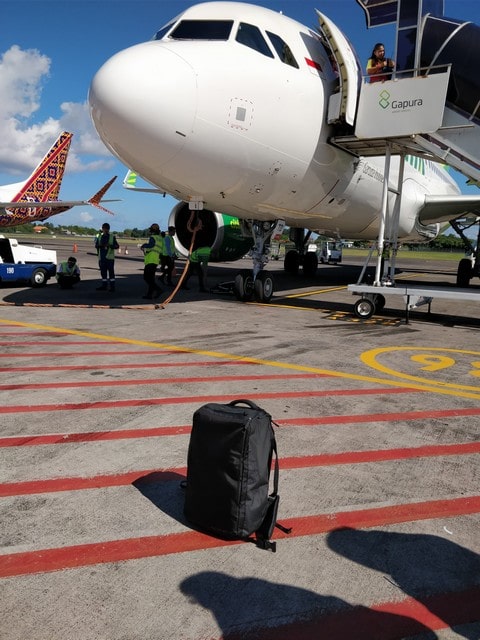 You can ship the Nomatic 40l Travel Bag anywhere in the world (except active war zones :/ ). I managed to ship mine to an address of a friend in Malaysia.
You are responsible for Customs, Duty, Taxes, or any other importing fees for international orders, however, Nomatic's team is incredibly responsive and helpful in the entire process. So it doesn't matter if you are in the USA or India, you can get the Nomatic 40l Travel Bag.
Free Shipping is a plus for anyone in the US (you only pay sales tax if you are in Utah).
7. Nomatic Rfid safe pocket + Free TSA Approved Lock
The bag comes built in with an RFID Safe pocket and comes included with a TSA Approved lock to lock it up. This might not be useful for the majority of travelers out there. But it's an additional feature that adds a special security touch to the Nomatic 40l Travel Bag.
8. Nomatic Travel Laundry Bag
The bag comes included with a laundry bag?! no seriously, it's a tiny laundry bag that you can hang on any hook or doorknob of an Airbnb you rent. It fits in at the bottom of your shoe compartment.
9. Waterproof Bottle Pocket
There's a water bottle pocket at the top of the bag that's separated from the rest of the bag on the inside with waterproof material. I personally would love to also have a bottle pocket at the side for the times when you are using the backpack normally and want your water bottle to be easily accessible.
10. Laptop + Tablet Compartment
The laptop AND Tablet compartments are located right next to your back so you can open up your bag to lie the laptop flat when going through security at airports. It fits Laptop up to 15″ but you might struggle if you travel with a bigger laptop. You can use the tablet compartment for a kindle like me if you don't use a tablet.

11. Padded Removeable Hip Straps
The Nomatic 40l Travel Bag comes with padded hip straps that are removable which is such a convenience as you can use them when you are going on long journeys and have them off when you are just going around town and you don't have to leave them dangling around.
The straps come with pockets that you can keep your passport and boarding pass in (How cool is that?)
12. Nomatic 100% Satisfaction Money Back
If you are not satisfied with the Nomatic Travel Bag or any other Nomatic products, you can just send it back thanks to their 100% 30-days money back no-questions-asked guarantee.
13. Misc Features
The Nomatic 40l Travel Bag is a backpack with so many features that I'm sure I'm missing into diving into them all so I'm just going to highlight a few more than I really found interesting.
Sock and Underwear pocket
Notebook pocket
Cord Mangement system
Roller Bag Sleeve
Fleece Lined Valuables Pocket
Large Opening for Easy Packing
However, it's not necessarily perfect. It depends on your needs, if you are a digital nomad like me, the Nomatic 40l Travel Bag might just be your new travel backpack! Here're a few downsides to the Nomatic bag.
14. Non Compressibility
Due to the structure and material of the backpack, it's not necessarily the best daypack to carry around town to go into a cafe. But then again how many people go to a cafe with their full-time travel backpack every day. Get the Nomatic Travel Pack which is designed for everyday use as well and you have got the perfect (but little expensive) combination.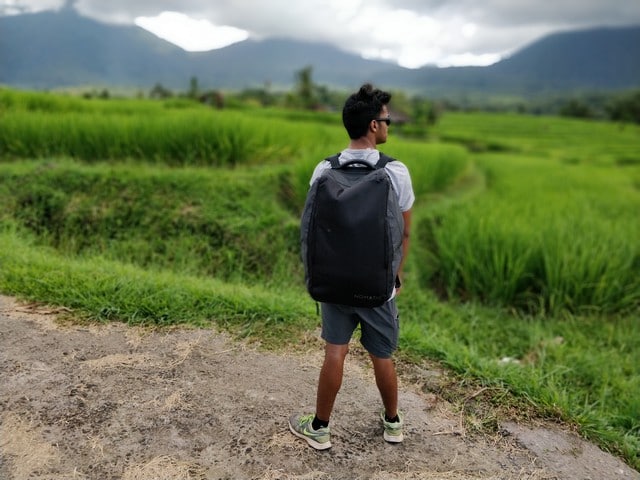 Nomatic Travel Bag Price
It's not really cheap, at $200+ for a fucking backpack?! that's a pricey purchase for a lot of people (no shit Sherlock!). That's almost half a months salary for a lot of people around the world so it's not necessarily the best backpack if you are on the tight budget.
Psst! Want a Nomatic Discount Code?
It is however great value for someone who's focused on being extremely functional and I personally live out a backpack so it's like a home to me and I did a ton of research before getting the Nomatic bag and honestly, I'm happy with my decision.
Nomatic Backpacks Summary
Nomatic makes some of the most epic backpacks on the market I have been using one myself. In short, the experience has been simply amazing.
Nomatic currently has three products which are all very different from one another. I have briefly explained them below but I will also go in-depth and review their features after this.
Nomatic 40L Travel Bag – This is the largest of all the Nomatic backpacks at a whopping 40L capacity. Nomatic recommends this bag for 3-7 day trips, but as someone who has been traveling for years with just a 40L bag, I can definitely vouch that a 40L is more than capable of a lot more… if you don't mind making some sacrifices and packing lighter it's honestly more than enough.
Nomatic Backpack – This is the smallest backpack from Nomatic. It's a 20L (expandable to 24L) and is recommended for everyday use. This is a nice compact small bag, but by no means should be considered for traveling purposes. It's more an everyday backpack.
Nomatic Travel Pack – This is the mid-sized backpack in the Nomatic product line. The Travel Pack is a smaller 20L, but has a cool expansion feature that can increase its size to a good 30L! This bag is recommended for shorter 1-3 day trips, or for everyday use if you need to just carry a ton of stuff. While it is definitely possible to travel long-term with a bag this small, you will be sacrificing on a lot.
What's the Difference Between the NOMATIC Backpack and the NOMATIC Travel Pack?
Size and dimensions of the backpack:
The dimensions for the travel pack are almost the same with a key difference in the width being larger on the travel pack.
In terms of the capacity, it increases thanks to their expansion system. The Nomatic backpack holds 20L and expands to 24L while the travel pack starts at 20L and expands to a whopping 30L. That's significantly less than the Patagonia MLC.
The Backpacks exteriors:
For the exterior, each backpack has a magnetic water bottle pocket each. This may seem like a silly feature at first but it's meant been implemented to keep the pockets flat against your bag when you're not using them. Kind of feels a little over the top, but you have to admit that it gives both bags a really nice aesthetic look.
Next, both bags have a retractable key leash attached on to a pocket on the inside. This comes in pretty handy when you want to quickly access your keys without all the fuss and hassle of fumbling to put them back.
Both bags share similar functionalities especially highly regarded innovative strap system that provides a lot of comfort and versatility. The back panel lets you tuck your backpack straps so that you can carry your backpack horizontally, like a briefcase which is great for expanding the use of the backpack informal work environments. All you have to do is unsnap the back panel, tuck in the straps, and then snap it back into place. I could see this as a great feature for travel or young professionals who commute to work.
Inside the main compartment:
These are just some highlighted features that the travel pack and backpack share but here's a full list of all the things both these bags have in common:
Waterproof zippers and tarpaulin water-resistant material
A full parament zipper that offers a lot of accessibility on all sides of the bag
A quick access fleece pocket for valuables
Multiple meshes elastic and zipper pockets
RFID blocking and lockable security pocket to deter theft
A removable hard protective shell for glasses
A notebook pocket
And a hidden pocket for important and/or valuable items.
Overall, both bags share some pretty cool and nifty features but don't be fooled. Even though the NOMATIC Backpack and Travel Pack look quite similar, they both have specific features designed for their intended purpose. I will be going in-depth in the future.
Important FAQs about Nomatic backpacks
Who are the Nomatic backpacks for?
The idea behind the Nomatic backpacks is minimalism with great functionality.
In fact, if you're a young professional and you have the money, I say you should definitely invest in one of the NOMATIC backpacks. It has a really sleek look that still feels appropriate for work and a lot of features that will make your life a whole lot easier.
Because the backpack is a bit pricey, I wouldn't recommend this backpack for college students. It doesn't seem to match closely enough with their needs.
As for the Travel Pack, again, it would work great for business professionals who have to travel frequently for work as a carry-on bag. I would be hesitant to recommend this bag as your only travel bag even for a short 3-day trip.
Especially for those people that travel pretty frequently just because it doesn't seem to have enough space and organization to handle the job. Plus the design looks pretty sleek but it might be too sleek for travel.
What Kind of Warranty Do the NOMATIC Bags Have?
NOMATIC states that if you are not 100% satisfied with the quality of your bag you can simply return it back and claim a total refund. No questions asked!
This demonstrates that Nomatic really stands by their product and they're confident in the quality of their product and more importantly that you will love it.
How Does NOMATIC Handle International Shipping?
Their terms of sale for international orders are FOB destination. For those of you that don't know, this basically means you have to pay all freight and duties or taxes as per the destination.
NOTE: The duties and taxes based on you are not built into the cost so you are left to calculate that amount and convert it to your local currency manually
Nomatic Backpack Review
From the outside, the Nomatic backpack looks quite similar to the travel pack but what's on the inside is very different. The backpack was designed for everyday use and the travel pack was meant for 1-3 day trips.
Nomatic Backpack Dimensions & Size
Weight: 3 lb. 10 oz.
Capacity: 20L – 24L (expanded)
Outer Dimensions: 18.5″ H x 12″ W x 5-7.5″ D
Who is the Nomatic Backpack for?
The nomatic backpack is perfect for anyone looking for something compact for everyday use but at the same time something that is highly functional.
It's enough to fit in all your daily essentials. Some of the features will be very beneficial for your everyday commute. I recommend this to anyone looking for a solution to pack their everyday carry-ons effectively.
Most distinctive features
Drawbacks but not dealbreakers

Full Perimeter Zipper
Top Access Pockets
Lockable Zippers
Easy Access from all sides
15" Notebook Pocket
Reflective Ink

Not suitable for travel due to its smaller size.
So, should you get the NOMATIC backpack?
Honestly, at $200, it's not cheap but if you're looking for something highly functional for everyday use then you cannot go wrong with the Nomatic Travel Backpack. It's a great way to pack around your everyday items efficiently in an organized manner.
With this, I can definitely say that I can recommend the Nomatic backpack to anyone for packing everyday essentials for daily travel/work commute.
The Nomatic Backpack features
Bottom Expansion from 20 to 24L:
Now although the travel backpack isn't suitable for traveling it still can pack a lot for everyday use. In fact due to the bottom expansion capability of the travel pack to expand from 20L to 24L you can go from a compact to a fairly decent 24L capacity backpack.
Dedicated 15″ Laptop Sleeve:
The travel pack comes with a dedicated laptop sleeve that's enough to fit in a 15″ notebook. It also has extra padding on the bottom for more added protection.
An Innovative strap system:
This is an amazing feature as you can go from backpack to briefcase for added versatility. Due to its small size, the backpack won't look overly huge. A perfect solution to expand the use of the backpack from travel to work.
Nomatic Travel Pack Review
I was immediately drawn towards the NOMATIC Travel Pack when I saw it on Kickstarter. Since I travel so much, I was never happy with the backpacks at the time the travel packs weren't versatile enough to be used apart from traveling
I was looking for a backpack that was stylish, functional, weatherproof, and built to stand the test of time and this was surprisingly hard to find until I came across NOMATIC. It was a perfect balance of all the essential features that make a travel backpack.
I liked the minimal approach and the attention to detail simply blew me away! The organization is pretty neat with multiple compartments and pockets to store all your gear. The full-perimeter zippers and the material are of extremely high-quality.
At first, it all seemed too good to be true I started to wonder if the actual product is as good as it looked on the website.
(Spoiler Alert: it is)
In fact, due to NOMATIC's great success they have now successfully funded, manufactured, and also delivered three different products as promised and have a new one in the works!
Nomatic Travel backpack Dimensions & Size
Weight: 4 lb. 3 oz.
Capacity: 20L – 30L (expanded)
Outer Dimensions: 18.5″ H x 12″ W x 6-9.5″ D
Who is the NOMATIC Travel Pack for?
The Travel Pack and other NOMATIC bags are for people who want an extremely rugged, high-quality backpack and care about function and design.
It's perfect for someone looking to pack light and are only traveling a week or so at a time. It's perfect if you are a digital nomad that doesn't carry too much overall it's great for another who likes its design, efficiency, and organization. It's easily one of the best minimalistic bags on the market.
The only catch is you have to travel light.
This bag was designed for trips and those that don't pack on a lot which is why it's important to check how much you usually pack before deciding to go for this backpack.
All the bags have a very minimal look to them and are only available in one color; black. They are highly functional and hold a lot of stuff without wasting space.
Be sure to stop by their website to see the different options they have. You'll get to see all of the all the features and differences beyond what I mention in this article.
Most distinctive features
Drawbacks but not dealbreakers

Minimal design
Extremely functional
Tuckable straps
Retractable key leash
Magnetic bottle holders
Anti-theft features

Slightly bulky
Multiple features can be complex
The Nomatic Travel Pack features
Here I'll be going through the key distinctive features of the Nomatic travel pack to give you a good idea of what makes it unique. I'll be covering
Waterproofing design:
Whilst traveling it's safe to assume nothing and be prepared for the worst. The same goes for your belongings and the one thing that keeps your belongings safe throughout is your backpack.
One essential factor that makes a backpack versatile to all conditions is being weatherproof and this is something Nomatic has to the T…
In Fact, the Nomatic travel pack is made up of waterproof zippers and water resistant material that will ensure your belongings remain dry be it in rain or snow.
Briefcase mode: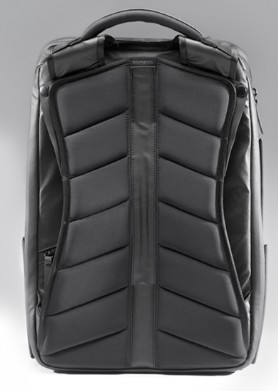 Another feature I really like is the versatility of the nomatic travel pack to turn into a briefcase. Although it looks like a normal backpack on the outside there is a place to truck the straps in so that you can hold it like a briefcase.
At first, I thought this wouldn't be something I would use but over time there have been situations (think meetings) where I've found it much easier to just switch my pack to briefcase mode. It would be pretty awkward wearing a backpack to a meeting. (and unprofessional)
To be frank no other brand has come close to nailing the briefcase mode as nomatic as.
Pro tip: Slide your fingers underneath the strap, close to the buttons before thrusting your arms forward.
There is a place to tuck the backpack straps in and hold the bag like a briefcase but I don't particularly like the way the bag looks without the straps. Also, the way the promotional video demonstrates taking the straps out is a bit hard to figure out. Pro tip: slip your fingers underneath the straps and close to the buttons before thrusting your arms forward.
A full perimeter zipper a boon or a bane:
This is pretty cool as you can access your belongings from all the sides of the travel pack (Except the bottom) however the only issue I have is there a total of six zippers on the bottom and they have absolutely no differentiating factors.
I wish Nomatic could just make the pull tabs a different color or, better yet, make the pull tabs on each pocket a different material from the other so you don't have to look at the bag to know which pocket is which.
Expansion from 20L to 30L:
This is actually one of my favorite features is the huge expansion ability. The extra space makes a lot of difference when you're packing to a maximum capacity. I was also surprised by how well the expansion system is integrated into the design. The Travel Pack is just as functional when zipped as when unzipped and the expansion zipper blends into the bag so well that you probably wouldn't notice it if you weren't looking for it.
Cord pass-through easy access pocket:
There's a small top pocket for things like a phone that you want to reach easily. It also features a small hole to pass through a cord if you want to use a portable charger.
Closing the travel pack can be difficult:
Another downside with the zipper is that because of the unique shape and because it's not a continuous zip this backpack can be overpacked a little which making closing the bag difficult.
Easy access laptop storage:
The organization is so neat that the laptop compartment is completely separated from the rest of the bag with its own full perimeter zipper meant to make airport checkpoints easier. It also keeps your laptop near the back of the bag and provides extra cushioning.
So, should you get the NOMATIC Travel Pack?
Hopefully, I've given you an idea of what makes the Nomatic travel pack unique.
I love the well-designed and appreciate the quality materials. But, I also travel a lot more than a normal person and bring a lot of tech and materials with me which is why the Nomatic bags are great for someone like me. To me, it's the perfect travel bag because the features work for me to you it can be an overkill!
If you like the style and are willing to pay a little more for quality, then you'll love the NOMATIC bags. They really deliver on the quality and functionality promised. There's also a 30-day return policy if for some reason you don't.
I'd recommend really comparing all their travel bags, though. The slight differences between them make it easy to choose the one perfect for your circumstances.