If you're looking for a backpack for long term travel then you've come to the right place! In this article, I will be reviewing the Nomatic 40l travel bag which I have been using since March 2018!
TLDR; If you're in the hurry here's the pros and cons of the Nomatic 40l travel bag!
Pros
Backpack + Duffel system
Waterproof
Carry on size
Most features in 1 bag
Best Digital Nomad Backpack
Worldwide shipping
Looks great
Cons
Pricer than most bags
Non-compressibility
Heavy
Not great for hiking
Check The Guaranteed Best Price
Nomatic Travel Bag Review
About Me And My Lifestyle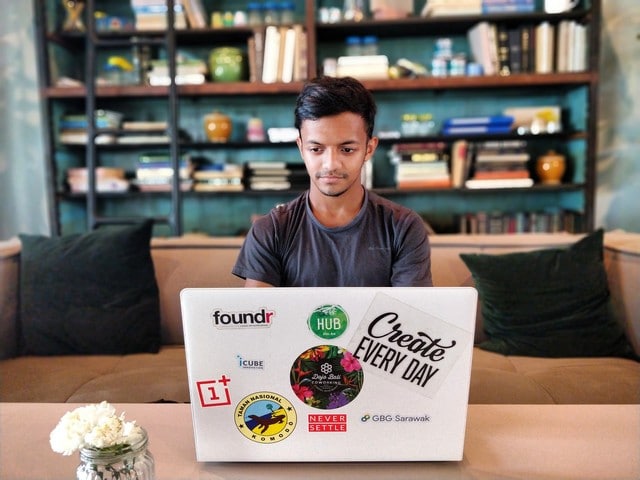 I've been living out a single backpack traveling the world since April 2016 as a "Digital Nomad". I run this blog which has a fairly big readership and also I used to be the head of SEO and organic growth at Foundr Magazine which is one of the largest online business magazines in the world.
I have a very active lifestyle and do crazy shit from climbing the world's third-highest mountain pass with everything I own to meeting the Dalai Lama. I don't spend much time in a single spot and usually move from spot to spot on a weekly basis and I sometimes bike across countries with my backpack so having the right gear is a huge deal for me.
At the start of 2018, I upgraded my full-time backpack to the Nomatic 40l Travel Bag and in this pretty long article, I'm going to share my opinion about it.
Transparency: I WASN'T given the Nomatic 40l Travel Bag for Free (unlike most other blogging people writing "Nomatic Travel Bag Review". I paid for it (along with the Vaccum pack) with my own money, however, the links to Nomatic.com on this site are affiliate links so if you click through and buy the bag, I earn a small percent at no extra cost to you! 

To put the bag to a test I have been living out of the Nomatic Travel bag full time and ever since I got it I have taken over a dozen flights, went hiking for hours through rice fields and also rode nearly a 1000 kms across the island of Flores (in rains) on a motorbike ;)

Countries Traveled with the Nomatic Travel Bag: Malaysia, Indonesia, Hong Kong, India, Bosnia, Serbia, Albania, Turkey, Georgia, Armenia, Azerbaijan, Sri Lanka, Maldives, Tunisia, Vietnam (so far)
Nomatic 40l Travel Bag Review
The Nomatic 40L Travel bag was designed for longer trips. The travel bag is a combination of some of the best features from the backpack, duffel bag, and general luggage.
The idea behind creating this is to create the ultimate travel bag to help you spend less time fussing around with your luggage and more time on the good stuff; your journey.
Nomatic 40l Travel Bag Dimensions
Weight: 4 lb. 8 oz.
Capacity: 40L, Designed to fit the maximum carry on size allowed on standard airlines, fits in the overhead compartment as well as the under seat as storage in flight.
Outer Dimensions: 9″ H x 21″ W x 14″ D
Large Opening Dimensions: 19″ x 12″
Check The Guaranteed Best Price
The Nomatic 40l Travel Bag has over 20 important features that make it the most functional travel bag ever made! On top of being packed with extreme functionality, the bag has a sleek minimalist design, is made of strong weather-proof materials and is built to last.
Now this backpack has a ton of features, a little too many to be honest haha and I'm going to dive into the ones that I like/don't like/got my attention.
Nomatic Travel Backpack + Duffle Strap System
You can use the Nomatic Travel Bag as a duffle bag as well as a Backpack! How amazing is that? and also it uses the same strap system so that when you are using it as a duffle bag the backpack straps are snug and vice versa.
The only con is that the straps are on the back so you are holding the bag horizontally which for someone tiny like me might be a little weird as the bag can't be held touching the body.

Personally, I don't use the Nomatic 40l Travel bag as a duffle often, it's more of an additional feature for me. I tend to use it when I'm in more urban areas and giving talks at coworking spaces or conferences.
The Waterproof and durability of the Nomatic Travel Bag were one of the major reasons I actually decided to buy it. I just did a 1500km long biking ride around the island of Flores in Indonesia and since it was the end of the rainy season I ended up getting a few days with rain.
When I was biking the island of Flores it began to pour, in the past I would have to stop to put a bag cover over my backpack, however with the Nomatic travel bag I was able to carry on biking through the beautiful island.
I was able to bike around without having to worry about my electronic devices getting wet thanks to the great waterproof material and zippers.
The dimensions of the backpack 21″x14″x9″ which is big for an everyday carry backpack but perfect for a carry on travel backpack, it fits the carry on requirements for the majority of airlines thus perfect for someone like me who hates checking in luggage when flying (trust issues).
If you are tall it might be good to use as a daily bag but for someone tiny like me, due to the lack of compressibility it's not necessarily the best backpack to use to go cafe hopping every single day, but as a full-time backpack it's amazing.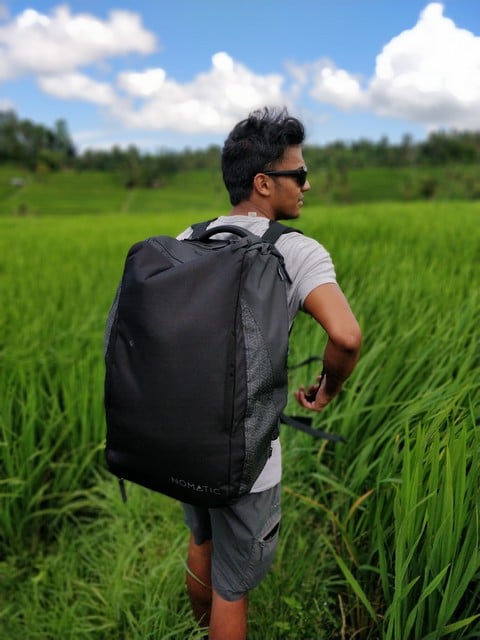 Nomatic Travel Bag Volume
Due to the incredibly thin (yet strong) material on the Nomatic 40l Travel Bag, the volume on the inside of the bag is incredible, you can fit sooooo much stuff in it. The true volume is 45L but it's honestly more spacious than most 60L backpacks I've used.
For most people, a compartment just for shoes may seem like a waste (Well you can use it for something else) but for someone who lives out of a backpack, the ability to have a spot especially for their shoes or flip flops is a life saver.
Nomatic Worldwide Shipping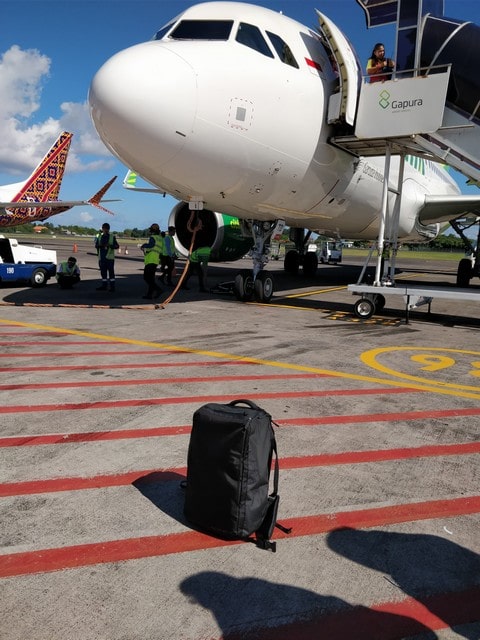 You can ship the Nomatic Travel Bag & all of Nomatic Backpacks anywhere in the world (except active war zones :/ ). I managed to ship mine to an address of a friend in Malaysia.
You are responsible for Customs, Duty, Taxes, or any other importing fees for international orders, however, Nomatic's team is incredibly responsive and helpful in the entire process. So it doesn't matter if you are in the USA or India, you can get the Nomatic Travel Bag.
Free Shipping is a plus for anyone in the US (you only pay sales tax if you are in Utah).
Rfid safe pocket + Free TSA Approved Lock
The bag comes built in with an RFID Safe pocket and comes included with a TSA Approved lock to lock it up. This might not be useful for the majority of travelers out there. But it's an additional feature that adds a special security touch to the Nomatic Travel Bag.
Nomatic Travel Laundry Bag
The bag comes included with a laundry bag?! no seriously, it's a tiny laundry bag that you can hang on any hook or doorknob of an Airbnb you rent. It fits in at the bottom of your shoe compartment.
There's a water bottle pocket at the top of the bag that's separated from the rest of the bag on the inside with waterproof material. I personally would love to also have a bottle pocket at the side for the times when you are using the backpack normally and want your water bottle to be easily accessible.
Laptop + Tablet Compartment
The laptop AND Tablet compartments are located right next to your back so you can open up your bag to lie the laptop flat when going through security at airports. It fits Laptop up to 15″ but you might struggle if you travel with a bigger laptop. You can use the tablet compartment for a kindle like me if you don't use a tablet.

Padded Removeable Hip Straps
The Nomatic Travel Bag comes with padded hip straps that are removable which is such a convenience as you can use them when you are going on long journeys and have them off when you are just going around town and you don't have to leave them dangling around.
The straps come with pockets that you can keep your passport and boarding pass in (How cool is that?)
Nomatic 100% Satisfaction Money Back
If you are not satisfied with the Nomatic Travel Bag or any other Nomatic products, you can just send it back thanks to their 100% 30-days money-back no-questions-asked guarantee.
Misc Nomatic 40l Travel Bag Features
The Nomatic Travel Bag is a backpack with so many features that I'm sure I'm missing into diving into them all so I'm just going to highlight a few more than I really found interesting.
Sock and Underwear pocket
Notebook pocket
Cord Mangement system
Roller Bag Sleeve
Fleece Lined Valuables Pocket
Large Opening for Easy Packing
However, it's not necessarily perfect. It depends on your needs, if you are a digital nomad like me, the Nomatic Travel Bag might just be your new travel backpack! Here're a few downsides to the Nomatic bag.
Due to the structure and material of the backpack, it's not necessarily the best daypack to carry around town to go into a cafe. But then again how many people go to a cafe with their full-time travel backpack every day.
Get the Nomatic Travel Pack which is designed for everyday use as well and you have got the perfect (but little expensive) combination.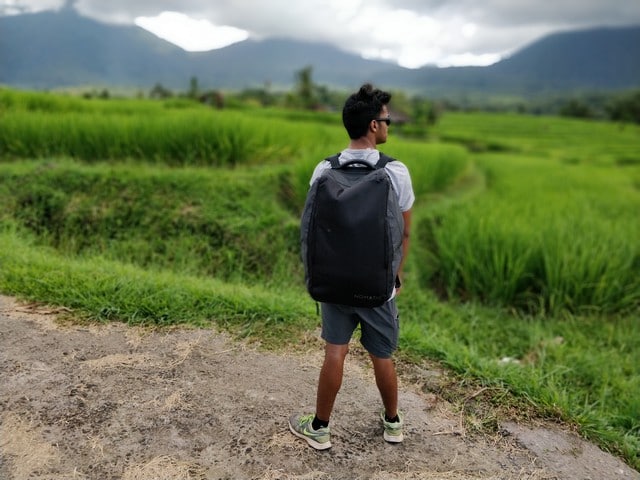 The weight of the bag may not be a ton for a bag this size, but it can be a definite thing to be aware on if you're planning on using it as a carryon. I haven't had any issues for me.
Nomatic Travel Bag Price
It's not really cheap, at $200+ for a fucking backpack?! that's a pricey purchase for a lot of people (no shit Sherlock!). That's almost half a month's salary for a lot of people around the world so it's not necessarily the best backpack if you are on a tight budget.
Check The Guaranteed Best Price
It is however great value for someone who's focused on being extremely functional and I personally live out a backpack so it's like a home to me and I did a ton of research before getting the Nomatic bag and honestly, I'm happy with my decision.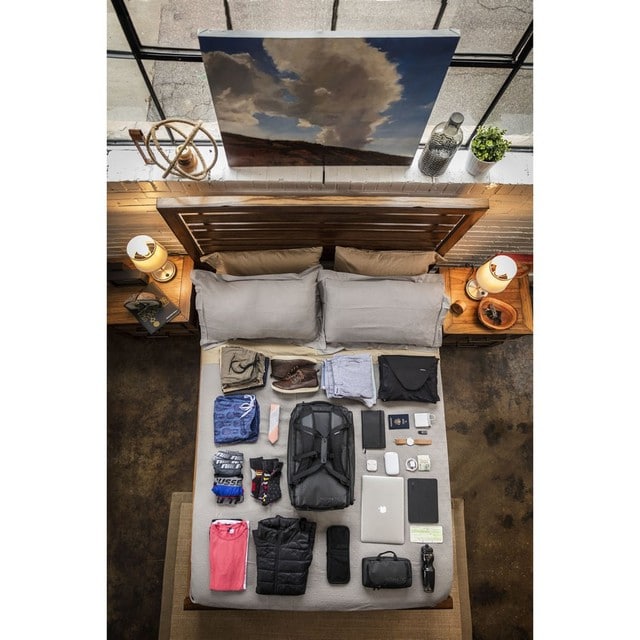 Maybe give the Osprey Fairpoint 40 if you are looking for a more budget option. The Quechua backpacks are pretty great too, I used to use them!
Do you still have doubts about getting a Nomatic Travel Bag? Let me know your concern in the comments below!
Check The Guaranteed Best Price
Nomatic Travel Bag FAQs
Who are the Nomatic backpacks for?
The idea behind the Nomatic backpacks is minimalism with great functionality.
In fact, if you're a young professional and you have the money, I say you should definitely invest in one of the NOMATIC backpacks. It has a really sleek look that still feels appropriate for work and a lot of features that will make your life a whole lot easier.
Because the backpack is a bit pricey, I wouldn't recommend this backpack for college students. It doesn't seem to match closely enough with their needs.
As for the Travel Pack, again, it would work great for business professionals who have to travel frequently for work as a carry-on bag. I would be hesitant to recommend this bag as your only travel bag even for a short 3-day trip.
Especially for those people that travel pretty frequently just because it doesn't seem to have enough space and organization to handle the job. Plus the design looks pretty sleek but it might be too sleek for travel.
What Kind of Warranty Do the NOMATIC Bags Have?
NOMATIC states that if you are not 100% satisfied with the quality of your bag you can simply return it back and claim a total refund. No questions asked!
This demonstrates that Nomatic really stands by their product and they're confident in the quality of their product and more importantly that you will love it.
How Does NOMATIC Handle International Shipping?
Their terms of sale for international orders are FOB destination. For those of you that don't know, this basically means you have to pay all freight and duties or taxes as per the destination.
NOTE: The duties and taxes based on you are not built into the cost so you are left to calculate that amount and convert it to your local currency manually.
How big is the Nomatic travel bag?
The dimensions of the backpack 21″x14″x9″ which is big for a daypack but perfect for a travel backpack. Outer Dimensions: 9″ H x 21″ W x 14″ D
How much is the Nomatic backpack?
The Nomatic 40l Travel Bag costs $279.99. The other Nomatic Backpacks are:
Nomatic 30l Travel Bag – $269.99
Nomatic Travel Pack – $259.99
Nomatic Backpack – $249.99
Update: In April 2019, Nomatic decided to stop all coupon codes on their site so you can't really get a code anymore. If you go search on Google for a "Nomatic discount code" all of the ones shared are expired like mine.
Nomatic Travel Bag Accessories
Nomatic have a couple of travel accessories that make packing your Nomatic bags easier to pack! Here are a couple of their accessories that you might want to take along;
I personally use the Vaccum bag and I love it as it makes packing my Nomatic 40l Travel Bag so much easier. It's made to perfectly fit the backpack!
Check The Guaranteed Best Price
Read Next:
Best International Wifi Hotspot Rental