Do you find it annoying to carry an extra backpack to go along with your photography set up? Isn't it pestering to carry a bag that keeps losing its shape due to its limited customisation? We might be closer to the solution more than you believe. Nomatic, with the collaboration of Peter Mckinnon has come up with a camera pack design.
It offers a solution to cater your requirements of accommodating your camera and clothing set up in a single camera-pack. Let's take a look at the features in this Nomatic x Peter Mckinnon camera backpack review.
CHECK THE GUARANTEED BEST PRICE
Nomatic Peter McKinnon Camera Backpack Review
Let's dive into components of the camera backpack and analyse how it delivers on its promises.
The main 35L camera pack comes with two sections. It comes with a customisable, dedicated section to accommodate your photography gear. The customisation and adjustable dividers allow you to place multiple camera bodies, prime/zoom lens, drones etc. on one side of the bag. The opposite side has a tablet sleeve and internal organisation to carry different accessories.
If you flip the entire bag over, it opens up a compartment with compression straps to hold your clothing accessories in place. Furthermore, this comes with ample internal organisation to accommodate documents, mobile accessories etc.
If necessary, this section can expand into a 42L pack by unlocking a zip, which can accommodate extra clothing. The exterior side has pockets to hold tripods, bottle with a magnetic closure to keep them intact. This bag comes with a dedicated magnetic RFID safe pocket for passport/documents. An external sleeve to hold a 16-inch laptop. The bag comes with side access, which enables quick access to your main camera inside the backpack.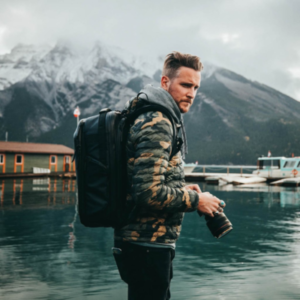 CHECK THE GUARANTEED BEST PRICE
McKinnon Cube Pack 7L/21L Review
The camera back-pack comes with a 7L cube pack, which can fit into the camera gear of the bag. This cube pack can accommodate a camera, a lens and the accessories like charger, flash etc.
The 7L bag opens up into a 21L day backpack with shoulder straps and sufficient space for personal gear. This cube pack lets you leave your 35L backpack behind for a small day trip. Nevertheless, allows you to carry the camera of your choice.
Detachable waist straps: The waist strap offers extra support. But if you feel the waist strap is unnecessary or uncomfortable for a lightweight day, one can detach it from its holder. The easy detach/re-attach Velcro holder simplifies the process.
Accessory Case: The accessory case has a semi-hard padded case to maintain its shape and fit into the entire bag. The accessory case that comes with the pack has room for storing spare batteries, wired accessories, chargers, adaptors etc.
Memory Case: The memory card has sufficient space to accommodate different type of storage cards. MicroSD, flash memory cards, SD cards etc. can fit into this protective case which has a magnetic lock.
Battery Case: The dedicated battery case has room for three batteries with markers to denote the empty/full ones. The markers can be handy in terms of reducing the time taken to differentiate the empty batteries from the recharged ones.
Filter Case: The filter case can accommodate six filters. The case is compact, occupies minimum space and it is foam-padded to protect the case from any accidental damage.
Customisable dividers: The main compartment is a customisable design. It comes with multiple magnetic dividers to organise the section according to your travel requirements. Nomatic and Peter Mckinnon understand that every trip doesn't have to be the same.
Rain cover: While the bag uses durable material which can offer weather resistance, the rain cover comes as a part of the camera pack. It offers additional protection to the gear and the bag in itself during extreme weather conditions.
CHECK THE GUARANTEED BEST PRICE
Nomatic x Peter McKinnon Camera Pack Specifications:
22-inches tall x 13.5-inches wide x 9-inches deep 35 L Camera pack is expandable to accommodate up to 42L.
Weight: 5.75 lbs.
Interior: 21-inches x 12.5-inches x 5.25-inches
Nomatic x Peter McKinnon Cube Pack Specifications:
7L Cube pack dimensions: 5-inches tall x 13.25-inches wide x 7.25-inches deep
Expanded 21L Cube pack dimensions: 17.5-inches tall x 13.25-inches wide x 7.25-inches deep
Weight: 1.36lbs
Nomatic Camera Pack Review
Build quality: Every component of the Nomatic x Peter McKinnon backpack is a product of planning and utmost attention. From the durable water-resistant body to firm-padded magnetic customisable dividers reaffirm the detailing went into the design. The aluminium stays keep the bags physical shape intact. The water-resistant material zipper enclosures, padded protective cases with magnetic closures, breathable EVA foam channels makes this bag a complete product.
Weight: Photography gears including DSLR cameras, drones can get heavier. The bag requires high quality padded materials to offer long-lasting protection, which results in increasing the weight of the bag. The camera pack weighs 5.75 lbs, while the addition of cube pack takes it to 7 lbs. The ergonomic design of the bag ensures the weight gets distributed across the body and minimises the inconvenience of carrying it for sustained periods.
Ease of Use: The side access on one of the side of the camera pack gives access to the main compartment to reach the camera. It is an advantage for photographers because anything can catch their imagination and vanish within the matter of a few seconds. It's a blessing to avoid the inconvenience of finding the place and time to open the entire backpack. This camera pack has handles on four sides, which gives them the freedom to carry the bag in any way one wishes. Along with the other features, the RFID safe pocket, bottle holder, tripod holder and the external laptop sleeve exemplify a thought-out design.
Ergonomics: Thick shoulder pads, detachable waist straps, sternum straps, adjustable shoulder tension-straps optimises the distribution of weight across the back. The breathable foam channels ensure air circulation to reduce the stickiness.
Safety: The camera backpack has a dedicated RFID passport holder, which can protect you from data theft. The zippers of this pack are lockable. The bag has one-way restricted access. There is no access to the bag from the backside if it is on someone's shoulders. It prevents the attempts of theft while navigating crowded places.
Design: The camera gear section offers customisation for multiple combinations of gear with its customisable firm dividers. The internal organization in the clothing section allows room for segregation. Cube pack is a snug fit inside the main compartment, keeping the shape intact. It allows the freedom of having a daypack, equipment, all inside a single backpack. The luggage pass-through slot keeps your hands and shoulders free, despite having multiple luggage. The bag can fit into the overhead compartment in your flight, making it an effective carry-on bag.
What could've been better?
The bag serves its purpose. If one has to nitpick an otherwise impeccable design, it is the filter case. The filter case fits circular filters and doesn't work for square filters. Since it is on the heavier side, a fully-packed bag might be a concern with the carry-on luggage weight restrictions.
CHECK THE GUARANTEED BEST PRICE
About Nomatic
NOMATIC started as a small project by Jon Richards and Jacob Durham with the design of an innovative wallet. It launched a campaign to raise funds through a crowdfunding platform "Kickstarter". Their 40l travel backpack design was an instant hit. The initial success inspired the duo to innovate multiple products through Kickstarter. NOMATIC prioritises quality in material and design for creating functional/durable products. Interactions with the customers give them a thorough understanding of the requirements, which acts as integral input for their design.
Who is Peter Mckinnon?
Peter Mckinnon is a photographer from Canada, who shot to fame through his YouTube channel. His understanding of the requirements of a photographer served as an input for the design of this camera backpack. This camera backpack is a product of the synergetic effort of Peter Mckinnon and Nomatic.
Who is the Nomatic x Peter McKinnon Camera bag suited for?
If you are a photographer travelling for any duration that is less than a week, this Nomatic x Peter Mckinnon suits you perfectly. There is no strong reason to look for options beyond this bag unless the price seems to be a constraint. The bag caters to professionals photographers as much as it for amateur hobbyists. Adding a roll-on luggage pack to this bag is a solution to your long term travel requirements.
CHECK THE GUARANTEED BEST PRICE
Who is this bag not suited for?
This bag falls short as a value for money product if the intention is to use this as an everyday carry bag. Backpackers without any photography gear may find this bag ill-suited for the purpose and an injustice to the bag.
Nomatic x Peter McKinnon Camera Backpack Review Verdict
A clear portrait of one's requirement is essential before analysing and evaluating a product. There is no one-size-fits-everyone solution for every backpack requirement. This Nomatic x Peter McKinnon camera backpack is trying to find its place in a photographer's arsenal, offering solutions for short trips. The durability of the material, the quality of design, customizability of the movable dividers is impressive. In addition to that, the capacity to address intricate requirements increase the chances of Nomatic x Peter Mckinnon being a hit among the photographers.
CHECK THE GUARANTEED BEST PRICE
Types of Camera Backpacks
We know this article is about the best camera backpacks but it's fair we talk a little about what are the other options available. And what do backpacks have extra that makes them worth it? These are the camera bags available.
Shoulder bags: These are more or less traditional camera bags. Shoulders make it easy to access all your camera kits easily. Moreover, there aren't any straps that you need to remove or that come in the way. But the downside is they aren't geared towards storing a lot. There are no separate compartments to organize the different types of gears and kits you have. They are similar to messenger bags minus the additional space for laptops.
Backpacks: The main focus of this article and also a favorite among photographers, backpacks are pretty good in almost every aspect. Most backpacks are very comfortable to carry and have an ergonomic design. They also do a pretty good job of protecting your camera and its gear from any accidental damages. But to access the kits you will have to take the backpack off. This bag is perfect for photographers who are always on the move and need something durable to protect their camera accessories. This is the top choice for most photographers, be it a travel photographer of landscape photographer or wildlife photographer.
Sling bags: By design sling bags are more like shoulder bags in the way they are carried and that they can be swung around. You can either open them like a shoulder bag by swinging them round to the front or open them like a regular backpack by swinging them to your back. They are designed to provide access to a shoulder bag and give the comfort of a backpack. However, they aren't suitable for storing a lot unlike backpacks.
Holsters and pouches: These have limited storage and use cases. They are designed for specific purposes, like carrying a single camera with an attached lens. They are very limited in size and can either store compact cameras, point and shoot cameras, mirrorless cameras, or even DSLRs. But that's it. You won't be able to store anything else, especially not any additional lenses. So unless you are an amateur photographer, this isn't the right choice for you at all.
Roller bags: These are great options who travel for photography. They are designed specifically for travel. Like any normal travel bag suitcase, they include wheels in the bottom and have a handle that extends and can be used for pulling them around with the help of the wheels. They are designed so that they can easily fit in international cabins for baggage. These are great options for a photographer on the move, but I would still prefer backpacks over these.
Hard cases: These bags have been designed to keep the protection of the kits in mind. And due to this, they provide the best protection your gears can get. It can protect the accessories from getting damaged due to rough usage or hard impacts. But because protection is their priority, they aren't ideal for carrying your kits to a longer distance.
What makes a good Camera backpack?
No matter which backpacks that you choose, there are a few things that a backpack should have. Having all these features separates a good backpack from an average one. So before you select a bag you should make sure it has a few of these features. Knowing these will also help you make a better choice. So here a few things that make a good backpack:
Storing Capacity: This is the most important aspect of a camera backpack. You are opting for a bag because your work specification might require you to travel a lot. Even if it doesn't, it still makes sense to be able to store and carry a lot in a single backpack. You might have to carry a camera, a tripod, multiple lenses, audio equipment, and other small accessories. And not to forget other storage devices and maybe even a laptop. With time your equipment collection will keep expanding. So you must make sure that the backpack should be able to store all these and if it were capable of even more then it would be a bonus.
Additional Compartments: A backpack having extra storing capacity doesn't necessarily make it a good backpack. In addition to a large storing capacity, a backpack should also have a lot of additional compartments. There are two main benefits of having extra compartments. Let me explain those benefits. The first one is an improved organization. Having extra compartments would mean that there would be separate space for every accessory, and they could be stored in separate compartments. There can be pouches that are designed to store camera lenses, batteries, audio equipment, and other accessories. This helps you tidy things up and also store even more things in smaller spaces. It also means that you can easily access these things if you want. These things improve the functionality of the backpack. Another advantage is that because the accessories are in their separate compartments, they won't be clashing against each other when they are stored inside. This ensures that the accessories won't be damaged or have spots and scratches on them. The extra compartments mean that you can carry everything you might need and not miss out on the perfect opportunity.
Laptop Compartment: Not everyone prefers carrying their laptop on their camera backpack. But having a laptop might be necessary for your workflow so you do post-editing and share them with others. So it would be good if it had a laptop compartment and you don't have to carry separate bags. However, the way camera backpacks are designed, they aren't compatible with laptops. Generally, camera backpacks are partitioned into several individual sections, which makes it very hard to store a laptop without damaging the laptop or some other gears. So backpacks that have a secondary compartment for storing laptops would be preferred. It isn't everyone's top priority but if in case you might need this then you should keep this in mind.
Accessibility: One thing with photography is that you always need to remain alert. You never know when you might get the perfect shot and if you aren't on your feet then you might miss the opportunity. So having a backpack that allows you to easily access anything that you want would be a huge advantage. So the perfect bag should let you access the gears very easily and should also keep the gears protected. Having quick-access panels or customizable internal compartments can be a bonus. How the bag opens is also very important. Some bags open from the sides while others open completely flat. I would prefer the latter as that gives you much easier access. However, that would also mean that if you require to quickly access just one particular thing, then you would be at a disadvantage. So you should choose a bag that is very accessible and allows you to quickly access the gears. Having external pockets and added compartments would also help in that matter. So while choosing a camera backpack you should keep in mind its accessibility.
Comfort: There are chances that at times the backpack might get a bit heavy because of all the different accessories. Carrying such a heavy bag will not only be painful but will have some effect in the long term. For this reason and more, we want a backpack that is comfortable to carry. For this purpose, we would prefer a bag with extra padding on its straps and handles. Another important factor is how the bag fits around the body and the way the weight is distributed. A more comfortable bag will have extra padding, great fit, and even weight distribution. These are a few things we should look into in a backpack along with the quality of its material. This will ensure that carrying the bag would be comfortable and not cause any pains. This will be beneficial in the long run.
Price: With all said and done, the final factor in choosing a backpack is its price point. There are some expensive backpacks as well as some mid to lower budget backpacks. It isn't always necessary that the higher-priced bag will be better. Most camera backpacks have the same foundation. The only difference is the quality of materials used. The pricing also depends on other features like rainproof and shockproof. But in some cases you might be paying additional bucks just because of the brand name whereas you could get a similar backpack from a less reputable company at a much lower price. So consider all these factors and see if the backpack is providing a good price to performance ratio. Then choose a backpack that meets your requirement and fits your budget.
Nomatic Peter McKinnon Camera Backpack Review Reddit
u/mrgoodtofly – This bag definitely isn't for everyone, but considering when I travel a good chunk is for travel videography, I'd say it has all the features I've wanted in a onebag.
My overall impression is that while it's slightly on the heavier side, it's very well built with a really clean, sleek appearance. Everything is easily accessible & the main compartment is modular like you would expect out of any camera bag.
There are plenty of zippered pockets, but it doesn't feel overbuilt and there are plenty of little features I like such as the side water bottle pocket is magnetic so when nothing's in there it locks in flush to the bag.
The clothing section is exactly as expected and nice that it's expandable if I'm going on a longer trip and want to bring more or have additional space if I want to take things home.
Also, the cube pack is a little bigger than I expected, but it's actually perfect for me. The bottom holds both my camera, drone & lenses while the top is big enough for additional gear and anything else I'd need during the day.
u/mellowsmoothe – I have it, it's actually much nicer than I thought it would be. The ladder system is clever and executed well, it stands on its own better than any other pack I own. I just ordered and received another small cube for hot swapping loadouts. Have carried it to a few shoots and it feels good, again much better than I expected