TLDR: The new NOMATIC Peter McKinnon Camera Pack is the Best Camera Backpack according to Reddit in 2023
CHECK THE GUARANTEED BEST PRICE
u/mellowsmoothe – I have it, it's actually much nicer than I thought it would be. The ladder system is clever and executed well, it stands on its own better than any other pack I own. I just ordered and received another small cube for hot swapping loadouts. Have carried it to a few shoots and it feels good, again much better than I expected
Photography is much more than just having a single camera and shooting anything that comes in sight. It has a lot of other tactical things going with it. Along with your camera, you will be needing a lot of other types of camera gear and accessories. These accessories will take your photography to the next level. With time, you will keep improving and also end up accumulating more lenses and accessories. And to store all these accessories, you will need a proper camera bag. Also, as a photographer you will be on the move a lot of times. This will require you to pick a backpack that is specifically designed for storing a camera and its accessories. The problem you will face is when you try to decide which bags you need to buy. This becomes hard when you try to choose a camera bag from a plethora of options available out there. You will need a bag that is reliable, durable, has ample storage and organization, and is comfortable to carry. Most importantly it should keep your gears safe. Today we will be listing out the top camera backpacks that you can buy in 2023. However, you should know that there are types of camera bags as well, and let's see what they are.
Types of Camera Bags
We know this article is about the best camera backpacks but it's fair we talk a little about what are the other options available. And what do backpacks have extra that makes them worth it? These are the camera bags available.
Shoulder bags: These are more or less traditional camera bags. Shoulders make it easy to access all your camera kits easily. Moreover, there aren't any straps that you need to remove or that come in the way. But the downside is they aren't geared towards storing a lot. There are no separate compartments to organize the different types of gears and kits you have. They are similar to messenger bags minus the additional space for laptops.
Backpacks: The main focus of this article and also a favorite among photographers, backpacks are pretty good in almost every aspect. Most backpacks are very comfortable to carry and have an ergonomic design. They also do a pretty good job of protecting your camera and its gear from any accidental damages. But to access the kits you will have to take the backpack off. This bag is perfect for photographers who are always on the move and need something durable to protect their camera accessories. This is the top choice for most photographers, be it a travel photographer of landscape photographer or wildlife photographer.
Sling bags: By design sling bags are more like shoulder bags in the way they are carried and that they can be swung around. You can either open them like a shoulder bag by swinging them round to the front or open them like a regular backpack by swinging them to your back. They are designed to provide access to a shoulder bag and give the comfort of a backpack. However, they aren't suitable for storing a lot unlike backpacks.
Holsters and pouches: These have limited storage and use cases. They are designed for specific purposes, like carrying a single camera with an attached lens. They are very limited in size and can either store compact cameras, point and shoot cameras, mirrorless cameras, or even DSLRs. But that's it. You won't be able to store anything else, especially not any additional lenses. So unless you are an amateur photographer, this isn't the right choice for you at all.
Roller bags: These are great options who travel for photography. They are designed specifically for travel. Like any normal travel bag suitcase, they include wheels in the bottom and have a handle that extends and can be used for pulling them around with the help of the wheels. They are designed so that they can easily fit in international cabins for baggage. These are great options for a photographer on the move, but I would still prefer backpacks over these.
Hard cases: These bags have been designed to keep the protection of the kits in mind. And due to this, they provide the best protection your gears can get. It can protect the accessories from getting damaged due to rough usage or hard impacts. But because protection is their priority, they aren't ideal for carrying your kits to a longer distance.
What makes a good Camera backpack?
No matter which backpacks that you choose, there are a few things that a backpack should have. Having all these features separates a good backpack from an average one. So before you select a bag you should make sure it has a few of these features. Knowing these will also help you make a better choice. So here a few things that make a good backpack:
Storing Capacity: This is the most important aspect of a camera backpack. You are opting for a bag because your work specification might require you to travel a lot. Even if it doesn't, it still makes sense to be able to store and carry a lot in a single backpack. You might have to carry a camera, a tripod, multiple lenses, audio equipment, and other small accessories. And not to forget other storage devices and maybe even a laptop. With time your equipment collection will keep expanding. So you must make sure that the backpack should be able to store all these and if it were capable of even more then it would be a bonus.
Additional Compartments: A backpack having extra storing capacity doesn't necessarily make it a good backpack. In addition to a large storing capacity, a backpack should also have a lot of additional compartments. There are two main benefits of having extra compartments. Let me explain those benefits. The first one is an improved organization. Having extra compartments would mean that there would be separate space for every accessory, and they could be stored in separate compartments. There can be pouches that are designed to store camera lenses, batteries, audio equipment, and other accessories. This helps you tidy things up and also store even more things in smaller spaces. It also means that you can easily access these things if you want. These things improve the functionality of the backpack. Another advantage is that because the accessories are in their separate compartments, they won't be clashing against each other when they are stored inside. This ensures that the accessories won't be damaged or have spots and scratches on them. The extra compartments mean that you can carry everything you might need and not miss out on the perfect opportunity.
Laptop Compartment: Not everyone prefers carrying their laptop on their camera backpack. But having a laptop might be necessary for your workflow so you do post-editing and share them with others. So it would be good if it had a laptop compartment and you don't have to carry separate bags. However, the way camera backpacks are designed, they aren't compatible with laptops. Generally, camera backpacks are partitioned into several individual sections, which makes it very hard to store a laptop without damaging the laptop or some other gears. So backpacks that have a secondary compartment for storing laptops would be preferred. It isn't everyone's top priority but if in case you might need this then you should keep this in mind.
Accessibility: One thing with photography is that you always need to remain alert. You never know when you might get the perfect shot and if you aren't on your feet then you might miss the opportunity. So having a backpack that allows you to easily access anything that you want would be a huge advantage. So the perfect bag should let you access the gears very easily and should also keep the gears protected. Having quick-access panels or customizable internal compartments can be a bonus. How the bag opens is also very important. Some bags open from the sides while others open completely flat. I would prefer the latter as that gives you much easier access. However, that would also mean that if you require to quickly access just one particular thing, then you would be at a disadvantage. So you should choose a bag that is very accessible and allows you to quickly access the gears. Having external pockets and added compartments would also help in that matter. So while choosing a camera backpack you should keep in mind its accessibility.
Comfort: There are chances that at times the backpack might get a bit heavy because of all the different accessories. Carrying such a heavy bag will not only be painful but will have some effect in the long term. For this reason and more, we want a backpack that is comfortable to carry. For this purpose, we would prefer a bag with extra padding on its straps and handles. Another important factor is how the bag fits around the body and the way the weight is distributed. A more comfortable bag will have extra padding, great fit, and even weight distribution. These are a few things we should look into in a backpack along with the quality of its material. This will ensure that carrying the bag would be comfortable and not cause any pains. This will be beneficial in the long run.
Price: With all said and done, the final factor in choosing a backpack is its price point. There are some expensive backpacks as well as some mid to lower budget backpacks. It isn't always necessary that the higher-priced bag will be better. Most camera backpacks have the same foundation. The only difference is the quality of materials used. The pricing also depends on other features like rainproof and shockproof. But in some cases you might be paying additional bucks just because of the brand name whereas you could get a similar backpack from a less reputable company at a much lower price. So consider all these factors and see if the backpack is providing a good price to performance ratio. Then choose a backpack that meets your requirement and fits your budget.
Now that we have that out of the way, it's time to see our top picks for the best camera backpacks to buy in 2023.
Best Camera Backpack Reddit
1. NOMATIC McKinnon Camera Pack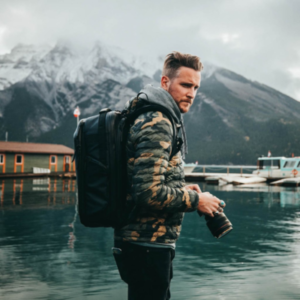 CHECK THE GUARANTEED BEST PRICE
The McKinnon Camera Pack 35L backpack is a result of the collaboration between NOMATIC and Peter McKinnon, a Toronto based photographer, and YouTube content creator. They got together and built the perfect backpack that can both pack for long and is also very easy to access. It has been designed to utilize every square inch to serve an essential purpose which makes it the perfect backpack for every situation. It enables the user to pack both their clothing as well as their camera gear in the same bag. It allows you to quickly access your camera gears thanks to its side pocket. You could also access the entire camera compartment by unzipping it. The divider plates allow you to customize and organize all the gears properly. There's also a laptop compartment that can fit laptops up to 16″. It comes with multiple external adjustments and support straps that help distribute the weight and make it comfortable to carry around. The bag also comes with other exciting features such as pockets to store cords, chargers, or anything else and magnetic water bottle pockets. It also features lockable zippers and strong water-resistant outer materials so that you can take the bag anywhere and in any kind of weather. This is the perfect backpack for every kind of travel and is also our top pick for the best camera backpack for photographers.
Key Features
Dedicated 16″ Laptop Pocket: The Nomatic Camera pack also comes with a laptop sleeve. This sleeve has extra padding and keeps your laptop protected from any kind of damage. The sleeve opens sideways and is on the back panel of the bag. This makes it easy to access your laptop. The sleeve can fit laptops of up to 16″ size.
This camera pack has the room and functionality to keep your gear safe + sound, whether it's your laptop, camera, favorite jacket, or the myriad of photography essentials like hard drives or multiple lenses. This pack can haul it all for the true adventurer.
External Side Storage: The bag has additional storage on one of its sides. You can use this flap to store your water bottle or even your tripod in that. Few external straps have been included to give extra security and make sure the gears don't fall out. The flap is magnetic which means that when it is not being used, it attaches to the magnet and becomes flat. This maintains the slim form factor of the backpack and also makes sure the flap isn't left hanging around.
Easy Access Pocket: On the front of the Nomatic Camera Pack is a flat pocket. This pocket has been designed to store your quick-access items. So you can store your important documents, passport, and your wallet and access it quickly when required. The pocket comes with very secure zippers and a magnetic inner pocket. This makes sure that all your important stuff is safe and secure.
Expansion Up To 40L: The Camera Pack by default comes with a 35L capacity. But if required, there is a zipper which when unzipped, expands the backpack. This increases the capacity and allows the bag to store up to 40L of stuff. This also ensures that the backpack doesn't exceed the maximum allowable carry-on size on flights. So with this backpack, you can always pack extra if you need to.
Quick Side Access: Most photographers prefer to have quick access to the camera so that they can quickly take out their camera and capture a shot. The Nomatic Camera Pack allows that. There's Quick Side Access on both sides which allows you to quickly access the camera. So you don't need to worry about missing out capturing anything anymore.
Sternum Strap & Waist Strap: The Camera Pack comes with a sternum strap as well as a waist strap. The sternum strap helps in providing support to the rest of your body while the waist strap helps in managing heavier loads. The combination of these two, along with the extra padded shoulder straps, makes it very easy and comfortable to carry the backpack.
What Reddit Things about this:
u/mrgoodtofly – This bag definitely isn't for everyone, but considering when I travel a good chunk is for travel videography, I'd say it has all the features I've wanted in a onebag.
My overall impression is that while it's slightly on the heavier side, it's very well built with a really clean, sleek appearance. Everything is easily accessible & the main compartment is modular like you would expect out of any camera bag.
There are plenty of zippered pockets, but it doesn't feel overbuilt and there are plenty of little features I like such as the side water bottle pocket is magnetic so when nothing's in there it locks in flush to the bag.
The clothing section is exactly as expected and nice that it's expandable if I'm going on a longer trip and want to bring more or have additional space if I want to take things home.
Also, the cube pack is a little bigger than I expected, but it's actually perfect for me. The bottom holds both my camera, drone & lenses while the top is big enough for additional gear and anything else I'd need during the day.
u/mellowsmoothe – I have it, it's actually much nicer than I thought it would be. The ladder system is clever and executed well, it stands on its own better than any other pack I own. I just ordered and received another small cube for hot swapping loadouts. Have carried it to a few shoots and it feels good, again much better than I expected
2. Peak Design Everyday Backpack
The Peak Design Everyday Backpack is an award-winning backpack that has been designed for perfect every day as well as photo carrying purposes. The bag has a slim design but can be expanded to store even more. It has been built keeping in mind the accessibility, organization, and protection requirements of a backpack. It comes with MagLatch hardware that gives fast and secure one-handed top access. The two weatherproof UltraZip also allows dual side access to the backpack. 3 easy-to-configure FlexFold dividers make it easy to organize everything inside. Everyday also comes with multiple pockets on the interior as well as the exterior as well for even more organization. There's also a dedicated sleeve for storing laptops up to 15", tablet, documents. The breathable mesh padding on the back and the extra padded shoulder straps, that pivot at axial points, provide optimal comfort for all body types. The included Luggage pass-through and 3 padded grab handles make it very travel friendly. The Everyday backpack is made of a 100% recycled 400D nylon canvas and is also Bluesign certified (except Black variant).
Key Features
Expandable: The Peak Design Everyday backpack can store a lot more than one might assume at first glance. This is thanks to the innovative MagLatch hardware that it comes with. Due to this the backpack is capable of internal expansion. This means that because it provides an internal expansion so when you need to pack some extra items, you can easily expand it. The 20 L backpack can be expanded to store an additional 3L while the 30L bag can be expanded to store an additional 8L of stuff.
CUSTOM ORGANIZATION: The Everyday backpack comes with 3 easy-to-configure FlexFold dividers. So you can customize the internal compartment of the bag as per your requirement. This allows you to have a much better internal organization in the backpack. And since all the gears will be in their separate compartment, they will have even more protection.
MULTIPLE POCKETS: The Everyday backpack comes with many different pockets so that you can easily store everything that you want. On the internal part of the bag there are pockets on both the side and the top. They are stretchy pockets, so you can easily store items like power banks, mini tripods, cables, and other similar things. There are also internal slip pockets for you to store the important stuff like your wallet, passport, etc. On the exterior, there are pockets on both sides. Like the internal pockets, these are also stretchable and you can store your tripod, water bottle, etc in them.
LAPTOP SLEEVE: Even though the primary purpose of this backpack is to store your camera and all its accessories easily in an organized manner, it isn't limited to that. It also comes with an additional sleeve to store your laptops. You can store laptops that are 15″ or less. It also has additional pockets. So you can store your tablets and other documents as well. The sleeve is adjustable which means you can adjust it to fit even smaller laptops and gadgets perfectly. It also means you have easier access to them as well.
EXTERNAL CARRY: There are also 4 carry straps on the Everyday backpack. These straps are placed beneath a magnetic sleeve on the front of the bag. The straps operate alongside the Cord Hook system of the Peak Design everyday backpack. You can use these straps to easily cinch bulky accessories to the backpack. There's also a stowable and quick-connecting sternum strap included with the bag.
ULTIMATE COMFORT: The Everyday Backpack has loads of additions that make it very comfortable to carry. The backside of the bag consists of a vented and quick-drying mesh padding. The mesh padding ensures that the back is breathable and comfortable. You can also adjust the shoulder straps, which pivot at multiple axial points so that it can have a better, optimized, and comfortable fit with all types of bodies. Finally there's also a stowable sternum strap that provides support to the rest of your body.
TRAVEL-FRIENDLY: The Everyday backpack has been designed to be very easy to travel with. For starters, there's a magnetic luggage pass-through on the back so you can easily carry it alongside your suitcase. You will also find three padded grab handles so that you can grab the backpack anyway you want. Be it upright or sideways like a briefcase.
DURABLE & WEATHERPROOF: The backpack is made of 100% recycled 400D nylon canvas shell material. The shell also has a Durable Water Repellent (DWR) coating and a double PU coating. The Everyday Backpack is Weatherproof and is also Bluesign certified( excluding Black variant).
What reddit thinks about this camera backpack:
u/papasmurf – Love mine, but don't disagree with the cons others have listed. Bottom line: if your travel is oriented around tech/camera gear, it will be hard to find a better option. If you just want to pack your clothes, and maybe a small camera or go pro, there are better, lighter, less expensive options.
u/epcrct – Used mine 3 weeks in SEA. They bag should have broke with as much stuff as I was stuffing into it (a whole other story) but it worked very very well for our trip
u/Netcooler – Dunno about the travel backpack, but I have the everyday backpack. I abuse it day in day out and I've worn one of the zippers to the point the bag was unusable. This happened twice already (they refuse getting YKK zippers), but their warranty and service is unparalleled. I'm on my third backpack from them, and didn't need to put up a fight for it. Their word is their bond.
3. Wandrd PRVKE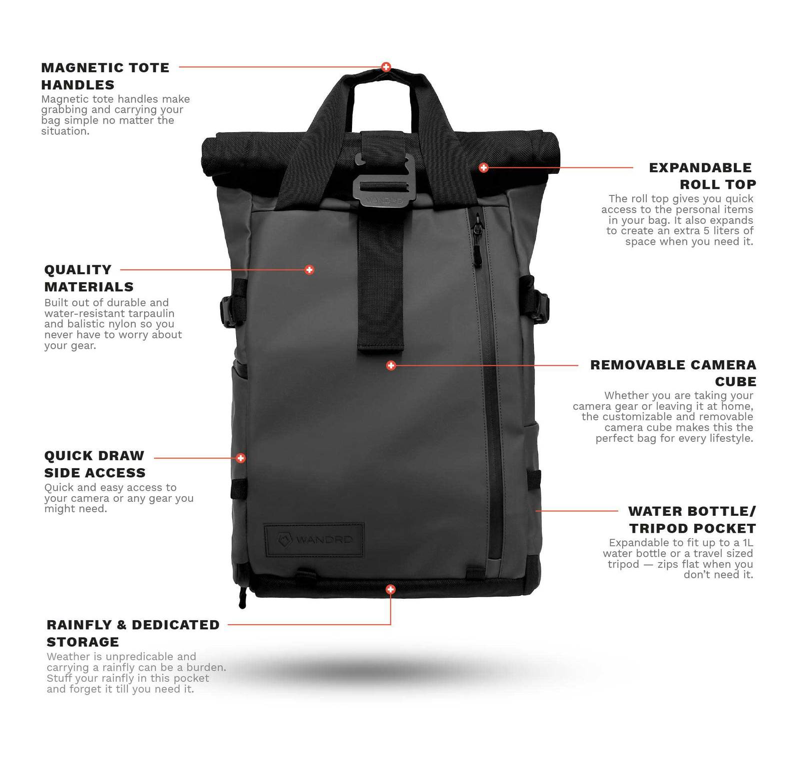 CHECK THE GUARANTEED BEST PRICE
The Wandrd PRVKE is one of the most versatile camera backpacks that are also perfect for photography, travel, and daily use. It is made of Waterproof Tarpaulin and Robic 1680D Ballistic Nylon and YKK Weather Resistant Zippers which makes it the perfect bag for every weather. There is a Quick Draw Side Access that lets you access the camera quickly. The expandable roll-top gives an additional 5L storage and the accessory straps make sure you can have some external carry as well. The camera cubes come with padded compartments that help to keep the kits organized and protected. There are two padded sleeves to store your laptop and tablets. Multiple pockets allow you to store different accessories. Finally, the padded shoulder straps, waist straps, and sternum straps make it easy and comfortable to carry no matter where you go.
Key Features
Quick Draw Side Access: The Wandrd PRVKE backpack comes with a Quick Draw Side Access. It is present on one of the lower sides. This part lets you quickly access the Camera without having to take off and open the backpack. Thanks to this you don't have to worry about missing a shot again as you can quickly take out the camera if required.
Laptop/Tablet Sleeve: One one side of the inner compartment, two padded sleeves are TSA approved. The first one is a laptop sleeve that can fit up to a 16″ Macbook Pro. The other sleeve is for your tablet or iPad, so you can store that too. The extra padding will keep both these devices protected.
Removable Camera Cubes: This is what turns this backpack into a full-fledged camera backpack. The camera cubes come with some customizable protection which protects the camera kits. This cube is removable, so you can remove it and turn the PRVKE camera backpack into an everyday bag.
Magnetic Tote Handles: The PRVKE backpack comes with two tote handles that attach magnetically. So you can attach and connect these to use them as grab handles.
Felt-lined Tech Pocket: On top of the backpack, there is a felt-lined pocket. You can use this pocket to store your phone, sunglasses, or other quick-access items. When required, you can easily access them without any hassle.
Expandable Roll Top: The backpack comes with an expandable roll top. This expandable roll-top can expand the storing capacity of the bag by an additional 5 liters. The rolltop also makes the bag more water-resistant. You can unroll it to quickly access the top items of the bag.
Customizable Camera Protection: The interior consists of multiple padded dividers that can also be folded. This lets you customize the compartment of the bag and allows you to have a much better internal organization in the backpack. This also improves the protection of the camera kits.
Hidden Passport/Cash Pocket: On the back panel of the PRVKE backpack, there is a hidden pocket. You can use this pocket to store important stuff like your passport or IDs and even some cash too. The hidden placement keeps these things safe.
Weather Resistant: The bag is made of Waterproof Tarpaulin and Robic 1680D Ballistic Nylon materials. It also comes with the YKK Weather Resistant Zippers. This gives it some very effective waterproofing. For added extreme weather-resistant, you can use the added rainfly.
Accessory Straps: The PRVKE backpack comes with 6 different attachment points where you can attach the accessory straps. This allows some external carry and lets you strap and carry bulky items such as a tripod, a blanket, or other large accessories. You can also use it to strap your jacket onto the bag.
Adjustable Sternum Straps and Removable Waist Straps: The backpack also comes with a removable and adjustable sternum strap which makes it very comfortable to carry. There's also a waist strap that can help manage heavier loads. Both of these are if you don't need them.
4. Lowepro LP37177 ProTactic BP 450 AW II
CHECK THE GUARANTEED BEST PRICE
The ProTactic 450 AW II is a lightweight and durable backpack that is perfect for every condition. This second-generation backpack comes with a more adaptive and customizable interior. It consists of multiple compartments that are separated by dividers. These dividers can be customized to fit your requirements. The backpack comes with multiple access points. There are two Quick-grab entry points on the sides and a turret loading entry point on the top for quick access. It also comes with other improvements like modular exterior attachment capabilities that let you attach ProTactic modular accessories to the backpack. The convertible utility belt can also hold up to 16 SlipLock compatible accessories. The bag comes with a luggage pass-through to carry it along with your roller. There's also a utility pouch, a water bottle holder, and a tripod cup for attaching the tripod.
The back panel of the bag consists of the ActivZone gives targeted comfort and support while the breathable mesh makes it comfortable to carry. The shoulder straps also have extra padding, which makes it easy to carry. To keep the kits protected from extreme weather conditions, an All Weather AW Cover has been included. The ProTactic BP 450 AW II is an all-weather backpack that lets you attach what you need and provides you with an all-day comfort carrying experience. This bag is very versatile and is the perfect companion for your next photography outing.
Key Features
Impact Protection: The ProTactic 450 AW II backpack has been constructed from the sturdy FormShell material. This is a lightweight and durable material. Thus it provides the accessories inside the backpack with superior impact protection. So you can carry it with you anywhere, without worrying about damaging your camera and other accessories.
Comfortable Carry: The ProTactic 450 comes with the ActivZone on the back panel of the bag. This delivers targeted support to the body. There are also multiple meshes with holes on the panel that makes the back breathable. So you can easily carry the backpack around with ease and comfort.
Laptop Compartment: Along with all your camera accessories, the ProTactic 450 AW II backpack also lets you securely store your laptop. It comes with a CradleFit compartment that can suspend and store laptops of up to 15" size. The CradleFit compartment keeps your laptop safe and secure.
Attach Anything: The ProTactic 450 AW II comes with multiple SlipLock attachment points. You can use these points to attach the adjustable straps on it. This allows you to attach any external accessories to the bag. The straps securely clip to the SlipLock attachment points to keep the attached item secure. The SlipLock system of loops and tabs also allow you to easily attach ProTactic modular accessories to the backpack. This gives the bag, even more, storing and organizing capacity.
Extra Storage: The ProTactic 450 AW II is capable of a lot of extra storage. It has an all-purpose utility pouch. This gives you additional storage to store your camera kits and gears.
Modular Belts: The ProTactic 450 AW II also comes with a utility belt. This belt is removable and can hold many SlipLock compatible accessories. It can be adjusted to a maximum of 40" which can let it hold as many as 16 SlipLock compatible accessories.
Safe from the Rain: There's also an All Weather AW Cover that comes with the ProTactic 450 AW II backpack. The cover fits neatly over the bag. This gives the bag some added waterproof protection. So you can easily use the backpack in multiple kinds of weather.
Tripod Cup: The ProTactic 450 AW II also comes with a Tripod cup. This tripod cup supports external carry. This means you can easily carry your tripod or monopod around along with the ProTactic 450 AW II backpack.
Bottle Pouch: There's also a bottle pouch that comes with the ProTactic 450 AW II backpack. This bottle pouch allows you to securely store bottles of up to 1L capacity. It also keeps the liquids inside insulated. So you don't have to worry about being hydrated while on the move. You can easily take out the bottle and take a sip.
5. Wotancraft Nomad TRAVEL CAMERA BACKPACK 25L
The Wotancraft NOMAD backpack is a camera backpack with a vintage-looking design. Wotancraft claims that it looks nothing like a camera backpack and I guess they are right up to some extent. At first glance, it looks just like any other backpack with no visible pockets or zippers. The backpack has a capacity of 15 Litres but can be expanded to fit up to 25 Litres. The Nomad comes with plenty of pockets and compartments that keep your camera gears organized and secured. It has a durable build and the roll-top design ensures that it is waterproof as well. There's also a laptop compartment that can store laptops of up to 15″ size. The bag also has extra padded shoulder straps and an optional waist strap that make it very ergonomic and comfortable to carry around. So, no matter where you plan to go, the Wotancraft Nomad can fulfill all your camera backpack needs.
Key Features
Expandable: The Wotancraft Nomad backpack has 3 separate spaces that it has been divided into. These are the main compartment, the front, and the top roller part. The bag can store up to 15L but it can be expanded to store a total of 25L if required.
Hidden pockets & zippers: The zippers and pockets on the Wotancraft are all hidden under the hood. The main L-shaped zipper opening is also hidden by the magnetic side panels. This gives the bag some additional security and protection.
Zipperless Roll Top Design: The Wotancraft Nomad backpack has a zipperless roll-top design. Thus allows you to quickly access the items stored inside. The roll-top design also helps make the backpack water repellent. So it can easily sustain heavy rain or snow with any hassles.
Vintage brass buckle: The Wotancraft Nomad consists of hook buckles that are made of brass metal. This helps it obtain the vintage look that most Wotancraft bags have. The book buckle has a black matte finish and gradually fades into a gradient. This helps it account for the gradient look.
Travel friendly: The Wotancraft Nomad is a very travel-friendly backpack. It comes with side handles and hidden pockets to store your passport and other important documents for quick access. There's also a luggage pass that makes it easy to carry along with other luggage. It also conforms to carry-on luggage size restrictions that most airlines have.
Comfortable and Ergonomic Design: The shoulder strap on the backpack is broad and has extra padding. Further, the back panel trapezoid back piece design is breathable and also helps in even distribution of the total weight. The optional "padded waist strap" also helps in this matter. Overall, all these results in a very comfortable carrying experience.
Quick access: Both sides of the Wotancraft Nomad backpack has a large L-shaped opening. This opening allows quick access to all gears when you require them. So you don't have to worry about missing anything.
So these were our picks for the best camera backpack in 2023. Tell us in the comments which are your favourite and are there any backpacks that we missed. Cheers and take care.
Read Next:
Best Travel Tripods for Photographers