Writing is an essential skill whether you want to create a blog post or send an email to a customer. Good writing skills help you sound professional and allow you to engage better with the end user. There are several tools in the market that help you improve your writing, and the biggest one is Grammarly.
Grammarly is a popular writing tool that helps catch spelling mistakes, grammar errors, plagiarism, and much more. With this tool, you can take your writing to the next level. It also comes with real-time proofreading and editing tools based on your write-up. Currently, the platform has over 300 million users, and they are constantly rising.
If the cost is keeping you from signing up for Grammarly Premium? 
Click Here To Get 20% Discount On Grammarly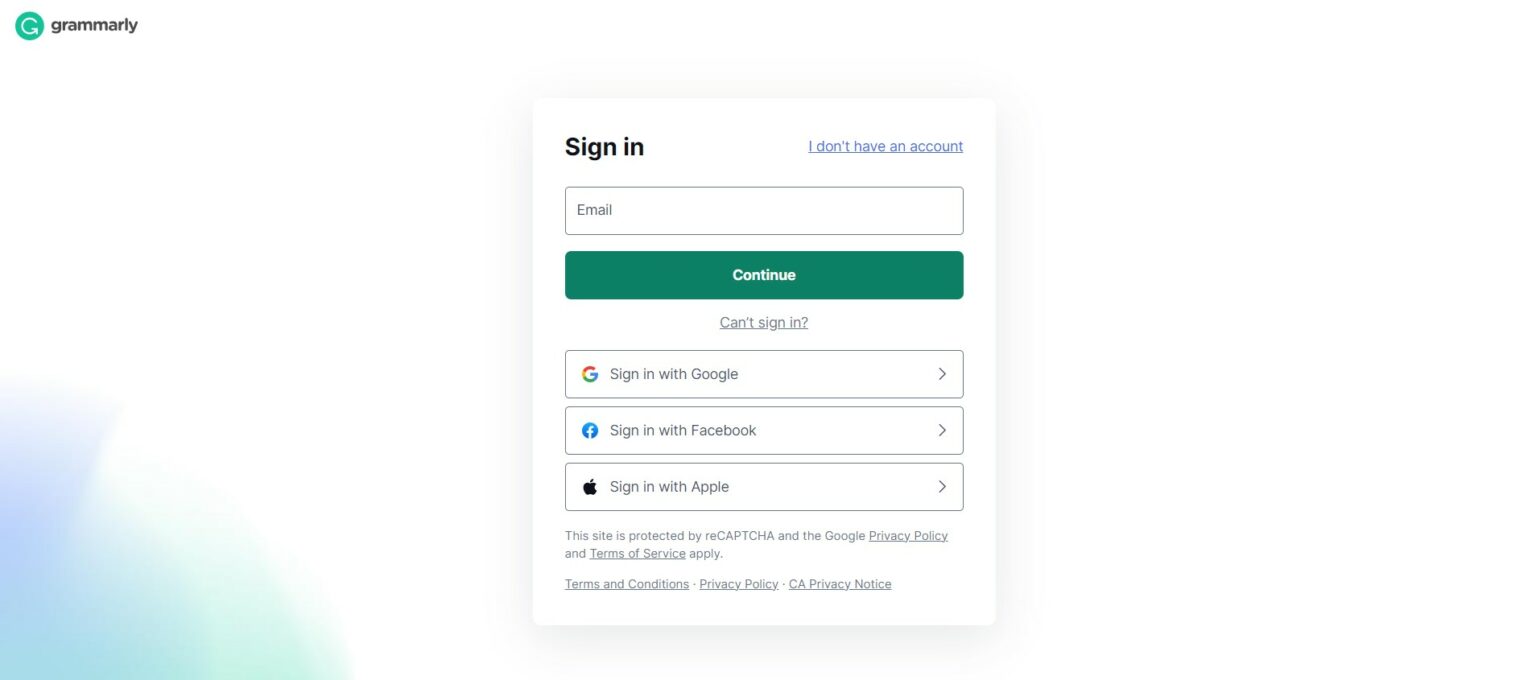 However, Grammarly is not the only writing tool out there, so if you want to rely on a good writing tool to optimize your content and communication, select the best one. In this article, I will explore some of the best grammar and style checkers seen in the market.
Why Choose a Grammarly Alternative
Grammarly comes with an array of features that makes it the leader in this space; however, based on your budget, this may not be the best solution. Here are a few reasons why people opt for an alternative to it.
1. Price
Grammarly has a free version, but it is a bit restricted in terms of features. The premium plans offered by the platform are expensive, and there are other tools that offer these services at a cheaper rate. Look around for tools with similar features that are available at the right price and are reliable.
2. Focused only on English
Grammarly is designed predominantly to work with the English language. If you want to translate or use another language, then the tool can't help you. However, Grammarly supports English in multiple dialects.
3. Learning
If you want to improve your writing skills, then you would want to use a grammar-checking tool that is catered toward learning. You don't want to see a red line in your sentence to see if it is grammatically correct. The tool doesn't give users in-depth explanations or tutorials. There are a few grammar checkers who have some educational material to help you learn as you go.
4. Rewriting tool
Grammarly has several helpful features and options, which include a few rewrite suggestions for wordy or unclear sentences in its premium version. However, if you want to rewrite some section of your work, then you'll have to look elsewhere, as Grammarly is not fit for it.
5. Integrations
Grammarly comes with different integrations with desktop and web apps. However, you might have to find other tools having more integrations that work better for your business. Select an editing tool that will fit your writing process and has the integrations to meet all your requirements.
Top 10 Alternatives to Grammarly
1. ProWritingAid- Best Grammarly Alternative
ProWritingAid is one of the best alternative to Grammarly in the market. It is a premium grammar and style editor that is an ideal tool for bloggers, novelists, and other writers. The software helps users eliminate any errors, edit grammatical errors or optimize word choice efficiently. The powerful editing tool is available for both Windows and Mac. It also supports Microsoft Word, Google Docs, and the book-writing app Scrivener.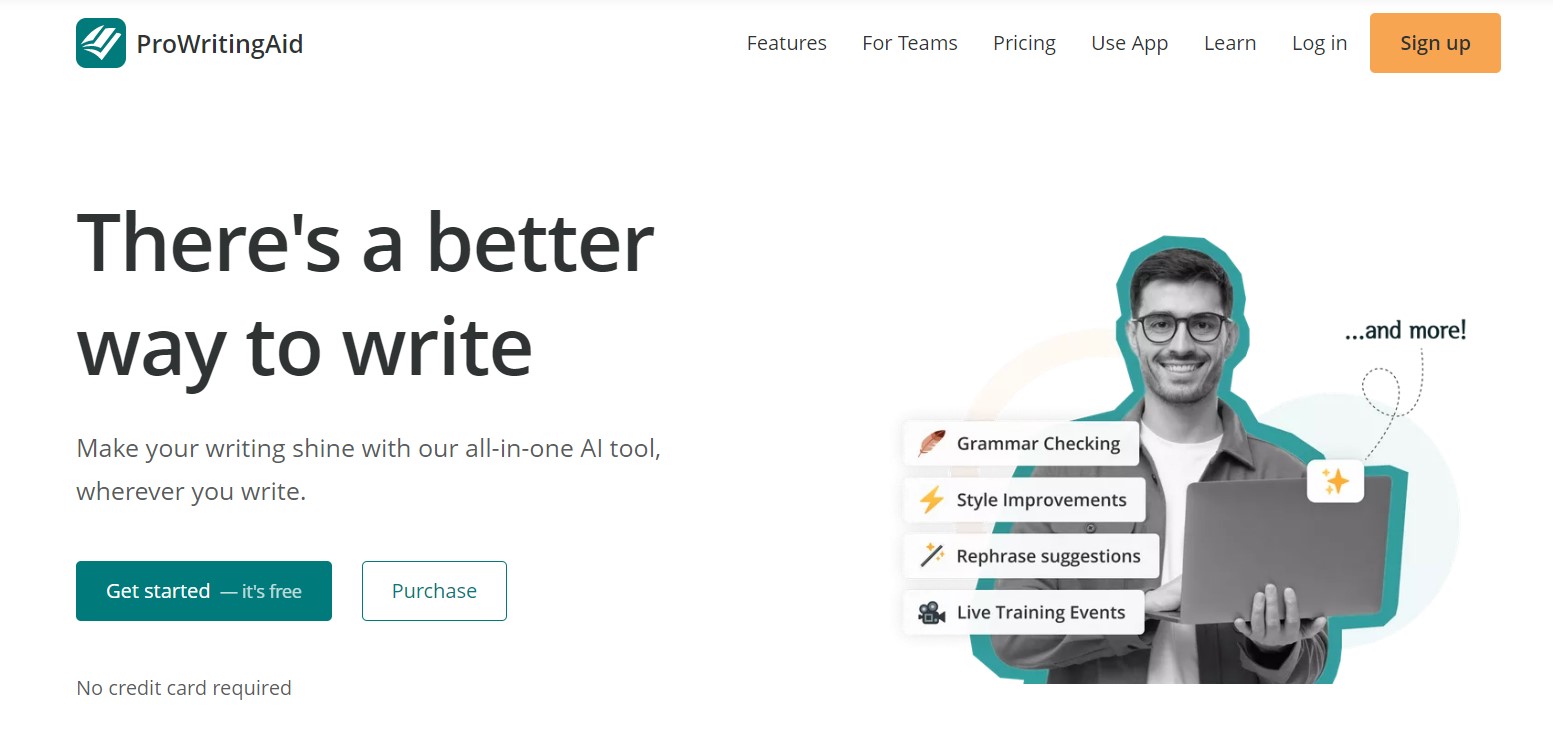 The software has some interesting reports that are not available with Grammarly, like its alliteration analysis and dialogue tag check. You can get 20+ writing reports that allow you to create your very own editing roadmap based on data from your document.
ProWritingAid offers tools that allow you to edit line by line to get a complete example of the big picture. You can learn different writing techniques, edit anything and track your progress in a single program. This allows you to learn on the go, and you can improve your writing skills too. Here, you will get in-app explanations of each suggestion to understand the root cause of the issue.
Features
Spelling and grammar checker with suggestions for replacing ambiguous or weak phrases and reports to improve the overall writing quality.
The Free plan allows you to get access to the editing tool. You can add 500 words at a time to get the desired results.
20+ in-depth writing reports based on readability, repeated words, structure, dialogue, and much more.
30+ document types to make the most important edits for your document
In-tool articles, quizzes, and videos to understand that you are making the desired changes.
Contextual Thesaurus report that suggests synonyms for each word in the text, allowing you to explore different word types.
Good plagiarism checker with a custom style guide
Text expander to expand the content for better efficiency
Document storage in a web editor
Browser extension so you can edit everything you write
Integrations with powerful writing tools, like Google Docs, Microsoft Suite, Scrivener, Apache Open Office, and more.
Pricing
ProWritingAid has a free plan, where you can check its features before you go ahead to purchase its premium plans. It has 3 paid plans, which are priced starting at $20 per month, with its lifetime deal available for $399.
Pros
Helps improve your writing skills
Offers accurate readability and grammar recommendations
Conforms to the writing style of your choice
Integrates with every program that is used by writers
Works well for short and long-form writers
20+ reports to improve your writing concerns
Affordable compared to other grammar checkers
Cons
The free version is limited to 500 words for in-depth reports
No iOS or Android app
Can be clunky for general online writing
2. Hemingway App – Powerful Grammar and Editing Tool
Hemingway App is an editing tool that helps identify errors and find areas of improvement in writing by highlighting and fixing issues and sentence structure. Also known as Hemingway Editor, it is a desktop app that can be downloaded for both Mac and Windows Pcs. It is designed to identify common writing errors that affect the readability of your writing. This will include everything from passive voice, overuse of adverbs, and confusing sentences.
The app is easy to work with, and you can directly paste the text into the free online editor. Here, it will highlight adverbs, passive voice, and complex sentences. You will also be given a readability score for your content.
If you are only looking for a simple grammar-checking tool, then it only helps you simplify complex sentences and words. The tool is difficult to use when you are editing longer pieces of content. Overall, the entire experience of using the tool is simple and straightforward.
Features
Hemingway App has color-coded suggestions that help identify lengthy sentences, complex phrasing, passive voice, etc. It has 4 color suggestions- yellow sentences, red sentences, purple, blue words, and green phrases.
You don't need an internet connection when you are writing content. Upload your finished work directly into WordPress to save time and get the utmost efficiency.
Select between a writer and editor mode on the Hemingway App. The writer mode will focus on the writing side of things, while the editor helps with complex sentences and suggests corrections to fix them.
Easily export and publish content directly to external editors, like WordPress, Microsoft Editor, and Medium.
Provides in-depth details such as reading level, reading time, paragraphs, etc.
Export directly to Word or PDF files.
Its ease of use helps you to format your prose with just a click of a button, and Hemingway will manage the entire process.
Supports platforms like Windows, Mac, and the web. It has integrations with Google Docs, Scrivener, Chrome, WordPress, and Medium.
Pricing
Hemingway App is a completely free tool if you access it on the Web only. The creators of the platform have intended to keep it that way. The desktop version has a one-time payment of $19.99. It has the same price for both Mac and Windows devices. Whenever the software offers an upgrade, it will automatically do it for the paid plans.
Pros
Simple interface
Powerful color coding and suggestions
Easily handle lengthy documents with ease
The free online platform is great for editing shorter pieces of content
No installation or login is required for the online version
Great for assessing the readability and complexity of content
Cons
Limited scope
Grammar capabilities don't measure well with tools like Grammarly
Not ideal for manuscripts or longer pieces
3. WordTune – AI-Powered Writing Assistant
WordTune is an AI-powered writing companion that helps authors write better and offer a clear message as they intend. Unlike other Grammarly alternatives in the list, the software acts as a proofreading tool. WordTune focuses on full sentence rewrites, and if you hover over a sentence, then it will give you multiple suggestions to easily rephrase the said sentences.
The tool helps users improve their fluency of expression without needing to perform any special changes in the writing workflow. With over 1 million users, the software takes writing to the next level using the power of AI tools and versatile language models to help writers in rephrasing content in different ways while keeping the context of the original sentence. All this helps express yourself in a more effective and efficient manner.
Features
Offers multiple rewrite suggestions for sentences. This gives you a new way to express yourself and rephrase your text to look unique and eye-catching.
WordTune lets you choose the tone and length of the rewrite suggestions. You can select a formal or casual tone to incorporate either professional or friendly text in your document.
WordTune works on any platform- Gmail, Google Docs, Facebook Outlook (web version), WhatsApp Web, Twitter, LinkedIn, and more. You can easily access the WordTune editor across several browsers.
Efficiently rewrite or translate simultaneously. This is a great feature if you are a non-native English speaker.
The expand tool is helpful to express a thought in a complete and lengthy way without making it look unnecessary or fluffed.
The smart synonyms feature lets you highlight a particular word and provide you with a list of synonyms to understand the context of a sentence.
WordTune Spices is a new AI writing feature that helps enhance your writing. The feature helps you expand a sentence, give an example, or provide statistics or analogies.
WordTune Read is a new AI product that helps users summarize long documents or URLs to consume content quickly.
Pricing
WordTune has a free plan that gives you access to 10 rewrites per day which gives you new ways to rephrase your content. This plan is a bit limited when you are writing long-form content. If you want more rewrites, then it's $24.99 per month premium plan is something you should consider. For customized offerings, check its Premium for teams plan.
Pros
Easy to use with a simple interface
Powerful AI rewriting editor
Works on several websites
Helps make sentences more clearer
Its rephrasing tool doesn't destroy the meaning of the original sentence
Several extensions to ensure optimum functionality
Supports multiple languages
Cons
The free plan is slightly limited
Offline use is not available
Doesn't support a desktop app
4. WhiteSmoke – Great Proofreading Tool
WhiteSmoke is a versatile English language proofreading tool that allows users to check grammar, spelling, punctuation, and other styles. The AI-based natural language processing technology offered by the tool gives it advanced style-checking features to help keep your voice and style in check.
The interface of WhiteSmoke is basic and has a one-click proofreading feature. You have to paste the text into the editor, and it will check the content for any errors. If you add it to a web or desktop app, then it will check it once you click a single button. So, your text is not always checked when you type it, as with other apps. It also has a powerful plagiarism checker to check that the content is unique. The software is aimed at non-fiction writers and is designed specifically for academic and business writers. It basically helps eliminate any grammatical errors or reduce issues substantially. This is why it is a great choice for checking literary works like essays, short stories, and articles.
Features
It is a great tool to detect grammar errors and provide information on each error to improve your writing overall.
A versatile style and punctuation checker to know if your work has problems that make it unpleasant to read.
The NLP model used by the platform allows it to analyze texts, detect errors and provide suggestions using different algorithms.
Create flawless content using a Grammar checker, punctuation, and style checker.
Translate text in 55 languages, including English, Spanish, Portuguese, French, etc.
Has an array of email and document templates to help draft content efficiently.
Desktop and mobile apps with integrations to Chrome, Firefox, Opera, and Safari browser.
The plagiarism checker helps you to check unique content when thousands of people are writing on the same topic online.
Pricing
WhiteSmoke doesn't have a free version, so you will have to choose one of its paid plans to get access to it. It is available on a single-year or 3-year subscription plan. The paid plans are priced starting at $5 per year, with its premium plan priced at $11.50 per year.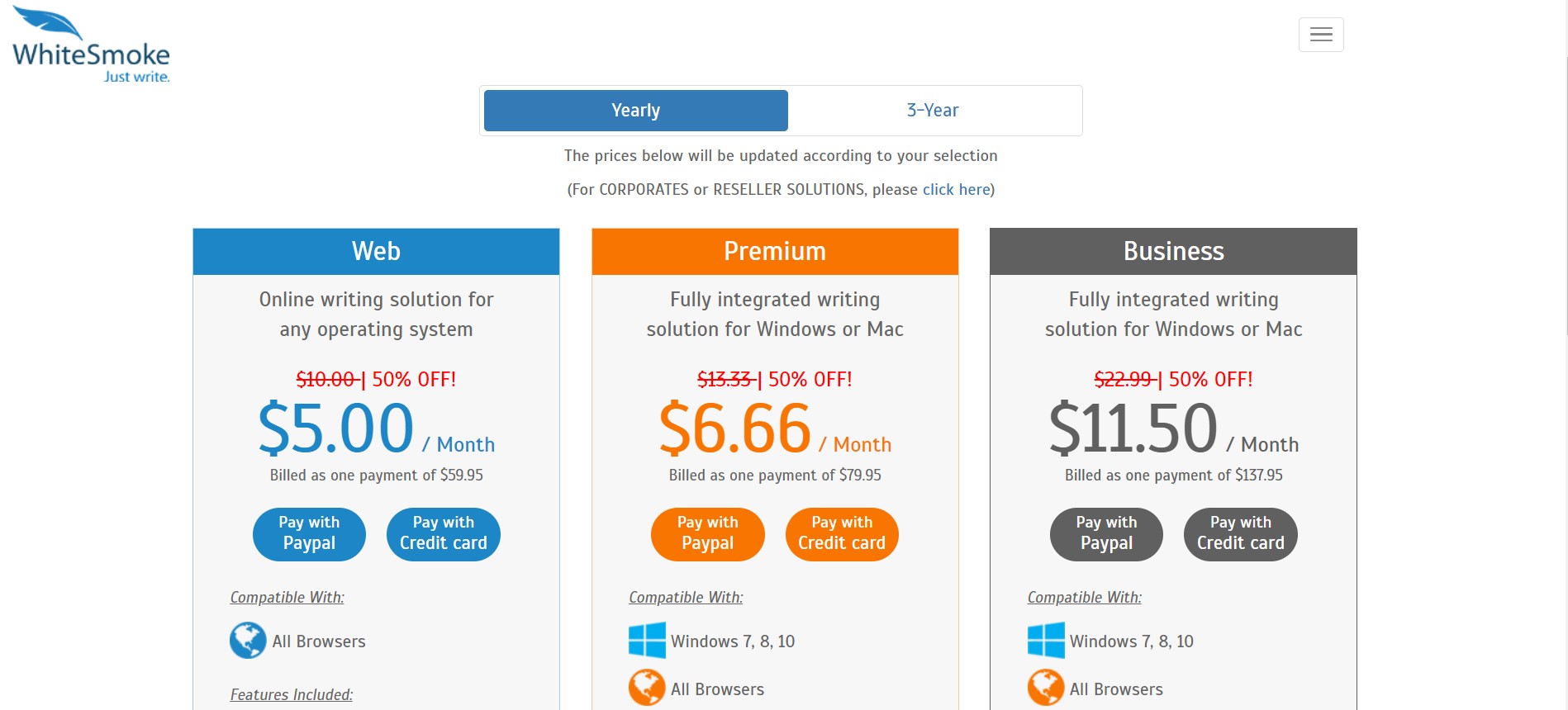 Pros
Great tool for checking grammar, style, plagiarism, punctuation, and spelling
Uses powerful NLP to maintain your style and voice
Easy to use
Includes a translator and plagiarism checker
Tutorials can allow you to become a better writer
The web version is available on all popular web browsers
100+ templates for various writing projects
50k word limit
Cons
The interface is not aesthetically pleasing
Poor customer support
Limited to checking 10,000 characters at a time
No free version
5. Ginger – AI-Powered Grammar and Proofreading Software
Ginger is a versatile proofreading tool that is powered using artificial intelligence. It is an online spelling and grammar checking tool to check your writing and tackle common errors or mistakes. The software is a great learning tool for people that are looking to enhance their English skills. Not only will it save time during your writing process, but it will help you become a better writer.
Ginger has basic grammar mechanics that are essential to generate high-quality writing. It comes with an all-correct tool that instantly applies all the recommended fixes. The tool works similarly to Grammarly and provides spelling and grammar tips based on the written context. Both their interfaces are similar, and you will see underlined errors followed by in-browser suggestions or mobile apps.
The software is a great fit if English is the first language. This AI information is gathered from certain users, so you know that you are working on real-world data to improve your basic mechanics or language-specific features.
Features
A versatile grammar checker to identify and fix errors in text and your content
Generate smooth-flowing sentences utilizing the rephrase tool.
Emojis to express yourself better with word prediction for the essence of speed while you are typing with customizable themes for your keyboard.
Double-click a word on the editor to find synonyms to replace frequently used words.
The personal trainer feature helps analyze your writing weakness and provides custom lessons to improve your English for optimum efficiency.
Versatile translate feature that allows you to translate between up to 40 languages.
Available across an array of browsers like Windows, Chrome, iOS, Mac, Safari, and Android keyboard. It also has a Microsoft Word add-in, which is very helpful. However, it doesn't support Google Docs, but you can use the browser extensions.
Pricing
Ginger has a free plan where you can check its features and different aspects offered by the software. Its paid plans are available on a quarterly, annual, or 2-year subscription model. The paid plans cost $19.99 per month or $150 per year.
Pros
Great to catch spelling or grammar errors
Ease of use alongside multiple browsers
One-click correction feature
Offers style suggestions to improve readability
Learning center to teach how to be a better writer and learn from your mistakes
Performs mistake analysis of text in real-time
Produces a detailed report that helps you track your progress and improvement
Affordable premium plans
Cons
Translation is inaccurate
Doesn't integrate with Google Docs, OpenOffice, or Libre Office
Don't catch all types of mistakes
6. Sapling – Great Tool for Customer-Facing Teams
Sapling AI is a powerful tool that is designed for customer-facing teams in a business. It works well with CRM and messaging platforms that help boost sales and support teams to compose personalized responses. The platform has good grammar correction and style suggestions but also focuses on helping you respond better to your customers.
The tool integrates with service platforms like Freshdesk, LiveChat, Zendesk, and several other support agents to create error-free communication for users. It also has a versatile auto-completion feature based on common customer service responses alongside an expander tool that saves your most-used phrases and responses. The tools autocomplete everywhere, and snippets features help to improve your writing efficiency and productivity. It is great tool for customer service teams looking for quick proofreading and time-saving tools built for that purpose.
Features
Top-quality grammar and spell-checking functionality.
Autocomplete feature across all web apps through its versatile browser extension.
Sapling AI integrates with Google Docs, Chrome, Outlook, or Word. The tool also integrates with Zendesk, Freshdesk, LiveChat, and other customer-facing apps.
Translate to any language and rewrite sentences simultaneously.
Automate common phrases using the snippets feature to expand search and shortcut expansions.
The only grammar checker that has an on-premise or self-hosted deployment or a non-data retention policy.
Pop-up available to easily paste phrases for easily copy and editing it.
Powerful enterprise-grade infrastructure designed to handle large amounts of data having strong security.
Pricing
Sapling AI has 3 plans that work on a monthly subscription basis. It has a generous Free plan where it offers basic features and functionality. The Pro plan is priced at $25 per month; however, you can get a 1-month trial period by signing up for it without needing a credit card. If you want more features and customizable options, contact the team for enterprise-level features.
Pros
Simple and clear interface
Improves writing quality
AI writing assistants with advanced algorithms and machine learning techniques
Real-time suggestions allow you to make changes to your text quickly
Integrates seamlessly with existing writing workflow
Saves time by taking care of the tedious and time-consuming aspects of your writing
Cons
A new tool in the market
May not always provide the best suggestions
Limited customization options
Doesn't have an offline version
7. Linguix – ChatGPT Style Grammar Editing Tool
Linguix is a robust AI assistant that is designed to aid grammar correction, punctuation, and spelling check. The tool has sleek visuals, and the process of account-creation to usage is simple and straightforward. The tool helps you to check the accuracy of the content and rectify errors in a single click.
The tool gives statistics for the entire document as a whole. This includes everything from readability to sentence length. This is a high-level approach that is something that is not available with Grammarly. It hides details of important issues for their premium suggestions. On its free version, you'll miss out on some words, prepositions, and redundancies. Apart from this, readability and structural insights are also hidden from free members.
It has ChatGPT capabilities using its algorithms on its premium plan that allow you to perform content rewrites. But you cannot directly upload your documents in the editor, so you may lose the formatting when you paste the work into the program.
Features
Linguix can fix 9 million types of writing issues while performing 2,700 grammar, punctuation, and sentence structure.
Powerful paraphrasing tool makes the writing process more clear, and compelling.
Linguix has a modern website that is aesthetically appealing and creates an excellent user experience.
The Secret mode helps you work in incognito. With this tool, you can keep specific articles or email content away from leaking out and a colleague from stumbling on the write-up.
Extensions with Chrome, Firefox, and Edge help you write across different platforms.
The writing process can be sped up with its versatile templates and robust one-word shortcuts to get you going.
The partnership with Copyleaks allows users to quickly check your document against billions of online texts to see that it is unique.
Pricing
Linguix has 3 plans which are affordable when you compare it with other direct alternatives to Grammarly. It has a free plan where you get access to its basic functionality and features. The paid plans are priced starting at $15 per month. If you want customizable features, select its premium plan to get all that you need.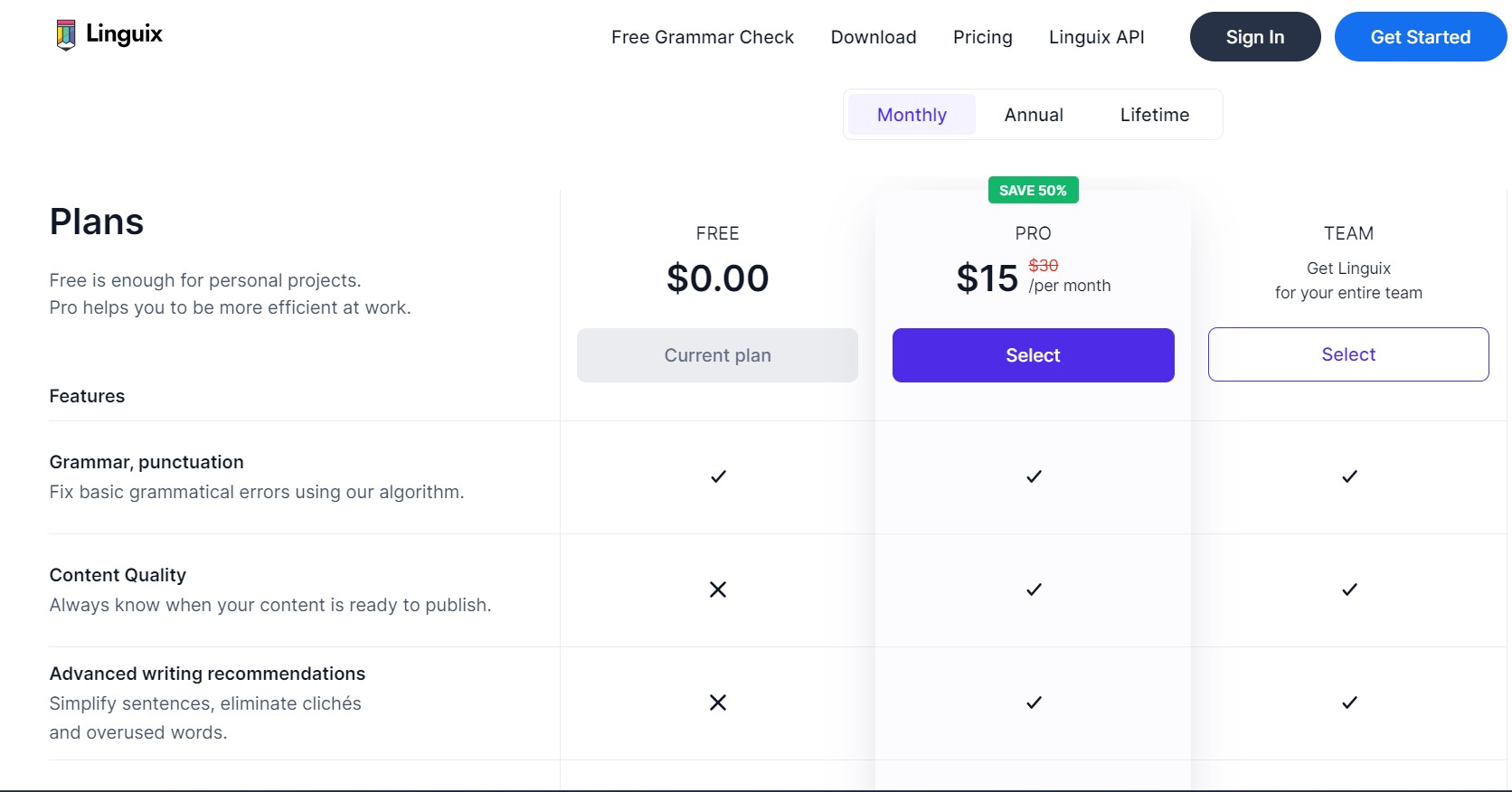 Pros
User-friendly from installation to everyday use
Instantly check the grammar and spelling of the text
Offers recommendations and adapts them based on variations of common language
Customizable style guide
Check sensitive documents using its style guide
Powerful plagiarism checker
Provides English writing coaching
Cons
Plagiarism checker costs per credit
Doesn't offer vocabulary enhancement
Only spots basic grammar mistakes
8. Writer – Grammar and Plagiarism Checking Tool
Writer is a tool that checks grammar style and plagiarism, like most other tools in this list. It is designed specifically for marketing teams, corporate users, social media agencies, and HR departments. The tool is competitive with other grammar checkers, but it shines as a solution for teams.
Writer helps you check the content based on the brand voice and style guidelines. The style guide is checked via a series of simple questions. It is designed to unify and save time to make content easier.
The collaborative features of the platform allow you to make your work in sync, which makes your writing stronger. Its versatile reports help you keep track of your team and find out what mistakes they make the most to find who is using the app and where they are using it.
Features
A dedicated style tool that is compliant with SOC2 and HIPPA. Here, you will see how your writing score is for a tone and check it using your company's chosen terms.
Writer's CoWrite feature helps speed up the creative process of a writer by generating blog posts based on a set title. The tool is trained to sound like a business since it is directly integrated into your team's style guide.
The interface of Writer is clean and includes different settings for changing its appearance or formatting as needed.
Create snippets of texts and save the regularly used text, and don't worry about creating from scratch every time. This makes the entire process more efficient and simple.
Powerful security with enterprise-ready encryption, storage, and security that is fit to handle sensitive material.
Extensions with Chrome, Word, and Google Docs across all its packages.
Pricing
Writer comes with 2 standard plans that allow you to experience and correct grammar, punctuation, and other errors. Its paid plans start at $18 per month, and the Enterprise plan helps you get writing access across your whole company. Contact the sales team to get customizable features.
Pros
Understands content and context efficiently
AI-powered assistant making it a perfect tool
Helps keep your work coherent
Premium quality and unique style guide checker
Easy to navigate and create guides
Decent accuracy
Customization of brand guidelines to keep team members in check
The writing checker of Writer turns bad writing into readable, comprehensive, and non-plagiarized output
Cons
Not designed for single users
Slightly complicated to learn and set up your style guide
Content checking can be intrusive for certain writers
9. PaperRater – Grammar Tool for Students
PaperRater is a web-based grammar and spelling checker that is designed specifically for students. It is one of the apps like Grammarly that is decent but doesn't have the advanced features and solutions on this list. However, its robust grammar-checking tool helps find cheeky mistakes and proofreading systems to provide suggestions to improve your writing. Further, it provides immediate results by utilizing artificial intelligence and data science in a few seconds.
To access its features and check your text, you just have to copy and paste the content, and the editor will generate desired suggestions. The tool also has a plagiarism checker to see that the content you paste into it is unique.
Features
Support academics by providing in-engine performance to see how scores change in real-time. Detect the opportunities and elaborate on them without adding any complexity.
Powered by artificial intelligence to provide some of the best grammar checking for texts.
Check the plagiarism checker to provide an originality score by comparing your text with over 10 billion documents.
Customize your goals, which can allow you to curate your content to a specific audience.
The vocabulary builder gives you access to different words, sentences, examples, and definitions while improving your English skills.
A versatile style checker that helps you find helpful tips in the section. Here, it will check for passive voice in sentences and flag it if you think it has any issues.
Pricing
PaperRater has a free plan that allows you to have some basic features and functionality. If you want good features, select its paid plan, which is priced at $14.95 per month.
Pros
No need to sign up to use its features
Speedy reports
A good tool to check grammar, spelling, and punctuation
Checks for various sentence beginnings
Cloud-based to store data
150k+ word limit with a 5-device limit
Decent customer support
Cons
Made primarily for students
The free version is slightly limited
No integration, as you can only use the tool on the website
Not great for checking blogs, manuscripts, or non-academic papers
10. Reverso – Free Grammarly Alternative
Reverso was initially launched as a translation tool. It can translate into 14 languages, and after the translation, it will give you examples of the text in context and also offer synonyms. This is great for non-native speakers, and you can improve your foreign language skills by listening to how your texts are pronounced by native speakers.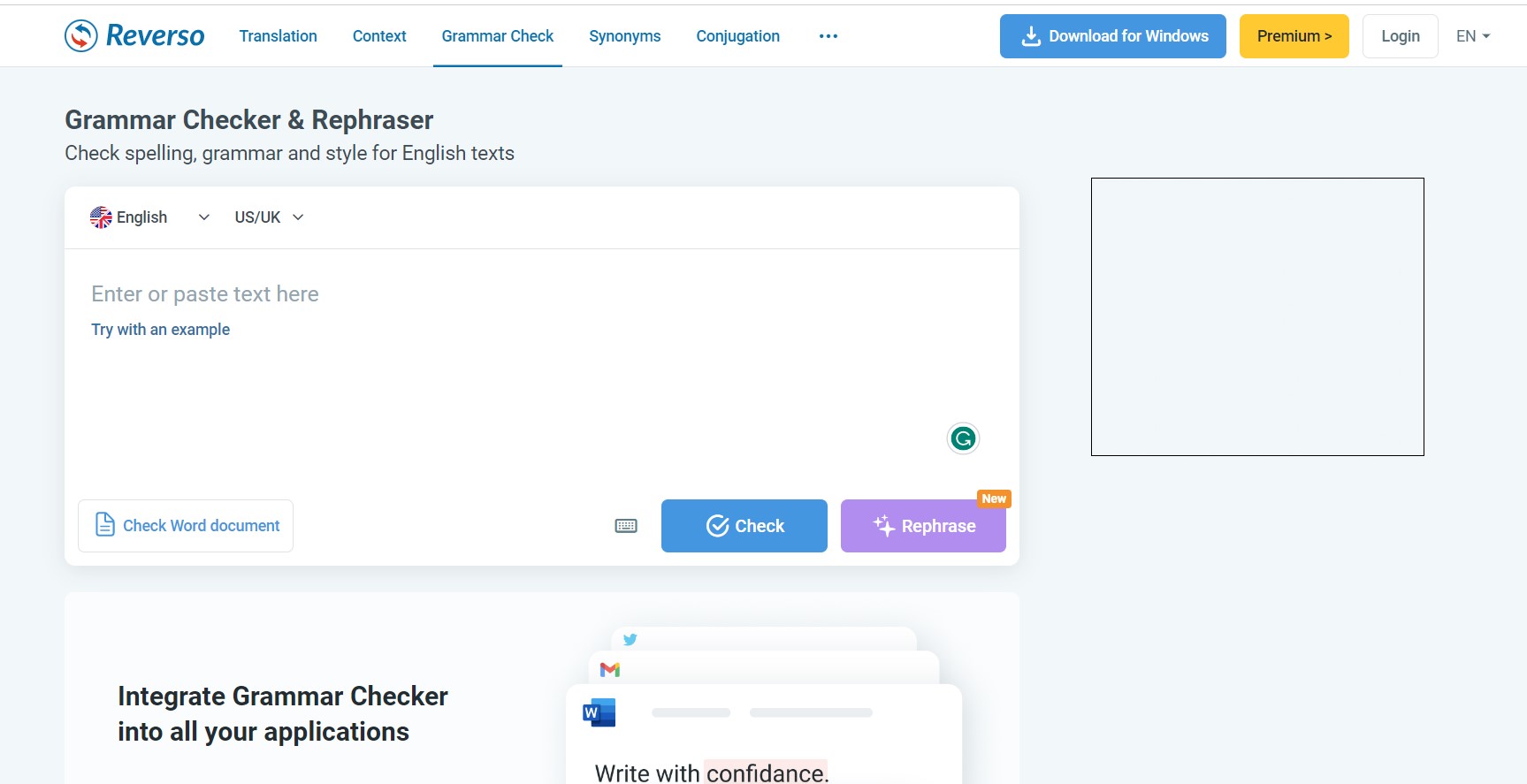 For the English and French language, they have a grammar checker that allows you to check the punctuation, spelling, and other retrospect. You can easily free yourself from any spelling errors to improve your texts to offer better efficiency.
Features
Simple translation in multiple languages having examples of use in the context.
A versatile spell checker and intuitive grammar checker in the English and French languages.
No need for an internet connection while getting access to the tool.
Accurate results having a natural pronunciation from a native speaker while using the tool.
Reverso has a browser extension with Google Chrome, but it doesn't have other integrations like similar websites to Grammarly.
Real-time suggestions and flashcards to memorize words and share the results for optimum efficiency.
Great rephrasing suggestion with good dictionary lookup.
Pricing
Reverso is completely free, and you can access its features without paying a dime. However, if you want custom plans, you can purchase them for $9.99 per month.
Pros
User-friendly interface
Offers a combination of translation services with contextual dictionaries
Free and accurate
Cons
Not designed for teams
No official API access
Translation support is not very comprehensive
What is the Best Alternative to Grammarly?
There are plenty of grammar checkers in the market, as you have seen in this article. Finding the perfect tool is very hard as each of them has its own features and drawbacks. The major differences between these apps from Grammarly are their accuracy of corrections, translation services, and price. Overall, the choice to select the best Grammarly alternative is up to you, as they have to fit your requirements. However, if you want my suggestions, then ProWritingAid and Hemingway Apps stand out for their features and overall functionality.
Read Next:
Does AI Content Rank On Google