Ready for an adventure that demands courage, durability, and style? Look no further than the Goruck vs. 5.11 showdown. These outdoor gear heavyweights have captured the hearts of both nature enthusiasts and city dwellers. Goruck stands out with its military-inspired designs and top-notch quality, while 5.11 shines with its tactical gear and wallet-friendly options.
In this epic face-off, we'll delve into each brand's strengths, from features and performance to value for money. Whether you're gearing up for a challenging hike or looking to make a statement during your daily commute, join us as we explore the Goruck vs. 5.11 reality. Get ready for an exciting journey.
TLDR; If you're in the hurry here's the pros and cons of both 5.11 & Goruck!
Goruck
Unparalleled durability.
Minimalist yet functional design.
A loyal and passionate community.
Higher price point.
Limited variety compared to 5.11.
5.11
Extensive pocket and compartment options.
Competitive pricing.
Trusted by law enforcement and the military.
Bulkier designs may not suit all users.
Less emphasis on minimalist aesthetics.
Goruck Gear
1. Goruck Backpacks
Goruck has gained its reputation for crafting rugged and versatile backpacks that excel in demanding conditions, making them a preferred choice among travelers and outdoor enthusiasts. One of the standout features of Goruck backpacks is their bombproof laptop compartments, providing exceptional protection for your laptop even in challenging environments.
Beyond durability, Goruck backpacks are known for their sleek and functional design, enhancing both aesthetics and usability. These backpacks efficiently carry your belongings without unnecessary bulk, catering to those who value both durability and functionality. Whether you're embarking on a multi-day hiking expedition, doing a rucking workout or navigating a busy airport, Goruck backpacks offer a stylish and practical solution.
These attributes have made Goruck backpacks a top choice for individuals seeking gear that can endure tough conditions while delivering the practicality required for various activities. With their bombproof laptop compartments and thoughtful design, they remain favorites among discerning travelers and outdoor enthusiasts. So, when it comes to dependable backpacks, Goruck has you covered.
Here are the top three Goruck backpacks that have captured the hearts of users:
1. Goruck GR3 (45L Rucksack): The Goruck GR3 is a spacious and durable 45-liter rucksack. It's designed for those who need ample storage for extended trips or demanding adventures. With its robust construction, it can handle tough conditions and heavy loads. The GR3 is an excellent choice for travelers and outdoor enthusiasts seeking a reliable and roomy backpack.
2. Goruck GR2: The Goruck GR2 is a versatile 40-liter backpack known for its adaptability. It's designed to be a one-bag solution for various needs, whether you're going on a weekend getaway or a longer journey. The GR2 offers a balance between capacity and portability, making it suitable for both urban and outdoor adventures.
Check The Guaranteed Best Price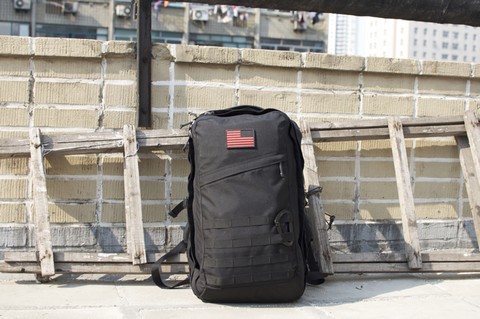 3. Goruck GR3 (Featured in "The GORUCK Show"): The Goruck GR3, as featured in "The GORUCK Show," is a testament to the brand's commitment to quality. While this particular model is not covered extensively in the available sources, its inclusion in Goruck's promotional material suggests it's a noteworthy addition to their lineup.
These Goruck backpacks share common traits: durability, practicality, and the ability to withstand challenging conditions. Whether you choose the spacious GR3, or the versatile GR2, or explore other options within the Goruck range, you can trust in the brand's reputation for creating rugged and reliable backpacks.
2. Goruck Apparel
Goruck's dedication to toughness and endurance isn't limited to their famous backpacks. Their clothing line embodies the same commitment to ruggedness, making it an attractive choice for those who value both comfort and resilience in their attire.
One standout item from Goruck is their challenge pants. These pants are engineered to handle demanding situations, whether hiking or engaging in physical activities. They prioritize durability without compromising comfort, allowing you to move freely while having confidence in your clothing's ability to withstand wear and tear.
Goruck's t-shirts, though simple in design, are built to provide not just comfort but also durability. These shirts are crafted from high-quality materials that can withstand the test of time. Whether you're wearing them for everyday use or outdoor escapades, you can trust in their longevity.
While the specific details of Goruck's clothing offerings may vary, their unwavering commitment to creating tough, comfortable, and resilient attire remains a constant. This dedication to quality establishes Goruck as a dependable choice for those who prioritize both style and endurance in their wardrobe.
5.11 Gear
1. 5.11 Backpacks
5.11 Tactical has a strong presence in the gear industry, especially when it comes to tactical packs and backpacks. These packs are meticulously designed with precision, making them an ideal choice for individuals seeking organization, durability, and functionality in demanding situations.
A standout feature of 5.11 Tactical packs is their extensive pocket and compartment design. These backpacks come equipped with a wide range of pockets, sleeves, and compartments, allowing users to efficiently organize their gear. Whether you're carrying tactical equipment, electronics, or daily essentials, 5.11 Tactical packs offer the versatility to keep everything neatly in place.
An excellent example is the "5.11 Tactical COVRT 18 Backpack." This backpack perfectly embodies the brand's dedication to functionality. It combines a sleek, unobtrusive look with numerous hidden compartments and specialized pockets, making it suitable for everyday use and tactical scenarios.
5.11 Tactical consistently introduces new load-bearing products, ensuring that their gear stays at the forefront of industry innovation. These products are crafted to meet the evolving requirements of both professionals and enthusiasts.
if you're in the market for a backpack that excels in tactical situations and offers meticulous organization, 5.11 Tactical packs are a dependable choice. Their commitment to precise engineering and innovation ensures that their gear caters to the needs of a wide range of users, from first responders to outdoor adventurers.
Here are the top three 5.11 backpacks that have garnered attention from adventurers and tactical enthusiasts:
1. 5.11 Tactical RUSH 12 Backpack: The RUSH 12 is a versatile and compact backpack designed for everyday use and outdoor adventures. Its MOLLE/PALS webbing allows you to customize your loadout, making it ideal for those who need quick access to essentials. With durable construction and ample storage options, the RUSH 12 is a favorite among hikers and commuters alike.
2. 5.11 Tactical RUSH 24 Backpack: The RUSH 24 is a larger version of the RUSH series, offering a generous 37-liter capacity. This backpack is designed for extended trips and demanding situations. It boasts multiple compartments, hydration pocket compatibility, and a sturdy design that can withstand tough conditions. The RUSH 24 is the go-to choice for those who need a reliable tactical backpack for longer missions.
3. 5.11 Tactical Push Pack: For those seeking a compact and versatile option, the 5.11 Tactical Push Pack is an excellent choice. With its flat dark earth color and one-size-fits-all design, it's a sleek and functional choice for urban carry. Whether you're navigating the city or need a discreet tactical bag, the Push Pack is ready to accommodate your needs.
These 5.11 backpacks share a commitment to durability, practicality, and versatility. Whether you opt for the compact RUSH 12, the spacious RUSH 24, or the urban-ready Push Pack, you can trust 5.11 Tactical to deliver high-quality backpacks designed for real-world challenges.
2. 5.11 Apparel
5.11 Tactical's clothing range, just like their gear, is highly respected for its outstanding performance and durability. Here, the spotlight is on their renowned tactical pants, designed to excel in a variety of situations.
5.11's tactical pants, like the "5.11 Men's Traverse 2.0 EDC Pants" and the "5.11 Tactical Men's Coalition Casual Pants," boast several key features. These pants often include reinforced knees, providing extra durability for rugged use. This feature is especially valuable for professionals in law enforcement, the military, or outdoor enthusiasts who need knee protection during their activities.
Comfort is another standout feature of 5.11's tactical apparel. These pants are meticulously designed for a comfortable fit, allowing easy movement without compromising functionality. This comfort is vital for individuals on duty, involved in strenuous activities, or hitting the trail.
These tactical pants offer exceptional versatility, suitable for a wide range of purposes. Whether you're on professional duty or exploring the outdoors, 5.11 Tactical pants are engineered for top performance. They often feature multiple pockets and specialized functions for carrying essential gear.
5.11's tactical pants are renowned for their reinforced durability, comfort, and versatility. They have become a trusted choice for those who demand high-performance clothing in tactical situations and beyond.
Goruck vs 5.11
1. Durability
When it comes to durability, Goruck and 5.11 are industry leaders. Goruck, in particular, is known for its bombproof construction, which applies not only to their bags but also to a wider range of gear. Their meticulous attention to detail and the use of high-quality materials result in virtually indestructible products.
This level of durability is a testament to Goruck's commitment to creating gear that can handle the harshest conditions. Whether it's their backpacks or other equipment, you can trust that Goruck's products are engineered to stand the test of time and tough environments, making them a top choice for outdoor enthusiasts and adventurers.
5.11 has built a solid reputation for producing durable gear, whether it's their tactical backpacks designed for military and law enforcement or their outdoor apparel.
They prioritize durability in their products, featuring reinforced stitching, robust zippers, and rugged materials. What's fascinating is that both 5.11 and Goruck have dedicated fan bases that attest to the longevity of their gear. Users often share stories of Goruck bags surviving years of abuse and 5.11 tactical pants holding up in demanding situations.
In essence, both Goruck and 5.11 gear are renowned for their longevity and reliability when it comes to durability. The choice between them often boils down to personal preferences, specific needs, and the style that suits your adventures best. Regardless of your choice, both brands are known for delivering gear that's built to withstand rigorous use, making them trusted choices for outdoor enthusiasts and adventurers.
2. Pricing
5.11 is often considered the more budget-friendly option when compared to Goruck. While both brands are known for their quality and durability, Goruck gear tends to be positioned in the higher-end price range. This higher cost is partly due to Goruck's commitment to producing extremely durable and bombproof gear, which often involves premium materials and meticulous craftsmanship.
On the other hand, 5.11 offers a wide range of gear, including tactical clothing and backpacks, at price points that are more accessible to a broader audience. This affordability has made 5.11 a popular choice among law enforcement, military personnel, outdoor enthusiasts, and everyday users who require reliable gear without breaking the bank.
Ultimately, your choice between 5.11 and Goruck may come down to your budget and your willingness to invest in your gear. While Goruck is renowned for its exceptional durability, 5.11 provides a cost-effective alternative that doesn't compromise on quality and performance.
3. Performance
When assessing the performance of Goruck and 5.11 gear, personal preferences, and specific needs become paramount. Both brands excel but cater to different tastes and requirements.
Goruck is renowned for its minimalist design, prioritizing functionality and durability. Their gear maintains a clean, streamlined appearance, focusing on the essentials without unnecessary frills. This simplicity appeals to those who value ruggedness. Goruck's products are built to withstand challenging conditions, well-regarded for their bombproof construction.
In contrast, 5.11 tactical gear is characterized by its wealth of pockets and features, ideal for those needing extensive organization and versatility. Tactical pants, backpacks, and clothing from 5.11 often come equipped with multiple compartments and specialized pockets, catering to professions requiring quick access to tools and equipment.
Choosing between these brands hinges on your specific needs. If you prioritize a straightforward design with a focus on durability, Goruck may be your choice. However, if you require gear replete with pockets and features for tactical situations, 5.11 might suit you better. Ultimately, your choice depends on your preferences and how well their designs align with your intended use.
4. Versatility
When assessing gear performance, whether it's Goruck's minimalism or 5.11's tactical prowess, personal preferences and specific needs are paramount.
Goruck prioritizes functionality and durability with its no-frills design, making it ideal for those valuing simplicity and toughness, whether you're a traveler, hiker, or city dweller.
Conversely, 5.11 caters to professionals in need of extensive organization and versatility, featuring numerous pockets and features for quick tool access. Choosing depends on you. If you favor a clean, robust design, Goruck is your choice. If you need a gear arsenal for tactical missions, 5.11 suits.
Goruck and 5.11 gear performance hinges on your needs. To choose wisely, match your preferences – minimalist functionality or feature-rich versatility.
When comparing Goruck and 5.11, there's no definitive winner. Your choice hinges on your specific needs and preferences.
If you value durability, and minimalism, and don't mind a higher price, Goruck is your pick. On the flip side, if you're looking for a budget-friendly option with plenty of features, 5.11 is worth considering.
Both brands offer quality gear that can handle tough challenges. Ultimately, the choice depends on your individual needs, style, and budget. Take your time to evaluate the pros and cons, and you'll discover the perfect gear companion for your adventures.
Goruck vs 5.11 FAQs

Which brand is more suitable for everyday use?
Both Goruck and 5.11 offer options for everyday use, but Goruck's minimalist design may appeal more to urban commuters.
Are Goruck backpacks worth the investment?
If durability and a sleek design are a priority for you, investing in a Goruck backpack is a solid choice.
Do 5.11 pants hold up in rugged outdoor environments?
Yes, 5.11 tactical pants are designed to withstand tough conditions, making them ideal for outdoor activities.
Can I find budget-friendly options from Goruck?
Goruck does have some affordable options, but they are generally known for their premium quality gear.
Which brand is favored by military and law enforcement?
5.11 is often preferred by military and law enforcement personnel due to its tactical features and durability.
Last update on 2023-09-30 / Affiliate links / Images from Amazon Product Advertising API