In this Goruck GR3 Review, I will be diving into the GORUCK GR3 Backpack one of the most durable travel and carry on backpacks in the market right now. It's built to carry over 400-pound loads! and withstand extreme conditions with capabilities of expanding from 45 liters to 63 liters basically all the good stuff for the adventurers, minimalists, and travelers in general.
TLDR; If you're in the hurry here's the pros and cons of the Goruck GR3 Backpack!
Pros
Expandable
Great Material
Tough As Hell
Bombproof
YKK Zippers
Lifetime Guarantee
Check The Guaranteed Best Price
Major Selling points of the GORUCK GR3:
Manufactured with extensive testing to render strong durability (450-pound loads) along with an ability to withstand extreme abrasion and water-resistant
Minimalistic design with the ability to conveniently expand (45L to 63L) when required
Well organized compartments with practical front-loading with wrap-around zipper for easy access
Heavily padded shoulders for extra comfort making it easy to carry the bag on long hikes (Impromptu adventures? No problem!)
Bombproof laptop compartment (Just in case)
Scars Lifetime guarantee from GORUCK
Drawbacks but not Dealbreakers of the GORUCK GR3:
GORUCK manufacturers in the USA and hires skilled American experts to make their bags add to that the military-grade materials and tactical design and you're looking at a very expensive price tag, not all can afford it but those that can don't regret buying it.
Who the GORUCK GR3 for?
GORUCK was founded by an ex-Army Special Forces so there's a lot of focus on military-grade and tactical stuff and A LOT of  American. (more on this later)
This bag is made versatile so it works most travelers be it:
A minimalist who wants a carry-on
An adventurous traveler who wants something durable
A world traveler who wants something functional.
Bottom line if you're looking to buy a backpack that will last you a lifetime, something that's made following the best practices and made of extremely durable materials then you cannot go wrong with GORUCK.
Check The Guaranteed Best Price
GORUCK GR3 REVIEW
PROS of the GORUCK GR3 Backpack
1. Extremely Durable and Rugged in Nature
GORUCK GR3 is tough and made of military-grade polyurethane coated 1000D Cordura Nylon cloth, Y2K zippers, in fact, these materials are trusted and used by marines in their tactical kits.
All of GORUCKs products undergo extensive testing to extreme conditions so you can rest assured your backpack will keep your contents safe.
2. Designed to be extremely functional
GORUCK having a strong military foundation creates extremely functional and practical bags. Every bit and nook is created with a lot of thought right from the expandable body(45L to 65L) for versatility to the front-loading design for easy access.
3. GORUCK Scars Lifetime Warranty
All GORUCK products come with a Scars lifetime warranty that lets you fix or replace your product free of charge if there is a defect in workmanship or materials wear out. The best part you don't need a receipt!
Check The Guaranteed Best Price
CONS of the GORUCK GR3 Backpack
1. Heavier than the usual backpack
The heavy-duty construction and military-grade materials are not light and together make the GORUCK GR3 a little heavier than 45-liter bags about 2lbs heavier so not really that big a difference in my opinion.
2. Expensive Price Tag
GORUCK being a genuine and authentic American brand manufactures their products using only the highest quality military-grade materials and follows high standards in its manufacture and labor practices meaning their cost will be higher than a company that outsources to China.
Moreover what's cheap is not good and what's good doesn't come cheap and GORUCK has it's pricing justified in my opinion.
3. Break-in Period for the best fit
The heavy-duty Nylon and shoulder straps take a couple of weeks of moderate to heavy use to break into but it's worth the break-in time.
Check The Guaranteed Best Price
The Story Behind GORUCK
Founded by an ex-Army Green Beret, Goruck bleeds American with firm roots with the Special Forces. Excellence, toughness, and adaptability are traits GORUCK instill in all of its products.
In fact "GORUCK" is a combination of Go and Ruck that refers to the verb to move with a rucksack it implies action, energy and purpose traits common in the army. So in a way, GORUCK was founded on the idea of bringing something from the army to the civilian community.
Bottomline GORUCK is an authentic and genuine brand that makes extremely durable and functional products that follow the best manufacturing and labor practices.
Check The Guaranteed Best Price
Goruck Gr3 Features
The GORUCK GR2 was a great success and now with their latest and great GR3, they're going to do the same perhaps even exceed expectations. One thing we know for sure if it's their Largest carry-on (or in general for that matter!) keep reading and I'll dive into the nitty-gritty without getting too geeky:
How's GR3's Construction and Make?
The GR3 is a huge bag, in fact, GORUCK dubs it one of the largest possible carry-on bags and they're no kidding as it can hold 45 liters (expandable to 65L) with official dimensions at 22″ high and 14″ wide by 9″ diameter.
Note: It may not be carry on compliant with some airlines especially outside the US so I recommend doing some research before you get to the airport.
As far as materials go GORUCK uses materials of the highest quality, in fact, most of them are military-grade i.e the same as those used to make tactical gear for the marines. The GR3 is made of 1000D CORDURA® ballistic nylon which is just about as good as it gets when it comes to materials for a backpack add to that heavy-duty YKK zippers and you're looking at an extremely durable backpack that can withstand anything.
How Does The Goruck Gr3 Look?
As far as looks go the GR3 comes in two versions the slick or MOLLE version and looks very similar to the GR2 basically is a good balance of minimalist and tactical.
Given that it's a huge 45L carry on it actually looks pretty slim and doesn't stick out on your back too much which is rare for a tactical backpack.
How are the External Components?
The exterior body of the backpack is fairly bare-bones except with a few essentials covered however as compared to the GR2 there are definitely some changes that make the GR3 much more functional. (Finally, a company that listens to its customers!)
Shoulder Straps:
The shoulder straps are super beefy due to the extra padding but beware it could take a few weeks (maybe months) to really "break-in". They might feel uncomfortable at first but give them some time they'll grow on you and conform to your shoulders quite nicely.
Hip Belt:
The GR3 also comes with a super hefty detachable hip belt that uses a DuraFlex buckle system (another hint at durability) and some nice foam padding that makes it super comfortable. Considering the size and weight of this backpack you'll definitely want to keep this attached whilst carrying this backpack around.
Carry handles: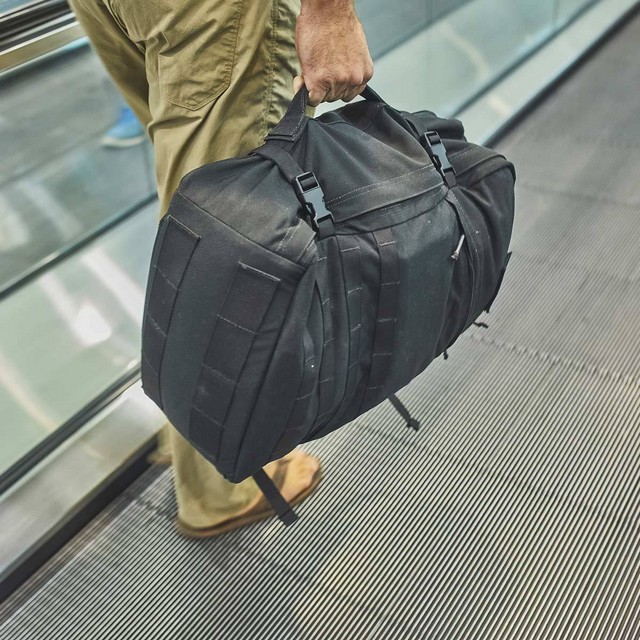 On both the side of the GR3 you have two nifty handles that make it easier for quick lifting (whilst moving it to cabin etc.) they're thin and comfortable and still have a nice amount of padding which is awesome.
Compression straps:
There are four compression straps two on each side which is nice to have as it wasn't in the GR2. The compression straps have DuraFlex buckles with a small elastic band that can hold any excess strap.  However, you cannot hide them even if you're not going to use them so they'll be pretty visible and can get in the way.
Velcro Patch:
This is GORUCK's standard feature that lets you attach a patch of your choosing onto the backpack.
There is, however, no load lifter strap on this pack which isn't really a problem as the GR3 is a quite low profile and mostly eliminates the need for them! It stays tight to your back due to the stiffer frame sheet and the way the straps are positioned on the pack.
On the whole, I love the attention to detail especially when it comes to adding more comfort like well thought out construction and padding to the external components for the backpack making it more comfortable and functional in many use case scenarios.
Check The Guaranteed Best Price
What about the Internal Components?
As compared to the GR2 the internal organization isn't great this is because the GR3 is a big bag it isn't practical to have small embedded pockets like the GR2. It's meant to be used by travelers that are a traveler for much longer especially those with packing cubes (2 layers)
Slash Pocket: This is actually on the outside that goes all the way down to the bottom of the pack. It's a good place for flatter items like documents, tickets, books etc.
Laptop compartment:  At 20″ high and 13″ wide this is one of the biggest compartments for a laptop. It's also got a false bottom so your laptop has extra protection in case your bag falls down.
Main compartment: This area uses GORUCK's silent zipper pull system featuring some beefy YKK zippers that are shrink-wrapped with some paracord so that they don't jingle.
The main compartment follows a clamshell opening to make it easier to access the contents. After opening it you'll see some pockets with on the interior flap.
Multi-colored mesh Interior pockets: There are 3 pockets that split equally along two of which are covered with mesh, however, these pockets are relatively flat so you'll want to put in flat items like passports wallets etc.
Each zipper has its own color so you can easily differentiate between each pocket. Color coding is great especially when you're trying to tell you friend which pocket to get into. (no more word games!)
Clamshell compartment: Opposite the interior flap is a massive clamshell compartment, in fact, it is the bigger I've seen till date! (you could fit a small child in there!)
I'm kidding please don't put your dog or kid in there.
Pro Tip: I recommend getting Velcro packing cubes (as the inner isn't velcro so they'll be rigid) unless you like your clothes turning into a jumbled mess. Moreover, there is room for two layers of packing cubes so you'll want to be strategic when you pack this thing up.
While there are only a few features I love how each feature is well thought and actually practical rather than having many features that are simply gimmicks. The only trade-off is you definitely need a packing cube otherwise your clothes are going to jumble up in the huge clamshell compartment
However I think packing cubes are almost mandatory these days, in fact, I've written an informative article on why packing cubes are important I recommend you check it out.
Check The Guaranteed Best Price
How durable is the GORUCK GR3
GORUCK and durability are almost identical in the backpack world this is because GORUCK is built over the goal of creating an extremely durable military-grade backpack. In fact, most of the previous backpacks like the GR2 are till day fine as reported by numerous happy customers.
Apart from being made of military-grade materials like 1000D CORDURA ballistic nylon and YKK zippers, GORUCK offers a  lifetime scars warranty assuring you a replacement or repair in case your backpack does wear out somehow.
In addition, GORUCK packs undergo extensive testing and the GR3 has been tested extensively across all stress points of up to 400 pounds of pressure. Bottom line this pack can hold the weight of two average-sized homo sapiens which is not common I assure you.
Check The Guaranteed Best Price
GORUCK GR2 vs GR3
Goruck GR3 in an upgraded version of the Gr2. However, they're a few key ways that the Gr3 is different compared to the Gr2.
Size: The Goruck Gr3 is only available at 45L, however, you can get the GR2 backpack at 26L, 34L, and 40L.
Pockets: The Goruck GR2 has more pockets (7) being a smaller and slightly better organization, however, the GR3 has fewer pockets (3) but a much larger capacity, in fact, it's the biggest possible carry-on and meant to be used with a bunch of packing cubes which in my opinion is a must.
External Components: The GR3 is a little bit wider compared to the GR2 with newly added external components like handlebars on both sides and compression straps. There is a Molle on the bottom rather than on the side like the GR2 that can be used to fit the GORUCK tough bag.
Hip Belt: In the GR2 you have a molle that attaches the hip-belt but with the GR3 there's an integrated section which fits better than the external molle and more importantly distributes the weight much better.
Conclusion:
The Goruck GR3 is much bigger and has a capacity for 2 layers of packing cubes with nifty external components for added convenience. So if you're into packing cubes and want the biggest possible carry-on GR3 is for you!
The Goruck GR2, on the other hand, has a lot more interior organization and although it can fit a few packing cubes isn't meant for it. So if you want something small with a more internal organization this is for you!
Check The Guaranteed Best Price
GORUCK GR3 Review Faqs
What does the SCARS lifetime warranty cover?
The SCARs lifetime warranty covers all GORUCK products without a need for a receipt.
If there is a defect in workmanship or materials that get worn out GORUCK will fix or replace it (at their discretion) free of charge. However, damages caused due to excessive abuse will be repaired at a fair price.
Does GORUCK offer FREE shipping?
GORUCK offers FREE No-Rush shipping on all US orders which takes an estimated 3-10 business days.
For those outside the US, there are options from FedEx, UPS and DHL Express with an additional tax and duty.
Does GORUCK accept international returns?
Yes, you can but you will have to bear the cost if you are returning because of negligence.
Is the GR3 better for minimalists or for World travelers?
Like I've mentioned before this bag is great for both. For minimalists, the bag maximizes carry on space and for travelers, the bag is super durable and suitable for most extreme conditions.
I hear the bag is heavy is it worth the weight?
Well, it's 2 lbs more than most bags but if you value durability then it's worth the extra weight.
What To Look for In a Good Travel Backpack?
One thing that's common amongst all travelers are their backpack, in fact, it is the one item that can make or break your travel lifestyle.
I have been traveling since 2016 and know how important it is to pick the right backpack which is why I thought I'd share my insight and tell you what makes a good backpack that's right for you.
The key takeaway here is something that's right for you as no bag is right for all travelers. So without further ado here are some of the aspects I look at when picking a good travel bag:
What Type of Backpack suits your travel?
The backpack industry has evolved with many types of backpacks specifically suited for some travelers so look into what kind of traveler you are and pick the type of backpack best suited for it.
For instance, if you want a carry on backpack, a suitcase isn't right for you but a backpack is in which case the GR3 is a pretty good fit.
What Size are you comfortable with?
This is perhaps the most important aspect of choosing a good backpack for travel as it's really important you pick something you can carry comfortably.
This is NOT the same as liters but how the backpack fits when you carry it on your back! Some backpacks have adjustable straps and options to get that perfect fit so it's worth looking for that.
Are the Straps Comfortable? (padded)
Straps are very important as that's what's attached to your body and carrying all the weight at the back. Good straps will ensure a comfortable fit due to the extra padding that's embedded into them whereas bad straps will be uncomfortable and possibly painful.
These are the two most important straps to have:
Padded Hip Straps: This helps spread the weight over your body that makes carrying the backpack around hassle-free.
Padded shoulder trap: This is a no-brainer as more padding makes it more comfortable on your shoulder and less can cause bruising. Fortunately, GR3 has thick padding so that's not an issue.
GORUCK GR3 Review Verdict
The GORUCK GR3 is one of the toughest and well-built bags you could possibly travel with. It's a well would upgrade to the GORUCK GR2
Should I Buy The GORUCK Gr3?
YES! if you want something big that's weatherproof for long-term travel ( more than 30 days) NO if you want something that's smaller and you aren't traveling for longer than 30 days in one go.
The GORUCK GR3 is one of the biggest carry-on and best suited for longer trips. It's also made of highly durable materials with badass American construction making it more expensive than the usual carry on.
So if you're looking for something that will last a lifetime that's suitable for longer trips and multiple seasons than the GR3 is the best option in the backpack market right now. However, be ready to pay a premium for it as it's not going to cheap.
If you want something smaller that is best suited for shorter trips (1 week to a month) for single seasons/region and better internal organization then the GR2 is a better option in my opinion.
The bottom line is get something that's right for you just because the GR3 is the latest and greatest doesn't mean it's right for you so I suggest you look into what backpack is right for your travel lifestyle before deciding to commit to a backpack.
Check The Guaranteed Best Price
So which one are you going to get the GR3 or the GR2? Let me know your thoughts on this GORUCK GR3 Review in the comments below!
Read Next: