Update: The Goruck Echo is discontinued. The Goruck GR1 is a great alternative
I have been traveling the world since 2016 and with experience can tell you that backpacks are an essential part of my travel gear and for pretty much any traveler in general. Moreover, I pretty much live out of my backpack which is why I always invest in the best backpacks that compliment my travel lifestyle.
There's a lot of crappy backpacks in the market however if you're reading this you already know the good stuff for GoRuck is one of the most reputable companies in the backpack industry.
In this article, I will be reviewing the GoRuck Echo the smallest backpack by GORUCK and one of the best small tactical backpacks you can buy in the market.
Wait Why "Echo"?
This was designed to be an "echo" of GR1 meaning it's the same construction, design etc, however, the GORUCK echo is built smaller for someone who is well smaller or wants something more compact.
GORUCK Echo Review
The GORUCK Echo is a small tactical backpack to carry everyday basics like water, camera, snacks. It's what you would fit into a bigger travel backpack (like the GR3) and then use to carry around with you when settling down and want to move around without having to carry all your stuff.
The Goruck Echo is discontinued. The Goruck GR1 is a great alternative
Major Selling Points
#1 Compact lightweight Backpack:
At 16 liters the GORUCK Echo is big enough to carry everyday essentials or day hiking/commute around the city and at the same time, it's small enough to not be a burden on your backpack.
The only reason you're spending on an EDC backpack is that you want that convenience of carrying something lightweight and compact rather than your bulky 40+ liter backpack.
Note: If you're carrying tech like DSLR's it will be big enough to carry just one extra lens.
#2 Extremely Durable Material and construction
GORUCK's brand is built on bringing something from the special forces to the layman so it makes sense that their products are extremely durable. GORUCK Echo follows this trend and is made of extremely durable materials and construction like YKK zippers, 1000 denier Cordura, extra padded straps, bombproof laptop compartment, 2×3 velcro etc
#3 Highly Customizable (MOLLE Webbing)
The GORUCK backpacks inspired from the special forces has  MOLLE webbing integrated into all its backpack. MOLLE is an acronym for Modular Lightweight load-carrying equipment that makes them highly customizable in nature as there's a ton of essentials that work well with molle webbings like travel compass, flashlights and many more.
#4 Lifetime Scars Warranty
GORUCK is pretty damn confident in the quality of its products and even offers a lifetime Scars warranty that entitles you to free repairs and replacements (at their own discretion) without a receipt!
This is unheard of in the backpack industry and definitely going to come in handy as most backpacks are vulnerable towards damage whilst traveling so you're going to want to have an option like this for the future.
Drawbacks but not Deal Breakers:
Expensive Price tag
At $200+ the pricing for a little high for a backpack of this size. However, GORUCK is not just any company it's a badass American company that follows the best practices and uses the best materials to make its products so you can rest assured you're getting a really high-quality military-grade daypack that will last you a long long time.
Last chance! Echo is being discontinued. Available while supplies last.
GoRuck Echo For Sale: $295.00 $195.00
YOU SAVE: $100.00
Who is the GORUCK Echo for?
If you're traveling for long periods you will want to avoid having to carry your 40L+ backpack around with you whilst you're wandering around this is where GORUCK Echo comes in offering a perfect solution for those that need lightweight everyday carry backpack. It is also compact enough to fit inside a 40L+ backpack.
The Verdict
The GORUCK Echo is hands down one of the highest quality daypacks on the market with features that you won't find in most daypacks and of course, the pricing is much higher than the average.
Bottom line if you're looking for something that's made to withstand anything and of materials that are super durable (think military-grade) then there is no other daypack strong and better than GORUCK Echo.
GORUCK Echo Review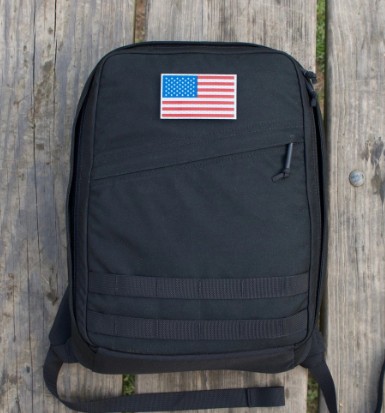 The GORUCK Echo is the smallest tactical backpack by GORUCK that thrives in cities. Though small it is still made of extremely durable materials like bomb proof laptop compartment, hydration bladder and features that are rare for a daypack. In short, it is one of the best small tactical backpacks available in the market currently.
Update: The Goruck Echo is discontinued. The Goruck GR1 is a great alternative
What is GORUCK Echo made of?
The GORUCK Echo has a capacity of 16L and weighs about 1.95lbs making is big enough for everyday essentials and day hikes but at the same time compact and lightweight to not be a hassle whilst lugging around.
The Echo is made of military grade 1000D CORDURA Denier ballistic nylon and secured by YKK zipper both extremely durable materials used to make tactical gear for the special forces.
How does the Echo look aka Aesthetics?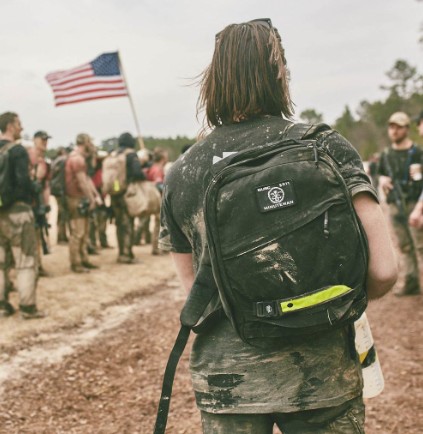 It is available in black, Ranger green, steel, Coyote Brown and Navy blue so you have a wide range of color options to choose from if you choose to opt out for the original tactical look. The Echo is compact and minimalistic so doesn't necessarily stand out unless you go for the ranger green in which case it looks like a tactical backpack.
How are the External Components?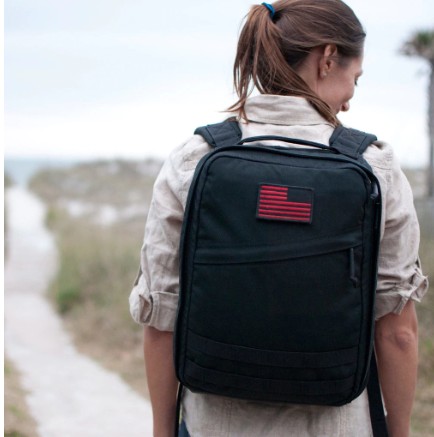 On the outside of the backpack are some molle webbing and an easy access compartment for quick storage. (think passport and boarding pass at the airport)
The back of the backpack has a lot of beefy padding for extra protection and comfort. You can also fold the shoulder straps backpacks to access another huge compartment that is big enough to fit a laptop.  Don't worry your contents will still be safe as it's got some beefy foam padding to secure the contents.
There's molle webbing on both the shoulder straps that can be used to fit into essentials like travel flashlights, compass etc.
What about the Internal Components?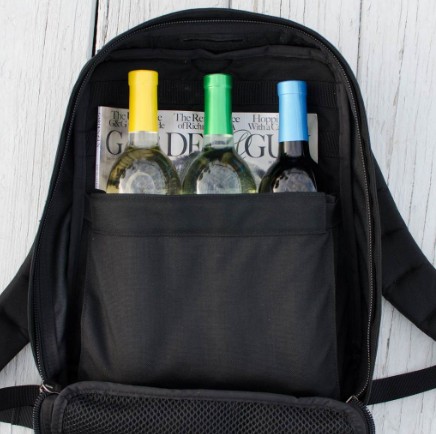 The backpack is secured by YKK zippers and opens up all the way around the backpack like a clamshell for easy accessibility.
On the left is a mesh covered pocket for essentials like a handkerchief, passport, camera equipment etc. Above in the top compartment is another small zipper in
On the right is an elastic pouch that is made specifically to store your water reservoir as it has an exit port on the top of the velcro used for the exit tube. (or you can use it to carry your tablet)
How durable is the GORUCK Echo?
The stitching and construction, on the whole, is very strong and robust again for long lasting durability. GORUCK has also embedded extra padding in specific areas like the laptop compartment, shoulder straps for more protection and comfort.
GORUCK states the Echo is water resistant with the ability to keep your contents dry regardless of being completely submerged in water however it is not completely waterproof.
Last chance! Echo is being discontinued. Available while supplies last.
GoRuck Echo For SALE: $295.00 $195.00
YOU SAVE: $100.00
GORUCK Echo vs GR1
Key differences
Echo
GR1
Product Page
Get It Here
Get It Here
Capacity
16L
21L/26L
Recommended height for fit
Maximum height 5"10"
If under 6 feet go for the 21L GR1
Molle webbing
No webbing on the sides and 2 rows on the front. (less customizable due to being smaller)
Webbing on both sides and 3 rows of webbing on the front
Internal Compartments
Both are very similar on the inside with the number of pockets being the same and the GR1 being slightly taller as it can pack more.
However, the Echo makes the best use of the space and you'll find you can pretty much the same in both the backpacks.
Overall both the backs are great for backpacks with only key differences in size i.e the Echo being smaller than the GR1. Also, both the backpacks are on the pricier end for EDC backpacks but obviously you get what you pay for and these aren't exactly ordinary backpacks. Moreover, with GORUCKS scars warranty, you can always repair the backpack should any problems arise in the future.
The Verdict: Should I get the GORUCK Echo?
If you have the budget and can afford to shell out over 200$ on an everyday backpack and are also into tactical backpacks there is no other backpack that can match the echo in terms of quality and functionality.
In fact, it is one of the best small tactical backpacks in the market right now so yes I recommend getting it if you see yourself using the backpack for a long time (possibly for life).
Last chance SALE! Echo is being discontinued. Available while supplies last.
GoRuck Echo SALE: $295.00 $195.00
YOU SAVE: $100.00
Thank you for reading this article If you have any more queries do let me know in the comments below!
Update: The Goruck Echo is discontinued. The Goruck GR1 is a great alternative
Read Next: