Canva and Photoshop are graphic design tools that help in the creation of visual material for a variety of uses. The tools can be used to create versatile online and printed material, photo editing, web design, video creation, and much more.
Canva and Photoshop have plenty of similarities; however, there is a significant difference in technical perquisites that can be done with both tools. Each of them caters to a certain type of user, so you need to understand how each of these programs fits into that. In this article, we'll look into the major differences between both tools and help you find the right tool to fit all your needs.
Canva Overview
Canva is the ultimate solution for beginners with no design training or experience looking to improve their marketing game. The tool has several accessible features that help in the creation of visual assets without much fuss.
Canva has so many templates you can choose from, and its powerful drag and drop editor helps in the creation of design as simple as things go. If you are planning to create video thumbnails and customized Instagram stories, then it is hard to beat Canva.
Pros
Easy to use
Extremely good value
Wide range of templates and elements
Offers a professional look
Brand kit option helps users upload their photos and typefaces with utmost efficiency
Free plan is usable and even offers support
Its mobile app is extremely functional
Cons
The formats you can output are limited
You cannot work without internet access
No phone support
Apps and integrations provided are limited
Photoshop Overview
Photoshop is a professional design tool that is designed for users who want complex image editing and need to do serious graphic design work. It has a range of image manipulation features that allow users to tweak and edit every setting right from an individual pixel.
Photoshop by Adobe is quite a technical platform, and its learning curve is steep. To master the tool, you will need months or years to truly be best at it. Its powerful features make it one of the go-to tools for many professional designers and photographers.
Pros
Powerful editing tools
Wide range of file support
Branded related graphics can be designed meticulously
Integration with Adobe apps
Edit video or animation layers with utmost efficiency
Easily transfer files between different programs
Good knowledge base and support
Cons
Steep learning curve for beginners
Fast and powerful hardware requirements
Expensive
Some tools lack progress monitoring facilities
Canva vs Photoshop
1. Interface and Ease of Use
When you are using a tool, it is important to understand how difficult or simple it is to use. The interface and ease of use are the first things you need to consider before making the right choice. Let us look into both the tools and see how the interface compares to each other.
Canva Interface
Canva makes the creation of new designs simple and user-friendly, and users will get used to it within a matter of minutes without any support. When you log in to the Canva account, you simply have to enter the type of project you want to work on. You will be then taken to a page that has a large selection of relevant templates to use as a starting point.
After you have started working on a design, you'll encounter a screen made of two sections. It comprises a drag and drop editor on the main menu on the left where you will get access to visual elements and stock photography.
The interface of the Canva editor includes
Drag-and-Drop functionality
Professional layouts and templates
Easy search option
Integrations and apps
Toolbar
File, resize, download, and share options
The best part of the interface is that you will not be overwhelmed by the settings or menu items. This is why it is best if you are new in the market, and is ideal for beginners. The intuitive interface is one of the stand-out features, which is why several users make use of Canva today.
Photoshop Interface
The interface of Photoshop can overwhelm in complexity, especially when you are new to the editing and designing space. Creating a new project is not that difficult. You have the ability to select from one of Photoshop's present document formats based on your project or set a custom size for it.
Photoshop has a ton of features in its interface, like photo sharpening, advanced filters, advanced customization, and more. The detailed settings available are the highlights available of the tool.
The editing capability of Photoshop makes its interface very well constructed. There are several menus that are nestled within the system, which will activate automatically based on the tools you are using. Several control panels are detachable, so you can move them to suit your preferred placement.
Verdict
When it comes to ease of use, Canvas is a clear winner. This is due to the fact that the interface of Canva is simple to understand, while Photoshop is slightly technical. Its features allow anyone with some computer skills to efficiently design items within a matter of minutes. However, Photoshop is designed for professionals who require more functionality and advanced features to get things done.
2. Design Tools
Design tools are the most important part of graphic design tools as it is what help achieve the desired results. Let us compare Canva and Photoshop based on this parameter.
Canva Design Tools
Canva has a basic design tool, and it can be compared to the shapes and text adjustments of a basic Word document. It is a simple tool with text, which also follows the same sort of design capabilities. This is not enough if you are professional and may limit you, especially when you need customization.
Photoshop Design Tools
Photoshop is designed with different tools and presents to get you going without any hassle. It has a range of shapes with a library of custom shapes that you can choose from. The best thing is that if you don't see the shape you want, then there is a new one available online for free. You can edit paths of the shape, text, and images to make it customizable, as per your business needs.
Verdict
Photoshop can do everything that is offered by Canva, plus more, making it a clear winner in this section.
3. Photo Editing Tools
Photo editing is an important aspect of a design and editing tool. Canva and Photoshop have great editing capabilities; however, which is the better one; Let us find out below.
Canva Photo Editing Tools
Canva is a simple graphic designing platform designed for non-designers who look to create quick designs using ready-made templates and millions of videos, photos, elements, etc.
Canva also has unique automated features like its versatile background remover, brank kit, magic resizes, animation pro, and more. This will help you create designs effortlessly and publish your designs directly from the platform.
It doesn't primarily act as a photo editing or manipulation tool, but it offers basic editing capabilities, such as image brightness, contrast, saturation, vignette, etc. Apart from this, it has readymade filters, crop and flip images that provide numerous effects and functionality.
Photoshop Photo Editing Tools
Photoshop is primarily an image and manipulation application, so you can say that is its core function. Its editing capabilities help you design literally whatever vision comes to your mind. However, it takes a longer time to learn and master.
Here are some photo editing tasks you can perform in Photoshop that can't be achieved with Canva.
Process raw files
Masking
Blending modes
Color manipulation
Noise reduction
Image repair & correction
Levels and curves
Layers & organization
Process Raw Files
Removing objects or People from an image
That is only a few things, as there are several features that are difficult to cover in this article.
Verdict
The photo editing features of Canva are modest when you compare it to Photoshop. The powerful editing tool- Photoshop is designed for performance and is great for advanced editing. Canva allows novice designers to produce impressive images; however, it doesn't give access to advanced features.
4. Templates
Templates are one of the easiest ways to guide users in creating a design. Canva and Photoshop come with an array of templates to help them set things up.
Canva Templates
Canva has a huge number of templates in its respiratory. Its free plan gives you access to 250,000, with paid plans having a staggering 610,000+ templates to choose from. These templates can be easily accessed from the interface, and you can apply them within a few seconds. The template library is well organized and has a handy number of category filters.
Photoshop Templates
Photoshop has a few ready-made design templates. It has around 1,250 free Photoshop templates. There are also paid Photoshop templates, which are very expensive if you want to use the template for your design.
Verdict
When it comes to ease of use, availability, and price, Canva is a winner when you check this parameter.
5. Fonts and Typography
Whether you are designing items for yourself, your brand, or someone else's business, you will be working with text and typography. This is an essential part of a design, and which of these tools has the most and better font selection? Let us find out.
Canva Fonts and Typography
Canva gives you access to around 2,000 font styles to create a versatile design. You can add 9 simple text effects to it once you have selected the text. For the non-professional user base, it has a large range of font-pairing combinations, so they can easily use the pairings that work well together.
Photoshop Fonts and Typography
Photoshop has a wide range of fonts to play with compared to Canva. It gives users access to 20000+ fonts in its Adobe Fonts library. You can add hundreds of effects of Photoshop directly to pieces of text in your design. However, you will have to first convert it into pixels to use most of these effects. Aside from this, Photoshop has several other text-related features.
Verdict
Photoshop has more fonts that give a wide range of choices to the users. It is great for advanced editing with special effects compared to Canva.
6. System Requirements
To run both these tools smoothly, you may require a proper system to get the desired performance. Let us look into the system requirements to run both of them.
Canva System Requirements
One of the top benefits of Canva is that it has basic system specifications to function correctly. However, you need an active internet connection to work on your projects.
Photoshop System Requirements
Photoshop requires a good system to operate optimally. Generally speaking, to run the tool, you need Android and desktop devices with higher-end specifications.
Verdict
If you are a user having a fast computer with ample hard disk space, then Photoshop is an optimal choice. If not, it will be a considerable burden and cause unnecessary problems. Canva is lightweight and operates smoothly with nearly any device.
7. Collaboration
Collaborating and working together on designs with your team in real time helps you keep things well organized. Let us look at how both these tools help you work together to achieve the right results.
Canva Collaboration
Canva is a versatile tool that helps you to easily collaborate and design together with your team members in real-time to get everyone on the same page. If you are on Canva's for Teams plan, then you can share these folders easily with your team members, who can work on any files in it. Team administrators have the ability to set various permissions for different users, allowing them to edit, view, and comment on the designs.
Photoshop Collaboration
Photoshop has its folders in the Adobe Cloud library. If you want to share a file with a collaborator, then you'll need to save your Photoshop project in the cloud library before you access its share settings.
Photoshop added a Share for Review function in its interface, which helps you create a shareable link to your Photoshop project. This allows you to gather comments and feedback on your design for stakeholders and other collaborators. However, how much work you can share depends on the storage space that is available.
Verdict
When it comes to collaboration, it is fair to say Canva has a straightforward approach, and file sharing makes it the clear winner over Photoshop.
8. Mobile Apps
Mobile apps are great and help you perform key editing tasks as you are on the go. Canva and Photoshop both have Android and iOS tools that help users perform tasks with better efficiency.
Canva Mobile Apps
The mobile app of Canva is pretty good, with a clean interface, which is the same as that of the full version of the product. This makes nearly all of Canvas's process of editing and artwork creation available to all smartphone users. You can easily access all of the design templates and stock assets with the app.
Photoshop Mobile Apps
Photoshop's app follows a more cut-down affair. This lets you quickly edit and adjust photos easily on your phone's camera roll. However, its features are not as powerful as the desktop version of the platform.
Verdict
The reviews of the mobile apps of both tools are very positive. Photoshop has a rating of 4.4 out of 5 for the Apple App Store and Google Play Store. The mobile app of Canva has a rating of 4.4 on Android devices, while it has a 3.6 rating out of 5 for iOS devices.
The mobile app of Canva is far more functional than Photoshop and offers more editing functionality on the go.
9. Languages
Account languages are a good choice if you want to create designs that have to be translated into multiple languages. Both tools offer a range of account languages, but which is better?
Canva Languages
Canva offers a comprehensive range of account languages with over 130 different languages. It is one of the best choices if you are looking to create a design that needs to be in multiple languages. Canva also has a translation tool that will allow you to translate text content in 100+ languages. The Free plan lets you translate up to 50 pages per month, with the paid plans offering a generous 500 pages per month in total.
Photoshop Languages
Photoshop doesn't do so well when you see the number of languages it supports. In total, it supports around 26 languages to help users in multiple languages.
Verdict
Canva is a better option for users who are looking to access their graphic design software in the language of their choice.
10. Apps and Integrations
A nice feature to have in a design software is third-party integrations and plugins to help improve your workflow in a program. Let us look into the same about the two platforms below.
Canva Apps and Integrations
Canva has a collection of around 132 apps, but most of them are free. Accessing and integrating third-party apps is very easy as things come. Most of the apps let you add special filters or apps for connecting Canva to your social and marketing platforms.
Photoshop Apps and Integrations
Photoshop offers a large selection of over 2,000 free and paid integrations known as plugins, which are available in the Adobe Exchange Marketplace. This can be accessed through the plugin's menu in the Photoshop interface.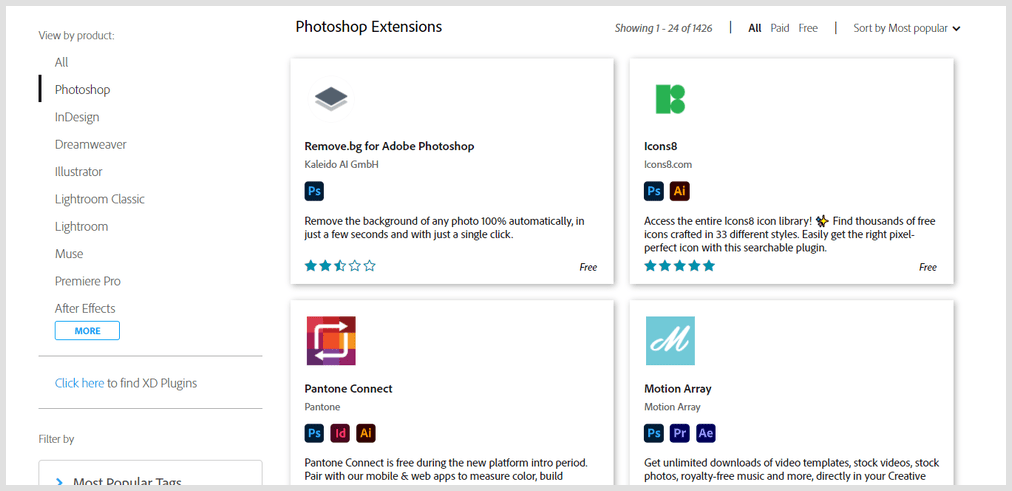 Verdict
Photoshop has a massive library of integrations and offers a wider choice to users. However, their apps are cluttered, and you need to type in the search box to find the relevant app. With Canva, the apps are grouped into headings, making them easy to find.
11. Customer Support
When it comes to help, both platforms offer good support to their users. Which is the best platform when it comes to providing the right help? We'll look at it below.
Canva Customer Support
The prominent way to get support on Canva is via email. The turnaround time of the queries is based on the plan you are on. With the paid plans, you may be getting a reply within 24 hours. On the free plan, you may have to wait up to one week to get the desired support. It also has an extensive knowledge base that has answers to nearly all your queries and issues.
Photoshop Customer Support
Photoshop offers support through phone, live chat, and Twitter to resolve most of your queries with utmost efficiency. The customer service is very prompt, and you are connected to an agent within a minute or two after you enter your issue.
It has a large database with a complete list of support materials and tutorials to help get you to grips with the features of the tool. Photoshop has 200+ free short tutorial courses that can be of help for both beginners and experienced users based on your skill level.
Verdict
When it comes to support, Photoshop far exceeds that offered by Canva. Photoshop has exceptional response time with different channels to resolve your queries. Canva, on the contrary, is slow and lacks quality customer support services.
12. Pricing
Canva and Photoshop have their features and perks, but selecting the best editing and graphics tool should also be based on its price point. Pricing of the tools plays an integral role in your decision-making, so let's compare the two giants.
Canva Pricing
Canva has three plans that users can select from. These are the prices at the time of writing.
1. Free plan- The plan is forever free, but it has some limitations
2. Canva Pro- The Pro plan is priced at $14.99 per month for a single-user
3. Canva For Teams- Priced at $29.99 per month for 5 users; however, it costs more to add users to this plan.
If you pay annually for the paid plans, you'll receive a 16% discount compared to the monthly subscription plans.
Photoshop Pricing
Photoshop is priced depending on whether you are a private individual or business user. These are the prices at the time of writing.
1. Individual users
Photoshop Photography plan- Priced around $19.99 per month
Photoshop plan- $20.99 per month
Creative Cloud All Apps plan- $54.99 per month
2. Business users
Single App- Priced starting at $35.99 per month
All Apps- $84.99 per month
Photoshop offers a 7-day trial period to check out whether it is the right product for your needs. All these plans are bundled with Adobe apps, so selecting the right plan is dependent on what Adobe products you would want to get your hands on.
Verdict
If you want to know which product is cheaper, then Canva is a clear winner. To start off, there is a free version available with Canva; however, Photoshop only gives users a 7-day free trial period. You need to understand that price is not the deciding factor, especially if you are a professional who has to offer quality work to your clients.
Canva vs Photoshop: Which is Better?
Canva is an easy-to-use tool that is ideal for beginners who have basic IT skills and want attractive and productive work. It has a rich library of templates and is great value for money, but it becomes limited if you want more customization and features.
As seen throughout this comparison, Photoshop is a better program for photo editing and graphic design. It has advanced tools, which are great for serious designers or photographers. It may be a bit expensive and have a slight learning curve; however, it will do everything Canva does and much more.
Canva and Photoshop have their pros and cons for different users; select one that is optimum for your experience and requirements.
Canva vs Photoshop FAQs
1. Which is better, Canva or Photoshop?
The best choice between Canva or Photoshop is based on your needs. The core strength of Photoshop is its image and photo editing capabilities designed for professionals. Canva is a multi-purpose tool that caters to the needs of beginners who want to create visual assets, create text content, social media posts, and more.
2. Can Canva be used by professionals?
Canva is a beginner-friendly tool that can be used by professionals who are looking to create online visual assets. However, most professional graphic designers make use of Photoshop to create material that needs to be printed or produce work that needs a very high resolution.
3. Is Canva a technology tool?
Canva is an online design tool that gives users the opportunity to create versatile posters, slideshows, images, certificates, and more. It is well-suited for both professionals as well as students who want to design visuals to showcase their knowledge in unique ways.
Read Next: