We live in the Digital Age where cyberattacks and data breaches have become very common. Your personal information like social security numbers, birth dates, bank account information, and credit card numbers are at risk at any point in time. This means having good antivirus software as the first layer of protection for your devices is a no-brainer.
You may have heard this before- you get what you pay for, and this stands true when it comes to antivirus software. While paid versions of AV come with extra features and reliable protection, there are some pretty good free antivirus software too if you do not want to spend any money. This can all sound daunting which is why I have listed down the best free and paid antivirus after going through various trusted Reddit recommendations based on users' experiences. Keep reading to know more!
Paid Vs Free Antivirus
Antivirus software is the baseline of cybersecurity that helps detect, prevent and remove a variety of cyberattacks and provides protection against viruses and attacks such as malware, ransomware, and phishing.
Recently, most brands have stripped down the features of free antivirus to the bare essentials to push users to upgrade to a paid version of the tool. While this makes the free version unreliable, it is still better to have a free antivirus than to have none at all.
Paid antivirus on the other hand is more comprehensive and provides more robust protection when compared to free solutions. They have all the features and benefits of the free version with some additional functionalities. Paid antivirus software is proactive rather than reactive as it prevents an infection before it occurs. It is always better to invest in a paid solution for advanced protection.
Best Premium Antivirus Software Reddit
1. Bitdefender Antivirus Plus
What Redditors had to say about it:
u/Baldi_Basics "Yes, Bitdefender is one of the best antiviruses in the world. Also, I would recommend buying the full version."
u/DaNuji51 "Bitdefender is argued to be one of the best AVs. Most AVs will take up CPU for scanning/updating, and Bitdefender is no different. The free one does have full-time protection but lacks features due to being free so I recommend their paid plan."
u/jacksparrow99 "Just get it. Bitdefender is not some kids' software. They're a real av company and have a good reputation in the industry."
Redditors believe that Bitdefender Antivirus Plus is the best antivirus on the market. It has features that some of its competitors such as Norton and ESET NOD32 lack. Although it has a free version, it lacks many security features when compared to the paid version. The paid version has the best detection rates and tons of security-centric features that beat even full security suites. It is super easy to use and has budget-friendly plans when compared to its competitors. Other plans apart from the Antivirus Plus are Bitdefender Internet Security and Bitdefender Total Security. But Bitdefender Antivirus Plus has all the essential features and more for secure protection.
Bitdefender's real-time, on-access protection system blocks every malware installation attempt. If some malware gets through, it is eliminated within 24 hours. Its Online Threat Protection analyzes pages for signs of fraud and blocks them. Bitdefender also provides very capable and effective all-around ransomware protection. Its Ransomware Remediation technology prevents the loss of files during an attack and even restores them. Its web protection module monitors your internet access and blocks malicious and phishing links as well.
It goes beyond regular malware hunting with its useful security and privacy extras such as :
Password Manager: It stores website logins, credit card details, wireless network passwords, application logins and license keys, email server credentials and details, and assorted personal information (name, date of birth, address, email, phone number, and more). It also creates multiple password databases and syncs them across all Bitdefender-equipped devices.
Autopilot Mode – quietly handles security issues without requiring user intervention. It aims to make sure you get the full benefit of the product's many features.
Anti-Tracker Browser Extension – detects and blocks the most intrusive web trackers, ad trackers, site analytics trackers, or other trackers when you visit a site containing them, then displays a count of these in its address bar icon.
Online Banking Protection: Bitdefender uses a secure and isolated browser called Safepay to protect online banking and other transactions from hackers.
Vulnerability Scan: Checks the system for missing application updates, weak Windows account passwords, critical Windows patches, WiFi network issues, and poorly configured system settings.
VPN: You get a free VPN plan along with the antivirus plan which has a data limit of 200 MB a day. It has servers across 51 countries with decent speeds.
Bitdefender has a nicely designed dashboard that is very easy to navigate. You can quickly find your way around and you can also customize the dashboard layout if the standard layout is not working out for you. Its professional and polished interface is easy and comfortable to use for beginners while offering control and customization for experts.
Bitdefender has plans starting from as low as $24 per year and also offers a 30-day free trial so you can try it out before making a decision. If you want extra features such as a firewall, spam filter, and parental controls you can select the Bitdefender Internet Security plan.
Pros
Includes the best Mac antivirus
Loaded with useful security features
Affordable plans
Cons
VPN limited to 200 MB per day
May slow down the device a bit
Bottom Line: Bitdefender's paid plans fill in the gaps that its free version cannot. It offers good value for your money and is worth the investment to keep your digital life and devices safe.
Best Free Antivirus Software Reddit
1. Bitdefender Free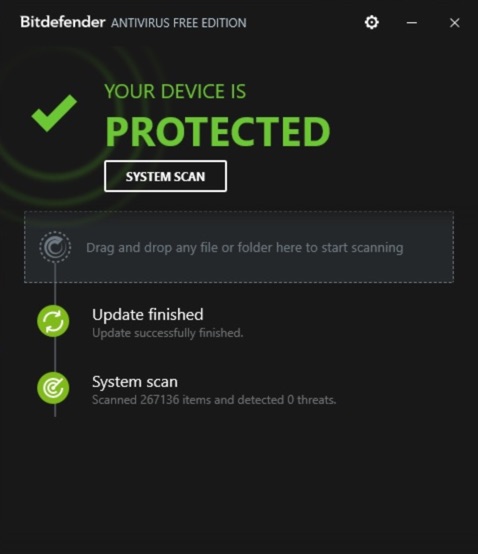 Bitdefender Free is a popular AV and a favorite among many Redditors. It claims to offer free antivirus protection that stops even the fastest-evolving attacks. It monitors and learns the pattern of daily activity on your PC and instantly detects and isolates suspicious changes in real time. It shields you from known and emerging threats, including ransomware, AI-powered spear phishing, cryptojacking, zero-day exploits, rootkits, trojans, and malicious websites and files. It runs silently in the background and also has live customer support, unlike other free AVs.
What Redditors had to say about it
u/ilike2burn "Bitdefender Free is a good option for either those who aren't particularly tech-savvy or those who just want a minimalistic UI (it's a giant SCAN button), while still getting very good protection."
u/SkyDreemurr "Bitdefender is pretty good (especially if you want silent protection)"
u/NovelExplorer "Bitdefender Antivirus Free uses the same 'core' engine as Total Security. However, the free version disables several protective elements. Bitdefender Antivirus Free, if you understand its limitations, it still offers excellent malware protection."
Highlights
Bitdefender Antivirus Free delivers when it comes to finding a variety of threats and disarming them. It includes protection for three devices that can be integrated and controlled through the Bitdefender Central online account. It is compatible with Windows 7 to Windows 11, Mac (at least macOS 10), Android phones, and tablets.
Bitdefender Free scores a perfect 100% when it comes to protection against the most common and new malware. Bitdefender uses signature matching for known viruses and the Exploit Detection feature to look for behavioral changes. If the scanner finds something unusual, a sample is sent to the lab for analysis or a fix. This is done automatically at various times of the day for protection against the most insidious malware. The app is very useful in scanning the system in real time for potential anomalies that reside in fileless malware.
The new Bifender Free version provides multi-layer defenses. There is no need to adjust or customize anything as there are on/off switches for some of the defenses. The Traffic Light browser add-on steers you away from dangerous sites known for distributing malware and also places green checkmarks on search returns when it is safe. Online Threat Prevention blocks online scams by checking on the safety of encrypted web pages.
Pros
Fastest scanners around
Extra defensive layers for the latest scams
Notifies you about threats
Won't bloat or interfere with other apps
Cons
Doesn't scan the dark web for your online identity
Significant loss of performance potential
2. Kaspersky Security Cloud Free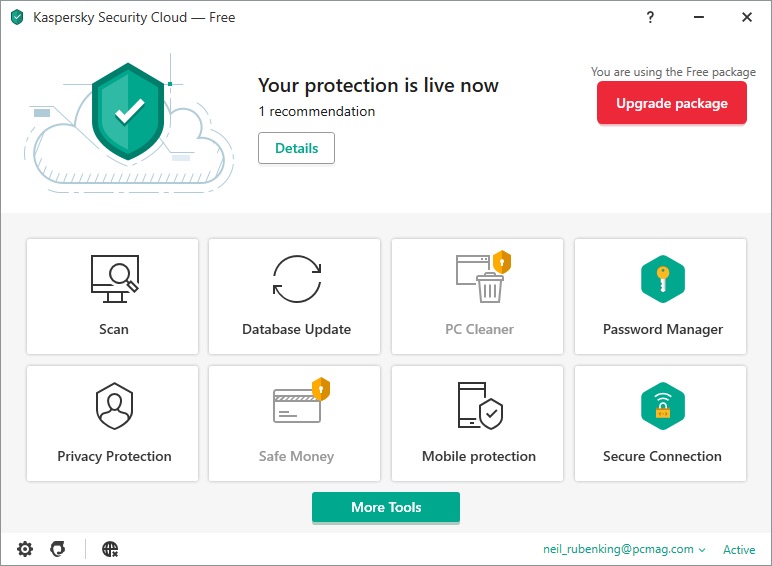 Note: This is a Russian product and it is recommended based on its effectiveness and not on any political considerations. We have personally not found it a danger to its users. However, if you are concerned about your security due to recent geopolitical tensions, you can opt for other alternatives mentioned in this article.
Redditors believe that Kaspersky is the best free antivirus that can rival even the most premium antivirus software. It is a free antivirus scanner and cleaner software that protects your devices against viruses, infected files, malicious applications, and suspicious sites. It comes with top-rated security technologies and auto-analyses real-time data on new threats that help protect your PC, mobile, and tablets from various dangers. It receives automatic updates so your anti-virus program is always up to date.
What Redditors had to say about it
u/ilike2burn "Kaspersky Security Cloud Free is probably the best free AV at the moment in terms of protection and performance impact."
u/Cmplx1ty "Recently switched to KSC. It's pretty decent IMO. It does install the VPN on the initial install of the antivirus package but I was able to uninstall it. With KSC I only got important security notifications. I also installed the browser extension and there were no problems there either."
u/lollygaggindovakiin "It offers solid protection with solid signatures. Kaspersky Free offers great protection just by going off their signatures alone. Plus it includes heuristics and again it has a solid engine there too. The extension is up to you, but it'll mainly check your website against their database of malicious sites."
Highlights
Kaspersky is very easy to install. You need to create a My Kaspersky account for a free installation. You can scroll through a series of panels to see what Kaspersky Free has to offer. It offers features such as Scan, Database Update, PC Cleaner, Password Manager, Privacy Protection, Safe Money, My Kaspersky, and Secure Connection. However, there is no shield on the Password Manager. It has a left-rail menu that lets you select Home, Security, or your account details that scroll to reveal more content.
I love that it comes with plenty of extra features and has a very light system performance impact. Its impact is much lighter than any other free software I tested and has the lowest slowdown rate when compared to the pre-installation baseline. The new Kaspersky Security Cloud Free has added more tools, and Android and iOS protection. The new version is compatible with Windows 7, 8.1, and 10. You can install browser extensions for Google Chrome, Mozilla Firefox, and Microsoft Internet Explorer.
The free version combines virus shields with a password manager and limited VPN access. It supports up to 15 password entries and has a data cap of 300MB every day for the VPN. The Kaspersky Secure Connection client allows you to tap into Hotspot Shield's VPN infrastructure with connection points in 18 countries.
It has a 100% detection rate for all malware according to my tests. This is something you see only in paid versions of premium antivirus software. It gave the least amount of false positives compared to other services on this list. The System Watcher feature can reverse any changes to a file due to ransomware attacks and watches out for any future ransomware attacks. It also offers very good phishing protection.
It updates its antivirus database signatures in the background automatically. If the scanning interrupts gaming or watching a video, the Game Mode feature reduces such interruptions. Kaspersky Self-Defense helps you control the virus quarantine by whitelisting apps, blocking memory-based attacks, and monitoring LAN ports for odd activities.
Pros
Great level of customization options
Let's you schedule scans
Excellent phishing and ransomware protection
Cons
No specific defense against UEFI penetration
The free version does not include human tech support
3. Avira Free
Avira Free is a powerful cloud-based antivirus scanner with multiple security tools for Windows. Avira also has a free version for Mac separately. Redditors seem to think that it is a safe option for antivirus software. It has really good malware detection rates and offers real-time protection. It offers VPN, password management, ad blocking, and much more. Avira Free claims to protect you from scams, identity theft, and financial loss, secure your online activities with a free VPN, and speed up and clean your PC for peak productivity.
What Redditors had to say about it
u/KD93AQ "I run free Avira on a VM that I use a lot. It's been fine for me."
u/OS_Apple32 "The only free antivirus out there these days that's worth anything is Avira."
u/ilike2burn "A year or so ago Avira added a 'launcher' to their default installer, which added a tonne of bloatware. You can still get their AV-only installer, but they hide it on their repair page. So long as you use that, it's a good AV."
Highlights
Once you install the software, running the Smart Scan feature checks for active malware, analyzes your settings to find privacy problems, improves performance, identifies apps that need updating, and checks the network for possible security problems.
Avira immediately starts quarantining any malware that it recognizes and eliminates it on sight. Avira has browser extensions for Chrome, Edge, Firefox, and Opera. They also include a password manager, a shopping helper, and the security-centric Browser Safety extension. The Browser Safety feature steers your browser away from malware-hosting URLs. Avira detects and prevents phishing attacks as well.
Some security features offered by Avira are Virus scans, Protection options, Quarantine, and Software updater. The Quarantine feature allows you to permanently delete found threats or restore legitimate programs that got quarantined. The Software Updater component scans installed apps and flags security patches.
Avira Free has privacy components such as Browser safety, File Shredder, and Privacy settings. It automatically blocks ads but allows ads it deems relevant. Its Performance panel offers components such as Optimizer, Battery saver, Driver updater, Duplicate finder, and Advanced tools. These features help improve system performance by removing junk files, scanning device drivers for updates, and helping with energy management. However, some features may require an upgrade to function.
Pros
Offers additional features seen in premium versions
Offers VPN and password manager
Great performance delivery
Cons
No firewall protection, backup, and spam filtering
Data limit for VPN
4. AVG Free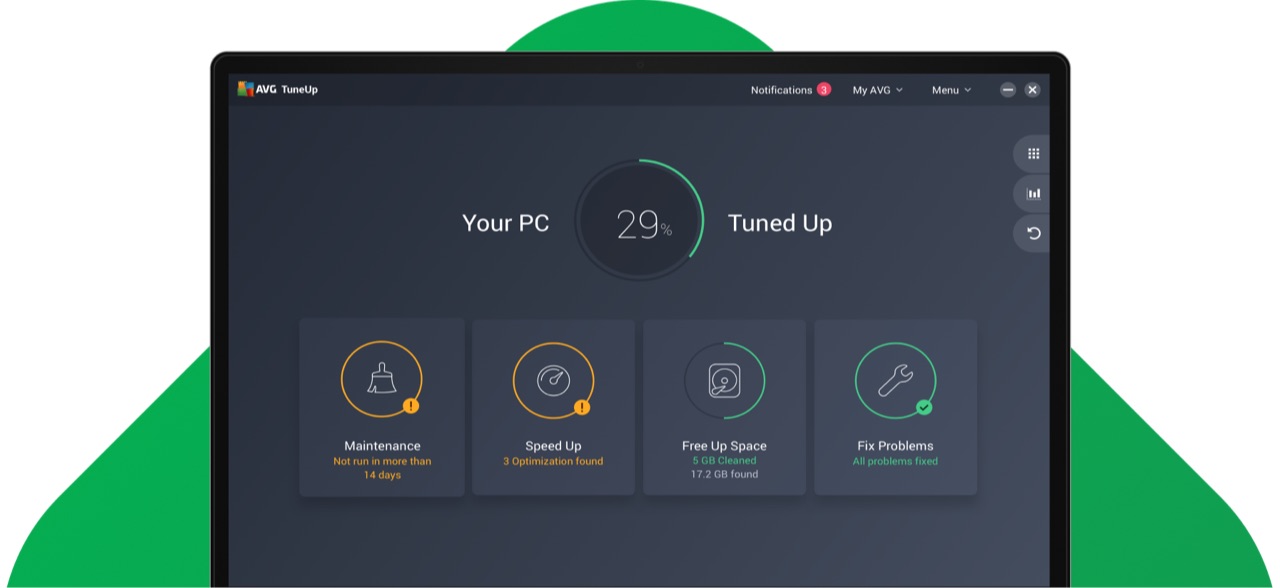 AVG or Anti-Virus Guard is a subsidiary of Avast. Redditors think that this is a better antivirus than most free antivirus software on the market. It claims to stop viruses, spyware, ransomware, and other malware by blocking unsafe links, downloads, and email attachments. It scans for PC performance problems and gives real time-security updates. Though AVG's parent company, Avast, was known to have sold the anonymized behavioral histories of Avast and AVG software users back in 2020 it has now ended the practice making it safe to use. This is a good option if you are unable to install the above-recommended antivirus software for any reason.
What Redditors had to say about it
u/Richie4422 "AVG and Avast are the same thing and they both have consistently good scores in tests from labs"
u/juliastrax1992 "AVG Antivirus Free is a legitimate antivirus program that provides basic protection against malware and other online threats. It includes features such as real-time scanning, automatic updates, and the ability to schedule scans. From my personal experience, AVG Antivirus Free has been effective in detecting and blocking malware on my PC."
u/Dariusmainus "It's still OK, does a decent job against ransomware and such things. It had a shady past, it does have some ad pop-ups which I hate but it is totally fine to use it."
Highlights
AVG includes an unlimited password manager, a Wi-Fi network scanner, and a silent gaming mode. You can adjust its sensitivity and customize its activities according to your requirements. You can use the AVG Online Security browser extension, for Chrome, Edge, Firefox, and Opera to enhance your browsing safety and privacy. This extension adds an extra layer of protection against phishing, dangerous sites, and sites with bad reputations.
It blocks malicious websites, has a file shredder, and a trial performance scanner. It scans files and memory for any malware for early indications of an attack or attacks by unknown malware such as the encryption of key files. AVG works in the background and alerts you when the program discovers a cyber threat. It places the infected files into quarantine so you don't accidentally access them. It may not have a 100% detection rate but it does provide adequate protection.
It provides excellent phishing and ransomware protection as well. The ransomware protection system bans all modification of protected files by untrusted programs. Switching to the Strict Mode will require you to provide permission for every modification of a protected file. It protects archives, audio, database, disk, document, picture, and video files.
Overall AVG provides the same level of protection that Avast Free does and has some very useful bonus features. It is a good free antivirus that you can install for basic protection.
Pros
Extensive and customizable protection
Includes a powerful file shredder
Good bonus features
Cons
Slows down the system during scans
Mediocre malware protection
Protecting our digital data is more than just antivirus protection. It's also important to protect your information with strong passwords, using different ones for each online account. Avoiding phishing attempts and being aware of suspicious emails or links are also very important in staying safe online. Keeping your devices up-to-date on their software updates and not clicking on unknown downloads will help keep the bad guys away from your personal information. All of these steps work together to make sure your digital life stays protected.
Read Next: