Pictures are worth a thousand words, and they are an integral part of creating websites or businesses. High-quality images spice up your content and add an aesthetical outlook. If you don't currently have the resources to source your own images, then you will require to rely on stock images to enhance your brand authority and showcase your professionalism.
Stock images are basically photos that have been captured, edited and are readily available for use. These images are available for free, or you have to pay a licensing fee. The majority of these images, which users source from stock image websites, are royalty-free, which means you can insert images into your content within a short period to enhance the appearance of your website. The stock images can be easily edited to your liking and used for your marketing campaigns.
There are abundant stock photos in the market, and if you use the same photos as other website owners, then your visitors will take note. The last thing you want is to blend with other competitors in the market. However, you can find fresh and beautiful stock images if you know where you are looking. In this article, we have created a list of websites that have some of the best stock images to keep your visitors engaged from the moment they land on your website.
TLDR: Here are top tips to select the best stock photo websites in the market
Envato Elements- Unlimited Royalty-Free Stock Photos
Shutterstock- A Stock Photo Giant
Unsplash- The Master of Free Stock Photos
Pixabay- Best Free Photo Website
Pexels- Evolving Free Stock Photo Website
Vecteezy- Creative Stock Photo Marketplace
Getty Images- A Prestigious Agency for Stock Photos
How to Find the Best Stock Photo Website for your Venture
In this article, there are some really cool stock photo websites out there. How will you decide which website is the right for you? Don't worry; we have all been there, and here are some useful tips to identify the best stock photo websites for you. Let us look at the things you must consider:
How many images do you often need- this factor will determine whether you should go for subscriptions or on-demand models. It will help narrow down and find the right agencies to get the best deals. You can also go for free websites if they meet your requirements.
How much are willing to get the best stock photos- Understanding your budget limit will help you select a website and an agency whose deals meet your budget specification.
How do you prefer to spend- You can either pay your subscription upfront or periodically. If you are paying less, then you will be paying higher for a single photo. This is a critical process that gives agencies more options to select from.
Reviews- The best way to know about a good stock photo website is to look at reviews of the companies. Check reviews from independent forums like Reddit or others, as we have in the article below, to get a better understanding. Select websites that have comprehensive reviews and specifications.
Free trials- Check for free trials from stock photo websites, as it is great to test their services before you go out and spend your money.
Special deals- Another great way to get good deals is by finding discounts and bonus deals from websites.
Following these simple steps, you will be able to segregate the best websites from the large list and get the best stock photos in the market.
Best Stock Photo Websites Reddit
1. Envato Elements – Best Paid Stock Photo Website Reddit
Envato Elements is one of the new stock services in the market that specializes in stock photos, footage, vectors, audio, etc. Elements are curated by having a handpicked collection of files with over 630,000 items or more, and you have the opportunity to purchase a subscription to access them. The unlimited subscription service is catered to meet the digital needs of agencies, marketers, or other professionals who require plenty of images.
The monthly subscription gives you unlimited access to a vast number of photo downloads, and you can also download themes, plugins, videos, graphics, fonts, music, etc. On top of it, subscribers can get access to over 1,200 video courses and eBooks from EnvatoTuts+, which can help you know about the digital assets that you are downloading.
Pricing
Individual plan- $16.50 per month
Students plan- $11.50 per month
2,3-,4, and 5-member plans are also available
The website also offers a free trial that allows users to check its features and characteristics. They come with one simple commercial license and offer a good amount of freedom while using their images.
What Redditors say about it:
u/DesignerOfAllThings- "I use Envato Elements all the time. They have a great slide template for sure, but if you have Adobe creative suite, then you can take advantage of their illustrations and video templates to create nice-looking gifs and videos. Plus, their music and sound effects library are pretty great".
u/silverstar189- "I use Envato Elements for my portfolio projects, and it's great for the price- They are linked up with twenty20, so there is a good range of photos to choose from too".
2. Shutterstock – A Stock Photo Giant
Shutterstock is a unicorn of stock image site. It is one of the most extensive photo sites with a library of over 1 billion images. This is because it was one of the first stock photo websites in the market. The photos are licensed and they add 200,000 or more images per day. Shutterstock gives users extensive access to vector images, music, editorial pieces, video footage, etc.
The platform can help you create and share collections that have access to popular applications, like Adobe, PowerPoint, etc. They help create engaging social media posts with in-built editing tools. The editing tool allows users to customize the images to stand out from the crowd. The versatile tool allows you to edit or resize an image without having to leave the website.
Pricing
Shutterstock gives access to users based on monthly or annual subscription plans. The monthly plan starts at $29 for 10 images and can go up to $199, depending on the number of images you want to use. The on-demand packages offered by the platform begin at $49 for five images and can go up to $229 for 25 images. Shutterstock offers a free trial where you can enjoy 10 free image downloads in certain regions.
What Redditors say about it:
u/blondynka1- "I find Shutterstock offers better content. They have a plug-in that works well with photoshop as well".
u/CreativeTechGuyGames- "Yes, it is possible that CoD took sound effects from a public website. Using Shutterstock assets is more common in AAA studios than you think, especially in the sound departments.
3. Unsplash – Best Free Stock Photos Website Reddit
Unsplash is a stock photo website that cannot be avoided. The platform is quick and easy to select and download images on the go. The platform is ideal for individuals who work with plenty of images and want to source them without many worries. They release fresh royalty-free photos every 10 days, so you are always up to date.
The photos on Unsplash are high-quality, modern, authentic, and have a strong youthful feel. However, the search function on this website is slightly limited. The platform has its own Creative Commons Zero license that prevents competitor services from using their images.
Pricing
On the website, all the images are free and there is no catch, so owners can easily fuel traffic for their ventures. Lately, people are developing business opportunities based on Unsplash directly. However, if users want, they also offer access to iStock or other premium websites.
What Redditors say about it:
u/lia_bean- "I mostly make use of Unsplash for free use images, and there is lots of good stuff on there".
u/DryHumpWetPants- "I get most of my images from unsplash.com. It consists mostly of photography; however, it has some digital art too".
4. Pixabay – Best Free Photo Website
Pixabay is a free stock website that is based in Germany. The platform has over 1.6 million photos to pick from that allow you to find something unique for your website. The interface is easy to navigate and simple to use, and the sheer number of choices will leave you amazed. It comes with a non-exclusive and royalty-free license, so you can use them in different places. Further, the images can be filtered based on photographs, illustrations, or vectors to narrow down your search results.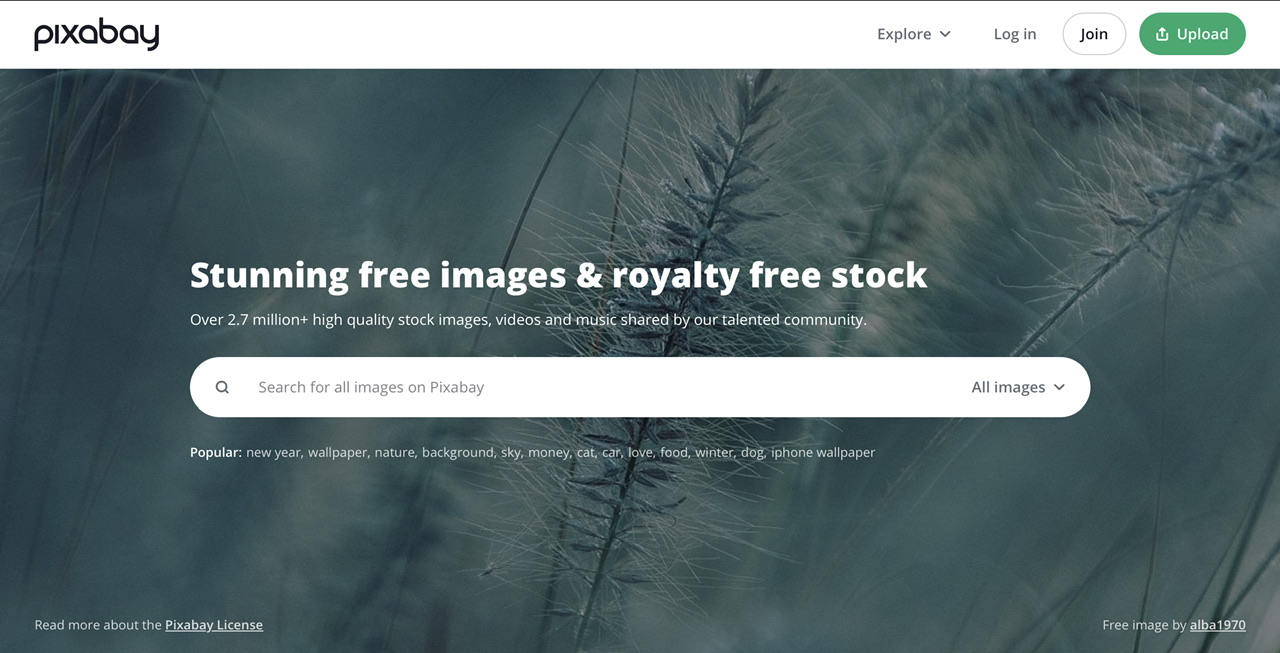 Pricing
The stock photos on Pixabay are free of cost, and users also get access to free video content. The free video content can be included on your website with an added bonus for your site visitors. The platform makes money through sponsored photos, which are from Shutterstock or other premium platforms. The creative common photos are slightly risky; however, you can use an experienced reviewer who can make the site worth exploring.
What Redditors say about it:
u/KahlaPaints- "Pixabay is a great source for reference photos. There are lots of good quality model shots and also duplicates from Unsplash. Many photographers have accounts on both".
u/ferrero00- "Pixabay is a way better option than Pinterest, and Pixabay is better, imo. You get high-quality royalty-free images that you can reference and sell the artwork to meet your heart's content. On Pinterest, it's just like Google, full of copyrighted images with low quality".
5. Pexels – Evolving Free Stock Photo Website
Pexels is a great free stock photo website based in Germany. The website aims to empower businesses by providing authentic and modern photos to its users. They cover a wide spectrum of topics and make sure you get what you're looking for in your business. The search engine of the website makes finding the perfect image a breeze as its autofill suggestions are the same as Google.
The images of Pexels are also hand-picked from photos that are uploaded by users or sourced from other free images websites, like Pixabay, Little Visuals, and Gratisography, but you must trust they are the best. Once you find a photo, you can select it based on several sizing options when downloading. If you like an image, then you can always like it so others can see it.
Pricing
The website monetizes by including sponsored paid images which will then redirect you to affiliated websites to buy them. However, the images from Pexels are free, and it has a Royalty-free licensing program.
What Redditors say about it:
u/VenusPersona- "I use Pexels all the time. I have checked through several websites, and they seem to have the biggest database of creative commons licensed photos without charging a monthly fee or having a download cap. As far as I can tell, photographers upload the photos themselves and know that their images will be used".
u/FableBeardCo- "We have used quite a few images from Pexels from various things and have not run into any issues to date".
6. Vecteezy – Creative Stock Photo Marketplace
Vecteezy is a leading global creative marketplace that offers millions of paid and free stock photos, vectors, and videos for personal and commercial use. The platform has high-quality stock photos, and premium resources can be accessed via a subscription.
Pro subscribers get unlimited downloads across an array of collections. These files can be downloaded in PNG, JPEG, and SPG formats. The budget-friendly pricing and unlimited downloads make the platform ideal for designers, freelancers, and hobbyists that are frequently in need of beautiful content for their businesses at affordable prices. All the photos from this website come with Royalty-free licensing. Further, the platform has an excellent knowledge base with good support and FAQ sections to solve any issues you might have.
Pricing
Vecteezy comes with a Pro subscription that has a yearly plan of $9 per month that includes exclusive vectors, videos, and photos. The website also has a pay and go credits for downloading pro resources starting at $10 for one image. The platform offers a free trial to its users where you can check various features offered by the platform. Apart from this, the website has a free plan that allows users access to its non-premium content.
What Redditors say about it:
u/dannyboy1101- "The one vectorial images app I use most often in Vecteezy".
u/bsischo- "I have used Vecteezy several times when you pay for it. You can get access to more vectors than when you don't.
7. Getty Images – A Prestigious Agency for Stock Photos
Getty Images is a beast of contemporary stock photography in the market. It has an astonishing number of assets in its gallery, with over 200 million images, videos, and music for advertisement, graphic design, marketing, online use, etc. The website is easy to use, and once you like an image, all you have to do is click on it, and you'll see multiple image dimensions that you can purchase. Each of the images comes with a different price point.
Getty images allow users to buy photos under the Right Managed license that is tailored to specific needs and has more flexibility than the Royalty-Free licensing model. But they also have a great selection of Royalty-Free photos.
Pricing
Single images on Getty images may range anywhere between $375 to $499 per download. Additionally, there are discounts that can be availed if you purchase different photo packs. If you have a team that constantly needs solutions, then the platform offers solutions with no download limits and collaboration tools as well.
What Redditors say about it:
u/zeph_yr- "Getty is for big guys in the industry. They are notoriously steep, but there is a reason they are staying in business. Their images and customer support are legendary, and they are not Shutterstock".
u/nchojnacki- "Getty images hire legit photographers to travel all around the world and take photos of everything. It is all curated, labeled, dated, searchable and their archives go back to the beginning of time. They also pay their photographers and cover their travel/expenses/lodging, and equipment. This is what you are paying for. I once had a client that drop 15 grand in front of me for an editorial sports subscription. That were just editorial images for the category of sports. There are no other services that can do what they do. If there is, they are already charging a shitload of money. Getty will almost always have the shot you are looking for, and yeah, they get theirs for sure. That is just how it works".
8. Adobe Stock – A Graphic Designer's Best Friend
Adobe Stock is a service that is owned by the design software giant Adobe. The platform is built on the base of its photo library of Fotolia, which is a Creative Cloud platform. This gives you access to 80 million stock photos from the design apps that allow users to streamline the design process, which will help you save time and effort. It is ideal, especially for individuals using Adobe's cloud applications, and it also works independently for its own website.
Adobe Stock is incorporated with a collection system that is great for different entrepreneurs. The collections are named core, infinite and instant names. The core and infinite collections are tailored for desktop use, while the instant collection is suited for mobile users. The instant collection is a great feature if you are looking to optimize your business for mobile applications.
Pricing
Adobe Stock sells photos via subscription, and they come with different plans. The small plan only comes with 3 downloads a month at $9,99 per image. Here, you can access the plan for one month or renew it at your own discretion. You can also opt for an annual commitment of 10 downloads per month at the same price. There are bigger plans for 40, 350, and 750 photos per month, and they vary in price between $79,99 to $249,99 per month. All the photos on the platform are licensed as Royalty-free, and you can use them end number of times for your project.
What Redditors say about it:
u/crownedhellboy- "Honestly, Shutterstock is a no, but you should try the good one in Adobe Stock".
u/J662b486h- "Adobe Stock has a large collection of stock images that allow you to download and integrate into your work. I happen to create plenty of artwork, like posters, and flyers for a non-profit, so I use stock photos fairly often. If you are only going to use Photoshop for editing your own photos, then it probably won't be useful.
9. StockSnap.io – High-Quality Free Stock Images
StockSnap.io is a great website having an outstanding database of images. They have excellent images, especially if you are an eCommerce entrepreneur having a strong eye for design. The website has thousands of high-quality stock photos that are organized into convenient categories that allow for easy access.
The easy-to-use search function of the website allows users to quickly find the exact type of photo that they are looking for in its categories. A helpful search feature is that you can view trending material. This is useful as you can see the type of images and colors that are popular in the market at that time. You can easily scroll to the bottom end to find free stock photos that are rarely in circulation. All the photos on this platform fall under the CCO licensing scheme.
Pricing
The services offered by StockSnap.io are free and the website always adds hundreds of new photos to its website weekly. However, if you want premium photos, then the platform links you to Shutterstock. You can tell if an image is premium if you see a small star on the top left side of the image.
What Redditors say about it:
u/PhileasFuckingFogg- "I think StockSnap.io is pretty good. They are utterly fantastic compared to sxc.hu and have a wider range than I expected too".
u/jojow77- "Thanks; most stock photo sites have no search function for a certain reason that makes it super hard to find a photo. Then the rest do have a small set of selections. StockSnap.io solves both of these problems".
10. Fancycrave – A Unique Stock Photos website
Fancycrave is a platform having a good collection of stock images that are artistic, unique, and full of emotion. This makes the platform a good choice for creatives that want to stand out in the market. Fancycrave allows users to browse a photo by category and preview them before they decide to use or purchase them.
Pricing
The stock photos on Fancycrave can be availed either via a free or premium plan. The premium collection offers users access to 41 premium collections with over 2,050 photos, which is priced at $9.99 per month. The yearly plan costs $79.99 per year, which gives users 33% savings on their investment. If you are on a limited budget, then the platform already has a rich vein of photos for free that you can select from. They come with a standard license similar to CCO.
What Redditors say about it:
u/ngly- "I like Fancycrave that the images aren't massive. It really saves on load time, like most photography sharing websites. The photos have to be thumbnails, and then when you download, you get full rez.."
u/AudioPanther- "http:/fancycrave.com is pretty good, and all their images are CCO.
11. Gratisography – Artsy Stock Photo Platform
Gratisography is an amazing stock photo website that markets itself to be artsy and outside the norm. The platform has several high-resolution images that are covered under the Creative Commons Zero license. You can make use of the content from this website to stand out against the crowd. Users can easily search the photos based on categories and see what's trending on your homepage.
If you are looking for the status quo, then Gratisography is not designed for you. However, if you are planning to look for a refined collection of unique and beautiful images, this is the place for you.
Pricing
The images on Gratisography are free to download and use without any catch. The licensing is custom, but it is similar to the CCO model and has some restrictions similar to Royalty-Free models.
What Redditors say about it:
u/chrisbartoldus- "https:/Gratisography.com is a site that offers weird, witty, and strange stock photos. It's niche but has some gold".
u/donutjudgememe- "That is a good list. One of my favorites is Gratisography. They don't have as large of a library as some sites mentioned, but they have a lot of really funny and strange photos that I have not seen on many other websites.
12. Picography – A Sleek Stock Photo Site
Picography is a platform that offers high-resolution photos that are providing stunning images for millions of people. The platform is a sleek stock photo site that makes finding the perfect photo for your website a cinch, which helps users focus on various other parts of their website or online business.
Picography allows you to check the most popular search terms and enter your own search query and check one based on different categories that allow you to easily organize photos for your website, and you don't have to do all the work. To refine the search further, just click on the available tags on the website that will allow you to download the image of choice easily.
Pricing
Picography allows users to avail and download all its images for free. The platform comes with a CC0 license and allows users to use the images for commercial or personal purposes.
What Redditors say about it:
u/aerealis- "Yeah, Picography is a great platform for free images".
u/Life-Morning-7300- "Picography is a great tool if you looking that has a wide range of stock photos.
Best Stock Photo Websites Reddit: There is One for Everyone
Stock photo websites have been around the corner for a while now, and each platform has a whole range of services to choose from. It is difficult to search for a desirable website across vast databases; however, it all depends on its importance. The type of image you choose will represent your brand name. Spend time picking the right image that helps convey your message best.
At most times, free stock image websites are enough to get what you require. However, if you are utilizing these images on a daily bases, then you should try paid services. This, in real-life, helps save time, and you get high-quality images. I hope our list of the best stock photo websites that are covered in this article can help you get the best images for your brand.
Best Stock Photo Websites Reddit FAQs
1. What is a stock photo license?
Stock photos are not really for sale, so when you are buying a stock photo, you will actually buy the license to use the photo in a certain number of ways. However, the copyright of the image is not yours, and the license is the legal agreement between the agency and the owner of the photo.
2. What is a royalty-free stock photo?
Royalty-free stock is a license for a stock photo. This type of stock photo is common amongst buyers and is commonly used in microstock photography due to its low cost and flexibility. You just have to pay a flat fee and get a considerable number of usage rights.
3. What can I not do with a royalty-free image?
There are a few restrictions that come with Royalty-free licensed images. In general terms, you cannot sell the image to anyone else, and it cannot be used in a defamatory way. Further, you cannot use it in products for reselling, so you have an extended license which gives you an additional bonus right or royalty-free agreement. Always read all the limitations before utilizing a stock photo.
Read Next:
Best Social Media Automation Tools Reddit
Cheapest Crypto Exchange Reddit