BuddyBoss is a plugin for creating online communities on WordPress. It gives you the flexibility and control to sell courses, build your central hub, launch your mobile app, and much more. It turns your website into a social networking platform like Facebook.
Click Here To Try BuddyBoss Now
Since 2010, with the explosion of social media, it was quite common to be added to a Facebook group when you buy an online product. This group was the community space for members to discuss with each other. As time went by, post within the group was not reaching to all the members.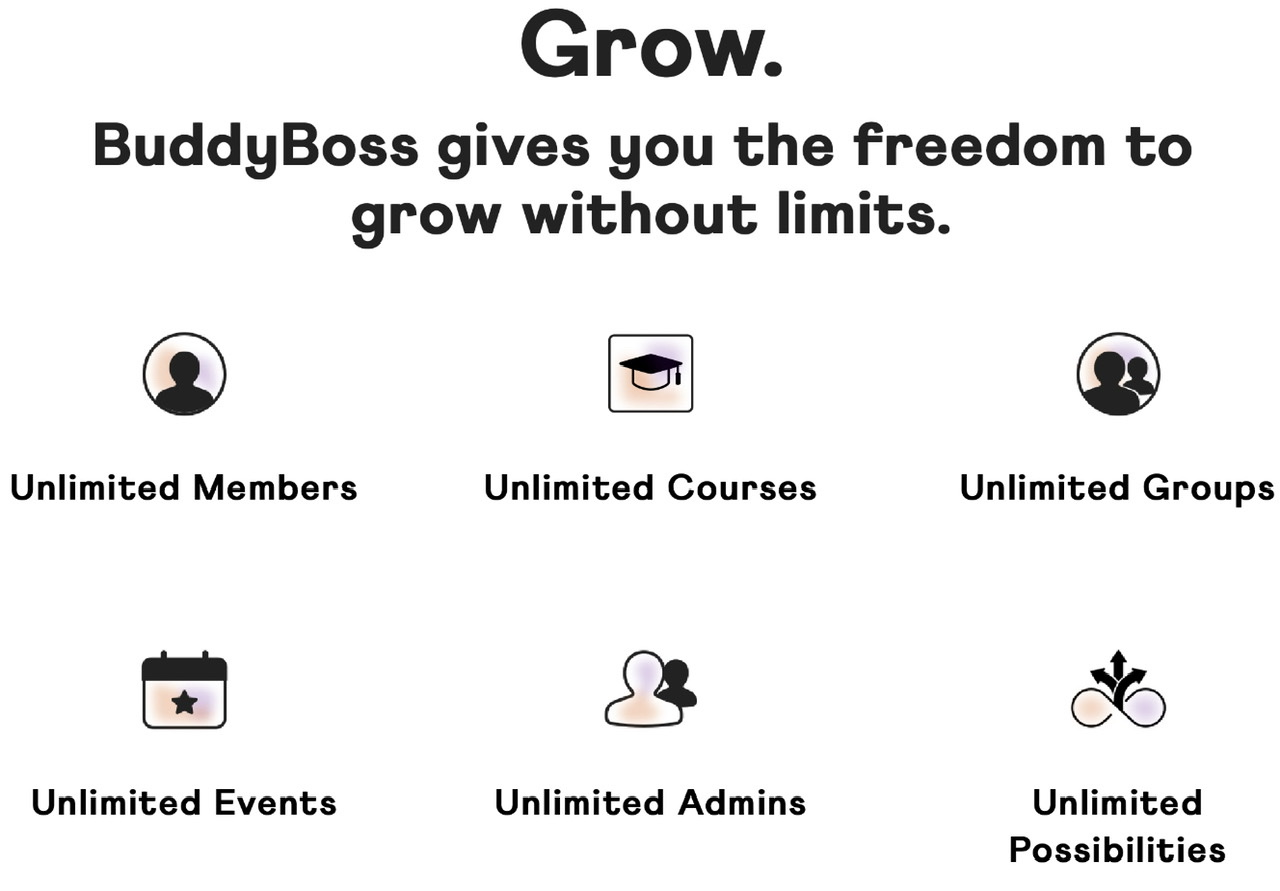 Then with the ever-changing Facebook algorithm, the organic reach, in general, started diminishing. If you had to reach to more people, you had to shell out more money. As an entrepreneur, you started losing control of your own community. The very own community you had built on these platforms.
Marketing has evolved over the years; initially, there used to be a website with long-form text content. Then there was a long form of sales letter, having a call-to-action button. Along the way came the funnel concept with landing pages and sales pages. It was transactional in nature.
The future of marketing is owning your hub and building your community. This is your home on the internet. You create your own island. Your hub will have sales, community, courses, collaborations, services, events, and networks. You control everything inside your island. No company can change an algorithm and control your community.
Wouldn't it be nice to have all these options on your website? Yes, in this article, I will talk about Buddyboss. If you ever want to create an online community, then this is a good option for you.
BuddyBoss Review
About BuddyBoss
In 2010, Michael Eisenwasser created the buddyboss theme to help WordPress users to transform their websites into an online community. With an overwhelming response from the community leaders in 2013 for custom development and unique features, Michael was struggling to keep up as a solopreneur. He posted an ad on Craiglist. Tom Cheddadi answered the callout and took care of the operations allowing Michael to focus on building the product.
They started to work on this partnership and built Buddyboss together and turned their vision into reality.
At the moment, Buddyboss has over 150+ staff in 13 countries and supports over 50,000+ online communities, membership sites, and courses.
Values of BuddyBoss
Focus on the user: The voice of the customer is at the core of the company. They have hired a few customers in key positions in the company.
Iterate to success: They learn from their mistakes and improve along the way
Diversity: Team diversity helps them grow and build products that enrich others' lives.
Fun in the process: Great work comes with having fun and not being serious about the work.
Lead with integrity: Making the right decision in what they believe in and leading this company with integrity
Team is family: The team is the second family to them. They care about each other and spend time even outside work.
Mission of BuddyBoss
Ease: You are a leader, and you shouldn't need a developer. If you are not a developer, you still have everything to launch an Online Community, Course, or Membership site.
Freedom: This is your community, so you should be free to do whatever you want. They don't charge based on extra members and don't show ads to members.
Ownership: It is your community, so you should own everything inside it. You own members' data, payment details, their subscriptions. You own the messages, content, and design.
Flexibility: Your community is unique so is your platform. You can enhance any area of your community that you can imagine.
Click Here To Try BuddyBoss Now
Pros and Cons of BuddyBoss
Pros
BuddyBoss is an all-in-one solution, to create a fully functional community website.
Integrations with Learn Dash, Woo-commerce, and more, including page builders like Elementor, so you can extend the functionality of your site.
Members can send private messages.
You can create forums so that, members can communicate in a structured fashion.
It offers an immense level of flexibility as it is an open source like WordPress.
There is a good knowledge base with a dedicated Youtube channel and 'How to blogs', available on their site.
Cons
It will not be easy to learn and adopt for new users who are not familiar with WordPress and its dashboards.
BuddyBoss offers limited customer support via tickets. There is no phone, chat, or email option available
Additional styles, like the dark version, are not available yet.
Lacks hooks to insert content dynamically.
Click Here To Try BuddyBoss Now
BuddyBoss Platform Vs BuddyBoss Theme
The BuddyBoss Platform adds functionalities to WordPress to make it easy to the creation of online community. You can create user profiles, social groups, forums, and email invites. In comparison, BuddyBoss Theme makes sure that everything seems elegant. You can create social networking site using a BuddyBoss platform, but the BuddyBoss theme makes sure that it looks nice and beautiful.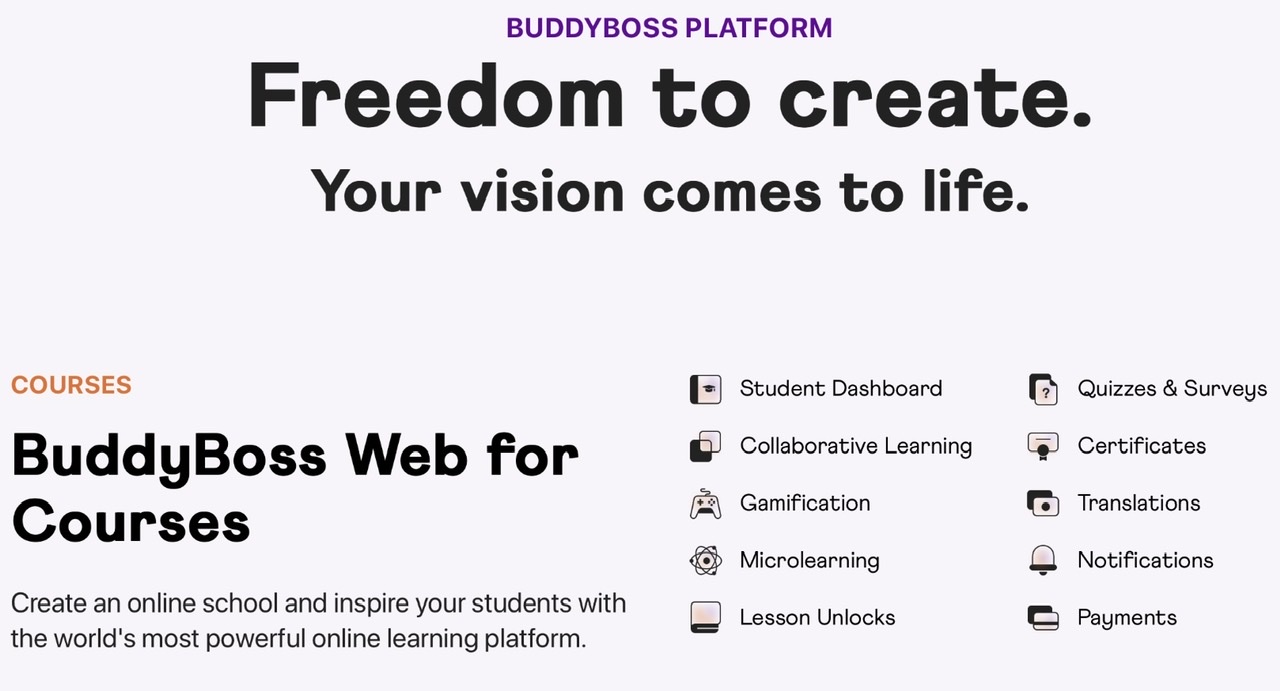 In simple words, the BuddyBoss platform is a plugin that powers all the social features of your website. At the same time, the BuddyBoss theme is a WordPress Theme that styles all that functionality. Both are BuddyBoss products and are easy to install and set up, with a wide range of customization available.
BuddyBoss Features
We will now discuss the features offered by BuddyBoss. It helps users and customers stay connected to your products and services.
1. Community
This is one of the best features of BuddyBoss. It helps you build an online community. It also provides powerful features for creating advanced online communities like Facebook or Twitter. In my opinion, Buddyboss makes it easy to create a networking site. They also have walkthrough videos, which help you navigate varied features, further simplifying the process. It enables your followers to connect with your brand. Increase engagement and retention and gather customer feedback. Following are the highlights of the community features.
Member Profiles: Most of us have been using various social networking platforms, so we understand the importance of a profile. In a community, everything revolves around its members. Members can customize and add an email address, contact number, birthday, and more. Editable, customizable profile fields that allow members to share details about themselves. One can create as many profiles as one needs. It is your community you can customize as you want. Also, you can assign permission and roles based on the membership type. Based on the data gathered, you can display information on member profiles.
Social Groups: BuddyBoss allows members to organize themselves according to their needs. One can also create a group type; Public or Private, based on your requirement. It gives special rights to the organizers to post, edit the group or invite users and allows users to share photos, GIFs, Emojis, and ideas in the group activity. It also has a feature to let members invite other users to the group.
Forum Discussions: It provides varied forums to allow members to communicate and discuss in a structured way. It will enable members to post photos, emojis, and videos. One fantastic feature is each group can create its forum. For example, create a forum called "Marketing" and all the discussion will happen only with related topics of marketing.
Zoom Integration: This option is available only with BuddyBoss Pro. It integrates with Zoom so that you can conduct online meetings, live training, and meetings with members. Share the past video or audio recordings in the member's area. Create a better learning experience and increase student engagement with live chat, screen sharing, polling, virtual whiteboards, and breakout rooms. You can create live classes for a specific audience based on the group to which they belong.
Member Dashboard: Personalize the welcome experience and emphasize the key sections of your member area.
Member's dashboard feature helps personalize the new user's welcome experience and emphasize the critical sections of your member area. You can create videos for walkthrough sessions to help members get familiar with the ecosystem. It allows members to connect with people, groups, and topics that interest them.
Private messages: This is one of the powerful features of Buddyboss; users can send private messages to one member or a group. Like other popular messaging apps, the messaging interface is quite similar, and one can send messages to other users without leaving their own profile.
Notify members of all activities via email or the member's area. Create site-wide events or group-only events for members.
Last but not least, the BuddyBossplatform provides built-in styling for the popular plugin, WP Job Manager, and other extensions. Post job listing and allow others to post jobs. You can enable candidates to apply for the job, and upload resumes.
Click Here To Try BuddyBoss Now
2. Monetize
You can monetize your knowledge in several ways. You can sell courses, memberships, stores, and more. There is seamless integration with LearnDash and WooCommerce to sell access to your courses and community.
One of the primary sources of monetizing your community is online courses and membership. Sell individual courses or a bundle of courses for a specific price. Control the access to the content based on the membership level. Share premium content with premium members.
BuddyBoss seamlessly integrates with WooCommerce. You can monetize through online stores, selling your merchandise. Some of the biggest influencers make huge money through online merchandising. Every quarter they create a new design or a product, and the raving fans look forward to buying the merchandise.
Give access to your course or community with a one-time or recurring monthly payment. One of the benefits of a membership ecosystem is you generate regular income. This can have a significant impact on your business.
3. Elearning
BuddyBoss integrates with Learndash, allowing you to create and manage your courses from your WordPress dashboard. Building your course platform on WordPress provides an unparallel e-learning experience to students.
Note: Learndash is sold separately to enable Elearning features.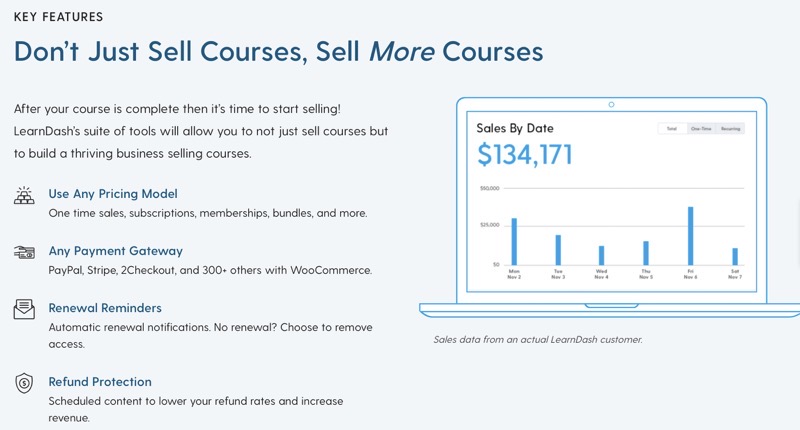 It aids interruption-free learning by removing navigation links from course pages, topics, and quizzes to create distraction-free knowledge. BuddyBoss supports LearnDash quiz question types, including Multiple Choice, Single Answer, Sorting, Matching, Fill-in-the-blanks, Free text, and more. It chooses to drip-feed content over time, resulting in a guided learning experience. Students can earn points as they complete the courses. They can unlock new courses based on the points earned. You can track course completion through the reporting system.
You can download reports to see member course progress and quiz results. Your learners can submit an assignment on a topic or a lesson. Leave feedback messages based on the work submitted. Post-completion of the courses, you can reward students with certificates. You can customize the certification based on the student's name, grade, and completion dates. Also, one can create a customizable learner dashboard that gives students at a glance access to all the relevant information they need and an easy way to continue from the last seen video.
4. Gamify
BuddyBoss allows you to engage your members and followers in fun activities that encourage them to stay connected to your course and community. It uses GamiPress, an open-source and free plugin, to enable Gamification features. This increases engagement among members with points, badges, and achievements.
BuddyBoss platform has box styling for the popular gamification plugin, Gamipress. Reward members for completing the task and achieving milestones. Encourage members by rewarding premium content for interacting on your site. Members can earn ranks and badges based on the completion of specific steps. Enable their rank on their user profile. You can award points based on completing particular courses or community interactions.
Click Here To Try BuddyBoss Now
5. Setup & Customize
This is a vital feature for anyone looking for a customizable platform to build your brand and online presence. This is your home on the internet. BuddyBoss allows you the freedom to fully customize your project based on your requirement. You can manage colour, fonts, logos, cover photos, and more to match your brand. You can take the freedom to customize the layout as per your requirement.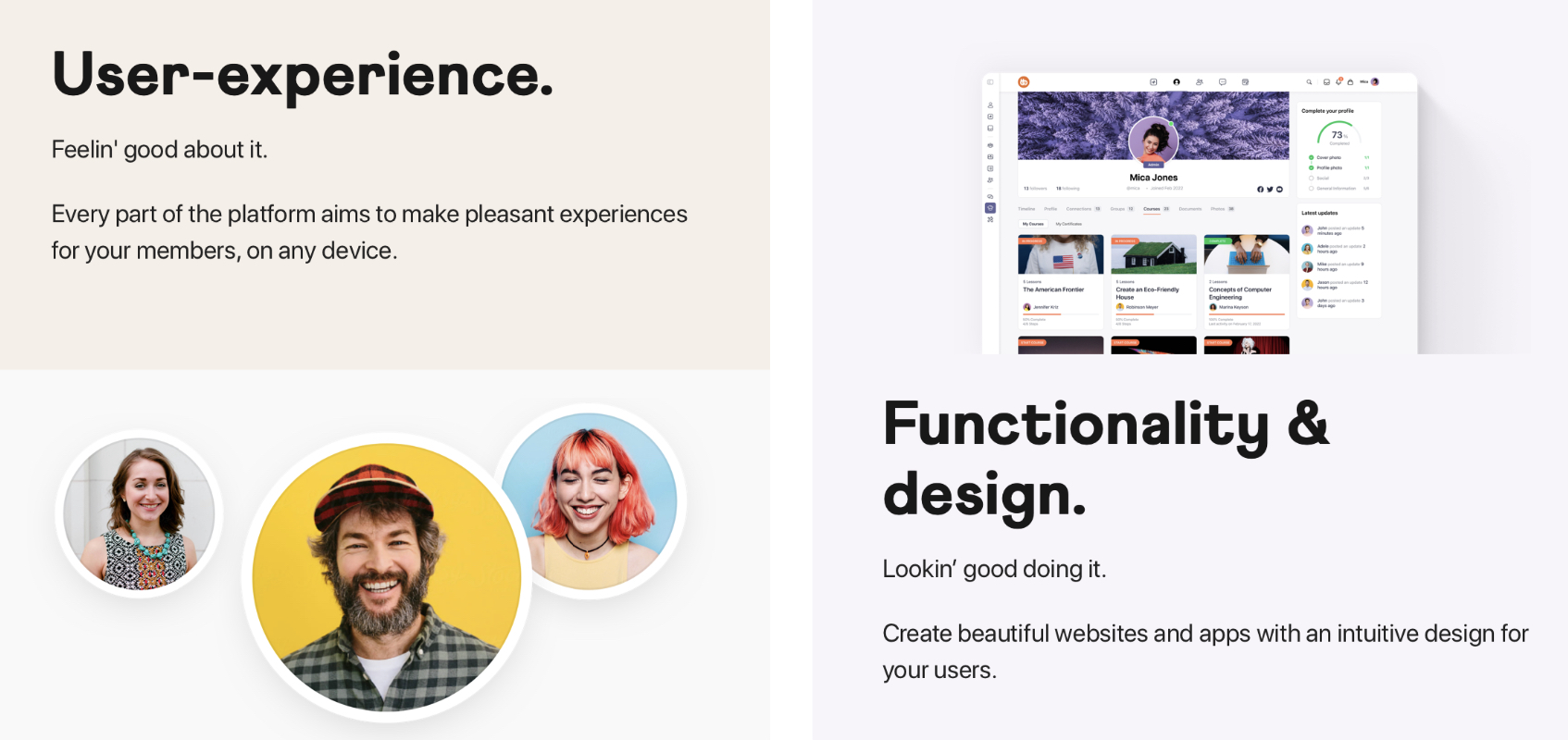 While building your site, you can play around with dummy information like default groups, members, and activities. You can choose your header and footer layout, style, colour, text, and navigation menu with BuddyBosstheme options. The theme has a built-in capability to be used in any language. It works well with Elementor, Cornerstone, and Gutenberg page builders. With the help of Elementor, you can build a beautiful-looking marketing and sales page. There are multiple options for drag and drop and adding your content. Allow members to view how their data is collected, used, and shared with the GDPR configurations.
6. Mobile App
It is packed with everything you need to create a course or community app. You can create a customized mobile app that best fits your wish list. React Native is a popular mobile app development framework. It is the same technology used for Facebook, Instagram, Discord, Skype, and many more.
BuddyBoss developers used React Native to build the platform, significantly reducing the cost of building a native mobile app. The BuddyBoss app uses the WordPress CMS and ecosystem; you don't need a website to launch your mobile app. You need WordPress installation and the BuddyBoss Platform plugin to build and manage your app.
Publishing an app is easy with BuddyBoss. It can be completed in a few easy steps.
Your BuddyBoss app is an entirely white label; there is no BuddyBoss branding anywhere. Your app is published in your own Apple or Google play store developer accounts. Complete freedom and flexibility over your app. You can modify and extend your app with custom features with the BuddyBoss developer toolkit if you have a developer team.
Click Here To Try BuddyBoss Now
BuddyBoss Roadmap
Buddy Boss planned features to be released in the future involve creating Gutenberg blocks for all blocks. Members must use social accounts to log in and register. They plan to introduce # hashtags in activity posts and comments. Finally, customize the URLs of member profiles.
Some of the in-progress features involve improving the private messaging experience among members. Integration of Presto player and teaching about LMS integration. Features in Beta are live to load for personal messages and access control for the BuddyBoss App.
BuddyBoss has released some essential features like BuddyBoss Theme 2.0. They have put in a lot of work behind this, taking design principles to the next level with the most feature-rich community, course, and membership platform. Other notable features released include sending web push notifications. Creation of custom profile and group layouts. Changing group images and default profile.
BuddyBoss Trust Pilot Reviews
After reviewing Trustpilot reviews, one of the things highlighted by many users is the customer support of BuddyBoss. It is not up to the mark. There is no live chat or call option available. You must raise a ticket to get help. The tickets are open for an extended period without resolutions. Overall, it has a rating of 4 on a scale of 5, with some good reviews as well on Trustpilot, which is decent.
Build your community
BuddyBoss is a community platform without limits. Unlike other companies with pricing for an increase in members, BuddyBoss doesn't have such pricing. There is no cap on these criteria. You can have unlimited members, courses, groups, forums, and integrations.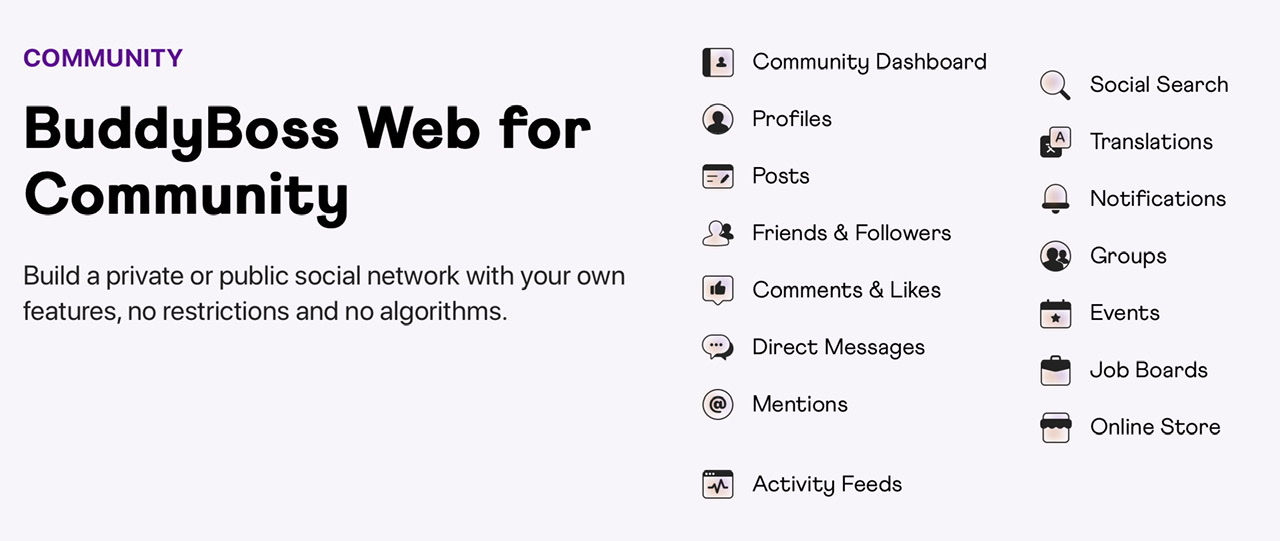 You own your content, members, courses, payments, and alsodata. Build your community as you wish. There are multiple supported integrations. It is an open source and available on GitHub.
BuddyBoss Pricing
This is the best value for your money. Building a powerful social networking site for your brand for $228 is a steal. You add more $60, and you can get four more websites. If you think about building something from scratch, it may cost you thousands of dollars. You can give it a try with a 100% risk-free BuddyBoss promise for 21 days. No questions asked when you ask for a full refund.
Click Here To Try BuddyBoss Now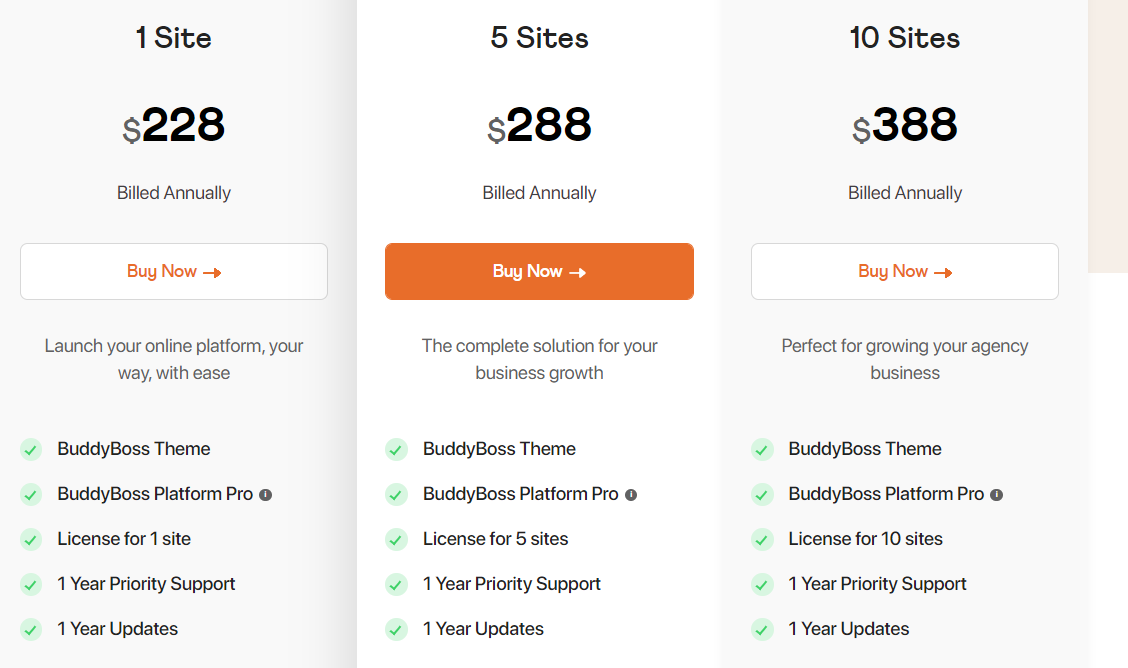 Buddyboss Coupon Code
They're many blogs making false claims of:
Buddyboss Discount Code 2023
Buddyboss Discount Code
Buddyboss Discount
Buddyboss Discount Coupon
Buddyboss Coupon Code 2023
Buddyboss Coupon
Buddyboss Promo Code 2023
Buddyboss Promo Code
Buddyboss Promo
However, the truth is that Buddyboss does not offer any coupons or discount outside Black Friday and related sales!
Click Here To Try BuddyBoss Now
BuddyBoss Review Final Thoughts
The future of marketing is building and maintaining communities. Online communities will empower people to learn from each other. With BuddyBoss, you don't need a developer's degree or a developer to build your site. Members can stay connected through the online community.
You can build a social networking site with features like private messaging. It integrates with LearnDash, Elementor, and many other plugins. If you are looking for the easiest way to build a social networking site, then BuddyBoss is all you need.
BuddyBoss offer insane options like building community, groups, forum, events, and many more. You can create your online world the way you want. You can create your community, courses, membership, gamify and create an app. This is a power-packed tool at an affordable price for your website.
Adding BuddyBoss to your WordPress website or creating an app with BuddyBoss can completely transform your online presence. It will help you to create a platform to connect with your users.
As mentioned earlier, the internet is an ocean, and you cannot control everything. You should focus on building your island where you have control. With BuddyBoss, you can create your world and connect with your audience like never before. There would be no algorithm changes that will impact your business. You control how you want to run things.
Lastly, if you are planning to build your business for the long run, then BuddyBoss is one of the best options available in the market.
Click Here To Try BuddyBoss Now
Buddyboss FAQs
What is BuddyBoss Theme?
BuddyBoss Theme is designed to make the BuddyBoss platform look beautiful.
What is BuddyBoss?
BuddyBoss will enable you to build your own social network or communication tool.
What happens if you stop paying the subscriptions?
If you stop paying the subscriptions, BuddyBoss will attempt to contact you to update the payment information. With repeated efforts and reminders from the customer service team, if you are unable to make the payment, then they will cancel the services.
Does BuddyBoss App require WordPress to work?
Yes. The BuddyBoss app comes with a plugin that you install on your WordPress site, as well as a native mobile app that is generated by BuddyBoss servers. With the mobile app, you can manage and synchronize the data with your mobile app.
Is BuddyBoss any good?
BuddyBoss is the easiest and a good way to build an online community for your website. The BuddyBoss plugin brings community functions to WordPress.
Read Next:
Optinmonster Discount Code 2023