A nomad is a person who doesn't live in a fixed location and moves around. These people included hunter-gatherers, pastoral nomads (who own livestock) and trader nomads. As time changed, the lifestyle move towards being more materialistic. A few among the modern generation perceived and adapted the lifestyle as a simplistic way of living to expand their experiential horizon.
To stay relevant and connected in the era, modern-day nomads use a few gadgets. They are the digital nomads of the modern times, and they lived with the things which would fit within a digital nomad backpack.
Best Digital Nomad Backpack
1. Nomatic Travel Bag – Best Digital Nomad Backpack According to Reddit
What Redditors had to say about it
u/TheNASAUnicorn- "I use a Nomatic backpack, and it's amazing. I love its intuitive pockets and efficient main compartment with extra zippers and highly recommend it".
u/TinKnightRisesAgain- "Absolutely, I like the backpack as it does everything. I can use it to carry my laptop, document, tech, water bottle, etc. The build quality is exceptional, and it looks really slick and doesn't look like a kid's backpack".
u/realgeeeoff- "I have 3 different Nomatic bags, several notebooks, a wallet, and a watch. They're entirely legit and are my favorite brand right now. They are all of high quality, durable, and very useful.
The Nomatic 40L Travel Bag is a great backpack, built with durable, water-resistant materials and zippers. The straps allow you to switch between a duffel bag to backpack. This backpack comes with a laundry bag to keep dirty clothes. The bag comes with several compartments for shoes, clothes, tech, and a water bottle pocket, which lets you stay organised.
Pros
Durable/water resistant
TSA compliant laptop sleeve & separate Tablet Sleeve
It comes with an easy access pocket and a roller bag sleeve
A Laundry bag and extra shoe compartment
The waist straps are detachable
The backpack has an RFID safe pocket
Lifetime Warranty
Cons
Water bottle pocket is inside the backpack
2. GORUCK GR2 40 L – Best Tactical Digital Nomad Backpack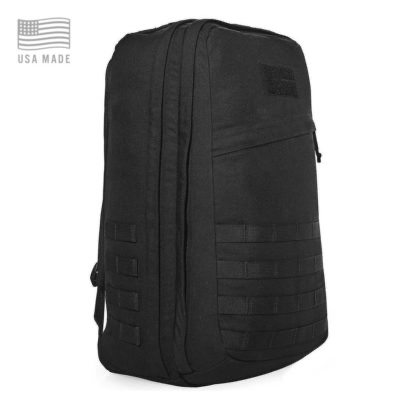 What Redditors had to say about it
u/Outcome005– "I used the GR1 21 liters backpack for all my college time, and it is awesome. And now I use it as a work and travel backpack. You cannot mess with a GORUCK".
u/SilkyChineseFood- "I have a GR2 and use it every day. I hike and travel all the time and get the GORUCK as hand luggage on the place. Had it for a year or more, and it still looks brand new".
u/hackatac- "If you're looking for the toughest bag in the market and ready to compromise to carry the extra weight, then you should buy a GORUCK backpack. I have owned the backpack for nearly 2 years and have performed 2 GORUCK challenges using it and it still stands out and is fantastic. I would say out of the 10 bags I have it carries weight on the shoulders, unlike others. I've put 100 pounds in the bag, and it is still comfortable".
The GORUCK GR2 is a suitcase you can carry on your back. It fits into the overhead compartment of the flights. It comes with four rows of internal and external MOLLE webbing, which offers customizability. It has several pockets for proper organisation. GORUCK suits tough people who want to travel without any limitations. The rucksack comes with a Scars Lifetime Guarantee.
Pros
17+ inch bulletproof laptop compartment with a false bottom to offer extra protection
Designed after special forces rucksacks to ensure sturdiness
Frame sheet to stabilise the laptop compartment
High water resistance and rainproof
TSA compliant
Flat opening – Easy to organize
Extra padded shoulder and hand straps
Cons
Weighs 4.75 lbs, on the heavy side
GR2 comes with a price premium
3.  Peak Design Travel Backpack 45L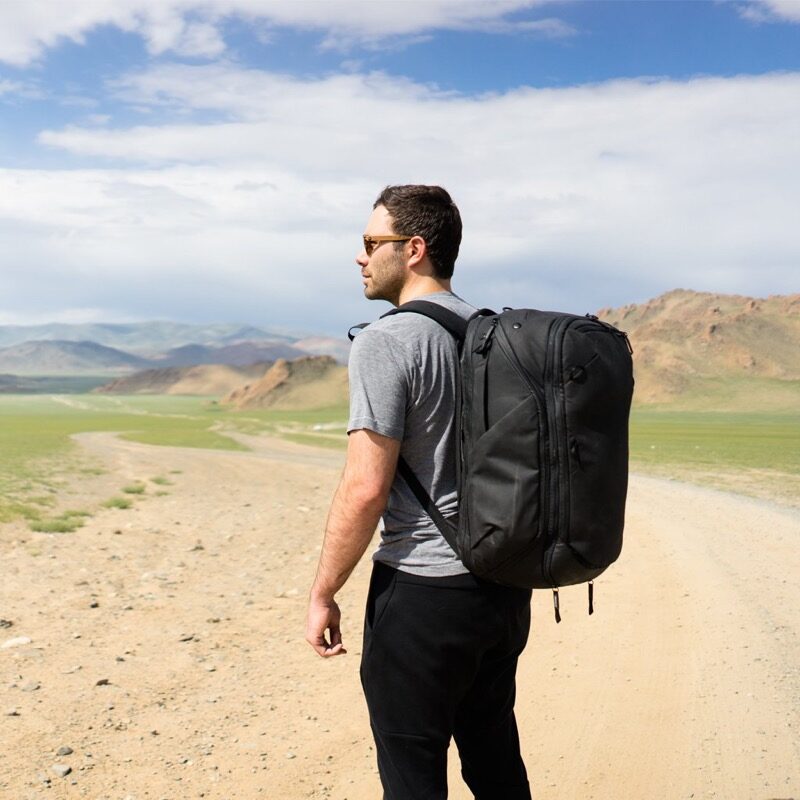 Check The Guaranteed Best Price
What Redditors had to say about it
u/Rick_Proza- "I use the 20l Peak Design backpack for daily activities, traveling, and cycling. It is very comfortable. Sometimes when I have to walk around the city as compared to other backpacks, it is very comfortable".
u/ParticularTune7146- "I think that the 30l backpack by Peak Design isn't too big. Took it for 2 to 4 day trips, and the size is perfect. It may just be slightly too heavy".
u/YoshiWithABlueShell- "I have the Peak Designs backpack and cannot recommend it enough. I have no regrets, and it is amazing. I've taken it on every trip since I purchased it a year ago, and it has been stellar".
Peak Design travel backpack features top, side, front and rear access managed by weatherproof zips. It comes with a lot of internal and external pockets and a spacious main compartment divisible by zippered panels. The waist straps use magnetic catches to stay in place. The backpack comes with a concealed external carry straps. The side pockets are expandable to fit water bottles, tripods etc.
Pros
Can use it in multiple sizes – 30L,35L, 45L
Quick access laptop and tablet back zip
Holds the form, irrespective of being full or empty
Designed to fit camera cubes and additional accessory
Double-sided zippers
Tuck-away shoulder straps
Lifetime guarantee
400D weatherproof material
Cons
Fits laptops up to 15 inches
Features take time to understand
4. Tortuga Travel Backpack
Check The Guaranteed Best Price
What Redditors had to say about it
U/jaymeetee- "I've been living on a Tortuga backpack since May 2nd, 2015. I can assure you that I am pretty happy with the Tortuga materials and quality".
u/AdventureInAbsurdity- "Tortuga makes great backpacks, made for long-term one bagging. If you are looking for unboxing, customer service, and daily use, you can't purchase a better product".
U/BenThereNotYet- "I've owned the 45L Tortuga backpack for almost 2 years and have made dozen trans-oceanic trips around the world from last year to the beginning of this year. It is usually considered a carry-on but was once forced to gate-check it. I make sure I hide the straps on most occasions. Two years later, the bag looks brand new and has been a great investment for me".
The Tortuga Travel Backpack is an incredible backpack explicitly made for travel. It's perfect for short and long trips and is designed to fit all your belongings in a carry-on size. This Backpack has impressive features that make it a top choice among travelers.
Highlights
Smartly Designed Storage: The Backpack features a balanced design and many options for storage, so everything has a place to call home.
Luxurious Comfort: The suspension and straps redefine comfort, making those lengthy journeys seem effortless.
Hip Belt Haven: The hip belt provides outstanding support for a journey without tiredness, going above and beyond.
Week-Long Warrior: This rugged Backpack is a reliable ally for week-long hiking trips.
Built to Brave: Made of durable, water-resistant materials, the bag scoffs at deterioration.
Eco-Friendly Chic: An environmentally conscious touch, the main fabric proudly displays the label of recycled materials.
Harness that is like a cloud: The padded, height-adjustable harness provides a secure fit without sacrificing comfort.
Suitcase-Like Opening: The Backpack's innovative suitcase-like opening style deserves special mention. This design feature simplifies packing and accessing your belongings and lets you see all your packed items simultaneously.
Tech-Savvy Companion: The Backpack features a dedicated and well-padded laptop compartment that can comfortably accommodate a 16-inch MacBook Pro or similar-sized laptops.
Traveller's Pleasure: The Backpack complies with carry-on requirements, reducing stress at the airport.
Globetrotter's Assurance: No matter where your travels take you, a global warranty attests to its quality.
Pros
Stylish & Great looking
Front Loading backpack
Long Lasting Backpacks
Great internal organization
30-day return policy
Designed for long term travel
Cons
USA shipping only
Not the best for rucking/hiking
5. HEXAD Carryall Travel Duffel Bag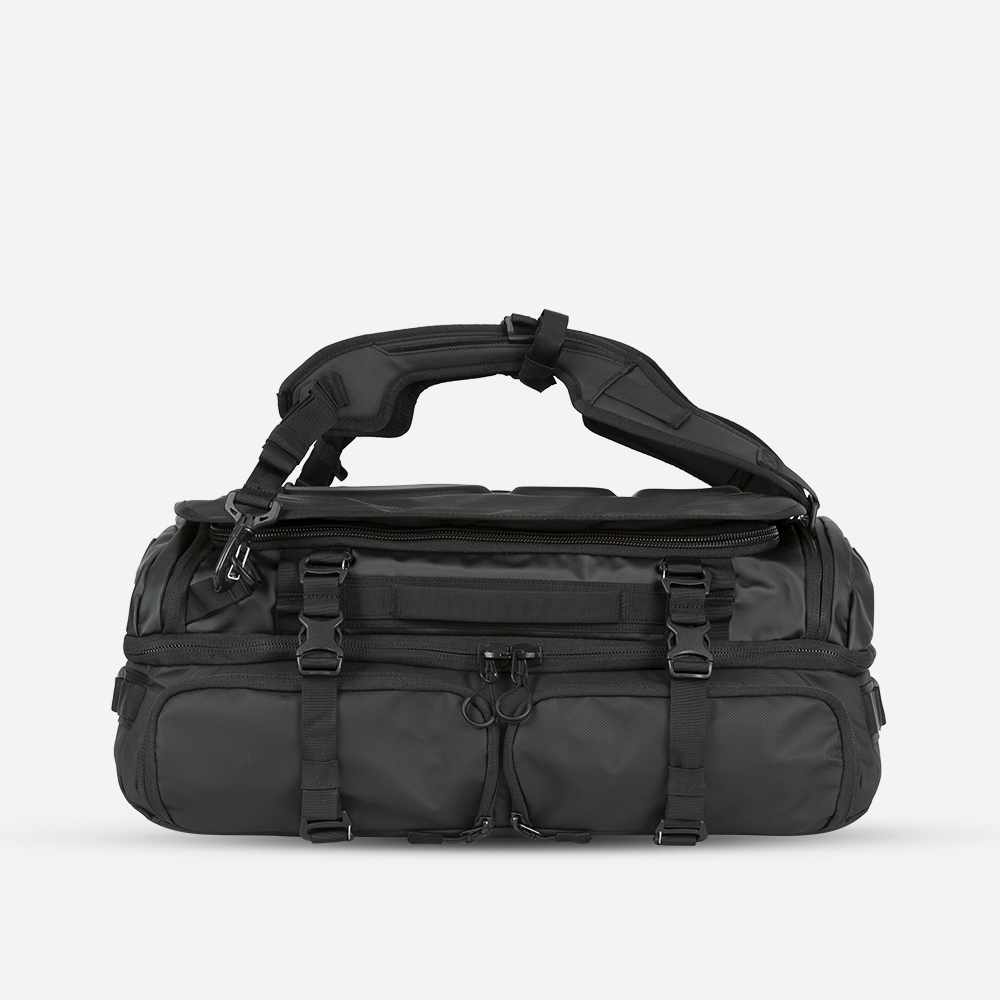 The Carryall comes with a padded laptop sleeve with a double zipper entrance. It comes with a required level of weather resistance and durability. The backpack is lightweight compared to the bags offer the same capacity. It comes with four grab handles and enables you to switch between duffel bag and backpack. It suits within the overhead compartments of the airlines.
Pros
Waterproof Tarpaulin and 1680D Ballistic Nylon
Padded laptop sleeve
Mobile phone pocket and a spacious main compartment
A Top organization with multiple pockets
RFID secure passport pocket
Detachable back straps
6. 5.11 Operator ALS Backpack 35L
The 5.11 Operator ALS Backpack built for testing terrain and climatic conditions. A nomad with a high adrenaline rush should choose this back strap over others. It comes with four removable, colour-coded Med Pouches and two internal pockets. A custom use padded compartment that suits hydration requirements or to carry laptops. The nylon 1050D body and poly 1000D base offer water resistance. Not your typical backpack, but it is rugged and caters for a niche purpose. It would be a great backpack with laptop sleeves and packing cubes.
Pros
Removable Double Deploy Gear Set
Two-way access top pocket
External MOLLE
Aluminium handle allows easy grabbing
Full clamshell opening main compartment
Cons
No padded support for laptops
35L capacity
7. Pacsafe Venturesafe EXP 45
The Pacsage Venturesafe 45 L backpack comes with an anti-theft travel pack. With a spacious main compartment and a laptop sleeve to fit a 15inch laptop. It comes with a stainless steel anchor cable which can lock your bag with a fixed object. The backpack fits into the overhead bin. It has pockets for USB and other charging cables. It comes with both internal and external compression straps to keep the bag in support and balance.
Pros
External attachment points for a jacket, sleeping bag or yoga mat
Works as a backpack or as a briefcase
The internal frame offers balance and support
External compression straps keep the bag in the shape
Padded waist strap provides comfort
Adjustable straps at sternum for extra comfort
8. Osprey Packs Farpoint 40L
Osprey Farpoint 40L is one of the best Travel Backpack, which comes with the LightWire frame suspension which transfers the load to waist straps. A meshed back provides ventilation. It comes with a padded side and top handles. It is a value for money product in the price range.
Pros
Laptop and tablet sleeve comes in a lockable compartment
The adjustable sternum strap has a rescue whistle
Main compartment with lockable zippers
Two internal compression straps to hold the contents
Smooth mesh-covered foam provides a comfortable, breathable surface
Comes with an all-mighty guarantee
Cons
The front compartment, and main compartment share space which limits the space
9. Arcido Faroe 35L
Made of rugged and lightweight Kodra material, Faroe 35L weighs 900 grams. They come with a spacious main compartment and an adaptable laptop section with to help with the organisation. It fits in the overhead compartments of the flight and has a dedicated water bottle holders and sun glass holder. Faroe 35L packs a punch for the price.
Pros
Made with lightweight, durable material
Spacious main compartment with compression straps
It has an adaptable laptop harness up to 15.4 inches
Good organization compartments
Can accommodate iPad/kindle
Padded top handle
10. Hynes Eagle Carry on 42L
The 42L Rolling Wheeled Backpack of Hynes Eagle offers a decent range of features for the price. It comes with a dual carrying option, like a backpack and a roller. The backpack comes with four compression straps to keep the bag in shape. It offers a spacious main compartment which can accommodate packing cubes, and a front zip compartment with multiple pockets to carry essentials.
Pros
It comes with a detachable laptop sleeve and fits up to 17 inches laptop and a 10.5-inch tablet
The bag has a cover to enclose the rolling wheels
It comes with a padded sternum and waist strap
Smooth-rolling wheels
The air mesh in shoulder straps offers a comfort
Cons
No water bottle holders
The durability of the wheels may be an issue
Features To Look for in a Digital Nomad Backpack
The backpack becomes an essential accessory for a digital nomad. If you don't carry the right equipment, the day to day life becomes challenging. It is of great importance to choose a backpack that fits the things you deem necessary.
One wouldn't want to end up as an easy prey to pickpockets. And a sore back, stinking wet clothes and a baggage fee to add to your misery.
Some features would ensure your travel is comfortable to a certain extent and save you from some of the troubles. These are the criterion one has to look into to get the best out of a digital nomad backpack.
Ease to carry: The lighter the backpack, the easier it is to carry around. While a huge/heavy backpack may accommodate a lot of things, it might get tiring to carry it for an extended period. But one shouldn't compromise on the sturdiness for the sake of lightness. The bags come with well-cushioned waist/chest/ shoulder straps to manage the strain of carrying weight.
Spacious/Organisation: You cannot carry everything you want, but it would be a shame to leave behind things that are essential. It can make a dent in your wallet (if you have to purchase them every time you move to a different destination). Imagine unpacking the whole backpack every time to make sure one hasn't missed anything. You wouldn't want that. The organisation helps you manage the space.
Laptop and other gadgets: Laptops, tablets have become inevitable. One has to make sure you have provisions and sleeves to accommodate, protect your electronic gadgets.
Safety: Nobody wants to fall prey to theft, if you are travelling. Look for a backpack that offers concealed pockets and hidden zippers which makes the bag less vulnerable to theft.
Waterproof/Weather Resistant: Unless you can predict the weather or have concrete plans, you would need a backpack that works in different climatic conditions. Stuck in wet clothes and a repaired gadget is a situation, one would like to avoid during travel. The material has to be water repellent/resistant or make sure it has a waterproof cover.
Carry on: Being stuck in a check-in luggage carousel or paying the baggage fees is something you can avoid. Make sure the bag dimensions are within the standard airline regulations.
Price: High price doesn't guarantee a better product. Make sure the quality of the materials and the features are in tandem to your preferences and the price.
Found your next digital nomad backpack?
All the listed backpacks offer great features. While a GORUCK GR2 is a backpack with an array of features and no compromise in the quality, it comes at a premium price. The Hynes Eagle backpack is one of the best buys for the price, and most recommended for someone with budget constraints. The 5.11 is customisable and built for sturdiness, and with certain accessories, it becomes the backpack to suit all conditions. If the preferences are clear, it is easy to get the best fit.