If you're looking for a backpack for long term travel then you've come to the right place! In this article, I will be reviewing the Peak Design Travel Backpack which I have been using as my full time travel backpack since December 2021!
TLDR; If you're in the hurry here's the pros and cons of the Peak Design Travel Backpack!
Pros
Waterproof
Carry on size
Best Travel Backpack in 2023
Worldwide shipping
Looks great
Expandable from 30l to 45l
Amazing warranty
Cons
Pricer than most backpacking bags
Not the best for people who carry a lot of tech/cables
Check The Guaranteed Best Price
Peak Design Backpack Review
About Me And My Lifestyle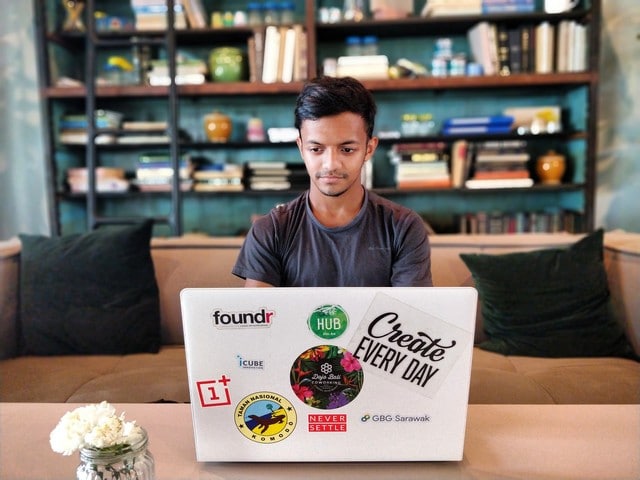 I've been living out a backpack traveling the world since April 2016 as a "Digital Nomad". I run this blog which has a fairly big readership and also I used to be the head of SEO and organic growth at Foundr Magazine which is one of the largest online business magazines in the world.
I have a very active lifestyle and do crazy shit from climbing the world's third-highest mountain pass with everything I own to meeting the Dalai Lama. I don't spend much time in a single spot and usually move from spot to spot on a weekly basis and I sometimes bike across countries with my backpack so having the right gear is a huge deal for me.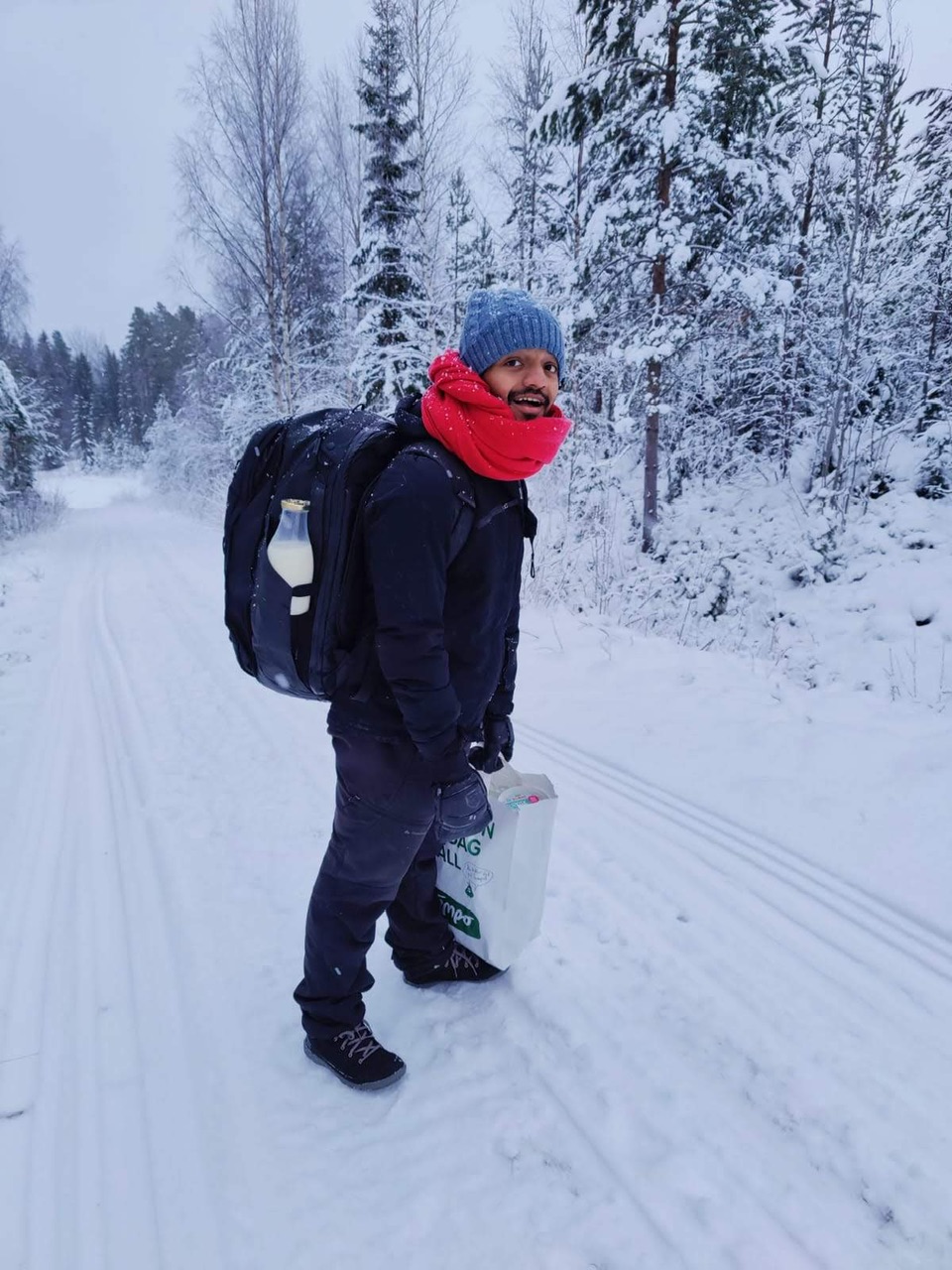 At the start of 2021, I upgraded my full-time backpack to the Peak Design Travel Backpack and in this pretty long article, I'm going to share my opinion about it.
Transparency: I WASN'T given the Peak Design Travel Backpack for Free (unlike most other blogging people writing "Peak Design Backpack Review". I paid for it with my own money, however, the links to PeakDesign on this site are affiliate links so if you click through and buy the bag, I earn a small percent at no extra cost to you!

To put the bag to a test I have been living out of the Peak Design Travel Backpack full time and ever since I got it I have taken over a dozen flights and been in over 20 countries.
This is my full and honest review of the latest 45 liters Peak Design Travel Backpack, which is an innovative pack, but you need to make sure that this is the right one for you. You might be thinking about just what sets this Peak Design travel background in another playing field from the competition. You might also just be looking for a full and completely honest review of the potential improvements and best features of this bag. We intend to answer it with this Peak Design Travel Backpack Review.
The flagship backpack from Peak Design is aptly named the Everyday Backpack. This is ideal for those who are into travel, photography, and even simply backpacks. This one is 20 to 30 liters, and it is for everyday use at commuting, photography, and errands.
Check The Guaranteed Best Price
The bags from Peak Design are well-known for the innovative design as well as organizational shelves and customizable modules. Their everyday backpack is one of the top unique options in terms of bags I've ever seen. When I heard that Peak Design was releasing a new, larger travel-related bag, I was extremely excited. When I took it out of the box, I knew it was going to be unique because of the high level of durability and seamless, sleek appearance.
When I first used it, I was very impressed by the organizational pockets and numerous access points. After using it a few more times, I can tell you that this bag checks off the significant ticks of durability, organization and size. This makes it different from any of the competition that it has.
Here is my completely honest review where you can find all of the necessary details about my experiences traveling using this backpack and see if it is going to be something worth purchasing for you. This will help you to learn all about this bag and what the features are that we loved about it, which is a lot and what we thought might make it better, which isn't as much.
Is the New Travel Backpack by Peak Design in 45-Liter for You?
When you are looking at the Peak Design 45-liter travel backpack, there are some things to consider. These include the following factors, such as:
Require a backpack that is innovative and well-designed
Traveling to a lot to cities
Do not need to pack anything for cold weather and if you pack light
Require a backpack for traveling on a week-long and weekend trips
If you take a lot of electronics and other digital items with you while traveling
Like to be able to customize your organization
Want a backpack that would fit both your needs of traveling as well as photography
This bag is ideal for anyone who loves organization, efficiency, and design. It is one of the top minimalist backpacks that you can find in the market. This bag might not be perfect, but it is good enough for the majority of travelers who want something that is going to be easy to carry around and amazing in terms of space and access.
This bag will be perfect if you are going for multiple week-long trips if you do not carry a lot of electronics or photography gear. Those who travel full-time can easily make this 40 to 45-liter bag work for them. Next, we are going to look at who wouldn't find this bag to be ideal.
The Peak Design Travel Backpack Is NOT Ideal If You Are
Looking for a backpack for hiking
Searching a day pack and this bag is a bit large for using every day
Planning to travel heavy since this can only hold 45 liters maximum
Wanting a bag that has the classic style since this has the ultra-modern design
For those who are still considering this as a top contender, then you are likely to be drawn to it more because of the top-level organization and modern, sleek design. You might also love the idea that the same brand makes bags for travel photography and your gear. This bag can handle a bit of anything and everything, including being used for weekend trips, big trips, commutes, camera bags, or even a day bag whenever needed.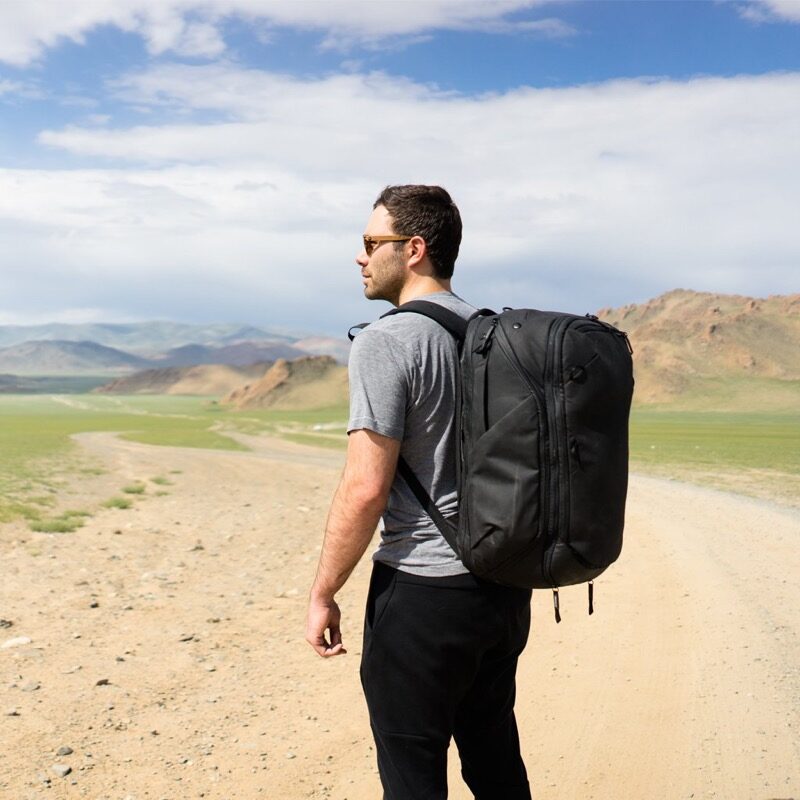 However, one should always make sure that they are emphasizing that this was designed to be a travel backpack. You can purchase some camera cubes and dividers w into this bag, and some may find it slightly bulky. That doesn't mean that this wouldn't be a good camera bag, but it is best suited for travelers rather than casual use every day.
Summary: the 45-liter travel backpack from Peak Design is primarily suited for traveling, and it is perfect for that. You can use it every day when it is required. However, you shouldn't buy this bag if you are looking for something to use daily. This one is more suited to traveling, and their other models would be better for daily use or as camera bags. Now, here is the information that you have been waiting about, including potential places for improvement, best features, and specs.
Peak Design Travel Backpack Specifications
Here is everything that you need to know about this bag when you are looking at it and comparing it other models, such as:
Capacity: Maximum 45 liters
Price: $300
Weight: 4.55 pounds or 2.1 kilograms
Dimensions: 9 x 22 x 13 inches or 22.9 x 55.9 x 33 cm
Laptop storage: iPad + 17 inch laptop
These are the main specs, and these can let you know what you would be able to fit into the bag and what it weighs without anything in it.
Check The Guaranteed Best Price
The backstory Of Peak Design
Before we get further into the review, let me give you a bit of background regarding the company. I believe that you need to know a bit about the company that created this fantastic backpack. Knowing how the company came about would make it easier for you to understand how their products are created and why.
The company is well-known for its camera backpacks that are thoughtfully designed, but this isn't where they started. The founder and CEO, Peter Dering, had been inspired to create some new travel products that would help you to carry all of your camera gear securely and efficiently.
After he traveled around the world for four months, he had designed Capture, which was their first producing, which is a metal clip that helps when you are carrying the camera in a convenient and accessible place like your bag, belt or backpack.
The next product that helps Peak Design make their mark in the industry was their everyday backpack, which is 20 to 30 liters and is a pack that adapts to what you need in your day-to-day activities and life. However, the model that we have reviewed was created for people who prefer traveling around the world.
Peak Design Travel Backpack Review
Bag Size
The most important feature that you need to know about when it comes to the travel backpack is the size. You might think that size doesn't matter, but it does, and the perfect thing about this model is that it can start at 30 liters and then increase up to 45 so you have the space you need and want.
The average size is 35 liters, but it can be expanded by 10 liters. You can also reduce it to 30 liters by using the compression snaps. It can be done if you want to use this as a daily bag, but it would still be pretty significant for that. Think about if this bag is going to be ideal for you, and it would depend upon how much stuff you plan on carrying with you often, and how long you are planning on traveling for.
Can It Be Used as a Carry On?
If you are flying all over the world, you are going to want to choose a bag that would be able to be used as a carry-on. You might think that this isn't an important feature, but it is since if you were to go with a more giant bag, it wouldn't work as a carry-on during your flights. However, the 45 liter Peak Design travel backpack is perfect for this, and it means that you do not have to deal with checking your luggage.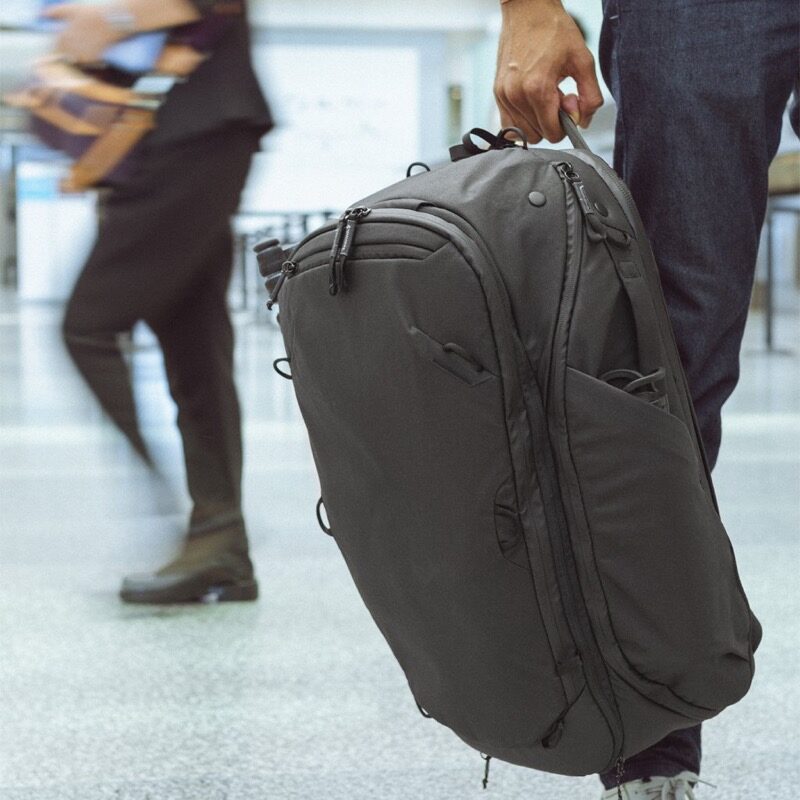 Having everything in your bag while you are traveling that can also be a carry-on bag is going to change the game. Not only can you relax knowing where your bag is, especially if you have valuables in it, but you can also save yourself time, energy, and money by not checking it.
This model meets all of the international maximum standards for carry-on when it is the default configuration for 35 liters. If you use this configuration, you can easily have the bag brought on as carry-on rather than having to check it.
If you have been searching for a bag that not only would be a travel bag, but also one that you can carry-on on a flight, then this might be the option for you.
Features of the Peak Design 45 Liter Travel Backpack
There are always going to be conveniences that you can enjoy when it comes to any bag from Peak Design, including every day and the travel bag. One of these includes easy access on both sides so you can get to the main compartment while wearing it without moving it.
There are also organizational pockets, carrying handles that are intuitive and a sleeve for a tablet or laptop. However, what sets this backpack way ahead of the other models that it is compared to is the size, which can be used for your entire trip rather than just every day.
Aesthetics and Material
A large part of this model is made using a 400D nylon canvas that has in-built water resistance. This allows you to relax, knowing that whatever you have in the bag is going to remain quite dry even when you get caught in a heavy rainstorm.
The bag's bottom is made using 900D nylon canvas to give more protection to your valuables from any additional drops and abrasions. aThis is also a great thing because it helps the bag to stand up alone, which is an ideal feature when you are traveling.
It also has a polyurethane liner that is DWR coated, which is going to give an additional level of weatherproofing, numerous Zoom zippers, and hardware that is made of aluminum.
Also, when it comes to the looks, the bag has a minimalist yet sleek design with tons of features and pockets, which would be covered later in the review. This model would come in 2 different colors, including full black and sage, and they are both elegant and would work.
Security and Durability
This bag is created using high-quality, durable materials. There are also plenty of cool hidden pockets that you can use to put your valuables in that nobody would know about. All of the zippers are also able to be locked using O rings to give it a bit more extra safety if you want.
Accessibility and Organizational Features
This area is where the backpacks from Peak Design shine since they all have the ultimate levels of customizability. I mean that you can access as well as organize your items in whatever way would work the best for you rather than by what the bag says.
One of the most critical features that you need to look for in a backpack for travel is accessibility. Nobody wants to dig through the entire bag just to look for a pair of socks that you can easily access in other bags.
The main compartment of this bag can be reached from both sides, the front, and the back, but the main point of access is the full zipper that is located on the back. This back access helps to keep your straps clean, and you can get into the items like you were using a simple suitcase.
This is a great way to make it easier to access all of your items, and this is a great feature for traveling. However, if you were to go hiking, this wouldn't be the right access point for you, which would help you to decide that this isn't a backpack made for travel.
I love how the back completely opens up for instant access to everything in the bag. Another plus is that because the bag has the back opening rather than a fill zipper that is in the middle, you can access the entire space during packing.
There are also two side panels that would give you access to your main compartment, but this can be a bit too much with a large bag. However, this feature works wonders in the other models, and it still makes it easier to get into what you need without having to remove the entire bag or even open it from the back to find something.
Another way that you can access the entire main compartment is by the full-length zipper that is on the front section. This feature is perfect because we know that you aren't always going to be able to easily get to the back to get what you want from the main compartment.
There are numerous external handles that are designed on this pack, and I totally love it! The handle on the top is very nicely padded, and the handles on the two sides are ideal for when you are trying to grab or shift the bag easily.
Finally, there is also another one that is on the bottom and the back panel for the times when you have it folded, and the straps are put away. This means that no matter what way you are storing this bag, there are always going to handle that you can access.
Features of the Main Compartment and Pockets
There is a fully opening zipper that allows you access to the main compartment just like any standard suitcase. This compartment is designed to work perfectly with the packing cubes and dedicated travel accessories from Peak Design. However, you do not need to purchase and use this system if you do not want to since it works well either way.
The compartment sides have some elastic loops that can be used to fully integrate the unique camera cube system, which lets you know that this backpack can be used as a camera bag if you want.
There are also two zipper pockets that will give you access for the front section, and one is made of mesh while the other is much more discrete.
Tablet/Laptop Slot
These days one of the essential items that every travel bag must-have is a laptop sleeve, and we wouldn't say to buy one unless it has one. The compartment for the laptop is found in the back panel, and it can be easily accessed by opening the main compartment just a small amount. You can also undo the zipper on the back of the bag and send your laptop easily through security.
There is plenty of space for a laptop of any size, as well as a smaller pocket that would be perfect for your journal, Kindle, or even your iPad.
Organization and Pockets
For those who want intuitive pockets, then look no further since this bag has the best ones ever. There are numerous internal and external pockets, along with some hidden ones that will keep everything that you pack organized easily.
The exterior pockets are ideal for stashing your small snacks, your phone, keys, and even your documents and passports. However, you should always make sure that you are keeping your valuables in one of the hidden side pockets. The top pocket is lined with fabric, so your valuables or even your sunglasses won't get scratched.
There are dual external carrying straps that can be stowed away easily in the external magnetic pouch. These also work great for carrying extra clothing items like your jacket or even your tripod to be tucked away if you aren't using it.
Now to the inside compartment of the backpack and the main front part zips completely open, that allows you to access everything inside easily. This part is huge, and there are four sections that are good sized that allow you to organize everything along with space to store anything that you aren't using.
Due to having this section, I think that this is by far one of the top organized backpacks for traveling that I have not only used but seen. There are 2 top pockets, which face each other and that are made of mesh, and the two on the bottom are nylon. Make sure that you are using the top located zipper pockets to hold items that you are going to want to grab fast or something you would use every day.
These pockets were great when it comes to organizing my chargers, wires, small electronics, and much more. You do not have to use these pockets, and they are going to lay down flat, which is not going to make a huge difference in how much space you are using in the bag.
Side Pockets
There are expandable side pockets on this bag, and I am in love with them, and these pockets can fit a large water bottle easily. These pockets are also made using some durable nylon and not mesh, which means that they are going to last longer than other models. There is also a hidden zipper pocket you can find that is found in the sleeve for your water bottle, which is great for your money or other items.
Everyone loves pockets, and this bag seems to have them in abundance, so make sure that you are searching for them. Not only search for them and find them but also ensure that you are using them to hold all of the small items that you might not want to put anywhere else.
Waist Belts and Straps
Another factor about this bag that you are going to want to make sure that you are thinking about is just how comfortable the straps and even the waist belt is going to be. When I wore it, I thought that the straps were very comfortable, and you can easily store the waist straps away if you are traveling or even putting it away for storage.
Additionally, there is a mesh-like, stretchy pocket that you can find on the left side of the belt where you can place small items. The shoulder straps can rotate, and so can the waist trap, which is one of the signature features of the Peak Design products. This makes it relatively easier to swing the entire pack around while you are still wearing it and get to the sides without much effort.
This rotation also makes it much simpler to stow and tuck the straps away behind the panel if they aren't being used. The fact that the entire harness system can be tucked away easily and within a few seconds makes me want to use this bag regularly. You can find that the detachable straps are annoying to remove, and that means I do not even want to deal with it and would much rather use those that can be put away.
There is a magnetic stowage area behind the pack, which is where the entire harness system can be placed. After you have hidden everything, there is an easy to use handle that is found on the back panel in the middle that you can use to carry this bag like a duffel bag. This also works well if you wish to attach the bag to your roller luggage, and hence, you won't have to carry it separately.
The last and probably one of the coolest features that you will find on the back panel is that the edges of the panel can be folded inward at the creases. The panel is taking up less surface area, which means better ventilation and even more padding to make it more comfortable.
These are just some of the main features and details that everyone who is considering using this backpack needs to know and should be aware of. Peak Design knows that it is these small little details that make their products stand out from the others, and that makes us love their products. This makes us want to buy more of their products, and we are excited to see what they are going to come up with next.
What could have been better?
Everyone is probably wondering if there is even any room for improvement when it comes to the backpack and the design. There isn't much that we can complain about, but the major problem is the Price, which his around $300. And that only goes up if you decide to add some of the accessories and the Price can then stand at about $400. It isn't something that an everyday person would be able to afford, but it would be a good investment for those who travel often.
The side access is also something that I love, but at the same time, I do not. It makes it easier to get into the bag, yes, but on such a large bag, it makes me wonder if it is required. It is perfect on the smaller bags, which we love to use, but on the bigger ones, it is sometimes easier just to open it or get to the back panel.
Peak Design Travel Backpack Review Reddit
u/papasmurf – Love mine, but don't disagree with the cons others have listed. Bottom line: if your travel is oriented around tech/camera gear, it will be hard to find a better option. If you just want to pack your clothes, and maybe a small camera or go pro, there are better, lighter, less expensive options.
u/epcrct – Used mine 3 weeks in SEA. They bag should have broke with as much stuff as I was stuffing into it (a whole other story) but it worked very very well for our trip
u/Netcooler – Dunno about the travel backpack, but I have the everyday backpack. I abuse it day in day out and I've worn one of the zippers to the point the bag was unusable. This happened twice already (they refuse getting YKK zippers), but their warranty and service is unparalleled. I'm on my third backpack from them, and didn't need to put up a fight for it. Their word is their bond.
Final Thoughts on the Peak Design Travel Backpack
The Peak Design travel backpack of 45 liters is a product that we would recommend to others who are looking for something ideal for carrying long term travel stuff. It is very durable, which means that you can use it over long periods without worrying about anything, and there are so many pockets that you can store anything and everything quickly and easily. This bag has plenty of features that make it easy for us to fall in love with it, including a secure and easy to use laptop and tablet sleeve.
You can customize this bag all you want, and you can even purchase some of the accessories that they have created. However, if you are searching for a day bag that you can use for cameras and daily use, then this is not going to be ideal. Not only is it going to be too large, but it is also going to be extremely expensive, but it can be a good investment if you are going to use it for your cameras.
However, for those who love to travel, something that will last for years to come and is easy to use, then this is perfect. The frequent travelers would love how comfortable this bag is, and it makes traveling simpler since you can use this as your carry-on and get going faster without worrying about anything. I love this model, and I can see myself turning to this one over my other backpacks when I am starting to pack for my next trip.