Having a tough time deciding between Astra vs OceanWP for your website?
If you've been scouring the interwebs for a definitive answer, this is the only article you'll need to read to finally take your pick.
Astra and OceanWP are both well known names in the WordPress community and are equally famous for being feature rich themes.
But with so many great features on offer and loyal fans on both sides of the fence, it can be tough to read between the noise and to choose between the two.
But in this article I compare Astra vs OceanWP. I'll share why I prefer Astra over OceanWP and let you come to your own conclusions to fit your needs!
Click to Get The Astra Theme Now
Astra vs OceamWP
In this article, I'm putting Astra and OceanWP up against each other so you can see how they stand up in a one-on-one competition, and finally decide which theme you should choose for your next project.
About Astra Theme
Launched in April 2017 by Brainstorm Force, Astra quickly climbed the charts of top WordPress themes in the market. As a matter of fact, it's still among the top options in the list of WordPress themes suggested by WordPress themselves in their Most Popular section.
Since being released, Astra's growth has been unchallenged and it's no secret why. Built future proof using Vanilla JS, Astra gets rid of render blocking jQuery and provides lightning fast performance every single time it loads on a website.
With a free option that rivals many Paid themes in the market today, Astra is also fully compatible with Elementor and other popular page builders in the market today. This means you're always guaranteed unrivaled freedom and performance.
Here's a quick run-down of Astra's Top Pros and Cons before we look at its competitor, OceanWP:
Pros
Lightning speed load times
Ultra-light 50kb theme
Built without render block jQuery
Comes with a Flexible Mega Menu
Custom Layout Options
WooCommerce Support
LearnDash + LifterLMS integration
Cons
Styling can feel a bit basic at times
Best features are restricted to the paid version
Click to Get The Astra Theme Now
About OceanWP Theme
In the market since 2016, even OceanWP has a sizeable customer base that swears by its ability to design beautiful websites. Built by a former WP developer, OceanWP prides itself on being highly customizable andhaving a fully extensible codebase.

OceanWP offers unique WooCommerce features like Native Cart Popup and Floating Add to Cart bar that can increase your conversions by as much as 8%.
Fast, fully responsive, RTL, and translation ready, OceanWP is a worthy competitor to Astra in this matchup.
Before we pit the giants against each other, let's take a quick look at OceanWP's Pros and Cons:
Pros
SEO friendly out of the box
Built Developer Friendly
WooCommerce enhancements
Quality Demo Templates
Feature rich and extensible
Cons
Initially overwhelming
Higher number of requests per page compared to Astra
TL;DR; While Astra takes the win in this head on comparison, OceanWP gives it a tough fight and misses the mark only by a few points.
Click to Get The Astra Theme Now
Astra vs OceanWP Comparison
1. Customizability
When you pay for a theme, you're looking for something that brings its own unique style elements and integrates with your design and branding requirements to deliver a visually appealing website.
Fortunately, both Astra and OceanWP are highly customizable themes and are easily compatible with most top page builders out there.
Both themes boast full compatibility with the likes of Elementor, Beaver Builder, and other top builders.
Result: It's a tie in the first round.
2. Performance
Nobody likes being stuck with a website that takes ages to load and has 100 requests dragging it down to a crawl.
Performance and Speed are key factors when considering any theme because the implications of poor performance extend to everything from SEO to loss of conversions – both of which can hurt your business seriously.
Fortunately, in this department, between Astra and OceanWP, we have a clear winner – Astra!
Astra is built with clean code using Vanilla JavaScript and is completely free of render blocking jQuery that's notorious for slowing down websites. Compared to OceanWP, Astra is ultra light – just 50kb and loads in just 0.5 seconds with default WordPress data.
Result: Astra takes the win on this one.
Click to Get The Astra Theme Now
3. WooCommerce Options
If you're looking to integrate your website with WooCommerce, both themes offer full compatibility and also let you customize most aspects of your online store.
Here are a few key WooCommerce features for side by side comparison between Astra and OceanWP:
| | |
| --- | --- |
| Astra | OceanWP |
| Options to customize product catalog | Dedicated styling options for WC categories and filter widgets |
| Can add sale bubble on products | Sale Bubble on products |
| Product search and filter options available in an off-canvas sidebar | Product search and filter options in an off-canvas sidebar |
| In-built product Quick view | In-built product Quick view |
| Dropdown Shopping Cart | Dropdown Shopping Cart with a responsive option for mobile |
| Option to choose between a 2-step or Distraction free checkout | Multi-step and Distraction free checkout options |
| | Product Highlight after Add to cart |
| | A floating bar that includes an add to cart button (this appears as users scroll down a product page) |
Although close, OceanWP takes the win on this one with a slight edge over Astra when it comes to WooCommerce options in the theme.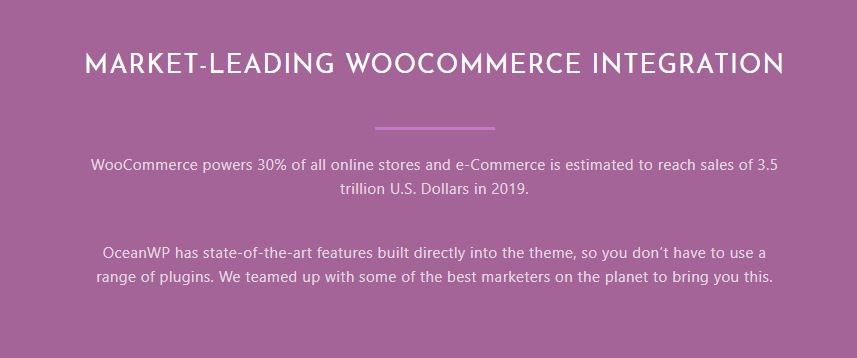 Result: OceanWP Wins the WooCommerce round.
4. Integrations
No matter how good a theme may be, the sheer amount of use cases for websites today, means that there will always be features that a theme lacks inherently and gaps that would need to be filled by plugins or other software.
Integrations are key to creating flexible and extendible online websites and going beyond the basic WooCommerce integration is an absolute must.
Both Astra and OceanWP do quite well integrating with other software and plugins and there's no clear winner here.
Result: It's a Tie – Both win!
Click to Get The Astra Theme Now
5. Template Options
Not every individual who builds a website is a designer or has design skills and being able to use pre-made templates comes in handy irrespective of your ability to design.
Tweaking templates to make them your own can help you save time coming up with the inspiration for designs and layouts and can make it easier for you to focus on the content of your website instead of fussing over the design.
Astra offers 20+ Free Starter Templates without having to shell a single cent as compared to OceanWP that offers a slightly more modest 13.
Result: Astra takes the Win on this one with ease.
6. Pricing
Both themes offer a free version on WordPress.org, but if you want to build a great website, paying for the premium version is well worth the money.
What's better is, both Themes come with a Lifetime purchase option, so you can choose to buy the plugin for life and not worry about paying membership fees annually to continue receiving support and updates.
Astra comes in 3 packages that you can choose from based on your requirements –
Astra Pro: Starting at $59 annually and $249 for a lifetime purchase, the entry tier Astra Pro membership gives you – 20+ Free Starter Templates, One-to-One Support, Extensive Training, Unlimited Website Usage
Astra Mini Agency Bundle: Packaged with the essentials to super-charge your business, the Mini Agency bundle starts at $169 annually and $499 for a lifetime purchase that gives you – All Astra Pro Features, 55+ Agency Starter Templates, One-to-One Support, Extensive Training, Unlimited Website Usage, WP Portfolio Plugin, Choice of 1 Page Builder Addon between Elementor or Beaver Builder
Astra Agency Bundle: A complete package for anybody with enterprise level needs, Astra's Agency Bundle starts at $249 annually and $699 for a lifetime purchase that gives you – All Astra Pro + Mini Agency Features, Ultimate Addons for Beaver Builder, Ultimate Addons for Elementor, Convert Pro Plugin, Schema Pro Plugin, SkillJet Academy, Access to All Future Plugins.
Click to Get The Astra Theme Now
Coming to OceanWP, you're presented with 3 similar options with both Annual and Lifetime purchase that give you the added ability to use the plugin on multiple sites by paying more for the next tier up.
All 3 plan options for OceanWP give you ALL of the following features –
Updates & Support for Lifetime
8 Free Extensions
13 Premium Extensions
13 Free Demos
60 Pro Demos Included
OceanWP Personal Plan: Starting at $31 annually ($59 without discounts) or $127 ($159 without discount) for a lifetime purchase, OceanWP's Personal membership allows you to use the plugin only on 1 site.
OceanWP Business Plan: Starting at $63 annually ($79 without discounts) or $255 ($319 without discount) for a lifetime purchase, OceanWP's Business membership allows you to use the plugin on up to 3 sites.
OceanWP Agency Plan: Starting at $103 annually ($129 without discounts) or $415 ($519 without discount) for a lifetime purchase, OceanWP's Business membership allows you to use the plugin on up to 25 sites.
Now while in terms of plain numbers, OceanWP may seem to take the win, but when you look at the features each premium option provides and the ability to use Astra Pro on an unlimited number of websites right from its entry level option, the win for this round goes to Astra.
Result: Astra takes the win after a second look.
7. Support
Good support and documentation are the lifelines of every good plugin. No matter how good the code, there are times when things might break, and you may need assistance.
Getting fast access to support for assistance or access to documentation that can help you troubleshoot problems to find solutions can mean the difference between a website that's quickly back up and running or down and out until help arrives.
Being the more popular of the two gives Astra a major advantage here. Its comprehensive knowledge base offers tons of tutorials and documentation for you to troubleshoot almost any issue you might encounter.
And if you're unable to fix your problem, just open a support ticket and you're likely to get a response and resolution in record time.
While OceanWP isn't too far off with their quality of support, the sheer size of Astra's knowledgebase gives it a major edge over OceanWP in this criterion.
Result: Astra takes an easy win.
Click to Get The Astra Theme Now
8. Value for Money
All things considered, when you're serious about building a website, you're bound to look beyond the basic free options and will surely want to put your money on a plugin that gives you the most value for your money.
Although priced lower, OceanWP falls short in front of Astra that allows you unlimited website use even bypaying for their lowest tier plan.
That means you don't have to pay for more every time you decide to diversify or explore a new niche.
A single payment covers you completely no matter how many websites you decide to build.
Result: Astra blows OceanWP into the Ocean with this one.
Astra vs OceanWP – Which One Is Right for You?
If you're after Ease of Use – Astra
If WooCommerce integration is a priority – OceanWP
If you'd like more free template options starting out – Astra
If you want full compatibility with a Page Builder – Astra or OceanWP work just as well
If you want easy integration with an LMS – Astra
If you want a fast loading website – Astra
If you want limitless use – Astra
Click to Get The Astra Theme Now
Astra vs OceanWP Final Thoughts
Both themes bring a wide variety of features to the table and deliver value in more ways than one.
If you're looking for a Fast and Responsive Theme that's packed with features and offers un-paralleled ease, opting for a Premium Theme is well worth the investment and will surely deliver more value than you pay forit.
In this Astra vs OceanWP comparison, Astra shines through a clear winner with its lightning fast performance, future ready code, and value for money premium option.
Although unlikely, if you pay for Astra and feel that it isn't the one for you, just apply for a refund within 14 days of your purchase and their No-Risk guarantee will cover you for a full refund on your purchase.
Click to Get The Astra Theme Now
I highly recommend you try Astra Pro and give it a chance to wow you with its power packed performanceinstead of being limited by a basic free plugin that keeps you from unleashing your website's true potential.
Read Next: