Picking the right theme is very important for any website and for all the right reasons – it is your first impression on the visitor.
Not only does it have to be beautiful but also highly functional.
While there is an endless number of themes available, not all cater to one's requirements equally.
On the other hand, there are themes that users just can't get over.
I am going to review one such theme that its users love and is quite popular – Astra theme.
The theme is not only known for how robust it is but also the brilliant team behind it.
In this Astra theme review, you will get an understanding of how the theme works, what are its features, and also the difference between Astra Free and Astra Pro.
Lastly, you will be able to figure out if this is the right theme for you or not.
So let's start by understanding what Astra theme is.
Click Here To Try Astra Pro For Free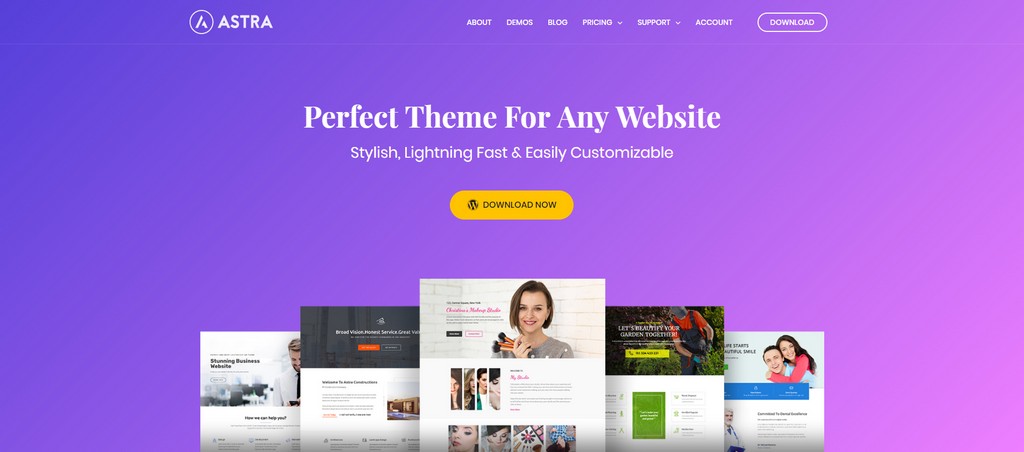 Astra Theme Review
Astra theme is a super fast theme built by the same people behind the incredibly popular Schema Pro plugin and is the best theme to use with a page builder plugin like Elementor, Beaver Builder, Divi, and so on. It's also easily the Best Free Lightweight WordPress Theme!
Read to figure out why…
About Astra Theme
Astra Theme is a creation of Brainstorm Force Team – a WordPress development company.
It is an extremely customizable WordPress theme and comes with a bunch of notable features.
The team behind Astra does a great job of rolling out products that its users admire and recall for its functionality.
Some examples of their works are: Schema Pro, Ultimate Addons for Beaver Builder, and more.
Having built an array of products, the team knows what its audience wants, inside-out. Hence, they go miles to fetch the correct elements and roll out a new product.
This explains the popularity of The Astra Theme.
In just 2 years, Astra has more than 600,000 product downloads and is loved by many and has over 3300 5-star reviews in just 2 years. That's bloody insane! 
To put it into comparison, GeneratePress which came out at around the same time has only 821 5-star reviews as I type this.
Coming to the features of the Astra theme, it is known for its great built, features, and compatibility with plugins and page builders.
The best part about Astra themes is apart from all the beautiful features, it loads fast.
Another feature that shines in Astra is its native support for WordPress page builders.
It integrates seamlessly with popular page builders like:
Elementor
Beaver Builder
Divi
Gutenberg
And a lot more.
Infact, this is a major selling point for Astra.
Given below are a few things that make Astra unique.
Further in this article, we will discuss all of these in-depth.
Click Here To Try Astra Pro For Free
What makes The Astra Theme unique?
The lightweight nature of the theme seems to be one of the top-selling points.
Despite having an extensive range of features, it does not slow down the load speed of your websites.
You can remove the Astra branding for your website and do everything under white-label.
This feature is not easily seen even in the pro versions of most WordPress themes.
Astra provides you with greater flexibility by being compatible with a number of website types, including blogs and eCommerce stores.
Importable demo website – this has to be the best feature of the Astra theme.
The theme comes with pre-built importable websites that you can plug-and-play.
Astra offers to add Hooks and filters which is a lucrative feature for developers since it allows them to extend the functionality of the theme without disturbing the base code. Moreover, if you're not a developer, it still is pretty convenient to customize.
You can use the WordPress customizer's real-time WordPress theme and modify your theme without having any coding knowledge.
This feature makes the theme user-friendly.
Another feature that shines in Astra is its ability to integrate with page builder plugins like Beaver Builder and Elementor.
These are drag-and-drop page builders that make creating your desired look and feel extremely convenient.

Now that was Astra from a bird's eye view. To make an informed decision, we need to dive even deeper and explore what the theme has to offer.
Once we are done looking at all the Astra theme features in-depth, I will give you a fair comparison on Astra Free vs Pro, followed by the final verdict.
Click Here To Try Astra Pro For Free
Astra Theme Review: Features
1. Lightweight
Usually, if any theme comes with such a high range of features that Astra has, it would bog the website's speed down.
However, this is not the case with Astra themes, despite having amazing features.
The first thing about the Astra Theme that makes it's sooo good is the fact that it's fast, fast beyond belief.
It comes under 50KB and the way developers make it possible is by disabling the jQuery, along with other informed steps. The average WordPress Theme is over 300kb!
The Astra Theme is basically is made for speed. It is the most lightweight theme available in the market and offers unmatched performance. A fresh install of WordPress with Astra loads in less than 0.5 seconds!
Your website running Astra will be faster than your competition running a theme that isn't Astra + A cache plugin like WP Rocket!
If you know anything about SEO, you would know how speed plays an integral role. Faster load time makes your website SEO compatible and registers your website in the good books of Google.
Google cares about speed a lot, and not just Google has found that 53% of mobile site visits leave a page that takes longer than three seconds to load. So speed is definitely an important thing to think about especially as the number of mobile users is growing.
Not just that, but having a high website speed lets you:
Provide an impeccable user experience
Reduce abandon cart rate in eCommerce
Enhance visitor retention
Speaking of SEO, let's shed more light on it.
Click Here To Try Astra Pro For Free
2. SEO friendly
SEO is a dynamic field.
The terms and standards keep evolving, making most websites that claim to be SEO friendly, quickly obsolete.
However, Astra lives up to modern-day SEO standards.
You can add schema markup on every page by default. Or, you can use their Schema Pro plugin to take it a notch up.
Since people are constantly looking up on the internet to find solutions, SEO helps you get discovered.
Moreover,  businesses claim to get most of their leads from the search engines.
Therefore, having an SEO optimized website is the wisest choice for you.
3. WordPress Customizer
Customization is a breeze with the Astra theme. The entire collection of the themes comes right in the native WordPress customizer.
This saves you from the hassle of moving to-and-fro looking for the right customization for your favorite theme.
Simply slide open the customizer in the sidebar, make the changes you fancy and see the live-changes happening.
Not just this, but the Astra theme has done a great job by neatly organizing the customizable bit.
You can edit elements like colors/background, background images, layout, and more.
This makes customizing your theme super convenient and the organization comes handy.
Moreover, the modular approach allows you to disable the add-ons that you don't wish to see on your site.
Now the interesting part is that all of this is possible without the CSS wisdom. Isn't that a breeze now?
Click Here To Try Astra Pro For Free
4. Mobile Header
Now, this is where the Astra Theme steals the show. 
Having a mobile header on your website makes it mobile-friendly. This holds the utmost importance as most people browse on their phones today.
You can even change the size of your logo when a user switches to their mobile phone.
This eliminates the giant logo that otherwise sits on the desktop version and looks decent.
Now, what if I told you you don't need CSS knowledge for this?
That's right, you can customize your mobile header without touching the code.
To do so, go to Appearance > Customize > Header > Primary Menu.
Here are the features you can toggle with the Mobile Header:
Color and Typography
Customizable Menu styles
Different logo for mobile
Toggle button Style
And more such interesting features.
Click Here To Try Astra Pro For Free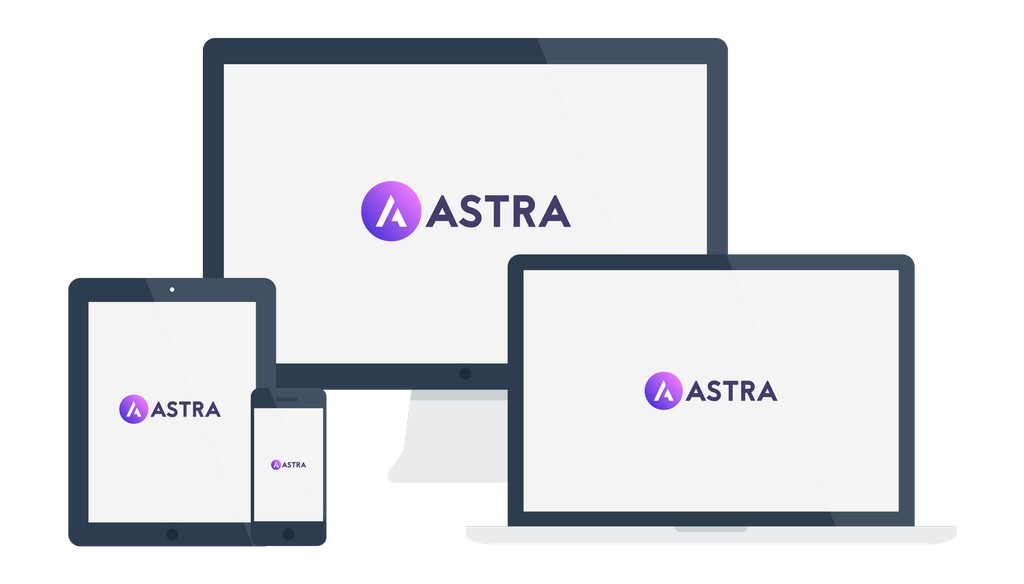 5. WordPress Page Builder Plugins Support
Astra Pro was designed from the ground-up to be perfectly compatible with popular page builder plugins like Divi, Elementor, Beaver Builder, Thrive Architect, and others. Thanks to its the light size and easy flexibility it's the Best Theme for Page builders you can buy in 2023.
This way, you have full control over your page and can make it look just like you fancy.
If you've used WordPress themes before, you will know how other themes lack this feature.
This feature offers you greater flexibility in designing the page.
Here's what more you can do:
Adjust the width of the page/content
Disable certain features like footer bar, featured image, title, and primary header
Select the number of sidebars you want
With this feature of the Astra theme, you get full control over how your page looks.
Not just this, the look and feel of the page also ensure that your visitors have a pleasant experience.
This comes in handy when building your sales or landing page since the feature gives you full flexibility.
Hence, this is an impressive feature in the Astra theme.
Click Here To Try Astra Pro For Free
6. Single-click Importable Websites
By now you would know that you do not need any CSS knowledge to get a beautiful and robust website up and running.
But, did I mention you can just import the pre-built websites with a single-click option?
While you can feel free to build it from scratch, you necessarily don't have to.
Astra comes with a library of pre-built websites that you can plug-and-play.
You can do this with ease by installing the Astra Starter Sites plugin which is completely free.
By using this plugin, you will have a professional-looking site up and live on your screen.
With this plugin, you gain access to a vast library of sites that you can pick from, and the one that suits your niche and business style.
Other features that its users adore are as follows.
Firstly, it allows you to have a drag-and-drop feature that lets you easily customize your website.
Secondly, you can pick the editor of your choice, i.e., Elementor or Beaver Builder or anything else that you wish to.
This is a great feature, especially for non-developers to build a highly-functional website.
7. Hooks and Filters
While Astra's customization allows for everyone like you and me to edit the theme, the Astra Pro theme comes with abilities to add hooks and filters, which is great functionality for developers to extend the functionality of the theme without touching the base code.
This is yet another feature that can be utilized without having anything to do with coding knowledge.
Hooks and filters allow developers to add content to the website with ease. However, if you're not a developer, you can still add content with the help of Astra Hooks plugin.
The plugin codes your content and inserts it into your website with ease.
This makes Astra available and flexible to more people and requires no coding knowledge.
Click Here To Try Astra Pro For Free
8. Custom Layout
Custom Layout in Astra themes allows you to fix the position of each content in your own way.
This feature works well for all of your pages including the 404 pages, hook locations, header, and footer.
It makes your website unique and adapt to your business style.
9. Unlimited Domains
Upgrading to the Pro version would allow you this feature.
This means you can install Astra themes on as many websites as you wish to.
This comes really handy when you're an agency creating websites day in and out.
Or, you could be an individual owning multiple websites.
The idea is that Astra can be used on as many websites as you want to, giving you the ease of use and advanced support.
Click Here To Try Astra Pro For Free
10. Monetary Security
Astra promises to refund your money within 14 days of purchasing their theme. This ensures us of their quality and makes us confident that the theme will live up to its expectations.
If in any case, you feel like this is not the right option for you, you can opt-out within 14 days, without any hassle.
The 100% money-back guarantee is great for assurance and the users can freely try the product before committing to continuing.
11. Plugin Package
When you purchase the Astra theme, you are offered a bundle of other plugins as well.
The best part about this feature is you can use the plugins on other websites as well.
You get a link along with the theme which you can use to install the plugin.
Then, you can use it on websites that are not necessarily using Astra.
This is what I call a complete value for the product.
So these were some of the best Astra theme features we just discussed.
Now that the feature-talk is over, let us look at the Astra Free vs Pro versions and see if it's worth your money. Moreover, do you even need Astra Pro?
Let's scroll further.
Click Here To Try Astra Pro For Free
Astra Theme Free vs Pro
Let's shed some light on where the Free version draws the line and the Pro version takes its position.
Simply put, these are the features that come with Astra Pro. Moreover, this might answer your question: why should I upgrade to Astra Pro?
You can get started with the free version of Astra directly by clicking here. However, the free version of Astra is limited in what you can do.
With Astra's free theme you are limited in terms of modules you have access.
Here're just a list of some of the features you can with Astra Pro that you don't get with the free version.
Typography (use over 800 google fonts)
Colors & Background
Site Layouts (change things from full width to fluid)
Multiple Header Designs
Flexible Footer Layouts
WooCommerce Integration
White Label
Scroll to Top Link
Spacing Control
and so much more…
Also, you don't have access to Astra's amazing support team! So going Pro with Astra is honestly a no-brainer especially if you are serious about your business.
Click Here to Try Astra For Free Now
1. Additional Importable Sites
Although importable sites are accessible in the free version too, in the Pro version, you get access to all the sites there are in the huge library.
This allows you a pool of options to select from and pick the one that fits right.
Apart from that, you will be able to add rich snippets, add a portfolio, and more using tools like Schema Pro, WP Portfolio, and a lot more.
So if you already have hands-on experience on the free version, the Pro version will be extremely valuable to you.
After using the Free version, you will get an idea of all the plugin, tools, and functionality and will be able to access other packages with ease.
2. Custom Header
Again, if you just want to test the theme out, you should go with the free one.
Once you are familiar with the interface and features, you can jump straight to the paid versions.
While you can play around with the header in the free version, Pro one gives you more functionality.
It includes features like:
Creating a custom mobile experience with Mobile Header.
Freeze/stick your header as you scroll down with a sticky header.
To have better navigation, enable Mega Menu.
3. Styling and Layout Option
When you sign up for a Pro version, you know you are signing up for more, right?
We have already noted that you get an extensive range of the importable sites.
Similarly, Astra Pro offers more functions and options on the styling and layout front.
With the advanced features, you can modify almost every single element on your website.
From the blog page to headers and colors, you've got an amazing choice to completely make your website unique.
4. Advanced plugin integration
In the Free version of Astra, you get compatibility with eCommerce platforms like WooCommerce.
When you purchase the Pro version, all the functionalities double up.
Features like conversion-friendly checkout, Ajax cart, and a lot more come with the Pro version of Astra.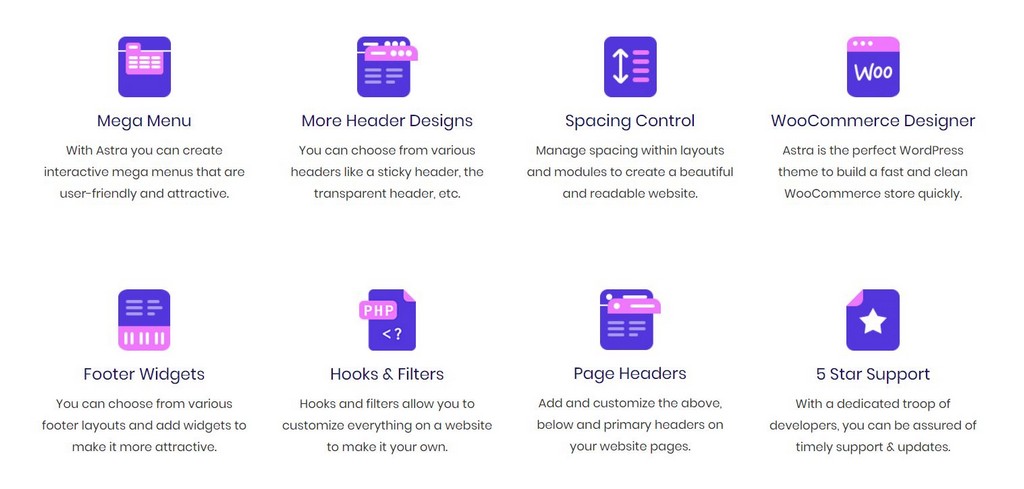 You would be wondering that there are all the more features in the Pro version; that's correct. The set of features are the same in Free and Pro but the latter allows you additional support and functionality.
Click Here to Try Astra For Free Now
Is Astra Pro Worth it?
Now let's get to the main question – if Astra Pro is the right choice for you.
Moreover, how much does the Pro version cost, and is it worthy of your hard-earned cash.
Look, there is no one answer to it.
However, to put it straightforwardly – Free Astra Theme offers you all the features and plugins but with some restrictions in place.
If you are looking to just get started to test some waters first, the Free version is what I would recommend.
Once you've had your hands-on experience and want to take it a level up, you must switch to the pro version.
Another case could be when you already have ample experience up your sleeves and are looking for a theme that comes with a world of functionality and ease of use.
You can access the core Astra theme that comes free, on WordPress.org.
Click Here to Try Astra For Free Now
Astra Pro Pricing
Astra Pro as I mentioned is a no-brainer if you are serious about your business. However, it's not really cheap especially for someone just starting out.
However, if you are serious about building your business, Astra Pro is definitely worth investing in, and unlike GeneratePress you can get Astra Pro for a one-time payment!
Astra Pro is available in 3 different plans: Astra Pro, Mini Agency Bundle and Agency Bundle.
Astra Pro
$59/year or $249/one-time
All Astra Pro Features
20+ Free Starter Sites
One-to-One Support
Extensive Training
Unlimited Website Usage
Mini Agency Bundle
$169/year or $499/one-time
All Astra Pro Features
50+ Agency Starter Sites
One-to-One Support
Extensive Training
Unlimited Website Usage
+WP Portfolio Plugin
+ One of the following
Ultimate Addons for Elementor or
Ultimate Addons for Beaver Builder
Agency Bundle
$249/year or $699/one-time
All Astra Pro Features
50+ Agency Starter Sites
One-to-One Support
Extensive Training
Unlimited Website Usage
WP Portfolio Plugin
Ultimate Addons for Beaver Builder
Ultimate Addons for Elementor
Convert Pro Plugin
Schema Pro Plugin
All Future Plugins from Brainstorm
In all packages, you get a 14-day money-back guarantee without any restriction. This too without any restriction on the number of domains.
Now our main question is – which one is apt for you and your business?
To begin with, Astra free is completely fine to get your website up and running.
It would be an additional benefit if you're using WordPress page builder as well.
You don't need Astra Pro when beginning, you can upgrade to it as and when you feel like opting for more options.
Moreover, with the Pro version, you also get premium support from their teams' developers.
On the other hand, when you upgrade to the Mini Agency bundle, you get access to a handful or more features.
So apart from all the Pro features, you get access to extensive training, over 50 ready-made starter sites, and Brainstorm Force's WP Portfolio plugin to name a few.
Now coming to the top tier – the Agency Bundle, you get all the features that come in the pro and Mini Agency Bundle, naturally.
Apart from that, you also get access to Convert Pro and Schema Pro.
Overall, the Agency Bundle allows you access to all the Brainstorm and Astra Pro features.
Astra Pro Discount
They're many blogs making false claims of:
Astra Pro Coupon
Astra Pro Discount Code
Astra Pro Discount
Astra Theme Discount
Astra Theme Discount Code
Astra Pro Coupon Code
However, the luckily for you Astra has a dedicated Discount code Page so you don't have to trust some random Discount Code.
Click Here To Get The Max Discount on Astra
Astra Pro Disadvantages
If you're wondering if Astra theme comes with any drawbacks, this section is for you.
Although this might not be even considered a drawback by some, but I wanted to put it out for you.
The only disadvantage of Astra theme that I have come to know is their annual subscription fees.
This is suggested for getting you the support and updates.
However, 20% will be waived off from your annual subscription fees if you choose to renew.
If you don't want the hassle of renewing every year, you can get the lifetime version as well.
Although it might not be economical for individuals, agencies can certainly consider that.
Now that we have looked at all the ups and downs of Astra theme, let's jump to the conclusion.
Astra Theme Review Verdict
I don't want to leave you with an "it depends" answer at the end of this Astra Theme Review.
We have scrolled through all the features that the Astra theme has to offer – in its free as well as the Pro version.
Overall, Astra Theme by Brainforce is an amazing theme.
It comes with a world of features and plugins and the best part is – it does not slow your website's speed.
You get access to all the features with the free version so you can try it out and see if it works for you.
Once you upgrade to the Pro version, the huge library of themes, advanced support, and functionalities are all yours.
Moreover, customization is a breeze in the Astra theme.
The best part about Astra is that it is made keeping both – developers and non-developers in mind. On one hand it offers impeccable, ready to deploy websites while on the other hand is SEO compatible.
Not just this, but the endless domains, flexibility in use, and plugin bundles put a cherry on the cake.
There is not even a tiny speck of doubt why one would not like Astra themes.
It is perfect for individuals and agency owners alike. The pricing structure affirms that one can start for free and switch to advance plans like the Astra Pro.
And if you really like Astra, you can purchase it for a lifetime at once. Although the lifetime package would sound a little too expensive for individuals, it's perfect for agency owners.
So the bottom line is: Astra is a beautiful, highly-functional, and user-friendly theme. It seems to impress its users and is quite famous for the same.
The developer team puts in great efforts to roll out the best of features to you.
If you're in doubt – say yes to Astra themes – it makes each dime worth your investment.
Click Here to Try Astra For Free Now
Read Next:
Page Builder Framework vs Astra