Genesis has some of the best WordPress themes and they've created the standard when it comes to WordPress frameworks, however over the years times have changed and the Genesis framework isn't necessarily the best for everyone. In this article, we'll dive into the Best Genesis Framework Alternatives in 2019!
Why reconsider using the Genesis Framework?
This site is built using the Genesis Framework with a StudioPress Theme, and also I recommend StudioPress to most people starting a WordPress business. Read my StudioPress review to figure out why.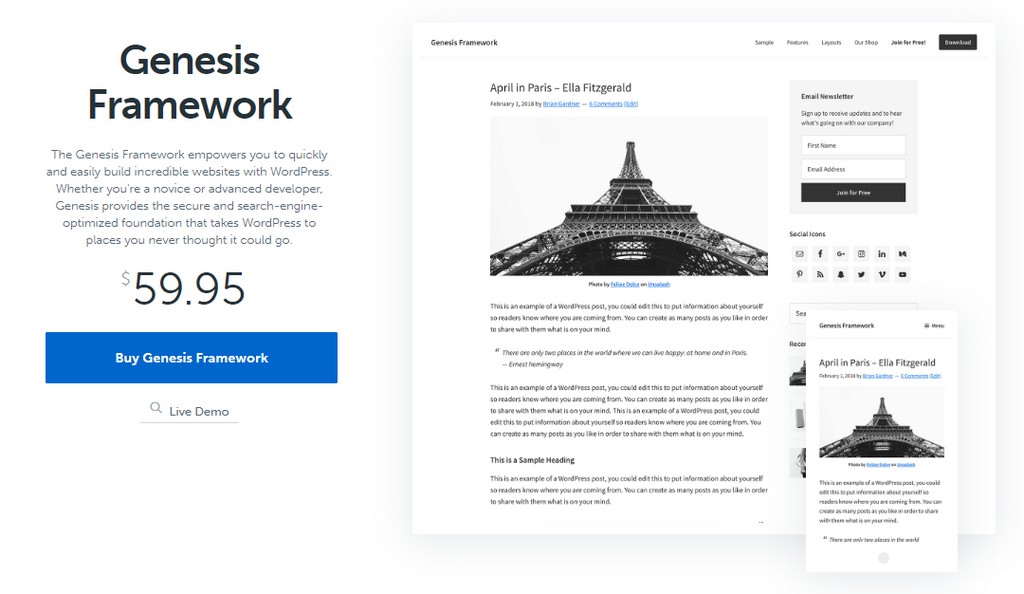 However, StudioPress themes and the Genesis Framework aren't the best for everybody. here're a few reasons why.
1. Not Easy to Modify
All of StudioPress themes and other 3rd party themes that you use with the Genesis Framework require some technical knowledge if you want to edit them. Someone who is used to the Wix and Squarespaces' of the world would find using the Genesis Framework too restricted.
When I worked at Foundr, we built a custom StudioPress Theme for Foundr.com where we ported to design over to the Genesis Framework, however that process took months! (MONTHS!) and also most of the time if I needed to modify anything I had to made our develop go and mess around with the code.
It's 2019 and we've got page builders, we shouldn't have to deal with things like that!
2. Doesn't work well with Page builders
The Genesis Framework doesn't work well with page builders like Elementor/Divi unlike many of the other alternatives shared below.
Nowadays you can get many themes like GeneratePress (our #2 choice) which basically are super light so you can use them easily with Page builders without slowing your webpages by much.
---
If these 2 factors aren't that big of a deal for you, and you are someone like me who just want a simple theme like one of the StudioPress Themes well, then here's how you can get it for free!
If you pick WPEngine as your WordPress host you don't have to think about buying a WordPress Theme separately and you get the best themes in the Industry for free!
And not just that, if you use my Coupon code below you can save 25% on all of WPEngine Plans.
If we run some numbers and look at the potential savings from each plan:
Startup – You save USD$93
Growth – You save USD$309
Scale – You save USD$783
Note: Annual subscription fetch free hosting up to 3 months which is a great way to cut costs and if you are serious about your website you'll save a ton.
Click Here To Get 3 Months Free WPEngine Hosting
---
Best Genesis Framework Alternatives
1. Divi by Elegant Themes
Elegant theme is the most popular and apt theme provider on WordPress. Many people are unable to afford theme providers because of the exorbitant prices, but Elegant theme is unlike those. It is within your budget and understands that a low price is important since not everyone has a huge budget. (Read my full Divi Elegant Themes Review)

Also, the best thing about Divi is that's it's an entire drag and drop theme builder. It's basically like using Squarespace or one of those drag-and-drop website builders. Also, you don't have to pay extra for a theme as well as Framework like you have to do with StudioPress, it's all on a single theme.
Genesis Framework vs Divi Elegant Themes
Reason #1: Value for money
Most competitor themes average out at $100. However, With Elegant themes — you can get access to multiple themes for a single price of one!
For about $89 you are able over 88 themes and five premium plugins for a year, and if you don't want to renew it every year, the sum of $249 is enough for a lifetime one-time payment.
Exclusive Offers For JeremyNoronha.com Readers
JeremyNoronha.com readers can get a 20% Discount on Elegant Themes.  Simply click the link below and signup and the discount will be applied automatically.
Hurry Up! Limited Time Offer.
Note: Elegant themes allow you a 30-day money back guarantee. Joining now is entirely risk-free.
Reason #2: Beginner friendly
One of Divi's highlights is its highly intuitive drag-and-drop builder. This builder does have a bit of a learning curve, but you can build a beautiful custom website in a few hours.
Reason #3: Add-on Functionalities
Divi comes with popular plugins like Bloom opt-in forms email marketing, Monarch one of the best sharing WordPress plugin.
Additionally you a Divi website is integrated with a nifty A/B testing system that's great for Conversion rate optimization.
Divi is great for beginners who want a simple drag and drop builder to build websites.
2. GeneratePress
GeneratePress, as I mentioned in the intro, is a super light multipurpose theme that you can use regardless of the website building.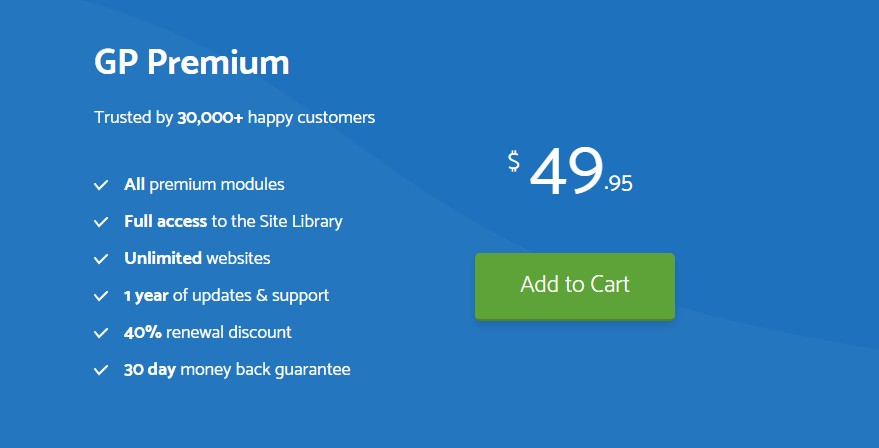 GP is perfect for those who value performance more than visuals. That's not to say that you can't create a good visual website using GeneratePress it's a tad bit harder than something like Divi.
However, you can always combine GeneratePress with a page builder like Elementor Pro and redesign your theme to make it look exactly the way you want.
In fact, that's the exact WordPress stack of Cyrus, from ZyppySEO and who used to be the ex-head of SEO at Moz!
My Current WordPress Stack (for the non-dev):
1. Theme = GeneratePress https://t.co/IvnQmUJisd
2. Page Builder = Elementor https://t.co/hbhCo4fP4p
3. Hosting = @wpengine (also @kinsta)
4. Cloudflare

— Cyrus (@CyrusShepard) June 14, 2018
3. Schema Theme
The Schema theme by MyThemeShop is really popular among WordPress users as it is the fastest loading, ultra-SEO friendly WordPress theme.
Schema Theme just like all of MTS Themes don't require any frameworks, and it's a standalone theme.
The theme is definitely one of most of the SEO-optimized theme for WordPress. The theme comes with an inbuilt review system and is incredibly schema-rich to help you rank high in search engines.
You can get use my MyThemeShop Coupon Code to get over 50% off!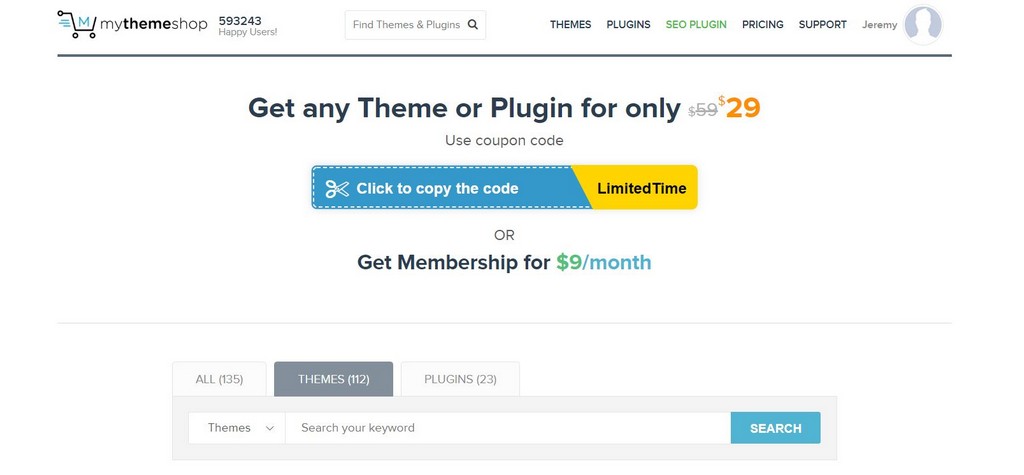 Exclusive Offers For JeremyNoronha.com Readers
JeremyNoronha.com readers can get a 50%+ Discount on MyThemeShop. Simply click the link below and signup and the discount will be applied automatically.
---
There you have it!
Some of the Best Genesis Framework Alternatives in 2019, and remember, each theme is good and bad in its own way, so there isn't a theme that's best. If you are a beginner I'd recommend going for Divi Elegant Themes.
Else if you run an online business the GeneratePress + Elementor Pro combination is better!
It makes more sense to understand your preferences and needs before the decision. After all, it doesn't make sense to get a WordPress theme that isn't compatible with your online business.
All the best!
Read Next: