Ranking your website in the top positions in any search engine requires you to invest plenty of time and resources into SEO. So, all the keywords that you have used for your website must be relevant to your niche, content, and SEO relevancy.
Today to rank higher on the internet, the competition is stacking up as there are several competitors working on the same niche and topics your content is based around. These keywords are key to gaining a higher amount of internet traffic that will result in some businesses gaining better traction and an advantage.
To rank higher or better than your competitors, there is a simple way to find and use better keywords. However, finding out which keywords are used by your competitors and what is a better keyword that they are missing is a big problem.
This is where SEO tools like Mangools and Ahrefs come in. Both these tools are an all-in-one SEO toolset that covers most areas of your SEO projects. But which is the best tool? In this article, I will introspect on how they work and which one is better to find the most suitable tool to suit all your needs.
Ahrefs vs Mangools Reddit
U/Actual__Wizard- "Beginners = Mangools. I've used it, and I liked it. Not for me, but I would absolutely recommend it to a beginner over Ahrefs".
U/Sebules- "I think it depends on what you're going to use it for. I started with mangools, and for the price, it's pretty good! The kwresearch tool is pretty accurate, but as a whole, it's just not as intuitive or in-depth as ahrefs. If budget is your deciding factor and you're not spending all day every day on your site, then mangools will do until you're earning, then upgrade to ahrefs".
U/mrdon515- "I agree. Mangools is solid and cheaper alternative to Ahref's".
Click Here To Try Mangools Free For 10-Days
Ahrefs Overview
Ahrefs is one of the most widely used SEO software that is used by different marketing professionals worldwide. It was basically built for backlink searching, but today has been updated and now provides users with nearly all the services that you want in an SEO tool.
The tool helps users and businesses of different sizes to increase their SEO presence and SERP positions. It makes your SEO work easier and simple for adding or updating your existing content. The reports that it generates have good accuracy, and its user interface is also decent.
Pros
A comprehensive set of SEO tools
Strong backlink analysis features
Great sorting and filtering options for backlink and keyword results
Notifications are helpful
Compatible with most users
Cons
Expensive option
Not user friendly
Doesn't update keyword rankings daily
Unexpected shutdown sometimes
Mangools Overview
Mangools is one of the powerful tools with a collection of various SEO features. It was initially launched for analyzing keywords for SEO, but it has recently expanded with a suite of SEO tools and functionality.
The features it provides are premium, and it is cost-effective for the price point when compared to any other software. The main highlight of the tool is that it offers its best features in its most basic or starter packages that others give on a trial basis or don't offer on cheaper packages.
The user interface is the best in the market for any SEO tool available today. Its interface is very simple, with distinctive sections labeled and discrete tabs to switch between the pages. Everything here is well organized and easy to use, even for beginners or novices that are new to SEO tools.
Click Here To Try Mangools Free For 10-Days
Pros
User-friendly interface
Economical and cost-effective option
Strong position tracking with daily ranking updates
Relevant keyword suggestions
Nearly all-important SEO tools are available
Cons
The extension feature will work only on Chrome on Mozilla browsers
Smaller link database
Ahrefs vs Mangools Review
1. User Interface and Accessibility
Mangools has a great interface and UI and is ideal for people that are new and beginners in the market. Their interface is a great example of saying less is more, and due to this intuitiveness, it is a perfect SEO tool for novices. Overall, navigating through the entire software is easy and straightforward.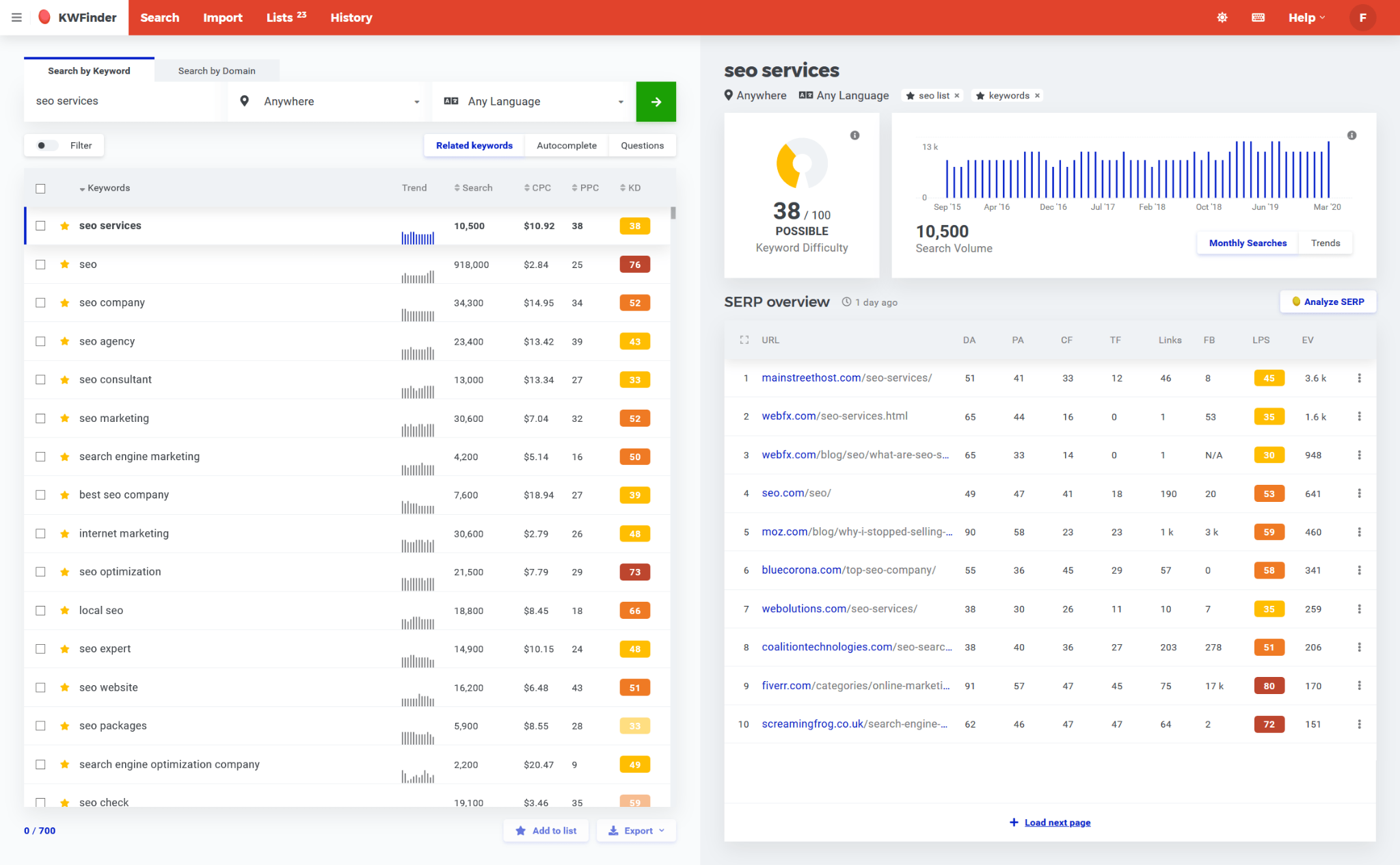 Ahrefs, on the other hand, has many features and functions clubbed in its interface. This limits its ability to offer a clean and neat UX. If you are starting out, then it will completely blow you out of your depth. To master it, you will need to learn a lot of functions to get a good grip on the software. However, if you dedicate your energy and hours to learning its features, then you can get access to valuable insights and features. Having said that, it is not convenient for new users as Mangools. And its user interface is not as efficient as Mangools.
Verdict
To sum it all up, Mangools has a superior user interface with a better user experience and general usability of the software.
Click Here To Try Mangools Free For 10-Days
2. Keyword Research
Whether you are planning to create an article, webcast, video or adjust a few critical sections of your site, you will need to use the right keywords to rank in SERPs. To get the right keywords, you may need to analyze search queries for a few hours to include them in your content. That is why you will need a dependable SEO tool for analyzing search keywords.
Comparing Mangools and Ahrefs, you will find out that both tools are solid for researching keywords. But which solution is best to perform keyword research effectively? Let us know more about this below.
Ahrefs: Keyword Research
The Keyword Explorer of Ahrefs is good to offer detailed information based on a particular search query. The tool makes finding keywords as simple and easy as things go. Simply enter the topic to the related phrase and the location of the region. It will automatically check for recent searches and give results of keywords from the past 1 year. With it, you will be given access to the best possible keywords out there to rank your content higher.
The problem with the Keyword Explorer is that it is not so good at giving new suggestions for search queries. Ahrefs will provide the most keyword ideas of any feature, but many suggestions are irrelevant to your searched item.
The Keyword Explorer of Ahrefs performs well in identifying the search queries of websites that have high SERP positions and calculating the number of visitors those search queries will generate. In simple terms, the tool allows you to identify your rival's best SEO search queries without any hassle.
Ahrefs Keyword Explorer allows you to easily narrow down your keyword search results utilizing proper filters. These filters are great to identify search queries that have a particular phrase, difficulty score or appear in the featured snippet spot. In other words, the search filters allow users to focus on search queries that are effective for them.
Mangools: Keyword Research
Mangools keyword research tool for analyzing search queries is known as a KWFinder. The feature will offer users both conventional and rival keyword analysis functions. It will assist you in efficiently identifying long-tail search queries having lower keyword difficulty scores.
To use the tool, you just have to put your seed keywords or enter the rival's domain name in the search bar. The feature will produce a huge list of search query ideas alongside keyword difficulty rating, search volume, and other important data points. The keyword rankings are updated daily, which is not available with the Ahrefs tool.
The KWFinder has advanced filters that allow you to shortlist from a large volume of keyword ideas. You can easily select the most suitable keyword for your future content.
It has a powerful feature that allows users to compare your content with competitors. In this way, you can analyze rival search queries as well; however, it lacks the sophistication that the Keyword Explorer of Ahrefs offers. Overall, it is an ideal choice for beginners that want to get the best keywords with the utmost efficiency.
Verdict
If you want to research a topic extensively based on a particular search query, Ahrefs Keyword Explorer is a perfect choice. But if you need a feature to assist you in identifying new search queries to target, then the tool will not be completely satisfactory.
Mangools KWFinder is sufficient to analyze SEO search engine queries. But you will get fewer keyword suggestions compared to Ahrefs. However, its suggestions are more relevant and accurate to your main search phrase. Apart from this, these keywords are updated on a daily basis which is not available with Ahrefs.
Overall, you can say that there is no obvious winner, and both tools have some advantages and drawbacks that keep them on the same pedestal as the other.
Click Here To Try Mangools Free For 10-Days
3. Backlink Analysis
Acquiring backlinks is a very difficult task for any business, and these backlinks offer great results to users. You will be surprised to know that backlinks are amongst the two factors that are examined by Google to rank your web pages.
If you are able to execute a great plan for acquiring backlinks, then you can easily overtake and rise above any rival in search engine positions. To implement a winning strategy, you will need to have a link audit feature that will analyze your website's backlink profile and check your competitor's links.
In this section, we will look into link audit tools that are offered by Mangools and Ahrefs.
Ahrefs: Backlink Analysis
Ahrefs Backlink Checker is one of the best link audit tools in the market today. The tool will display the whole link profile of the website inputted. It works in a similar way as other link analysis tools, you just have to enter a URL, and it will show all the links.
The thing that makes the tool stand out is that it has excellent filter options that will help narrow down and organize your search results. This is important as it allows you to examine inbound links from popular websites without any hassle. Further, if you want to find backlinks from websites having a good Domain Rating (DR) or webpages with a good URL rating (UR), then the filters will make the entire process smooth as silk. This is why the search filtering and categorizing feature saves you time and energy.
Another major advantage of Ahrefs over Mangools is its massive link database. And the best part is that it is upgraded constantly. So you no longer need to stress about seeking information about any expired information.
Mangools: Backlink Analysis
The link audit feature of Mangools is called LinkMiner. The function of the tools is that you can get the link details of your rivals. This will allow you to emulate and check their link-building plan.
The main flaw of LinkMiner is that it has no link index of its own, and its link information is sourced from the Majestic's backlink index. The index was considered one of the top link analysis software; however, it is not the case anymore. However, LinkMiner works well for simple backlink audits.
To know how LinkMiner functions, you just have to input a domain name in the search bar and click on the Find backlinks button. If you want to show numerous backlinks for referring a domain, you will have to unselect the One link as per referring domain checkbox.
When the results appear, you can view the data points of the domain, like its overall referring domains, overall links, citation flow, and trust flow. Under it, you will see the backlinks data, which will show its important attributes.
Its link strength rating is an important parameter that will allow you to decipher the strongest link. When you lack the time to examine numerous backlink parameters, then you can efficiently rely on the link strength metric provided by Mangools. This will allow you to find the power of every backlink. Similar to other features of Mangools, you can convert the backlink report directly into a CSV format.
Verdict
Ahrefs Backlink Checker is one of the top link audit software in the market today. When you evaluate it with LinkMiner offered by Mangools, it completely outperforms it. LinkMiner can only supply users with limited backlink details for their site. In comparison, Ahrefs Backlink Checker shows the detailed backlink profile. Further, it contains backlink properties, trend graphs, best web pages, types of links, etc.
The link audit function of Ahrefs is one of the biggest assets of the software, which makes it a clear winner over Mangools LinkMiner.
4. Rank Tracking
The goal of rank tracking is to know the potential of organic traffic to your website. To remain above your rivals on search engine rankings and head the industry, you need to track your SERP positions. This is important as it will allow you to make sure you are on the correct path and implement the best measures as needed.
Both Mangools and Ahrefs have great rank-monitoring functions. In the list below, we will examine which is the best rank-tracking software for your business.
Ahrefs: Rank Tracking
The SERP rank tracking software of Ahrefs is called Rank Tracker. The feature functions similarly to other keyword position checkers where you just have to enter a search query to find out their SERP positions on Google. You have the ability to efficiently monitor the movements in your SERP positions over a period of time.
The major issues with this tool are that it doesn't upgrade daily like Mangools rank tracking software. The frequency that you will receive the updates to the SERP position data is dependent on the subscription you select. For example, if you have selected the Ahrefs lite plan, your keyword position will be refreshed weekly, which is not great. You'll be surprised to know that even the top-end subscription plan can only provide you with updates every three days.
If you don't require SEO as a major component for the marketing of your website, then monitoring the SERP positions weekly won't be a major issue. However, if you are an SEO expert, then this is a feature that would want to see better for your SEO tool.
Mangools: Rank Tracking
The rank tracking tool of Mangools is called SERPWatcher. The tool is great for monitoring your progress and ensuring that your SEO efforts are paying off for different keywords and search engines. It will also help enhance the quality of content and keywords to deliver better performance and authenticity.
To track your queries, you will have to enter the keywords you want to monitor or submit a txt or CSV format file having every search query that you would want to monitor. Based on the subscription you have selected, you can monitor positions from 200 to 1500 keywords per day.
SERPWatcher will display the keyword positions based on its current position, tracked search queries, estimated visits, number of searches, etc. It will also have a performance index chart of your keywords that is derived from the keyword's present rankings and search volume. You can also specify a specific query you want to monitor to get precise solutions.
A big advantage of the rank tracking feature over Ahrefs is that the ranking is updated on a daily basis. Apart from this, the software gives users access to important rank changes or information through email alerts. The generated reports can be easily shared with your teammates or clients due to its interactive report-sharing feature.
Verdict
When we compare Ahrefs and Mangools rank tracking features, both tools offer precise data reporting for your SERP positions. The two are good for tracking your rankings in Google's organic search results. However, you will want to know that SERPWatcher has a user-friendly interface and get regular updates which set it apart from the Rank Tracker of Ahrefs. This makes Mangools slightly better compared to its competitor.
Click Here To Try Mangools Free For 10-Days
5. Site Audit
Ahrefs site audit tool is a great tool that has everything that you need to audit your website. Using this feature, you can look for slow pages, missing meta tags, orphan pages, long tags, missing alt text, etc.
The only feature that keeps Mangools from becoming a complete SEO tool is the absence of an audit feature. If you think that Mangools sounds like a good fit for you, then you should pair it with a free version of Screaming Frog to audit your websites.
Verdict
The clear winner in this parameter is the Ahrefs tool which gives users excellent control of their website's SEO functionality.
6. Pricing
Now that we have covered most of the features, we will look at the pricing structure of both these SEO tools. Comparing the pricing plans of the tools is important to identify which software is cost-effective. Let us assess the different packages that are offered by Mangools and Ahrefs.
Ahrefs Pricing
Ahrefs is an SEO tool that is packed with four distinct packages that are useful for users of different niches.
The plans for the tool on a monthly basis as of now are as follows
Lite plan- $99 per month
Standard plan- $199 per month
Advanced plan- $399 per month
Enterprise plan- $999 per month
If you go for their yearly plan, then Ahrefs will give you 2 months free. The software doesn't offer a trial period, so you have to go in blind when selecting a plan.
The main function of all these packages is the quantity of information you will obtain from every function. In the initial package, you can monitor limited keywords, but if you select its Enterprise plans, then you have better functionality.
The functionalities that are available with all the packages are nearly identical; however, the higher you spend, the more features and functionality you will get.
Mangools Pricing
Mangools offers reliable and cost-effective pricing that you can pay either on a monthly or yearly subscription.
Click Here To Try Mangools Free For 10-Days
The plans for the tool on a monthly basis as of now are as follows.
Mangools Entry- $29 per month
Mangools Basic- $49 per month
Mangools Premium- $69 per month
Mangools Agency- $129 per month
If you go for their yearly plan, Mangools gives 35% off on each of the packages. In case you are a beginner, then it has a 10-day trial period where you can check its features before you decide to subscribe to any of its packs.
There are some restrictions on keyword searches or ideas on its basic plans; however, you can access its Agency plan to get access to all its features and functionality. However, this plan costs $129, which is cheaper than the standard plan offered by the software.
So, if you are a content creator having few resources to manage a small company, then Mangools is a good software to suit your SEO needs.
Verdict
Overall, if you see the pricing of the Mangools Agency plan (the top plan of Mangools) – $89.90 is cheaper than the starter package – Ahrefs Lite package is priced at $99. So, you can say the packages offered by Mangools are very cost-effective compared to the subscription plans that are available with Ahrefs. You can say Ahrefs offers more features, but the price that you get with Mangools makes it a far better SEO option for both beginners as well as higher-end users.
Click Here To Try Mangools Free For 10-Days
Strengths that Ahrefs and Mangools Share
There are a few positives when it comes to both Ahrefs and Mangools. For better decision-making, here are some of them
The basics are covered- There are differences in the details in both the tools; however, on the higher end, you can perform keyword research, backlink analysis, and rank tracking in either tool with the same efficiency.
Support teams are good- You can find a live chat widget on either of the tools where you can get access to a helpful person on the other end who will resolve most of your issues.
Reasonable UI- The user interface of both apps is decent. Mangools has a simple but efficient design for its interface, while Ahrefs may be slightly complicated for newcomers.
Which is Better, Ahrefs or Mangools?
As I have stated in this article, both tools come with their advantages and disadvantages. Ahrefs has a comprehensive set of features and functions that gives it a great performance, but for a newbie, it can be intimidating. However, after using it for a while, its benefits will outweigh the challenges that you face during the learning phase. The backlink checker and competitor keyword analysis functions are some of the best in the industry, which make it one of the top SEO tool within the industry.
Mangools, on the other hand, has a simple interface with good rank tracking and keyword research features, as they are updated on a daily basis. All this makes it one of the best SEO tools for beginners that are new in the space.
A big advantage of Mangools over Ahrefs is its price point. Mangools is one of the cost-effective SEO tools in the market, with its highest plan priced at $89.90 per year, which is cheaper than the first plan of Ahrefs. So you get premium features at such a cheap price without having to break the bank.
Click Here To Try Mangools Free For 10-Days
All in all, the tool you choose is based on your requirements. However, if you ask me, I would recommend Mangools for its interface and pricing that set it apart from others within the space.
Ahrefs vs Mangools FAQs
1. Which is better, Mangools or Ahrefs?
When you consider both Mangools and Ahrefs, there is no clear winner as both of them have their advantages and disadvantages. However, if you are looking for a budget-friendly solution that gives you the best features at reasonable pricing, then Mangools is the one you should go for.
2. Is Mangools cheaper than Ahrefs?
Mangools SEO suite is cheaper and cost-effective in comparison to Ahrefs. The top plan of Mangools, priced at $89.90, is cheaper than the Ahrefs Lite package, priced at $99. This makes Mangools cheaper with all the features it offers over Ahrefs.
3. What does an SEO tool like Mangools or Ahrefs do?
Mangools or Ahrefs is a complete SEO toolset that allows website owners and professionals with ranking their websites and content higher by giving input on keyword research, backlink analysis, content research, site audit, and much more.
4. How accurate is the data provided by Mangools and Ahrefs?
Mangools and Ahrefs are known to provide accurate data for keyword research, backlink analysis, position tracking, and other SEO metrics. Ahrefs is known to provide more comprehensive data, but it may be irrelevant in some cases. On the other hand, Mangools offers a complete analysis that is fully accurate.
Read Next: