Traveling is a huge part of our lives and something we always take along whilst traveling is a backpack and probably looking for a great travel backpack. If you're reading this Tortuga Setout Divide Backpack review then something tells me that you're more into something functional that will actually make your traveling endeavors easier.
Fortunately, technology has made these backpacks much more functional than conventional travel backpacks. These Backpacks now come with hardcore technology and some features that really make traveling with heavy baggage super easy and hassle-free!
TLDR; If you're in the hurry here's the pros and cons of the Tortuga Setout Divide Backpack!
Pros
Expandable
Cheap for features
Best backpack for short trips
Carry-on size
Light-weight
30-day return policy
Check The Guaranteed Best Price
In fact, Tortuga is a solid company that's been making amazing travel backpacks for some time now, and their selection has changed quite a bit over the years. Tortuga has been putting out amazing products and these days, they have an arsenal of three travel packs and two travel daypacks in their line up. We'll be talking specifically about the Tortuga Setout Divide Backpack.
Today backpacks are not boring and simple they are versatile feature-rich and with many functionalities. More importantly, they are not cheap by any means, in fact, the Tortuga Setout Divide goes for $179!
It is important to know what the backpack can be used for as it has so many features. You want to get the best out of your investment and we are here to help you do that. We're here to tell you everything you need to know about the Tortuga Setout Divide Backpack in this comprehensive review. After reading this you should know exactly if this is the right backpack for you and what you can do with it so stay tuned to keep reading.
Tortuga Setout Divide Review
One reason I love Tortuga is that the founders Jeremy and Fred understand the needs travelers have. In fact, they started Tortuga after a backpacking trip to Europe. They discovered the traditional hiking bags are inconvenient for travel and simply do not work which is the reason why Tortuga came into inception.
Trust me any company whose roots stem from trying to solve a problem after directly experiencing will create products that genuinely solve that problem.
In fact, The Tortuga Setout Divide is a result of a massive customer survey which leads to discovering the pains of 21st-century travelers.
They wanted something for short trips but still something with good capacity.
They wanted something versatile
They wanted something functional
And we think Tortuga has created a bang-on solution to these problems, and that is the Tortuga Setout Divide Backpack!
Check The Guaranteed Best Price
Tortuga Setout Divide Backpack Review
In this review, we take a look at Tortuga Setout Divide which has been in the travel backpacks industry for some time now. They have changed their products quite a bit over the years and now have three travel backpacks and two travel daypacks.
The Tortuga Setout is a full-blown travel backpack that is constructed exactly for traveling. Tortuga has really learned to up their game when it comes to the Tortuga Setout divide. So let's dive in!
Tortuga Setout Divide Backpack Specs
Dimensions (inches): 20 x 13 x 6 inches (expands to 8″)
Volume: 26L (expands to 34L)
Weight: 3.8 lbs
Colour: Grey / Black
Cost: $179 USD with free shipping in the United States.
Fits a 15″ laptop, 9.7″ tablet, and charger.
Materials and Looks: The outside of the pack is covered with a matte finish 900D polyester, this is the same as it's big brother, the Tortuga Setout. We loved it then we love it now it looks and feels great! Also, the polyester is quite durable that should last you a while without any blemishes.
Overall the backpack looks quite clean with a little extra bulk which works really well to give you an aesthetic look. Even the branding is quite subtle which makes it quick cool too.
Check The Guaranteed Best Price
EXTERNAL COMPONENTS
Grab Handles: The bag comes with two grab handles one on the top and side of the pack. This isn't a feature that many backpacks have. It is also nicely padded. A lot of companies use much thinner foam on these which is fine but not Tortuga they use quite a bit of padding. It is overkill but hey it doesn't hurt the bag so we're not concerned unless you care about 0.xg extra weight!
Loop: There is also a loop on the top which is for hanging the bag against a wall it is also much more reinforced on this bad than its larger brother Setout. We love the new reinforcement which simply just depicts the kaizen nature of Tortuga and its implementation
Messenger Clips: There are also two clips on the outside for a messenger strap attachment. we think it would work pretty well for this purpose with this pack size especially when the bag is fully compressed. However, it seems to overkill again for a 26lts to be a messenger bag.
Padded Hip Belt: This is a feature we don't see in most travel backpacks. It's essential to have it though for it will transfer the weight of the bag from shoulders to hips and avoid back problems.
Note: The hip belt transfers about 80% of the bag's weight to your hip almost completely taking the strain off your shoulders. Also due to the injection-molded shoulder straps which conform to your body they even get more comfortable over a period of time. You can also stash your phone and other things like boarding pass in the hip belt pockets while en route a flight or when on the go.
Compression strap: The strap is across the entire zippers which is great as on the set out this strap is only before the other zipper. I guess this is why it's called divide because the compression zipper is in the middle of the pack which technically adds an extra 8lts to the interior. This is why this bag is simply awesomeeee!
Back Mesh: Another very important feature is that massive mesh that does a great job with air ventilation. This is one of the best systems we have seen on a backpack this size. You really do get some nice sweet air between the mesh and padding which keeps the bag lighter than it actually is and more importantly helps to avoid dreaded back sweats!
Check The Guaranteed Best Price
INTERNAL COMPONENTS
Quick Grab pocket: The zipper is a YKK #5R which basically means it is super durable and perfect for those ninja grabs you make when you need something right away!
Laptop + Table compartment: There is both a laptop and tablet compartment for obvious reasons. We also love the false bottoms on the laptop compartments as it means your laptop isn't going to hit the group if you drop it. There is a lot of extra security.
Main compartment: There are two compression straps basically like a suitcase. There's a ripstop liner along with a massive compression buckle which is definitely going to keep your baggage secure AF! Trust us this buckle is simply amazing.
Pro Tip: We recommend using packing cubes as opposed to loose clothing as it is generally a good rule for ALL backpackers to save up space.
OTHER COOL FEATURES:
Separate dirty laundry using Zippered mesh: On the left of the main compartment is an entire zippered mesh section which is used to separate out the dirty laundry. On the right side, you have an open space with massive compression straps. The same "DIVIDE" is not just for show it is the theme this pack follows throughout its functionality.
Pass through sleeve: Tired of wearing the bag on your back? Just use the pass-through sleeve for a hassle-free trip to your gate at the airport or whilst on the go.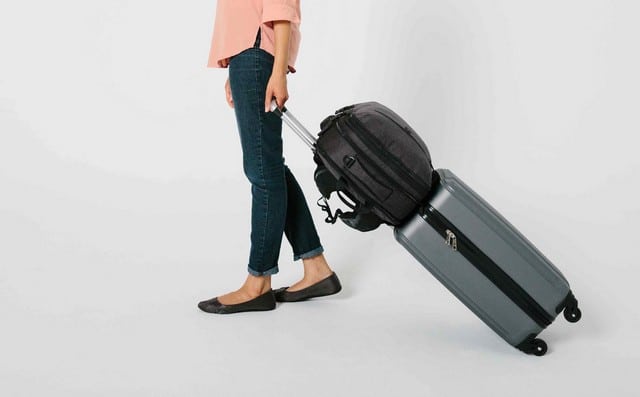 Straps protection: You can also tuck in the shoulder straps to protect them when carrying your bag if you are using it as a messenger bag and simply don't want your straps popping out.
Reasons to buy the Tortuga Setout Divide Backpack
Now that you know what all the backpack can do let's look at what are the reasons to go for the Tortuga Setout Divide. You need to understand what are the highlights of the backpack to get the most out of it.
TL;DR
Carry-on size
Light-weight
Aesthetics
Padded Hip Belt
Versatile functionality
Carry-on size: The Tortuga Setout divide is actually quite small in size it's only a carry-on-size so you can take it and hop on a plane and save both time and money by ditching that luggage.
Note: It is of maximum carry-on-size allowed on most airlines and it holds surprisingly a lot for its size.
Light-weight: The Tortuga Setout divide is also quite light which is easily the biggest issue with travel backpacks. You want something light rather than something heavy weighing you down, especially when traveling.
Note: It is the lightest carry-on-size Tortuga at just 3.8lbs.
Aesthetics: Honestly the Tortuga Setout divide is the most stylish backpack Tortuga has ever made. It's soft on the outside with some matte grey fabric and amazing rounded corners. We love the minimalist simple design which just works great.
Padded hip Belt: This is a feature we don't see in most travel backpacks. It's essential to have it though for it will transfer the weight of the bags from shoulders to hips and avoid back problems.
Note: If you travel with a lot of things like electronics then this would be something for you.
Versatile functionality: At first this may look like a regular travel backpack but it is much more than that. The backpack is designed to be a messenger bag, a travel backpack and also a typical suitcase. The interiors open exactly like a suitcase with compression straps to hold a lot of baggage, the exterior components include messenger bag outlets to just strap it on.
Check The Guaranteed Best Price
DRAWBACKS BUT NOT DEALBREAKERS
Although the Tortuga Setout Divide is awesome there are some drawbacks to this product. Our goal is to make sure you are well informed before you make that purchase which is why we made this section to highlight all the drawbacks.
TLDR:
Too big for short people
Some airlines may not allow carry-on
Fewer features than Tortuga Outbreaker
Not waterproof only water-resistant
No height adjustment
USA ONLY
NOTE: Do note the drawbacks are no at all dealbreakers and are just to keep you informed. They may not even be a dealbreaker for you as these are just based on personal preferences.
Too big for short people: If you're on the smaller spectrum of homo-sapien sizes then this bag may be a tad bit big for you! This is a personal preference so if you're a tough one to get it regardless of your size. It is just something we thought you should know.
Some airlines may not allow carry-on: Although the Tortuga Setout divide is within almost all airlines' allowed carry-on size however some budget airlines may not allow it as a carry-on. We suspect this not to happen normally but only with small planes like seaplanes, budget airlines. So it's not a deal-breaker but just something to know about
Note: This issue is mainly with budget airlines like Ryanair which has a 55cm x 40cm x 20cm limit unless you pay a priority.
Fewer features than Outbreaker: This again is not a dealbreaker it is simply something you need to know since Tortuga makes other products. The Tortuga Setout divide is designed for shorter trips and is a smaller backpack from Tortuga so naturally, they had to cut down on a few features. It still has enough to be a damn good travel backpack.  You also save a whole sweet $100 less if you go with this over the Tortuga Outbreaker
Not water-proof: The Lack of aquaguard YKK zippers can mean vulnerabilities for your tech during heavy rain. However, the backpack is water-resistant it is also designed in a way to protect your tech so there are very little chances of your tech going dead if you come in contact with water and are wearing the Tortuga setout divide.
No height adjustment: This is a major issue for tall people who will find that the hip belt fits weirdly. You could opt for the Tortuga Outbreaker in this case. However, this is a personal choice some may honestly be okay with the feel of it. It comes down to personal preference.
Note: You want to go for the Outbreaker which is an adjustable backpack from Tortuga if you are tall.
No Warranty on long-term wear and tear: Things don't last forever. Tortuga has made a solid product but it kinda sucks they don't cover damages under warranty. That being said it is a very durable product that is meant to last you a while which is definitely going to be in good shape for a long time.
USA Shipping Only: Tortuga stopped accepting international (non-US) orders on December 31, 2018. They plan to re-launch in other regions when they can provide a localized experience with fast shipping and lower shipping and customs fees.
The Nomatic Travel bag is a great alternative and they ship worldwide (I shipped mine to Malaysia!)
Check The Guaranteed Best Price
Tortuga Setout Divide vs Outbreaker
Tortuga's flagship product Outbreaker is one of the most popular choices among travelers. So we decided to draw a comparison between the new Tortuga Setout divide against the Tortuga Outbreaker to find out what is the better deal. The two are very similar in nature but are for different purposes and kinds of people.
The Tortuga Setout divide is best suited for short trips while the Tortuga Outbreaker is best suited for long trips and tall people.
Weight: Tortuga Setout Divide weighs 1.5Kg while the Tortuga Outbreaker weights 2.3kg.
Cost: Tortuga Setout Divide costs $179 while the Tortuga Outbreaker costs $279.
Color: Tortuga Setout Divide comes in Grey, Matte Fabric while the Tortuga Outbreaker is only available in Black only.
Weather-proof: Tortuga Setout Divide is only Water Resistant while the Tortuga Outbreaker is waterproof.
The Verdict: If you're looking for something that is lighter and with the same capacity of 34 liters than the Tortuga Setout divide is a good option. The only edge we see the Outbreaker having is in its extra compartments and features.  Honestly In our case, one of the biggest pain for most travelers is the weight which is why we choose Tortuga Setout divide over Tortuga Outbreaker and also save a sweet $100
Check The Guaranteed Best Price
Is the Tortuga Setout divide worth 179$?
Before we get to whether the Tortuga setout divide is worth it. Let's talk about who this is for. We obviously know a traveler would want a backpack but the Tortuga Setout is not for everyone.
If you are looking for something versatile for short trips and are not very tall then this bag would be a perfect fit for you. The reason we mentioned tall (not being a heighist) was because there is no adjustable strap with the Tortuga setout divide. It is not a dealbreaker but you do want the perfect fit when traveling.
If you are on the taller end are looking to travel for a longer period then I recommend the Tortuga Outbreaker which is a slightly heavier travel backpack but one that will fit you if you are tall and also something you would need if you travel on the go for long periods of time.
Overall anyone who is looking for something versatile and something they can maximize the amount of baggage they want to travel with simply as a carry-on only and not have to feel all that heavy weight on their backs. Then the Tortuga Setout is what you are looking for!  Honestly, the Tortuga Setout is currently one of the best carry-on backpacks on the market right now. It is quite spacious, durable and light also very well-designed stylish travel bag with just enough room for storage and organizing everything well.
So finally is it really worth 179$?
If you consider the versatility and extreme functionality of the bag you can literally use it as 3 different type of bags adding to that storage that basically replaces your suitcase and finally add to that the invisible hassle that is saved by just having a carry-on instead of check-in luggage… HECK YES!
Yes, it is on the expensive end but you cannot get both functionality and good quality at a good price. This is definitely worth the money considering the intensive value rendered by Tortuga. We hope after reading this article you are well informed on the Tortuga setout divide and ultimately make the right decision.
Check The Guaranteed Best Price
Thank you for reading and we hope you found this Tortuga Setout Divide review helpful. Cheers!
Read Next: