Notion is an all-in-one online workspace that will help teams collaborate on their content. The cloud-based application is a versatile project management and note-taking tool which is designed to cater to the needs of different businesses.
The centralized and customizable platform of Notion allows users to organize data, switch views, integrate tools, share information, and automate their workflows to meet the needs of product management tools in a single application. Using the tool, companies can save time and minimize costs by increasing their work transparency to improve collaboration for better organizational efficiency.
Click Here To Try Notion For FREE
Notion was founded by Ivan Zhao in 2013 while living in San Francisco, where he noticed that it was impossible for teams to work as a unit to achieve a set goal as they had to spend hours on several platforms with different managements per day. This led to siloed information when a key employee left. So, with the launch of Notion, he wanted to make the entire process of collaboration simple and straightforward without any hassle.
If you are wondering whether Notion is worth the hype, then you are in the right place. In this review, I'll cover its features and try to find out whether you need it for your business.
Who is Notion For?
Notion is a great tool that is ideal for different users to collaborate and streamline your project management process. If you are looking for a simple task manager that allows you to easily manage things, then it is the one for you. In simple terms, it is ideal for
Freelance writers- If you want to become a successful freelance writer, then structuring your week is essential. This will allow you to complete your client projects while you are able to market your writing services. Notion is great to create a few blocks for different projects. This way, you'll know what you must do at a set time or day.
Teams- Notion is designed for teams, as its major function is to focus on collaboration. This is important as knowledge sharing is essential to improve productivity and prevent sioled information. In case you are managing your team, Notion is a great tool to streamline your work. Invite your members to collaborate to simply create sprints that will help reach a large goal and track the process of your employees.
Large businesses- The major problem that most businesses face while using project management software is scalability. With Notion, you can invite unlimited users and complete endless tasks with utmost efficiency. This will make the entire process of tracking your team's progress easy, even though you have hundreds of team members.
How Does Notion Work?
Notion is simple to use and work with. You just need to sign up to create a free account, and this can be achieved by signing up with your email, Apple, or Google accounts. From there, Notion will ask you questions that will allow the tool to tailor your dashboard to suit your business needs.
Notion will walk you through a tutorial that will let you handle the platform better. You can create the pages you will need and these could be:
To-do list
Content planner
Monthly goals
Journal
Habit tracker
You can click on the New Page icon, which is there in the left-hand corner, to create a page. Here, you will find a different list of page types like list, gallery, table, board, and calendar. You can also choose to give it a heading and select an icon that will make it easier to find later.
Notion Review Reddit
u/coderjewel- "I am using notion for project management but not task management. So project timelines, big picture items go into Notion. Those items are converted into todos in my todo list, where I work off a daily list. Sometimes I'll copy down my items for the day on paper".

u/Mindless_Ad_7700- "I use Notion quite extensively and find it allows me to have everything in one place: budgets, time schedule, client files, etc".

u/Business_Rabbit_7208- "I do it all in Notion. If you keep it simple, you can do it pretty well".

u/BTree482- "I use Notion for task management. Created my own Pomodoro board and manage all tasks there".
Click Here To Try Notion For FREE
Notion Review
1. Ease of Use
If you are looking for a simple task management service or a full-fledged project management software, ease of use is the most important factor to make the software enjoyable to use.
To start off, the process of setting up is simple, so I will say it got off to a good start. The tool incorporates several project management elements into its design philosophy, making it unique in its own way. Currently, Notion may not be a full-stack project management software; however, you can always share your progress using it.
Notion has a sleek user interface, and users can navigate through different features with ease. Its drag and drop blocks can be customized anywhere on the page according to your needs. Each of the sections don't have any restrictions on how you will be able to structure the page. If you want modern minimalist designs and want to stay away from the clutter and confusion of older designs, then Notion succeeds brilliantly with its minimalist approach.
You can use the collapsing menu to hide information that you don't need. This allows you to keep the layout simple and clean. The tool allows you to offer different views for your project, like calendar, timeline, and board view. However, the only thing that lacks is the absence of Gantt charts.
The software currently supports English, Korean, French (beta), and Japanese (beta), with a few other languages being worked on. Notion is laser-focused on making the entire task management simple with good collaboration and efficiency.
2. Blocks and Pages
Everything in a Notion page is a block, may it be text, images, databases, and more. The collaborative workspaces come with a set of building blocks to create a project management environment. The blocks on each page can be customized to your team's needs. Unlike other digital tools that offer preset tools and screens, users can decide what they will want to build to meet their specific needs utilizing these blocks. One team will build a page that will work and look different from other teams from another department and still have its instance of Notion using the latest company information.
You can select from different block types easily to create your blocks. There are several clusters of block options that you can scroll through and select from, and this includes
Basic blocks- the basic blocks lay the groundwork for your pack. These blocks allow you to add text, bullets, headings, and other bits to help you create your content flow.
In-line blocks- the blocks allow you to mention teammates, set reminders, references, or other pages in your workspace. They are great for collecting information and assigning deadlines to keep your projects on track.
Media- it can be anything from images, video, code, or other media types. These media blocks bring together teams who will use these tools to do their work. You have a design mockup next to the code that will bring life to your website.
Embeds- the embed block lets you embed a PDF, Typeform, and other information to your site. For example, if you are creating a contact us page, you can embed a Google Map on your company's address.
Database- it is basically tables, lists, boards, and more from your own page or also be in-line and be part of a page with other elements.
Advanced blocks- the advanced blocks include a table of contents and pre-formatted elements for your pages. These blocks are basically used to create your template, and all you have to do is to add information based on the latest check-in features. The tool allows you to start from scratch and duplicate a copy of a remote template to your workspace.
Once you have added the blocks, you can customize them to create a unique page. Customizations allow you to move existing blocks, convert blocks or add color text and backgrounds to emphasize parts of your content to make it unique.
3. Easy Note Taking
Notion started as a note-taking app, and it is one of its unique features. It operates as a lighter version of Google Docs and works as a distraction-free writing tool. Here, you will get a blank page to write short or long-form articles. The entire process of creating the notes and docs is easy and simple.
The main advantage that you get with the feature is that you don't need any external document creator for note-taking, as you can do everything from within Notion. A quick note-taking feature is a vital tool in project management.
The editor of Notion is designed keeping focus in mind. Just start typing, and everything else will fade away so you can concentrate on the task. You can add any content and rearrange it to get your job done. Here, you have the ability to add images, bookmarks, code, and much more while maintaining the flow. The editor helps you structure your thinking in a better and simplified manner.
Notion is much more than a text editor, and you can use these databases to keep track of all your documents or notes. Efficiently tag them with custom keywords, set due dates, add teammates, and more. You don't have to lose track of a note again as everything lives in the sidebar having immediate access. Finally, everything can be customized to better organize your information the way you want it to work.
4. Wikis
It is hard to move fast if you have a clunky and disorganized workspace. You can easily centralize all your knowledge directly in Notion. With this feature, users can build collaborative knowledge bases that move quickly and clarify ideas and procedures. The tool is based on desktop publishing software and office productivity tools that were ideated before internet connectivity became common.
Wiki is a collaborative CMS and is often used by larger groups that are more content oriented. With it, you are able to share information amongst your team members with utmost efficiency. It is useful to create a good knowledge base that can save you hours and cut weeks away from onboarding processes of all kinds.
It can be anything from onboarding new staff or new customers. Wikis are great to help staff members easily navigate through new procedures or helping customers troubleshoot their services and products by themselves. This is very helpful, and that is why some popular platforms like Apple, Google, Microsoft, Facebook, Amazon, and a few others rely on internal wikis.
5. Security
Notion will take security by its design approach to protect your important data. The software runs on TSL, and it will encrypt your data and files during transit and rest. But they don't have end-to-end encryption, which means your data can be accessed by some Notion employees.
Notion makes use of AWS servers to efficiently store your data, and the servers include CloudTrial, which can help monitor and record user activity. The privacy policy of Notion is spread across 13 sections with agreements, data governance, policies, and GDPR compliance.
To create an account with Notion, the company will collect your name, email, password, position in your business, and profile photo, if you have added one. So you will not have to offer any sensitive data to create an account. You can protect your assets by giving account permissions for a task, team, and project controls to give or restrict access to the right users.
To get peace of mind, Notion has compliance with popular certifications
SOC 2 Type 2- Notion integrates with third-party auditors, such as Okta and other certified organizations to get quality certified. These reports allow users to assess the effectiveness of these controls over a specific period of time and are great to provide assurance to customers and stakeholders that their data is protected.
ISO 27001- It is an international standard for information and security management. The certifications will outline the requirements for establishing, implementing, and improving the overall information security management system. This will help organizations manage and protect sensitive information by making use of a risk management approach.
The security features of Notion are not the very best, but the software still continues to make investments, so users are available to use the tool with confidence.
6. Templates
Notion allows you to start from scratch if they have some technical knowledge. However, the software has a template gallery that lets users get started quickly. Notion has 5000+ templates that you can select from, and you can build anything from them. The template categories include design, engineering, HR, marketing, education, and several others that make you stand out from the crowd. These pages are designed by Notion and its community members so users don't have to build their workflow from the very beginning.
7. Workspaces and Databases
A Workspace on Notion is where users create, customize, and collaborate on your page. The basic structure will let you split the screen between a sidebar for navigation and an editor for creation. Users can access these workspaces directly using their mobile apps; however, there are differences in how the pages can be manipulated compared to using a desktop or web app. Users can make use of multiple workspaces to keep different types of content separate. You can join existing workspaces, switch between workspaces, leave or delete a workspace.
To create a workspace, you will need to follow these steps:
Open the workspace switcher at the left-hand side of the Notion window.
Select an email you will like the new workspace to be associated with
Follow this by creating a new workspace
In case you are utilizing your work email, you can see a list of the workspaces that you can automatically join.
If you are planning to create a brand-new workspace, efficiently scroll past the list of existing workspaces and create a new workspace.
Following these steps will allow you to set up your new workspace
The workspaces section lets you to join existing spaces in your business. You can join them in a couple of ways, and you can easily switch between workspaces throughout the day. The goal of the software is to make the entire process as simple as it gets.
Notion lets you create a database from a wide collection of pages. Each item in the database is editable with customizable properties. You have the opportunity to switch from one database to the other. Each database will have the same menu and set of options alongside the ability to filter, search, or search your property values. Apart from this, Notion has multiple other options that allow you to edit every aspect of the database's layout, grouping, and properties.
8. Collaboration and Publishing
Collaboration with your teams is an integral part of a project management platform like Notion. Each section, block, or task in Notion has a comment section where team members have the ability to leave notes, discuss the progress of a project, and share relevant resources.
Notion is super collaborative, and there are several ways to share the content that you create with other individuals. The permissions levels allow users to ensure that you give access to the content exactly to the people you want to. You can add members to share, edit or collaborate on pages together in the workspace. Invite users as guests who can view, comment, or edit specific pages in the workspace.
There is no limit on the users who can view and edit the databases or pages at the same time. Each team can collaborate on shared content no matter what time, device, and where they are. The tool has updates and notifications that always keep you on top if you need any changes or attention made to the pages and projects you care about. The greater number of people that collaborate in the workspace better will be its features. You can also gain insights by checking page analytics to track page views and popularity. Further, if you have multiple Notion accounts, then you can move content from one to the other.
9. Cross-Platform Task Management
The cross-platform task manager allows users from different departments to share knowledgeable information with a click of a button to prevent any siloed information. This feature lets you create separate projects and folders for individual departments. All this makes managing different teams and projects simple because you can efficiently track the progress of these assignees.
The calendar view of Notion allows you to have an efficient interface to store and format your valuable information. For example, if you are having a content creation calendar, then you can create different deadlines and articles and assign them to the writers of each project.
10. Apps
Notion is designed to work across a range of platforms so users can create their workspace with ease. You can access the software across a range of devices which are listed below.
Notion for app- Notion is available on your PC or Mac and is a downloadable desktop application.
Notion for web- The cloud-based app can be accessed across multiple web browsers, including Chrome, Firefox, and Safari. If you are connected to the web, then all your content will sync automatically.
Notion for mobile- The Notion app can be downloaded on your Android and iOS devices to give you easy access on the go. Using this app, you can read, edit or add a comment of any type directly from your mobile app.
Mobile widgets- The mobile widgets of Notion give you quick access to the pages of the software directly from the screen of your iPhone and Android devices. You can add a widget that will link to any workspace or page that you want to choose, making it easy to access for frequently visited pages.
Notion for mobile (beta version)- The beta mobile version gives you early access before anyone else and shapes the feature of these apps on mobile devices. Compared to the standard mobile app, you will receive faster bug fixes and updates quicker.
Web clipper- The web clipper allows you to save any web page directly from the internet to your workspace so you are able to read and edit it later. You can add the web content directly to your workspace or page of your choosing, making it highly efficient while building a reading list, collecting references, and much more.
In case something doesn't go right, then there is always an option to troubleshoot and reset. You can efficiently reset the information in your browser, desktop apps, and mobile apps.
11. Notion AI
Notion has recently launched its powerful AI to extend its impact and performance. The AI uses human-produced technology to systematically apply large sets of data into an interactive model. Some of the current functions of the tool include:
Summarize existing content- after you've written something, Notion's AI can extract key points in a high-level summary. Handy for quickly recapping research proposals, product specs, or meeting notes!
Brainstorm ideas- sometimes inspiration strikes right when we need it, but when writer's block gets in the way, you can ask Notion AI to generate a list of names for your startup or costumes for an upcoming party.
Write a rough draft- whether it's a blog post, Instagram caption, email, or poem, Notion's AI can pull from millions of examples to craft a jumping-off point for your writing. Some sentences might be great, others not so much. That's where the fun begins: editing and crafting the perfect final draft that is distinctly you.
Fix spelling and grammar- Notion AI also has a built-in spell check and grammar correction feature. No more worrying about pesky typos or misplaced commas. Notion AI will take care of it for you!
Translate content- easily convert your written content into another language.
12. Integrations
Notion has good project management capabilities on its own, but you have the option to extend its functionality further. This is achieved by using third-party applications. Some of the popular ones are OneDrive, Slack, Asana, Calendly, Amplitude, etc. These applications help enhance its overall functionality further.
13. Customer Support
A good project management software requires a support team that will allow its customers to get the most out of the product. Notion doesn't have a major learning curve, but you would still expect some form of support in case users really need it.
Notion has several options that help you find answers to most of your questions aside from their step-by-step guides. There are, however, some standard support options like email and a chat box. They are also relevant to today's trends, with powerful Discord groups to efficiently communicate your message through. It also has a great knowledge base that is full of tutorials in written and visual formats. However, the only thing that they lack is phone support.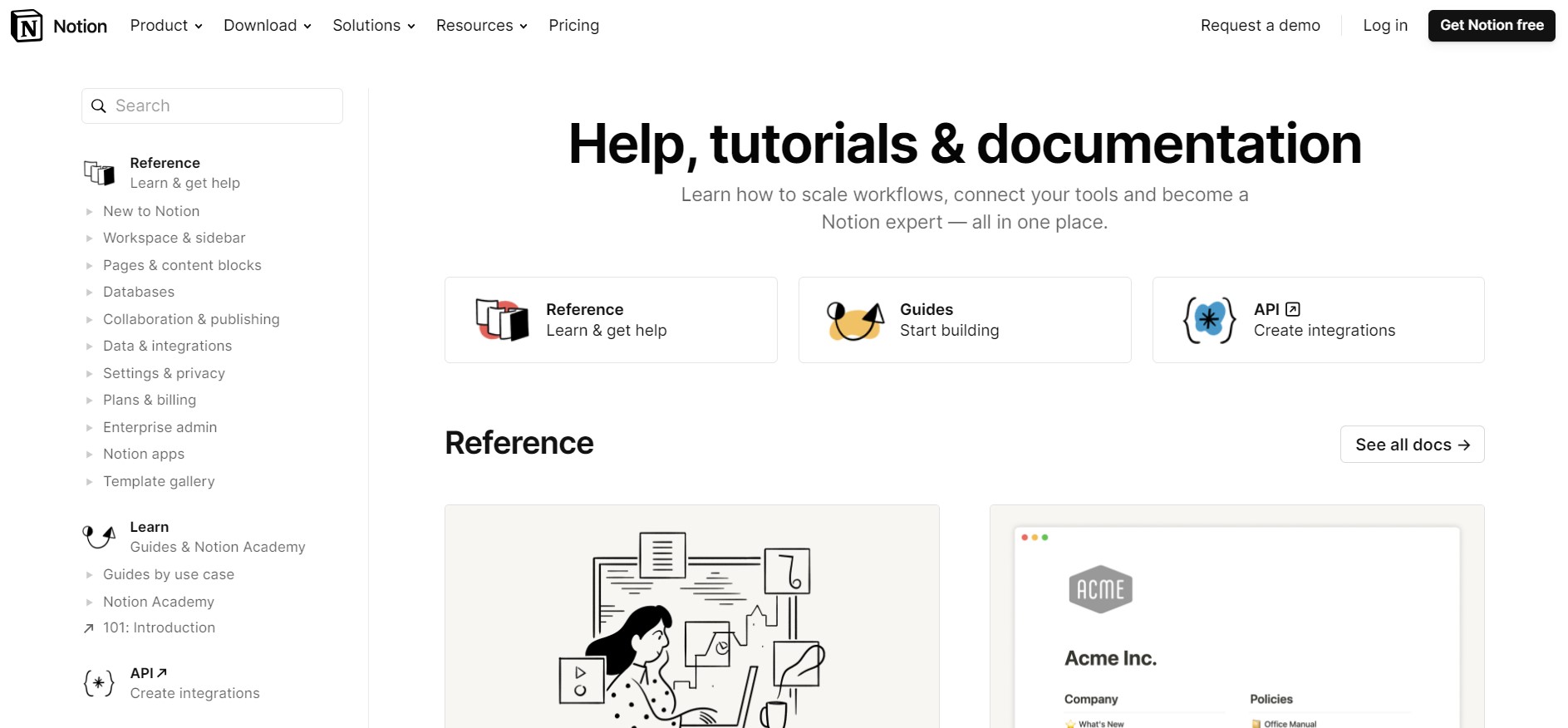 Most of the tutorials can be easily followed, and all the bases you expect are touched upon, which is good news for all users. Further, its user forums also have a wealth of knowledge, and they are a cool way to connect with other users of the Notion software. Overall, the Notion tool provides efficient and reliable support to its users.
Pricing
Everyone has different budgets and different project management software price users with higher costs. Notion understands this and offers plans that are highly affordable for different users. The tool has 4 plans where you can unleash its offering to get access to its full functionality. The plans in detail are listed below:
Click Here To Try Notion For FREE
1. Free Plan
Notion offers a forever-free plan for organizing every corner of work with utmost efficiency. The plan is ideal for individuals who are starting out and will get an unlimited block for individuals, but it has limited block trials for teams. The features of the plan include
Collaborative workspace
Basic page analytics
7 day page history
Integrates with Slack, GitHub, and other applications
Invite 10 guests
2. Plus Plan
The Plus plan was formerly known as the Team plan and is a great place for small groups to plan and be organized. It is priced at $8 per user per month annually. The plan offers all the features of the Free plan plus
Unlimited blocks for teams
Unlimited file uploads
30 day page history
Invite 100 guests
3. Business Plan
The Business plan is a new plan offered by the platform and is a great choice for companies that want to use Notion to connect several teams and other tools. It is priced at $15 per user per month annually. You can request a trial before you purchase the plan. The plan offers all the features of the Plus plan, and
SAML SSO
Bulk PDF export
Private team spaces
Advanced page analytics
90 day page history
Invite 250 guests
4. Enterprise Plan
The Enterprise plan is the premium plan offered by the platform, where you get access to advanced controls and support to run your entire organization. The prices and features are customized to suit your brand identity. The plan has all the features of the Business plan plus
Advanced security and controls
Audit log
User provisioning (SCIM)
Dedicated success manager for 100+ seats
Workspace analytics
Unlimited pages history
Custom guest list
Pros and Cons
Pros
Simple and clean user interface
Easy learning curve and fully customizable
Endless Notion templates to choose from
Great note-taking capabilities
Efficiently set up a knowledge base within notes
Generous free plan
Integrations with over 500 platforms
Affordable pricing
Cons
Managing multiple projects can be a tedious task
Lacks Gantt charts
The offline mode is impractical
Is Notion Worth the Hype?
Notion is a powerful project management solution that is very flexible to share knowledge, track projects, and collaborate easily. The best thing about the tool is that the process of signing up to manage the project everything is simple and efficient. This will include everything from templates, sharing, advanced integrations, and other tools with quick knowledge-sharing capabilities. These features help manage your projects and editing without missing any deadlines. All this makes it a great choice for beginners as well as large companies that are looking for a collaborative workspace.
Click Here To Try Notion For FREE
Notion Review FAQs
1. Is Notion any good?
Notion is a great project management tool designed for content creators or other creators, like solo or small teams. It is a very flexible, customizable, and affordable app for project management.
2. Is Notion really free?
Yes, Notion has a free plan that has some great features that help get you started with project management tasks or note-making. It has some basic core features but doesn't offer the same level of functionality as its paid plans. However, it is generous to allow you to access 5 other collaborators with the free version of the software.
3. Can you earn money from Notion?
The best way to earn money is by using its Affiliate Program. Use Notion and refer it to your friends and followers to earn 50% of all referred payments. The platform doesn't have any limit to how much you can earn.
4. Can Notion be trusted?
Notion makes use of a powerful TLS 1.2 for encrypting network traffic with AES-256 to encrypt data at rest. The data is stored in AWS, and it will complete SOC Type 1 and Type 2 reporting features.
Read Next:
Best Project Management Tools Reddit