Monday.com is a cloud-based work management software that allows its users to work without limits. The tool allows businesses to automate workflows to manage their projects, tasks, and resources in a single place. The software makes use of a versatile visual interface where users can add team members, assign tasks, create workflows, and track progress from a centralized view.
Teams using the platform will remain on top of their work, regardless of the size or complexity of their tasks and projects. The tool lets you organize work and projects that align with their business requirements.
Click Here To Try monday.com For FREE
Monday.com was founded in 2012 with the aim to make work collaboration easier with teams. Today 186,000 customers across 200 industries in over 200+ countries and territories use this tool. The platform has an intuitive and modern spreadsheet interface which is easy to understand even for first-time users. In this article, I will look in detail at the various features of the platform that make it one of the best work management applications in the market.
What is Monday.com Used for?
Monday.com is a versatile platform that helps in a variety of workflows, which include
Project management- Monday.com can help users plan and track their projects, set deadlines, monitor progress, and track different metrics.
Customer relationship management- Easily track leads and customers using the CRM features of monday.com and efficiently manage your sales pipelines and close more deals with better efficiency.
Human resource- The HR features of monday.com help businesses to onboard new employees, manage employee records, monitor their performance, and implement any training programs.
Task management- Efficiently prioritize, assign, and manage tasks from the very start till the end. This allows you to ensure that you manage your entire process with ease.
Resource management- Allocate and manage your resources better to efficiently balance your workloads for optimum efficiency.
Software development- The development tools of monday.com help software teams plan and track their sprints, collaborate on code, manage backlogs, and deploy their applications.
Goals and strategy- You can easily define and track the goals that will help you align with your business strategies.
monday.com Review Reddit
U/jadanas- "Monday is amazing, and I highly recommend it. I tried Airtable, and the automations weren't nearly as good. You can make pretty much anything you want with Monday".

U/dt53188- "I love monday.com but use it for marketing in relation to project/task management—I find it highly customizable and user friendly".

U/amousecaledmicky- "We use it as a way to provide visibility of projects, project status, priority, as well as some task and milestone tracking. There's a bi-weekly where important projects are discussed and updated, and less important projects are talked about as needed".

U/s;cjosh- "I use it to track projects and allow my clients to see into everything we are doing. I actually really like it. You can add clients as a guest to the board, and they can comment and update statuses which is nice. I also use the timeline/gantt feature quite a bit to keep track of progress. I find it easy to use and visually clean. I like the design".
Click Here To Try monday.com For FREE
monday.com Review
1. Ease of Use
Project management software is designed to ensure your lives are made easier, rather than worrying about adding another tool that your team will have to learn before using it. You can get going using monday.com in less than an hour without needing any training.
Monday.com has a simple interface that has a modern spreadsheet-like look that is very easy to understand. To start using the project management tool, you just need to create a board and choose from a range of templates. Once this is achieved, you will need to create groups of tasks and add items or columns. After this, all you have to do is turn things green- assign, communicate, and update your tasks. You will immediately appreciate the bold and bright colors that are used across the platform, giving the UI a great look.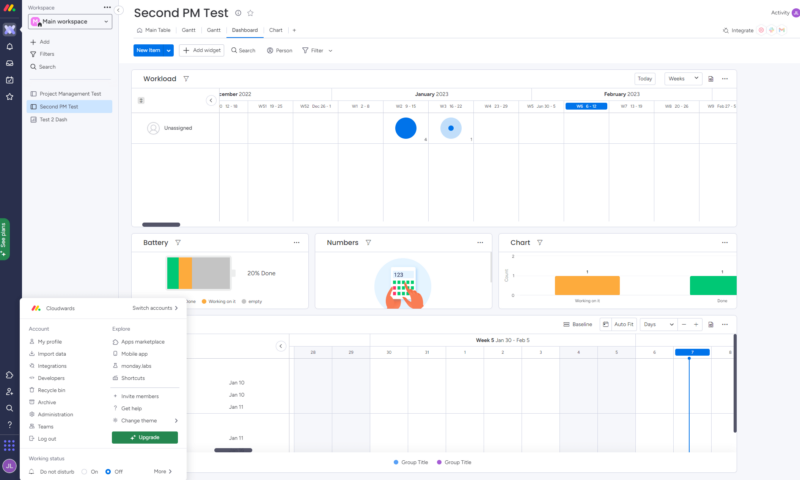 Switching between the views of the platform is very effortless, thanks to the top menu, which is clearly labeled. Moving between the projects and boards is done quickly via a menu, which is hidden when needed. Accessing your account information is very simple, and there is nothing in the interface that is difficult to explain or understand. The customization capabilities of the tool will empower you and your teams to manage your work with the utmost efficiency.
In all this, one thing is surely creating views, adding new tasks, or assigning them to team members is a painless experience. Another great thing is how everything works so smoothly. No other alternative offers a simple and fluid experience with their interface as that offered by monday.com.
2. Dashboards
Monday.com has flexible dashboards that are great to display what is important in a single place. With over 30+ widgets and apps, users can easily track budgets, estimate teammate's workloads, and more. These dashboards help facilitate your workflow and allow you to be updated with what is happening across multiple boards. You can create summaries, reports and get a high-level view of everything that is important to you. Here, you can centralize your data in one location and use different widgets to have all the tools and information necessary in one view.
To create a new dashboard in a workspace, click on the Add below section of the workspace and select the New Dashboard. Further, you can add a dashboard directly from your preferred folder and click on the 3-dot menu within the folder in your workspace and click Create in the folder and select a New Dashboard.
You can select whether you want your dashboard to be public or private
If a dashboard is public, then it'll be visible to everyone in your account.
If you select it to be private, then your dashboard will be visible only to yourself and the selected team members you are inviting.
The dashboard permissions or restrictions give owners complete control of the information that can be changed. In case you encounter a private dashboard, then you can request to join it.
Once you are done, you can connect your boards and access the information in a single view. The dashboard has different widgets, and each of the widgets will allow you to display specific information about any board. To add a new widget, you can add a widget icon and select the type of widget you'll like to display.
The dashboards are highly customizable, and you can edit them at any point by toggling the edit button, giving you enhanced flexibility. You have the option to enable or disable your live streaming of data on your dashboard. When your live data is on, you can edit the data in real-time, and everything will be refreshed right before your eyes. Once the live data is off, the dashboard depicts a ready-only report on your boards.
The information on the dashboard can be filtered efficiently by clicking on the funnel filter icon. You can filter the type of board you want based on the drop-down list of connected boards. There are two types of dashboard filters, namely
Quick filters- The filters allow you to filter by board, group, or columns on your dashboard.
Advanced filters- It will filter your dashboard according to specific conditions that you can easily customize. You can add as many filters as you like, and they will work together simultaneously. Not only can you filter items on your dashboard, but you can efficiently drill down into the data on the dashboard as per subitems as well.
Once your dashboards are ready, you can easily export them to your colleagues by exporting them via a PDF or Excel document type. You can easily present your dashboards in a TV or full-screen mode to get better clarity and resolution. There is also an option to set email notifications for your dashboard. You can send the email notification manually or automatically on a weekly or monthly basis. Further, the dashboards can be presented in dark mode. It is sleek and easy on the eyes, so you can be assured that you can be part of the journey even during the dark hours of the night.
3. Automations
If you feel like doing manual work is difficult, then the automation features of monday.com will resolve these issues without even the user having any coding knowledge. You can take your workflow a step further with automation. This feature helps create your automation or select from pre-made templates that are built out of new combinations tailored to your team's needs and make it fit perfectly with your specific workflow.
The automation of monday.com allows you to handle tedious work, so you can keep your focus on tasks that require personal attention and creativity. But before you create automation using monday.com, it is important to know its different parts.
Trigger- A trigger is the first step in building automation. You need to set a trigger that will start a change. It can be anything from a column from your bars- status, people, date, etc.
Set a condition- Based on the trigger you have set, you'll need to select a condition. This is a requirement that will trigger the prompt to run the automation.
Action- Once the trigger and condition are ready, you'll need to pick an action for it. The action is the event that happens once a command is executed.
If you are planning to create a multi-step automation flow, you can add multiple actions in a single automation recipe. To set up the multi-step automation, you can click on the plus sign to the right of the action you've set, choose the additional action, and fill out the underlined fields. Here, you can add more or more actions to the single recipe as you wish.
However, to make things a little simple, you can utilize pre-set automation templates rather than creating your own. There are categories of this automation to help you better simplify your processes to get optimum functionality and performance.
Monday.com allows you to make the entire process of automation simple and efficient. We'll talk more about this below:
Toggle automation on or off- You can easily toggle your automation on and off on your board. The automation tab can be switched on or off using the switch icon.
Edit an automation-To edit the way you've configured your automation recipe, click on the three-dot menu and press "Edit Automation" as below. Clicking on this will open up the automation editor, where you can add or remove conditions and actions or reconfigure your recipe as you wish.
Duplicate automation- You can choose to duplicate automation from the same three-dot menu by pressing "Duplicate Automation"! Clicking on this will open up the automation editor, where you can edit the automation if you wish. To complete the duplication, make sure to select the blue "Create Automation" button, and you'll be good to go!
Save an automation as a template- You can save your own custom recipe as a template and make it available for anyone to use in your monday.com account. To do so, click on the three-dot menu to the right of the automation, select "Save as a template", give it a name, and click "Create Template" to save it.
Delete unwanted automation- Should you wish to delete an automation recipe, you can also do so from the same menu by clicking on "Delete Automation" and then "Delete Permanently".
4. Docs
Monday.com provides docs to enable users to integrate their work by collaborating with team members to help in editing, sharing comments, etc. The docs allow you to harness the power of your team with live collaboration. You can easily edit the content in real time without disrupting your team members. Docs allow you to execute plans into actionable items that help you to lose your thoughts and ideas in one place inside the platform, where all your work is stored. You can add a new word document just like adding a new board or dashboard.
There are three types of workdocs
Main doc- Main docs are available to anyone that is a team member having access to your account. Here, a team member can be an admin, member, or viewer.
Private doc- Private docs are seen only by the person who has created them. The user can invite other members to join in and get access to it. These docs are available to only internal users, so you can invite guests to them.
Shareable doc- A shareable doc is used when you want to share a doc with people outside the team- clients, interns, or freelancers. You can invite people as guests within your account to collaborate with them. The guests who you've invited give get permission within the document. However, they don't have access to any other information within your account.
Organizing and managing the doc is simpler than ever. Your docs can be arranged with utmost efficiency based on the table of contents. The table will be generated automatically from all headings, similar to Google Docs. You can open and collapse it freely, making use of the arrow to the left below the doc's header.
The best way to connect work docs into your workflow is to turn your text into items on any board as you type. The version history of the platform allows you to see the progression of your docs and gives you the ability to restore to older versions. This gives users excellent transparency and flexibility to your team. Further, you can connect the docs across the board, create new docs or even access your own doc template in your files. This feature will take your collaboration capabilities to a whole different level.
The docs can be customized with a unique header, layout, font style, or size. You can also check different font styles, adjust the width layout or add a background color. The default settings can be reset if you think you made a mistake during the process.
5. Kanban
Kanban is a project management technique that helps manage your work to prioritize tasks and balance demands according to the available capacity. It helps you see the pain points at a glance to make sure you are utilizing its best resources. Kanban is one of the oldest and most popular techniques that is used across a range of industries due to its simple structure and flexibility.
Kanban is easy to use and is fully customizable and scannable. You can use its templates or create one to get a great visual appeal. Further, you can automate grunt work to release quality work faster and stay on top of your work. The data that comes with the software is easy and understandable for good decision-making. It helps manage workflow and communication by automating repetitive tasks by putting all the communication updates in a single place. You can easily track iterations, backlogs and analyze where your team stands against each milestone.
6. Gantt
Gantt is a horizontal bar chart that is a go-to tool for scheduling and planning a project. Each bar on Gantt represents a task, while its dates are laid out horizontally. The tool is great for visual tracking, planning, and execution of different tasks.
Commonly called project schedules, these are the classic way of showing activities that are displayed against a set time. Based on Henry Gantt's original design, it has today evolved into Karol Adamiecki's harmonograph.
The simple purpose of the Gantt chart is to track your deadlines so you are able to complete your target on time. They allow you to simplify complex projects and their KPIs with the utmost efficiency. Project management using the Gantt charts can include anything from resource management plans to killer marketing campaigns. Understanding the scope of the project and requirements is easier using a Gantt chart as they provide a visual representation of your project at any stage, including its priority, task dependency, and ownership. With this tool, everyone on your team will know what they will need to work on and how it will impact your overall project.
There are 4 components in a Gantt chart
Dates/milestones- The date and duration of each task are often displayed in days, weeks, or months, but you can also represent it in minutes or hours. Here, the current day and time are usually highlighted.
Tasks/items- There are individual activities that are available at various stages of completion. Each of these tasks can stand on its own, and in the case of monday.com, it allows you to group tasks together to create sub-items.
Owner- The owner is the person who is responsible for a task. This can be more than a single person or the entire team.
Bars and columns- Bars help communicate the duration of a task, while columns represent actual dates.
The structure of a Gantt chart includes something called as a critical path. The path refers to a phenomenon in which any individual task can cause a delay in a related sequence of tasks, so you can push back a project's overall end date. The critical path method is an approach used by several project managers to determine the longest sequence of tasks to ensure your project is a success. These charts help you to quickly visualize what tasks are auxiliary, which are critical, and are vital to the delivery of a project happening at a time. After you know the critical path, you can set deadlines for every individual task.
There are several platforms that allow you to create a Gantt chart or just provide users with ways to configure it. Monday.com gives users access to dynamic features that enhance the Gantt chart on top of its robust platform:
Drag and drop- Easily drag and drop events on the horizontal or vertical axis as things will change instead of starting from scratch. This will save you time and give you flexibility, allowing you to work for any team.
Statuses- The status will represent what stage each task currently resides in and can be customized to suit your needs as well.
Multiple assignees- The Gantt chart helps you to focus on your people, not just your tasks, and helps you assign it to your teams.
Milestones- A milestone indicates the overarching tasks that don't have a specific duration and mark the end of a certain part of a project.
Vertical line marker- The versatile feature moves with you and makes it easy to see exactly where the project is between the start to the end date.
Dependencies- Indicate which tasks cannot be started until another task is completed.
Monday.com allows you to create a Gantt chart in a few steps
Ensure your board has a Timeline Column and a Dependency Column
Select Add View to the Gantt
Your tasks are now organized in a single Gantt chart, and you will need to be more creative on the fly with edits and it has cool features like Baseline.
7. Files
Managing your files with monday.com is very simple and easy. Just upload your files, share them with your team members, and collaborate on them to improve your workflows for optimum efficiency. The annotation feature allows you to make comments and communicate with your team members. You can stay updated with the latest version and eliminate messy docs in a coherent timeline, adding versions as you work and spotting the current version at a glance.
There are four ways you can upload files and documents on monday.com Updates section, Status box, Files column, and Files gallery. All the files can be viewed and accessed in a single place in the Gallery, or you can view them from your board using the Files Gallery View.
In case you have multiple files uploaded, then you can download them all at a single time using a zip file. Anyone that has access to your board will allow to download and edit files. If you want the files to be restricted, then you can add them to the Files Column. Admins of the account can enable or disable the link previews in the updates section. However, the maximum file size of each item is 500 MB. If you want to add files bigger than that, you can create a zip file and upload it in a zip file, Google Drive, Dropbox, etc. Currently. HTML files are not supported on the platform, and the best way to handle it is by creating a zip file and uploading it.
8. Forms
Access to data is key to every business on the planet, and many businesses turn to forms to collect data. You can see this everywhere, but what is its importance in the realm of project management? The powerful form tool allows you to collect data from your clients, teams, customers, or stakeholders.
Monday.com has an intuitive form creator that allows you to collect data without requiring any coding. To create a form using the platform, you will need to create a board and set the columns and fields that make complete sense for your project. After that, you can create an intuitive form in a few clicks based on your board and share it with your clients. Each response that you receive allows you to create a new item on your board.

Monday.com form options include:
Contact- Collect leads easily by embedding this form directly on your website.
Job application- Easily manage your job applications and record the contact information from candidates in a single place.
Order- Streamline the relevant order information and customize it with utmost efficiency.
Work request- Efficiently service requests of teams in your organization.
I know that you would love to use monday.com forms, but there are other forms you can integrate with the platform. Commonly the integration options available with it are:
Typeform- The platform makes use of conventional forms and surveys to engage your audience. It is a great way to display and analyze the collected data with utmost efficiency.
JotForm- JotForm is a great custom online form and data collection tool. This allows you to get better information to better manage leads, distribute surveys, collect payments, and much more.
The key to both integrations is their automation. This automation helps you with repetitive work. Now you can instantly send emails when the due date arrives, receive notifications from your team when tasks are completed, and much more.
9. Security
Security and privacy are very important when dealing with information that could damage a company if it is leaked. It is important that a company hosting your data is fair and reliable. However, security and privacy are two important aspects that monday.com will get right.
Monday.com is committed to keeping its customer data safe by aligning with strict security measures in the market, so you can be assured your data is always secure. The platform makes use of AWS technology to securely store your data and keep it safe. It further caters to strict security standards that include multiple ISO protocols, HIPAA, SOC 1 Type II, SOC 2 Type II, Soc 3, OWASP Top 10 framework, GDPR, and Cloud Security Alliance's best practices. The platform encrypts your data with AES-256 or better, and the traffic is encrypted with a minimum of TLS 1.2.
Monday.com maintains multiple defense layers, such as firewalls, DDoS mitigation, rate limiting, NIDS sensors, advanced routing configuration, and logging of network traffic. It also does vulnerability assessments, end-to-end testing, unit testing, and static code analysis to ensure the application remains secure.
The privacy policy of monday.com is on the same lines as other project management software, which is not perfect, but it is better than most others. The company collects a large amount of data from you; however, they don't sell it. The platform will utilize the data to improve the software and send targeted ads, which is on par with the course these days. Further, the tool is GDPR certified, so it caters to targeted ads if you are based in Europe. As a result, you can make use of monday.com without worrying about what is happening to your data behind the scenes.

10. CRM Software
Most of the features of monday.com relate to project management; however, it works well with customer relationship management (CRM). In case you are running a small business or managing data related to customer relationships can be a challenge. The platform will allow you to simplify the process, and the CRM tool allows you to expand with you and grow your small business. You can start with a simple CRM management features and slowly expand to areas where you require more help as you learn to use the platform.
11. Mobile and Desktop App
Project managers who don't enjoy working with browser-based software or those who travel a lot will enjoy the desktop and mobile versions offered by monday.com. The desktop version that is available for Windows or macOS is one of the best project management software for Windows. The fully featured app gives users access to a range of integrations, communication tools, and automation.
The mobile app is available for Android and iOS devices. The tool is not feature-laden like the other versions of the platform. With the app, you can collaborate with your team right from the palm of your hand. You can easily build boards and communicate with your team members effectively using the app anywhere across the globe.
12. Integrations
Monday.com becomes more potent with its third-party apps and integrations. These integrations enhance the overall performance of the platform. The most common integrations available with monday.com are Google Drive, Excel, Gmail, LinkedIn, Slack, Microsoft Team, and much more. The platform allows you to set up integrations in just a few clicks. You just need to use the recipes of the tool with ease without requiring any code. Further, it has recommendations for teams to help teams manage and execute projects that will deliver results on time. Through these features, you can centralize your entire sales pipeline to manage all your marketing needs in a singular place.
13. Reporting and Analytics
The reporting and analytics feature of monday.com gives users visibility into the sales pipeline and helps identify important trends and opportunities in your business. You can check the data from the platform using three parameters with stacked charts. Here, you can add benchmark or cumulative data to show how the data you are reporting will progress over time. The analytics tool is great to get a clear picture of the workload of your team and see how your work is divided. You can also share the analytics and reports with your team members or clients and get to know what is happening in your business.
14. Customer Support
Monday.com has excellent customer support 24/7 in case you are facing any issues. You can get access to support through live chat, email, and even request a live call to get better solutions to your problem. If you have the Enterprise plan, then you get access to a customer success manager, and once you pay for 25 or more users on its yearly plan, you get tailored onboarding.
The platform also has a help center where you get access to tutorials or guides on how to use the tool. Apart from this, their blog lets you explore the latest news about the platform and offers tips on how you can implement that in your program for better efficiency.
Monday.com Pricing
Monday.com offers flexible pricing options that will fit all your team's needs. The platform offers a variety of plans that can accommodate different team sizes and budgets. The minimum team size is 3, but you can get access to 200+ users. All the paid plans come with a 14-day trial period where you can check their features and see if they fit your requirements. I'll talk about the plans in detail below.
Click Here To Try monday.com For FREE
1. Free Plan
Monday.com has a forever free plan where you get generous offerings without any cost. It is designed for individuals planning to keep track of their work and gives access to up to 2 seats. The features of the plan include:
Up to 3 boards
Unlimited docs
Access to 200+ templates
Over 20 column types
Up to 2 team members
Supports iOS and Android apps
2. Basic Plan
The Basic plan, as the name suggests, is the basic paid plan of the platform. It is a great choice to manage all your team's work in a single place. The plan is priced at $8 per seat per month. It includes all the features of the Free plan plus
Unlimited free viewers
5 GB file storage
Access to unlimited items
Create a versatile dashboard based on 1 board
Priority customer support
3. Standard Plan
The Standard plan is the most popular plan offered by Monday.com. It is a great plan that will help you collaborate and optimize your team's processes. The plan is priced at $10 per seat per month. It includes all the features of the Basic plan plus
Timeline and Gantt views
Guest access
Calendar view
Automation with 250 actions per month
Create a dashboard to combine up to 5 boards
4. Pro Plan
The Pro plan is a powerful plan offered by the platform. It allows you to streamline and run your teams having complex workflows. The plan is priced at $16 per seat per month. It includes all the features of the Standard plan plus
Private boards and docs
Time tracking
Chart view
Formula column
Dependency column
Automation with 25,000 actions per month
Integrations with 25,000 actions per month
Create a dashboard to combine up to 10 boards
5. Enterprise Plan
The Enterprise plan is a custom plan offered by the platform. It is great for organizations that are seeking enterprise-grade features. The plan has all the features of the Pro plan plus
Enterprise-grade automation and integrations
Advanced reporting and analytics
Enterprise-grade security and governance
Tailored onboarding
Multi-level permissions
Premium support
Create a dashboard to combine up to 50 boards
Pros and Cons
Pros
Diverse project and automation options
Excellent user interface
Easy to learn and operate
Highly customizable templates
Built for multiple users and every team member can access the project
Great flexibility in the project through various column, and view types
In-built time tracking feature
Powerful communication tool
Facilitates collaboration with global teams
Good 24/7 customer support
Cons
Limited task dependency
Pricing complexity
The lower plans are a bit limited
Lacks some integrations
Is Monday.com a Good Project Management Software?
Monday.com is a powerful project management solution that offers a great user experience. The tool is an excellent choice for teams of all sizes across different industries. Its visually appealing interface and outstanding customization opportunities make it a great tool to empower your teams to manage work with the utmost efficiency. Compared to other project management tools, it offers a range of tools with several third-party integrations. It also has great customer support with top-notch training resources that you can follow. Finally, its security and privacy make it very reliable in the market today.
Click Here To Try monday.com For FREE
monday.com Review FAQs
1. Can I change my plan on Monday.com?
Yes, you can change your plan whenever you want. You have the full liberty to change your plan type and add or remove users. However, you have a 30-day refund policy, after which there are no refunds for downgrades. If you want to change your plan, simply head over to the admin section and click on the Billing option. From there, you can click change plan and choose your desired plan.
2. Does Monday.com have a free version?
Monday.com has a free plan that is an ideal choice for freelancers and individual professionals that are starting out. Additionally, it has a 14-day free trial for its paid plans except for the Enterprise plans.
3. Is Monday.com support mobile apps?
Yes, the platform supports both IOS and Android devices. You can download it from the App Store and Play Store.
4. How secure is monday.com?
Monday.com has advanced security measures that help preserve the integrity and privacy of your data. The platform adheres to strict data protection and is built with internationally recognized security standards and protocols in a single place, like ISO/IEC 27001 and ISO/IEC 27018. Apart from this, the platform undergoes annual security audits and assessments.
Read Next
Best Project Management Software Reddit