MailChimp is one of the most popular email marketing tools out there! In fact, it's the first email marketing tools I used where I built my first email list on my travel blog mainly due to the fact that it has a free plan.
However, when I wrote my article on the best Autoresponders 2021, I recommend Mailerlite over Mailchimp. Why is that?
Well, by the end of this article you'll understand why after 3 years of email marketing experience (with pretty much every tool) I recommend Mailerlite over Mailchimp as a budget choice.
Click Here To Try MailerLite For Free
Mailerlite vs MailChimp
Both MailChimp and Mailerlite are popular among popular for one single fact: FREE
However, MailChimp's Free plan allows you to have an email list of 2000 people while Mailerlite only allows 1000 people.
So Mailchimp wins this right? Thanks for reading this article, don't forget to let share this article!
HELL NO!
Just because Mailchimp gives you more people in their "free" plan doesn't mean you're better off. You have to think about the longer term.
For example, let's say you're on paid plans with both MailChimp and Mailerlite For a list of 5000 people
MailChimp Standard costs $75/month
Mailerlite costs $21/month
That's a massive difference! The moment you start paying MailChimp is actually 3x more expensive than Mailerlite!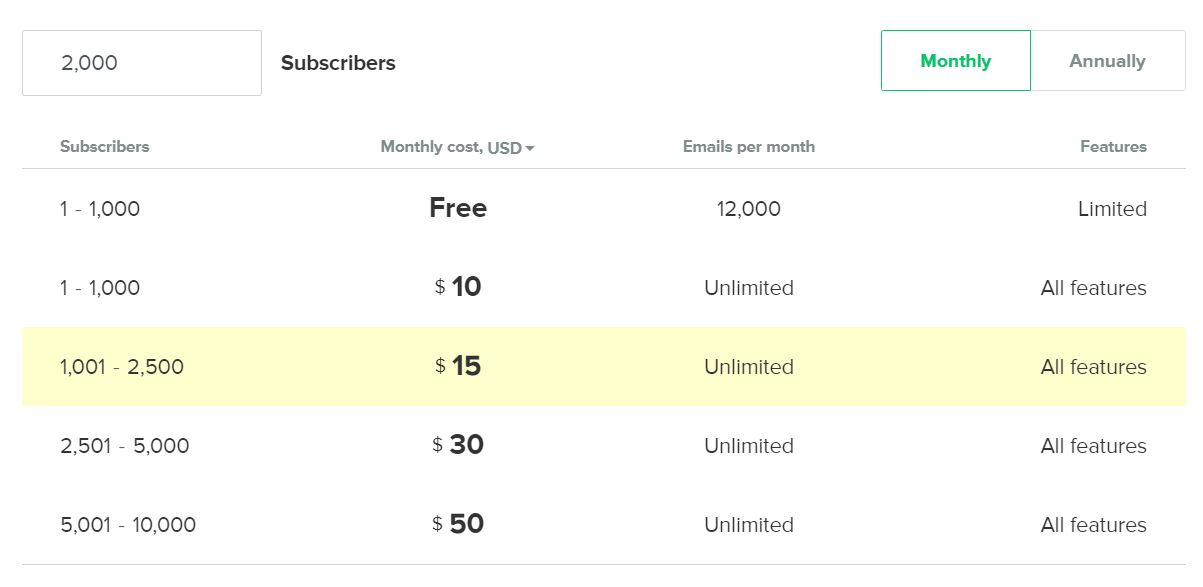 So, if you're going to have less than 2000 people on your list and never paying for Mailchimp then it might be an alright choice.
However, if you are planning on growing your subscribers than I'd recommend going to Mailerlite.
Click Here To Try MailerLite For Free
But if Mailchimp's more expensive then that's got to mean that MailChimp has more features than Mailerlite right?
Well, in all honestly not exactly. In fact, the opposite is true!
But hey! Before we dive into the comparison let's talk about each tool individually!
About MailChimp
MailChimp is the largest email marketing software, so it's not surprising if you have heard of them or if you have seen their ads. They're EVERYWHERE! It's also one of the oldest email marketing corporation. I mention corporation because it's literally "the big old company" in the industry.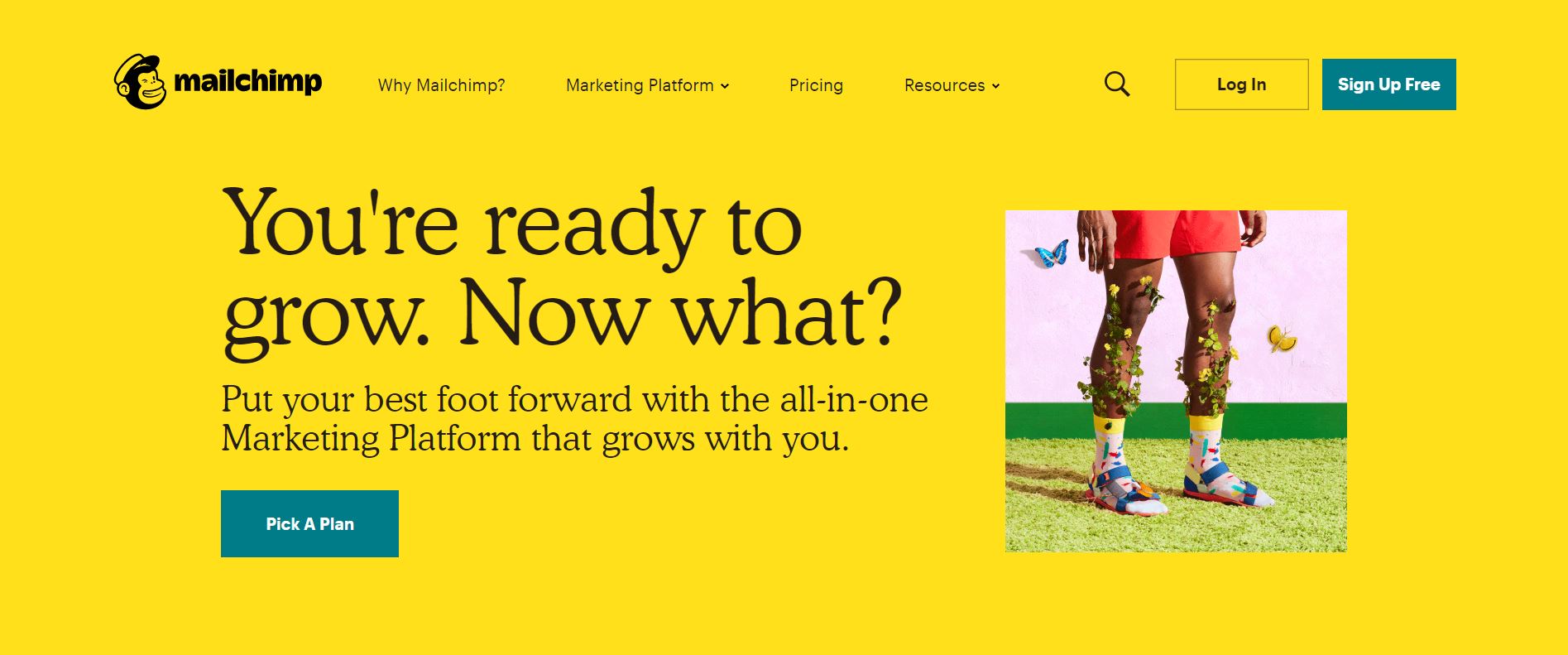 Now being a big company isn't a big deal but I personally like shopping from and supporting small indi companies.
About Mailerlite
Mailerlite, on the other hand, isn't as big as MailChimp as it's only been around since 2010.
Fun fact; MailerLite was created after reading Rework by Basecamp
MailerLite is a team of 46 designers, developers, writers, speakers, photographers, salsa dancers, surfers, chess players, world travelers, dreamers, and genuinely nice people.
As most of the companies I like & work with, half of the company is completely remote and located all over the world like Bali and Thailand 🙂
Click Here To Try MailerLite For Free
MailChimp vs Mailerlite: Features
Automation
Automation is the most crucial point in any online business and especially with online marketing. Never do something that you can get a robot to do. MailChimp and MailerLite both come with automation features.
You get automation on all of MailerLite plans (paid and free), however with Mailchimp, their cheap plans don't have that much automation like, personalized product recommendations and purchase follow-ups and also behavior follow-ups based on link clicks, etc. unless you pay for their "Standard" plan that starts at $15/month for 500 subscribers.
MailerLite has all the automation features that Mailchimp has along with more advanced features like, Advanced Segmentation, Interest Groups (Tagging), Auto Resend, Deliver by Time Zone on all paid plans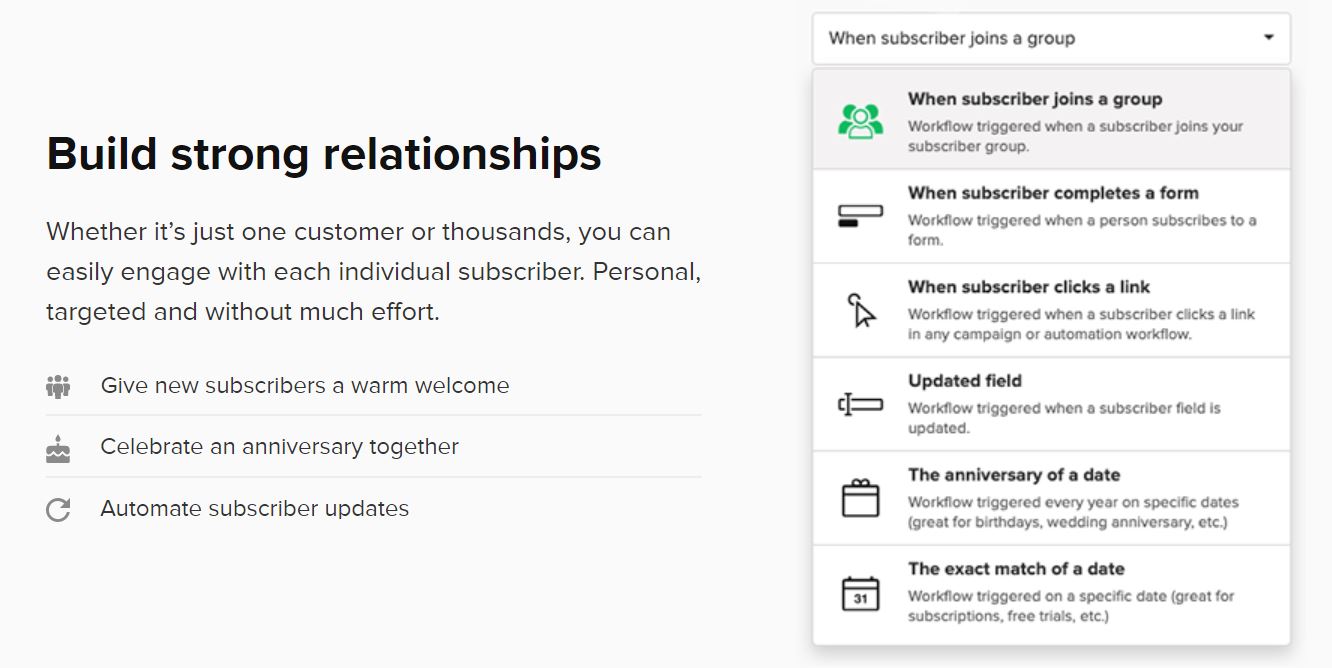 Deliverability
The worst thing that can happen to any email marketing campaign is the failure of your email of actually arriving. They're many reasons for this, but your email landing in the spam folder of your audience can be fatal.
That's why email marketing tools like MailChimp and  MailerLite use abuse-detecting technology to help you write better email.
You can also get a dedicated IP for your MailerLite account for $50/month. While starting out I wouldn't recommend, it's a good investment if you send a lot of emails.
A/B Testing
Always be testing! A/B is crucial in any part of online marketing. From the subject line to the content and the CTA, you want to be testing every part of your emails.
MailChimp offers a basic A/B split testing of 3 different variables (different subject line, content and send time) on all paid plans.
Mailerlite has A/B Testing on all plans (including FREE) that allows you to test more variables like email subject, sender details, email content or even your design.
Click Here To Try MailerLite For Free
MailChimp vs MailerLite: Ease of Use
Mailerlite has one of the easiest to use interface in the Email Marketing Space! While MailChimp is often called the 800-pound gorilla as it has an interface that can be a little complicated and overwhelming for someone just starting out.
Mailerlite comes built-in with many professionally designed email templates that you can import and modify with the drag and drop editor to make your emails looks exactly the way you want them to!

MailChimp vs MailerLite: Analytics
Reporting and Analytics are very important to keep in mind with any marketing campaign to see what works and what didn't. Both Mailerlite and MailChimp comes with all the analytical data that you need, ie click-through rate, open rate, bounce rate, and other metrics.
One big plus with the Paid plans of Mailerlite is that you get premium features like Clickmaps and Opens by Location
MailChimp vs Mailerlite: Integrations
MailChimp offers over 300 integrations and MailerLite has around 100 integrations.
Honestly, at that point, the numbers don't even matter. In fact, both of them even integrate with Zapier thus connecting them with literally "EVERY integration" out there. We've reached a point of peak integration and it doesn't matter what tool or service you use or are planning to use.
Both MailChimp and MailerLite will work and integrate with them!
MailChimp vs MailerLite: Support
Both MailChimp and MailerLite have email and live chat support in their basic paid plans.
Mailerlite has email support even in their free plan! While MailChimp has only 30 days of Email Support for their free plan.
MailChimp vs Mailchimp: Pricing
MailChimp has 4 different plans:
Free – Up to 2000 subscribers and you can send 10k emails every month (that's only 5 per person!)
Essentials (starts at $10/month for 500 subscribers) – Up to 50k subscribers (@$259/month) and you can send 500k emails every month. Comes with reporting, A/B testing, and Single-Step Automations.
Standard (starts at $15/month for 500 subscribers) – Up to 100k subscribers (@$500/month) and you can send 1.2M emails every month. Comes with Automation series, Retargeting ads, Custom templates, and advanced audience insights.
Premium (starts at $299/month for 10k subscribers) – Up to 200k subscribers (@$1099/month) and you can send 3M+ emails every month. Comes with Advanced segmentation, Multivariate testing, Unlimited seats, and Phone support.
MailerLite has 2 different plans (Simple!)
Free – Up to 1k subscribers and you can send up to 12k emails/ months (12 email/person)
Paid – Starts at $10 every month for 1000 subscribers. You get all the features no matter how much you pay! The "Per subscriber" cost goes down as your list grows. For example, a list of 100k costs $350/month (ie $3.5/1000 subscribers vs $10/1000 at the base plan)!
Click Here To Try MailerLite For Free
MailChimp vs Mailerlite: Who Won?
Honestly, this is the easiest decision
If you run a small email list <2000 emails and you don't plan on EVER paying for an email marketing tool or growing your list (which is crazy) then Mailchimp works for you.
However, if you're looking for an email marketing tool that'll scale with you and your business needs. I'd recommend using MailerLite
Click Here To Try MailerLite For Free
Read Next: