If you're looking for an Alternative to Mailchimp or a budget email marketing tool, you've probably come across MailerLite. In this MailerLite review, I'm doing to dive into the pros and cons of Mailerlite, and why it's actually better than MailChimp!
Click Here To Try MailerLite For Free
MailerLite Review
When you get started with email marketing it can be a little overwhelming with all the tools and autoresponders. Also as you go into the pricing you see what most tools like Aweber and Convert Kit start at $20+/month which is a hefty price for someone just starting out.
So what do you end up doing?
If you ask 1000 bloggers who'll find that 90% of then will either sign up for MailChimp or just not build an email list.
Why is that?
Well, MailChimp is a huge company and spends A lot of money on advertising and people think that cause it's free that it's the best choice.
MailChimp's free plan allows you to have an email list of 2000 people while Mailerlite only allows 1000 people.
But just as I mentioned in my article on Mailchimp vs MailerLite.
Just because Mailchimp gives you more people in their "free" plan doesn't mean you're better off. You have to think about the longer term.
For example, let's say you're on paid plans with both MailChimp and Mailerlite For a list of 5000 people
MailChimp Standard costs $75/month
Mailerlite costs $21/month
That's a massive difference! The moment you start paying MailChimp is actually 3x more expensive than Mailerlite!
So, if you're going to have less than 2000 people on your list and never paying for Mailchimp then it might be an alright choice.
However, if you are planning on growing your subscribers than I'd recommend going to Mailerlite.
Click Here To Try MailerLite For Free
About MailerLite
Mailerlite is a young European company that's only been around since 2010. Before that, it was a web design agency since 2005.
Fun fact; MailerLite was created after reading Rework by Basecamp
MailerLite is a team of 46 designers, developers, writers, speakers, photographers, salsa dancers, surfers, chess players, world travelers, dreamers, and genuinely nice people.
Just like most of the companies I like & work with, half of the company is completely remote and located all over the world like Bali and Thailand 🙂
They're mainly marketed as an email marketing service for bloggers and small business owners. However, even a micronation uses MailerLite 😛
Just like MailChimp, they offer a free plan, however, even as your business grows and expands. MailerLite rates are extremely competitive.
For a list of 15,000 people, MailerLite only costs $50/month. In comparison, most email marketing tools (including Mailchimp) cost over $150 for a list of that size (that's 3x cheaper than their competition)
Click Here To Try MailerLite For Free
MailerLite Features: Pros & Cons
1. Easy to use
Mailerlite is built with the idea of keeping things easy and simple. They have a simple Drag & Drop editor that allows you to build professional and beautiful newsletters on your own without having to ever touch a piece of code.

Their UI also makes it super easy to launch your first campaign. It's not too cluttered with too many features that most small business owners just don't need.
One of the reasons MailerLite's product is soo well designed is because out of the 46 people employed over 15 are either designers or developers (as of the writing). That's over 33% of the company just focused on the product, instead of marketing which is great to see.
2. Pre-made templates
Instapage comes built-in with conversion-optimized, use-case based templates that you can easily import into your site.
You can get templates for:
E-commerce
Deals and Offers
Blog and updates
Events
Photography
Notifications
You can also easily modify the newsletter using the drag and drop builder. Launching an email marketing campaign has never been easier.
3. Integrations
One big plus with using MailerLite is that it has nearly 100 integrations.
In fact, it integrates with Zapier thus connecting it with literally "EVERY integration" out there. We've reached a point of peak integration and it doesn't matter what tool or service you use or are planning to use MailerLite will work with it.
4. A/B testing
Mailerlite has A/B Testing on all plans (including FREE) that allows you to test variables like email subject, sender details, email content or even your design.
5. Automation
You can get basic automation features on all of MailerLite plans (including free).
You can get even more advanced features like, Advanced Segmentation, Interest Groups (Tagging), Auto Resend, Deliver by Time Zone on all paid plans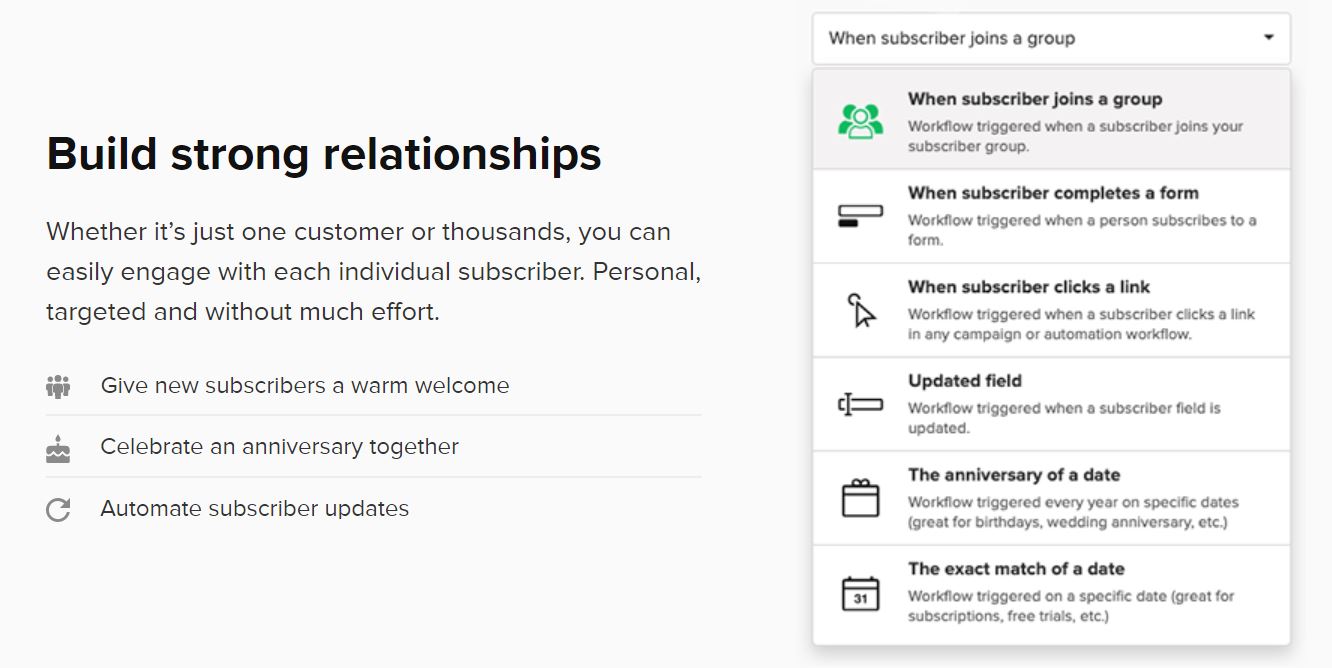 6. Easy Detailed Analytics
Reporting and Analytics are very important to keep in mind with any marketing campaign to see what works and what didn't. Mailerlite comes with all the analytical data that you need, ie click-through rate, open rate, bounce rate, and other metrics.
One big plus with the Paid plans of Mailerlite is that you get premium features like Clickmaps and Opens by Location
7. Support
MailerLite have email and live chat support in their basic paid plans, and you can get email support even in their free plan! Which is usually unheard of in the industry.
Click Here To Try MailerLite For Free
---
MailerLite Pricing
MailerLite has 2 different plans (Simple!)
Free – Up to 1k subscribers and you can send up to 12k emails/ months (12 email/person)
Paid – Starts at $10 every month for 1000 subscribers. You get all the features no matter how much you pay!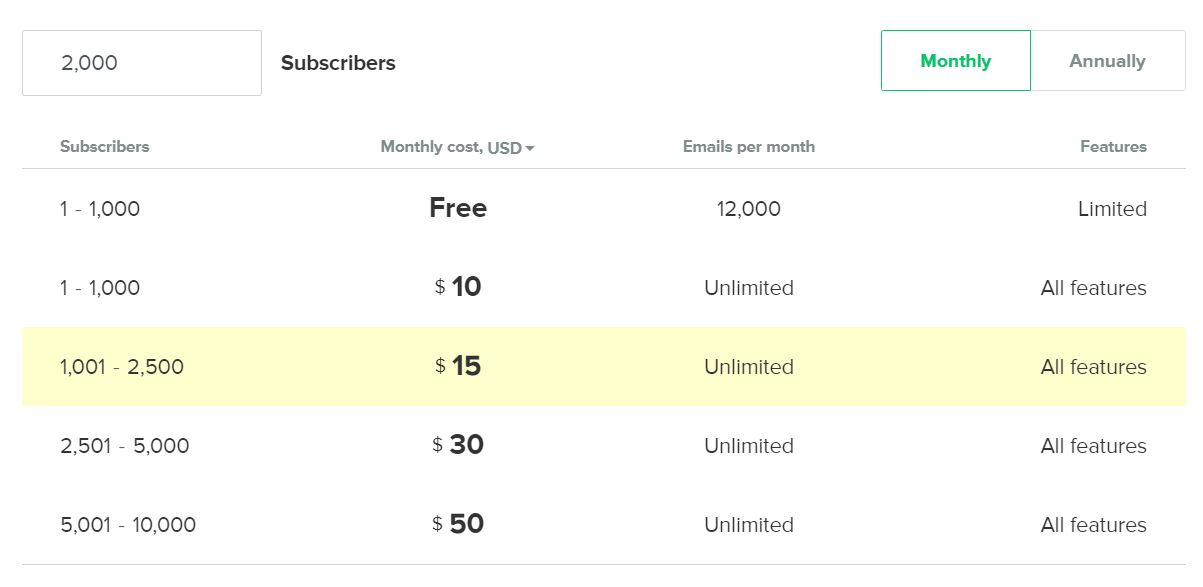 The "Per subscriber" cost goes down as your list grows. For example, a list of 100k costs $350/month (ie $3.5/1000 subscribers vs $10/1000 at the base plan)!
Click Here To Try MailerLite For Free
MailerLite Discount Code
They're many websites on the internet making misleading offers such as:
MailerLite Coupon
MailerLite Discount Coupon
MailerLite Discount Code
MailerLite Discount
MailerLite Coupon Code
MailerLite Coupons
MailerLite Code
MailerLite Promo Codes
However, the truth is that Mailerlite does not offer any coupons or discounts to anyone!
However…..
You can get a discount on MailerLite if you decide to pay Annually instead of Monthly! If you decide to pay annually instead of monthly you will save 30%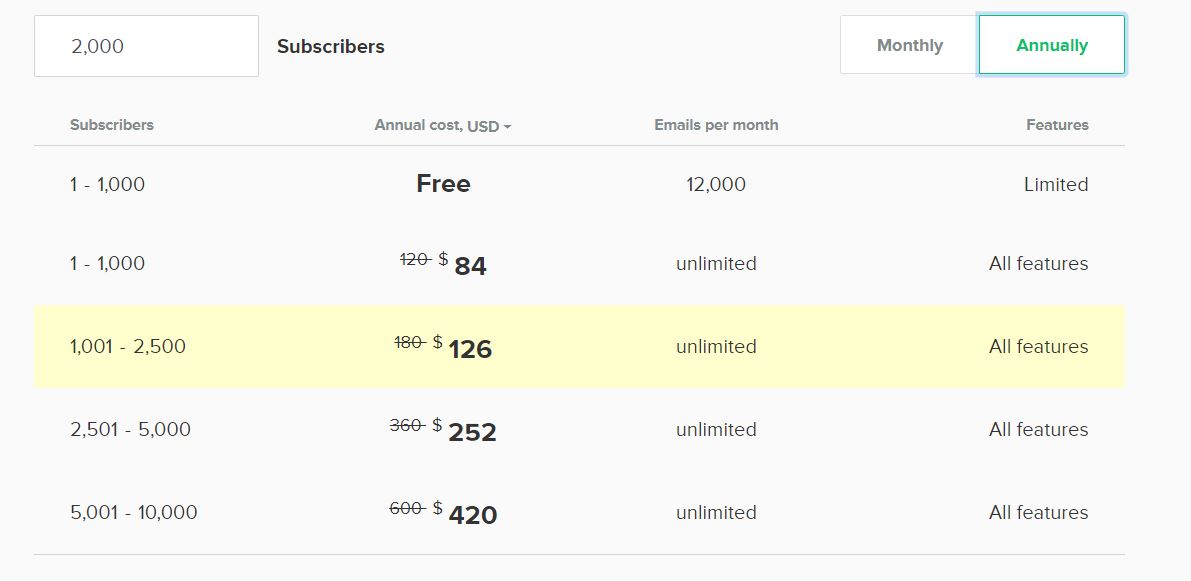 Simply click the link below and pick "Annual"
---
Is MailerLite Worth It?
The answer is definitely YES! For the price, Mailerlite provides an insane amount of value. It's without a doubt the best budget email marketing tool on the market.
Click Here To Try MailerLite For Free
I hoped you enjoyed my MailerLite Review, let me know your thoughts below in the comments 🙂
Read Next: