If you are thinking of kickstarting your online business, you'll probably be knee-deep in your research. It is easy to be absorbed in the ocean of tools and software geared toward entrepreneurs. Many of the tools focus on marketing, automation, generating leads, and fostering a loyal community around your brand.
In the ever-evolving landscape of online course platforms, two of the prominent tools are Kartra and Kajabi, which have emerged as powerful contenders. Each of them offers valuable marketing and sales capabilities that are tailored for knowledge entrepreneurs.
In this article, I've taken a deep dive into the intricacies of these platforms, carefully checking their strengths and weaknesses to find which is best for your business.
Kartra Overview
Kartra is an all-in-one platform that combines digital marketing tools to offer a complete online business solution. It helps enhance the online presence and streamline the management of various businesses. The online course platform of the tool allows you to create courses, but it is a great place to sell different types of digital and physical products.
Click Here To Try Kartra For Free
Kartra is a business tool that helps users irrespective of their expertise or technical knowledge. The platform allows users to create websites, landing pages, online courses, or email marketing even though they have no programming or coding skills.
The core features of Kartra are
Drag and drop builder for landing pages and websites
Opt-in forms
Email marketing and automation
Membership sites
Marketing and sales funnels
Interactive videos having advanced features
Complete helpdesk solution
Marketplace to sell your sales funnel templates
Affiliate management
Pros
High-converting landing pages
All-in-one solution housing all marketing and apps in a single place
Expertly designed campaigns helping boost your marketing efforts
Hundreds of well-optimized templates
Interactive video hosting
Excellent integrations
Helpful and knowledgeable support
Cons
No auto-save option
Lacks white label functionality
Blogging features are limited
Kajabi Overview
Kajabi is an online business platform that empowers content creators and knowledge entrepreneurs to build and market their digital products and online courses. Its user-friendly interface and advanced features allow Kajabi to have a seamless solution to create and monetize educational content.
The platform has intuitive course-creation capabilities, allowing users to develop and structure their online courses, from organizing lessons to uploading multimedia content in the form of PDSs, videos, and quizzes.
Like Kartra, Kajabi doesn't require any technical expertise or coding skills to design websites. The drag and drop builder helps create amazing websites and landing pages for your courses.
The core features of Kajabi are
Drag and drop landing page builder
Responsive website themes
Email marketing and automation
Marketing and sales funnels
Quizzes and assignments
In-depth analytics
Behavioural tagging and automation
Pros
All-in-one online course platform
Drag and drop site editor
Built-in email marketing tools
Marketing automation and email marketing tools
Robust sales funnel
Cons
Higher than average prices
Lacks an in-built payment function
Limited helpdesk tools
Kartra vs Kajabi
1. Web Page Builder & Editor
Kartra and Kajabi empower you to create robust web pages to host content for your users. Both tools have great web page builders, which we'll look into in detail below.
Kartra
Kartra doesn't provide a selection of themes that users can use to get going. However you can rely on its powerful page builder to create your website with over 200 templates to create specific web pages, may it be your homepages, sale pages, or more. The design features are refreshingly varied, and after you have picked the template, you can easily create and edit them using the drag and drop editor of the tool. The editor lets you function without needing any technical or programming expertise.
Kajabi
Kajabi has six themes that allow you to start with a website template and customize it as you see fit, which will dictate the overall appearance of your website. You can, however, easily import and use your own custom themes as you wish. Inside the overarching themes, each page is customizable.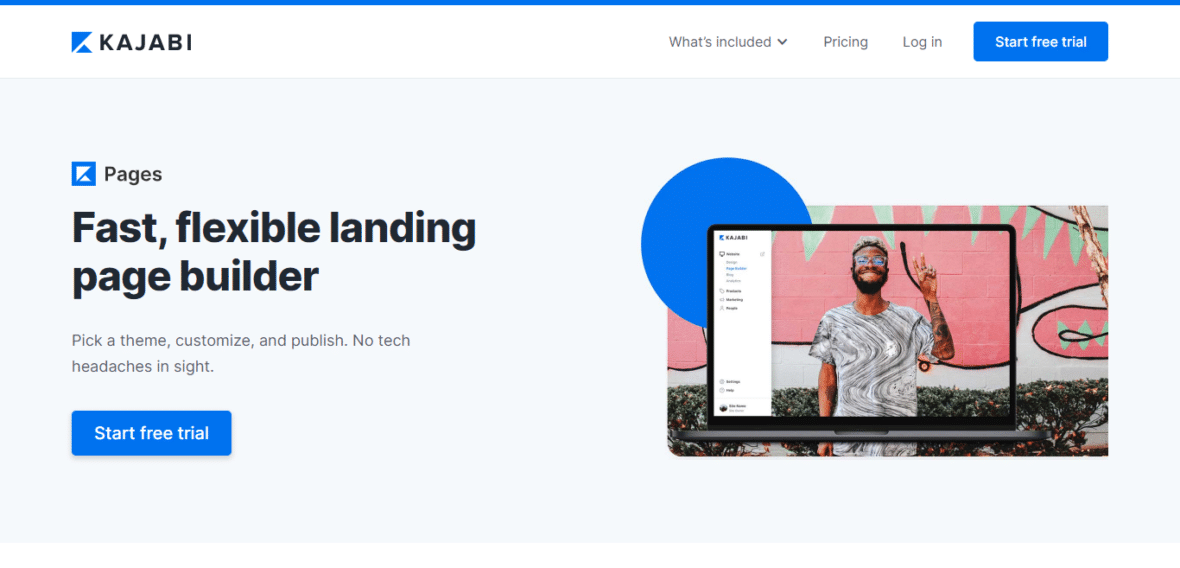 The tool has an additional 20 pre-designed templates, which let users customize their website and pipeline pages. The range isn't that huge, but the templates have a clean and professional outlook. Once you have selected the template, you can dive into the page builder and choose from over 40 site elements to help bring your vision to life.
Verdict
The clear winner in this aspect is Kartra. When it comes to the design features of the platform, Kartra has the upper hand. However, they don't have their own blogging functionality. Kajabi allows you to build and manage your own blog, where you can create posts and add content. However, the features offered by Kartra make it a clear winner in this aspect.
Click Here To Try Kartra For Free
2. Course Creation
Course creation features are very handy for the success of your online business, so let us look at this aspect for both tools and see how they fare against each other.
Kartra
Kartra allows you to build courses and memberships for your eLearning platforms while having the ability to sell physical and digital products.
The tool has a drag and drop builder, which is extremely easy to use, allowing even beginners to create beautiful and customizable courses within minutes. They have several predesigned course templates, so you don't need to design your course pages or websites from scratch. These templates can be mobile-optimized and can be easily aligned to the best practices for building effective courses.
Kartra uses categories for modules and posts on lessons in a course. You can make use of audio, text content, and PDF as your course content. There is also an option to add downloadable files in each lesson alongside links to additional reading materials, CTAs, etc.
The course builder of Kartra lets you drip content for membership sites so that your students stay engaged all the time. You can also set content access levels to restrict content for different user bases.
Overall, Kartra has the necessary course-building tools needed to launch all the courses for your business.
The main overview of the platform's course creation features are
Drag and drop membership builder
User access levels
Custom branded membership sites
Upload and embed your videos or files
Drip content
Kajabi
Kajabi course creation and builder is intuitive and easy to use. The tool allows the creation of high-quality courses and membership using its drag and drop elements.
To create a course, you can start by choosing one of its product templates. The courses are divided into lessons and modules. They can be uploaded in the form of videos, audio, texts, and PDF content.
The platform also gives you the ability to change the look of your lesson pages by adding your logo and header images. There is an option to add additional downloadable files and links for your students. Apart from this, it also has several automation features that you can add to every lesson.
Overall, Kajabi's course builder is simple to use and offers a more traditional course platform look.
The main overview of the platform course creation features are
Custom domain
Unlimited views
Private conversations
Embed in memberships
Real-time notifications
Email notifications
Verdict
When it comes to course creation, you may say that Kajabi's builder is simpler than Kartra as it has a more traditional course platform look. However, it lacks the flexibility that Kartra's fully customizable lesson pages offer. So, I'll call it a draw between both these platforms in this aspect.
3. Learning and Engagement Features
If you are running an online course platform, learning and engagement features are essential to efficiently connect students with educators.
Kartra
Kartra doesn't have several features in this aspect, as this is not its primary functionality. If you want to create quizzes or surveys to test your students, then you can integrate it with a third-party tool. It has a versatile drip feed and lock content that overlaps the features that are offered by Kajabi.
Kajabi
Kajabi has good learning and engagement features. It has set assessments, quizzes, established online communities, or drip feed content when necessary. So, you can ensure students complete their courses in chronological or definite order, with proper assessments to review their understanding.
Verdict
When it comes to learning and engagement features, it is plain simple that Kajabi has more features and performance than Kartra.
4. Lead Management Tools
Lead management is a pivotal tool to drive sales and revenue growth for business owners. Both platforms have powerful lead management tools that help capture, organize, and engage with your leads.
Kartra
Kartra allows you to get in-depth insights into every aspect of your leads, including their subscriptions, helpdesk tickets, clicked links, email interactions, booked appointments, etc. This understanding lets you effectively categorize your leads into groups, ensuring that your behavioral marketing messages align with your interests and needs.
A standout feature of Kartra is its automated lead scoring ability, which allows you to identify and prioritize your leads with great value for your business. These automated interactions can be tailored as per your engagement strategies by setting up triggers using tags or lead scores.
Kajabi
Kajabi allows users to create dedicated landing pages, opt-in forms for blog posts, and utilize pop-ups to collect email addresses with utmost efficiency.
Generating leads is only a simple start, but managing them is very important for maximizing your revenue potential. The tool has several lead management capabilities and helps organize your contacts, whether they are your existing customers or leads. You can segment your contact list, assign tags, or import contacts directly from third-party integrations.
This helps users send customized emails, nurture leads using the sales funnel, and keep track of or tag potential clients for the targeted engagement criteria. Apart from this, Kajabi has its own assessments that are a valuable tool for surveying your students and gathering feedback that will allow your digital products and online courses to remain in high demand.
Verdict
Kartra is the winner and offers better lead management and nurturing features for its users to explore.
5. Course Marketing
The platform you select has to have great marketing features; otherwise, you'll find it difficult to get your course in front of your target audience. Fortunately, Kartra and Kajabi have good marketing and sales features. Let us understand how they perform head-to-head.
Kartra
Kartra's main strength is its amazing marketing and sales features. It is a completely integrated sales machine that allows you to plug into your online course and generate sales.
The platform has readymade marketing funnels for different objectives that allow you to activate and connect with your product. The funnels are great for professional marketers and conversion experts. However, if you are a beginner then it is a godsend as it has everything you need to start out.
The funnel builder of the tool doesn't require you to create pages for a product to be launched separately. The tool allows you to simply plug and play the relevant item directly into your product.
If you don't find the right funnel, you can purchase it directly from Kartra's Campaign Marketplace, where there are marketers from around the world who share their best funnels. Alternatively, in case you have a high-performing funnel, you can sell it directly on the marketplace.
Kajabi
Sales and marketing are also the strengths of Kajabi. It has a robust website and landing page builder that allows you to set up squeeze pages directly for your courses. The tool has a complete funnel system called Pipelines that users can activate for different marketing objectives.
For example, users can activate a pipeline template for webinars, product launches, and lead nurturing sequences. This will give you a complete set of landing pages, opt-in forms, email scripts, and check-out pages that help convert visitors into customers.
Verdict
Kartra's features have greater control and flexibility to open up more possibilities as an online course marketer. When you compare the marketing features of Kajabi with Kartra, it is slightly limited. This makes Kartra a clear winner when compared to Kajabi.
6. Video Content and Hosting
Most online eLearning platforms use video as their primary model for delivering lessons to their users. Let's understand the video features offered by Kartra and Kajabi.
Kartra
Kartra is a video marketer's dream platform, and you can't argue against it. It is one of the few online course platforms that offers sign-up forms, CTAs, and user tagging in your videos.
Katra gives you complete control of your video's appearance. You can change the player's color, enable or disable video controls, or add a splash screen. On top of it, you can embed your videos directly to a page or display it as a popup once a visitor clicks on a button.
The detailed video analytics of the tool lets you know how much content your visitors have watched. Here, you can enable user tagging based on how they view your content through different triggers in the automation sequences.
The major disadvantage of the platform is that the entry-level plan of Kartra has a 50GB bandwidth limit. But the higher-priced plans come with unlimited bandwidth.
You can upload these videos directly to Vimeo, Wistia, or YouTube and directly embed them into your lessons.
Kajabi
Kajabi has impressive video and content hosting opportunities. Unlike Kartra, Kajabi has unlimited video hosting using Wistia. You can easily upload the lessons directly from your computer, Dropbox account, or Google Drive.
Kajabi has detailed video analytics that allows you to see the engagement levels of your viewers and see where they are viewing your videos. But it doesn't have video CTAs or forms that you get with Kartra. On top of that, there is not much flexibility with embeddable and pop-up videos.
Verdict
When it comes to video content and hosting, Kartra is a clear winner with its impressive video and content hosting capabilities.
7. Email Marketing and Automation
Kartra and Kajabi empower users to build and manage their email lists with the utmost efficiency. You can send email broadcasts, set automatic responses, and automate your entire email marketing workflow with both tools.
Kartra
Kartra has a comprehensive set of tools for email marketing tasks, which includes list creation, contact importation, and list management. The software has a range of email templates that enable users to craft visually appealing and engaging emails without much effort.
The platform has a glorious list of expertly designed templates, allowing you to design a unique email outlook. They come with various customization options to cater to your brand identity.
Kartra allows you to host automation based on the recipient's behavior. The advanced automation enables users to create personalized email marketing campaigns that efficiently target their audience based on specific actions and behavior. Now, users can experience improved open rates, engagement, and click-through rates to easily segment subscribers into their sales funnels.
The tool supports split testing to track email content or check your subject lines to track conversions. This allows you to switch to whichever version converts the best. You can also personalize your message with Custom Tags.
Kajabi
Kajabi has a range of email templates that are designed to showcase different events and purposes of emails. The templates can be customized to suit specific preferences, allowing you to easily personalize their layouts and features to fit your brand identity.
The tagging feature of Kajabi allows you to segment your audience and section your list into specific groups of people. This allows you to send content specifically tailored for your students. You can set the delivery time of the emails from your marketing settings.
The platform lets you create email sequences utilizing its if and then rules, empowering users to automate their communication based on set triggers.
Kajabi doesn't have the visual builder found in Kartra; however, it has some additional automation features for its posts, events, pipelines, forms, etc.
Verdict
Kartra and Kajabi have somewhat similar email and automation features. However, what makes Kartra the winner in this section is the split testing functionality of the tool that gives it a major edge.
8. Affiliate Marketing
Affiliate marketing is a great technique for companies to compensate third-party publishers to bring traffic and leads for their products and services. Both tools offer great affiliate marketing features; we'll look more at that below.
Kartra
Kartra has a powerful affiliate program across all its plans, allowing you to create an affiliate questionnaire so you have the right affiliates to promote your business. This process not only helps screen potential affiliates but also establishes clear terms and conditions for the partnership.
Monitoring and managing your affiliate program is effortless with Kartra. You can get a comprehensive insight into the affiliate performance of each individual, including the earnings per click, conversions, sales, and rebills. This data helps keep track of their progress and make informed decisions about your affiliate partnership.
Kajabi
Kajabi has affiliate programs on its Growth and Pro plans. The affiliate center gives you a range of capabilities to manage your affiliate networks effectively. This includes everything from approving, registering, and overseeing affiliates to setting up shareable links for easy promotion.
The tool gives comprehensive tracking, affiliate form submissions, and conversion, along with detailed reports for your performance analysis. Users can set specific commission percentages, calculate their affiliate earnings, and make timely payments.
The main page of the affiliate center gives you a complete overview of your essential statistics, such as clicks, form submissions, and conversions. This allows users to monitor and assess the performance of each affiliate.
Verdict
Kartra has advanced affiliate management features when compared to Kajabi. This makes Kartra a clear winner and it couples its affiliate management with advanced email marketing capabilities and its versatile sales funnel builder.
9. Pricing
Pricing is a key consideration before you can select the best platform for your online business. Here is a closer look at the plans offered by both these platforms.
Kartra
Kartra has three plans, which can be purchased on monthly or yearly plans. The three plans of the platform are: Starter plan ($119 per month), Growth plan ($229 per month), and Professional plan ($549 per month). You can also switch the plan or cancel whenever you deem fit. If you pay annually, then you can save up to 25% each month.
Click Here To Try Kartra For Free
Kajabi
Kajabi has 3 plans, which come with a 14-day trial to check its features. You can purchase the plans on an annual subscription and save 20% each month. The plans are as follows Basic plan ($149 per month), Growth plan ($199 per month), and Pro plan ($399 per month).
Verdict
Kartra and Kajabi have good pricing modules. However, Kartra's pricing structure is growth-focused, with more features and functionality. It is an ideal choice for beginners who want affordable plans with top features which they can grow with. Another exceptional feature of Kartra is that it gives users access to all the features no matter the plan they've chosen, which is not something that Kajabi does. This makes Kartra a winner and a better option than Kajabi.
10. Security
Security is an important feature when you are selecting an online platform for your courses. Security issues and scams are on the rise, and you need to ensure that you have a safe and secure platform to collect payments online. Both platforms have excellent security measures in place to help protect your data and payment gateways.
Kartra
Kartra adheres to the best data protection and security standards. The software has a versatile data protection framework that allows you to ensure the safety of your website data, student data, and any transaction information.
The platform supports data privacy, compliance practices, and the best security practices that are outlined on the websites. It also has several resources to educate users about critical security issues that they have to avoid to keep the school website safe.
Kajabi
Kajabi also has all the necessary security updates, so you don't have to worry about its security. Everything on the platform, including the member data, payment information, and compliance, is taken care of by the platform.
Its video content and hosting are secure through Wistia. These videos are encrypted to ensure there is no fraud, making it a better choice than hosting on websites like YouTube and Vimeo.
The platform takes protecting your data very seriously. This is why they have partnered with Cloudflare, which specializes in website performance and security.
Verdict
Kartra and Kajabi have exceptional security features, and it is difficult to say any of them are better than others in this aspect.
11. Data Analytics
Collecting and analyzing data helps business owners make better-informed business decisions. Kartra and Kajabi both have robust data analytics features that will offer more opportunities for improvement and optimization when you are creating, promoting, and selling online courses.
Kartra
Kartra has a powerful analytics tool to help users monitor the success of their marketing campaign and get valuable insights into their course. The tool allows you to get a clear view to see whether your forms are converting, which videos are viewed the most, the number of visitors that you are getting on the page, and much more.
The software gives you valuable input on your lead history, which is filled based on the interactions with your leads since they joined your list. This gives you access to real-time information, allowing you to make data-driven choices to ensure the success of your business.
Kajabi
If you consider the data analytics features of Kartra, Kajabi doesn't offer nearly as much. You don't get access to tracked links or split testing features. However, it has visual performance reporting, student reports, lifetime value reports, and custom date range reporting filters.
The tool also gives you access to several analytics features, including broadcast, page, sequence, detailed form, membership site analytics, etc. So, you can gather all the information as much as possible so you can make actionable decisions for your future marketing strategies.
Verdict
The data analytics features of Kartra and Kajabi are very close. However, Kartra wins this feature and has tracking and analytics features that you don't get with Kajabi.
12. Advanced Tools and Developer Features
Some online course platforms offer SSL features and theme importers, while some have APIs designed for developers. Further, if you are a power user, then you will appreciate platforms that give you access to CSS and HTML editing environments so you can utilize your skills and knowledge to create a unique learning experience. Let us understand what Kartra and Kajabi have to offer.
Kartra
Kartra is known for its simplicity, and if you are looking for web development, it is not its forte. However, you will appreciate its visual page builder that allows you to drag and drop your elements as you like.
If you want to dive deep and unleash your design creativity, then the platform gives you complete access to the code, and you can get the most out of the tool.
Kartra has a request feature, so you don't have to struggle to make software as you can send a request to the development team, and they will design the features for you without much hassle.
Kajabi
Kajabi takes away the need to hire expensive development teams due to its drag and drop builder to create stunning pages. If you need access to the platform code, you can do that as well.
Similar to Kartra, Kajabi has Request a Feature. The platform has partnered with Pendo to offer users a customer feedback portal that allows users to collect data collaboration for development teams as well as normal users. The best thing about the request feature is that you get access to the list of requests seen in the queue.
In case the feature you have requested is already in the list, then you can upvote the function to move it through the priority chain. Developers will work more on features with the most upvotes first.
Verdict
Kartra and Kajabi have excellent features for developers; however, Kajabi has a slight edge as it has tracking after a request has been placed.
13. Integrations
Integrations are add-ons to the platform that enhances the functionality of these tools. Let us check the integrations offered by both of these tools.
Kartra
Kartra has integrations with some of the top names in the industry, and they keep on growing their network on the go. It integrates with payment gateways, membership platforms, email marketing platforms, SMS gateways, Hub connectors, and calendar apps. They have Zapier integrations and also support API, IPN, and custom app integrations.
Kajabi
Kajabi integrates well with 12 native platforms, which include MailChimp, Stripe, ConvertKit, Google Analytics, PayPal, etc. They also connect with Zapier to integrate with over 5,000 apps.
Verdict
Kartra is a winner in the aspect as it supports API, IPN, and custom app integrations, which is not available with Kajabi.
14. Customer Support
Depending on your level of skill in the online eLearning platform, you may need more or less help to get answers to issues over an average user. This means you'll prefer one platform over the other based on the level of support between both tools.
Kartra
Customer support is provided by Kartra through live chat or online tickets. You can contact the support agents from Monday to Friday between 8 AM to 12 PM PST. You can submit the ticket, and the support team will get back to you with answers to your questions.
Kartra has a rich knowledge base where users can access technical documentation, which will offer detailed information about advanced components and integrations. The training center of Kartra offers tutorial videos to help users leverage the platform's features for successful marketing campaigns. The platform also has an online FAQ section where you can find answers to common queries.
The tool comes with an inbuilt helpdesk where you can install live chat and ticketing systems on the website where visitors can contact you.
Kajabi
The type of customer support you get with Kajabi is based on the plan you select. For example, if you are on the basic plan, you only get access to the live chat support for specific hours; however, on the higher-end plans, you get access to it 24/7.
You can get support using the tool through email regardless of the plan you are on. Kajabi's University has dozens of hours' worth of training videos, tutorials, and resources.
Finally, the software has a vibrant community of users on the platform that you can network with. It is a great place where you can find support from like-minded individuals and learn strategies for marketing and selling your online courses, making use of the software.
Verdict
The helpdesk of Kartra is one of the best in the customer service game. Further, the help you get from Kajabi is dependent on the plan you select, which is not the case with Kartra. This makes it a clear winner in the customer support game compared to the support offered by Kajabi.
Kartra vs Kajabi: Which is Better?
Kartra and Kajabi are leading marketing platforms offering comprehensive solutions for managing your online business. They help create sales pages to manage memberships and email campaigns, everything right at your fingertips.
After careful analysis of these tools, while researching for this article, I can say Kartra is a clear winner. It has some advanced marketing and sales features with access to several integrations that help simplify the process of starting your online business.
Click Here To Try Kartra For Free
Kartra vs Kajabi FAQs
1. What is the difference between Karta and Kajabi?
Karta is an excellent course creation and marketing platform. The all-in-one marketing platform has a dedicated agency feature to help manage client websites. Kajabi is a dedicated course creation tool designed using expertly designed templates.
2. Which is more expensive, Kartra or Kajabi?
The cost of the tools is based on the plan you select from and your requirements. Kartra's starter plan is cheaper than Kajabi's; however, the premium ones are expensive. But the features offered by Kartra in the plans give it an edge.
3. Does Kartra support blogging?
Kartra doesn't have a built-in blogging feature, but you can integrate it with other tools to get the desired results.
4. Can Kartra be used as a website?
The page builder of Kartra is functional and very easy to use. This allows you to efficiently create any type of website that you may need for your business.