Kadence is a multipurpose WordPress theme that allows you to effortlessly build fast and beautiful websites within minutes. The theme has modern features that will make building websites fun again. The Kadence theme is available for free to download and also comes with a pro version that opens up a world with endless possibilities. The name of the theme shop is known as Kadence, and the Kadence theme is the cornerstone of the product. The Kadence theme is the new kid in town, which was launched in 2020, and since then, it has been described as one of the best themes in the market.
Kadence Theme is powered by the Kadence Blocks 3.0, which is its latest version of the popular WordPress page builder plugin. This has made the entire website-building process more simpler and intuitive for its users. Overall, it is packed with features that you won't get with other themes within the market to effortlessly build smarter websites. However, who am I to decide whether it is right for you; so in this article, I have explained in-depth how it can help you build your website for optimum performance.
About Kadence Theme
Kadence theme is a fully featured WordPress theme that is available for free and comes with a pro version. Kadence WP was founded by Ben Ritner in 2013 as he wanted to evolve his website with all the features that WordPress was introducing. Over the years, they have managed to create some successful products and, in 2020, launched its themes package. Looking at the growing success and popularity of the themes, iThemes acquired Kadence WP and the whole team behind Kadence Blocks- the versatile WordPress page-builder style block package. Today, Kadence Theme is one of the fastest growing amongst the top theme shops in the WordPress ecosystem.
Kadence Theme Review Reddit
U/vholos- "Kadence is one of the best WordPress themes out there. The best free theme, in my opinion. The Pro versions offer great value for e-commerce websites, and for websites that are very complex, they come with blocks that are capable of displaying dynamic data".
U/shoaibk45- "Kadence Theme is surprisingly very fast if we consider the amount of customization it offers. Its header builder is the best I've seen so far in the market. I have also read an article related to Fasted WP Themes mentioning about Kadence and a few others. It has somehow gained a reputation for being the fasted WP theme".
U/therahylchavap- "Slowly, Kadence Theme will gain a huge reputation just because of its quality".
U/MeesterCartmanez- "I have narrowed the same two and chose Kadence mostly due to its header builder and color palettes. I eventually bought the pro version of Kadence, even though I didn't really need it if that helps as well".
How to get started with the Kadence Theme
Getting started using the Kadence theme has never been easy. You can follow these 3 simple steps and customize your website within minutes.
1. Choose a Starting Point
When you install and activate the Kadence theme, you will be asked by the system if you want to install a plugin using free starter templates. These templates allow you to create and get your website up and running quickly. Just like the extensive customization options, they exceed what you would expect from a free theme or plugin.
Kadence is designed consisting of a range of professional templates that are created keeping you in mind. The templates you get here are designed for:
E-commerce seller
Online course creators
Local Businesses
Online Agencies
Personal brand or influencers
There are currently 9 different starter templates that are available on the platform, and they are used for the creation of different types of businesses and websites. Once you have selected the template, you are presented with a few color schemes and font styles. You can install the Kadence Blocks plugin to easily get your website going easily. Users have the opportunity to have a choice of importing a single page or the entire site. Once you initiate the import, it will take just a few minutes to get it set up and ready to go. This includes all the necessary page menus, customizable settings, and even images.
2. Choose your Colors
Kadence gives you the ability to instantly change the feel of your website by selecting from their 12 pre-configured professional color palettes. The platform has consulted with different industry experts to create color palettes that are ideal for:
Professional business design
Accessible ready light and dark color choices
Feminine focused businesses
3. Choose your Fonts
As with the pre-selected color choice, you also have the ability to select from 12 different professional font pairings that will help reflect your personality through your website.
Kadence Theme Review
1. Header Builder
The amazing header and footer builder is where you can drag and drop different sections of a fully functional header for your website within a short time. The settings of the header are available in general and design specifications. In the general tab, you'll have control over the element you want in the header and simply drag and drop the elements to place them where you want. The design tab gives you the ability to control the header background color for tablet, desktop, and mobile devices. In the general tab, there are several additional options to select from. You'll be surprised how many options you have for most of the elements.
One of my favorite parts of the header builder is that it has a primary navigation, SVG social icons, and a CTA button alongside a search icon, all laid out nicely using its versatile builder functionality. If you want a transparent header or sticky mobile header, then you will need many paid themes, but with Kadence, you get all of this for free without any charge.
The free Kadence theme header builder is impressive, but you can supercharge your builder with the advanced add-on with the pro version. The features of the Header Builder add-on include:
Account icon with a dropdown or modal
Contact elements
Widget area
Search bar
Toggle with a slide-out panel
Divider- 2 and 3
HTML2
Button2
Navigation 3 and 4
The SVG social icons section is a fantastic-looking social share feature. There is also an excellent membership button which acts as a nice divider to the right of it. Here, you get 3 of these dividers to use and style as you want with the advanced header. Finally, the account icon is all the way to the right. This is a perfect choice in the builder add-on that is great for membership sites where you can offer a subscription-based fee for offering services, courses, and premium content.
2. Footer Builder
On top of the header builder, you have access to its footer builder. This builder works exactly as the header builder. Here, you have complete control over the elements that are shown in the footer and the design of the elements. Simply drag and drop the elements that you want to include and utilize the design tab to control the way it will look. You can get access to 3 rows for your footer for free with several widget areas. You also have the ability to use beautiful SVG icons to add your social pages, icons for your contact information, and more.
3. Page Layout
The page layout settings allow users to create a custom template that is making use of a standard page layout. You have the ability to control the display of the page title and width, whether you want a sidebar to be shown, featured images, the location of the sidebar, comments, etc. In simple terms, you can customize every single page. The page layout section is made primarily of two tabs i.e. general and design type specifications.
4. Conditional Headers
Conditional headers are the most requested features in the Kadence community since the date Kadence Theme was launched. The conditional headers allow you to take your website to a whole different level.
Some of their common uses include:
For blog sites, you can now show a different header on your website based on the blog post category you are using.
Membership sites will show users who have logged out of a header and show a different header once they have signed into your site.
For WooCommerce sites, you can simplify the header during the checkout experience so that your users are always focused on their purchase.
5. Global Color Palette
Kadence comes with a genius feature having its own global color palette. The color settings that are offered with Kadence far exceed the options that you will find with other themes in the market. Here, you have the ability to set the background color, content background color, link color, and the full-color scheme of your site.
If you are planning to customize your website, then you would most likely copy and paste colors over and over again in certain areas that are all shared having the same color for your site. Kadence lets you match your brand's color scheme and choose the values throughout your site.
The first two colors on the website are the accent colors- the main brand color and the next four are your contrast colors having things like strong text, medium text, and border colors. Finally, the last three colors are its base colors which act as a subtle background or act as your main website background, which is usually white or light gray.
The color scheme settings allow you to set two accent colors, multiple text colors, and background colors. You have the ability to choose from pre-defined color sets or customize any individual color, which gives you full control of your website.
The value of the global color options cannot be overstated. Within a couple of minutes, you can set all the colors for your website, and you don't need to code or have special expertise. You can also upload your brand logo with the colors and position it in different areas to best fit your brand identity.
6. Kadence Blocks 3.0
Kadence Blocks is a free plugin that can be downloaded for free or extended to the pro version. The blocks allow you to use different types of rows, tabs, advanced buttons, headings, testimonials, forms, product carousels, image overlays, etc. The Kadence Blocks has a pre-built library that gives you pre-designed building blocks that you can use to create different website pages quickly.
Kadence recently introduced Kadence Blocks 3.0, the latest version of the popular WordPress builder page plugin. The Kadence block editor was built in the early days of the WordPress block editor, so it has been refactored as the code base in the core, and the block editor has changed drastically over the years. Today the builder has been restructured to be more compatible with the WordPress core to open up future opportunities to innovate in the block editor. Here are a few highlights.
Updated build structure with a new component library.
An updated react structure of blocks to be functional with the API v2.
Rebuilt how the output frontend CSS for block customizations.
Refactored the way the output is saved using the SVG icons to prevent wp_kses stripping.
Rebuilt front-end JavaScript to not use any jQuery sliders.
I've covered the features of this in detail below:
1. New User Interface for Block Settings
The new Kadence Block 3.0 has a sleek interface that makes the entire process simple. These changes will help optimize and manage how quickly you can create and manage the blocks of your page. The block settings are organized into sections- General, Style, and Advanced. So, find the right setting to tweak your layout faster and simplify the creation. You will no longer have to scroll through several types of settings to get your website up.
The core setting of WordPress has core gradient control that allows users to handle different settings. However, it doesn't support the global variable colors, which are an important aspect of Kadence planning to build their sites faster, so the new Kadence Block 3.0 is catered to make editing more simplified. Further, WordPress doesn't support responsive setting controls, which is a modern requirement for building a site.
Kadence has built quite a few controls in its component library. However, the platform has not completely gone away from WordPress modules. It has just customized certain controls for better efficiency. All these responsive designs in mind help bring a lot of consistency to your block controls.
2. Row Layout Block
The cornerstones of Kadence Blocks plugins are the Row Layout Block. This is a container that helps group sections together to make building your blocks easier. Kadence has made sure that the foundational block is easier to use.
Moving sections of row layouts with Kadence Blocks 3.0 is easier than ever before. Before the update, there was no grid layout option, and this would mean that you will have to use multiple row layout blocks. On top of it, the sections block within the row layout was disabled by default which made the movement difficult. Now, with the click of an arrow, you will easily move sections around anywhere and drag them from one Row Layout block to the other.
An important update that has come in the Row Layout block in Kadence 3.0 blocks is the addition of new Grid Layouts. Until now, you could only select 3 or 4-column layouts i.e. multi-column or stacked layouts. After Kadence Blocks 3.0, new Grid Layout options have been added directly to this selection.
Another change that comes with the updated blocks is the Custom CSS option in both its sections block and row layout. The new optin edit feature will be added by clicking, which will open the code editor in the new modal. This improvement will help simplify and make it easier to add custom CSS code.
3. Migrating to Inner Blocks
Inner blocks were something that used to lack with Kadence. The inner blocks are very useful as they allow users the ability to add two buttons beside each other. The WordPress core has moved to adopt it, but only Kadence was lacking behind. But, with the latest update, it has adopted the feature for better functioning and customization of blocks. The features that come with this new one include:
Advanced Block
Testimonial Block
Icon Block
Icon List Block
4. Block Defaults
If you are always setting something using Kadence Block, then you can define what the default for the block is. If you always set the row layout and use the theme width, you can make it default whenever you add a new row layout block to your page. You can do it to any setting on a block, even before Kadence Blocks 3.0. However, the new update makes the defaults easier than before. Now you can easily click on advanced and then click on block defaults to see if any block defaults have been applied. You have the ability to remove certain attributes that you don't want with the block defaults.
5. Variables for Settings
The most important feature of the Kadence 3.0 is the way you make design decisions more intuitive. For most users understanding the difference between pixels, EM, or REM units, or settings like padding and font sizes are not on their to-do lists. Kadence 3.0 has moved away from your default size settings to use a custom variable, so you can easily set small, medium, or large sizes for standard element size setting to handle the rest. You also have the ability to use your own custom sizes utilizing pixel or any other units using the block set. However, the new default variables will help keep consistency in your designs and limit the need for responsive overrides.
6. Custom CSS Clamp
To have a better viewing experience on any device, Kadence 3.0 has fundamentally changed how designs are formed. Essentially, the CSS Clamp has a high-end viewpoint size and a low-end viewpoint size. In simple terms, it is fit to work on both desktops to mobile devices. So, no matter where the site is loaded, it will resize all the site elements based on the detected browser window size. Further, they also allow you to change the size of the viewing as per your needs.
7. Typed Text in Advanced Text Block
A new feature in the Advanced Text Block is the Typed Text option. The feature lets you create attention-grabbing headings by specifying a set of strings that will type out and replace your content. This is great for creating engagement on your site.
8. Copy and Paste styles
Moving ahead from the Typed Text, the next improvement is the copy and paste style options. This tool allows you to intentionally make it part of your workflow. It is important to understand this feature only lets you copy and paste styles between the same blocks.
9. Visual Padding and Margin
Kadence blocks are used to display the padding you have set along with its hovering. The platform gives you the ability to set top and bottom padding using its Row Layout Block. The visualization of this padding helps you get a clear idea about the impact it will have on your page layout.
10. Improved Icon Picker
The Icon picker is another major change that comes with Kadence Blocks 3.0. Before the update, you had to go from one page to the other to find its items. Now, you can visibly see the items as you scroll down. You will see all the improvements across all its blocks using the icon picker, and the list is shared below:
Icon
Info box
Advanced Text
Advanced Button
Icon List
Testimonial
Tabs
11. Full Backward Compatibility
A major rewrite for the platform is ensuring its full backward compatibility. Kadence has ensured that you can easily migrate the updated 2.0 to the 3.0 plugin. Plus, the large library of starter templates that are built gives you the ability to work with different websites.
7. WordPress Customizer
The Kadence theme has a versatile and intuitive WordPress customizer that is very easy to use. When you are building a website, you will most likely build it section by section and finalize each element in the header and set the correct color set.
Kadence helps you get all the options you need for each section of your site where you would expect to find them. Here, you can get everything you need for the header of your website in one convenient spot. You have a shortcut to your primary navigation, where you have an opportunity to determine which pages you will want to show.
The drag and drop elements features, such as the search button, social icons, secondary navigation, and generic HTML, can be added to your header within seconds. In other themes, the design and colors of your site are a separate section of the customizer. Each separate section of your website can be availed in the Design tab.
It is important to note that a Globe icon- blue color in your header background is tied to your global color palette. So, if you want to change the color of your website, then all you have to do is change the color in its palette, and it will automatically update the header for you.
All in all, the intuitive design of the Kadence customizer has blown over the board due to its ease of use and speed which offers better efficiency and performance to users.
8. Free SVG Social Icons
The SVG social icons are the most simple feature that most popular WordPress themes lack. If you don't know about SVG, then Scalable Vector Graphics is a lightweight way to include icons and images on a site. Since they are simple, they can be injected in line with the code, so they take up a lot less space than an actual image and allows you to load pages faster.
Kadence lets you select from a range of SVG social network icons that can be directly added to your header or footer. You don't require to install a separate plugin, and it comes directly with the theme. Most other popular WordPress themes force you to install a plugin to your header. This may result in bloating and slowing your website.
The WordPress Gutenberg editor is taking baby steps and slowly maturing, and more people will need to use these drop page builders and require SVG social icons in-built into the theme itself. Kadence is one of the first theme shops that has supported a large social icon that can be added directly with ease.
My favorite part of SVG is that the icons look sharp on high-resolution screens like phone screens, 4K screens, and MacBooks. This allows you to scale up the images as big as possible without losing any quality of the image.
9. Speed and Performance
Kadence is a theme known for its speed and performance. Since Google's core web vitals officially rank websites on their speed, so ensuring a lightweight WordPress theme is very important. The speed of Kadence Theme meets the requirements of the core web vitals of the theme, which give them a precious ranking boost.
There are several WordPress themes in the market, and are usually one of two things:
Packed with a range of features and customization but are bloated and load very slowly.
Loads quickly but lacks features, which means that the site will take you longer to get your site to look the way you want.
Fortunately, with better and faster coding frameworks of Kadence, there have top features without slowing down your website down. All this allows them to stand out from other themes in the market today.
Fonts are another factor that influences the speed of a website. Google fonts are known to slow down your website, and you should probably opt in for Optimize My Google Fonts plugin or others to enhance its performance, and nobody has time for that. With Kadence Theme, you will no longer have to worry as you have the ability to host your Google fonts locally, and it will do the magic in the background automatically for you. Further, you also have the option to choose the System Default for your typography options which will use your system fonts on your website. If you decide to use the System Default on your WordPress website, then it will show the default font on the device that is accessing your website at that time. Therefore, you don't require any download time, and your site will load at a blazing speed without any font files holding it back.
10. Element Hooks
Kadence Element Hooks is one of the great features that come with Lifetime access and all the rest of the Kadence products. The theme hooks let you build custom sections and efficiently hook them across different places in your site using conditionals. If that is confusing, then Hooks are basically the areas within a theme where you can include custom code that has to be run across all your pages or on a specific page as per requirement.
For example, if you want to know how to add a Google Analytics code without the need for a plugin to your WordPress site. You can easily use a Kadence hook and insert a Google Analytics snippet of your code in the wp header, which will eliminate the need to use a plugin. The fewer plugins you require, the better your website will load.
Kadence Element Hooks are extremely powerful and versatile, giving them exciting features. With them, you can include social share icons before and after your content. Here, you can add an affiliate ad banner before or after your WordPress sidebar based on the category of your blog post. You can also include a Subscribe to Newsletter section after each blog post or add a countdown timer above the WordPress header with a CTA button for any offer and much more.
11. Kadence Mega Menu and WooCommerce Add-on
A Kadence mega menu and WooCommerce add-on cover all the WooCommerce sites and any sites that require a mega menu. This will allow you to easily show the deep linking navigation between each page on your site. Kadence lets you easily create a mega menu that will show all your website's categories, pages, services, courses, and much more in an appealing way.
The Kadence Mega Menu lets you create a multi-column dropdown and also includes icons in your navigational items. You can set any hooked element as a child menu item, which means that all possibilities are endless. The WordPress block editor lets you build your own menu which is familiar with and show it in one or more columns having different layouts.
The Kadence WooCommerce add-on gives you options with the customizer for WooCommerce shops. This includes a quick view for product archives, the ability to build a custom shop page, add to cart from single product pages, add sticky notes, add to cart banners, and more. These features are very intuitive and take your WooCommerce site to a whole different level and provide a killer user experience with improved conversions, especially with the sticky add to cart banner.
If you consider, then Kadence packs offer more features to its WooCommerce sites and make them easier to use than other sites. This is a great value proposition for you and your consumers. As time passes by, more features will be added to the Mega Menu and the WooCommerce add-on, making it even more exciting.
12. Responsive Controls
Kadence is extremely responsive and has a very user-friendly interface. From tiny screens to larger monitors, you have the ability to control the style of your website. You can customize your website for use with mobile, desktop, and tablet to suit their interface. All this makes it very handy, especially today, when most of the traffic comes from smartphones.
13. Widgets
Kadence still supports widgets, and if you are old-school personnel, then adding widgets and sidebars is the best way to do it. Kadence theme comes with 8 widget areas by default and more with the Pro version.
The Kadence Widget Dock lets you place a customizable and non-intrusive pop on your site. It comes packed with a powerful styling option that gives you full control over where the widget dock will appear. The theme members are granted unlimited access to this plugin, and you will receive premium support for any questions you have.
The Widget Dock options control where and when it will appear on the site. You also have the ability to display the widget dock after a set amount of time after users scroll down the page, scroll past the page, or post content. The dock gives you the option to choose when your widget box appears. Here, you can easily configure a set to appear after a fixed amount of time, anywhere between 1 to 20 seconds. Another option is set to show up after a user scrolls past a certain point, which can be from 0 to 2000 pixels, depending on your needs.
If you want to disable the plugin from appearing after the site visitor has seen it, then you can easily use the repeat options of the Widget Dock once they have closed the pop-up. This is a great feature that will help prevent customers from getting annoyed by multiple pop-ups appearing while you navigate through your site. Changing the cookie for slug is useful when you've changed the Widget Dock. This will ensure that users who have seen the widget dock will get to see a new one when they visit the site again.
The widget dock allows you to design and position it in different sections of your website. You can also target pages, posts, visitors, and devices to get the best of both worlds.
14. Breadcrumbs
Breadcrumbs is a built-in SEO tool that helps you rank with Google. It is one of the favorite SEO plugins that comes with the Kadence theme. This plugin helps boost the speed and performance of your website efficiently. You can easily insert the shortcode of Breadcrumbs in the pre-defined widget section to get the optimum performance.
15. Sticky Header
A sticky header is a great feature to add an affiliate link or any information on the website. This is a common pattern for keeping the header of your website or app in the same place on the screen when you scroll down a page.
The Kadence Custom sticky header allows you to create a customized header for your site and only show it if a user scrolls down your website. If your header has all the navigation items when users first come to your page, but then you want the header to display a different logo while also displaying a search bar and social icons as they are reading your content. You have the ability to do that or anything else that you imagine with this feature.
Overall, they help to increase the discoverability of elements on the headers, and there are chances that users will take advantage of them. However, it is important to note that if you poorly implement the sticky headers, they can be annoying and obstruct the content of the page. The best way to implement a sticky header is to
Maximize the content-to-chrome ratio by keeping it small
Contrast with your content is important
Keep the motion minimal, natural, and responsive
Consider partially persistent headers, especially for mobile sites
Check whether you need a sticky header at all.
16. Kadence Cloud
Kadence Cloud is a game changer, and you can host your own library of favorite content. You can drop it into the cloud with a click and then add it to other websites without having to start from scratch. The cloud allows you to
Import a pre-designed section from Kadence's Cloud library or any Kadence Cloud library you have access to.
Create your own Kadence library that will let you save your customized sections to reuse on another website to greatly save time building other websites.
Sell or give away access to your Kadence Cloud library so others can make use of pre-designed sections that you have created.
Kadence lets you easily manage your own server
1. Manage Cloud items
Organize your cloud items to generate screenshots and easily add new items at any time. Here you can
Organize by collection
Organize based on category
Generate screenshots
Define search terms
2. Manage Cloud Access
Kadence Cloud lets you set up custom access keys where you are able to give each user access and remove access at any time. Here you can
Generate Access keys
Set force re-sync rate
Make notes with each key
Only include specific collections with each key
You can purchase the Kadence Cloud at $69 per year, which renews annually. However, with the full bundle, you can build your amazing website with a complete suite of tools.
17. Integrations
Kadence has integrations with some of the best add-ons in the industry that helps to enhance the overall functionality of the system. Some of the plugins that it has integrations include:
WooCommerce
Elementor
LifterLMS
Tutor LMS
Beaver Builder
The Events Calendar
Restrict Content Pro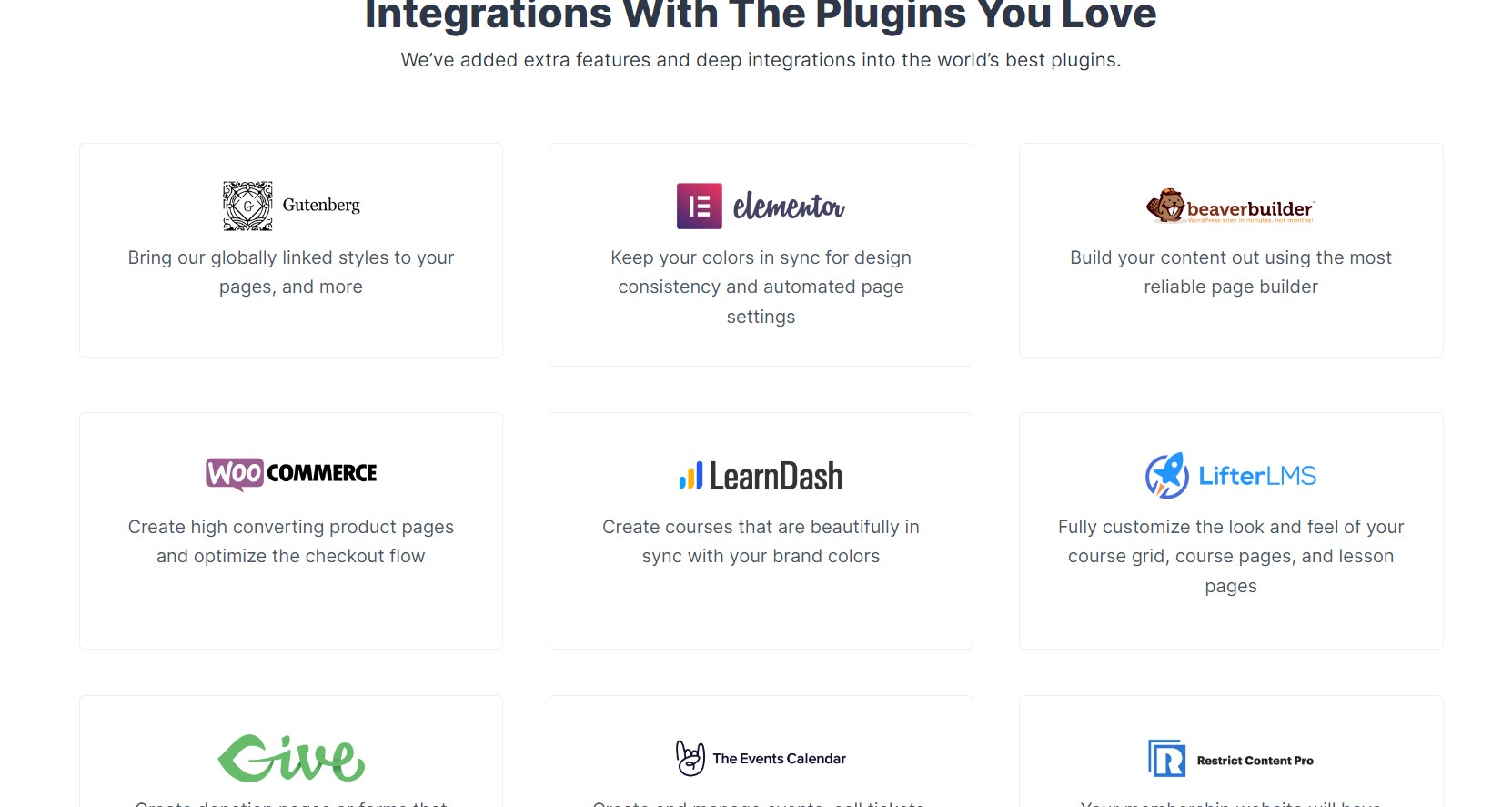 18. Customer Support
Kadence theme has an excellent customer support and resolves any queries within a matter of time. The platform offers good documentation and has several articles that will allow you to find a solution to your problems. It also comes with community forums where you can ask questions to the community using the platform. If you want premium support, you can ask a question by submitting a support team, and the helpful team will get you all the support you need.
Kadence Theme Pricing
If you are wondering how much the Kadence Theme will cost, then there are several options to choose from. The Kadence Pro Addon costs only $59 per year, but it also comes with both subscription and lifetime full bundle access. The 4 plans offered by Kadence include:
1. Free Plan
Kadence Theme is free to download and use to create your website. The free plan comes with more features than most offered by other WordPress themes in the market. The features of the plan include
Starter templates
Kadence theme
Kadence blocks
2. Essential Bundle
The Essential bundle is a great plan to get your website looking professional all the way. It is priced at $129 per year and renews annually at $149 at the end of the year. It gets you access to all the features of the free plan plus
Unlimited website creation
One year of support and updates
Kadence Blocks Pro
Kadence Theme Pro
Pro Starter templates
Kadence custom fonts
3. Full Bundle
The Full Bundle is a powerful plan that gives you premium features. It is priced at $199 per and renews at $219 annually. It gets you access to all the features of the Essential Bundle plus
Kadence Cloud
Kadence Conversions
Kadence WooCommerce Shop kit
Child Theme Builder
Kadence ReCAPTCHA
Access to all plugins
Exclusive access to all future products
4. Lifetime Full Bundle
The Lifetime Full Bundle gives you access to all the features mentioned in the full bundle for a lifetime. It is a one-time cost which is priced at $699; however, it will vary over time; you can contact the team to get a quote. This is by far the best deal you get with themes.
If you are not satisfied with what you are getting, then you are offered a 30-day money-back policy across its paid plans, no questions asked.
Kadence Theme Pros and Cons
Pros
Lightweight with a fast-loading theme
Clean and modern design interface
User-friendly theme with extra plugins with cutting-edge design
Mobile oriented
WooCommerce integration
Install on unlimited sites
Drag and drop footer and header builder
Multiple starter templates
A globally linked color palette
Works well with Elementor, Beaver Builder, and Gutenberg
Full control over your page using the Kadence Blocks
Reasonable pricing for the pro version and membership
A lifetime plan is available
Cons
A limited number of stater sites
Separate websites for the theme shop and Kadence blocks can be confusing
Lacks a white labeling feature
Is Kadence Theme Worth the Hype?
There are thousands of WordPress themes out there for theme developers to create a website that stands out. The Kadence Theme is worth the price, and it is one of the best themes in the market today. The theme is one of the rarest and exceeds all expectations, and proves to be very special. It is easy to use and has an intuitive interface for users to make use of. They come with more features than most premium WordPress themes and even load faster than other fast themes in the WordPress market.
The free version of Kadence and its Blocks is so good that you may have to convince yourself that you need an upgrade. However, getting professional support is a factor that should consider to upgrade to the premium plans and make website creation elegantly simple.
If you are planning to take your website to a different level, then you should consider purchasing the Kadence Bundle that includes all its Kadence products- Kadence Theme PRO, Blocks Pro, Child Theme Builder, Cloud, conversions, and other future themes or plugins that Kadence will release. This gives you an entire solution to meet your website needs.
If you care about your website speed, then Kadence is a no-brainer with its lightweight nature and performance. You also have the ability to customize each and every aspect of your site without any hassle.
Overall, Kadence is an excellent theme, and it is very reliable with excellent functionality. The free version is very capable, and you can start with the free version to make sure you like it. You can upgrade to the pro version when your needs increase t to enhance your overall output.
Kadence Theme FAQs
1. Does Kadence offer a Free Version?
Kadence is a theme that is available on the WordPress repository free of cost. If you want premium features, then you can purchase the same from its official website.
2. What happens if you cancel your Kadence Theme subscription?
You will not have access to the support and updates of the themes. Here, you will still have access to the theme or plugin file as of the day you canceled your subscription; however, you will not have access to any new updates. It is important to note that the guarantee of how long the theme will work without updates is hard to say, as WordPress and plugins change over time.
3. Can you use Kadence Theme for a client's site?
Yes, you can make use of your license to create your client's site, which you are building, developing, and managing a website. This doesn't include any form of hosting or reselling. Managing a website for a client means that you are primarily focusing on editing pages and posts on behalf of the client as the website admin. Setting up a website only to install or activate Kadence for someone is not allowed alongside the sharing of the license key with any third party.
4. How long do you get support and updates?
Each theme or bundle you purchase with Kadence includes one year of support and updates. At the end of the year, your subscription will auto-renew; however, you can turn off the auto-renewal or cancel the plan. If you purchase the lifetime bundle, then you get access to premium support and any updates lifelong.
Read Next: