Elementor or Beaver Builder?
That's a question thousands of WordPress website owners across the globe have asked at some point. Both of these are powerful WordPress page builders that can be used to build aesthetically pleasing and feature-rich websites. Both have large communities around them and in-depth learning materials.
Given how popular and well-liked these products are, it can be hard to choose between them. But there are a few factors that give one of them the edge over the other. By the end of this article, you'll know exactly which WordPress page builder to choose. Before that, let's take a thorough look at these software so we know exactly how they compare on different fronts.
In A Nutshell: Elementor Pro excels with better features, cost-effectiveness, and user-friendliness!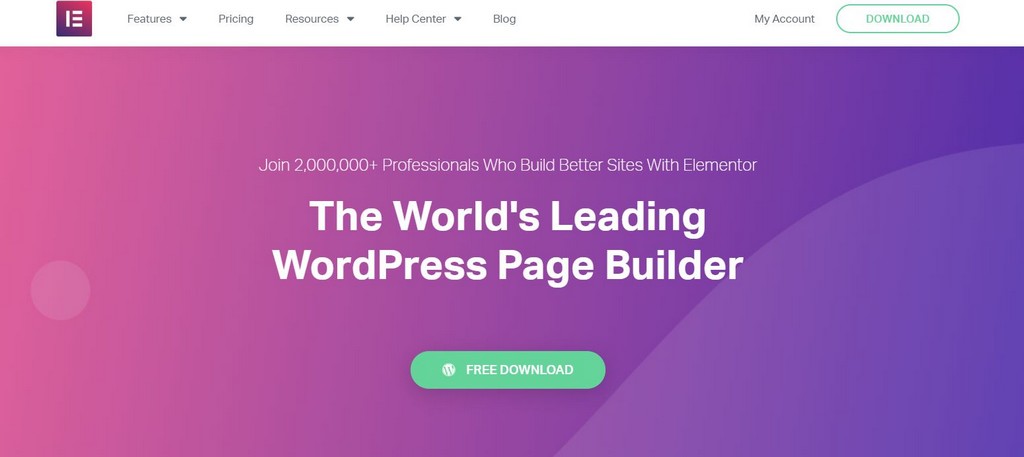 Elementor vs Beaver Builder
About Elementor Page
Elementor is one of those WordPress products that doesn't need an introduction. Anyone who's used WordPress for a while has heard of it.
The backstory is all too predictable. This software was born out of a group of web professionals' frustrations with the WordPress development environment. So they created a product that would make it extremely simple to build entire websites visually.
The ability to do that is a boon to web designers. With a product like Elementor, they don't have to write and rewrite code for the elements they use across different websites. Instead, they can just drag and drop all the elements they want to put on a page.
Along with web designers, Elementor also helps anyone else who wants to have an online presence. Bloggers need to run websites on which they can quickly put out content. Marketers love when they can put together new webpages and landing pages without having to code them. Elementor makes all of that possible.
1. Elementor – The Basics
The centerpiece of the Elementor world is its drag-and-drop visual website builder. Building websites in this way is a breeze. Every element that you could possibly need on a webpage is present as a module in your website builder. If you want it to be on the page, you can simply drag it on there and add your content.

Most page builders let you do the aforementioned, but it's the attention to detail that makes Elementor stand apart. The software has a feature called Finder which lets you quickly navigate to any page or setting from anywhere on your website. You'll be designing your website a lot faster when you realize how quickly you can switch between different parts of your website using Finder.
Elementor lets you save elements that you have created and reuse them in other parts of your website. So not only does Elementor offer its own built-in modules but you can build your own. You can even import designs from one site to another using the JSON export tool.
2. Elementor Design Tools
There are many ways in which Elementor helps you streamline the design process. For example, designers can quickly make global changes to the site. This is helpful if you want to change things like the background color across your site or fonts.
When it comes to fonts, there are more options than you'll ever need – literally thousands of them. If that's not enough, you can upload your own custom fonts to use on your website.
Elementor comes equipped with a range of powerful design features to create visually striking websites. Animating elements on a website are made easy using the same WYSIWYG methodology that you would use to insert an element in the first place. It's possible for anyone to create hover effects, mouseover animations, parallax effects and more using Elementor.
Another important design consideration is the backgrounds that you use on your website. Using backgrounds that support your images well can really make your design pop. Elementor offers 26 different shape dividers that you can put between sections on your website. The height, width and other specifics of each of these shape dividers can be customized to your liking.
You don't have to worry too much about pre-editing the images that you use on your website with Elementor. You can add in effects to each image as you upload them to the site. You can tweak the contrast, hue, saturation, and degree of blur on each image individually. This saves you a lot of time that you would have otherwise spent in Photoshop or some other image editing software.
Let's not forget about how your designs will look on a phone. Elementor generates websites that are fully responsive. You can customize how your website looks across different kinds of devices using its visual controls.
3. Elementor Marketing Tools
Building a nice-looking website is only the first step to your goals. Once you've done that, you want to be able to market your website so that you can start having visitors and potentially sell digital or physical products.
Elementor's suite of marketing tools starts with a landing page and a popup builder. Both landing pages and pop-ups are key ways in which to generate leads and collect emails. Elementor has templates that you can use to construct landing pages to promote specific products or services. Similarly, the pop-up builder helps you create pop-ups which can collect user data easily.
Beyond the drag-and-drop builder, Elementor has a whole host of widgets that you can use to execute different marketing tactics. The form widget lets you collect data through over ten different fields including file upload fields, time fields, and password fields. And of course, you can start with a template and go on to customize every aspect of the design of your forms.
Another widget that's available in the Elementor toolkit is its testimonial carousel. Social proof is a powerful way to get users to trust in your offering and understand what stands out about it. The testimonial carousel comes with two skins which you can use as a starting point. You can then customize the layout and throw in different transitions to display one testimonial after the other.
4. Elementor Integrations
When choosing a WordPress page builder, it isn't just enough to think about just the product itself. You also have to take into considerations what other products you can integrate it with so that it jives well with your entire business operations. Thankfully for Elementor users, the list of integrations is long and diverse.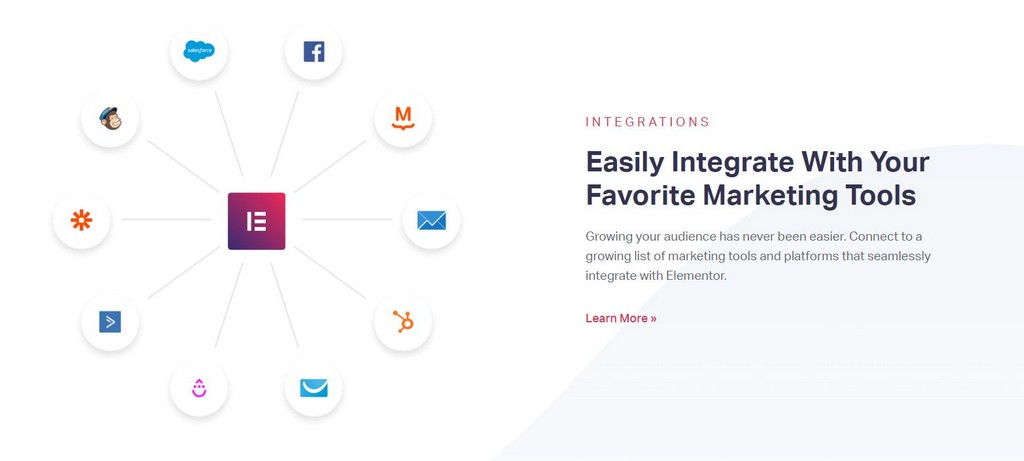 Perhaps the most impressive category of integrations is Elementor's marketing tool integrations. That includes email marketing software like MailChimp, GetResponse, and Active Campaign; Hubspot's inbound marketing software; Drip for customer support and communications; and Zapier to be able to further integrate with thousands of other software.
The list of social media integrations includes Slack, Discord, YouTube, SoundCloud, and Facebook SDK among others. Elementor also integrates with font and icon libraries like Font Awesome, Google Fonts, and IcoMoon.
About Beaver Builder
Beaver Builder claims that over a million websites have been built using its WordPress page builder software. That's a huge win for the team of three California-based founders who are behind this product. According to the team, their goals align with WordPress's larger goal of democratizing publishing on the Internet. And given how widely used Beaver Builder has become, it seems to be doing its part.
Beaver Builder's approach to creating websites visually is to keep things simple. The basic idea is to help businesses create websites quickly and have to ability to do so without too much hassle. You aren't going to see too many flashy features or a whole lot of bells and whistles. But what you do get with Beaver Builder is a solid WordPress website builder that you can trust to get the job done.
Beaver Builder has a lot to offer customers even if the range of features isn't too wide. Here's what you need to know about this visual website builder.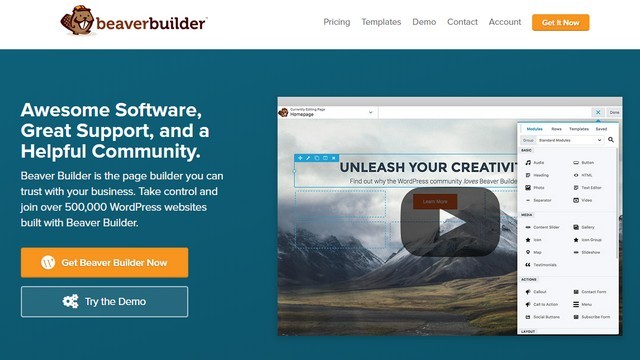 1. Beaver Builder – The Basics
You can make use of Beaver Builder's website building technology in two different ways.
The first is using the Beaver Builder Page Builder plugin. This plugin can be installed like you would any other WordPress plugin. Once you do that, you get access to Beaver Builder's front editing framework. What that means is that you can make changes to your website in real-time and view the changes live. The Beaver Builder plugin is compatible with any WordPress theme.
When it comes to responsiveness, that depends on whether or not you're using a responsive theme. If you are, any website you put together using Beaver Builder is automatically responsive. Users can create modules and save them for use in other parts of their website. You can also assign a module as being global so that it appears the same way across your website.
The Beaver Builder plugin adds important performance improvements to websites. It uses a code compression technique to make the code running in the background more lightweight. This ensures that your websites load faster. The plugin uses the schema.org markup guidelines, which are important for the SEO-compatibility of your website.
Shortcodes are fully supported by the Beaver Builder plugin. You can insert these small code snippets to include things like galleries on your website. Similarly, the plugin has a range of widgets on offer.
The other way in which you can make use of Beaver Builder is by getting the Beaver Builder theme for your website. So while the plugin works on any theme, this product is a WordPress theme that brings the full power of Beaver Builder to your website.
Beaver Builder's WordPress theme is built on Bootstrap. This is a popular framework that's used to build boilerplates for websites across the Internet. They also have an ingenious solution for WordPress not allowing grandchild themes. Beaver Builder has several presets which you can update to make large-scale changes across your website. You can then modify the presets themselves with Beaver Builder's child theme.
Beaver Builder's website builder is built on the WordPress Customizer platform. So you use an environment that's familiar if you've been on WordPress before but with the ability to build your website more visually thanks to Beaver Builder.
2. Beaver Builder Design Tools
The starting point for your website's design as a Beaver Builder user is one of their website templates. Each one of their templates is ready-to-use and mobile responsive.
There are, of course, templates for the home pages of websites. Along with that, there are templates for content pages such as the contact page, sign-ups, pricing page and so on. Beaver Builder also has a range of landing page templates. These span use cases such as landing pages for small businesses, law firms, e-book splash pages etc.
In case you need some extra help with Beaver Builder the company has its own list of recommended builders. These are web design shops that have extensive experience using Beaver Builder to build websites. If you need help designing your website on Beaver Builder you can reach out to one of these companies.
If you prefer to spend some time learning how to use it instead, Beaver Builder has some handy resources. Get Started with Beaver Builder is a course that teaches the basics of building websites with the product. Mastering Beaver Builder covers more advanced topics. Having these resources and the community around it is invaluable to new users.
3. Beaver Builder Integrations
Beaver Builder has a wide range of resources that it says "play great" with the page builder. They don't call them integrations but these are products that you can install and get to work along with the Beaver Builder theme. Here are the categories and some of the products in each one:
WordPress Site Management & Maintenance:
WPBuffs
WPRocket
Sucuri
WordPress SEO by Yoast
Genesis Dambuster
Third-party Extensions
Ultimate Addons for Beaver Builder
FacetWP Beaver Builder Integration
PowerPack for Beaver Builder
PlayGround for Beaver Theme
CB Custom Modules
MegaMenu for Beaver Builder
Marketing tools:
Fatcat Apps
MailChimp
Constant Contact
Campaign Monitor
OptinMonster
E-commerce and Affiliate programs:
Easy Digital Downloads
WP Simple Pay
WooCommerce
Affiliate WP
BigCommerce
Backups and Migrations
Backup Buddy
WP Migrate DB Pro
Better Search Replace
Serialized Search and Replace
So that was a run-down of what each of these WordPress websites builders has to offer. Now that we know what each of these products does, let's take a look at how they compare with each other.
Elementor vs Beaver Builder – Visual Website Building
The first point of comparison we will look at is the website building features themselves. This is, after all, what's at the core of each of these products.
In this department Beaver Builder keeps things very simple. The drag-and-drop interface is straightforward to use. It makes positioning images and creating column-based layouts a lot simpler than it is with the standard WordPress editor.

Elementor is a lot more feature-rich than Beaver Builder when it comes to page building. This theme uses its own interface to make building websites visually a breeze. The drag-and-drop editor is surprisingly easy to use and makes the web design process a fun one. Even web designers will enjoy putting together websites using Elementor thanks to its Lego-like approach to page building.
Another advantage that Elementor has over Beaver Builder is its animation and design capabilities. Every image that you drop into Elementor can be edited individually to change its hue, saturation, blur, and other settings. Along with the images, you can also edit how their backgrounds on the website look.
Beaver Builder doesn't boast any of the animation capabilities that Elementor has out of the box. Elementor users can easily create parallax websites and animate individual elements on their websites. Pulling off such designs would be a lot more complicated on Beaver Builder.
The one advantage that Beaver Builder does have is that it can be used with any WordPress theme. You can install the Beaver Builder plug in on Genesis, Divi, and other popular WordPress themes. This is a handy capability for anyone who does want to be able to use a visual website builder but is married to a particular theme on their website for whatever reason.
If you are starting from scratch or are open to installing a new theme on your website, you can't go wrong with Elementor's website building capabilities. There aren't a lot of other products out there that make the process as intuitive as Elementor. It is a short learning curve to go from someone who's completely new to the product to being able to build entire websites with it.
Elementor vs Beaver Builder – Marketing Tools
It isn't enough to look at your WordPress website builder as a way to get your online presence up. Rather, consider how it can play into your marketing strategy at large. You don't want to find yourself in a situation where your WordPress website can't funnel data into a tool that is central to your marketing efforts.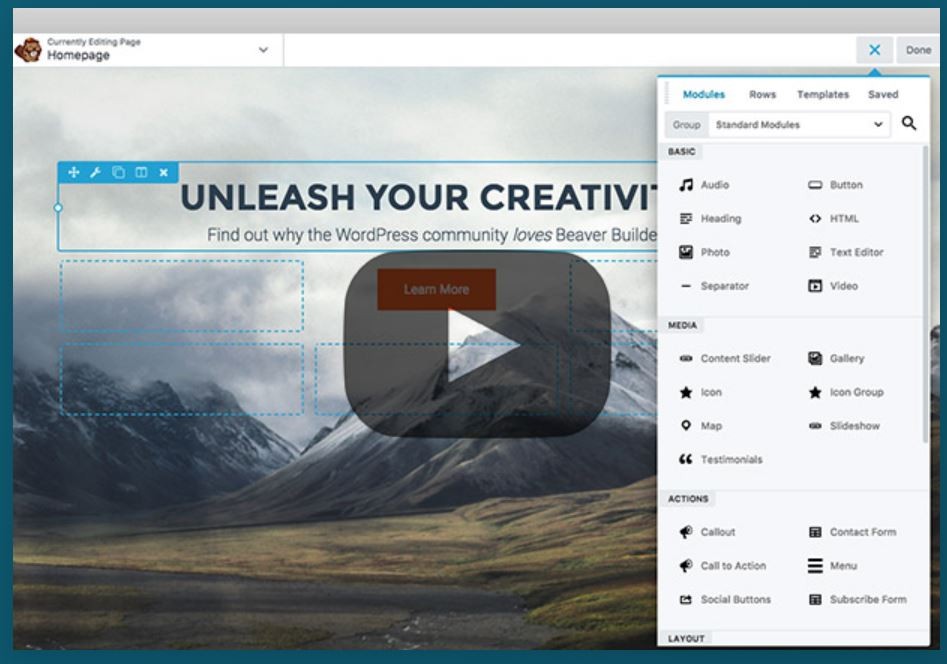 Elementor has a wide range of marketing tools with which it integrates easily. That includes software for email marketing, inbound marketing, sales, customer support, and customer relationship management.
Social media is an important channel for most businesses today. Elementor has a few nifty social media integrations. You can be notified of forms that have been sent via your Slack channel. Similarly, you can have form submissions integrated with your Discord server. These are small but thoughtful additions to the list of marketing features.
Beaver Builder doesn't place as much emphasis on the product itself as a marketing tool. Unlike Elementor, it doesn't boast of a whole lot of in-built or integrated features in this category. As mentioned earlier, it does have a list of recommended resources that work well with the plugin and the theme.
Elementor should be your choice if you're running an intensive marketing operation. Just the in-built marketing tools are good enough to get your operation off the ground.
Along with that, you also have all the third-party integrations. Due to Elementor's popularity, there is a whole community of developers building products just for it. Envato Elements, Ultimate Add-ons, and PowerPack are some of the makers who create additional integrations for Elementor. So by using this page builder, you also buy into that ecosystem.
Elementor vs Beaver Builder – Knowledge Base & Community
One of the oft overlooked aspects of a product is its documentation and whether there's an active community around it. Both come in handy when you run into issues implementing the product.
Beaver Builder is well-documented and a developer-friendly product. Their website has a community forum where you can post questions that you have regarding the product and its implementation. This is really helpful for when you need help yourself or want to see if someone else has already posted about a question you have.
To further assist users, Beaver Builder has a knowledge base with multiple articles covering a range of topics. Installation and upgrades, account information, layouts and templates, and third-party compatibilities are just some of the topics covered in the knowledge base. A new user can easily get underway by going through these articles.
Elementor has extensive documentation that covers every aspect of using the landing page builder. The team goes above and beyond to foster community around its product.
There is an official Elementor users' group where you can interact with other users and get your questions answered. If you prefer real-world interaction, Elementor organizes meetups in many different parts of the world.
A novel component of the Elementor community is the Elementor Expert Network. This is a community of creators, designers and developers, all of whom are familiar with the Elementor platform.
The network plays two key roles. The first is that it gives creators the opportunity to showcase their work and collaborate with each other. Secondly and more importantly, visitors can interact with creators and potentially hire them to work on Elementor-based websites. That way if you need help building an Elementor website, you don't have to worry about hunting for freelancers or agencies who know what they're doing.
When it comes to documentation and community, both Elementor and Beaver Builder do a great job. There are large communities around these products and it's easy to look up doubts and get help when you need it. The only area where Elementor has an edge is the community building it does through its Facebook group and in-person meetups.
Elementor vs Beaver Builder – Pricing
Finally, let's talk about how these products are packaged and priced. That is, after all, one of the more important considerations for any business.
Elementor Pro comes with 50+ advanced widgets, a theme builder, pop-up builder, visual form builder, WooCommerce builder, and animation effects capabilites. The Pro version has the same features no matter which pricing package you choose.
The differentiator between the packages is how many websites you can install it on. It costs $49 for one website, $99 for three websites and $199 for unlimited websites per year. You can get a refund within 30 days of buying Elementor Pro.
Click Here to Get Elementor Pro
Beaver Builder bases its pricing models on allocating certain features to certain packages. So if you buy Beaver Builder, you can install it on as many websites as you like. But in order to access certain features you will have to pay more.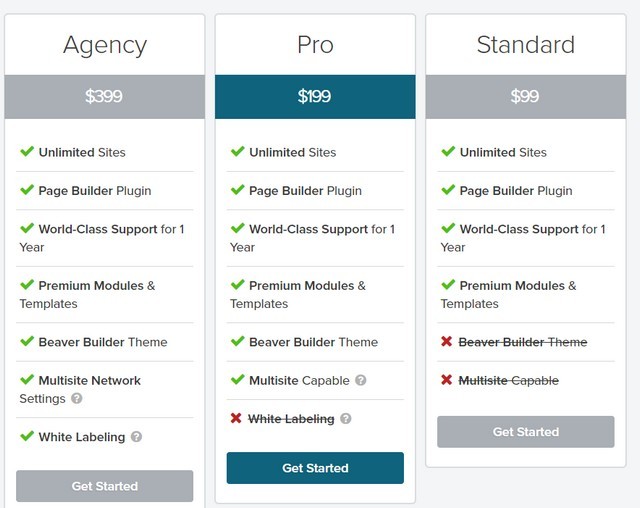 The Standard version of Beaver Builder costs $99 per year and gets you the page builder plugin, themes and support. For $199, you get access to the Beaver Builder theme and the ability to use it on multiple websites. To fully white-label the product, you will need to pay $399 per year. This top-of-the-line package is aimed at agencies that build multiple websites every year for clients.
Beaver Builder offers a 30-day money-back guarantee on all its products.
It's clear that Elementor is the more economical of the two products. Not only is its basic package $50 cheaper, it also boasts all of the features that Elementor Pro has. Given the range of features that become available to you for $49 per year, Elementor is the way easier on the pocket than Beaver Builder.
Elementor vs Beaver Builder – Final Thoughts
So there you have it. That was our in-depth look at Elementor and Beaver Builder, a couple of the more popular page builders for WordPress.
It's clear from this analysis that both of these products are strong in terms of their ability to make website building easier. That said, Elementor edges Beaver Builder out in several ways.
Elementor's drag-and-drop builder is easier to use and better designed. When it comes to marketing tools, Elementor has significantly more integrations and third-party add-ons than Beaver Builder.
Finally, we saw that Elementor Pro is significantly more affordable than Beaver Builder. This is a huge factor for any business. All of Elementor's features being available at just $49 per year feels like a steal.
Given all of those factors, Elementor is the WordPress page builder we recommend no matter what kind of business you run online. Of course, your personal preferences may vary based on the specific nature of your operation. But if you're looking for an easy way to create your website and build your business atop it, you can't go wrong with Elementor Pro.