If you are looking for a HostGator Coupon Code, then you've come to the right place! HostGator is one of the world's most popular WordPress hosting providers & using the discount below you can get a discount on Discount irrespective of the plan you pick (even if you sign up just for 1 year!)
HostGator Coupon Code 2021: Jeremy60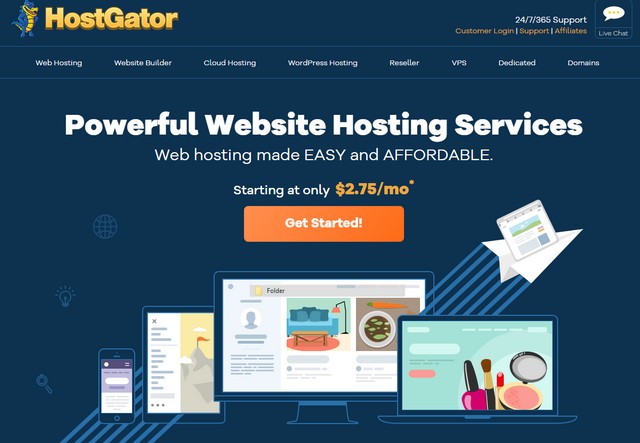 HostGator Discount Code
Hostgator is cheap and easy to set up for beginners but in terms of server response and speed, it is quite average however if you're on a budget. It's one of the best hosting options for you.
JeremyNoronha.com readers can get up to 60% Discount on HostGator Hosting. Simply click the link below and the discount code "Jeremy60" will be automatically applied.
HostGator Coupon Code 2021: Jeremy60
HostGator Coupon Code
HostGator is pretty cheap for what it offers and using my discount you can save you over 60% on your hosting plan.
Exclusive Offers For JeremyNoronha.com Readers
JeremyNoronha.com readers can get up to 60% Discount on HostGator Hosting. Simply click the link below and the discount code "Jeremy60" will be automatically applied.
Hurry Up! Limited Time Offer.
How To Get A Discount on HostGator
If you need some help here's a brief walkthrough on how to claim the discount:
Step 1: Go to HostGator by click here.
Step 2: Click "Get Started" and pick a plan and click "BUY NOW"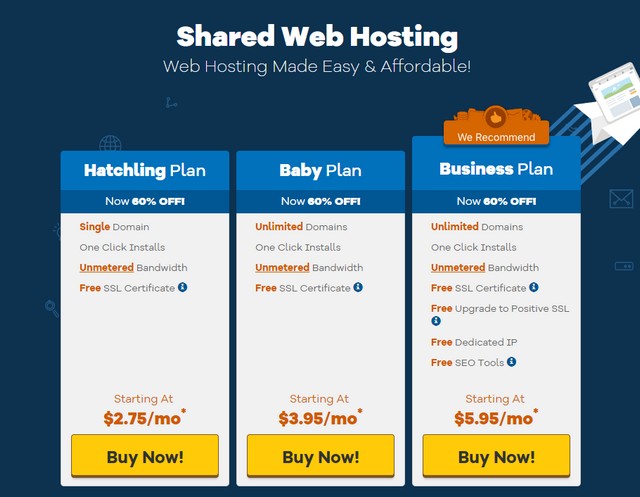 Step 3: On the checkout page you can choose your domain name, fill in your details and go to the coupon section at the button and use the coupon "Jeremy60" to save 60%.
Step 4: Click "Checkout Now"
That's it!
HostGator Hosting Review
Every business nowadays needs an online presence and the best way to do this is via a website. It doesn't matter if its a multinational corporation or a neighborhood cafe a website is still an important essential. This is because websites are accessible 24/7 by your potential customers who can turn into sales. That's right a website if done right can generate sales round the clock!
However, building an effective website is no easy feat and takes a lot of time and money before you even start to get the ball rolling and the first step to this is getting a good and reliable website hosting to build your website upon.
In this article, I'm going to review Hostgator's hosting and highlight all the important bit and pieces of their hosting service. If you've been looking to invest in this hosting or simply research to find the best shared hosting service in 2021 then I'm sure this article should help you answer them.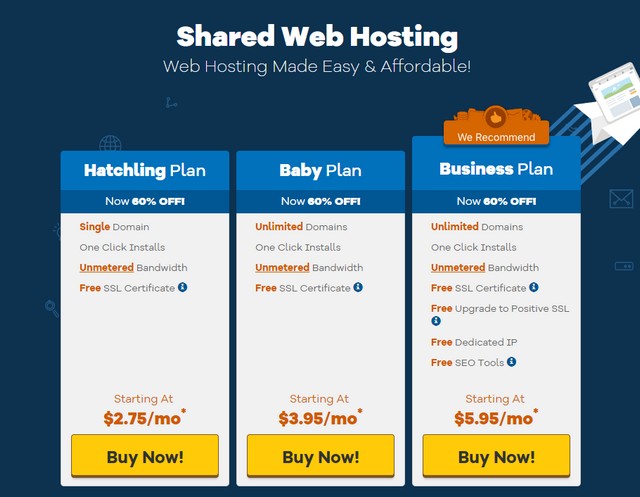 Hostgator offers monthly and yearly Shared web hosting plans however by default it will set you to a 3-year plan please make sure you change that before proceeding.
Shared hosting plans offered by HostGator are good for new websites and beginner webmasters. You can set up a website quite fast and start working on getting more traffic and growing your business. You can later upgrade your hosting as your website grows.
HostGator offers Linux or Windows-based shared hosting packages that work for small to medium-sized businesses. The three plans are as follows:
1. HostGator Hatchling Plan
This plan allows you to host only a single website and includes 1-click WordPress installer and comes with standard features
Who is this for?
If you are an absolute beginner looking to simply test the waters with just a SINGLE website and are extremely constrained by a budget.
Click Here To Get 60% Off HostGator's Plans
2. HostGator Baby Plan (Highly Recommended)
This plan allows you to host an unlimited number of websites and indices the same features as Hatchling but with added private SSL.
Who is this for?
This is for both beginners and intermediate users that want to host more than one website and is, in my opinion, the best plan of the bunch
Click Here To Get 60% Off HostGator's Plans
3. HostGator Business Plan
This plan is suitable for small business websites and includes SSL certificate and free dedicated IP ideal for an e-commerce website.
Who is this for?
This is for more advanced users that want a dedicated IP and some premium SEO tools and of course, want to host multiple websites
Click Here To Get 60% Off HostGator's Plans
All the three plans offer unlimited bandwidth meaning they have an unmetered amount of storage and can accommodate traffic spikes quite comfortably. However, for a slightly faster hosting plan I recommend going for the Baby and Business plan (with dedicated IP)
Hostgator vs SiteGround Comparison Table
Since I've personally use SiteGround I decided I would draw a comparison between the two hosting providers and try to draw a conclusion as to which is better for what.
| | | |
| --- | --- | --- |
| Features | HostGator | SiteGround |
| Monthly Price | $2.75 | $3.95 |
| Free Domain | Yes (Annual Plans) | No |
| Average load time | 1.35s | 0.74 |
| Storage | Unlimited | Metered as per plan |
| Bandwidth | Unlimited | Metered as per plan |
| Uptime | 99.97% | 99.98% |
| Backups | Unlimited (Extra charge for automatic) | Up to 10GB |
| | Check Price | Check Price |
In my opinion, HostGator is more suitable for beginners and has its pricing extremely low however although SiteGround is better in terms performance and customer support this comes at a little premium which can be a little too much for someone just starting out.
If you're a beginner with a limited budget who's looking to not break the bank over website hosting then I recommend Hostgator moreover because it has a great community that's quite friendly towards beginners.
Just like every product and service that have their own pros and cons, Hostgator is good and bad at some things and here are the pros and cons of Hostgator WordPress hosting.
Pros of Hostgator WordPress Hosting
PRO #1: Flexible Billing periods:
Unlike other hosting companies that have lock-in periods of a year or more with their hosting plan, Hostgator offers flexible billing periods that range from monthly to yearly.
Pro tip: Longer billing periods tend to be much cheaper than monthly and can save a ton of cash when it comes to web hosting.
PRO #2: Reliable Hosting with Uptime guarantee:
Unlike other hosting companies Hostgator offers a 99.99% uptime guarantee and swears by it by further giving you free one month credit if you experience a downtime below that guarantee.
PRO #3: Good Ecosystem and user-friendly for Beginners:
HostGator is one of the most popular websites hosting providers with everyone and their mom using it. So even if you are a beginner who knows nothing about websites you can just look for solutions on the internet and you'll definitely find something.
From Hostgator itself, there's a ton of endless tutorials, FAQ pages, and documents to help you at every turn. From third-party, there's a ton of blog post tutorials, forums, youtube videos and what not to learn just about anything about Hosting with HostGator. In short, it is a great ecosystem to be part of.
PRO #4: 45-day Money Back Guarantee
It is no easy feat to commit to website hosting as compatibility is always tricky and you never know what you want until you actually try this. This is where money-back guarantee comes into play as you can try our website hosting risk-free and get a refund if you realize it isn't what you want.
The standard return policy in website hosting is 30 days however HostGator offers a whopping 45-day money-back guarantee. This is better than most competitors and more importantly enough time to test out the waters and really check if a website hosting is right for you.
Here's what you need to know about getting your money back from HostGator:
Your refund isn't valid for dedicated servers and fees such as admin, install or domain fees. It only applies to shared, reseller or VPS hosting.
Refunds for orders of $0.01 aren't really eligible. It's 1 cent … come on, let it go!
If you pay for your package with a check or through bank wire you won't be eligible to receive a refund.
Cons of Hostgator WordPress Hosting
CON #1: No free domain
Unlike many other hosting providers, HostGator does not offer free domain registration upon signing up with them. This could save a bit of cash and is a bit of a let down especially when many other competitors are doing so.
CON #2: Up-selling is a little aggressive
One thing I do not like about HostGator is its aggressive marketing strategies, especially during the signup process. For instance, you will have to uncheck a ton of add-ons before you continue to payment.
Apart from that, you'll notice HostGator tries hard to sell you on an extended plan rather than the monthly. I've explained who these plans are good for in the next section.
CON #3: Important Features like Backup have fees
Unlike other hosting providers HostGator charges for add-on features like automated backup features. Moreover, these backups are already included by default in the cPanel but for them to be automated you need to pay an extra fee of $15.95.
About HostGator
Hostgator was founded in 2002 and quickly grew to become one of the biggest hosting companies in the world and for good reason. Their monstrous growth is because of their flexible hosting plans, reliable website hosting and good customer service.
It is today a multimillion dollar company that employers over 800 people around the clock to offer support and serve businesses of different sizes. It's headquartered in Houston, Texas, and hosts over 8 million domains.
Performance and Speed
Server Uptime:
Uptime is one of the most important metrics that measure how reliable the server is and HostGator does pretty well in this department with its 99.7% uptime, in fact, it guarantees credit in terms of time to your account in case of downtime.
Server Response Time
The content of your website is significantly affected by the page load time for example if your website has multiple images the page load time would increase and this also increases your server's speed test results.
Hostgator websites have a response time of about 37ms and perform really well as compared to other competitors. This means the hosting service is going to go up a notch in terms of quality.
Disk Storage
HostGator offers unmetered storage so you can bring a ton of images, videos, logos, links and whatever else you need to run a growing website or blog or simply do both!
Recently HostGator invest in a whopping 300k square foot data center in Houston, Texas that is going to definitely take the services up a notch.
Server Bandwidth
Most Website hosting companies have a limit on the amount of bandwidth aka traffic the servers can handle. However, HostGator provides an unlimited amount of bandwidth with all its plans allowing its users to enjoy easy scalability.
Server Speed
HostGator focuses on using good equipment and employing extra server layers to allow for faster speeds and overall better service.
Note: For those in Australia your speed will be much faster because HostGator has a data center in that area.
Data Centers
HostGator has a collaboration with Softlayer that allows them to use their data centers in multiple locations and SoftLayer has some of the best all around the world. They use the best hardware like power generators, various power feeds and constant server monitoring along with good UPS backup facilities.
Customer Support and Knowledge Base
Like any other plan, HostGator offers both offline and online support via telephone at 24/7 and online via chat and ticket based system.
HostGator offers four different types of support:
Live Chat: The quickest way to get things resolved and in fact a support feature only available with premium hosting providers
Phone: If you're having trouble explaining things over chat it's always useful to call and explain verbally.
Email: If you need to send website files or screenshots over the internet so a support tech can understand the problem
Ticket based system: If you have a problem that's difficult to solve and might need to be accessed by more than on support tech ticket based forums work best.
In case you have a query you can use also use HostGator's an extensive knowledge base that contains answers to practically every possible question you can have. HostGator has answers to every possible question you will have ranging from basic to extremely advanced.
Other Perks and Features
HostGator being a premium company can afford to offer a ton of features for free. Here are some of the features you'll have access to via HostGator dashboard:
Intuitive cPanel Dashboard
Email Perks: Unlimited custom email addresses.
Free Google  Adwords Credits: Use a complimentary $100 Adwords token to attract visitors.
Addon Domains: Add unlimited additional domains if you get the Baby or advanced plan.
Sub Domains: You can create unlimited subdomains for test websites etc.
Free Website Migration: If you're looking to move your website between another host to HostGator there is a free website migration service.
HostGators Hosting Pricing
In the website hosting industry you get what you pay for and while HostGator isn't a free website host by any means it is a premium website hosting company that offers premium services at affordable prices.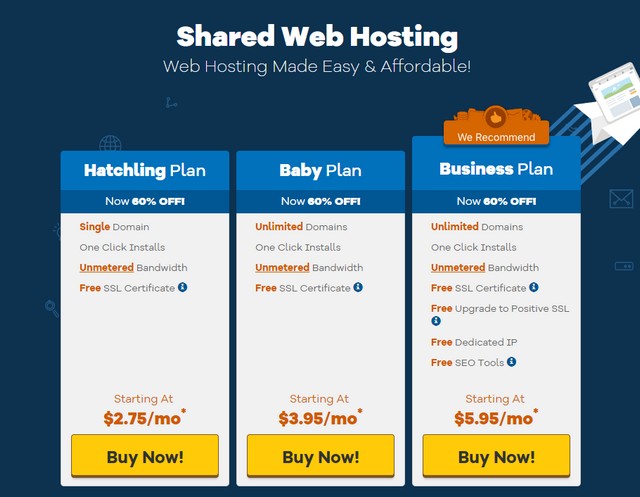 Even the cheapest plans give you unmetered bandwidth and storage meaning you can accommodate an unlimited about of traffic and storage for the same cost!
JeremyNoronha.com readers can get up to 60% Discount on HostGator Hosting. Simply click the link below and the discount code "Jeremy60" will be automatically applied.
Hurry Up! Limited Time Offer.
Factors to Consider With HostGator Hosting
Website hosting is an important part of the website, in fact, it's the foundation without which you will have no website. More importantly, if you pick the bad one your website will fail.
The hosting industry today is flooded with website hosting providers some of which are not as good and this is why it's important to know what factors make a hosting service good which this section is all about.
#1 Value for Money Pricing Plans
Website hosting is definitely a big investment hence and for most people money can be a constraint. This is why it's important to look for hosting companies with not cheap but value for money pricing.
By this, I mean something that's reliable and good and priced reasonably well but not cheap. This is because what's cheap is not good and what's good is not cheap. Hosting providers are cheap because they are lacking in some way either in terms of speed, customer support or another important metric.
A hosting company has to invest in expensive data centers, customer support and costly infrastructure and all this costs money hence expect to pay a bit more than "cheap hosting plans".
#2 Globally located data centers
Data centers are how a server connects to data hence it's important for the hosting company to have data centers that are globally located to ensure the data from your website always reaches the server.
Now hosting companies use cloud hosting that doesn't really need them to have data centers globally located and because of this, the server enjoys a connection to data centers round the clock.
#3 Well trained Customer support
Website hosting can be quite complicated with a lot of hiccups and to find solutions to these problems you will definitely need someone round the clock to help you with your queries.
However with customer support for website hosting It's also very important for the customer support to be well trained in order to help you with technical queries. This is extremely important as sometimes queries require some technical knowledge that a general customer service rep would not be able to solve.
The cheapest website hosting companies offer customer support but most times they aren't trained to handle queries and only end up wasting time.
#4 Seamless Scalability
If you're planning on going long term with your website at some point you will need to scale up either in terms of storage or in terms of an amount of bandwidth your website can handle.
At times like these, HostGator's unmetered bandwidth and storage comes in handy as all the three plans can handle traffic spikes and an unlimited amount of storage and traffic. In shorts, if you're planning on scaling up and don't want to switch hosting then HostGator is a perfect option for you.
Conclusion
To be honest HostGator is one of those companies I have a love-hate relationship with because they are really good at somethings and in other cases aren't okay.
While it may be lacking in terms of speed and some features like automated backups the pricing it offers its plans make it an absolute no brainer for anyone looking to cut cost without sacrificing on quality.
Moreover, HostGator being one of the more popular platforms has a great community around it. It is pretty easy for a beginner to get started with a wide variety of resources available all over the internet. This means if you're new and want to get your website up and running without any hiccups HostGator will be an easy option for you to start with before you'll be part of a great community of people who know and use it.
Cheers!
Other Hosting Deals: