TLDR: A2 Hosting is the Best Cheap VPS Hosting in 2023
Get 67% Discount on A2 Hosting
Virtual Private Service (VPS) is a powerful form of multi-tenant cloud hosting service. This service offers virtualized server resources to end users over the internet, either through cloud or hosting services. VPS offers a secure and stable solution when you don't have private server space. VPS servers are smaller and cheaper in comparison to dedicated servers.
VPS offers high levels of performance and flexibility to its users who expect moderate levels of traffic to come to their site. With the root access to the server offered by VPS to its users enables them to customize their site and install applications without requiring the permission of the hosting provider. The greater storage space and bandwidth make this service a good choice for companies that require a secure and affordable backup environment after they've outgrown their shared hosting plan.
Several companies offer cheap and reliable VPS hosting services to their users. Some plans cost a few dollars but lack some features that a premium service might offer. Selecting a VPS hosting service that is best suited for you can be challenging. In this article, I will explain what you can expect from a cheap VPS service and give my input on the cheapest VPS solution for your business.
Are you in a Hurry? Here are my top 2 picks for reliable cheap VPS hosting providers. 
A2 Hosting – Very affordable and secure VPS hosting services.
Bluehost – Fully managed service with full root access
What can you expect from a cheap VPS hosting service?
VPS hosting services generally have excellent performance compared to other hosting plans. Discounted or cheap hosts also offer the same flexibility and have optimum functionality like premium VPS hosts. Users have complete control of their site and can customize the web server's configurations. However, people without any technical know-how will find the management and server configuration difficult.
Managed and unmanaged VPS hosting also influences the experience a user will have. To escape the menace and hassle of configuring the server, a managed VPS is ideal; however, its plans are more expensive compared to unmanaged hosting services.
Is cheap VPS hosting the right option for your business?
If your company is working with a tight budget, then going with quality cheap resources is the best way to go ahead. VPS hosting service offers the same speed and stability due to the cloud servers, but scalability may differ. The virtual space with more privacy and isolation is considerably cheaper than having a dedicated server; however, the natural human tendency is to get higher discounts as much as possible.
Cheaper VPS services may offer good features that are ideal for a company as it is starting fresh and are in the middle phase. If you're opting for the cheapest VPS plans, if and when you're business evolves, you'll have to migrate to a bigger service or face the risk of shutting down due to overload. When you go for a higher-paid VPS company, they offer premium services that have high data availability, data storage, live migrations, better uptime, free domain names, and various other features. These features help you manage your website and have a smooth interface. They also boost up user experience and keep them glued to your site, thereby improving the SEO of your website while opening new opportunities for you to tap into.
Best Cheap VPS Hosting Services
1. A2 Hosting – Very affordable and Secure VPS Hosting Services
A2 Hosting is a veteran in the industry, having excellent VPS hosting plans. The hosting service offers both managed and unmanaged VPS hosting options. The services support free Linux VPS, while cPanel is available for advanced plans. This service is well suited for both beginners and advanced users.
Get 67% Discount on A2 Hosting
Pros
Full root access
Good SSD storage
Excellent performance and speed
Data centers in different locations across the globe.
Cons
Requires technical support
Limited bandwidth
Top reasons to get A2 hosting for your business.
Reason #1- Complete root access
A2 Hosting gives full root access to its users. This allows users to control and configure the server at the administrative level as they deem fit without requiring the permission of the hosting provider. The unrestricted access to the server helps developers or people with expertise to fine-tune the site and add third-party applications or make changes to the security settings.
Reason #2- Performance and speed
A2 Hosting has optimum performance and reliability with 99.8% of uptime. This ensures that your site is always available for visitors to view. The 253ms response time is the fastest in the industry, giving an excellent user experience.
Reason #3- Data servers in different locations
A2 Hosting has data servers in Michigan and Arizona in the US, alongside servers in Amsterdam and Singapore. This allows websites to be faster and load quickly for people in different regions.
Reason #4- Pricing
A2 Hosting service managed and unmanaged VPS hosting plans. The managed hosting plans are cheaper in comparison to managed plans.
The Runway 1 unmanaged plan starts at $4.99, while the most premium plan starts at $34.99. The basic plan has a 1 GB ram with 150 GB SSD storage space with 1 core, 2 TB transfer available, and root access. As the rate of the plans increases, the storage space, transfer capability, and other features drastically increase.
The managed VPS has 4 plans similar to the unmanaged hosting service offered by A2 Hosting. The basic plan starts at $39.99, with the highest plan starting at $59.99. The basic plan has 4 GB ram with a 150 GB SSD storage space, 2 cores, and free SSL certifications. They allow for easy site transfer and have a CPanel to manage the working of the site. The features in the higher plans are better and more advanced than the basic plan.
Reason #5- World class support
A2 Hosting offers 24×7 support and resolves issues easily. The service offers support via chat, email, and phone. The site has several FAQS that have already answered common questions and issues faced by its customers.
Reason #6- Excellent server security for managed VPS
The managed VPS offered by A2 Hosting gives free SSL certifications. The security encrypted protocol plays an important role in website security. This certification keeps the data between the visitor and your website secure from malware and threats.
Verdict
A2 Hosting is a cheap VPS hosting service that offers good flexibility and reliable performance. The full root access and adaptability to Linux, cPanel, and Webuzo make it a highly versatile VPS hosting service to operate your website.
2. Bluehost – Fully managed VPS service with full root access
Bluehost is a solid choice for hosting your website using Virtual Private Service. Bluehost offers excellent speed, reliability, and competitive prices. These features make it an excellent option for both beginners as well as experienced web developers looking to manage their websites.
Click to Get 67% OFF Bluehost Now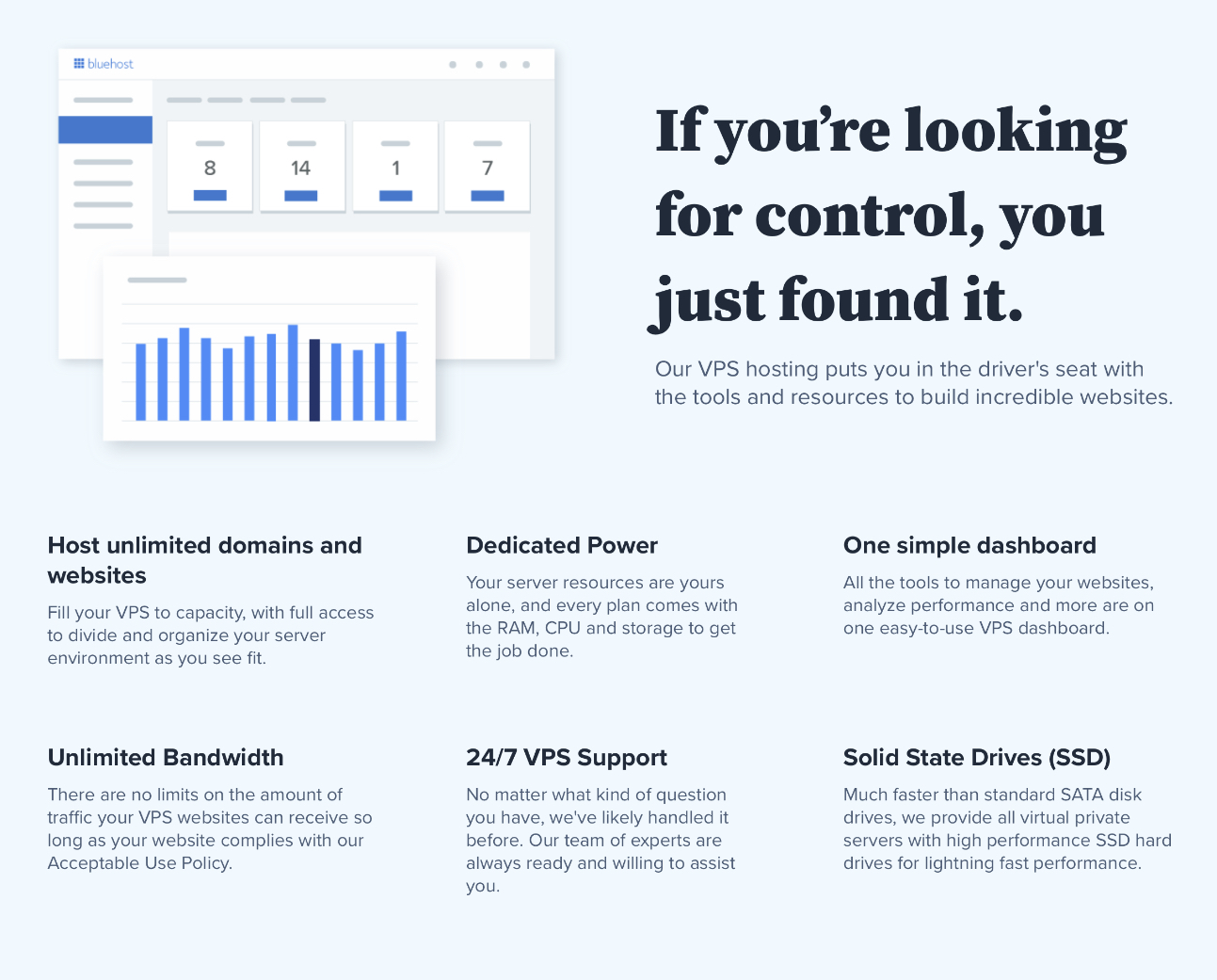 Pros
Fully integrated cPanel
Complete root access
Fully managed services
Good choice for newbies and experienced developers
Cons
Premium rate
Servers located only in the US
Why you should opt for Bluehost VPS hosting
Reason #1- Performance and speed
Bluehost is a VPS hosting service whose server virtualization is powered by a KVM hypervisor. This gives Bluehost optimum performance and reliability. The provider shows an uptime of 99.99%, which infers that your website is not prone to go off. It has a solid response time of just 549ms which gives it an edge over other hosting providers. The 1TB to 3TB bandwidth available on the different plans helps reduce the speed required to load a website.
Reason #2- Fully managed solution
Bluehost is a premium VPS hosting service that always keeps your website updated. The hosting provider ensures that your website is professional without you having to manage its servers. This allows you to focus on important tasks, while experts take care of the difficult bits.
Reason #3- Full root access
Bluehost offers full root access and complete control of your VPS services. Bluehost thereby allows users to configure administrative servers efficiently. This allows developers the opportunity to shape their websites as they require. The integrated cPanel in the site allows for a reliable and intuitive server and site management. The automated and configurable platform allows customers to efficiently scale and grow their businesses.
Reason #4- Security
Bluehost has outstanding security features that give protection to different users. SSL certifications play an important role in efficiently fighting off cyberattacks. With Bluehost, you can stroll risk-free as your website is in safe hands.
Reason #5-Customer care
Bluehost VPS hosting services can handle and resolve any problems faced by its users efficiently. Apart from the 24×7 service offered by Bluehost, you can contact them via chat, email, or phone. The premium service that you've opted for will ensure that you will get all your money's worth.
Reason #6- Premium plans
Bluehost has 3 plans that they offer to their users. The Standard plan starts at $19.99 while the Enhanced plan starts at $29.99, and the Ultimate plan starts at $59.99. The prices of the service may be high, but it offers far better opportunities to grow and evolve as compared to cheap vps providers.
---
STANDARD
2 Cores
30 GB SSD Storage
2 GB RAM
1 TB Bandwidth
1 IP Address
SPECIAL PRICE
$18.95/mo.
Regular $29.99/mo.
ENHANCED
2 Cores
60 GB SSD Storage
4 GB RAM
2 TB Bandwidth
2 IP Addresses
SPECIAL PRICE
$29.95/mo.
Regular $59.99/mo.
ULTIMATE
4 Cores
120 GB SSD Storage
8 GB RAM
3 TB Bandwidth
2 IP Addresses
SPECIAL PRICE
$59.95/mo.
Regular $119.99/mo.
Note: All plans come with a 30 Days Money Back Guarantee + FREE Domain Name for 1st Year.
Reason #7- 30 day money back guarantee
Bluehost allows users an option to test the speed, managed solutions, and other features for a month. If users are not happy by any of its features they can get a refund.
Verdict
Bluehost is a premium VPS hosting service that offers superior performance. Its managed services and integrated cPanel with full root access make it a viable hosting provider. The top-notch security and proficient customer service offer a friendly customer experience.
3. DreamHost – Managed VPS with a Resource Rich Control Panel
DreamHost is a reliable and cheap VPS hosting provider. The fully managed service has good performance having unlimited bandwidth. The hosting service is ideal for beginners who want to operate blogs or small to medium-sized stores.
Pros
Excellent performance and speed
Affordable pricing
Unlimited bandwidth
Efficient, easy-to-use control panel
Cons
Root access is unavailable
Scaling is difficult and expensive
Data centers only in the US
Features that make DreamHost a good VPS hosting provider
Reason #1- Affordable pricing
DreamHost offers 4 cheap plans to kick start your venture. All the plans offer unlimited bandwidth and can operate multiple sites. They also offer unlimited domain names with theregistered email.
The Basic plan starts at $10 and offers a 30 GB SSD storage space and 1 GB ram.
The Business plan starts at $20 and has 2 GB ram with 60 GB SSD storage space.
The Professional plan is priced starting at $40 and has a 120 GB SSD storage space with 4 GB ram.
The Enterprise plan starts at $80 and has 8 GB ram with 240 GB SSD storage space.
Reason #2- Security
DreamHost gives SSL certifications to its users that protects your personal information and that of your users from being exploited by cyber hackers or malicious malware.
Reason #3- Performance
DreamHost has good performance and near-perfect uptime, ensuring that the website is always online. The server virtualization is powered by Linux VServer, which uses Ubuntu OS. It has a poor average response time of 710 but is very good for a cheap vps hosting provider.
Reason #4- Easy to use
DreamHost has a custom control panel that is easy to use and operate. The control panel eliminates the need to manage your web hosting.
Reason #5- Managed services
DreamHost offers excellent managed services to its users. The services might be on the basic side, but they update the server, add security patches, update the OS and automatically update the software system of your website.
Verdict
DreamHost is a cheap vps host for beginners and small-scale businesses to start their website before migrating to a powerful hosting provider. The fully managed service has an easy-to-use interface and excellent uptime. These unique features and offering it gives to its usersmake it a very unique VPS provider in the industry.
4. InMotion Hosting – VPS hosting for Businesses and Corporations
InMotion Hosting is more of a business-oriented VPS provider that is generally seen in larger sites or multiple projects. The service has reasonable pricing when compared to the premium features it offers. It offers both cloud self-managed and managed plans.
Click Here To Get InMotion Hosting

Pros
Root access
Good server resources
5 cPanel licenses
24×7 customer support
Cons
Expensive for beginners
Servers located only in the US
Few features that make InMotion Hosting a reliable VPS hosting provider
Reason #1- Performance and loading speed
The performance of InMotion Hosting is nothing short of great. It offers an uptime of 99%, which ensures that your site is online all the time. of InMotion Hosting has an average response time of 585ms, which is very satisfactory.
Reason #2- Web Host Manager
InMotion has an efficient web hosting manager that allows you to provide hosting services to your client or other projects. Each plan comes with 5 cPanel licenses, making it a good choice for agencies and developers working on numerous projects.
Reason #3- Easy setup
The managed VPS plan can efficiently handle the maintenance and setup on its own. The control panel offered by InMotion makes the entire process simpler. The Ansible Control Node automation framework offered by InMotion can be set up free for your first server. The root setup allows users to customize and add certain applications to their sites.
Reason #4- Customer service
InMotion Hosting offers different support options to all its users. Apart from the support centers, both chat and phone support are also provided to the user.
Reason #5- Pricing
InMotion Hosting has 4 plans which range in price from $19.99 to $59.99 per month. The pricing of this service may not be the same as other cheap vps, but it offers generous server resources. The resources include a 4 GB RAM, 2 CPUs, 90 GB SSD storage, and 2 dedicated IPs.
Reason #6- Scalability
InMotion Hosting VPS is designed to help scale your business and reach the height it requires. The fully managed VPS services with the various server resources offered by the host make it the best provider to scale your business and take the next step.
Verdict
InMotion Hosting is a premium as well as cheap vps due to its fully managed services and outstanding server resources. The hosting service has good performance and excellent customer support, which is ideal to take your business to the next level.
5. Hostinger – Semi-managed VPS Hosting Service
Hostinger is a cheap VPS service provider that offers semi-managed service features. The hosting service offers various options for Linux users and has a dedicated IP address. The general web host has WordPress-specific plans and also offers cloud and dedicated plans.
Pros
Cheapest VPS Hosting
Multilingual customer support
Reliable vps hosting service
VPS control panel
Cons
Limited resources
Requirement of technical know-how
Reasons to get Hostinger VPS Hosting Service
Reason #1- Response time and performance
Hostinger is a reliable VPS hosting service and has maximum uptime of 99.9%. This ensures that your website is always online. Hostinger has a swift average response time of 540ms.Hostinger has servers in different parts of the world, allowing their website to load quickly around the world.
Reason #2- Cheap prices
Hostinger offers 8 VPS hosting service plans to its customers. The basic plan starts at $3.49 per month, making it a good choice for beginners and newbies. This plan has one vCPU with 20 GB storage space and 1 GB of RAM. The higher the rate of the plans better are its features and characteristics. All the plans come with a Linux-based OS templates, which include Ubuntu, Debian, and CentOs.
Reason #3- Easy to use
Hostinger comes with an easy auto installer that has different web scripts like WordPress in its VPS plans. They offer a pre-installed control panel which is easy to manage and configure using the virtual server in the control panel. Users also have root access that allows them to have complete control over the website and customize it or install third party applications.
Reason #4- Customer support
Hostinger comes with excellent customer support to resolve all your queries. The multilingual support team can cater to different audiences. Apart from these features, they also have a live chat option, which is available 24×7.
Verdict
Hostinger is packed with excellent performance and a good control panel. The cheap vps offers reliable service and has an inbuilt control panel that is easy to configure and manage. The multilingual customer support and servers across the globe give everybody a user-friendly experience.
Which VPS Hosting Provider should I get?
When comparing different VPS providers, don't just look at the price but also see the value each one gets to the table. A cheap vps provider may cost less, but it may lack the basic features required to scale your website as it grows. Understanding the basic concepts and features is essential before finalizing the service.
Here are my top 2 picks for reliable cheap vps providers.
A2 Hosting – Very affordable and secure VPS hosting services.
Bluehost – Fully managed service with full root access
I hope this article has helped narrow down your search for a viable VPS provider. Review all the policies and features before making the final decision.
Free VPS Hosting Forever
Sure there are a few free VPS hosting solutions but obviously, it won't be as powerful and robust as a paid one, more importantly, there's always going to be a catch that doesn't make it worth the effort getting a supposedly free VPS hosting plan.
When you're first starting out everything may look like a cost but after gaining more experience people start to realize the benefits of paying for quality.
Remember nothing in this world is 100% free! In fact, there are serious issues with free VPS hosting and I'll go through each of them below:
Free VPS Hosting is usually a scam
Yep, that's right it's mostly a scam because why would anyone in their right mind spend precious power and resource without getting anything in return.
What you will get are a bunch of promises, lies and questionable data collection and barely any free VPS hosting.
You have to give them Referrals (Ponzi scheme)
The fine print that's advertised with supposedly "Free VPS" or the catch you have to get other people to buy into it aka referral (Ponzi scheme)
Every company needs attention to survive and what better than users talking about their preferred service to friends.
However, in the case with free VPS hosting companies, the people referring to it do it because they are needed to get the product.

For instance, Cloudrino is a "HOT" Indian startup with a huge waiting list of over 230 thousand users all in line for free VPS hosting that claims.

As you can tell to jump a few post few positions ahead of that line by well-referring friends to join the line! (Ponzi alert)
VPS Hosting Scam Post4VPS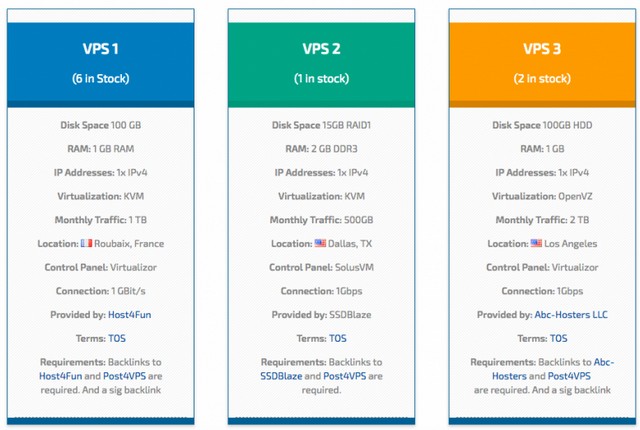 In order to even participate in the giveaway you need to be an engaging user with at least 25 posts then you can participate in a monthly raffle where you may get one of the free VPS hosting services.
Also once you get the server and you neglect keeping being an active contributor you lost it almost immediately. So yeh sure you're getting "Free VPS hosting" but at the cost of your time
VPS Hosting Scam Gratis VPS
At first, their website looks pretty legit but after a while, you start to realize the links don't go to a crappy contact page and the VPS FREE plan is a trap to enable notifications from them.
So basically the only link that leads to an actual page is the free plan. It'll first take you to some installation wizard where you can choose a server OS, location, CPanel and you know the good stuff. Then it takes you to this page.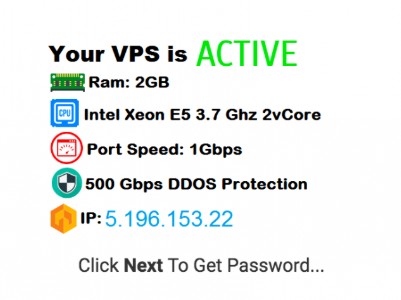 Several Seconds later the server is deployed and you have a static picture that never changes. Like what the hell?
But hey you can't log in just yet as the Password is not active in fact you have to the process all over again but this time click on the ads. ( I tried this and it's an endless loop of errors and of course them getting more clicks)
Free VPS Hosting is a Data Collection Honeypot
Before GDPR the internet was littered with websites that were simply honeypots for data collection that sold all that data to the highest bidder and free VPS hosting websites are like (real-life) fossils of that primitive period.

The so-called popular free VPS hosting services like 5Jelly and Gigarocket are gone bonkers wherein you can't even register anymore
I think it's more than a coincidence that these "services" go down just after GDPR compliance and the approval of new user data laws.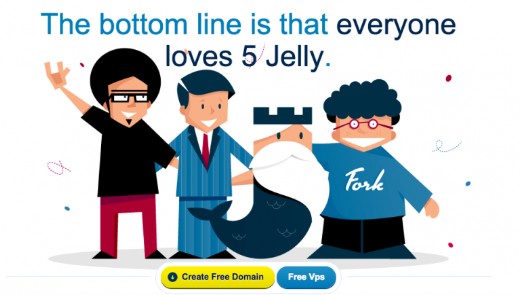 That's the neat infographics 5 Jelly used to attract thousands of users into their "free VPS Hosting" but as you can see there is a very visible contrast with the user reviews.
How To Get Free VPS Hosting
NO there is none, especially because now there is no way they can benefit by selling your information due to GDPR compliance.
Moreover, not everyone needs a VPS and the ones that do need it wouldn't be asking these questions in the first place as they're mostly big enterprises.
Bottom line the supposedly free VPS hosting plans in the past used to be honeypots for information and funnels to upgrade to their paid plans which are more often than not borderline crappy!
Free VPS Hosting
However here are some of the best legitimate "Free" VPS options out there:
1. Amazon Web Services – Free VPS For 1 Year
This is free forever but with a catch that it's free for 12 months after which your features get stripped to a bare minimum, for example, you can no longer have a virtual machine but the important bit is there is a genuine free plan it's only very limited.
This is was AWS can offer:
Convenient software marketplace with thousands of options. A forever-free plan.
Plenty of helpful tutorials.
Easy upgrades to premium plans.
2. CloudSigma – Free VPS Trial For 7 days No Credit Card
One of the main reason why people opt for free VPS hosting is that they don't give away their credit card information. Fortunately, CloudSigma offer absolutely free VPS hosting for a trial period of 7 days!
This is more than enough time to try out a service and decide if you want to pay in for it.
Some of the benefits of using CloudSigma are as follows:
server deployment takes only 26-seconds (10 GigE speed)
No credit card needed for trial
Servers in various locations even Hawaii.
5. Google Cloud Platform – Free VPS Forever* with limited features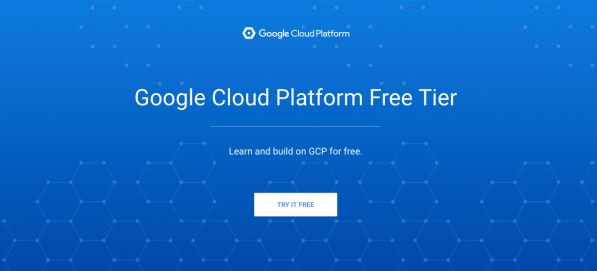 After Amazon web services this is probably the most popular VPS service (because of Google). Moreover, it's a cloud platform so you can ensure some of the best resources being used.
Moreover, Google is well one of the biggest names in tech and getting it completely free of charge is an absolute no-brainer so if you want to build Google Android or Chrome apps there's literally no better option other than Google itself.
Here's what you'll be getting for free:
5 GB of cloud storage and a total of 15 Google services without paying anything!
Some of the benefits of using Google Cloud Platform are as follows:
Made for building Google apps
Free forever plan
Plenty of googles finest resources available free of cost
Easy to upgrade premium plans
Read Next:
Best Web Hosting For Travel Blogs