TLDR: If you're in a hurry the WPX Hosting is the Best WordPress Hosting for Travel Blogs! While Bluehost is a great budget option if you're on a strict budget.
Save 50% on Your 1st Month With WPX Hosting
Use Coupon Code: Jeremy50
Note: Jeremy50 is case sensitive
Blog hosting is very important but is often overlooked aspect required to run a successful blog. However, building a travel blog and finding the best host sounds trickier than it is. Perhaps you are confused about what you are looking for in a hosting plan and how much you should spend on a hosting service.
It is important to identify key features that you require in your travel blog to avoid paying for hosting services you don't require. In this article, I'll give you an outline what are the best blog hosting services for your travel blog.
Short on time? Here are my top picks
WPX Hosting – #1 Fastest managed services with first-class support
Bluehost – A budget-friendly hosting service for your first website
Kinsta – Fastest and most reliable hosting for blogs
Cloudways – Managed cloud hosting services
Features of a Good Hosting Service for your Travel Blog
Easy CMS installation – Most travel bloggers make use of WordPress for managing their blogs. Select a hosting provider who can assist and facilitate the easy installation of the popular content management system.
Space – Disk space is one of the two essential services that a web host offers. Make sure you have more than enough space so you can store visuals and content from your traveling expeditions. Select a hosting provider who can provide better disk space.
Sustainable bandwidth– Bandwidth is another important feature that helps a blog load faster. Select a hosting service that offers higher bandwidth, so data is transferred at maximum speed.
Solid reliability– Every time your site goes down, so does the number of visitors to your blog. This is why you can't afford your blog to be down even for a short time. So choose a hosting provider that is reliable and has guaranteed uptime. The backup servers will kick start and ensure that your blog is up and running in no time. Apart from this, a service with good SSL certifications can protect your website and keep your information confidential. Since your blog is in safe hands, you can travel the globe without any hassle or worry.
Speed– Nobody likes to stand in a line to get what they want. The same is with your blog. Everybody expects your site to open and load very fast. Ensure you pick up a hosting service that has servers in different parts of the world to deliver content to your viewers quickly.
Support– While developing and operating your blog page, you will encounter several issues and problems. An excellent technical support team can help efficiently tackle the issues through various channels. Select a blog hosting provider with good technical support and assistance.
Managed services– Management services help keep your website professional and up to date without you having to manage the servers. A hosting provider that can provide these services will save you time and let you focus on important tasks.
Scalability– If you're passionate about your travel blog, then it should fill with articles as time goes on. As and when it scales, it will require more resources. As the number of visitors increases, the bandwidth consumption will be high, which may force you into a more expensive plan. If you're hosting service can meet these demands, then you have a lot of room to grow without worrying about the system going offline.
Affordable pricing– You might think that a high-quality hosting service having optimum performance and security comes at a premium. In certain cases this is right, but you will find plenty of bargains in the market that offer the same services at reliable prices.
Best Hosting for Travel Blogs
1. WPX Hosting – Best Managed WordPress Hosting For Travel Blogs
WPX is famous for one simple thing -> Fastest managed services with first-class support
Save 50% on Your 1st Month With WPX Hosting
Use Coupon Code: Jeremy50
Note: Jeremy50 is case sensitive
WPX hosting is one of the fastest and most popular hosting providers within the WordPress community. The managed WordPress hosting service has excellent speed and good customer support that can help in efficiently operating and running a travel blog.
Pros
Fast web host
Daily backups
Free site optimization
Offers multiple site migrations
Strong security and checks for suspicious malware
Fast response through email team
One click WordPress installation
Cons
Basic email features
No support for phones
Low storage
Bandwidth limitation
Why should you get WPX hosting service?
Reason #1- Great support through Managed services
The term managed services for web hosting has become meaningless today and is virtually used as marketing fluff. At WPX, the term managed WordPress hosting service is well defined for all the hosting plans. Some of the managed services that are offered by WPX to its customers are listed below.
Server uptime, WPX cloud uptime.
Automatic full backups
Scanning and removal of malware from your travel site without any additional cost.
Platform optimization for excellent performance.
Server monitoring and updating constantly at the server level.
Technical support, having 30 second average response time. A human or a computer will reply to any queries you make within the time frame.
Optimum functionality of WPX control panel.
Free migrations of your old host to WPX servers within 24 hours. If there is a change of domain, then there will be additional costs implied.
Free email service
Hosting staging sites when you want to make changes to your travel blog.
Per website one time free optimization, analysis, and recommendations are provided by WPX if it is requested by the customer.
If a site goes offline, it is fixed instantly for you.
Outstanding billing accuracy.
Reason #2- Speed
WPX is the fastest WordPress provider when compared to other hosts in the same space. According to an independent test carried out by Kevin Ohashi, the founder of wphosting benchmarks.com and ReviewSignal.com alongside Matthew Woodward, WPX stands out globally with a 0.717ms loading time.
Reason #3- Free SSL certificate
WPX gives its users a free SSL certification with all hosting plans. The encryption-based internet security protocol plays an integral role in website security. This allows the information to be secure between a visitor and your website. Credit card numbers, login credentials, and social security numbers are transmitted securely as a result.
Reason #4- Easy to use interface
WPX hosting service has a simple user interface and you can handle it efficiently without being a tech expert to run your travel blog. The visual interface is straightforward and easy to use and follow, regardless of any technical experience.
Reason #5- Free WPX Cloud CDN
The CDN servers are geographically distributed groups of proxy servers with their data centers. This helps your viewers around the world experience high-quality content without affecting the loading times. CDN ensures that HTML pages, images, videos, and other content are quickly transferred.
Reason #6- Decent pricing
WPX has affordable managed WordPress plans that can cater to your travel blog. They offer 3 managed plans, each comes with the first 2 months free if you pay early.
WPX Business plan: The plan can host 5 different WordPress websites and comes with a 10 GB SSD disk space with a 100 GB monthly bandwidth. The monthly subscription for this plan costs $24.99, with a yearly subscription of $20.83 per month.
WPX Professional plan: The professional plan is limited to hosting 15 different WordPress websites. It includes 20 GB SSD disk space with a 200 GB monthly bandwidth. The monthly subscription for this plan costs $49.99, with a yearly subscription of $41.58 per month.
WPX Elite plan: The Elite plan can host up to 35 WordPress websites. It includes a 40 GB SSD disk space with unlimited bandwidth. The elite plan costs you $99 per month, with a yearly subscription of $83.25 per month.
Reason #7- 30-Days Refund Policy
WPX has a 30-day refund policy for their managed hosting plan. The full month allows users to test the quality, speed, support, and security of the hosting service. If you don't like the hosting service you're money is refunded back.
Reason #8- 24/7 Customer Support
One of WPX's strengths is its 24/7 customer service. The super-fast and professional support team is pleasant and can effectively handle all your queries within 30 seconds.
Reason #9- Free Automatic Daily Backups
The hosting plans that WPX offers come with free backups and restore options. The servers of WPX keep backup copies for 28 days. The backup data is stored in separate servers and copied using your SSD disk quota. There are 2 types of backups, namely personal and system backup.
Reason #10- Reliability
WPX powers a large number of websites and have minimum downtime. The WordPress hosting provider has a 99.98% uptime score, making it a reliable choice for hosting your travel blog.
Verdict
If you are on a quest to select a reliable web host for travel blog, than  WPX has you covered. It offers great value for money with outstanding speed optimization, performance, and security.
WPX has little of everything, making it one of the fastest-growing WordPress hosting providers. This allows it to offer its customers premium quality hosting and services at the most reasonable rates.
2. Bluehost – Best Budget Hosting For Your Travel Blog
Bluehost is one of the best web hosting services for beginners in the market today. The company offers a cheap WordPress hosting service with a free domain to start your travel blog. It stands out with its good uptime, low price, and ease of use.
Click to Get 67% OFF Bluehost Now
Bluehost Coupon Code 2023: Auto Applied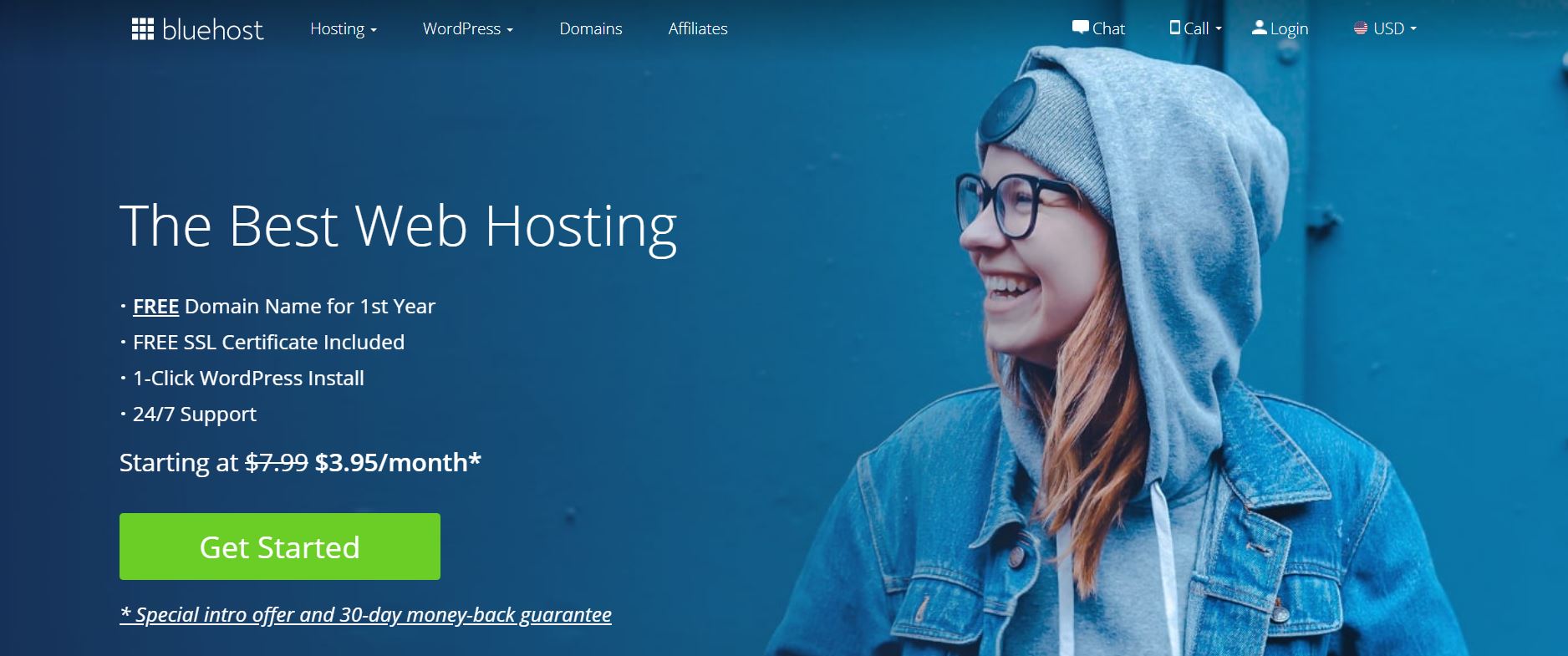 Pros
Available at low rates
Easy to use
Good support team
Free domain name
Cons
High renewal prices
Cost for migrating a site
What makes Bluehost stand out from the rest?
Reason #1- Budget Hosting service
Bluehost gives users outstanding quality at low rates. It is a great choice if you're planning to start a travel blog on a budget. The basic Plus plan is priced at $5.45 per month and comes with unlimited storage, and can host multiple sites. The Choice Plus plan starts at $7.45 per month, with the Pro plan starting at $13.95 per month. Both of these plans can host multiple sites, with unlimited storage space and 24×7 customer support.
The yearly plans are slightly more expensive plan offered by Bluehost starts at $2.95 and is limited to 1 website with 50 GB SSD disk space.
Reason #2- Speed
Bluehost is powered by dual quad processors that give them superior speed. There are faster hosts out there, but Bluehost performs well. One of the reasons this hosting service is ideal for your travel blog is that it never goes down. It has an average uptime of 99.44%.
Reason #3- Ease of use
The process of setting up and using Bluehost is very simple. Nearly everyone can find the hosting plan and add it to their website. If you're using WordPress or a website builder inBluehost, everything is straightforward.
Reason #4- Security
Bluehost offers excellent security features at such low rates. The SSL certificate the host provides gives them protection against cyberattacks and malicious software. Your travel blog is safe in the hands of the Bluehost hosting service.
Reason #5- Good support
Bluehost is easy to navigate and work with, however, if you need some guidance, then a 24/7 support team is available to solve all your problems. They also have a live chat having a response time of fewer than 5 mins.
Reason #6- Money back policy
Are you looking to select a good hosting service, then Bluehost is an excellent option to try out for a month. You can test the speed, security, and other features for 30 days and get a refund if you don't like the service.
Reason #7- Customization options
Bluehost will allow you to completely customize your travel blog with themes and media thatsuit your style. The automatic WordPress installation features save time and give you more time to focus on your travel escapades.
Verdict
Bluehost is an ideal hosting provider if you are looking to build a budget friendly blog. The hosting service is ideal for beginners due to its easy interface and usability. Apart from this, it offers good security and can host multiple websites.
3. Kinsta – Fastest and Most Reliable Hosting For Travel Blogs
Kinsta is a solid option for hosting WordPress websites. It has an advanced server infrastructure and is ideal for travel blogs that are expecting a lot of traffic to come to their page. Powered by a Google Cloud platform, it is ideal for people who don't want any compromise on their hosting and want a premium performance.
Click Here to Get Kinsta Managed Hosting
Pros
Fast hosting service
Powered by Google Cloud platform
Excellent customer service
Build in CDN and SSL services
Cons
Expensive hosting service
Supports WordPress servers only
Charges per page view
What features make Kinsta an amazing hosting service?
Reason #1- Cloud platform
Kinsta has a good server infrastructure that is powered by the Google Cloud platform, which gives it an edge over other hosting services. The in-built caching solution within this server help speed up your website faster than its competitors.
Reason #2- Staging Services
Kinsta has a staging service where you can test plugins and any customization of the site before publishing it on your live travel blog. This offers a risk-free approach for professional and non-technical audiences.
Reason #3- Customer Service
Kinsta offers top-notch 24×7 customer service to efficiently clear all your issues. It can only be done via chat, however, the issue is generally resolved within a few minutes. The premium management service gives you the finest support service in the industry.
Reason #4- Speed and performance
The higher-priced hosting provide gives users a premium experience in terms of speed and performance. The smooth performance is available to people across different continents due to the CDN networks centres around the globe.
Reason #5- Uptime
Kinsta has excellent uptime due to the Google Cloud hosting service. This makes it easily accessible and friendly for all customers.
Reason #6- Build in CDN and SSL services
Kinsta offers customers SSL certifications to provide an encrypted connection between a visitor and your browser. The content distribution network or CDN allows users to distribute files across different data channels around the world. This ensures that your travel blog loads faster around the world. Kinsta integrates both these services directly into their dashboard.
Reason #7- Backup
Kinsta ensures that daily backups occur on their website. On the entry-level plans, the backup is kept up to 14 days, with higher plans having longer backups. The database is also automatically optimized to ensure that your blog is always updated and stands out. The backup data can be easily restored with the option to get them instilled in your live site or test in the staging service provided by Krista.
Verdict
Kinsta is a premium hosting provider that offers exceptional speed and performance. The Google cloud platform that powers it makes the overall experience more enjoyable in comparison to standard hosting providers.
4. Cloudways – Best Managed Cloud Hosting
Cloudways, like the name suggests, is a cloud hosting service. The hosting provider is well known for its fast setup time. Cloudways is a perfect choice for travel bloggers as it is not only WordPress optimized but also supports other platforms. The flexible provider allows you to select between a range of cloud providers to have a smooth travel blog.
Click here to Claim this Exclusive offer
Cloudways Promo Code 2023: JEREMY20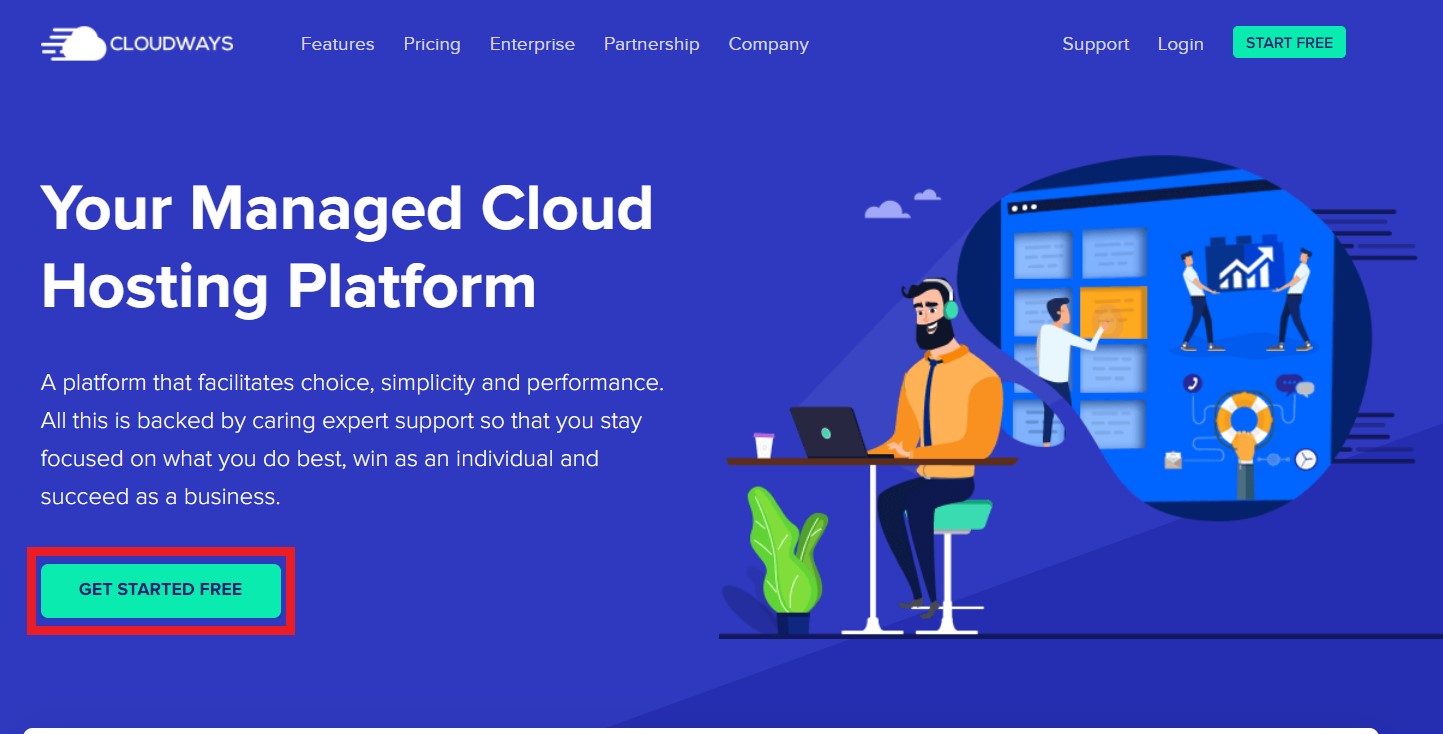 Pros
High performance
Free SSL certifications
Vertical Scaling
Automatic backups
Handle multiple sites
Cons
Not suited for beginners
No free CDN network setup
Most add-ons are paid
Some features of Cloudways that make it a good hosting provider.
Reason #1- Speed
Cloudways makes use of SSD hosting that offers ultimate speeds over normal discs to users. The VAM technology helps optimize the site speed, while its CDN always keeps improving the page loading time of your travel blog. The cache plugin and breeze feature come preinstalled with its WordPress server which further improves the speed and performance.
Reason #2- Excellent uptime
Cloudways offers up to 99% uptime when your travel blog is hosted on its WordPress Cloud servers.  Generally, cloud hosting services should provide nearly perfect uptime, but here your uptime depends on the host you choose in Cloudways. The server monitoring service of the hosting service helps monitor the load that is put on your blog.
Reason #3- Security
To keep potential malware and threats away, dedicated firewalls are present on the blog. The two-factor authentication that Cloudways offers notifies a user if and when any suspicious user is trying to log in to your account. Cloudways deploys security hardening techniques that prevent any unauthorized access to your blog.
Reason #4- Support services
The community of Cloudways is very active and continuously adds solutions to problems that are faced by users. Any queries or issues with the service are handled by the staff via the 24×7 chat services.
Reason #5- Control surges in traffic
The vertical scaling option by Cloudways helps users adjust well to the resources that are allocated. The feature is based on the pay-as-you-go service, where you can scale up for a short time before getting back to the original plan.
Reason #6- Backup
Cloudways has one-click backup and restore options. The one-of-a-kind feature can be set up at a frequency for all your WordPress servers. The backup can also be auto-managed for better proficiency.
Verdict
Cloudways offers both affordability and great functionality that makes it worth considering. The hosting service can be used whenever it is required and later unsubscribed as there is no specific contract. An hourly plan is a perfect option for beginners who are looking to explore the hosting service. Further, the service can host multiple applications without any restrictions.
5. Siteground – SSD and Hosted using Google Cloud
Siteground is a reliable web hosting service having dedicated customer service. The affordable pricing options coupled with fully managed high-speed optimization allow you to efficiently grow your travel blog. Siteground is a shared hosting service that is optimized for WordPress service.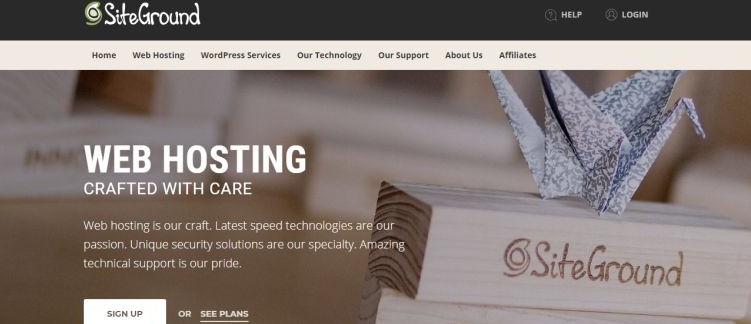 Pros
Excellent uptime
Affordable prices
Outstanding customer support
SSL certified security
Cons
Makes use of shared Hosting servers
Limited storage space
Higher renewal costs
Reasons to get Siteground hosting for your travel blog
Reason #1- Speed and performance
Siteground is built on Google Cloud, giving it blazing speeds across all google servers. It has CDN data centers around the world, giving them outstanding loading speed wherever the site is opened. The various customization options that are available help enhance the performance of your travel blog. The service has a 99.9% uptime which ensures that your blog is always online.
Reason #2- Excellent Support services
Siteground has award-winning support services which customers can depend on. The 24×7 support is available via chat and ticketing systems.
Reason #3- Security
The SSL certification provided by Siteground keeps all your data well protected from malware and hackers. To keep your data protected you can opt for daily backups.
Reason #4- Budget hosting service
The pricing of Siteground is super low, but they offer similar features as other premium options. Their hosting plans start as low as $3.99 and can go as high as $10.65 per month.
Verdict
Siteground is a Google Cloud hosting service that offers excellent value for money. The good customer support and superior performance make it a reliable choice for hosting your travel blog.
6. A2 Hosting – Fast and Optimized Web hosting
A2 Hosting is a high-performance web hosting provider that can efficiently host your travel blog. The shared hosting services offer user friendly plans with a money-back guarantee which are some of the unique features that make it very versatile.
Get 67% Discount on A2 Hosting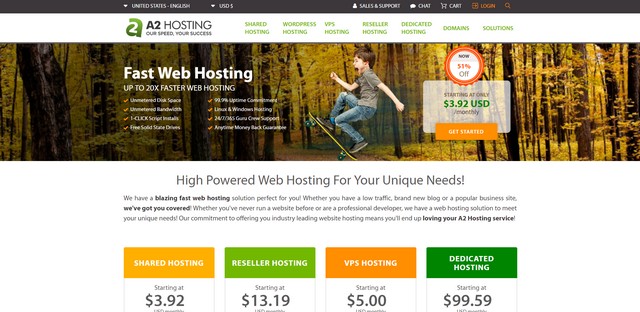 Pros
Free Cloudware CDN
Free SSL certifications
Unlimited SSD storage space
Good customer support
Cons
Restrictions on cheaper plans
Domain name has to be purchased
Higher renewal rates
Top Reasons to get A2 Hosting
Reason #1- Fast page loading speed and excellent overall performance
A2 Hosting is one of the quickest host providers, with an average speed of 286ms. The loading speed has been constantly improving over the years. With a 99.99% average guaranteed uptime, the service ensures that it is always up. Its three data centers of the hosting service around the world allow you to deliver reliable speed to your customers in different parts of the globe.
Reason #2- 24/7 Server Scanning for Malware
A2 Hosting is protected by Imunify 360, which scans and monitors your travel website for any malware and prevents cyber-attacks. The SSL certificate the host provides keeps the information of your visitors and your site confidential.
Reason #3- Free Site Migration
A2 Hosting allows for free site migration over their servers without any extra charge. Number of migrations vary between 1 to 25 depending on the plan. However, if you have a shared hosting plan, then it will cost $25 extra to migrate your website.
Reason #4- Different Content Management Systems and Developer-Friendly Tools
A2 Hosting is seamless in operation with major content management systems. You can install WordPress, Joomla, Magneto, and other services in just a few clicks. The user-friendly service is packed with performance plugins like free Cloudfare CDN and turbo boosts that help speed up and enhance the quality of your service.
Reason #5-24/7 Customer service
A2 Hosting provides support to its users via chat, email, and phone. There are a lot of FAQS that are already answered, so that users can get answers to their queries easily.
Verdict
A2 Hosting offers an optimized fast service option to its users. Its top-notch security services and adaptability to different CMS systems make it a top choice for hosting your travel blog.
7. WP Engine Hosting – WordPress Optimized Web Host
WP Engine Hosting focuses primarily on WordPress-managed hosting services. The services aren't cheap, but you get expert support as you build and operate your travel blog. The service offers necessary features that will help your blog grow.
Get 4 Months Free Of WPEngine WordPress Hosting

Pros
WordPress managed hosting
Free Site backup and restoring
Good customer care
Staging and production services
Cons
Expensive plans
Some themes and plugins are not supported
Here are a few features that make WP Engine Hosting a reliable choice for your blog
Reason #1- Page load time
WP Engine Hosting offers excellent loading speed, which will keep more visitors glued to your website. It also has servers in a different locations to enable the site to load faster. The 99.9% uptime offered by the provider ensures that your website is always online.
Reason #2- Backup and Version Control
WP Engine Hosting service has daily backup options that can recover data if disaster hits.
Reason #3- Customer service
WP Engine Hosting has several online resources that can tackle problems faced by its users. Their support team is very helpful and can resolve issues instantly.
Verdict
WP Engine Hosting offers premium quality hosting for WordPress users. The superfast speed and no downtime make it a hosting service that can smoothly run your travel blog.
Which Hosting Provider Should I Pick For My Travel Blog?
To sum it all up, it is very difficult to select one hosting provider to give you the best features for your travel blog. Several providers offer cheap hosting but compromise on other important features that hold back your blog. Here are my picks that provide both speed, security, customer support, and other features that make them stand out.
WPX Hosting – #1 Fastest managed services with first-class support
Bluehost – A budget-friendly hosting service for your first website
Kinsta – Fastest and most reliable hosting for blogs
Cloudways – Managed cloud hosting services
Which host service are you planning to get to host your travel blog? It all comes down to your requirements, so read through the features before making the final decision.