Narrowing your search down to any one of the website hosting companies is a tedious task in itself.
Another task is to find the best review for the hosting website you like by its face.
Let's admit — website hosting is an integral part of getting your website live. Security, domain, performance, everything boils down to selecting a reliable website hosting company.
In this blog, I am going to give you an in-depth review of one of the best website hosting companies, called FastComet.
You may not be sure if this is the right website hosting company for your business; thus I'm going to list down it's essential, admin, and technical features.
Along with that, I am also going to list its pros, cons, and costs for each type of hosting.
In short, you are going to gain an insightful review of FastComet by the end of this article.
On the other hand, if you want a quick assurance that FastComet is good to go with, read this:
TL;DR: FastComet is a trustworthy web hosting company that also comes with a wealth of features to successfully host your website. They even provide a lifetime free domain name and you can get a whole 70% Discount on shared hosting by using this link.
Click Here To Get 70% Off FastComet Hosting
FastComet Discount Code: Auto-Applied
FastComet Review
With all of this, it is also affordable. FastComet is ideal for solopreneurs, growing businesses and even enterprises for it comes with a wide range of packages and 3 different hosting services.
If it has got amazing features for beginners, it does not disappoint developers either. With excellent uptime, server reliability, and rocket-fast customer support, FastComet is a perfect web hosting service you can trust with for your business website.
Before we dive deep into the web hosting company's distinct features, let us quickly glace our eyeballs through these top 7 factors you must consider before investing in any hosting company.
Factors To Consider When Picking a Web Hosting Company
The heat of competition is intense in the web hosting space; with each one promising to be better than their counterparts, how do you select the best?
Glance through these 7 factors to gain an overall perspective of an ideal web hosting solution:
Domain availability
The reputation of the host
Speed provided by the hosting company
Uptime
Customer support
Performance
Free and paid features
One more thing to note when looking for a web host is to know the purpose of building the website.
This will help you in identifying the right plans for your business website.
Without spending another second, let's review FastComet — starting with understanding the company and followed by an in-depth review of FastComet.
About FastComet
Starting early in 2013, FastComet has lived in the hosting space for a considerable time. This gives us the assurance that it is not a newbie seeking to make its way amongst the giants.
This also means we can trust the solutions, FastComet is providing, in a heartbeat.
Moreover, they are one of the very few privately-owned, independent global web hosting companies.
Another impressive factor of FastComet is the good spread of its 11 data centers that are located globally.
This is larger than any other average company and assures your website will load fast in most locations of the world.
Some places of its data centers are Mumbai, Tokyo, Amsterdam, and Chicago.
Additionally, their headquarters are based out of San Francisco and they are a team of more than 70. Not only this, but approximately 50,000 users also form their user base.
The amount of growth and praise that FastComet has witnessed, being a small company, is impressive. They provide ideal hosting solutions to entrepreneurs and businesses.
FastComet offers 3 types of hosting:
FastComet continually updates its services, striving to improvise its user experience and aid the easy hosting solutions.
This reflects in their always-helpful customer care service and flexibility in the packages.
To make this review digestible, I have broken it down in 3 categories:
Essential Features
Admin Features
Technical Features
So without further ado, let's dive in the FastComet review and analyze if this is the right host for your business.
Click Here To Get 70% Off FastComet Hosting
FastComet Discount Code: Auto-Applied
Fastcomet Essential Features
1. Ease of Use
One of the most important things to notice in a web hosting company is the ease of usage and the updated functionality.
While FastComet is fairly easy for beginners, they have ample latest features for developers as well.
From setting up, to transferring the domain and website, to the website builder and intuitive dashboard, FastComet is a breeze.
Therefore, even if you are a solopreneur or a small business, you are good to go with FastComet.
2. Cloudflare CDN Caching
With over 70 server locations across the globe, your websites' content is replicated on all servers. This enables your visitors to load the website fast. Having a quick loading website is almost as important as having to host in the first place. Your visitors' website will load from the server that is located closest to them.
3. Customer support
You may or may not have prior experience in creating a fresh website. Either way, you should be prepared for a lot of hiccups! This is not to scare you, instead, prepare you for every situation.
Technical glitches and errors are normal before, during, and after getting your website live.
Where do you go, then?
That's correct — customer service.
One thing is certain — friendly human beings are sitting on the other side of the chatbox and not some bots, sticking the same template messages.
With FastComet, you get super-responsive, friendly staff who cheeringly resolves your queries in no time.
This means you do not have to sit long hours to get answers to your queries.
What is even better is that they are available 24/7 and 365 days a year!
Isn't that quite impressive now?
The ways to contact them are through a live chat and ticket system which is quick. On average, they take a minimum of 30 seconds and at max 2-3 minutes to respond to your queries at best.
This is an impressive feature of FastComet since a lot of web hosting companies do not respond on time, letting their users face the heat of glitches.
4. 45 days Money-back guarantee
When other hosting companies are offering 30 days, FastComet takes it a level up and lets you experience more days of their hosting services.
You get a 45-day money-back guarantee with FastComet which is a great time to test out if the hosting is working perfectly for you.
You can also opt-out, without any questions being asked. Also, you do not have to bear any cancellation fee either.
Now that we have looked at some of the decent features of FastComet, let us tap into some technical features and see how this can be an amazing host for your website.
5. SSL Certificate
To avoid getting your data and your customer's data into the wrong hands, it's indispensable to own an SSL certificate and upload it on to your website.
This certificate secures your data as well as the privacy of your visitors.
Your customers are more confident purchasing from you when you have an SSL certificate uploaded on your website.
know how to upload an SSL certificate? Fret not, contact the FastComet team and they will take the task off of your plate.
This is especially considerate if you come from a non-technical background and have no clue on how to install an SSL certificate on your website.
Click Here To Get 70% Off FastComet Hosting
FastComet Discount Code: Auto-Applied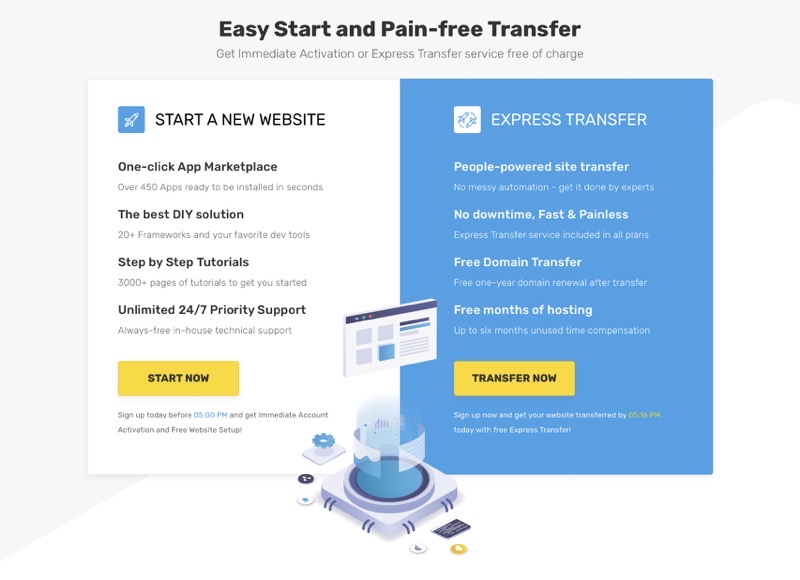 FastComet Admin Features
1. Website Builder
When you are ticking the checklist of a good web hosting company, you would look for excellent technical features.
However, do not forget the importance of a decent looking website that your visitors enjoy navigating through.
You certainly don't want a website that confuses the visitors and makes them click the back button.
Therefore, having a great website builder that makes creating your website a breeze, is a must.
FastComet helps you create a professional-looking website for your business with the drag-and-drop website builder.
Anyone who does not possess technical skills would certainly cherish this feature. It is extremely easy and intuitive to create a website with FastComet that matches your brand.
There are more than 350 templates and over 40 widgets that give you enough flexibility to create a website as you wish.
2. Dashboard
The dashboard is another important feature and FastComet does a great job here as well. The dashboard of FastComet is intuitive and easy to navigate.
Users can manage their tasks, bills, and apps all in one place.
You also get access to the cPanel right here.
Furthermore, you can control the site speed functions right from your dashboard.
This comes handy for developers as well as busy entrepreneurs.
Click Here To Get 70% Off FastComet Hosting
FastComet Discount Code: Auto-Applied
Technical Features of FastComet
1. Free Domain
A lot of web hosting companies do not provide you the ease of domain purchasing with them.
Even if they do, they come with timely renewal plans. Most of the time, the first year is offered for free while the renewal costs you a hefty sum.
But this is not the case with FastComet.
Firstly, if you already own a domain, they will transfer it for you. This feature is available in their basic plans too and is completely free (notice how the platform does not sneak in the hidden costs).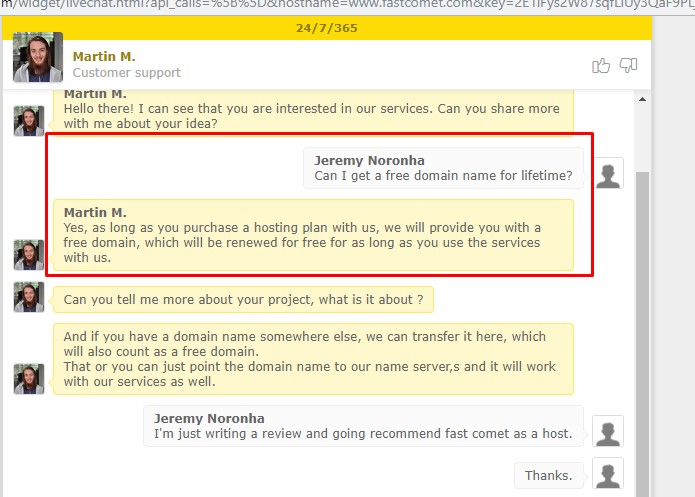 Secondly, if you don't already own a domain you can get it with them.
The best part about hosting with FastComet is getting the free domain for a lifetime.
That's correct — there is no hassle of renewing your domain every year or keeping tracks of domain expiration dates.
As long as you are hosting with FastComet, you get the domain free for the lifetime.
This not only assures that you get a business domain for the lifetime but also removes the hassle of timely renewal.
2. Backups
One of the most important things to maintain your security is to look at the backups. Luckily, FastComet provides free daily backups, even in their basic plans.
They won't turn their back towards you when you are in urgent need of a backup for your website. If you find it difficult to do it on your own, their friendly team jumps in for a helping hand.
Isn't that impressive now?
You would rarely find a hosting company offering daily backups at such an affordable cost.
If this sounds like a very difficult task for you, here is a piece of news: with Restore Manager, you can retrieve your website at just one-click.
3. Free Website Transfer
Website transfer is a tedious task, with so many pages and content to take care of, it's easy to screw things up.
Especially if you haven't been handling your own website, this would sound like a nightmare.
Nevertheless, free website transfer by FastComet makes your life easy by doing all the heavy lifting while you plan on designing the website just the way you want!
On the basic plan, you get one website transferred while the number increases on their advanced plans.
Either way, this is a great feature considering the ease of transfer and security you get.
4. Uptime
Imagine your ideal client visiting your website only to find it down!
Low uptime rate does that to your website, but, that's not the case with FastComet.
With a guaranteed 99.9% uptime, your website will function really well and with rare instances of it being down.
The impressive thing is that not only does FastComet promote and boasts about their uptime but their users also tell tales of the same.
Overall, FastComet offers an impressive uptime. This is the uptime that even the most reputed hosting companies are not able to stand up to.
Therefore, FastComet scores really well on the uptime front.
5. Server and Reliability
When web owners go for shared hosting plans, they often experience downtime or low speed.
This is because the server is shared among various users; thus if one user experiences a surge in website visitors, others suffer.
This problem is excellently dealt by FastComet since they assign quotas to each user.
This assures that each user gets the guaranteed CPU and RAM and also that each website functions without any hiccups.
Moreover, several test servers showcase that the TTFB is an average of 700ms, which indicates a healthy loading speed for the website.
This is yet another factor to consider when opting for a web hosting solution.
If you are still unsure of the speed and want to do something about it, FastComet allows you technologies such as PHP, HTTP/2, and NGINX.
Thus, FastComet stands true to the server and reliability standards as well and offers amazing speed for your website.
To conclude the above features, let's shed some light on the pros and cons of this excellent web hosting company.
Click Here To Get 70% Off FastComet Hosting
FastComet Discount Code: Auto-Applied
Pros and Cons of FastComet
Everything comes with a set of pros and cons. And FastComet is no exception.
Therefore, let's wrap up the above said and highlight both sides of the coin.
Pros of FastComet
Drag-and-drop website builder: built for beginners, yet, offers every possible solution
Free domain transfer: so you don't have to do the heavy lifting
Lifetime domain registration: this means no renewal cost that makes your budget suffer
Impressive uptime and server reliability
FC makes work easy for beginners, yet, does not forget to drop impressive features for developers either.
Impressive user feedback and ratings across many hosting review websites indicating a strong reputation
Multiple data center ensure high speed at all locations
Cons of FastComet
Limited SSD storage in the basic plan
Lack of dedicated IP server in shared hosting
Even though their customer service is helpful, resolution can take considerable time
Limited functionality in the website builder
Click Here To Get 70% Off FastComet Hosting
FastComet Discount Code: Auto-Applied
FastComet Pricing
Now that we have observed various, noteworthy features of FastComet, let us look over the pricing structure for the same.
FastComet comes with 3 types of hosting services, as we discussed above.
So let's look at their pricing.
1. Shared Hosting by Fastcomet
Anyone with a shoestring budget can easily start with this package. Priced at just $2.95/month, you get every essential feature. Then you can climb up the ladder as you grow.
Shared hosting with FastComet includes all essential features, especially a free domain for a lifetime, domain and website transfer, and SSL even on their basic package.
Not only this, but you can be assured of their iron-clad security on each plan.
Here is what their pricing looks like:
FastCloud: $2.95/month with 15 GB SSD storage, daily backups, and up to 25,000 website visitors a month
FastCloud: $4.45/month with 25 GB SSD storage, 50,000 monthly visitors and unlimited domain addons
FastCloud: $5.95/month with 35 GB SSD storage, 100,000 monthly visitors and 6GB RAM
2. Fully Managed SSD Cloud VPS Hosting
When you outgrow your plans on the shared hosting one, this is perfect for you. This is not ideal for beginners since it will only look like bells and whistles.
However, once you grab a good grasp on how the hosting works and if this is the right host for you, this hosting is ideal for you.
The plans start from $47.95/month and go up to as high as $111.95/month. You get four distinct packages to choose from.
3. Fully Managed Dedicated CPU Server
This is completely different than any of the above-mentioned hosting services. Fully dedicated hosting opens up an extensive range of features you get.
In this case, your server is not shared with anybody and you are solely the owner of the server.
This type of plan is ideal for enterprise clients since it allows you to accommodate an extensive number of daily visitors and facilitates transactions.
Here are some other features of the dedicated server by FastComet:
Ease of handling big transactions
Accelerates your business and facilitates growth
Install your own operating system
This plan is ideal for fast-growing startups and enterprises as it accommodates all your requirements.
You get amazing load time, dedicated server, excellent flexibility, and dedicated CPU, RAM, and SSD drives.
The plans for dedicated hosting with FC start at $111.19/month and go up to $279.29/month; it offers 4 distinct plans you can choose from.
Overall, this hosting is an ideal option for enterprise requirements and offers excellent features.
Click Here To Get 70% Off FastComet Hosting
FastComet Discount Code: Auto-Applied
FastComet Review Verdict
So this was FastComet for you! One of the most advanced, robust, and reliable hosting companies that could not get more affordable.
FastComet is an excellent hosting company for all kinds of business requirements.
It doesn't matter if you are a solopreneur, startup, or a large enterprise, FastComet has got your back in all cases.
Its affordable packages get you the best deal in town while its dedicated server caters to ever-evolving requirements of your enterprise.
With distinct features such as free domain for life, domain transfer, excellent customer services, FastComet should be your go-to hosting provider.
Other exceptional features of FastComet include:
High uptime
Server reliability
Intuitive dashboard
Developer toolkit
Affordable web hosting solution
45-day money-back guarantee
Overall, FastComet is an amazing hosting company and holds a notable reputation as well.
It is unlike every host — does not unleash its hidden costs (because it doesn't have one), provides just the right features for getting your website off the ground, and serves well to large businesses too.
There are only a few hosts that provide truly impeccable service with their solutions. FastComet is one of them.
The icing on the cake remains their ever-helpful customer service. When looking for the best website hosting that does not burn a hole in your pocket but offers a wealth of useful features, FastComet is the right choice for you!
Click Here To Get 70% Off FastComet Hosting
FastComet Discount Code: Auto-Applied
Read Next:
Free VPS Server Hosting Forever