Most businesses start off with their website on a shared server. But with enough success and the traffic that accompanies it, they're forced to consider other options. A dedicated server would solve the issues that come with a shared server, but they can be expensive. A happy middle ground between those two options is the virtual private server or VPS.
A VPS is a physical server that runs multiple virtual servers on the same machine. This is achieved by running several operating systems virtually on the same server. Each copy of an operating system acts as its own server. That way you get the benefits of having an entire server to yourself without having to actually purchase an entire server.
A managed VPS hosting provider is one where you don't have to do any server maintenance or updates yourself. Your hosting provider takes care of everything that has to do with maintaining the server on a regular basis. So you can instead focus on the website itself rather than making sure it's being hosted dependably.
Most businesses know when it's time to make the switch to a VPS. But it can be an uphill task choosing the right managed VPS hosting provider for your business. We've scoured the land for the best services in this category. We've chosen these based on factors like quality of service (server uptime), security, support, and pricing. So here's our list of the best managed VPS hosting services in 2023.
Best Managed VPS Hosting
1. Liquid Web – Best Fully Managed VPS Hosting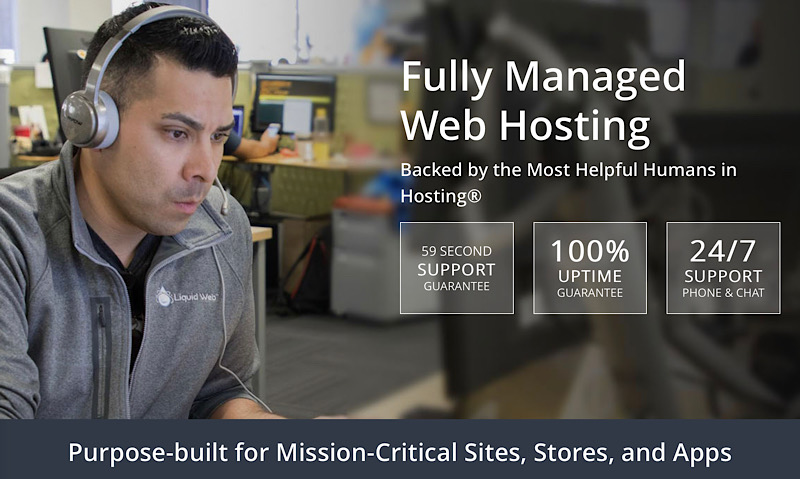 Get The Best Deal on Liquid Web Now! Simply click the link below!
Rackspace, Digital Ocean, and AWS are some of the biggest names in hosting. But Liquid Web has been found to outperform these hosting providers. That's according to independent cloud analytics firm Cloud Spectator, which found that Liquid Web showed better CPU performance than three of its main rivals in the industry. It's for that reason that Liquid Web is atop our list of the best managed VPS hosting providers in 2021.
Liquid Web claims that its managed VPS hosting has the robustness of a dedicated hosting plan combines with the flexibility that comes with using cloud hosting. And although its powerful SSD-based hosting has been found to be reliable by users the world over, Liquid Web provides some of the best support in the industry. Its support team is called the Most Helpful Humans in Hosting and is accessible round the clock through email, chat, and phone call.
Liquid Web's managed VPS hosting plans come with CloudFlare CDN. Cloudflare is known to be one of the biggest names in content delivery networks. Using it makes it easier to serve up your website faster to visitors from all across the world and do it securely. Liquid Web will even set up your CloudFlare account and manage it.
Security is an important thing to take into account when choosing a managed VPS hosting provider. Liquid Web uses a proprietary technology called ServerSecure to ensure that all the data on every server is stored and delivered safely. It also offers protection against DDOS attacks on all of its servers.
Liquid Web Managed VPS Hosting Pricing
Liquid Web's managed VPS hosting plans start at $59 per month for a server with 2GB RAM and 40 GB disk space. It goes all the way up to $189 per month for 16GB RAM and 200 GB of space.
Liquid Web currently has a discount when your purchase hosting for three months at once. You can use the code SAVEBIG for a 50% discount.
Get The Best Deal on Liquid Web Now! Simply click the link below!
2. DreamHost – Best Cheap Managed VPS Hosting
DreamHost is consistently ranked among the best hosting providers on the Internet. It offers all kinds of hosting plans, including WordPress hosting, cloud hosting, and dedicated hosting. And along with all that, it also provides managed VPS hosting.
DreamHost's managed VPS servers come with a whole range of key features. At a physical level, these servers use solid state drives (SSD). These SSDs are 20 times faster than the standard hard disk drive. As a result, this managed VPS host process data at a much higher rate.
A lot of websites use MySQL as their database technology. DreamHost has a preconfigured VPS option that is designed specifically for high-performing MySQL databases. The pre-configuration allows you to create and run MySQL databases straight from your DreamHost control panel.
Scalability is another reason DreamHost's managed VPS hosting service is worth checking out. Most websites start off with a small amount of traffic but don't always remain that way. With this managed VPS hosting provider you can scale up to a higher storage and RAM configuration in as little as 10 seconds. That makes it a lot easier to deal with things like surges in traffic.
DreamHost Managed VPS Hosting Pricing
DreamHost's starter managed VPS hosting plan is called VPS Basic. It costs $15 per month and gives you 1GB of RAM and 30 GB in storage. For $30 per month, you can double those numbers and go up to 2GB RAM and 60 GB storage. The VPS Enterprise plan is aimed at large operations. It comes with 8GB of RAM and 240 GB of storage for $120 per month.
You can save on DreamHost's managed VPS hosting plans by paying for a year or even three years all at once.
3. InMotion – Reliable Managed VPS Hosting With cPanel

Click Here To Get InMotion Hosting
InMotion's hosting packages come with a lot of user-friendly features. These are aimed at making your life easier if you're trying to get your website up on the Internet in a hassle-free manner. This host offers a drag-and-drop website builder for when you need to create your website from scratch. It also has a 1-click app installer for when you want to add certain apps to your website.
Now let's talk about InMotion's managed VPS hosting capabilities. This host's servers run Linux on its solid state drives. The VPS infrastructure is designed to be both high-performing as well as secure.
Getting set up on InMotion's managed VPS hosting is simple thanks to what it calls Launch Assist. This is a service by which customers get two hours of onboarding assistance from the hosting provider. InMotion gives you a helping hand with things like setting up the virtual private server, migrating an existing website if you have one, performance tuning, and software configuration. This makes it easy to get your website and hosting connected and working as you want to.
InMotion uses Backup Managed to ensure that your data is constantly backed up. These backups are automated on a daily basis. So you don't have to worry about losing your work and can access a backup whenever you need to.
InMotion Managed VPS Hosting Pricing
The managed VPS hosting plans in InMotion's catalog come in three simple forms. It starts at $29.99 per month for a VPS server with 4GB RAM and 75GB storage. The plan with the best value according to InMotion is the one with 6GB RAM and 150 GB storage. This one costs $49.99 per month. For $83.99 per month, you can get a VPS server with 8GM RAM and 260 GB storage.
4. Hostwinds – Afforable Linux Managed VPS Hosting

Hostwinds is a managed VPS hosting service provider that was founded in 2010. They started out with the goal to provide great web hosting at an affordable price. Along the way, they have won a number of awards for great customer service. The service has received recognition from publications such as the Inc. 500 and PCMag.
Hostwinds provides both Linux and Windows managed VPS hosting. So you can have your servers run either operating system if you go with this hosting provider. No matter which you choose, you get servers that run on fast solid state drives and 99.9999% uptime.
The list of powerful features remains the same whether you choose Linux or Windows VPS hosting. The VPS uses redundant network architecture so that it doesn't have any one point of failure. This ensures that any mission-critical activity that needs to be undertaken always goes through even if there are server issues.
It is essential to always back up your data so that you can restore it if there's any data-loss at the original location. Hostwinds automates this otherwise tedious process with nightly backups. All customers have their data backed up at night without having to do anything themselves. You can hold on to these backups for as long as you want and restore them as you like.
Whether you choose the managed Linux or Windows VPS hosting on Hostwinds, you have a few different options with the kind of server technology you use. With Linux, you can choose between CentOS, Fedora, Debian, and Ubuntu. Hostwinds also supports different Windows Server versions, like Windows Server 2012 and Windows Server 2016.
Hostwinds Managed VPS Hosting Pricing
The managed VPS hosting plans on Hostwinds differ based on whether you choose Windows or Linux as your operating system.
The managed Linux VPS hosting starts at $5.17 per month for 1GB RAM and 30 GB disk space. On the other hand, managed Windows VPS hosting starts at $7.99 per month for the same configuration.
5. Media Temple – Managed VPS Hosting With 99% Uptime
If you're really serious about choosing the right hosting service, you also pay attention to where the servers themselves are stored. After all, the data centers where your data is maintained also needs to be protected.
Media Temple offers managed VPS hosting in data centers that are among the best in the world. They take protecting these servers seriously. The data centers are protected by armed security and equipped with fire suppression. The servers are placed on raised floors to keep them safe.
Along with keeping the physical servers safe, Media Temple invests just as much in protecting virtual data. Customers are promised 99.99% uptime. The company is so sure in its ability to provide this service that if you experience service outages, you get 20% of your monthly payment back. So you can rest assured that your website is running as you want most of the time and your hosting provider has a monetary interest in ensuring that.
Media Temple Managed VPS Hosting Pricing
Media Temple has a wide range of pricing plans for its managed VPS hosting service. It starts at $55 per month for 2GB RAM and 30GB storage on SSD drives. The next plan is priced $100 per month for 4GB RAM and 50GB storage.
These plans go all the way up to $2500 per month. That gets you a VPS with 128GB RAM and 1TB in storage. The large number of options means you can start off small and scale up easily as your needs grow.
Why Use Managed VPS Hosting
Now that we are familiar with the best names in managed VPS hosting, let's take a look at the benefits of using this form of hosting:
1. Peace of Mind
As mentioned earlier, managed VPS hosting implies that your hosting provider oversees server maintenance and updates. That means you don't have to do anything that has to do with the upkeep or security of the server. So you get the peace of mind you need knowing that your website will continue to run just fine so you can concentrate on your business.
2. Root Access
When you use a shared server, you share resources on one server with everyone else that's assigned to it. So, understandably, you don't get root access to that server. Dedicated servers give you root access but they can be costly to acquire. Managed VPS hosting provides you with the perfect middle ground between these two options. You don't need to spend as much as you would on a dedicated server. At the same time, you get root access to your own virtual server, allowing you to make all the changes you want to it.
3. Affordability
Managed VPS hosting is an economical choice to make for two reasons. The first we've already covered earlier: you get most advantages of a dedicated server without actually paying up for dedicated hosting. In addition to that, managed VPS hosting is an affordable choice because you don't have to hire a server admin to oversee the maintenance of your servers. That part is handled by your hosting provider and covered by your payments to them.
Read Next:
Cheapest WordPress Hosting Reddit